Washington, D.C. mini-trip for Shae's birthday:
Review: b Restaurant DC Penn Quarter
Having spent about an hour at the National Museum of National History in Washington DC, we were starting to feel a little peckish. Googling for "restaurants nearby" only brought up three options, even though there ended up being far more.
Two of those options had poor ratings (they seemed to be tourist cafes), whereas the third option – b Restaurant DC Penn Quarter – had pretty good reviews and was only a seven minute walk away.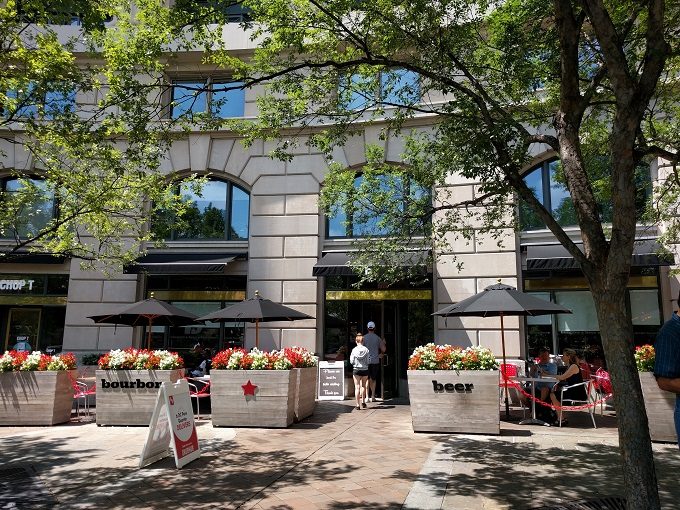 There was a 30 minute wait when we arrived, so they took my cellphone number and advised they'd text when a table was available.
Just outside the restaurant is a fountain area, so we were able to sit on its wall in the shade. We had a copy of their food menu, so we started looking at our lunch options.
There are burgers…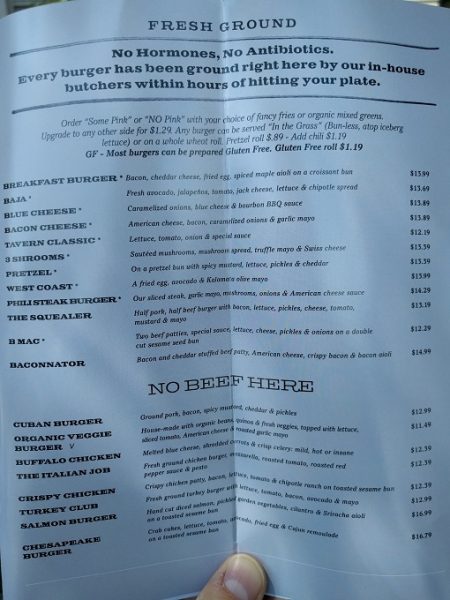 …mains, sides and desserts…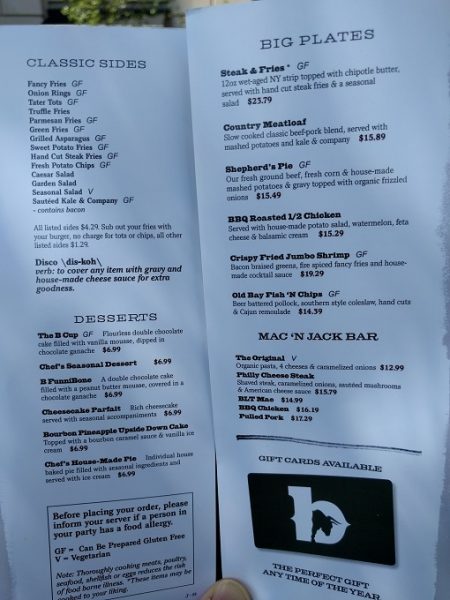 …as well as soups, salads and appetizers.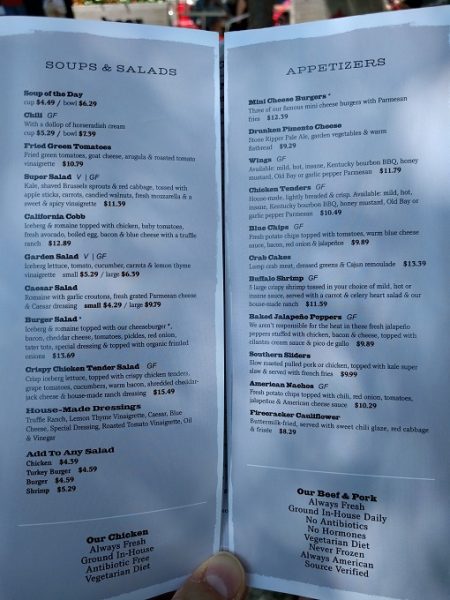 After about 25-30 minutes, we got a text letting us know our table was ready. You could reply '1' to let them know you were on your way or '9' to say you no longer needed the table. That seemed like a great idea, as it meant you didn't have to worry about your table being given away if you'd gone off to look around and would take a few minutes to return.
The decor inside b was very nice – comfortable seating, interesting light fixtures and warm colors.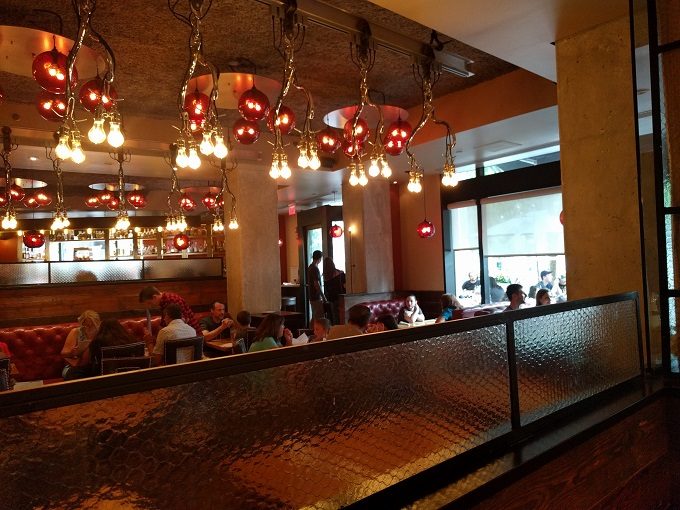 There was also an interesting mix of music. It went from Lenny Kravitz to Bananarama to Nirvana – it was like reliving my youth.
All of us had a good idea of what food we wanted to order, but first we had to order our drinks. At this restaurant, b stands for burgers, beer and bourbon, so there was plenty of the latter two options on offer.
There were spirit mixes / cocktails…
…wines…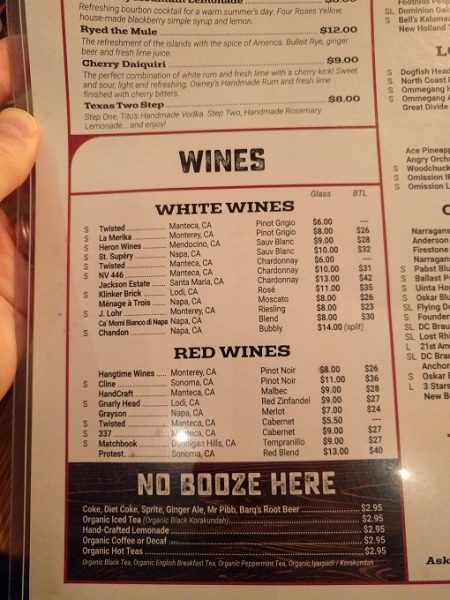 …and many choices of craft beer.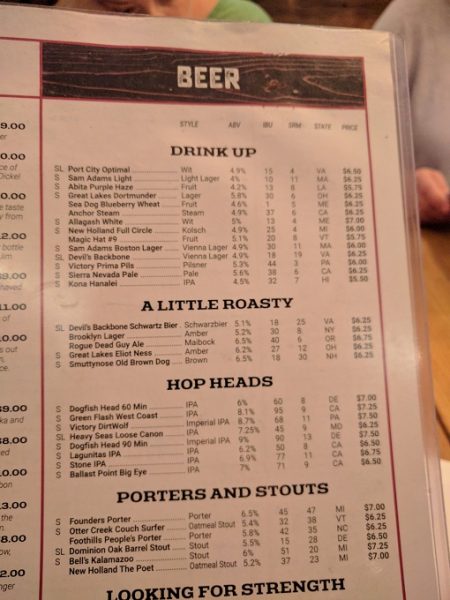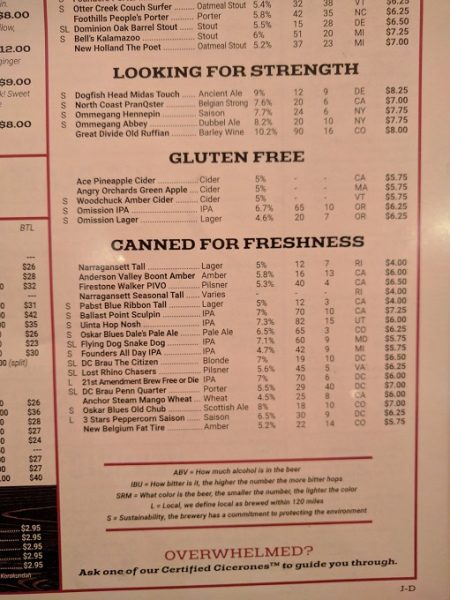 They also had a separate draft beer menu which had their weekly food specials on the other side.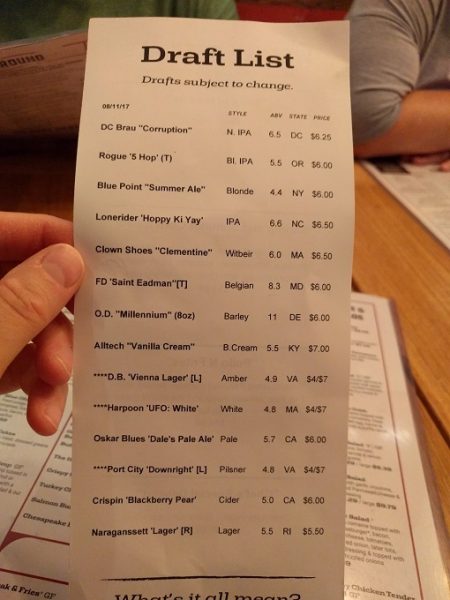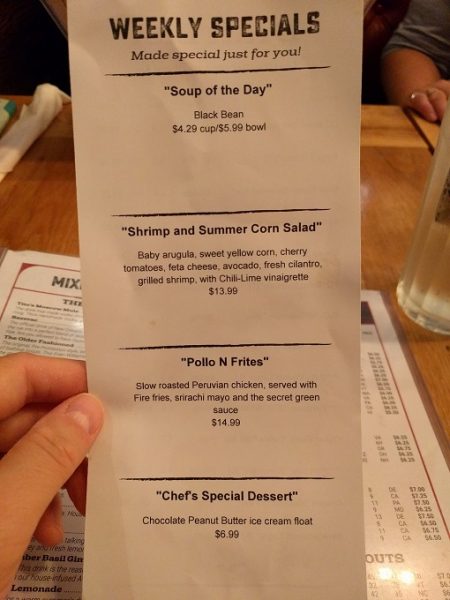 It was hot in DC that day and I wanted something refreshing, so decided to give the Whiskey Smash a try.
Shae tried to order the Cherry Daiquiri, but our server told her that she didn't want that because it wasn't very good(!) After a lot of deliberation, she went for the Kentucky Mountain Lemonade while her mom ordered the Otter Creek Couch Surfer – an oatmeal stout.
My Whiskey Smash was the perfect choice – it had enough whiskey flavor while also being refreshing thanks to the lemonade and crushed ice. I tried a little of mom's oatmeal stout – it was very flavorful and is one I'd definitely be interested in having a whole bottle of in the future.
Now it was time to order our food. The Pollo N Frites on the specials menu almost made me change my mind about what to have for lunch. However, I decided to stick with my initial choice: The Squealer Burger – half ground beef, half ground pork and topped with bacon.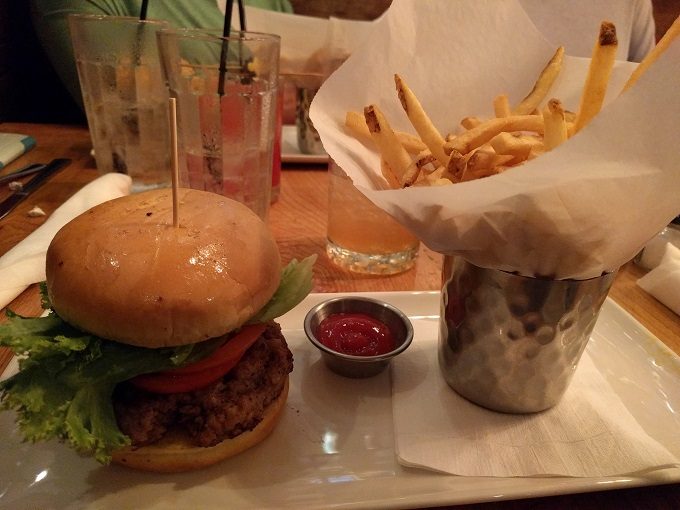 Shae ordered the Tavern burger which is a regular burger with no special toppings.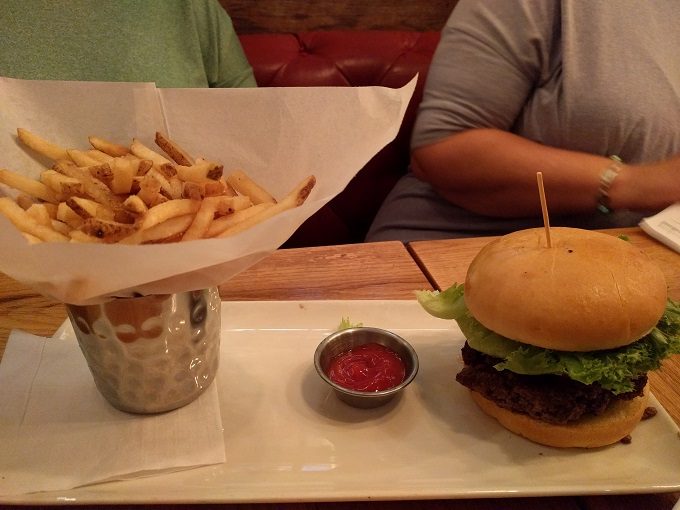 Her mom ordered the Pretzel burger. It originally came out on a regular bun, so we had to send it back to get the pretzel bun.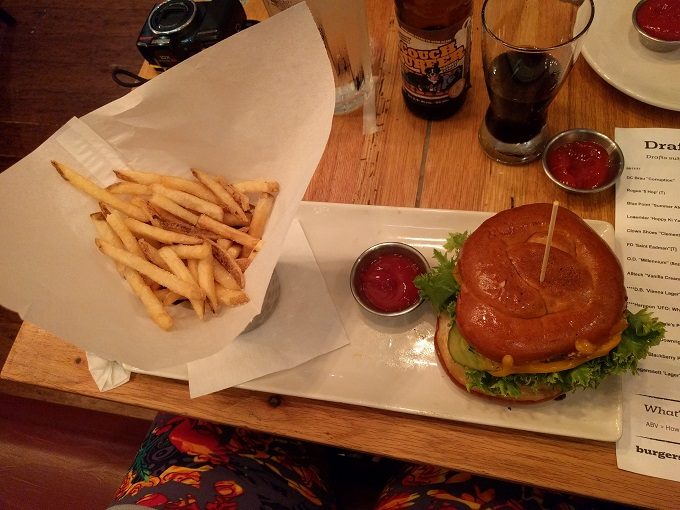 Shae's stepdad ordered the b Mac which is their version of the McDonald's Big Mac and asked for a side of onion rings rather than fries. He ordered it on a wheat bun but it came out on a regular bun. He decided to leave it as it was though rather than sending it back.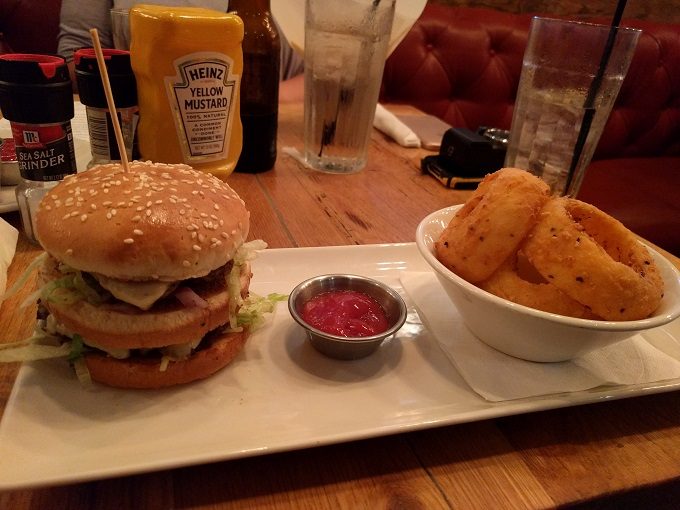 Our burgers all tasted amazing and were perfectly cooked all the way through. Shae and I both thought they were some of the best burgers we'd had in the last few years.
The fries were also excellent. I'd ordered the regular fries which were hot, crispy and full of flavor. Shae and her mom both upgraded to the truffle fries and they loved them too.
b Restaurant had some delicious-looking desserts, but I was full after my burger and fries and so had to pass them up. Shae ordered the b FunniBone to share with her mom which is a double chocolate cake with peanut butter mousse.
Unfortunately, I forgot to take a photo of it when it came out, so just picture a chocolate cake in your head and you'll probably be imagining it correctly! They enjoyed the cake – not the best they've ever had, but certainly not a bad choice.
Summary
If you're looking for somewhere to eat in Washington DC near the National Museum of National History, National Archives, etc., b Restaurant DC Penn Quarter is a solid choice.
The burgers and fries are excellent, while they also have some great drink options. It also seemed fairly reasonably priced given its central DC location.
Our server was OK, although might not have been to everyone's tastes given how she joked about how they had all the cows downstairs being ground up, as well as the unusual way she told Shae the Cherry Daiquiri wasn't very good.
Our Rating
Food = 4.5 / 5
Price = 4.25 / 5
Atmosphere = 4 / 5
Decor = 4.25 / 5
Service = 3.75 / 5
Total = 4.15 / 5
Address
b Restaurant DC Penn Quarter, 801 Pennsylvania Ave NW, Washington, DC, 20004