Roanoke VA Mini-Trip Report
Review: Benny Marconi's Pizza, Roanoke
On our way to the Roanoke Pinball Museum at Center In The Square, we walked by a couple of restaurants selling pizza.
As we left the Center later on, we asked one of the guys working at the front desk which place we should grab a slice. Without missing a beat, he said "Benny Marconi's."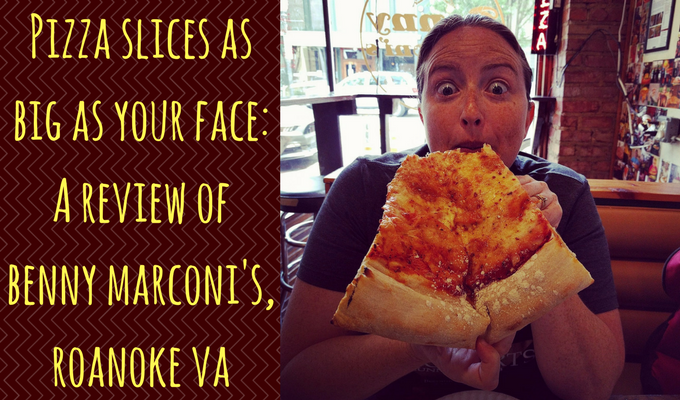 Decision made, we walked the two minutes from the museum to the restaurant. Benny Marconi's is on East Campbell Ave in downtown Roanoke. That section of the road has a great variety of food options, from pizza to seafood to Indian to Mediterranean to Lebanese.
As you walk in, the counter and pizza oven is in front of you.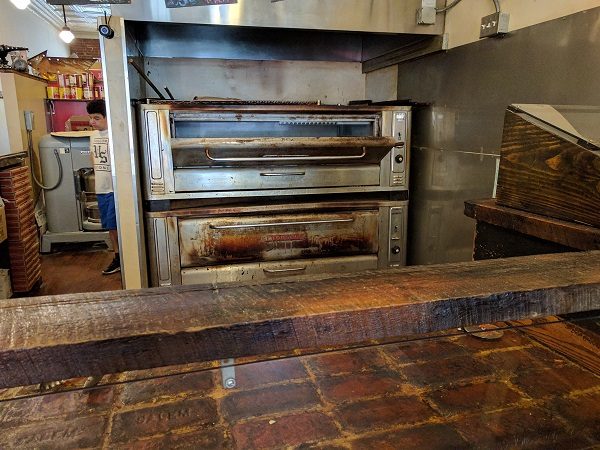 Above the counter is a hanging menu listing the different toppings you can get.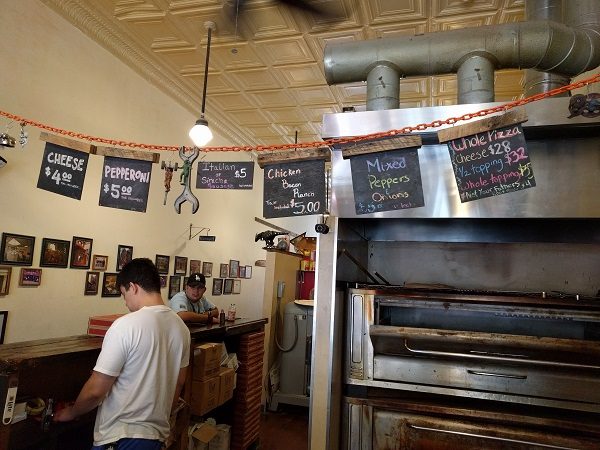 It's hard to make out a couple of those in the photo, so here are your options:
Cheese slice – $4
Pepperoni slice – $5
Italian or Sriracha Sausage – $5
Chicken, bacon & ranch – $5
Mixed peppers & onions – $5
Whole cheese pizza – $28
Whole pizza with 1/2 toppings – $32
Whole pizza with whole toppings – $35
Not Your Father's Root Beer – $4
Now, you may be thinking that a whole pizza for $28 is way expensive, but there's a good reason for that – it's a 28″ pizza. For comparison, an extra large pizza at Pizza Hut is only 16″.
If the thought of a 28″ pizza sounds exciting, you might want to try The Benny's Challenge. If you can eat a whole 28″ pizza in under 1 hour, you win $500 and a Champion T-Shirt.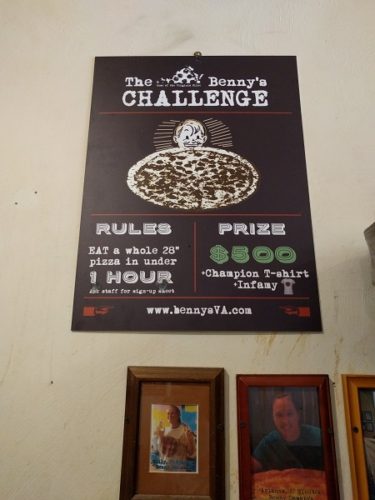 There was no way either Shae or I could manage that, so we each just ordered a slice. Shae went for cheese and I ordered a slice of the chicken, bacon & ranch.
The slices appear to be pre-prepared but are cooked fresh in the oven once you place your order. That's great as it means you don't end up with a dried out slice that's been sitting under a heater for a couple of hours.
As it was going to take a few minutes for the pizza to cook, we went and took a seat. Benny Marconi's has several different seating options in the restaurant. There are several booths along the wall that seat four people, as well as a long high table in the center that can easily seat a group of ten people or more.
There's also some window seating if there are only a couple of you, long shelving along the other wall if it's standing room only in the restaurant and a table and chairs out front.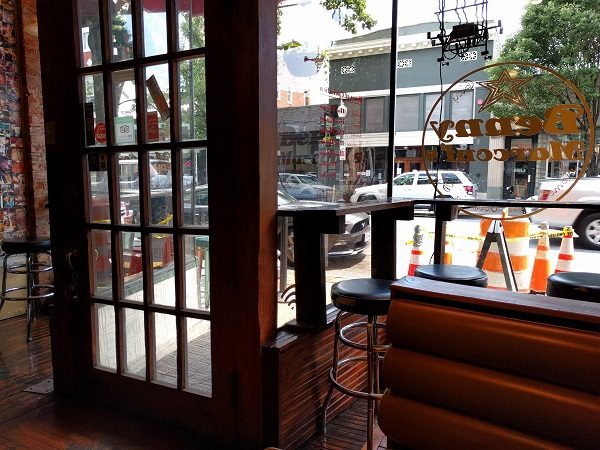 That wall has a ton of fun photos people have taken when eating at Benny's restaurants. They have locations all over the east coast, with each restaurant having a different last name. So this one was Benny Marconi's, but they have Benny Deluca's in Charlottesville VA, Benny Fierro's in Pittsburgh PA, etc.
If you're a fan of Calvin and Hobbes, you'll want to visit their restroom as it's plastered in their comic strips.
Soon enough our pizza slices were ready, so we added our condiments and headed back to our booth. There's garlic powder, Parmesan, oregano, chili flakes and what I think was some kind of hot sauce.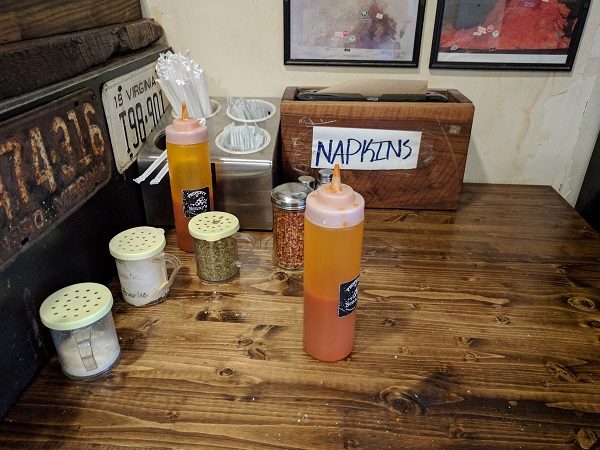 The pizza slices at Benny Marconi's are so big, they're served on two paper plates.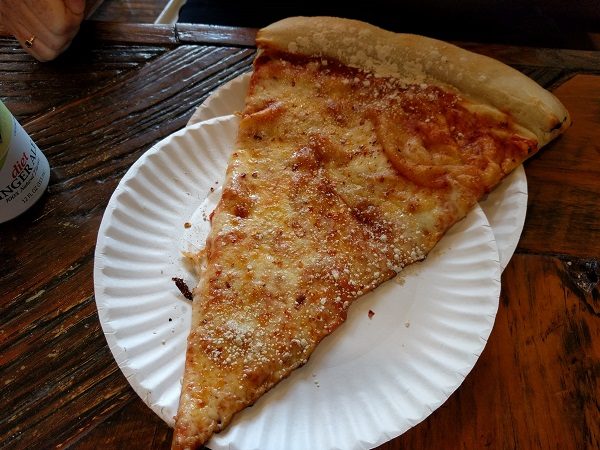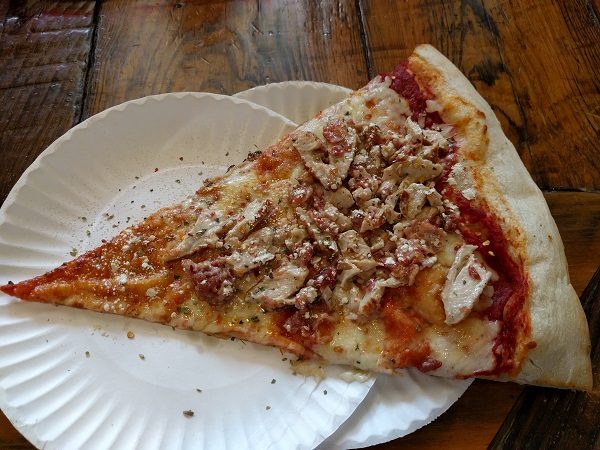 I'm not a huge fan of cheese, so I picked off some of the excess cheese (I know, why go to a pizza place if I'm going to do that?!). I loved that they're generous with the pizza toppings though.
Despite not caring for cheese, the pizza was excellent. The dough base was delicious and was cooked perfectly. It's a fairly thin base and ends up slightly crispy from being in the oven – something I enjoy.
Shae tends to prefer non-thin crust pizzas, but she loved her slice too.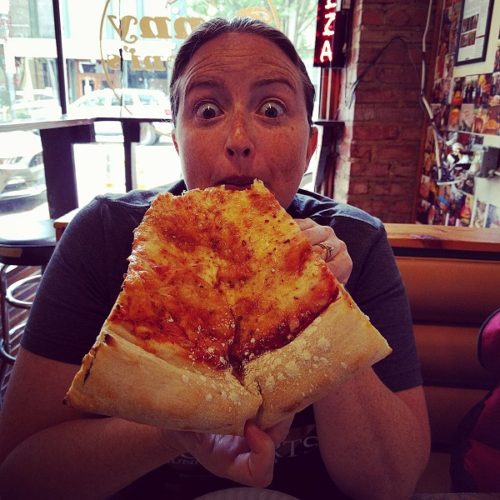 Summary
Benny Marconi's is definitely worth a visit if you find yourself in downtown Roanoke VA. The pizza is amazing and it's great value given the size of each slice. The staff member who served us was incredibly friendly and seemed to genuinely enjoy working there.
It seems especially perfect as a place for college students to hang out and have a cheap meal.
I think we might have to check out some of the other Benny's restaurants while we're on our 50 state road trip – hopefully their other locations give just as great an experience.
Rating
Food = 4.5 / 5
Price = 4.5 / 5
Atmosphere = 4 / 5
Decor = 4 / 5
Service = 4.75 / 5
Total = 4.35 / 5
Address
120 East Campbell Ave, Roanoke, VA 24011