While we were staying at the Hyatt Place Charleston Airport/Convention Center, I took Truffles out for a long walk one night.
As we were walking along, we went past a place called Big Billy's Burger Joint. It didn't look like a chain, so I googled it as we walked and checked out their menu.
I immediately knew that we had to eat here; Shae agreed when we got back later on and I showed her the menu.
So a week ago, we made our way there for dinner – here's what it was like.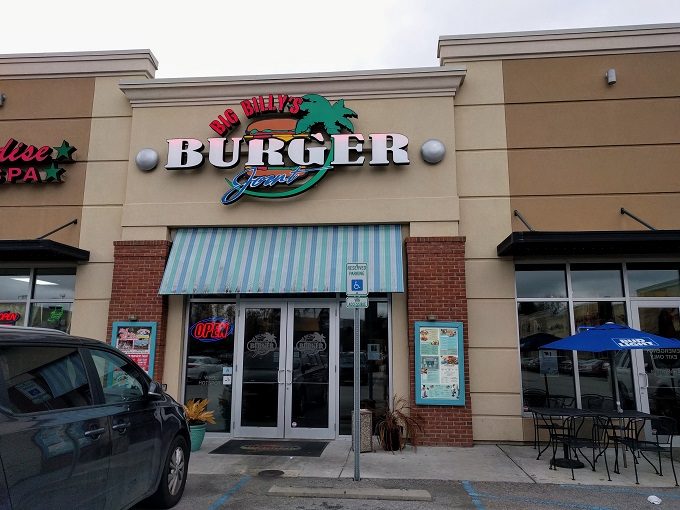 It wasn't too busy when arrived as we got there about 4pm. We were quickly shown to a booth table in the center of the restaurant beneath a tiki hut.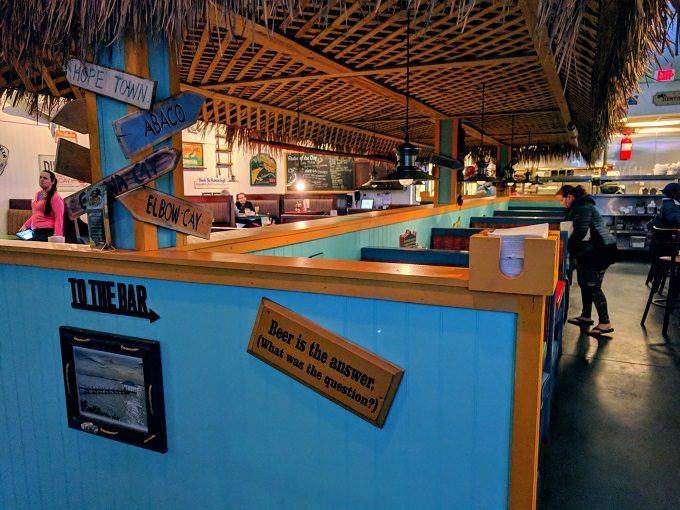 As we were there from 4-8pm, we got to take advantage of happy hour. There are both drink and bar food happy hour menus: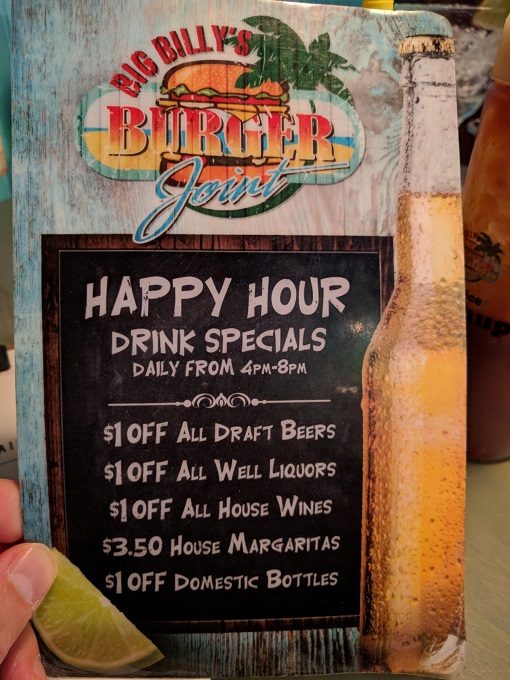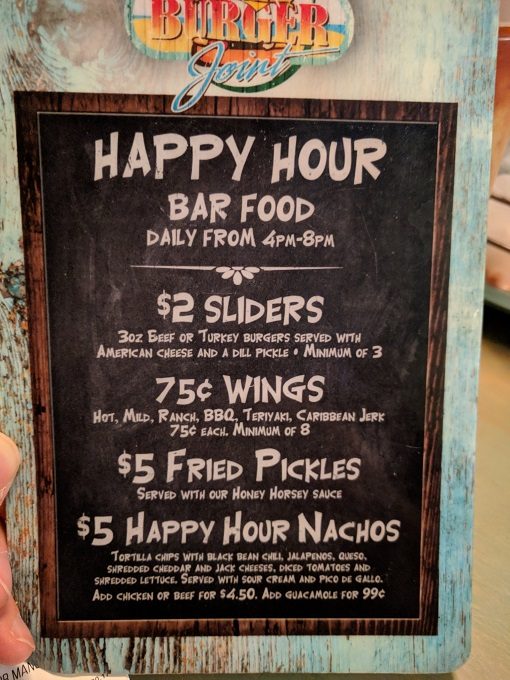 I was driving, so I let Shae take advantage of the drinks menu – she ordered a $3.50 margarita. We also ordered the $5 fried pickles with honey horsey sauce to share.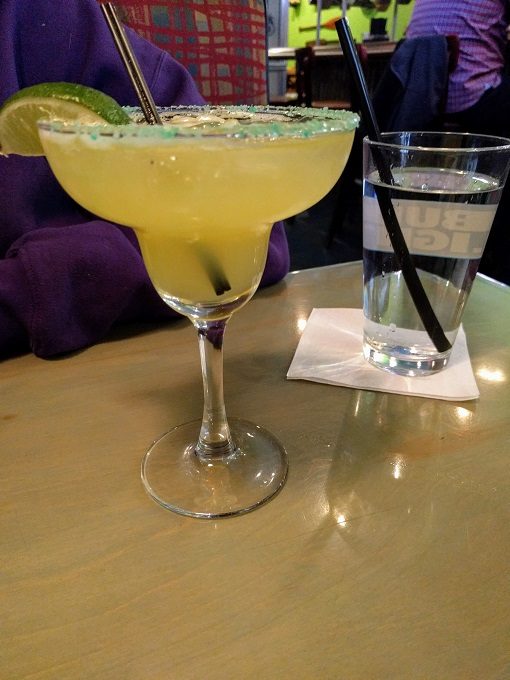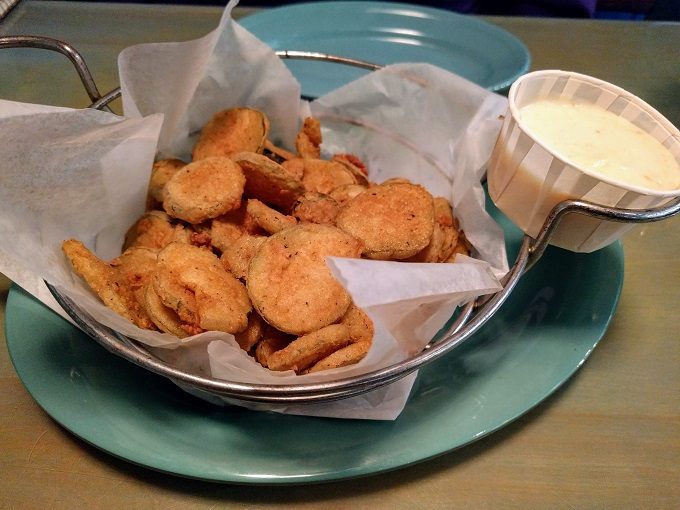 I don't usually care for frickles, but these ones were pretty good, especially coated in the sweet horseradish sauce. Shae – who does usually like frickles – loved these ones. Apparently they were cut more thinly than normal and there was just the right amount of batter.
Now, I mentioned earlier that after checking out their menu we both knew we had to eat at Big Billy's Burger Joint. Here's why: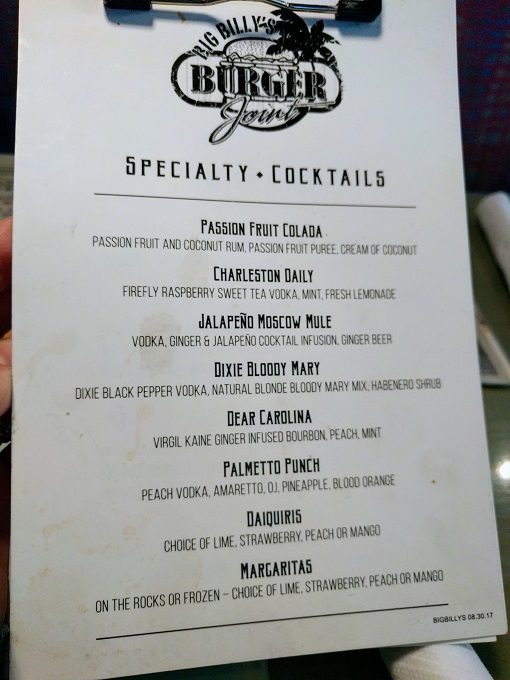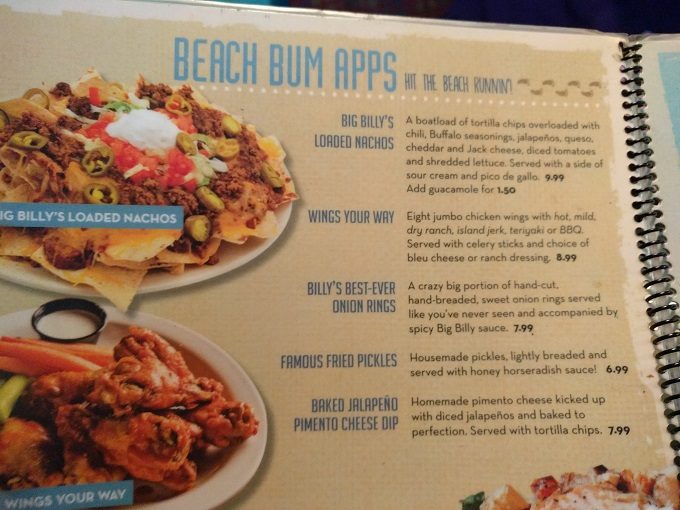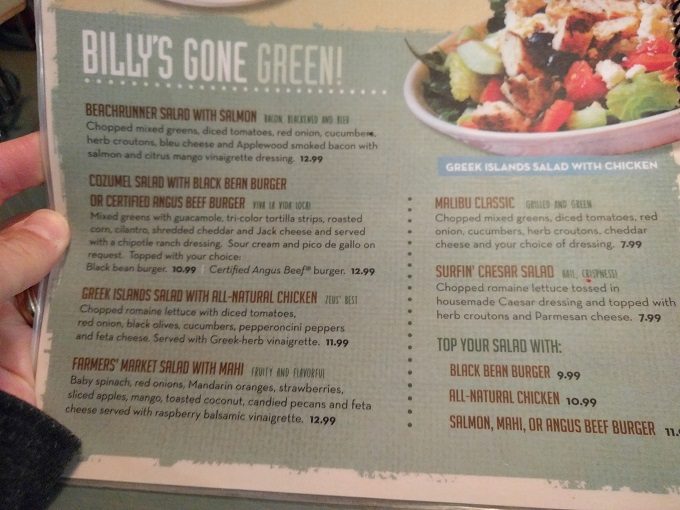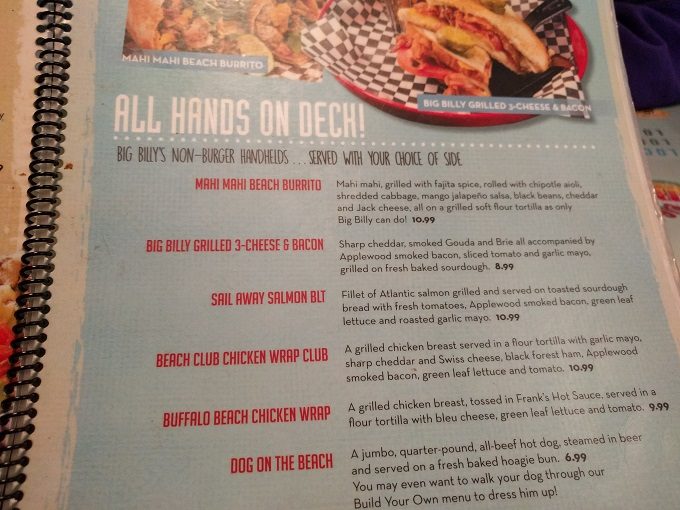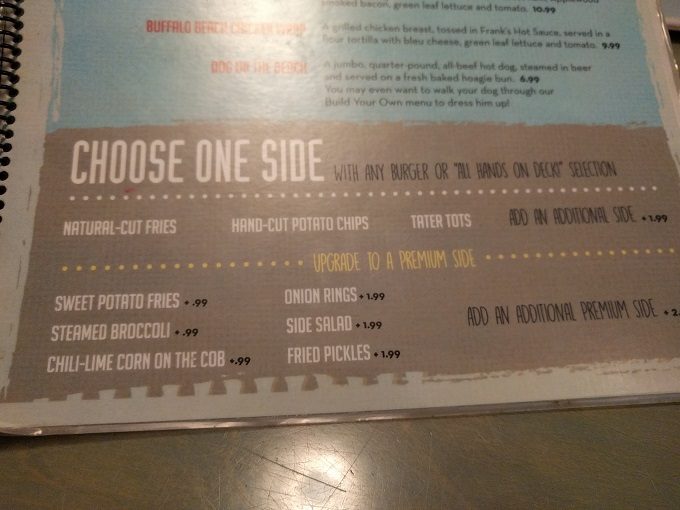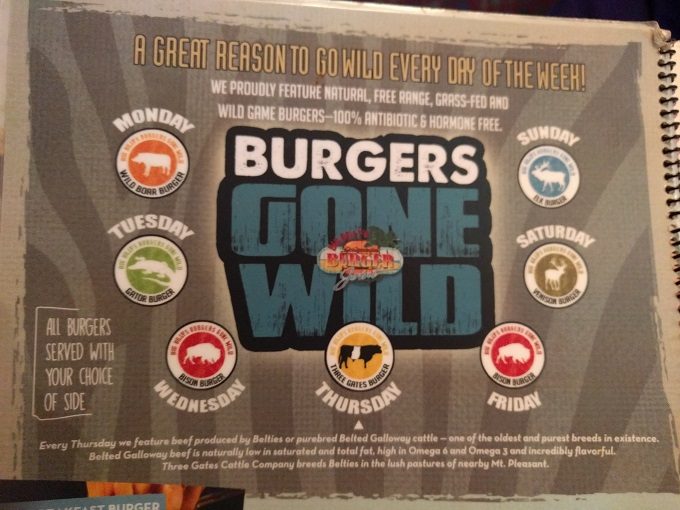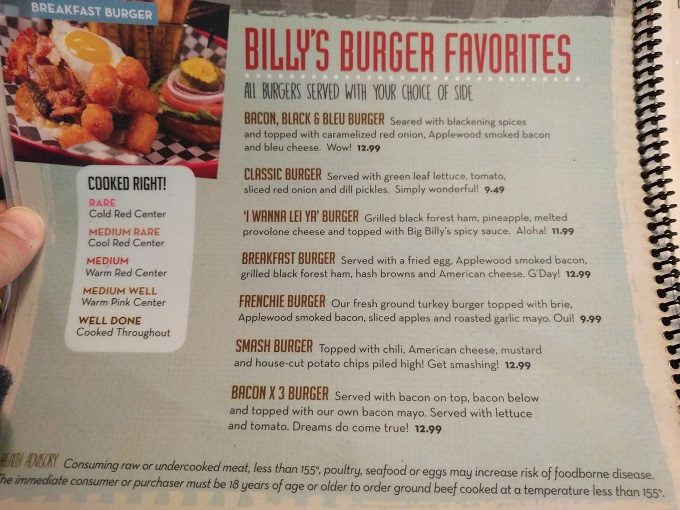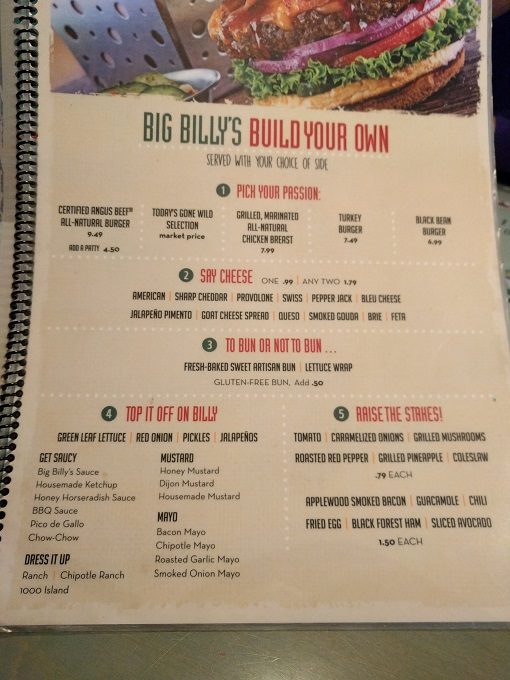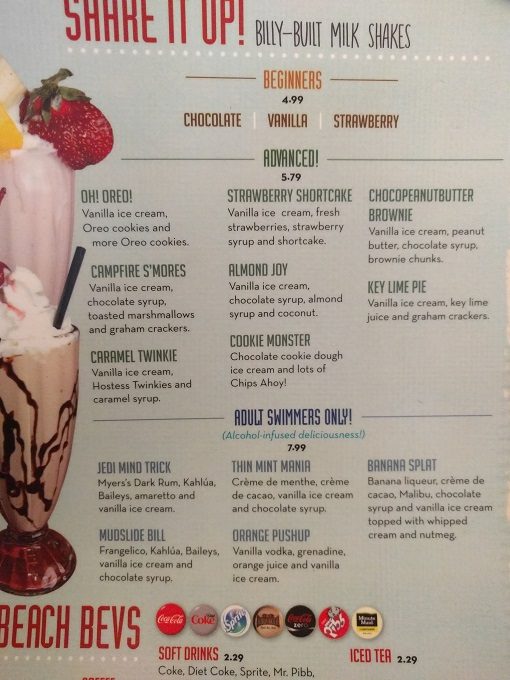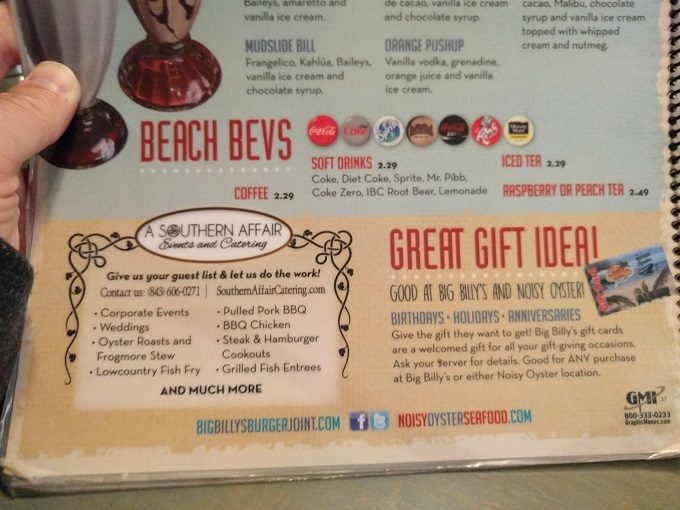 The part that had caught my eye was the section with wild game burgers. When checking out their website menu, I'd assumed you could order gator, wild boat, elk, etc. any day of the week.
Unfortunately that's not the case – there's a set special meat every day. We visited on a Wednesday, so the wild game burger that day was bison.
Shae and I were both feeling adventurous, so we ordered bison burgers with different toppings. She got it as a cheeseburger topped with jalapeno pimento cheese and a side of chili-lime corn on the cob.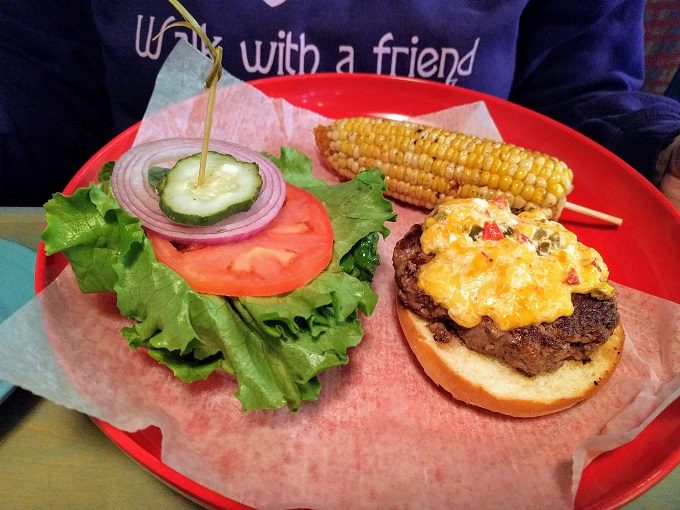 Shae loved her bison burger and the spicy cheese on top. The corn on the cob on the other hand apparently wasn't great. It wasn't bad – it just apparently had no flavor which was a little disappointing as she'd been intrigued by the chili-lime seasoning.
I'd wanted the breakfast burger (minus cheese) but with a bison burger. This had to be made as a "build your own" burger, so it came with a fried egg, bacon and ham, but minus the hash browns as that's not on the "build your own" menu. Although I normally get fries with a burger, I figured my burger would be filling enough and so ordered broccoli as my side.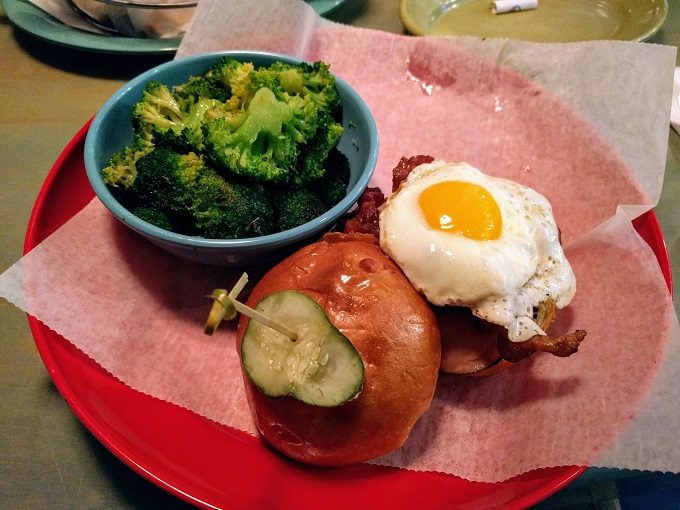 My burger was delicious as well – the bison burger was cooked perfectly and the ham, bacon and egg complemented it perfectly. The broccoli was OK, but was a little oversteamed.
Next up was the part Shae was most looking forward to – milkshakes. More specifically, the adult milkshakes.
Shae's favorite Girl Scout Cookies are Thin Mints, so the Thin Mint Mania milkshake was the only choice for her. That comes with crème de menthe, crème de cacao, vanilla ice cream and chocolate syrup with a Thin Mint on top..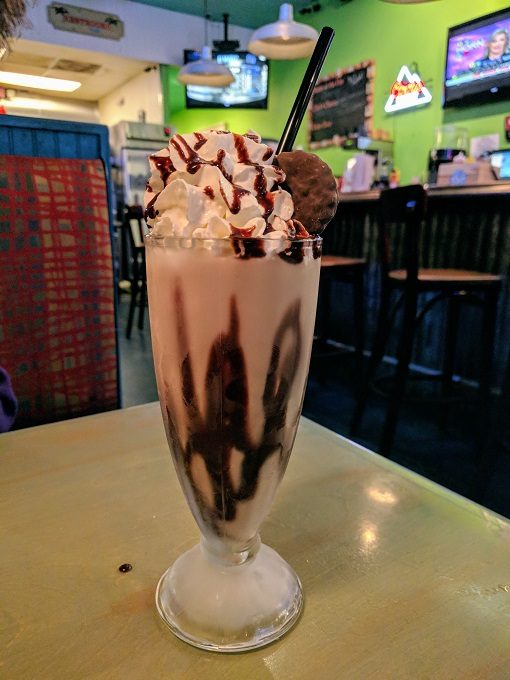 This made Shae's night – Thin Mints, milkshake and booze thrown into the mix. It tasted amazing too (I got to try a little as well).
Big Billy's Burger Joint also has an eating challenge. With the Belt Buster Challenge you have to eat:
A double patty burger with a grilled cheese in the middle
Order of loaded nachos
Tots or fries
Signature milkshake
If you eat it all within 20 minutes then it's free; otherwise you have to pay $30.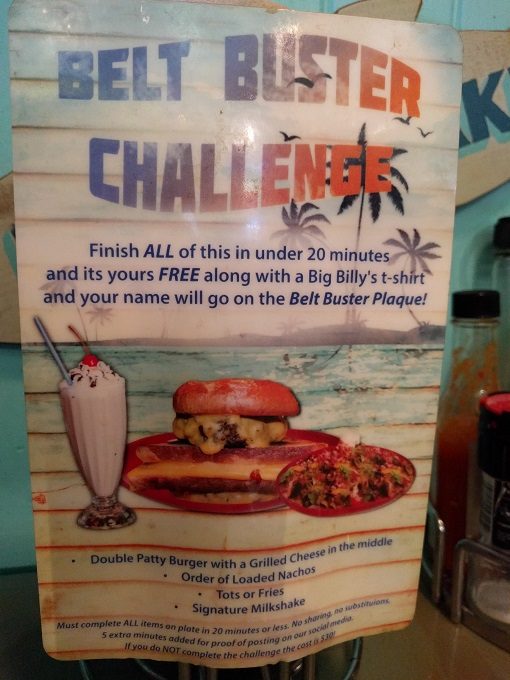 I'd struggle to eat all that food even when super-hungry, but I don't like cheese so there's no way I'd be able to complete the challenge.
There are many people who've managed to complete the challenge though, so there's a plaque on the wall to honor their achievement.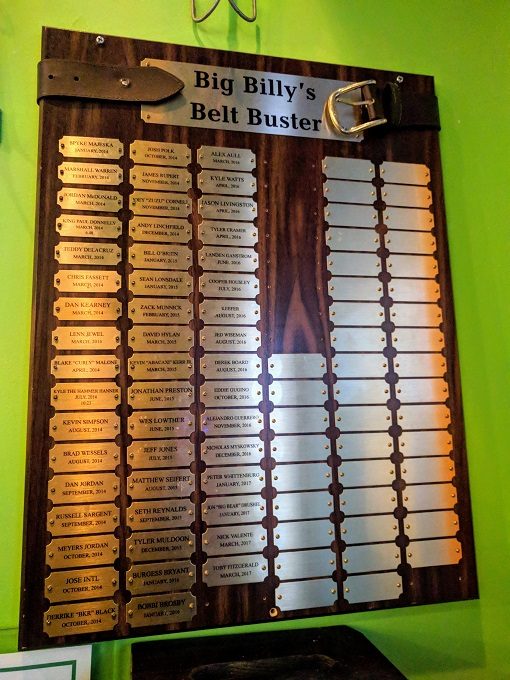 Our final check (including tax but before tip) came to $51.19. That included the fried pickle appetizer, two Build Your Own Burgers with bison burgers, a margarita and an alcoholic milkshake.
Final Thoughts
All in all, we had a great meal at Big Billy's Burger Joint. Their burgers were delicious, they have well-priced happy hour deals and it's awesome that they have adult milkshakes.
The only downsides to the experience were our sides of broccoli and corn on the cob. Neither were particularly great, but we were there for the burgers and milkshake rather than the sides, so it wasn't a huge issue.
The service was good as well – our server was attentive, friendly and kept our drinks filled up.
Our Rating
Food = 4.7 / 5
Price = 4.4 / 5
Atmosphere = 4.2 / 5
Decor = 4.2 / 5
Service = 4.5 / 5
Total = 4.4 / 5
Address
Big Billy's Burger Joint, 5070 International Blvd, North Charleston, South Carolina 29418