For our six night stay in Greenville, South Carolina we stayed at the Comfort Inn & Suites at 831 Congaree Rd (there's another Comfort Inn further up Congaree Rd.)
This was our first time staying at a Comfort Inn and the hotel itself was a pleasant surprise. Some of the service on the other hand was, quite simply, awful.
Here's our review of the Comfort Inn, Greenville SC.
Check-In
The poor service began at check-in, although at that point is was more weird than anything else. We'd booked three sets of two-night stays (I explain why in the 'Cost' section below) and asked if we could merge the reservations so that we could stay in the same room.
The woman checking us in said it'd be fine to stay in the same room, but we'd have to come to the front desk every two days to check in and out. The reason she gave was that we'd booked through booking.com and so it wouldn't allow her to merge the reservations.
We'd actually booked directly with them at choicehotels.com (Comfort Inn is one of their brands), so I was confused why she thought we'd arranged our stay through booking.com. After a bit of back and forth, she said that some OTAs (e.g. booking.com, Expedia, etc.) try to make their sites look like the choicehotels.com website, so they'd simply fooled us into thinking we'd booked directly! I'm 100% certain that's not the case, but we gave up trying to explain and headed to our room.
The elevator mentioned that there was some work going on in the hotel:
The hallways were nice and wide and looked clean.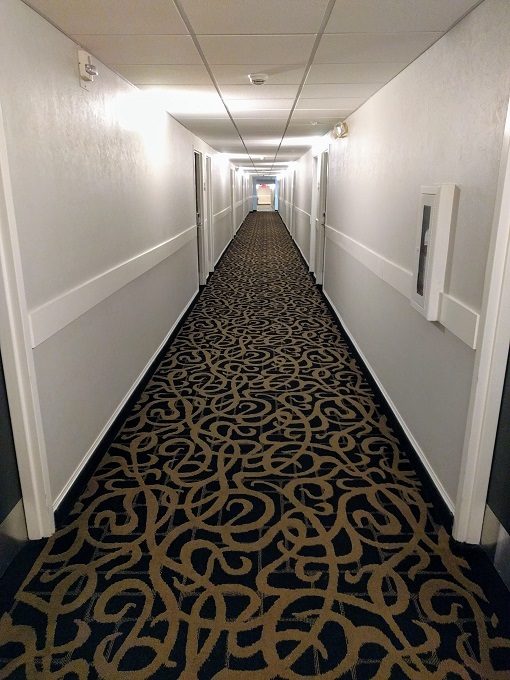 She'd put us in room 211 which she said would be good for us as it was close to an exit so we could take Truffles out. (n.b. Pets are no longer allowed at this hotel, but we booked before that change so we were grandfathered in.)
Room 211 was indeed good for taking out Truffles, but it turned out to be – quite literally – the worst location in the hotel. You'll find out why shortly.
Bedroom
As we entered the room, the closet and bathroom were immediately to the left, with the main bedroom area ahead and to the left.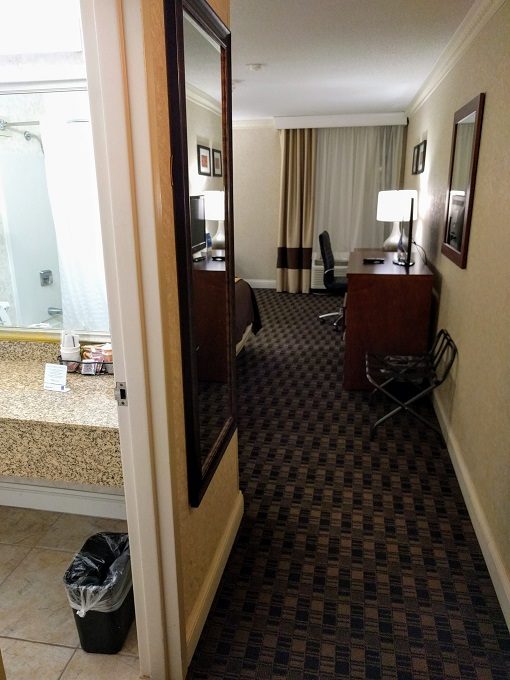 We'd booked a room with a 1 king bed. The bed was extremely comfortable and the blackout curtains ensured we got a good night's sleep each night.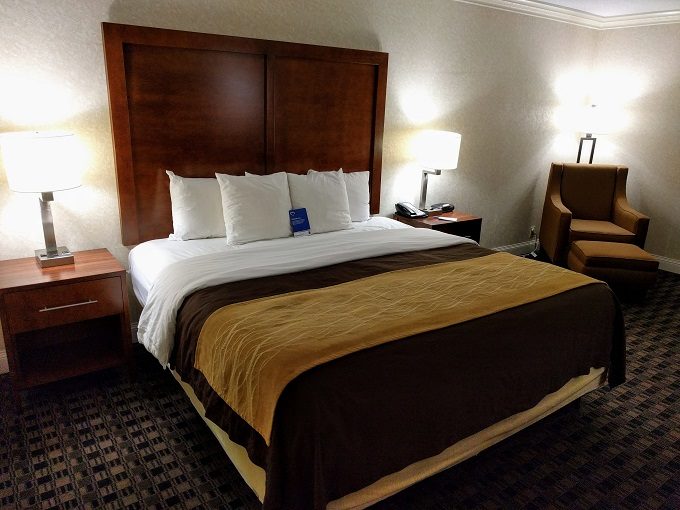 In the corner was an armchair and ottoman. I used it to hold my bag, so I've no idea how comfortable it was.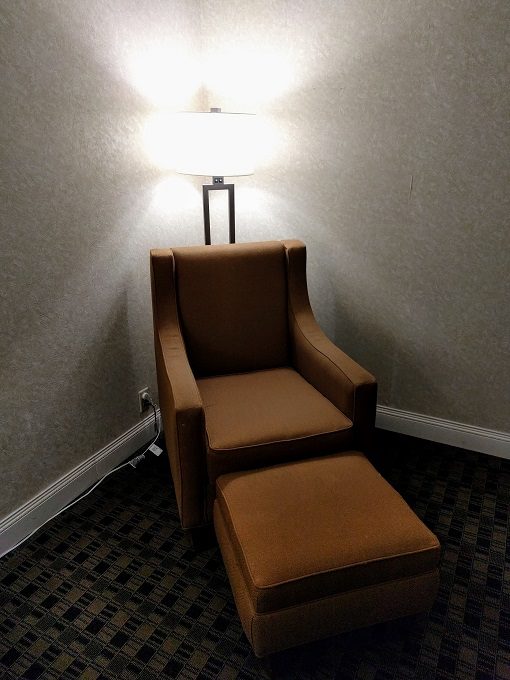 On the other side of the room was a desk and office chair.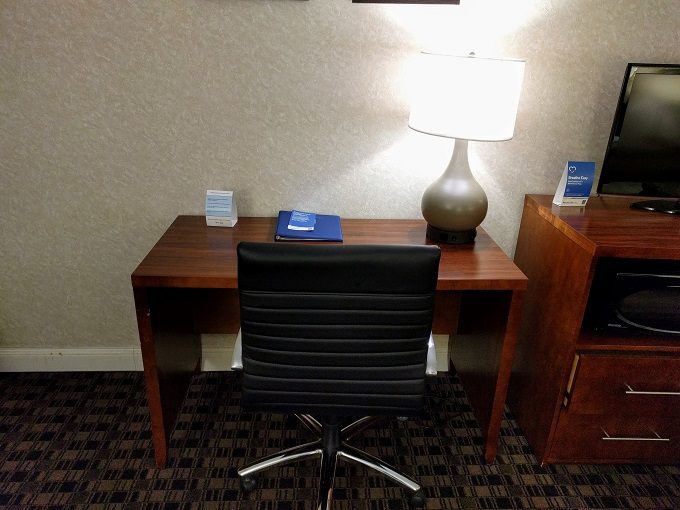 The desk had a binder containing information about the hotel and the surrounding area for guests. I'd be wary about relying on its information though seeing as it doesn't appear to have been updated for at least 17 years (the last time TWA was in operation.) In fact, half those airlines have since ceased operations or merged with other airlines.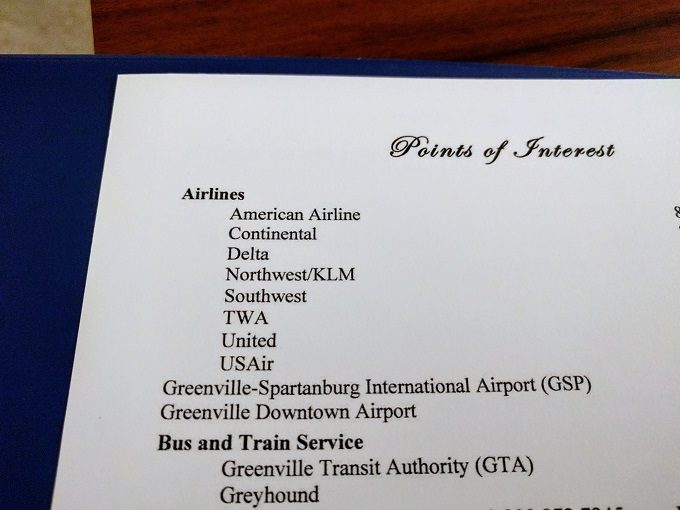 Next to the desk was a cabinet containing a couple of dresser drawers, TV, microwave and fridge, with a luggage rack beside the cabinet.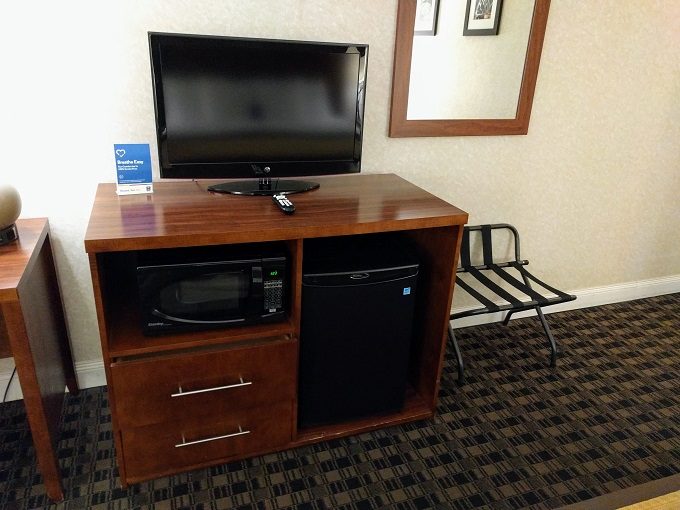 A quick note on the TVs at the Comfort Inn in Greenville – their sound is terrible. Seriously, they were the worst sounding TVs I've ever heard (remind me never to buy a Westinghouse TV.)
On the positive side, they had an excellent selection of TV channels. In addition to the usual cable TV channels, they had NBC Sports and Fox Sports 1 (for me) and Game Show Network (for Shae), as well as several others.
The closet contained an ironing board, iron and safe (which they didn't charge $1.50 per night to use!)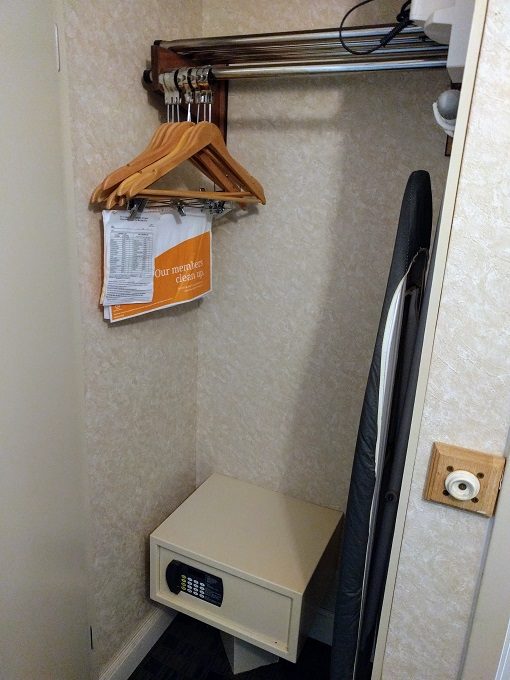 Bathroom
On the right of the bathroom was a long vanity, with the toilet next to it on the left.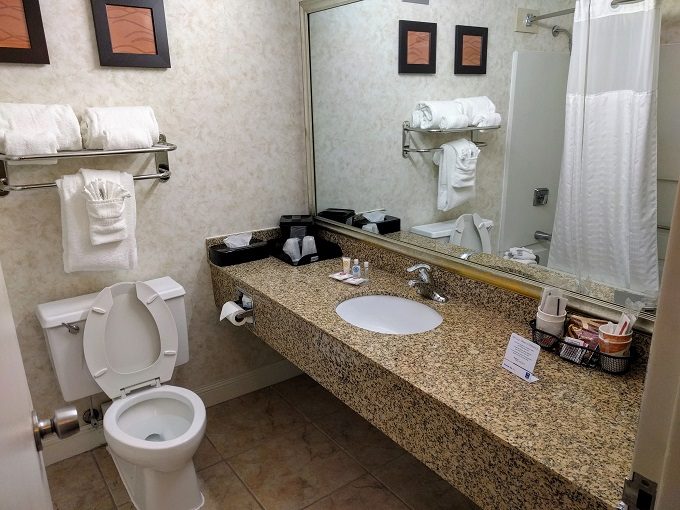 The vanity held the coffee maker…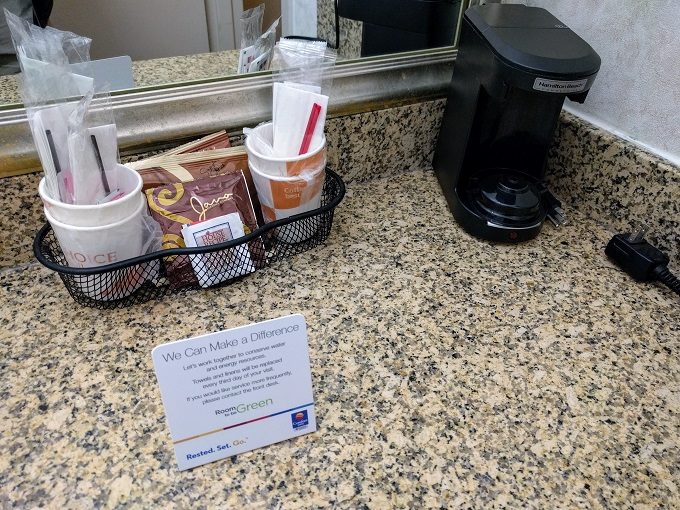 …and the toiletries which were perfectly adequate.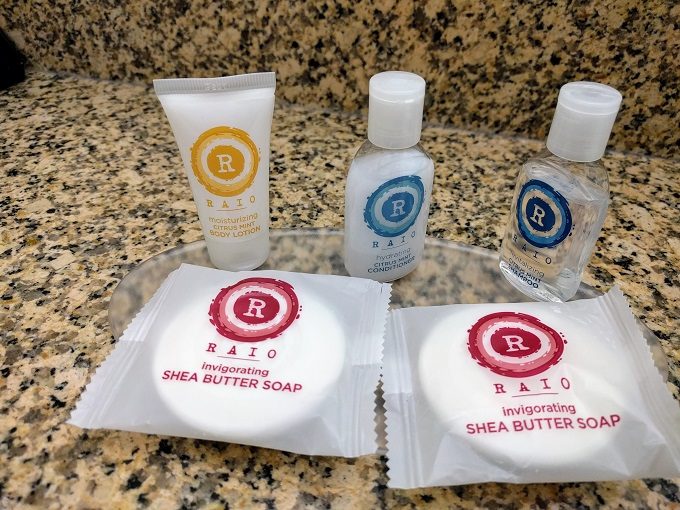 On the other side of the bathroom was a bathtub with shower.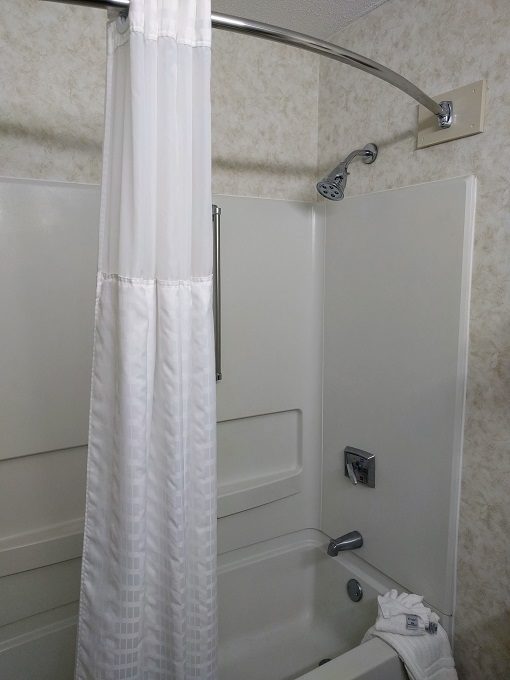 The shower had great water pressure, but there was a big issue with the water temperature. When turning the temperature to hot, it was scalding. When turned to cold, it was still incredibly hot. We were able to withstand the hot temperature the next morning, but I'm glad I wasn't hoping to have a cool shower after a jog.
Still, we wouldn't have to worry about this shower for long.
The Noise. So Much Noise.
I mentioned earlier that room 211 was in a good location to take our dog Truffles outside. That was the only good thing about the location.
As the note in the elevator advised, they were renovating the hotel during our stay. The problem was that all the renovations were surrounding our room.
The next morning there were construction workers in the room next door, in the room opposite and possibly the room above us.
Work started before 9am, with them drilling on the floor (maybe trying to remove bathroom tiles?) before 10am. With all that noise, room 211 was the worst possible room to stay in while we were there.
The Service. Such Awful Service.
We were out during the day visiting Falls Park On The Reedy and hunting for all the Mice on Main, so we didn't speak to the front desk until we returned that evening. Shae went down to the front desk around 5pm to ask a couple of questions about housekeeping and the construction hours, while I made our dinner in the Instant Pot.
The same woman from our weird check-in experience was there but she was incredibly rude this time around. Here's Shae to explain what happened:
I took a deep breath in the elevator and tried to put the previous night's experience out of my mind since everyone is entitled to a bad day. I came over smiling and said that I had two questions and if she could please help me with them.
Me: Firstly, I was just wondering when housekeeping comes? *smiling, trying for a fresh start*
Staff: Housekeeping has already left for the day. *tone was definitely full of attitude*
Me: Well, yes, but when do they come as our room wasn't serviced today even though we left by 11:00am.
Staff: Did you have your Do Not Disturb sign on your door?
Me: No. We had it on earlier when we were in but we took it off when we left.
Staff: Was your dog in the room? *tone continued to be unkind*
Me: No, she left with us.
Staff: Well, maybe they started early on your floor. Do you need towels?
Me: (thinking it was nice for her to offer) No, just some shampoos because it's not quite enough for my hair.
She returned with the shampoos and I continued with my second question.
Me: When will construction finish? They're right next to our room and at 9am they were jack-hammering the floor. It was incredibly loud.
Staff: They should be done by 7pm.
Me: OK, great – I was just surprised that we were put in a room right next to the work happening. It was supposedly just happening further down the hall.
Staff: Well I didn't know they were going to be doing that. Plus you have a dog so you need an exit straight outside.
Me: And we really appreciate that, but again, I'm just surprised that anyone is on the floor with construction that starts at 9am and goes until 7pm when it includes jack-hammering. *deep breath*
Staff: Well they can't start any earlier.
Me: Again, which I do appreciate.
Staff: You couldn't be put on a higher floor because of your dog. This may come as a surprise to you but not everyone likes dogs. This way you don't need to use the elevator with the dog.
Me: *now incensed* Thank you very much. *walked away fuming*
From the start of our interaction the staff member's attitude was terrible. All of her replies were short, cutting me off or were incredibly insulting. We do understand that not everyone likes dogs, but to be put in a room in the middle of construction (right next door in fact) didn't seem like a reasonable solution to our 10lb dog not being able to ride the elevator. Especially when she has to take the elevator anyway if we come and go through the front door of the hotel as we'd been put on the second floor.
The worst part is that it didn't need to go this way. I didn't go down to complain or demand to be moved. I just went with questions. You should be able to ask these questions without replies like I experienced. I do understand that I'm a dog person, so her clear dislike of dogs (at least ours!) was weird, but we also try to be very considerate with Truffles and it was her condescending comments at the end of our interaction that really made me angry.
We didn't see this staff member again until the end of our stay but we purposely avoided seeing her as we were not in the mood for whatever behavior she may have had after the manager was notified the following day of this interaction.
Better Service
The next morning Shae went down to see if the manager was available to chat about her experience the night before. Erika (the manager) was excellent. She listened to what Shae had to say, apologized for the experience and seemed surprised that we'd been put in room 211 due to all the work going on in the surrounding rooms.
She immediately gave Shae keys to a room on the top floor (room 526) that we could move up to at our convenience. Erika also comped the pet fee; although it was only $25, it was a nice gesture which we appreciated.
Shae's experience with Erika and Jovanna (and every other staff member in the hotel) was night and day different when compared to our interaction with the first staff member. They couldn't have been nicer, more accommodating or proactive. Erika said good morning to us from across the parking lot one morning and petted Truffles in the hallway when we ran into her. We had a quiet stay for the remainder of our visit.
I won't bother sharing photos of room 526 as it was pretty much identical to room 211. The only differences were that it was on the opposite side of the hotel and everything was on the right as you entered the room rather than on the left.
Breakfast
The Comfort Inn, Greenville SC has a solid buffet breakfast for its price point. There are several cereals…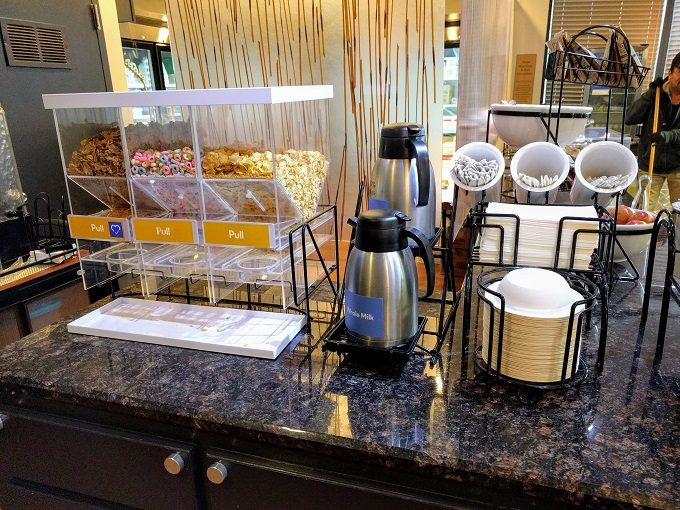 …packed grits and granola, fresh fruit and various breads, bagels, pastries and muffins.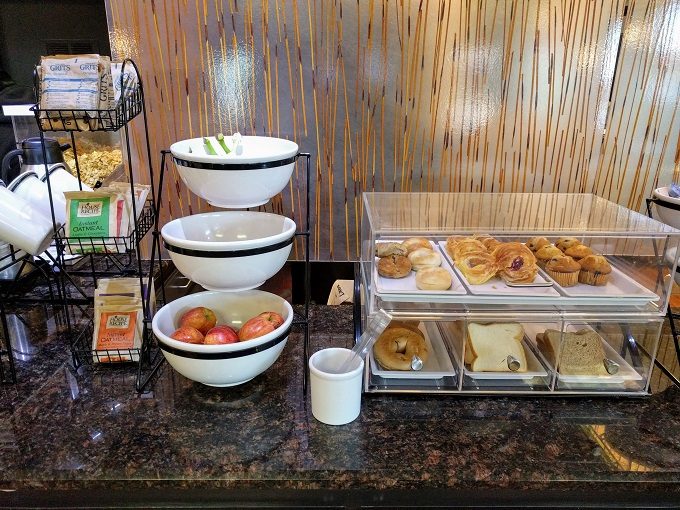 The hot options changed most days, although they did have the options in the photos below for three days in a row. That was no bad thing for me as I enjoyed all of them.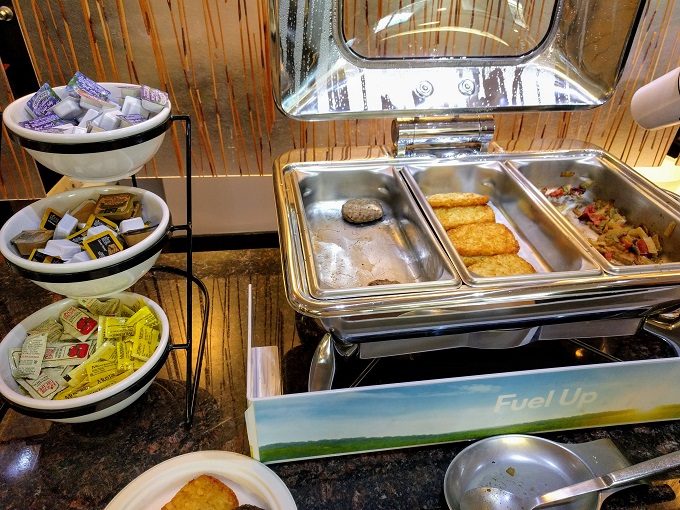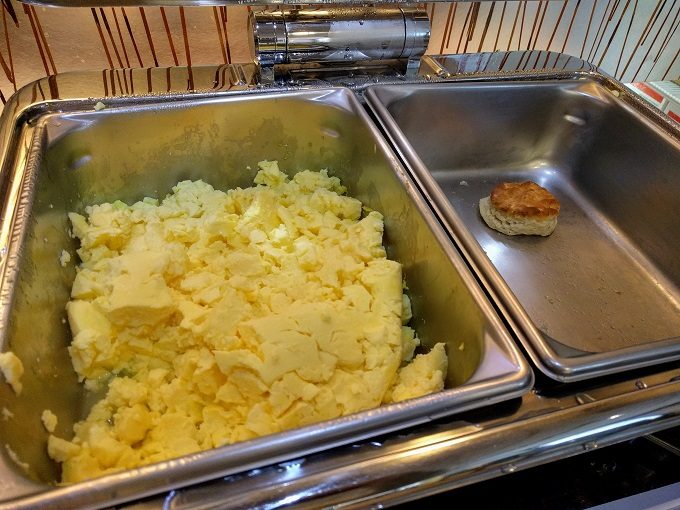 Although some of the hot options ran low at times, I never saw any of them empty as the person overseeing breakfast consistently brought out freshly heated food. This is presumably to minimize waste which is no bad thing.
There's also hot oatmeal…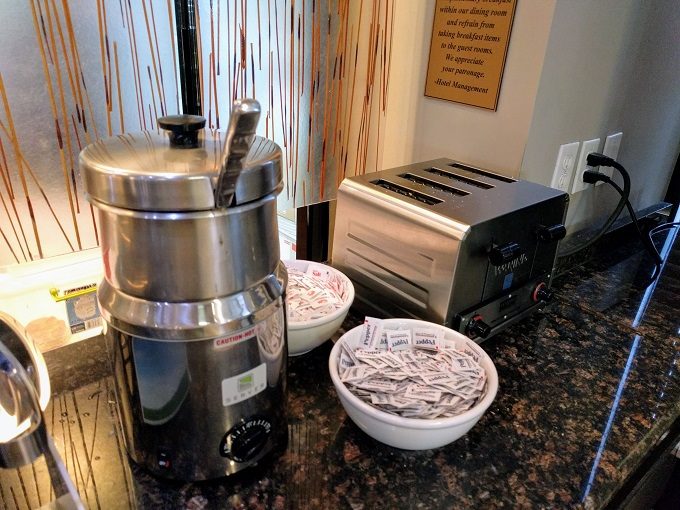 …a fridge containing yogurts, cream cheese and hard boiled eggs…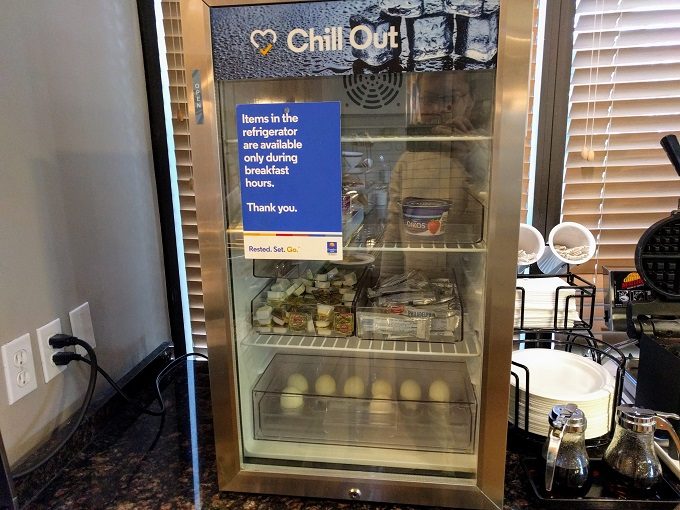 …waffle makers with maple cinnamon and original batter flavors…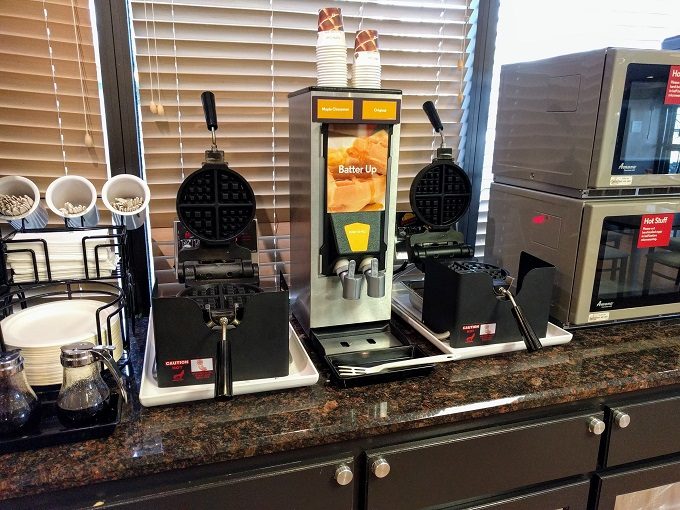 …as well as a couple of microwaves (available for use all day and night) and a juice machine.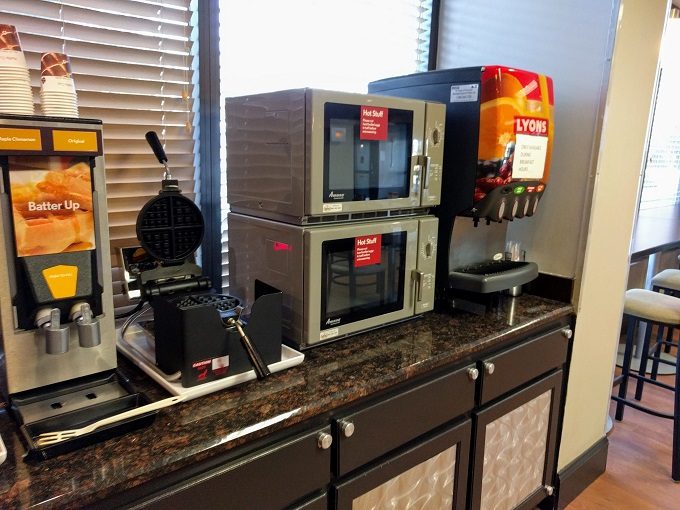 Between the lobby and dining area was a coffee and tea station that's available 24/7, although I apparently didn't get a photo of it.
Amenities
The Comfort Inn, Greenville SC has several good amenities for guests. There's a fitness room, although I didn't get a photo of that either. I realized after we'd checked out that I hadn't gotten a photo; I went back inside to get one but realized I needed a room key to get in there.
They have an outdoor pool which, seeing as it was the end of January / beginning of February when we visited, was closed.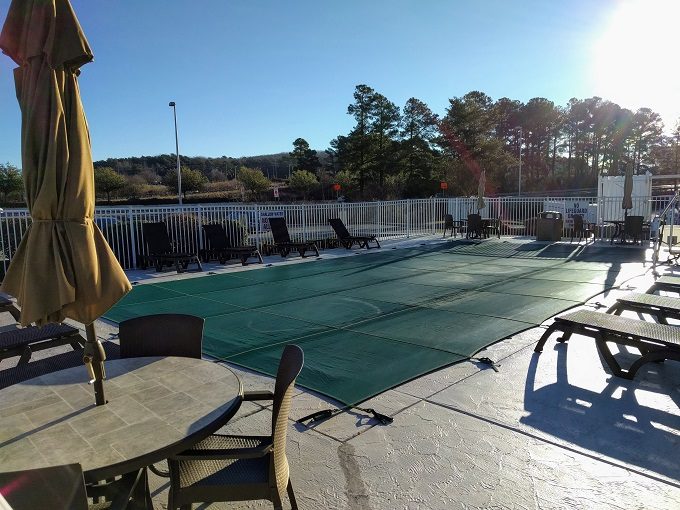 There were also two sets of washers and dryers. One set said it was $1 per wash / dry, while the other supposedly cost $1.50 per wash /dry. I say supposedly, because they only actually took four quarters.
There were also detergent, bleach and softeners available for $1 each, but we'd brought detergent with us.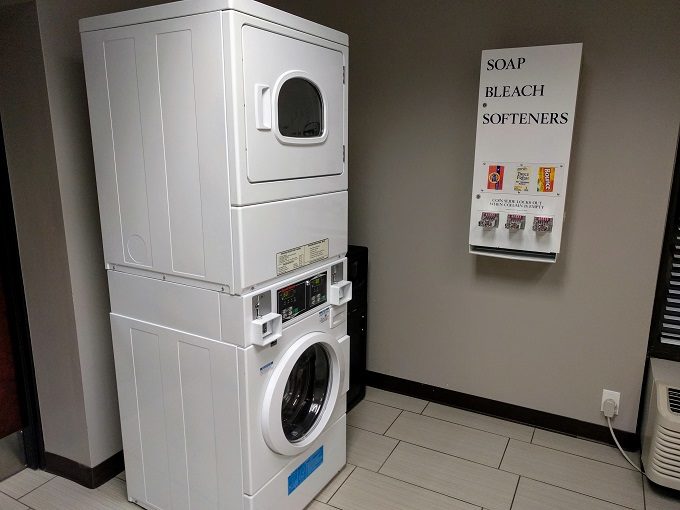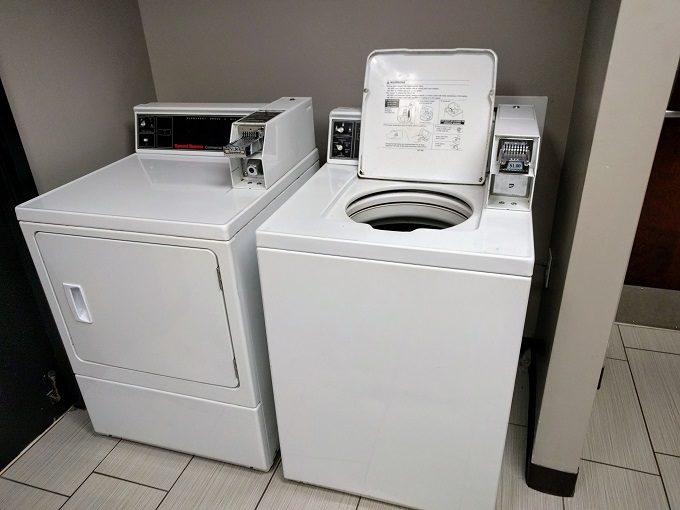 If you're thirsty or need a snack, there are both drink and snack vending machines.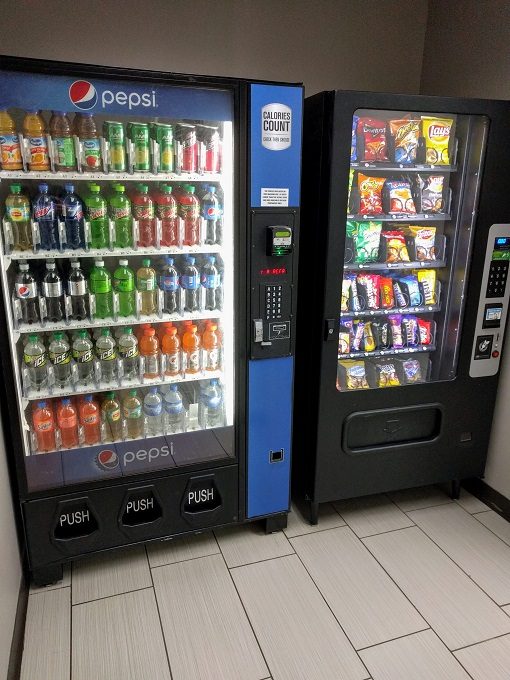 Location
The location of the Comfort Inn, Greenville SC is pretty good. It's just off I-385 and so is only a 10-15 minute drive from downtown Greenville.
Having said that, there wasn't much close by within walking distance, although there were several restaurants and stores a short drive down the road.
Cost
I'd made our reservations back in November when there was an Amex Offer for $30 back when spending $150 at Comfort Inn hotels. We had this offer on several cards, so I made three reservations of two nights each so that each stay would be over the $150 threshold.
That should've earned us a total of $90 back, but I hadn't noticed until after the Amex Offer expired that the Comfort Inn hadn't charged our cards for the stays. I'd selected an advance purchase rate, so had thought they'd take payment straight away, but it wasn't taken until we arrived. That's my fault though rather than the hotel's – I should've paid closer attention and contacted the hotel before the Amex Offer expired to ask them to take payment early.
The first five nights were due to cost $84.59, while the sixth was $76.23. The $25 pet fee would've taken the total cost to $524.18.
Although they comped the pet fee, the Comfort Inn, Greenville SC managed to overcharge us for the final night as they charged $84.59 for that night too. When calling to have them refund the difference, I was advised that I was incorrect and that the rate for the sixth night was $84.59, despite having the email confirmation from Choice Hotels advising otherwise.
The person I spoke to said I'd have to call back another time to speak to the manager if I wanted it fixed. Given the issues we'd already had with the stay, I didn't want that hassle and so submitted a chargeback on the credit card for the difference.
If we'd used points for the stay, it would've cost 12,000 Choice Privileges points per night. They seem to have a seasonal points rate at this hotel, so it can cost anything between 10,000 and 20,000 points per night depending on when you stay.
Points Earned
We earned a total of 5,664 Choice Privileges points for our six nights there.
We should also be getting another 200 or 600 bonus points as Shae has Platinum status with Choice Hotels. One of the Platinum benefits is a bonus 200 points per stay; if they class our three sets of two nights as three separate stays, we'll get 600 points, otherwise it'll only be 200. I'd assumed this would be awarded straight away, but after contacting Choice they advised that it can take up to 8 weeks for the points to be awarded.
We're also due to get either one or three $5 Starbucks gift cards. That's another welcome amenity, so whether we get one or three of them will depend on if they class our visit as one or three stays.
Final Thoughts
Overall, the Comfort Inn, Greenville SC reminded me of a Holiday Inn Express hotel. That's no bad thing as I've always found the Holiday Inn Express brand to be very comfortable (albeit cookie-cutter.)
The rooms were a good size, it was nice that they all seem to have a fridge and microwave, while there was a decent breakfast spread each day.
The biggest downside of our stay was obviously our interactions with the one staff member, with more minor complaints being the temperature of the shower in our first room and the fact that they overcharged us for our final night.
For anyone looking to stay in the Greenville area, the Comfort Inn on Congaree Road is a good option. That is, unless you're traveling with a dog seeing as they're no longer pet-friendly.
Our Rating
Room = 4.3 / 5
Hotel Amenities = 4.3 / 5
Food = 4.3 / 5
Location = 4.3 / 5
Service = 3 / 5
Overall Value = 4.3 / 5
Total = 4.08 / 5
Address
Comfort Inn & Suites, 831 Congaree Road, Greenville, South Carolina, 29607