Virginia Beach Mini-Trip Report
Review: Dough Boys California Pizza, Virginia Beach
After a quick nap at the Hyatt House Virginia Beach, we headed out for dinner. Shae suggested eating at Dough Boys California Pizza as she'd been there before with one of her friends and enjoyed it.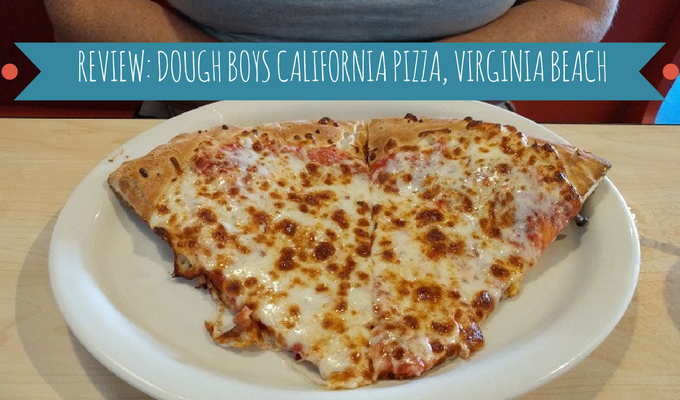 That seemed like a good idea, especially because we had a coupon for Dough Boys in our Entertainment Book. If you don't have a Hampton Roads Entertainment Book, just pick up one of the many coupon books around Virginia Beach oceanfront, as they all have Dough Boys coupons. You can also sometimes find discounts for them on Groupon.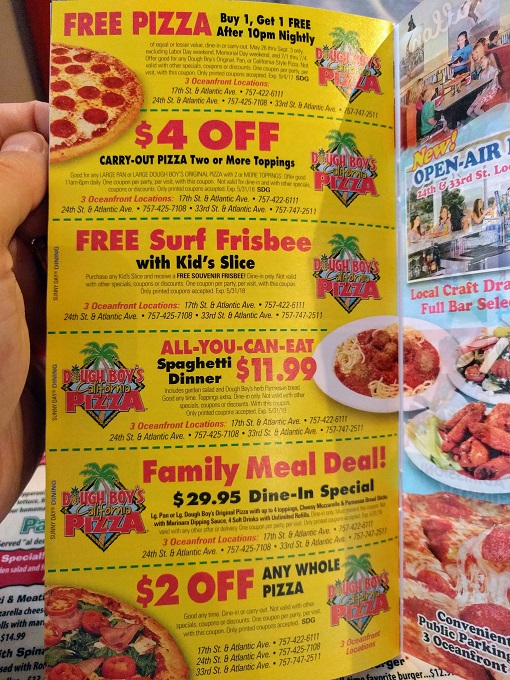 Dough Boys was only about half full when we arrived and we were seated in a booth along the right-hand wall as you enter. The restaurant was apparently renovated recently, so there's a different layout compared to previous years. The bar is on the other side of the restaurant to where it used to be and so it's now open to the street.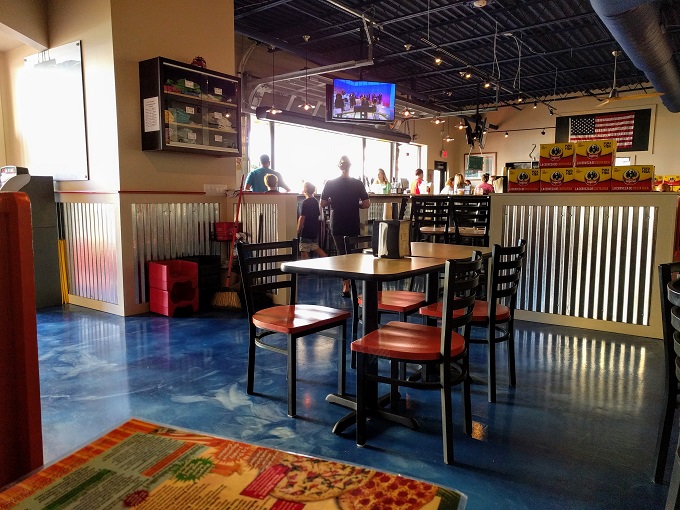 There's also plenty of other seating throughout the restaurant. This filled up within about 10 minutes of us arriving as many of the sand soccer tournament games from that weekend seemed to finish.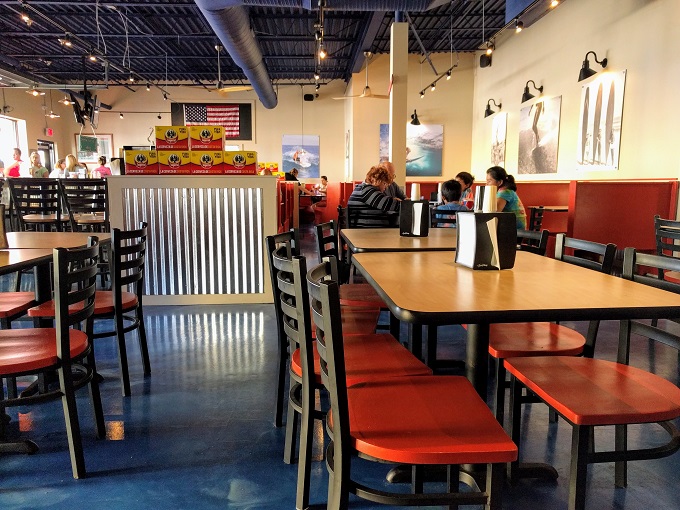 There were several different drink options on offer. There was a wine menu on one side…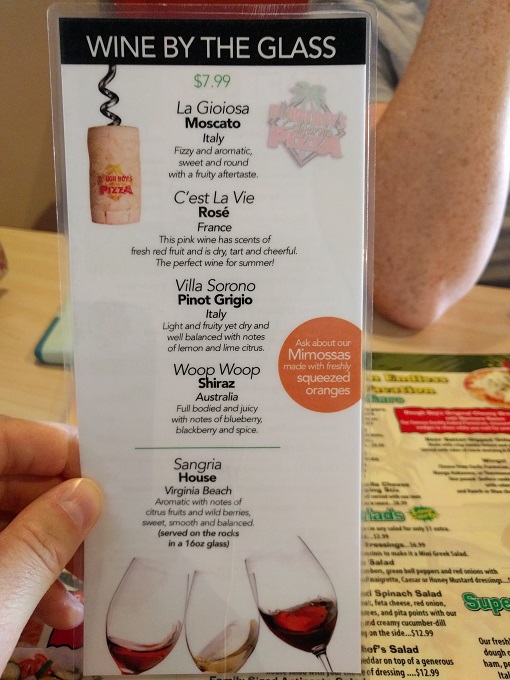 …and a beer menu on the other.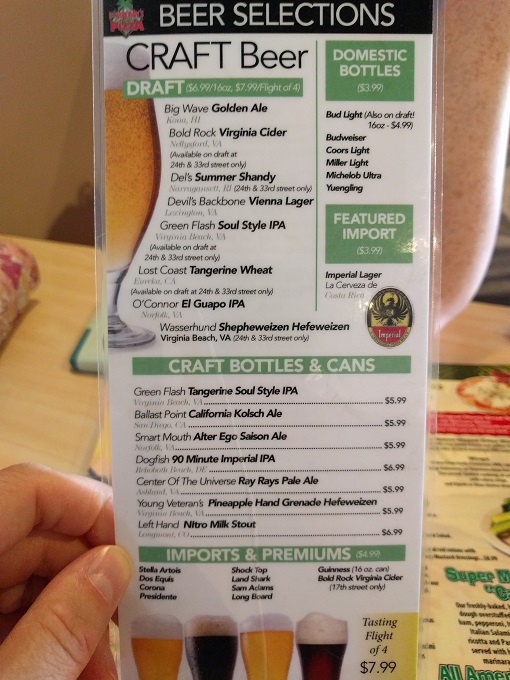 On the main food menu, there was a section at the bottom offering cocktails, margaritas and soft drinks.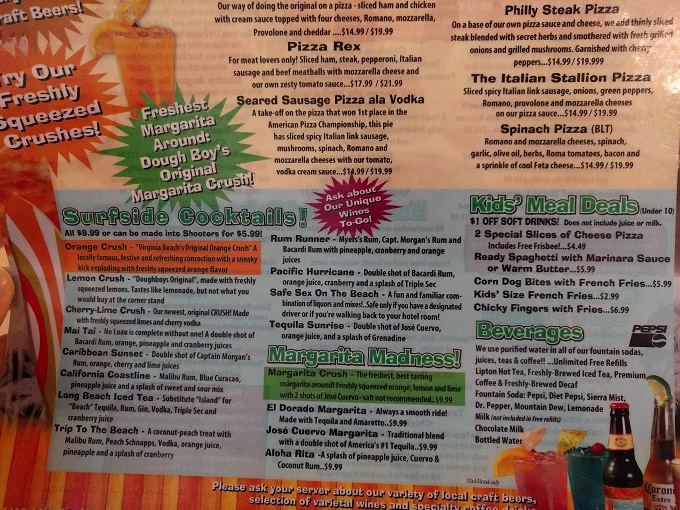 Dough Boys also had a special menu that week with O'Connor craft beers – a local craft brewery.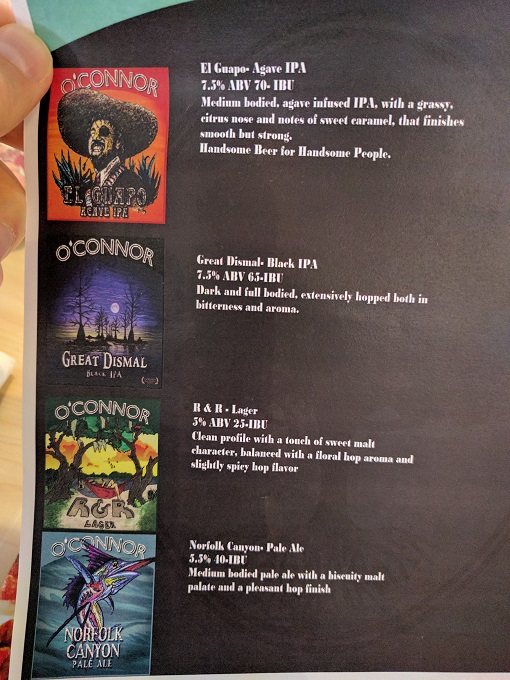 Our server highlighted that they offered a beer flight containing any four beers for $7.99, so that seemed like a perfect opportunity to try several of the O'Connor beers.
One of the great things about the beer flight at Dough Boys is that it's served on a wooden board with the name of each beer written on it – that way you'll know which is which.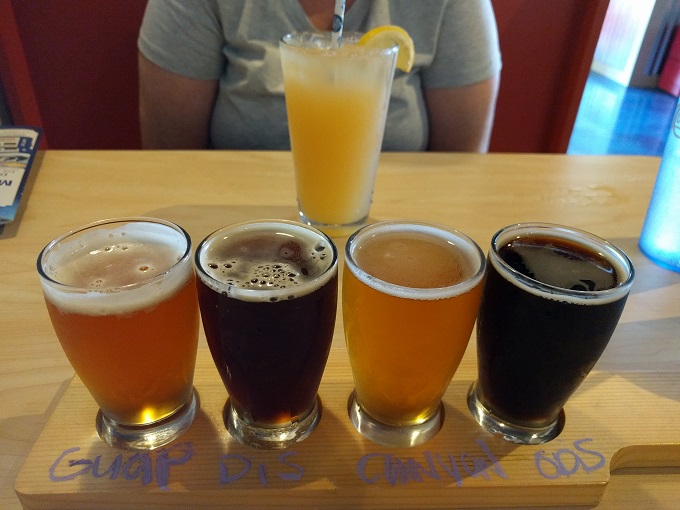 In case you can't make out the names, from the left to right they're:
El Guapo Agave IPA
Great Dismal Black IPA
Norfolk Canyon Pale Ale
ODIS Dry Irish Stout
I think my favorite was the El Guapo IPA – it was hot in Virginia Beach that weekend, so it was nice and refreshing. The Great Dismal Black IPA was also really interesting as I'd not had a dark IPA before.
All the beers were excellent though, so I've added O'Connor Brewing Co. to our places to visit. It's local to us in Norfolk VA, so we might visit them before we head off on our five year road trip, although we could always pay them a visit when we end up back in Virginia during the trip.
Shae wanted to try something a little different to her usual, so she ordered a Mai Tai. As it's a beach resort, they serve it with a biodegradable cardboard straw.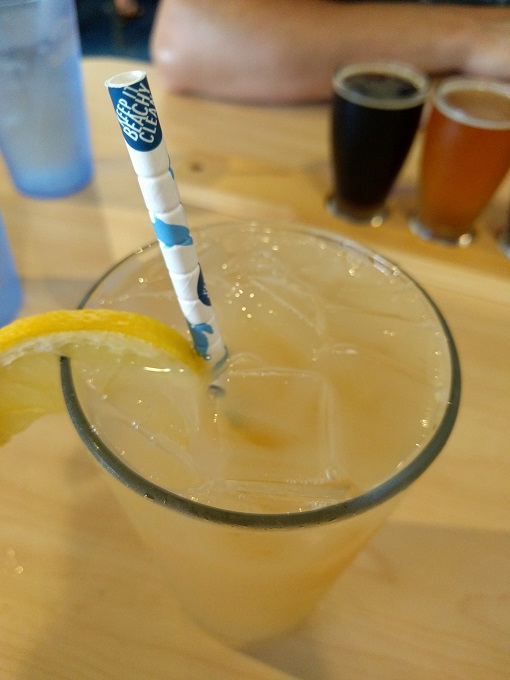 As the name of the restaurant suggests, Dough Boys California Pizza specializes in pizza which includes some uncommon specialty pizzas.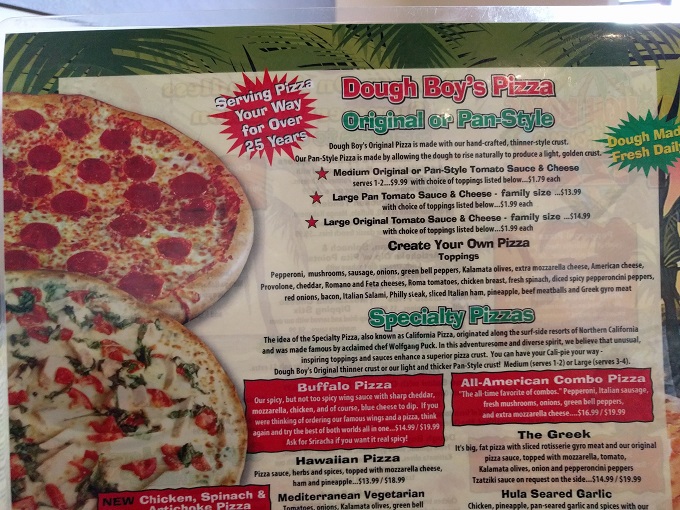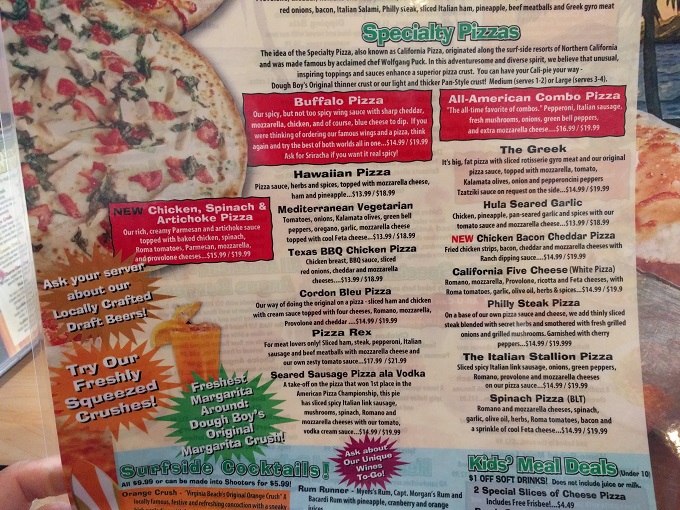 There are plenty of other food options though, ranging from starters and salads…
…to pasta, burgers and subs.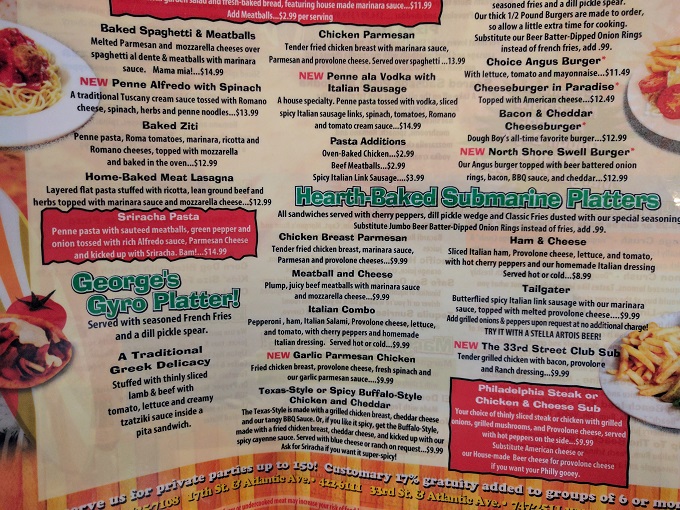 They also have a kids menu which you can see in the photo of the cocktail and margarita menu further up the page.
Although it wasn't listed on the menu, you can order a double slice rather than an entire pizza, so Shae ordered a double slice of cheese and tomato pizza.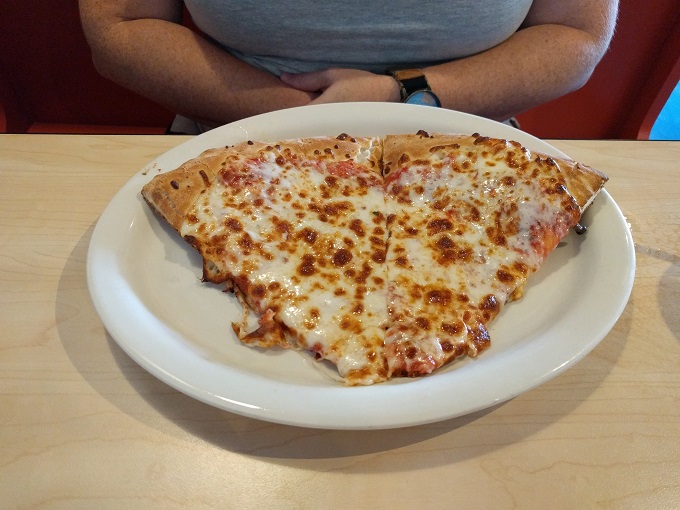 Being from the UK, I miss not being able to get doner kebabs as easily here in the US. I therefore ordered George's gyro platter which is about as close as you can normally get to a lamb doner. It came served atop a generous serving of fries.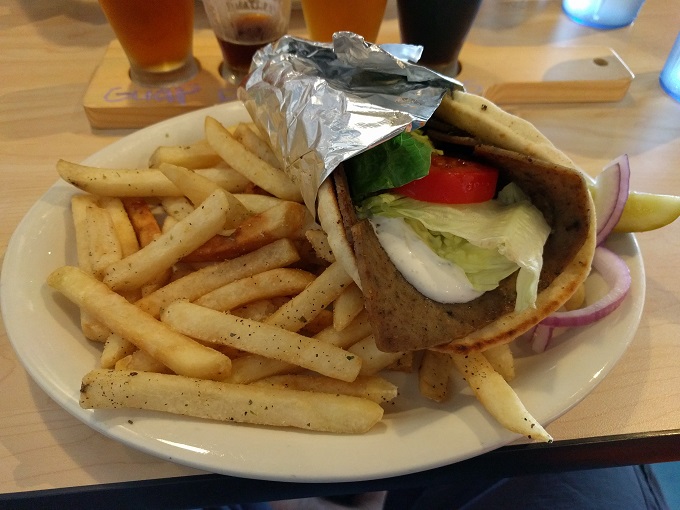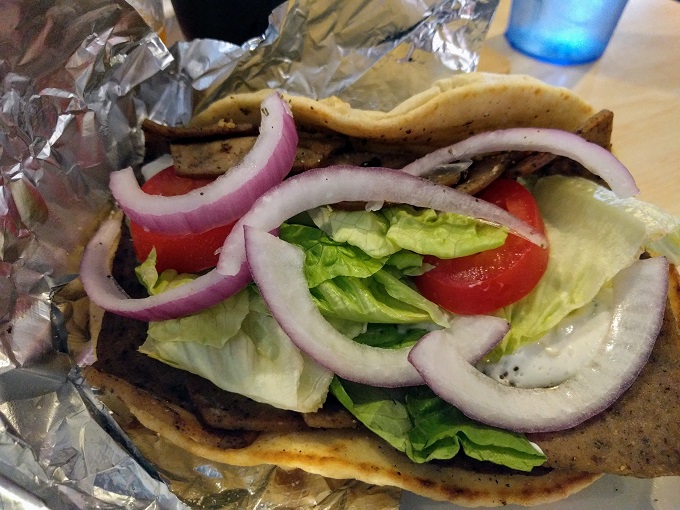 Although I prefer lamb doners from the UK that you get at the end of a night out, George's gyro platter was delicious nonetheless. The fries were also good – they were no Grace O'Malley's fries, but still tasty.
Shae also enjoyed her pizza as it had a tasty crust and plenty of cheese on top.
Cost
The bill for our meal was very reasonable, especially considering I had the flight of four beers and Shae got a Mai Tai.
The total came to $26.20 including tax but before tip. That's thanks to the coupon from our Entertainment book which gave us a $10 discount.
Summary
Shae made a great suggestion with eating at Dough Boys. We both enjoyed our drinks and food, while our server Robin was also friendly and made sure we had everything we needed.
The price is also made much better thanks to how easy it is to get coupons for their restaurant.
Rating
Food = 4 / 5
Price = 4.25 / 5
Atmosphere = 3.75 / 5*
Decor = 4 / 5
Service = 4 / 5
Total = 4 / 5
* The rating for the atmosphere is a little lower as it got fairly loud in there when it was full. It had been fine when we first arrived though, so it's not like they have a bad atmosphere.
Address
Dough Boys California Pizza, 2410 Atlantic Ave, Virginia Beach, VA 23451
(n.b. they have several locations at Virginia Beach oceanfront – the address above is the one we visited.)