After spending the day looking around Taipei, it was time to catch our flight back to the US. Shae and I had booked our tickets in business class with EVA Air using Aeroplan miles (more on that here).
Here are details of the flight:
EVA Air 32
Taipei (TPE) – New York JFK (JFK)
Depart: 19:30 December 27, 2017
Arrive: 21:10 December 27, 2017 (as we crossed the International Date Line)
Seats: 3G (me) and 3D (Shae)
Boarding was supposed to begin at 19:00, but it didn't get started until closer to 19:15. Shae and I were some of the first in line, so we were able to get a photo of the cabin while it was still empty. The cabin was very smart and looked new, although it missed some of the style that we had on our Thai Airways flight the previous day.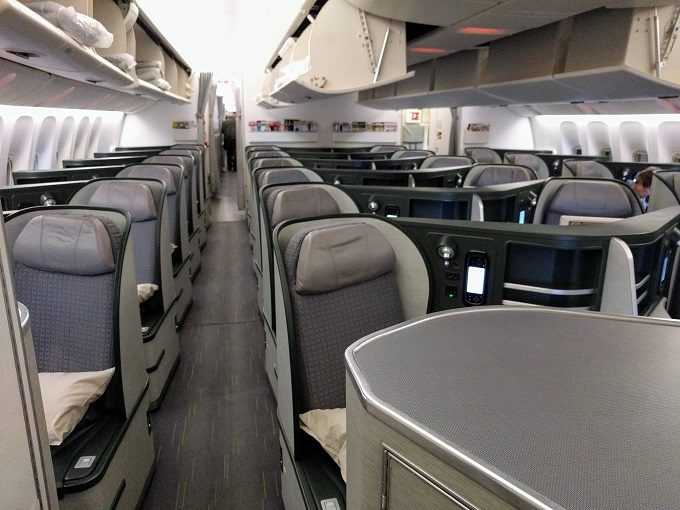 Seats were in a 1-2-1 formation; as Shae and I wanted to sit together, we'd picked the center seats in row 3.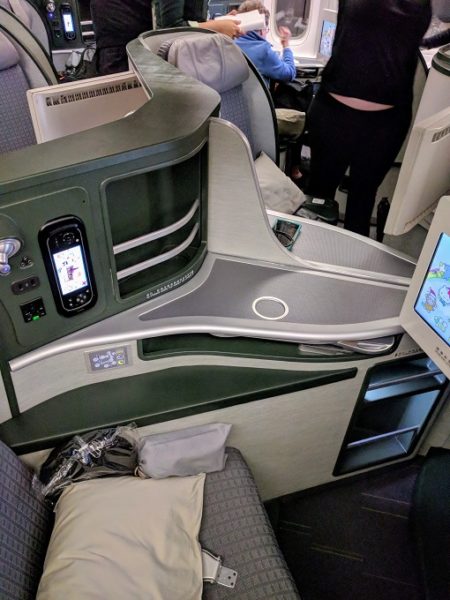 The layout of these center seats is a little better for people not traveling with a companion as they provide quite a bit of privacy. The privacy divider's not particularly long, but you still need to lean forward to be able to converse with the person sitting next to you as the seat's set further back.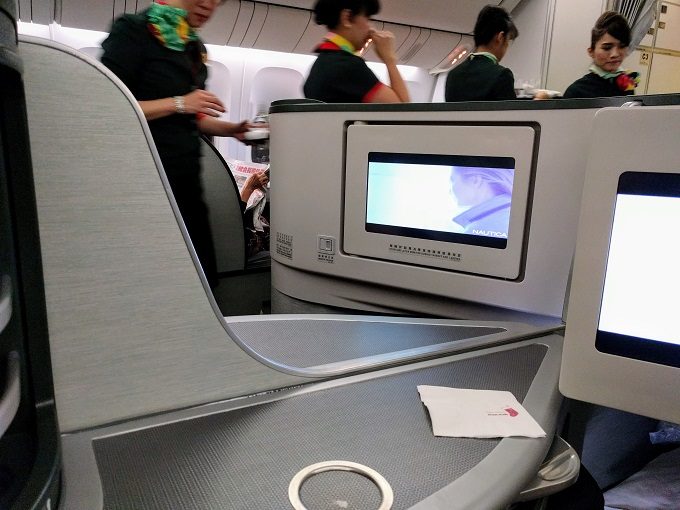 Waiting at our lie-flat seats were meant to be a pillow and blanket (I think), although mine had a pillow and mattress pad, with a blanket in the overhead compartment.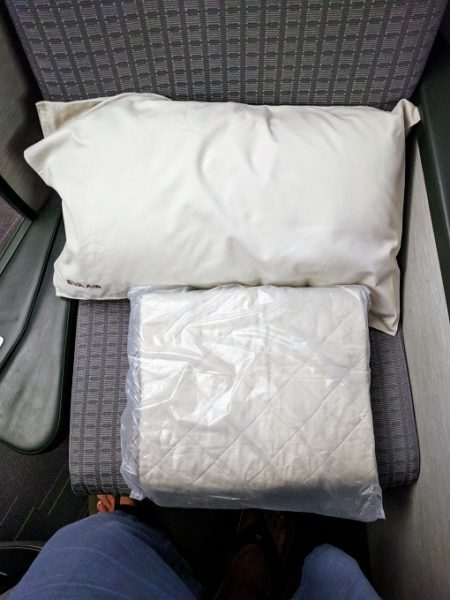 Here's a better view of the seat after I'd moved a few things around.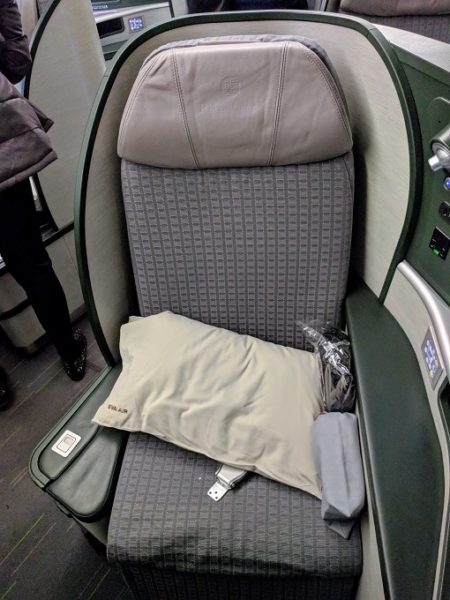 To the right of the seat was a lowered armrest. Once we were in the air, the button could be pressed to raise it up.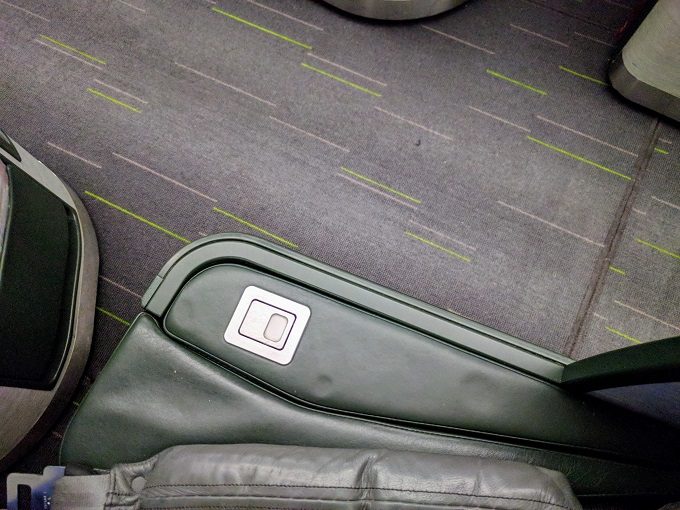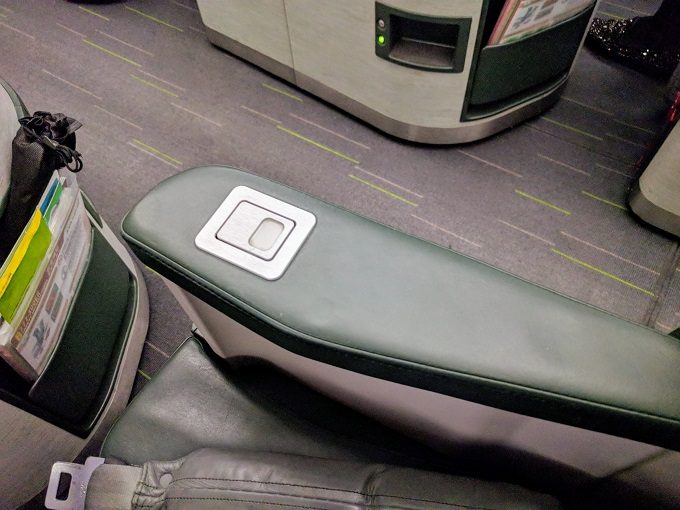 One of the first things I noticed was how much storage there was around the seat, especially compared to our Thai Airways flight.
There's the foot cubby with space for your shoes on the ledge below.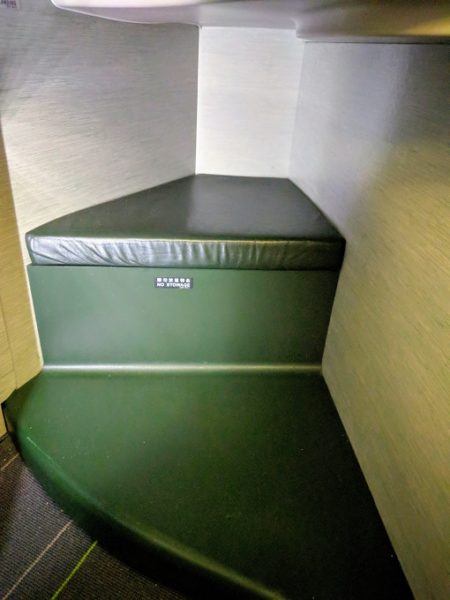 To the left of that is a large double-shelved storage area.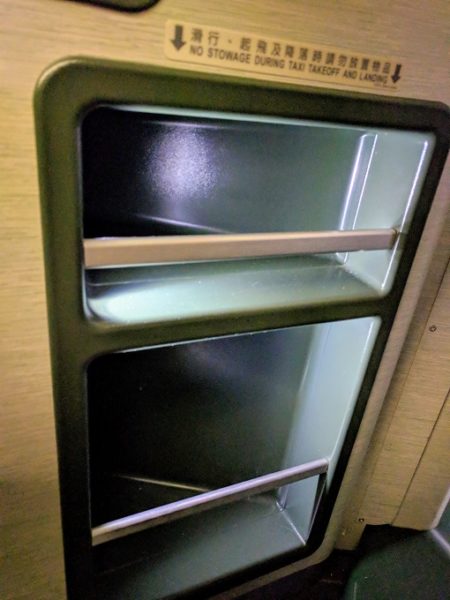 To the left of the seat by your head is another storage compartment.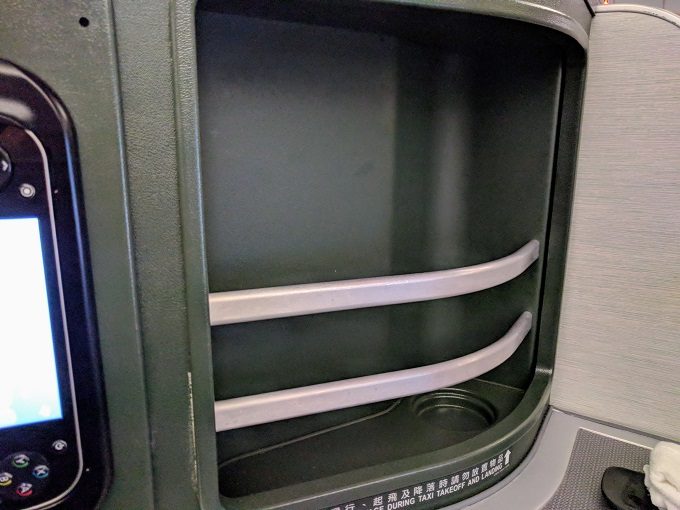 There was also a small shelf where the tray table gets stowed; this was the perfect size and location for storing my glasses and phone during the flight as it was close to the USB outlets for charging.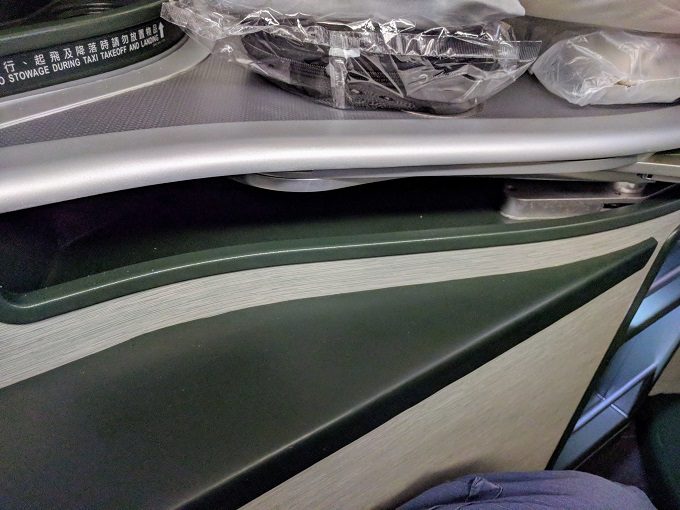 Pressing the underside corner of the tray table unlocked it so that it could be pulled out.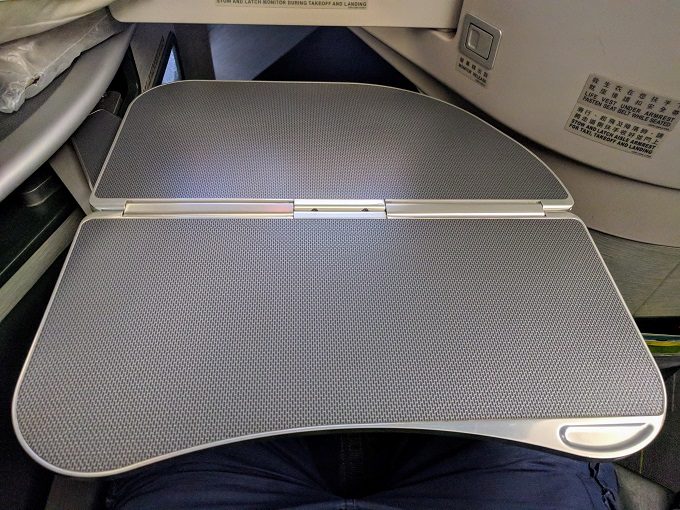 The in-flight entertainment screen has to be stowed during takeoff and landing. Due to the angle of the seat in front, that makes it a little harder to watch something during those periods as it's angled away from you.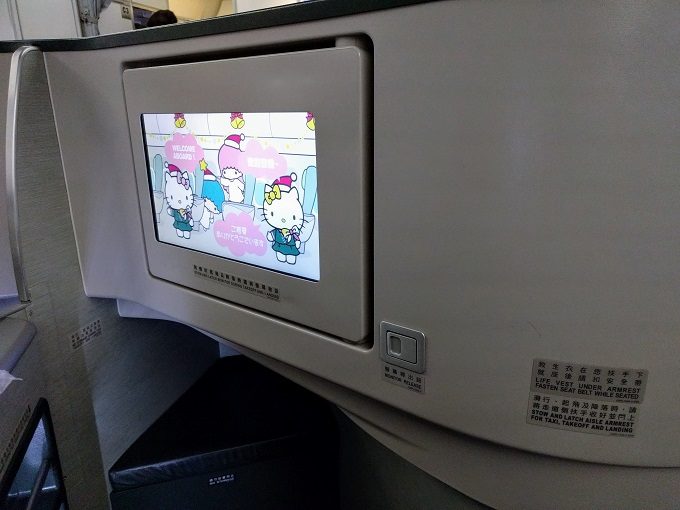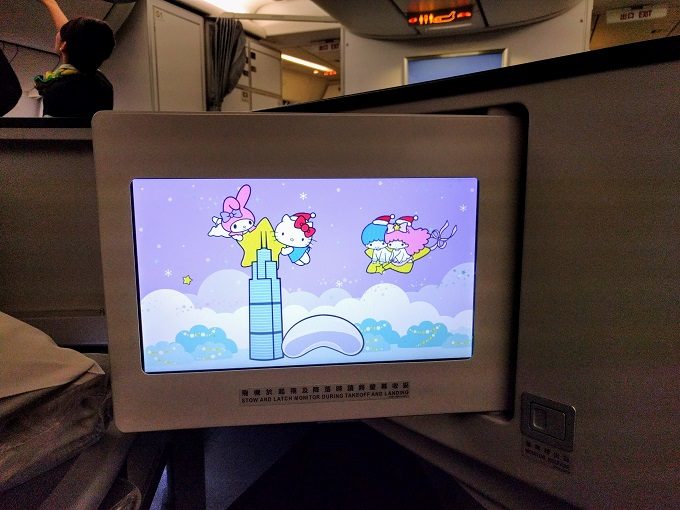 To the left of my seat were the seat controls. Despite all the different arrows, the controls were pretty self-explanatory.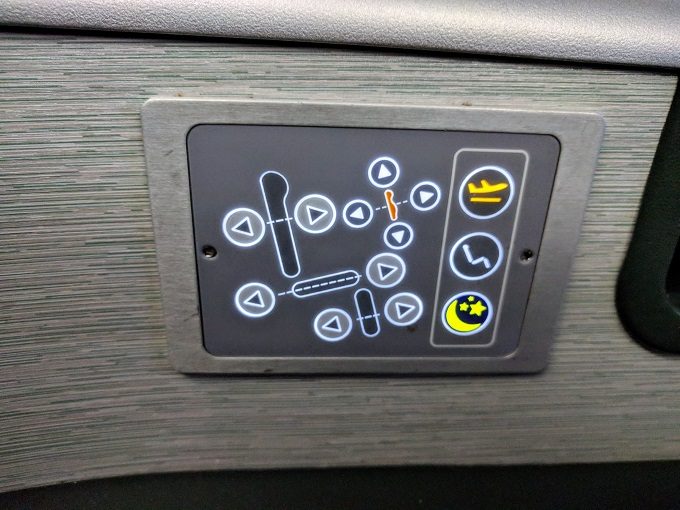 To the left of the seat by my head were the personal light, entertainment controls, power outlet, USB ports and headphone jack. The light had two brightness settings (in case that's something of value to you.)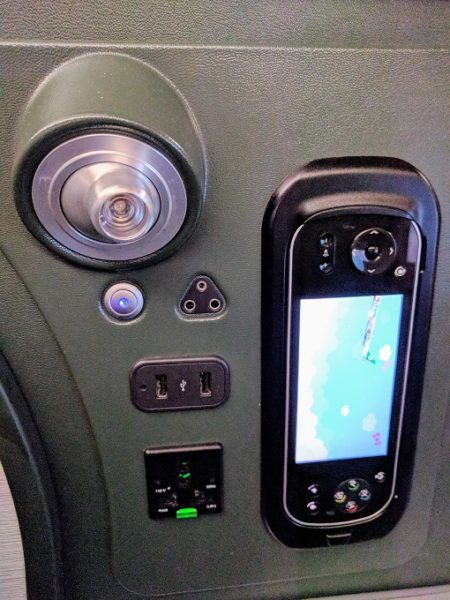 Waiting at the seat when we arrived were a pair of slippers in a bag. Although they were fairly thin, they were incredibly soft, plush and comfortable. I'm not usually a slipper-wearer, but I kept them on throughout the flight when I wasn't sleeping.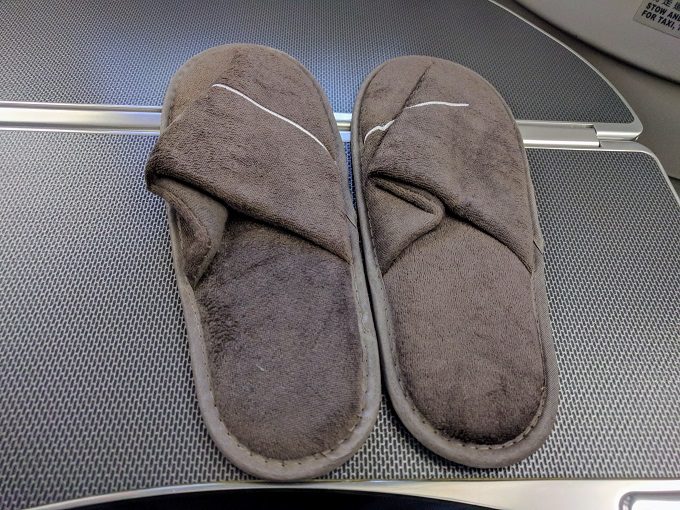 Also at the seat were a decent pair of noise-cancelling headphones that were extremely comfortable…
…and a Rimowa amenity kit. The amenity kit was inside a fabric bag and looked like a small suitcase.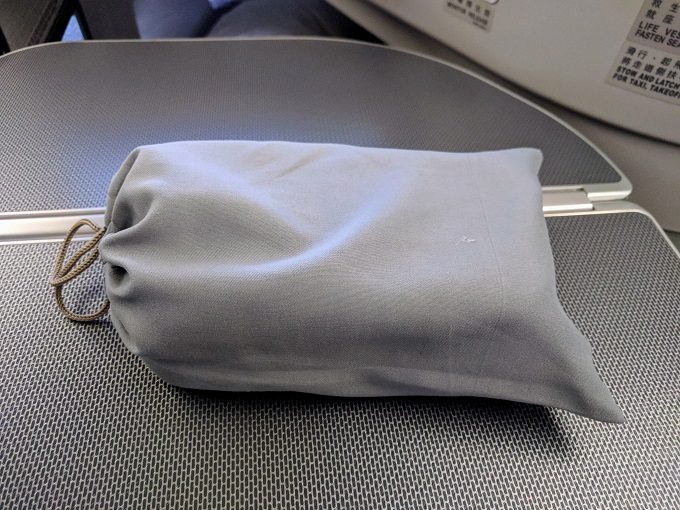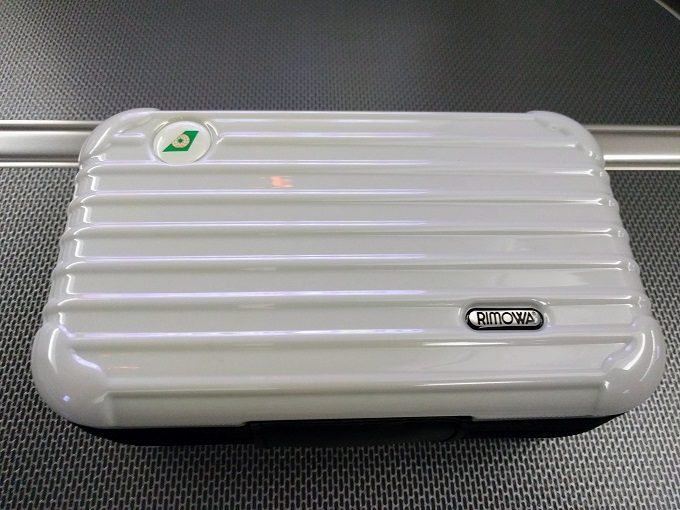 Inside the amenity kit were a soft pair of socks, an eye mask, hair brush, wipe for your glasses, hand cream, lotion , face cream, toothbrush and toothpaste and ear plugs.
For some reason, Shae didn't have an amenity kit at her seat. She asked a flight attendant for one who seemed confused that there wasn't one at the seat. I'm not sure if she thought Shae had secretly stashed it, but she managed to find an amenity kit from somewhere else and brought it over to Shae later on.
While we were getting settled in, a flight attendant came round to offer a set of pajamas to change into. They only had medium and large available, so I went for large. The pants were the perfect size, although the top was an inch or two short, so it rode up a little while sleeping. They were extremely comfortable though and were a nice touch, especially considering we were in business class rather than first class.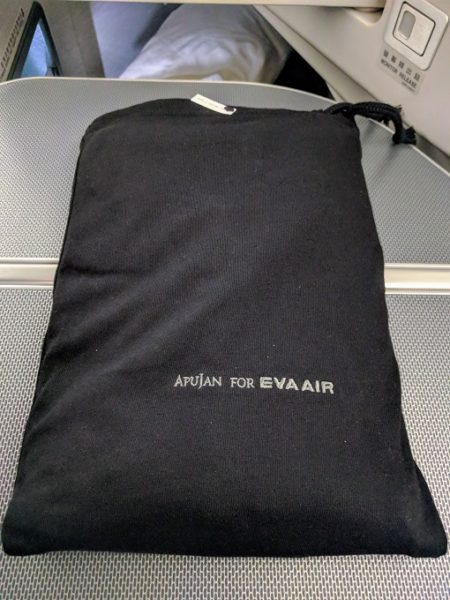 The food and beverage menus were at the seat and both had stylish covers.
There were three options for the main course, all of which sounded delicious.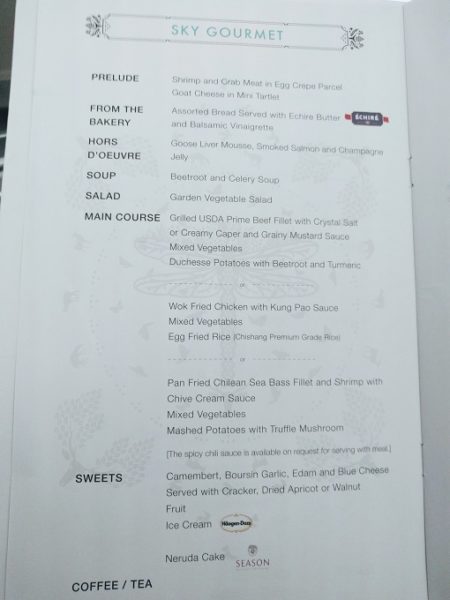 There were several snack options you could order at any time during the flight, as well as a few options for the pre-landing meal. Due to the long flight, I was originally expecting to see breakfast options seeing as most of us would be sleeping on the flight. However, the flight wasn't due to land until the evening in New York, so it made sense that breakfast wouldn't be served.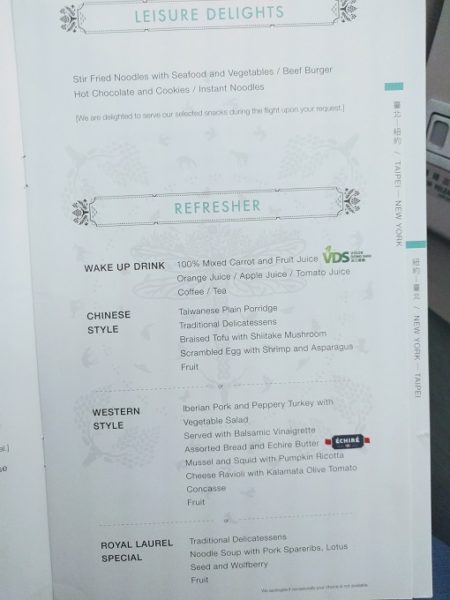 There was also a fairly extensive drinks menu.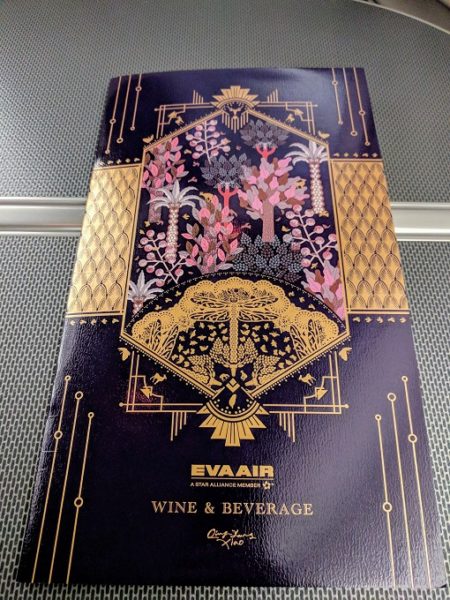 Krug champagne was served in EVA Air's business class which was impressive. There were also a couple of red wines.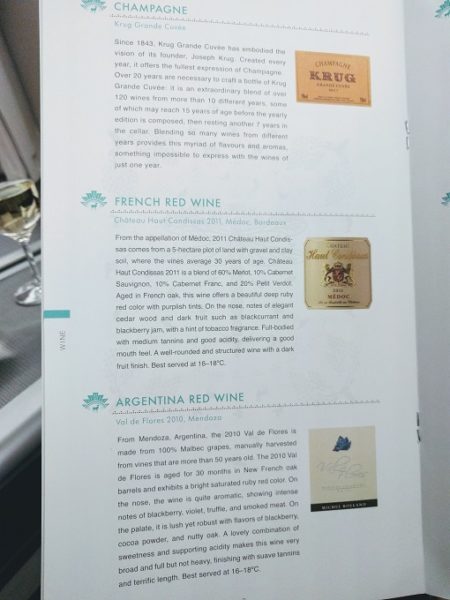 There were a couple of white wine and a couple of fortified wine options…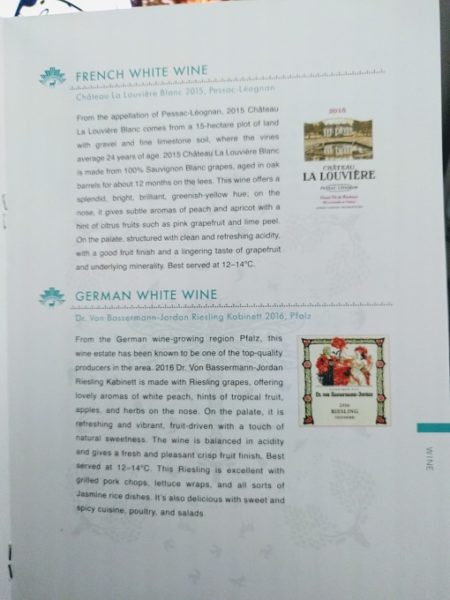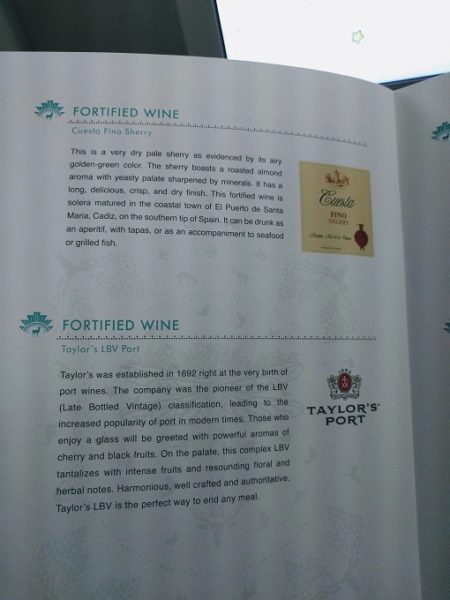 …as well as several other alcoholic beverage choices.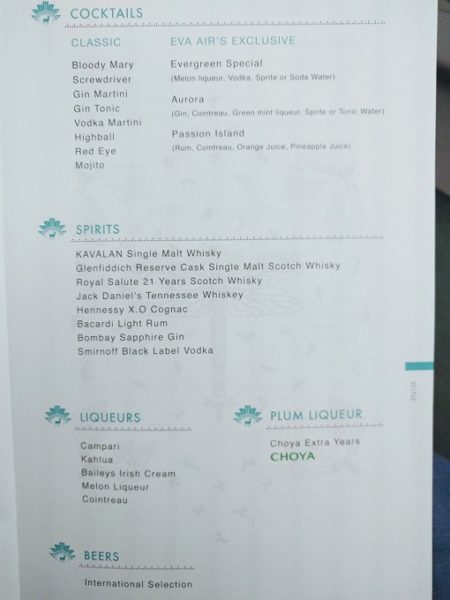 If you didn't want something boozy, there were plenty of choices of soft drinks, as well as coffee and tea.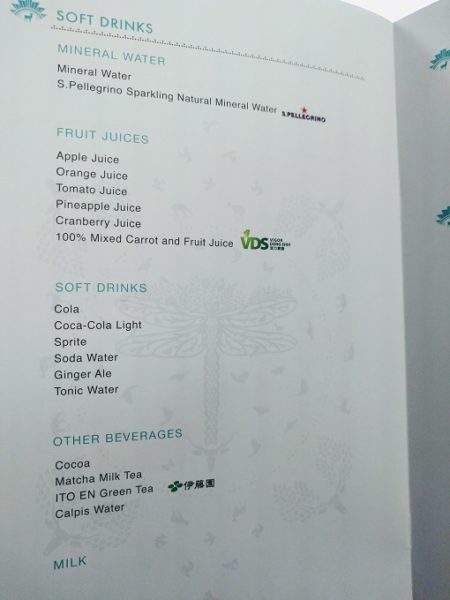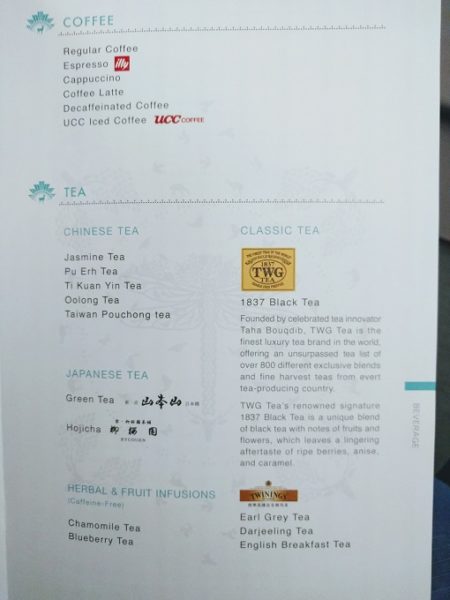 At 19:25, a flight attendant asked if there was anything I wanted to drink. There was no way that I was passing up the chance to drink Krug for the first time, so I asked for that and some water which came with a hot towel and a chocolate square. Both drinks were served in glassware (the Krug was very nice.)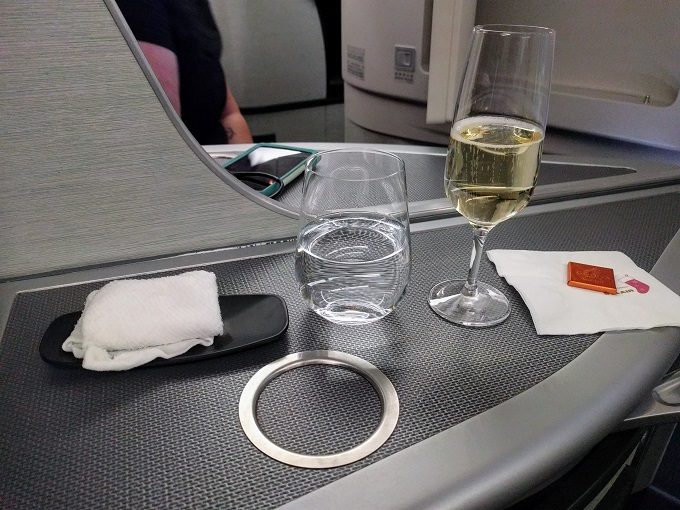 The boarding process was quick and so everyone was on board by 19:35. At 19:40, a flight attendant came round to take our orders for an aperitif, dinner and pre-landing meal. She also asked if I wanted to be woken for the pre-landing meal, which I did (although that turned out to be unnecessary.)
For the main meal, I ordered the Chilean sea bass fillet and shrimp, while for the pre-landing meal I ordered the pork and turkey salad and mussel and squid with ravioli.
We pushed back at 19:45 and, after taxiing for a little while, took off at 19:58.
The in-flight entertainment options were somewhat limited. There was an OK selection of movies, but there didn't seem to be many (if any) new blockbusters on offer.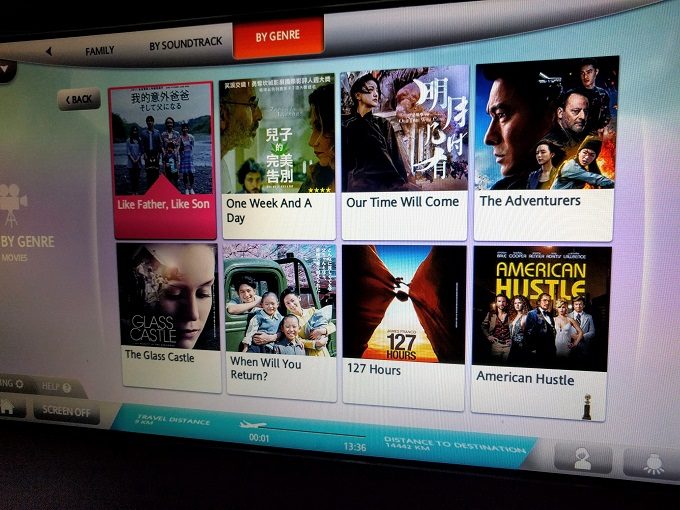 The listing of the movies was also a little strange. The 'All Movies' list made it look like there were only 22 Hollywood, 12 Asian and 5 European movies. However, scrolling through the different options at the top (Family, By Soundtrack, By Genre, etc.) brought up several other choices.
In addition to movies, there were some TV shows, music, games, etc. The entertainment could be selected by either using the TV screen as it's a touchscreen or the handset.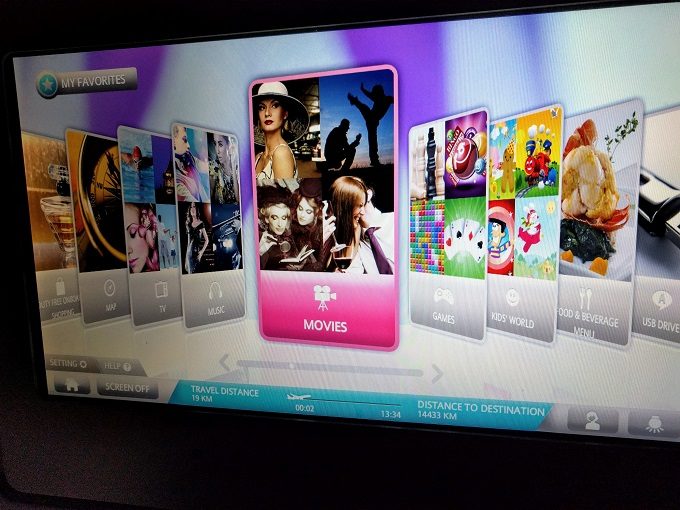 The food service started at 20:30, about 30 minutes into the flight. It began with shrimp and crab meat in an egg crepe parcel which was extremely tasty. There was also goat cheese in a mini tartlet – I don't care for cheese, so I passed it over to Shae as she liked hers.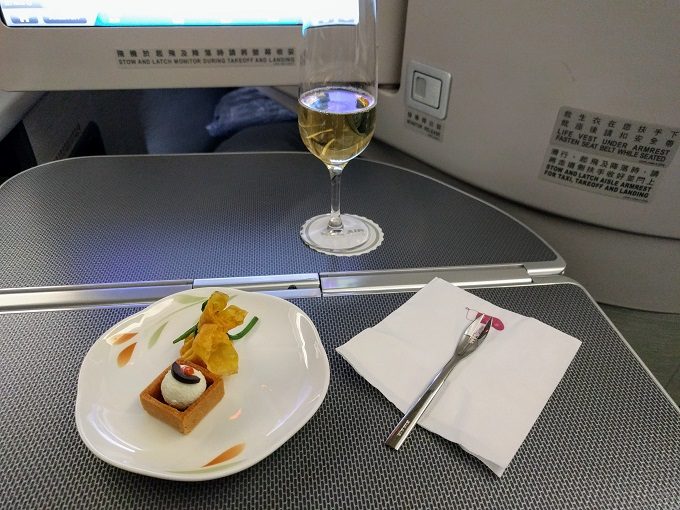 After a second hot towel was provided, the hors d'oeuvre was served which consisted of goose liver mousse, smoked salmon and champagne jelly. The smoked salmon was very nice and the champagne jelly was fun but not particularly flavorful. I tried the goose liver mousse but it wasn't really my thing as I've never liked pâté-style food – I'm sure it's delicious though if you're into that kind of thing.
The hors d'oeuvre was served with a bread roll and a choice of other bread, so I went for a couple of pieces of garlic bread which were very good.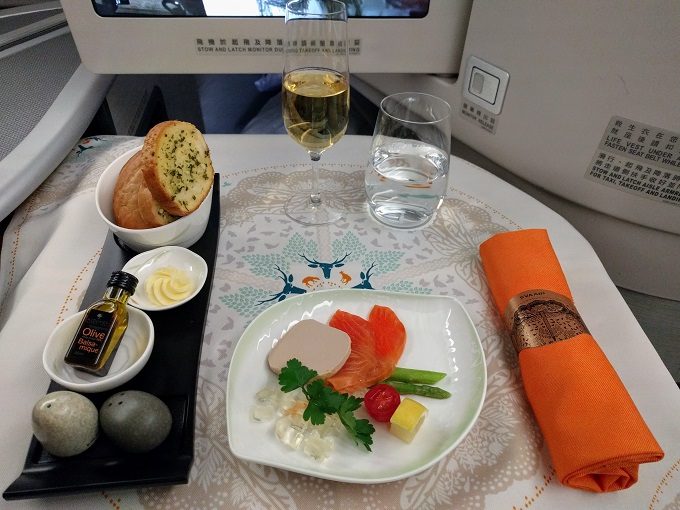 That was followed up by beetroot and celery soup. This was very sweet and tasted better than I expected, although I only finished about half of it.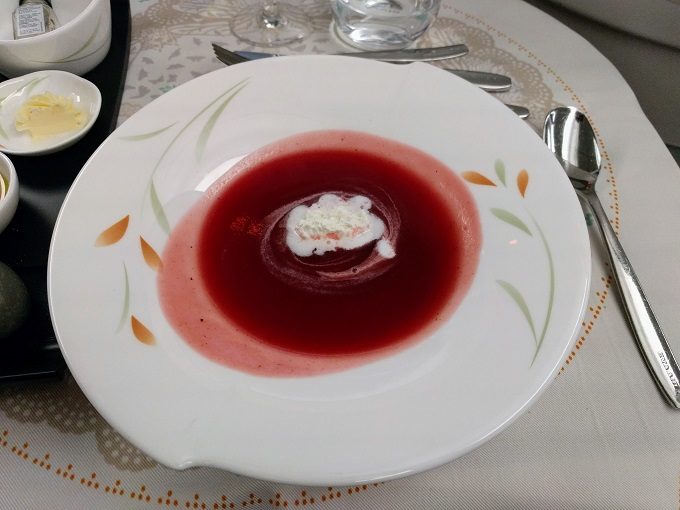 A garden salad was up next and came with a choice of a couple of dressings – I picked the mustard vinaigrette which was lovely.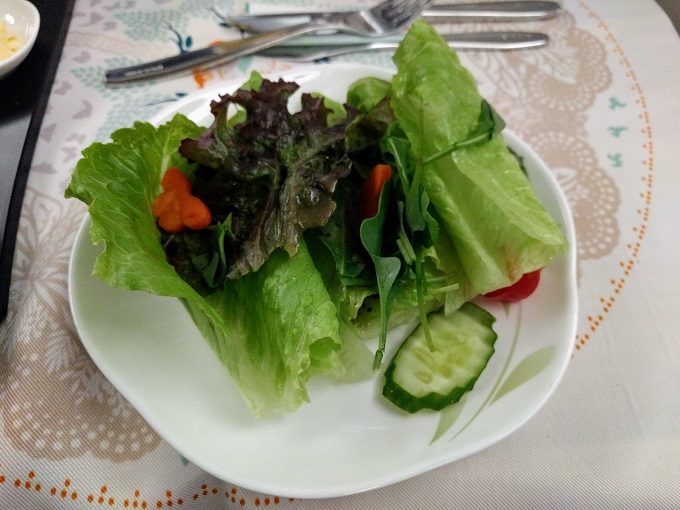 The main course was served after that. The sea bass can only be described as freakin' amazing – it was one of the best meals I've eaten anywhere. The shrimp were plump and flavorful, while the truffle mashed potatoes and vegetables were also good.
The only disappointing thing about this course was that there wasn't more sea bass as it was so delectable.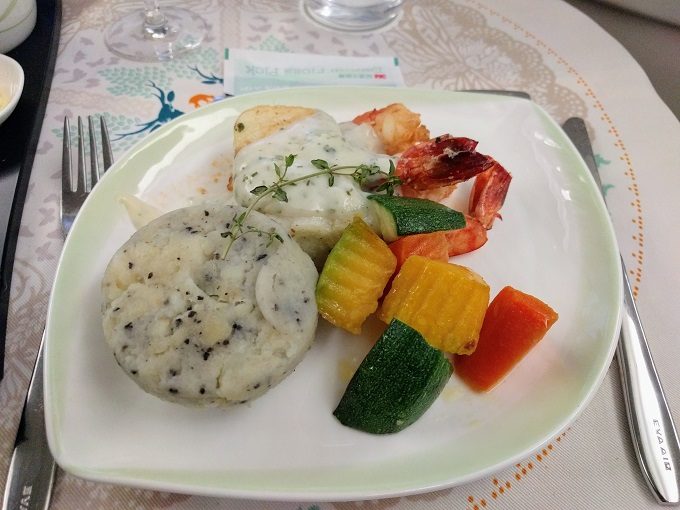 Shae on the other hand ordered the beef fillet which she also enjoyed.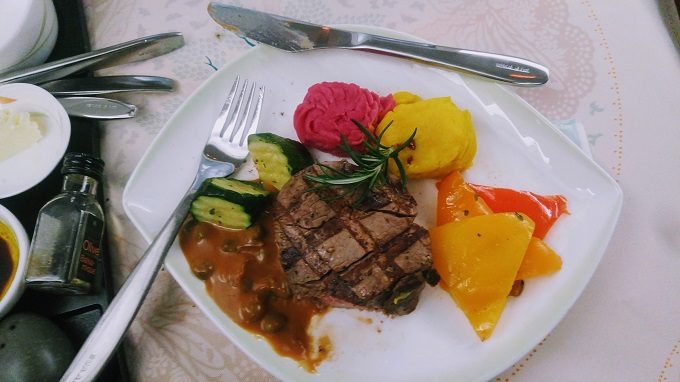 For dessert, I asked for fruit and Neruda cake. The fruit was perfectly ripe, while the Neruda cake was quite good. The matcha (green tea) base didn't have too much flavor, but the redcurrant mousse helped make up for that.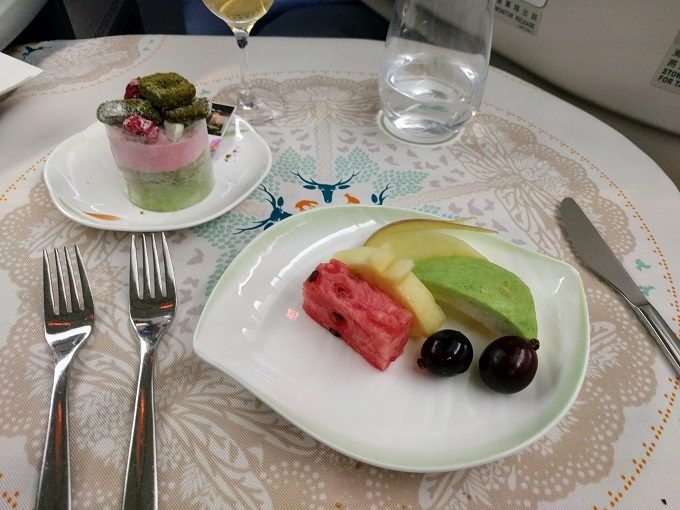 Shae ordered the cheese plate and ice cream instead which were as good as you'd expect a cheese plate and ice cream to be.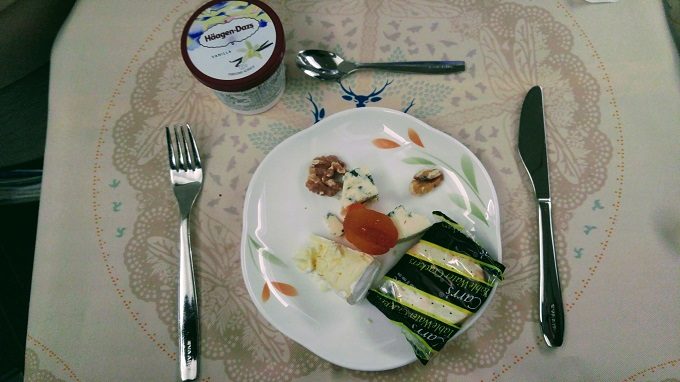 After a third hot towel and a bottle of Fiji water were brought around, the food service was complete by 21:40 – about 70 minutes after it had started. Once that was done, I headed to the lavatory to change into the pajamas EVA Air had provided.
I was pleasantly surprised by the lavatory at the front of the cabin as it was much more spacious than your average airplane lavatory. When standing with my back to the wall and facing the mirror, I could stretch my arm out and not touch the other side. (The lavatory at the rear of the cabin wasn't quite as large.) I know it was probably only an extra foot of space, but it made a huge difference to how spacious it felt. It also made it much easier to get changed without elbowing everything in sight.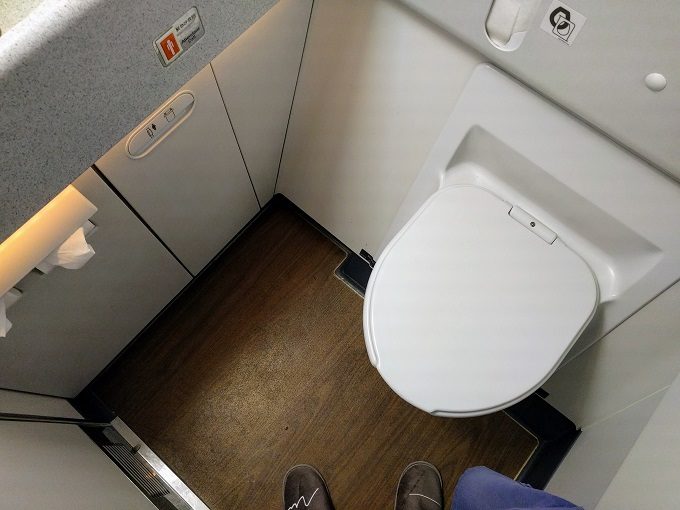 The business class lavatories had several amenities – HARNN hand wash, facial mist, cologne and body moisturiser, as well as toothbrushes and toothpaste, mouthwash, hand towels and ear plugs.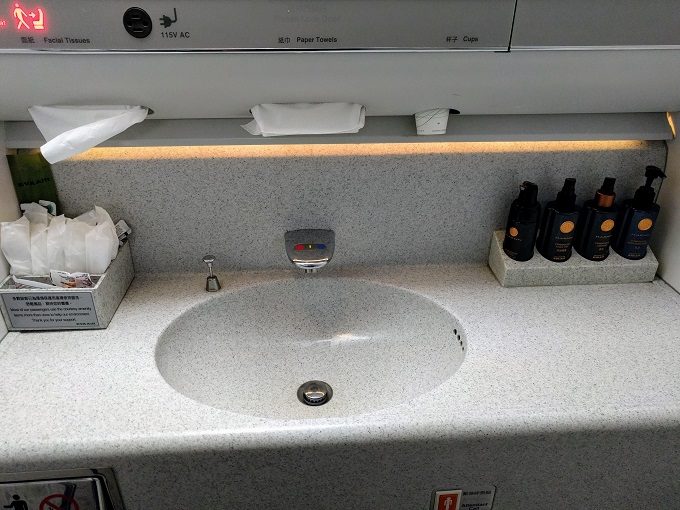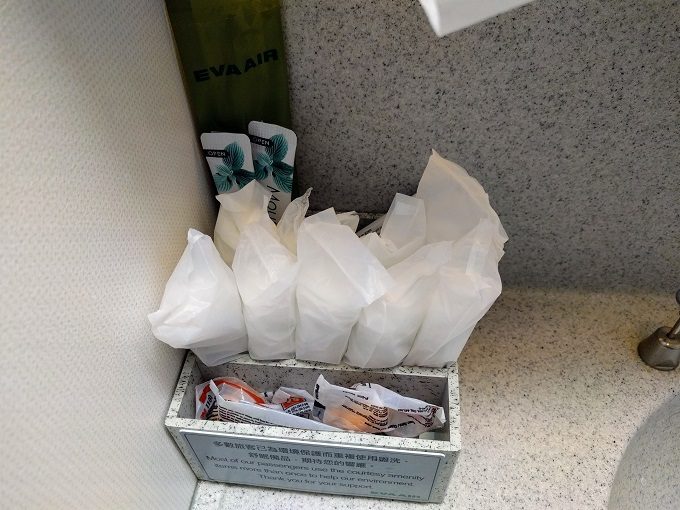 There was even a nice decorative touch with a flower on the wall.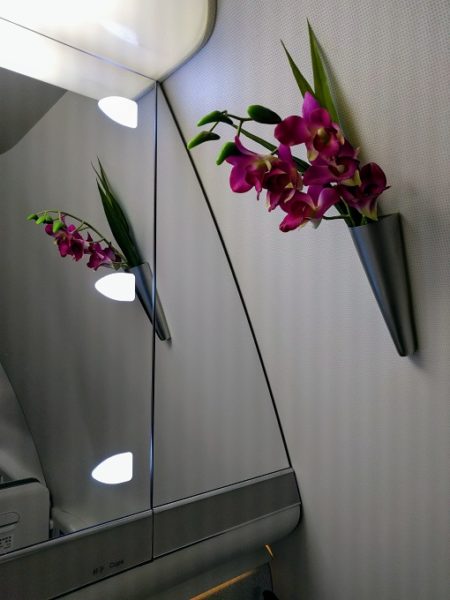 When returning to my seat, a flight attendant helped prepare my seat for sleeping by attaching the mattress pad over the headrest and getting me a blanket.
The lie-flat seat was extremely comfortable when made into a bed. It was wide enough to lay on my back with my arms by my side – something which wasn't possible on Thai Airways. Once the lights were dimmed, the cabin ceiling was lit up with stars.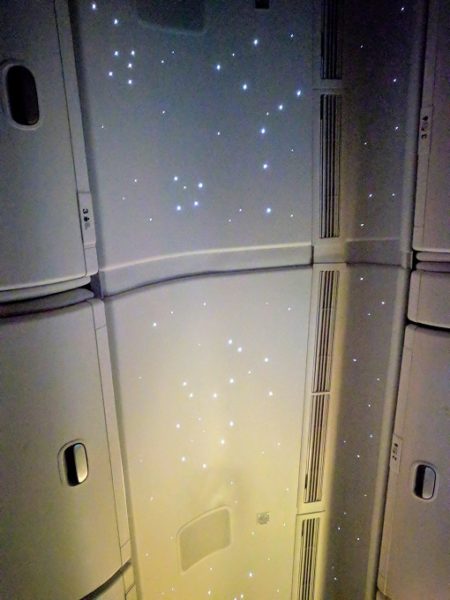 Shae was soon fast asleep and I followed shortly after. We both got several hours of sleep which was only interrupted by brief moments of turbulence.
I woke up about 30 minutes before the pre-arrival meal was served. Pretty much as soon as a flight attendant noticed that I was awake, she came over to ask if I'd like a drink, so I asked for a cup of tea.
The first course of the meal consisted of sliced pork and turkey with vegetable salad and a choice of bread roll. The slices of meat were very good, as was the rosemary bread roll.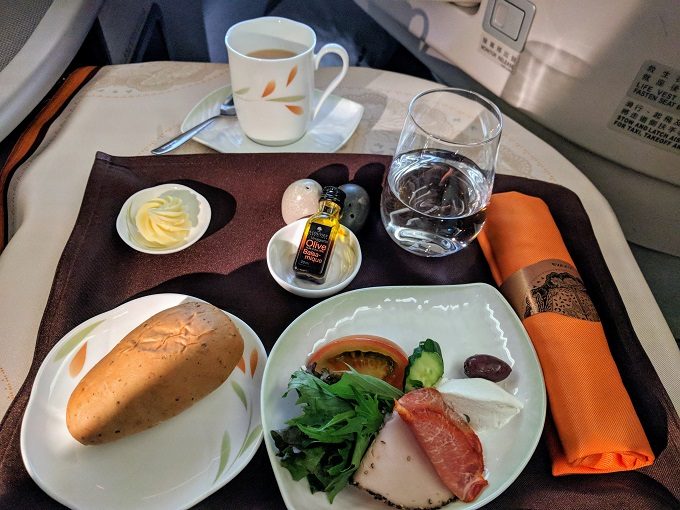 Next up was mussel and squid with pumpkin ricotta cheese ravioli and kalamata olive tomato concasse. The mussel and squid were absolutely delicious. I mentioned earlier that I don't care for cheese (or pumpkin for that matter – I must sound like a really fussy eater), so the ravioli wasn't my best thing. Having said that, it didn't taste too cheesy and the concasse that came with it was extremely good, so I ate it all up.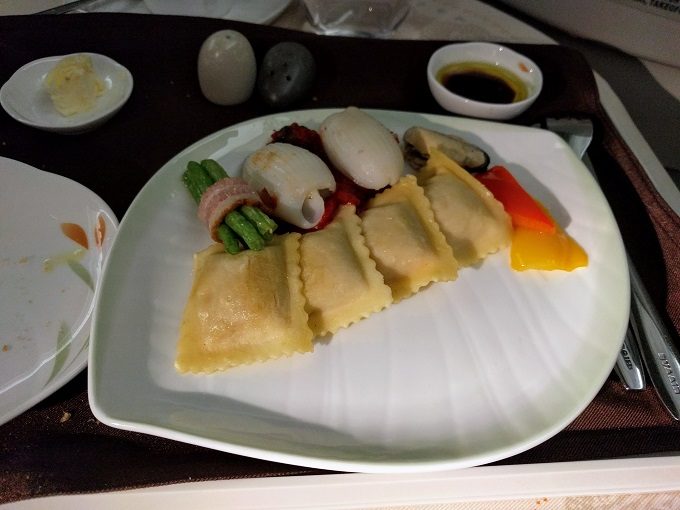 The fruit dessert that followed was also good.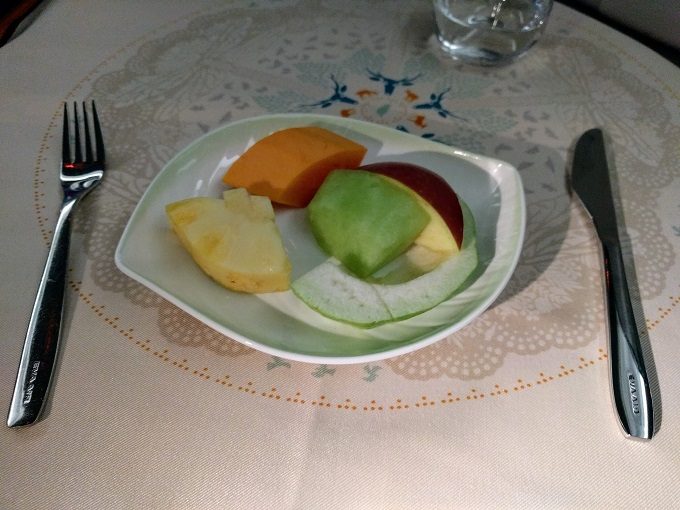 About half an hour after the meal was finished, we landed at JFK.
Final Thoughts
I'd read before the flight that EVA Air's business class product was one of the best. Even though this was only my third time flying business class (check out the first and second experiences), it was the best of the three by far and certainly the best experience I've ever had when flying.
The food was excellent; the only parts I didn't enjoy were ingredients that I don't like the taste of in the first place, so that's not EVA Air's fault.
The seat was extremely comfortable and spacious, so both Shae and I got some great sleep. Business class comes with a good amenity kit, as well as extremely comfortable pajamas and slippers. There's plenty of storage and everything (such as USB ports) are placed in a logical position.
Serving Krug champagne in business class is excellent, as was the spacious lavatory and generous selection of amenities available in there.
The thing that stood out for me though was the service. Every single flight attendant that we interacted with was phenomenal. They were all hardworking and very kind and it felt like their sole focus was on ensuring that all passengers had the best time.
I know that's supposed to be the case, but it's rare to have an entire team that's top-notch. United's business class flight attendants were competent but not particularly warm and their overall service was borderline mediocre given that it was business class.
EVA Air on the other hand were even better than I could have hoped for. I'd therefore love to fly with them again and would even be willing to take a longer routing if it meant having to fly via Taipei to do so – they were that good.
Follow Our Entire Trip Down Under
Be sure to also check out all our other posts from our trip to New Zealand and Australia:
Review: EVA Air Business Class Taipei to New York JFK