I wasn't very organized with booking a hotel for the Southern Fried Half Marathon in the Outer Banks, NC.
Shae had booked her place in the race back in March, but for some reason I waited until September to make a hotel reservation. Seeing as thousands of people descend on the area for the marathon and half marathon, many places were fully booked by September. We had the added factor of finding somewhere pet-friendly as Truffles was coming with us.
When searching hotels.com, our best option seemed to be the Fin N' Feather Waterside Inn in Nags Head. I therefore booked a room for two nights with two queen beds as Shae's parents were traveling with us.
The cost was $101.69 per night including tax (total of $203.38), but I imagine it'd be much more expensive in the summer. The pet fee was $25 per stay, although there was no way to pay that and so Truffles stayed free 🙂
Pre Check-In
Our reservation was from November 10-12. The day before we were due to arrive, I received an email from KEES Vacations Outer Banks Hotels. They're the owners of the Fin N' Feather and appear to have many hotels throughout the Outer Banks.
The email provided the property address, our room number, the door lock code (there's a keypad rather than traditional hotel key cards) and the WiFi password. The email also explained that there's optional daily housekeeping service.
That email was followed up by a phone call the following morning to make sure I'd received the email and that I'd seen the door lock code and WiFi password. I was impressed that KEES took this extra step to ensure everything runs smoothly, especially because they don't seem to have a front office on site.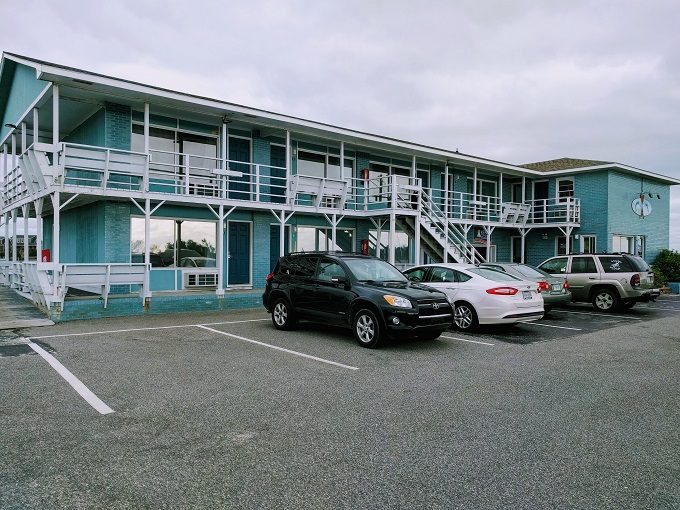 Room
I think the Fin N' Feather has ~8 rooms and we were in room 2. Our room was located on the first floor (ground floor for Brit readers) in front of where the white car's parked in the above photo.
As we entered, the two queen beds were on the right.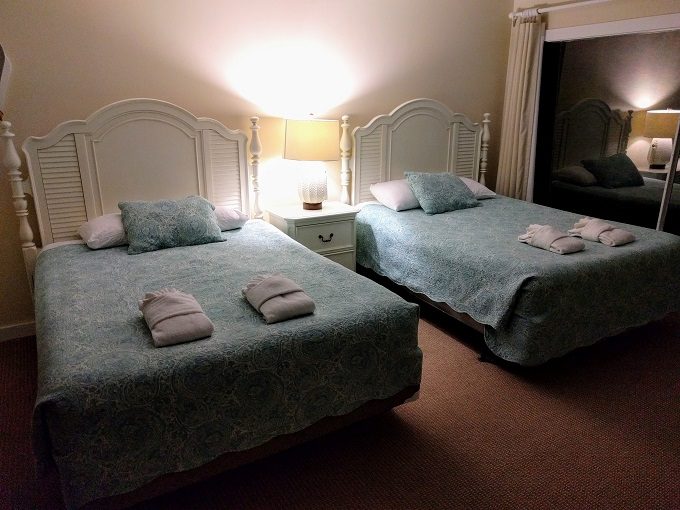 The beds were comfortable enough, although they creaked a little when we laid down. As it's an older property, there weren't any spare outlets next to the bed. There was an outlet next to the foot of the left bed though.
One strange feature was the clothing rail next to the left bed. It's located so close to the bed that if you get up in the middle of the night, there's a good chance you'll smack your head.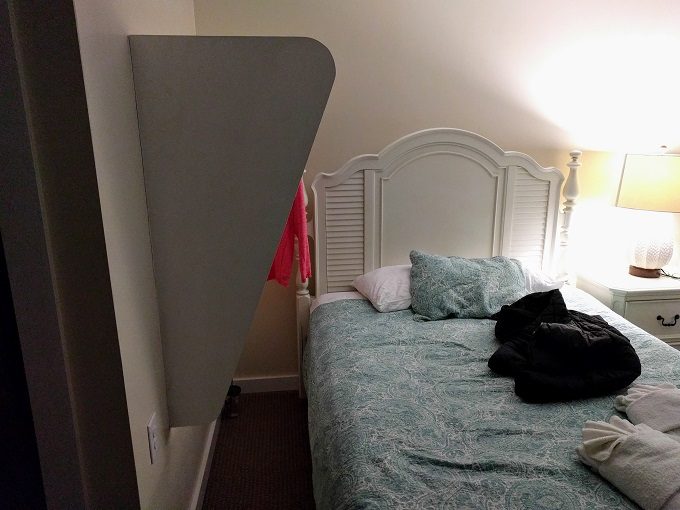 Opposite the beds was a dresser and TV. The TV was mounted so that it could also be pulled out and turned to face the kitchen and dining area.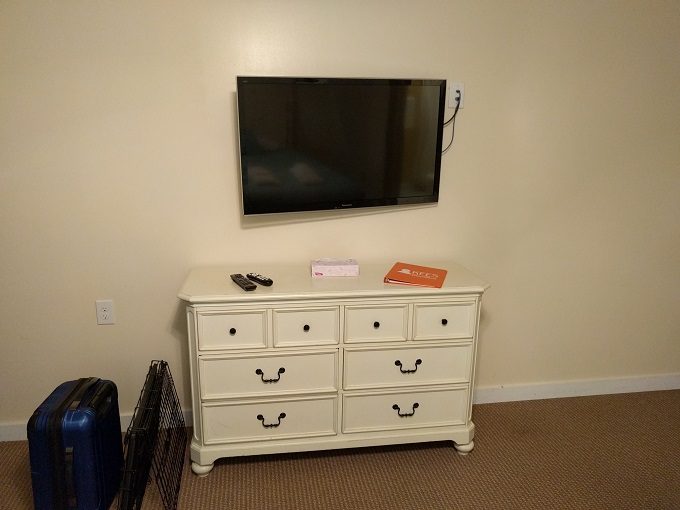 Speaking of which, here's the kitchen and dining area. There was a good-sized dining table with three chairs; this also seemed a little strange as you'd normally expect to have four chairs.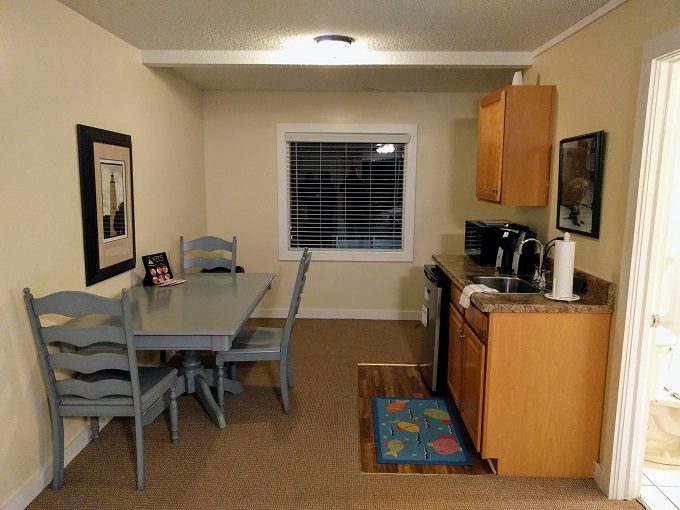 The kitchen included a microwave, fridge, sink, cups, plates, silverware, etc. There was also a Keurig coffee maker with six coffee pods on the dining table. The cupboard under the sink contained a standard coffee pot with filters and coffee.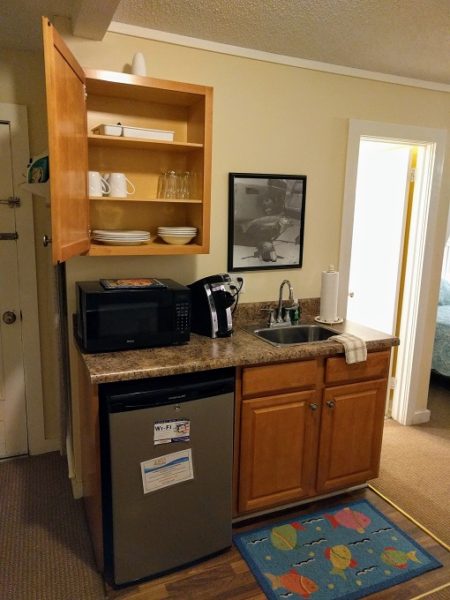 Next to the kitchen was a back door.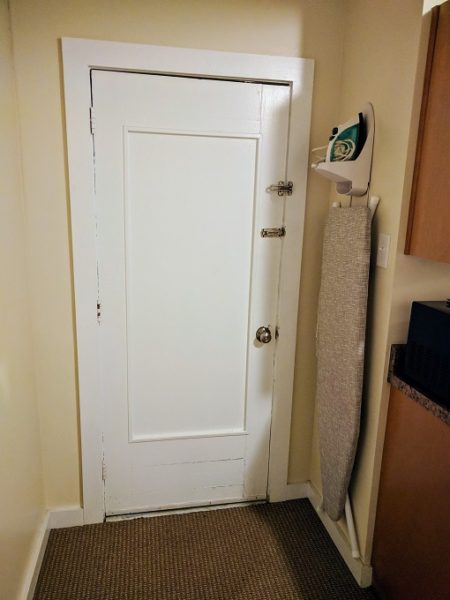 That opened to a grassy area and deck with benches and picnic tables overlooking the water. We didn't get to enjoy this as it was freezing on both the Friday and Saturday, but I'm sure it's a great amenity to have in the summer.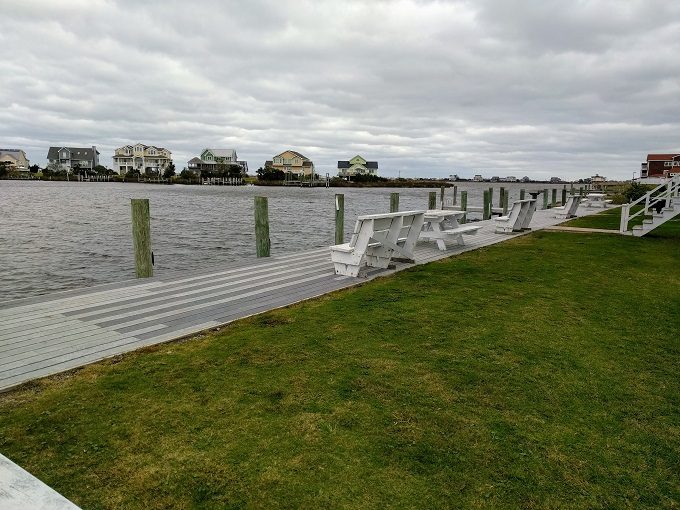 Back inside, the bathroom wasn't enormous, but it wasn't too claustrophobic either.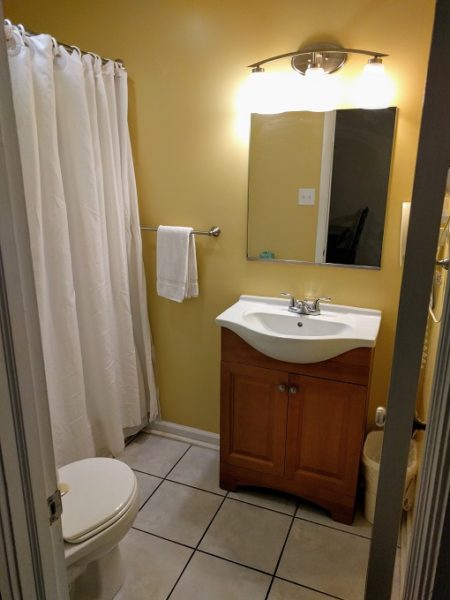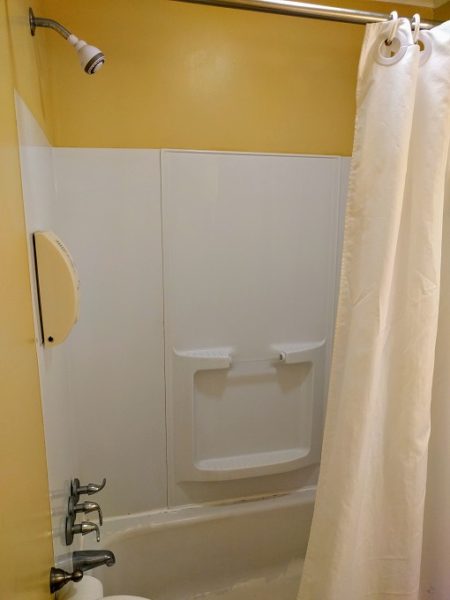 The bath had seen better days as quite a bit of the enamel was worn away. That's probably to be expected at beachside hotels like this though given how much sand must get washed off in there. The shower had plenty of hot water and had decent enough water pressure.
Rather than having small toiletry packs, there was a soap dispenser by the sink and a dispenser for shampoo and shower gel in the shower. I'm sure this isn't to the liking of some people, but Shae and I don't mind as it means there's much less wastage.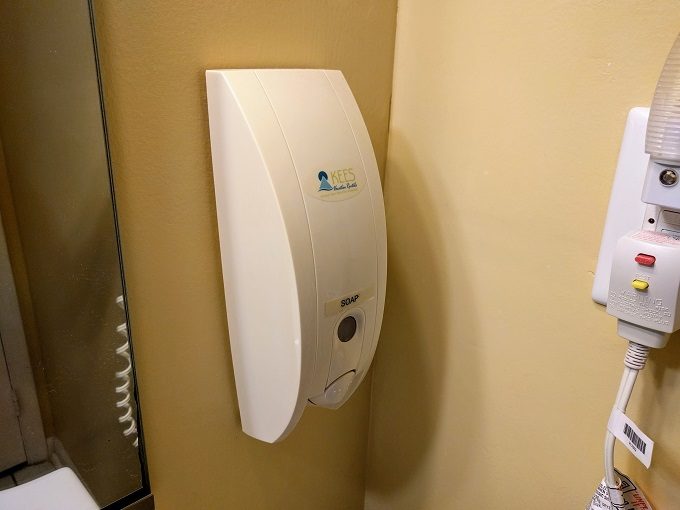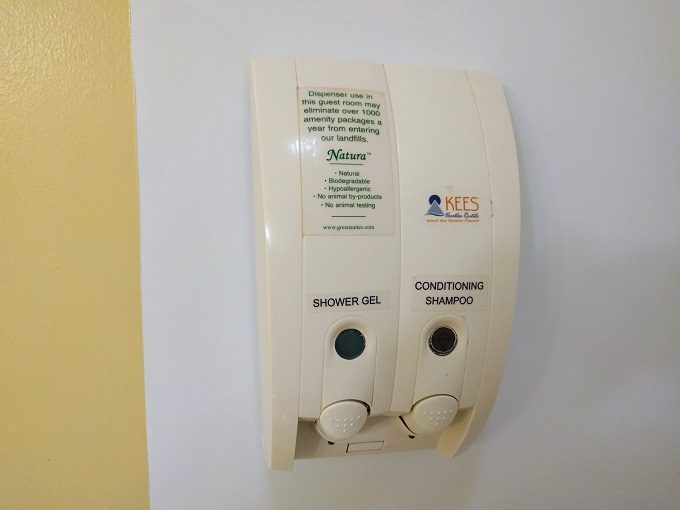 We had a knock on our door from housekeeping on Saturday asking if we needed anything, but we declined. As housekeeping is optional, I'm not sure what happens if you're not in the room when they knock.
Final Thoughts
I was really pleased with our stay at the Fin N' Feather Waterside Inn, especially as we had limited options when booking the hotel.
It was clean, comfortable and spacious, with the kitchen and dining area being nice added benefits. There were a couple of strange features – the headbanging location of the clothing rail and only having three dining chairs in a room for four people – but they weren't huge issues.
One of the best aspects of the stay was how easy it was. There was no need to check in or out, so we just arrived and entered with the pre-advised code, then left without needing to check out. This does mean you can't check in early though as the room code apparently isn't activated until the check-in time of 4pm.
A potential downside is that the walls seemed to be fairly thin. We were able to hear neighbors talking until fairly late at night, although they weren't being obnoxiously loud. This would obviously be more of a problem if there were partiers next door or upstairs.
The location of the hotel is pretty good, being about 1.5 miles from the nearest beach. It's also only a couple of miles to the nearby Tanger Outlets and a short drive to restaurants.
If we were to return to Nags Head, we'd be happy staying at the Fin N' Feather Waterside Inn again. Having said that, we'd also investigate other options in case there were any affordable beachfront properties.
Truffles Approval Rating

Truffles gives the Fin N' Feather Waterside Inn four paws out of four – pawfect!
The large room meant she had plenty of space to run around chasing her ball. There were also grassy areas out back and around the property where she could walk and do her stuff.
Even though there was meant to be a $25 pet fee, she was pleased that there was no way to pay it – more treats for her!
Our Rating
Room = 4.25 / 5
Hotel Amenities = 3.75 / 5
Food = N/A
Location = 4.25 / 5
Service = 4.5 / 5
Overall Value = 4.25 / 5
Total = 4.2 / 5
Address
7740 S.Virginia Dare Trail, Nags Head, NC 27959