Norfolk VA Mini-Trip Report
Review: Grace O'Malley's Irish Pub & Restaurant, Norfolk
Having settled in at the Sheraton Norfolk, Shae and I went out to find some food. We recently had a great experience at Benny Marconi's in Roanoke, so we planned to eat at Benny Damato's as that's the local Benny's in Norfolk.
Benny Damato's was packed though, so we went off to find something different. After wandering round for a while, we chanced upon Grace O'Malley's Irish pub & restaurant. They had their menu on the wall outside and it had some tasty looking options, so in we went.
Grace O'Malley's have done a great job with the design and craftsmanship of their Irish pub and restaurant. Even the entrance appears to have been carefully designed.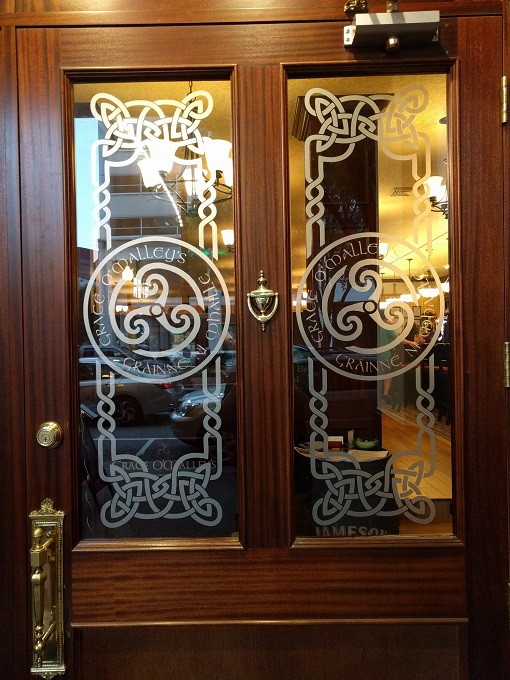 The theme continues as you enter with the tile mosaic that greets you on the floor.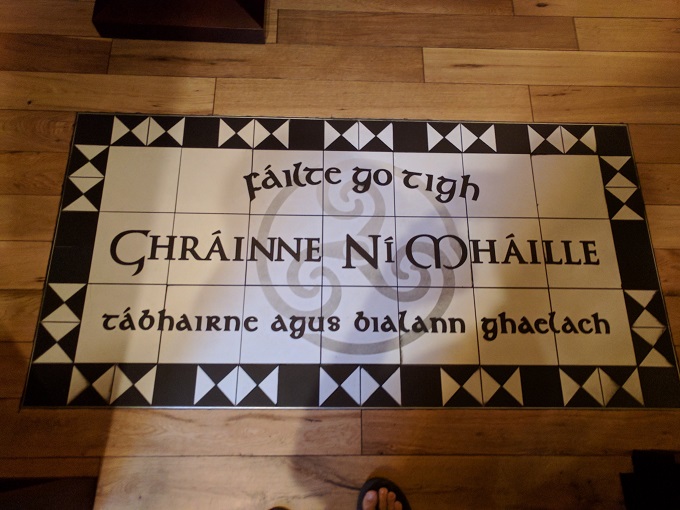 We were seated at a table to the left of Grace O'Malley's. It's quite a large restaurant with two levels of seating; the seating's spread out quite nicely, so it doesn't feel at all cramped.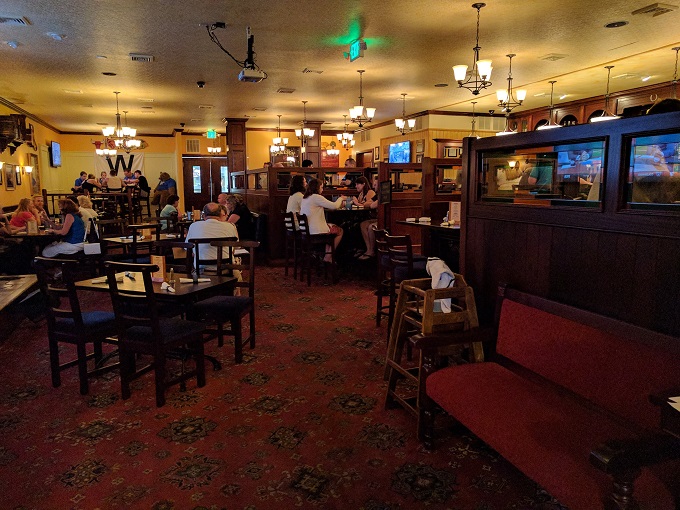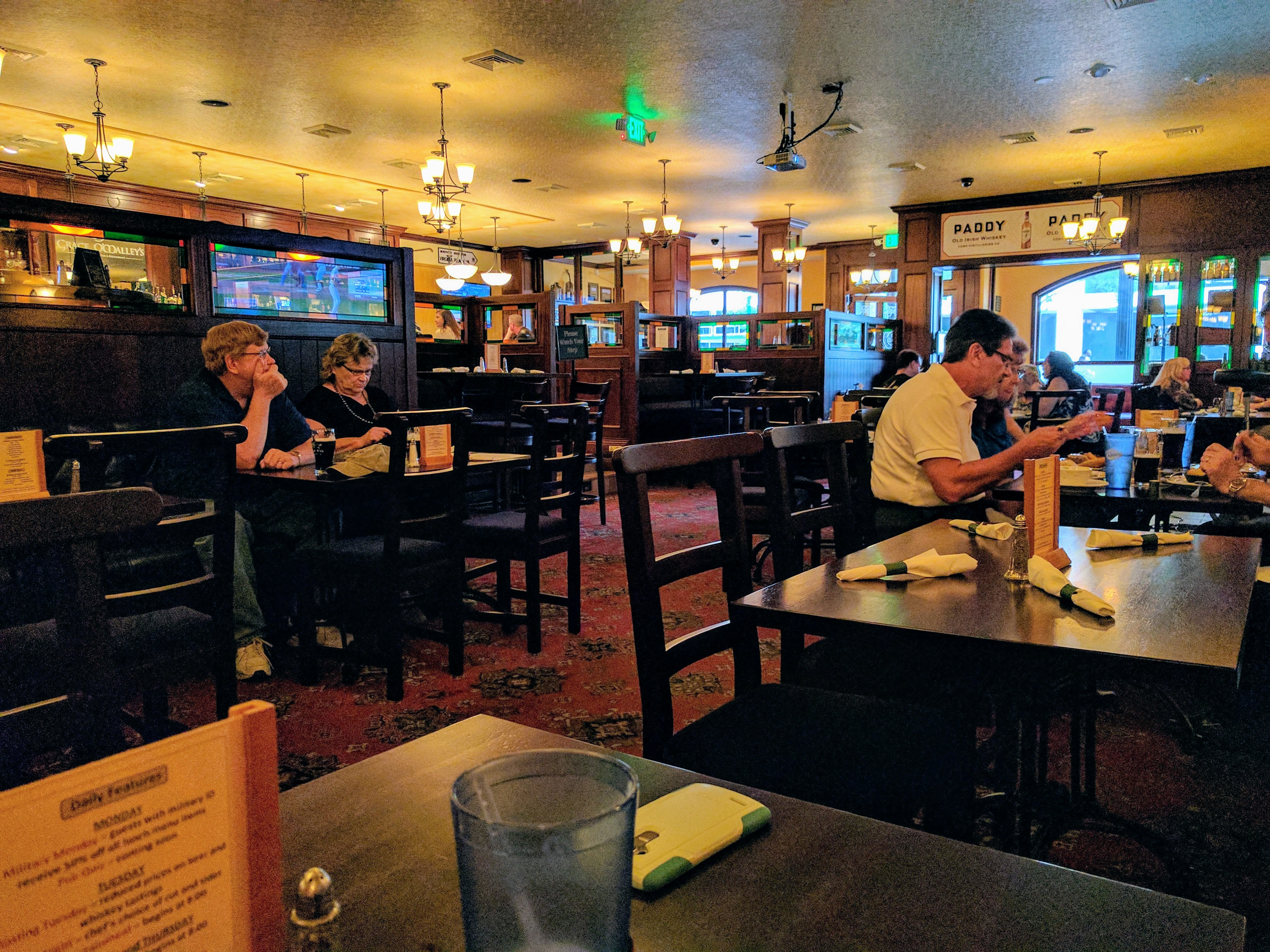 There was a good selection of options on their drinks menu. There were many different whiskeys, cocktails, beers, wines and more.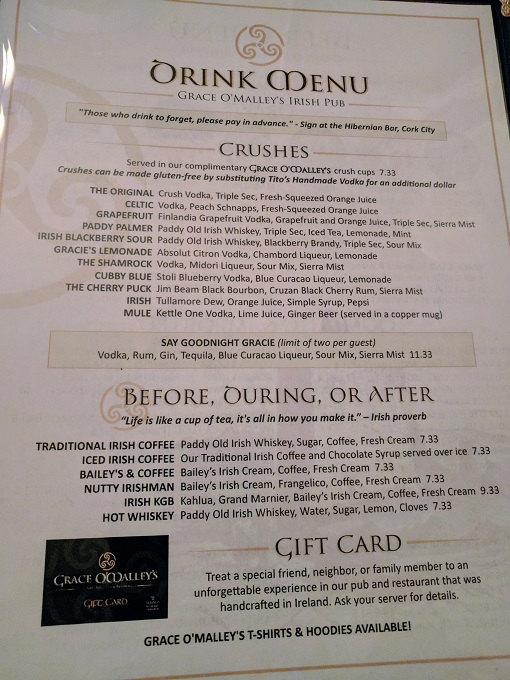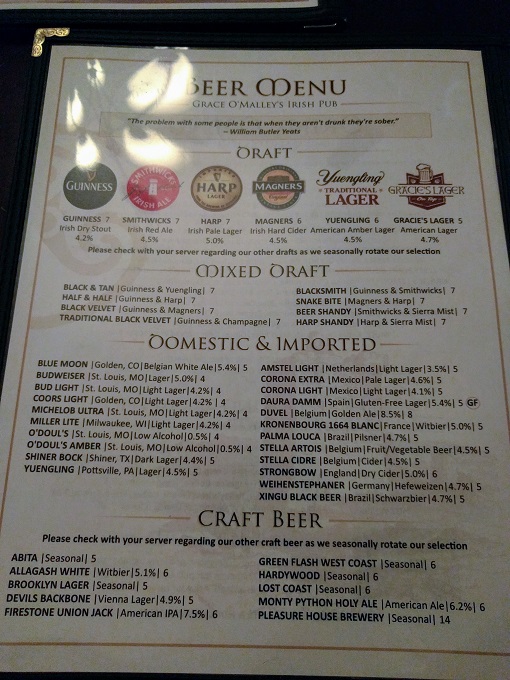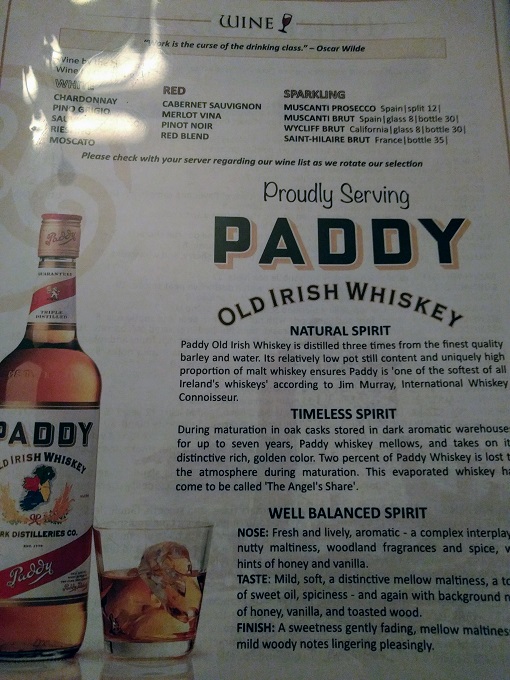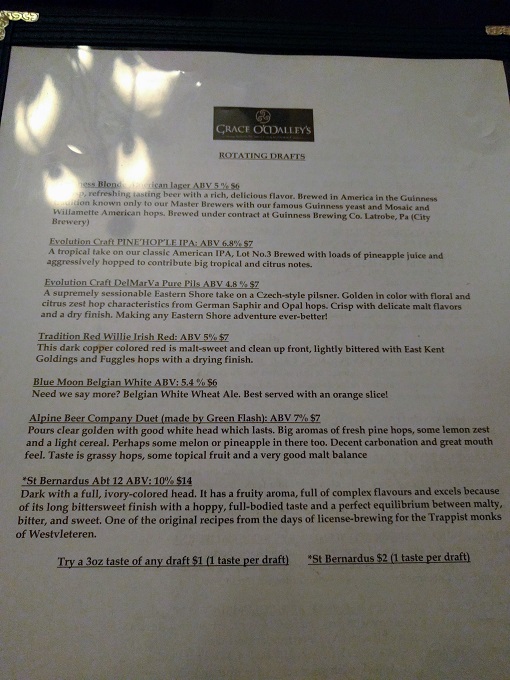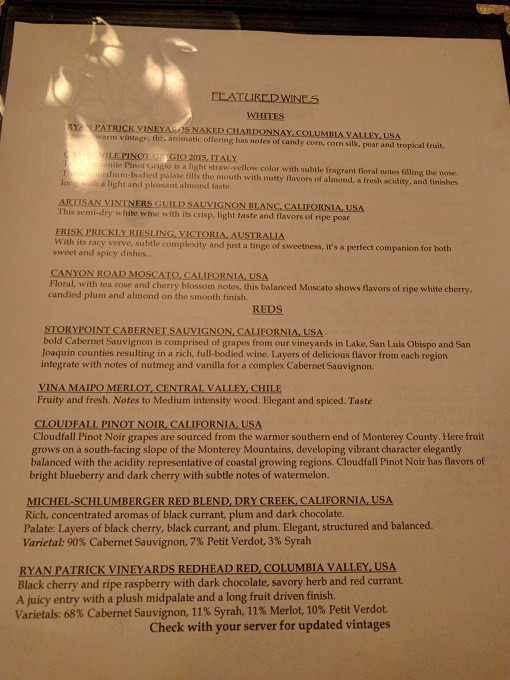 I was thinking about getting some kind of Irish whiskey, but seeing as we were in an Irish-style pub I went for a pint of Guinness, while Shae ordered The Shamrock crush.
While we were waiting for our drinks, we took another look at the food menu. As I mentioned earlier, they had quite a few tasty looking options and I ended up ordering the smoked salmon BLT wrap. Shae loves her cow, so she ordered the Dubliner steak bap off the special menu.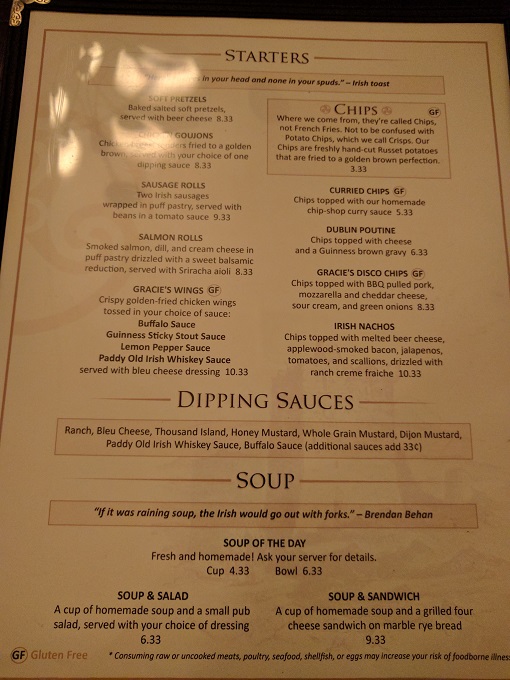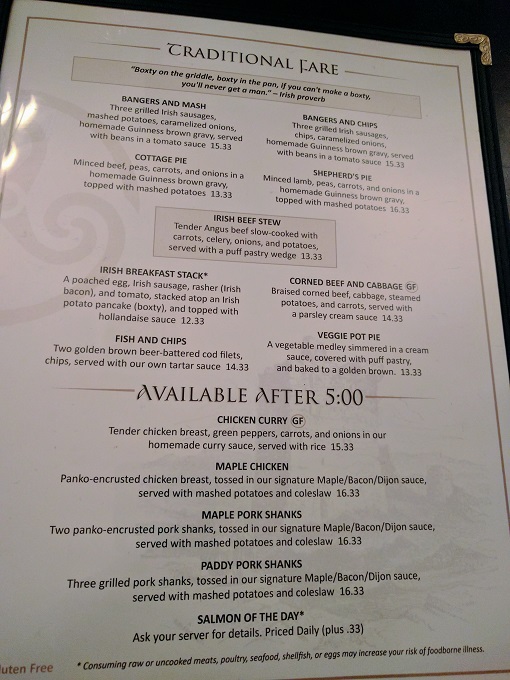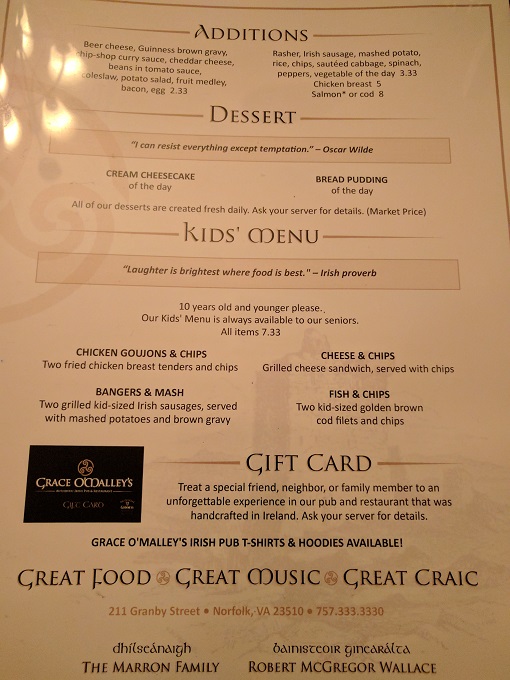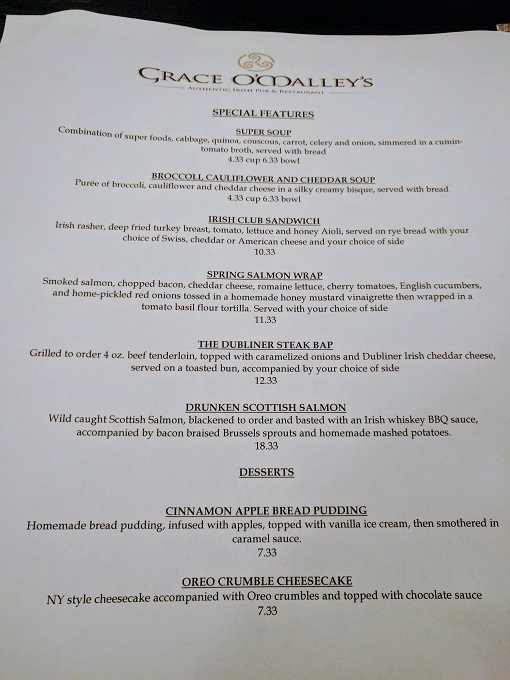 While we waited for our meals to arrive, we read about the history of the real Grace O'Malley. Below that was some history about the restaurant which explained that nearly everything both inside and out had been handcrafted in Ireland.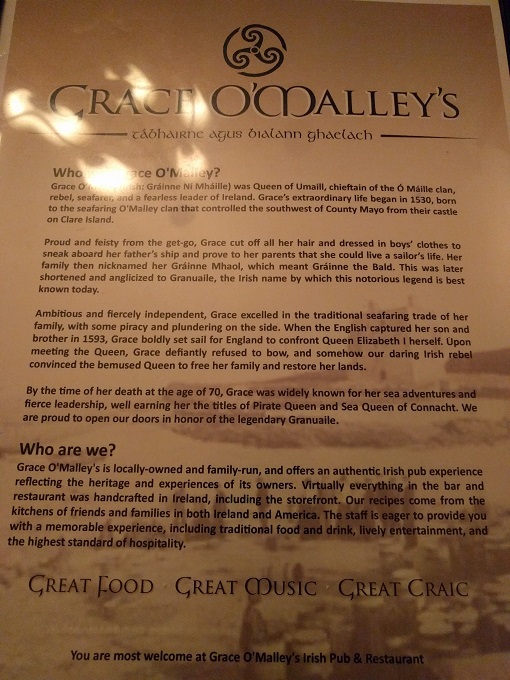 It wasn't long before our food arrived, with both meals being served with thick cut steak fries.
My wrap was a little different to what I'd expected – I'd thought it was going to contain slices of smoked salmon but it was actually flaked salmon. Still, it was delicious and the chopped up bacon inside gave it same extra crunch and taste. The fries were also excellent as they were crispy and flavorful without being at all greasy.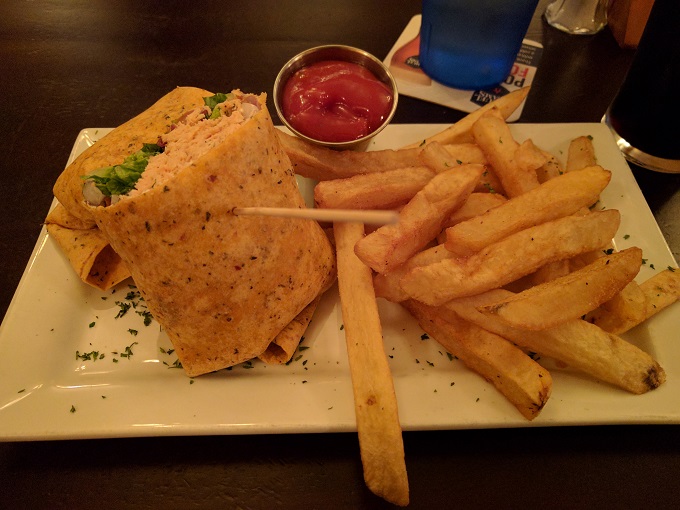 Shae's Dubliner steak bap was amazing. It was cooked medium-rare as she'd ordered and the steak was incredibly tender (I got to try a little).
Shae hadn't realized when ordering the Shamrock crush that Midori liqueur was melon-flavored, so she didn't really enjoy that drink. I offered to finish it off, so she ordered a Cubby Blue crush.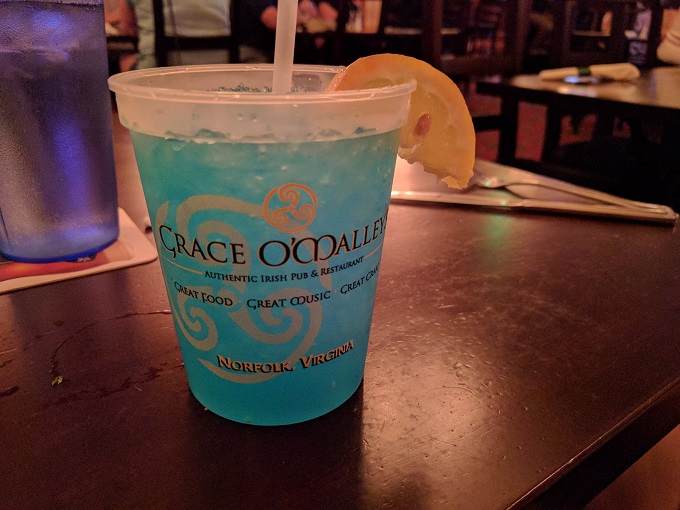 Once we'd finished our meals, we ordered a slice of cheesecake to share.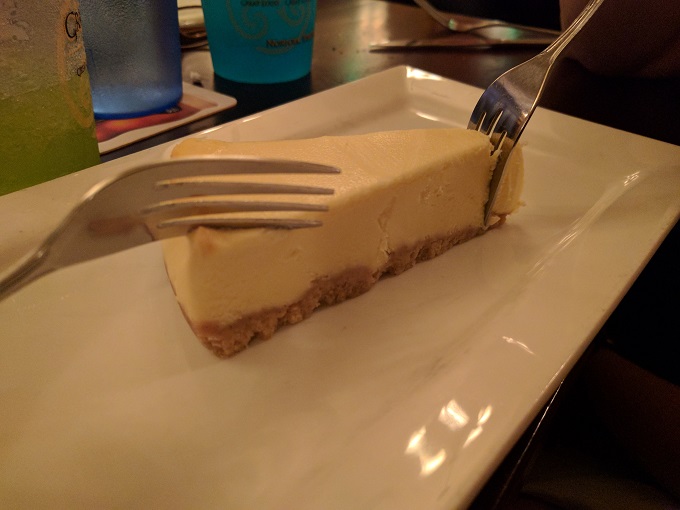 I normally prefer having some kind of fruit topping, but this slice didn't need it. It was one of the best – if not the best – slices of cheesecake I've ever had. If I didn't know better, I'd think it came from Mama's Little Bakery.
Summary
We hadn't originally planned on eating at Grace O'Malley's, but we were glad that's where we ended up. The food was good quality without being too expensive and our server Danielle was very friendly.
If you're looking for somewhere to eat in Norfolk VA, this is a solid option and one we can highly recommend.
Rating
Food = 4.5 / 5
Price = 4 / 5
Atmosphere = 4 / 5
Decor = 4.5 / 5
Service = 4.25 / 5
Total = 4.25 / 5
Address
Grace O'Malley's Irish Pub & Restaurant, 211 Granby St, Norfolk, VA 23510