After checking out of the Hyatt Place Columbia/Harbison and spending some time at Columbia Riverfront Park, we made our way to the Hampton Inn Columbia I-26/Harbison Blvd.
We booked this stay using points; one of the other reasons we chose to stay at this hotel is because they're not only pet-friendly but they don't charge a pet fee.
The Hampton Inn Columbia I-26/Harbison Blvd, SC was a great hotel – here's our review to explain why.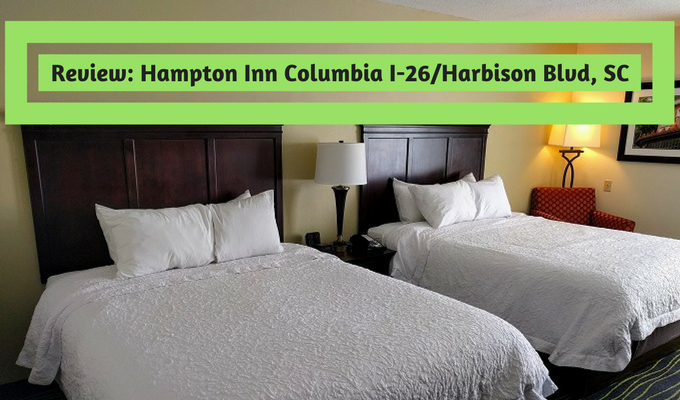 Check-In
The check-in time was meant to be 3pm, but we arrived an hour early. This wasn't a problem though and within a few minutes we had our keys and made our way up to our room on the second floor.
Bedroom
Our room – 202 – was close enough to the elevator to be convenient, but far enough away that it wasn't noisy.
As we entered the room, the bathroom was to the left and the main bedroom area was ahead and to the left.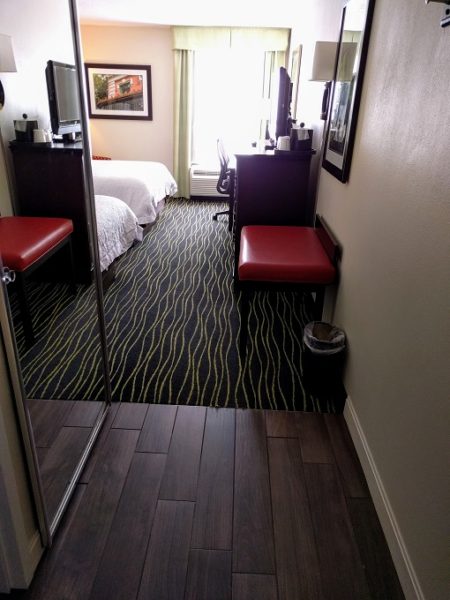 Although we prefer 1 king bed rooms, they only had rooms with two queen beds available for a reasonable number of points when we booked.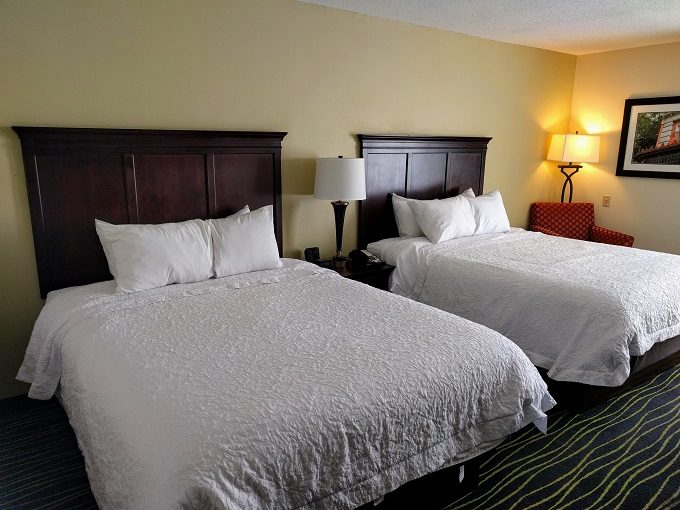 The beds were extremely comfortable and we had a good night's sleep each night during our stay. Truffles also appreciated the cozy bedding.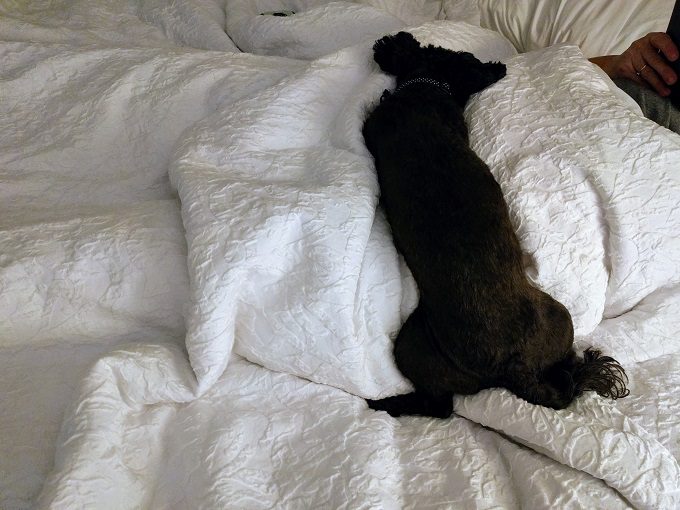 There was a side table between the two beds with a dual lamp. There were also plenty of outlets; not only did the lamp have a couple of outlets, but there was a separate device with three additional power outlets and two USB ports.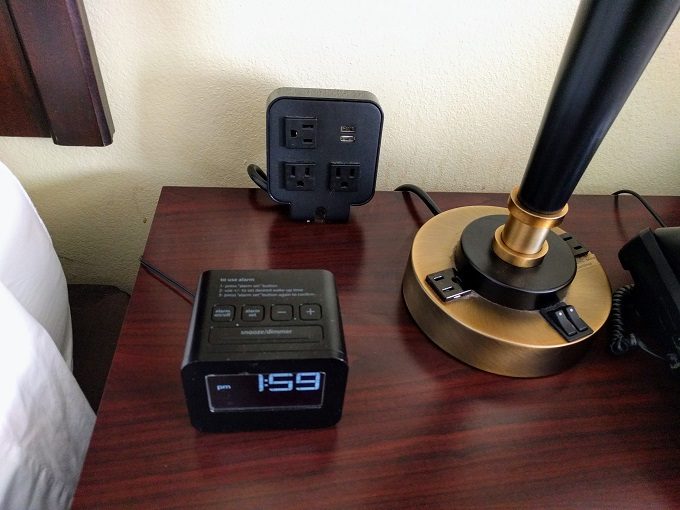 In the far corner there was an armchair and ottoman. I used this for my carry-on suitcase, so I'm not sure how comfortable the chair would've been for sitting on.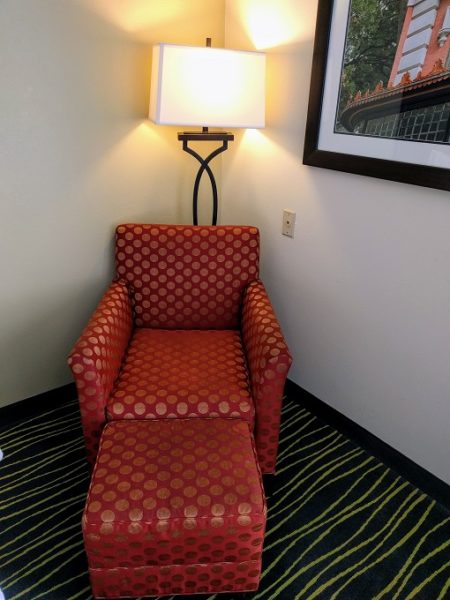 By the window there was an OK-sized desk with a comfortable office chair.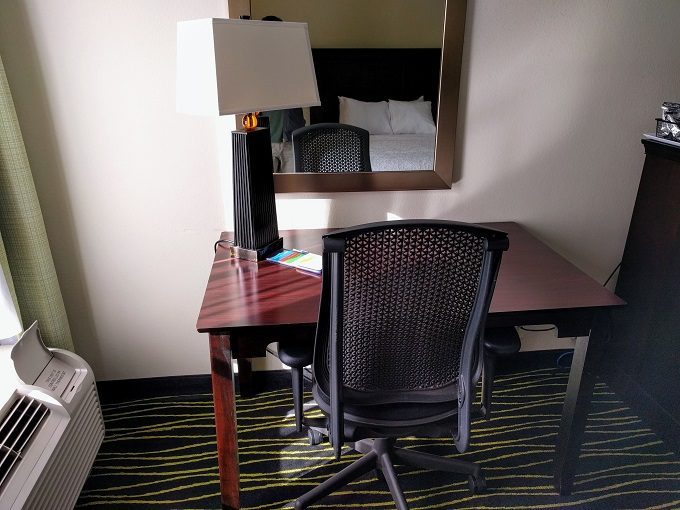 One of my favorite features of the room was the fact that there was both a fridge and microwave. Seeing as we're living in hotels on our 50 state road trip, having both these appliances in a hotel room makes it much easier to eat "at home" rather than eating out.
That cabinet also held the TV, coffee maker and a chest of drawers, while next to it was some padded furniture we used to hold some of our other bags.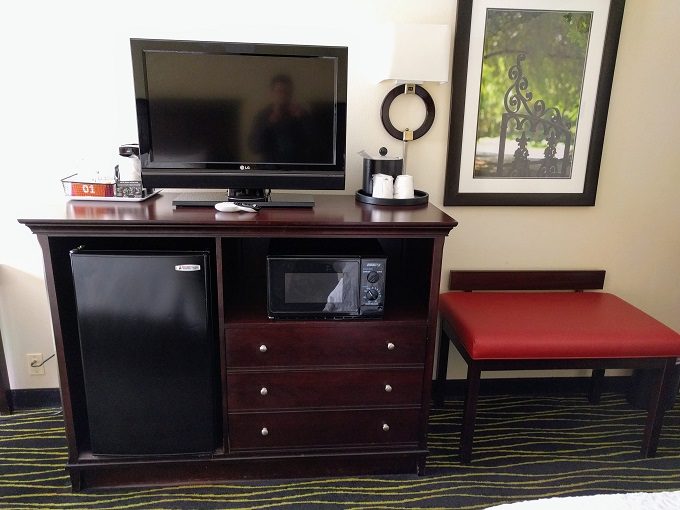 Next to the bathroom was a closet with a luggage rack, iron and ironing board and some additional bedding.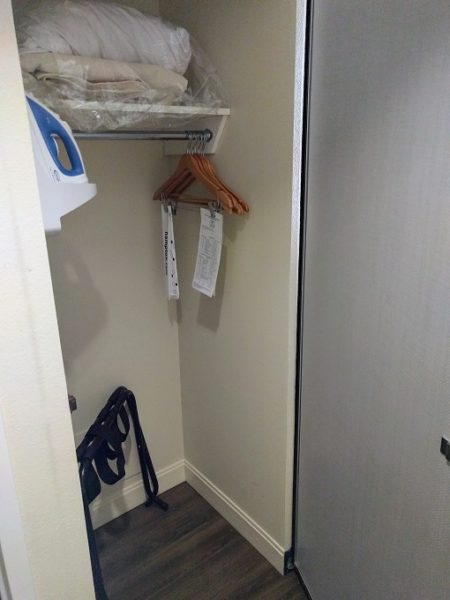 Bathroom
Our bathroom was somewhat spacious and had a nicer design than other bathrooms at similar types of hotels.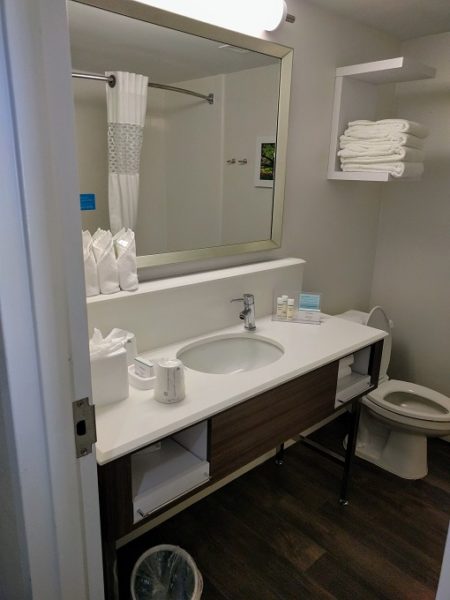 Neutrogena toiletries were provided each day which did the job.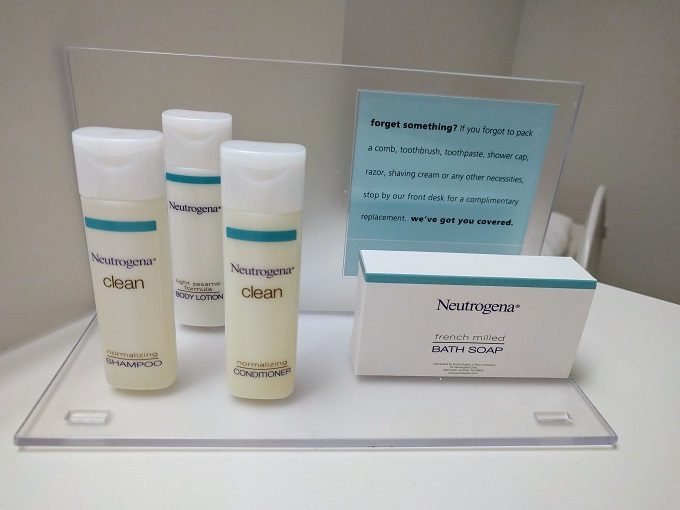 The bathroom also had a bathtub and shower.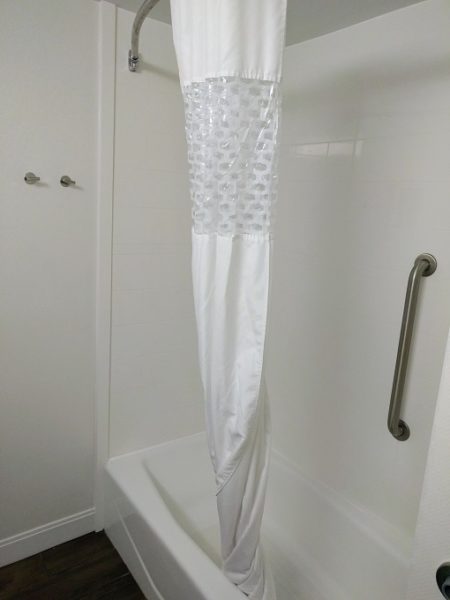 The bathroom was the only slightly disappointing part of our stay at the Hampton Inn Columbia I-26/Harbison Blvd for a couple of reasons.
First – the shower wasn't great. The water pressure was enough to be able to wash yourself, but it wasn't very powerful.
Secondly – and slightly more weirdly – housekeeping never left much toilet paper. Pretty much every hotel we've ever stayed at has a spare roll, but none were ever left in our bathroom. Even when there was less than 1/4 of a roll remaining on a couple of days, a fresh roll wasn't left. We therefore had to call down to get more.
I don't think this was some kind of bizarre cost-cutting measure though, as the hotel clearly didn't skimp on things anywhere else.
Breakfast
Breakfast was available every day from 6am-10am, regardless of whether it was a weekday or at the weekend. There were the same choices everyday, other than the hot options which differed each day. There were cheese omelets and bacon the day I took these photos, but other days there were breakfast potatoes, sausages, scrambled eggs, etc.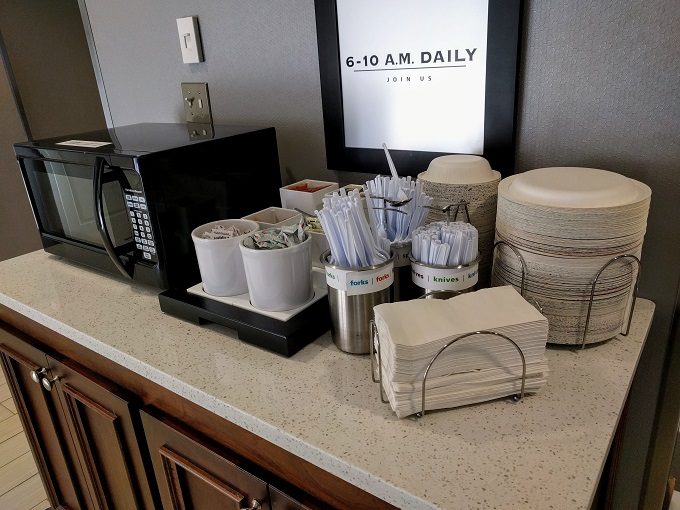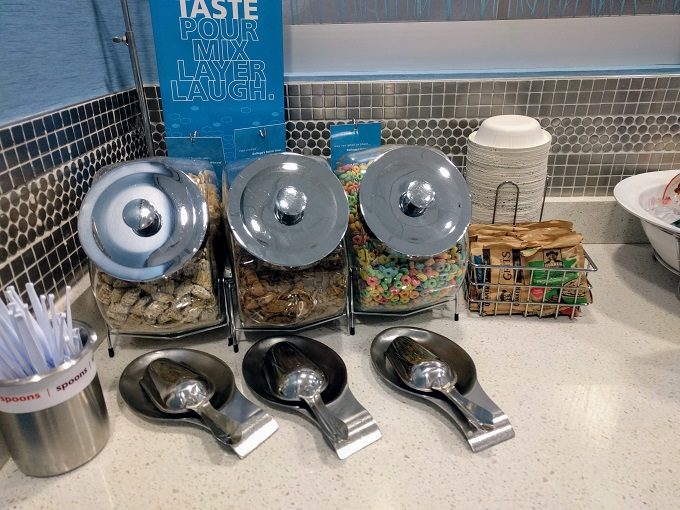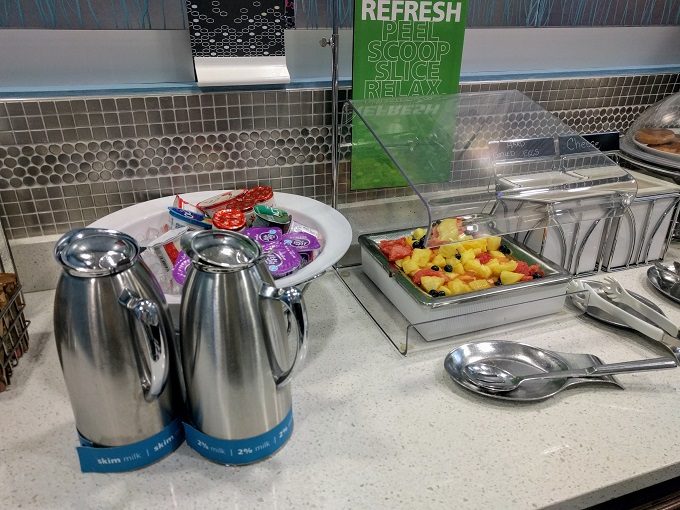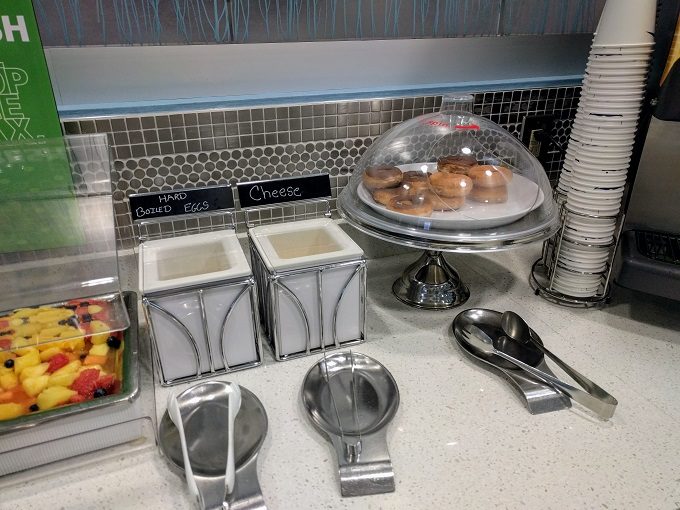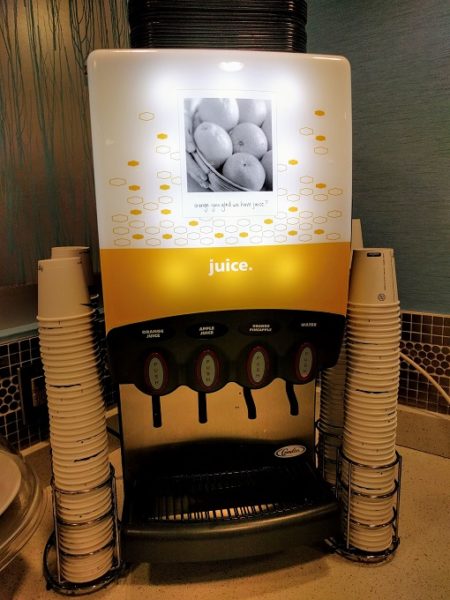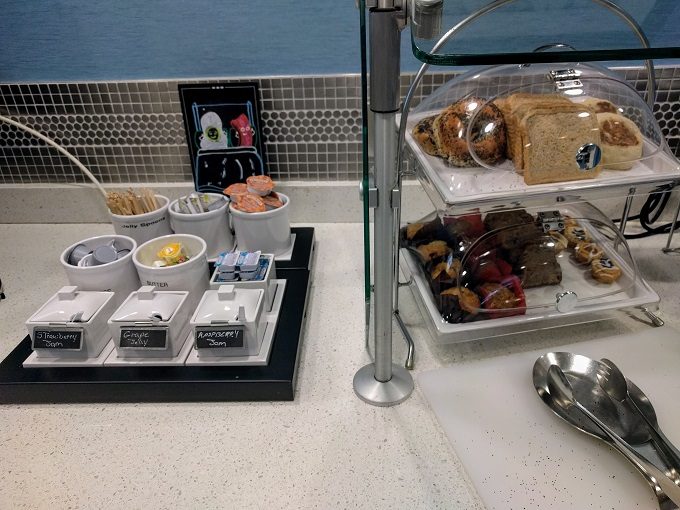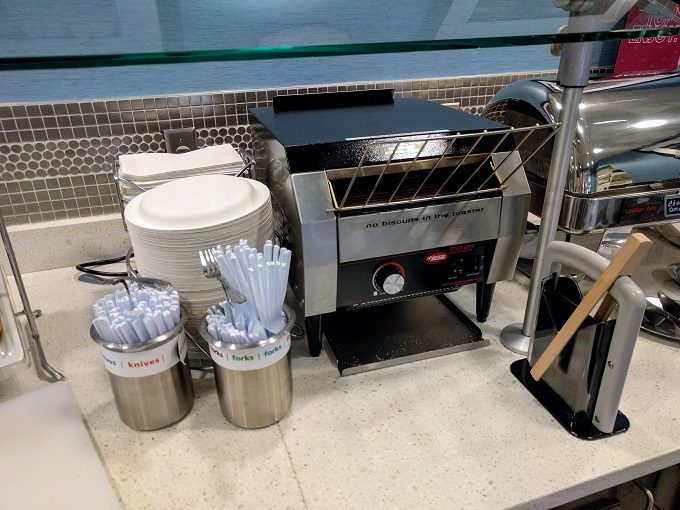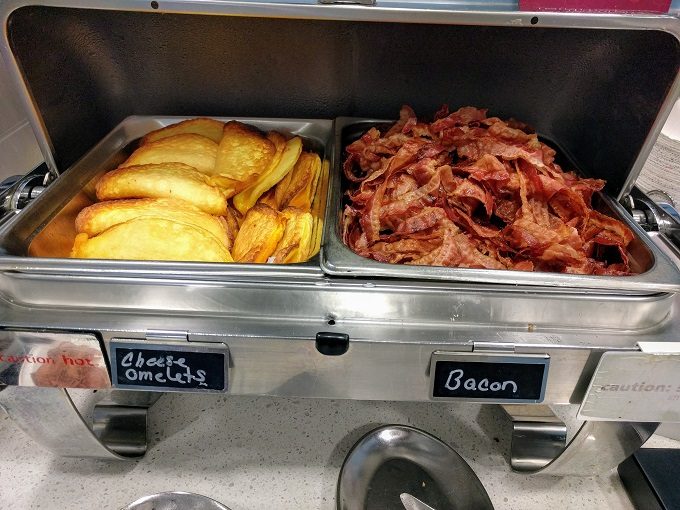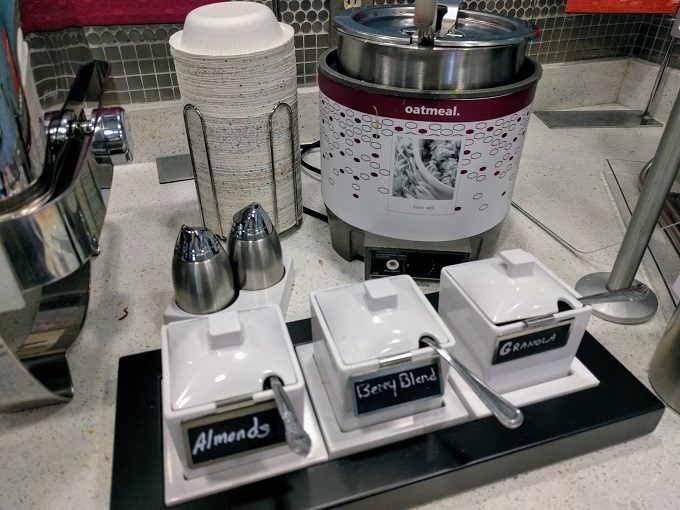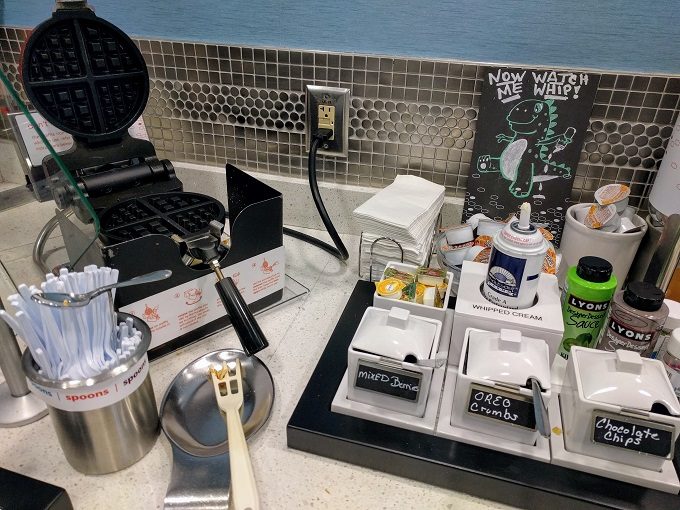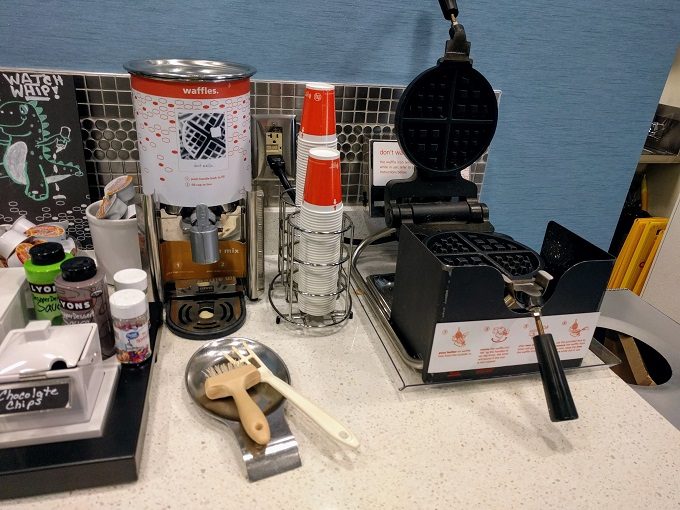 All the breakfast items I tried during our five night stay tasted good. The waffle makers in particular cooked the waffles perfectly. I also loved the "Now watch me whip" dinosaur sign behind the whipped cream.
The only thing that Shae didn't enjoy was the orange-pineapple juice – apparently it was a little ropey and didn't taste particularly orange-y or pineapple-y. The apple juice from that machine was fine though.
In addition to all the breakfast items, there was a coffee, tea and hot chocolate station that was available 24 hours a day. There was also a sign advising that the drinks were refreshed every four hours.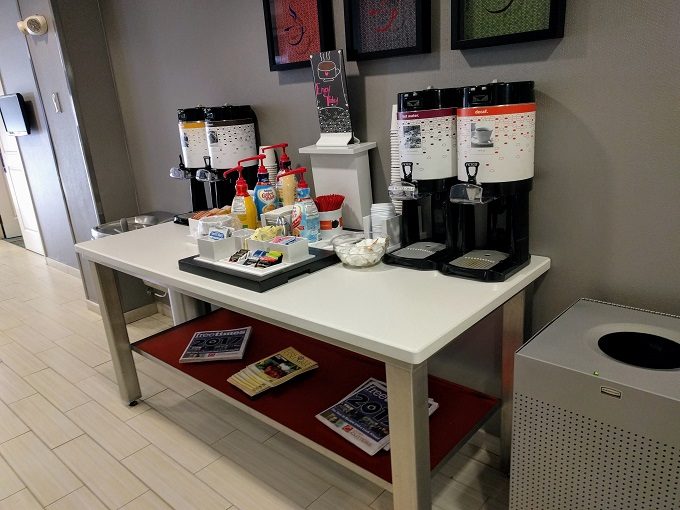 The Hampton Inn Columbia I-26/Harbison Blvd constantly had bowls by the elevators containing bananas and apples. In the afternoons they also seemed to have freshly baked chocolate chip cookies at the front desk and on another day there was a giant tray of trail mix for guests to help themselves to.
Amenities
The hotel had an outdoor pool which appeared to be open, but as there were freezing temperatures during our stay (we visited at the beginning of January), we gave it a miss.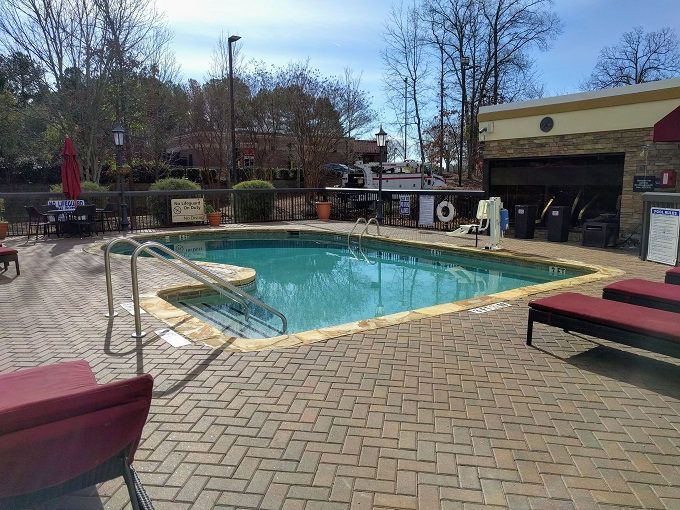 Next to the pool was a beautiful covered seating area with a fireplace, TV and outdoor grill.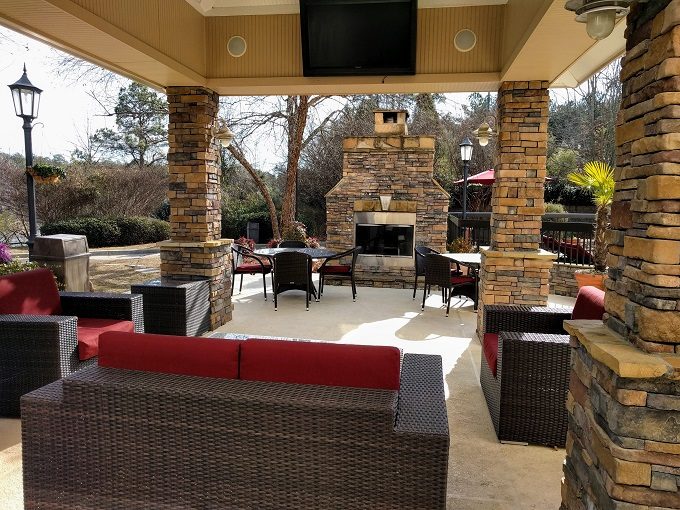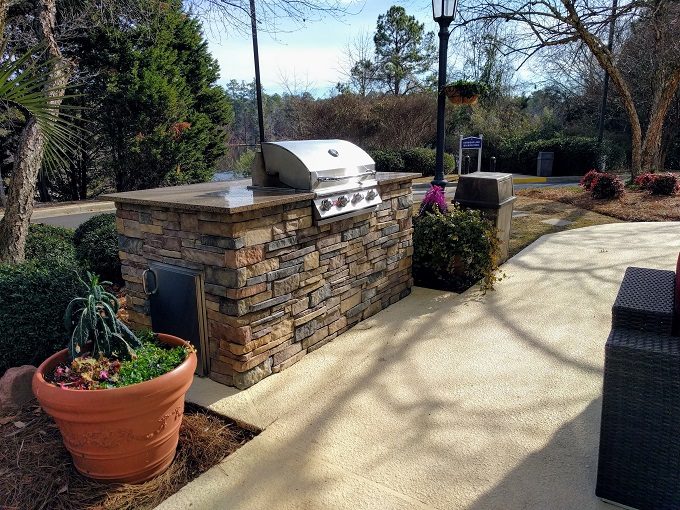 To the other side of the swimming pool was a fitness center that was open from 6am to midnight.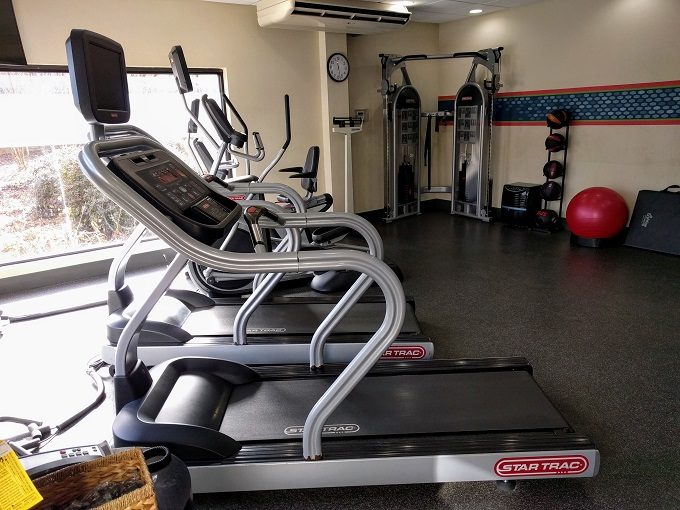 Inside the hotel was a business center…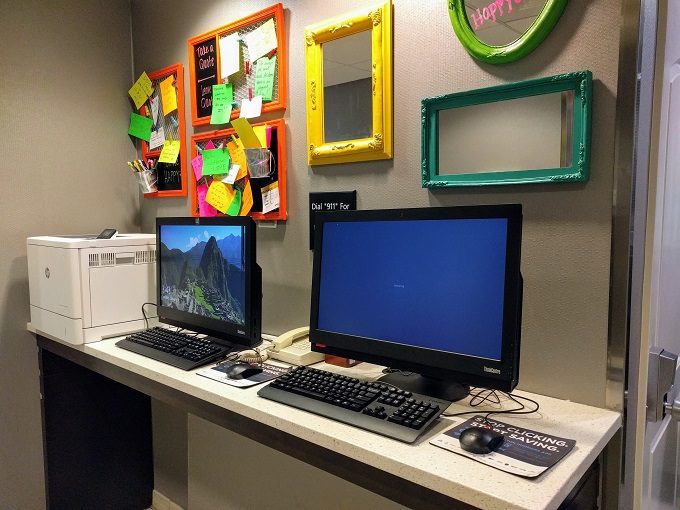 …while next to the business center was a washer and dryer that each cost $2 to use. Although we'd hoped they'd be free to use, we still appreciated that we could wash our clothes here seeing as neither our previous nor our next hotel had laundry facilities.
There are benches and rocking chairs out the front where you can hang out when it's warmer.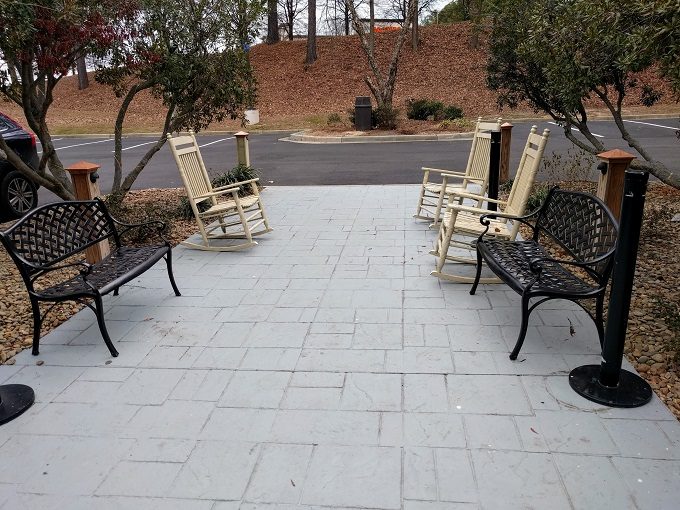 The hotel also had bikes available for guests to use. We didn't make use of them, so I'm not sure if they're free or if there's a fee.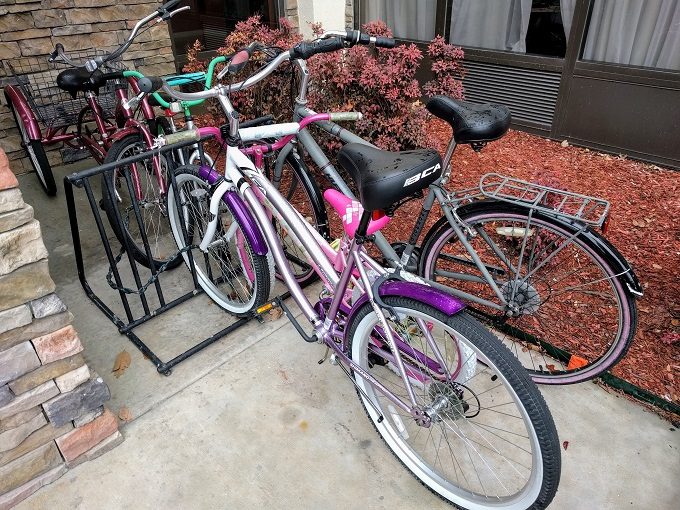 One of the best features of the hotel is that it's right next to Harbison Lake. This had a 0.6 mile trail around it and was a perfect spot for walking Truffles.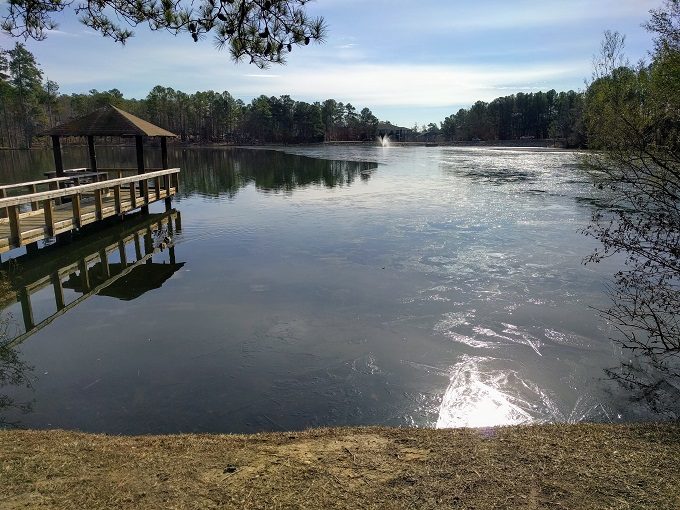 Decor
Something that was notable about the Hampton Inn Columbia I-26/Harbison Blvd was its decor. I'm not sure if it's a new hotel and that this is how all Hampton Inns are now decorated, but there were several different design touches throughout the hotel.
There was the pattern on the hotel's entrance doors…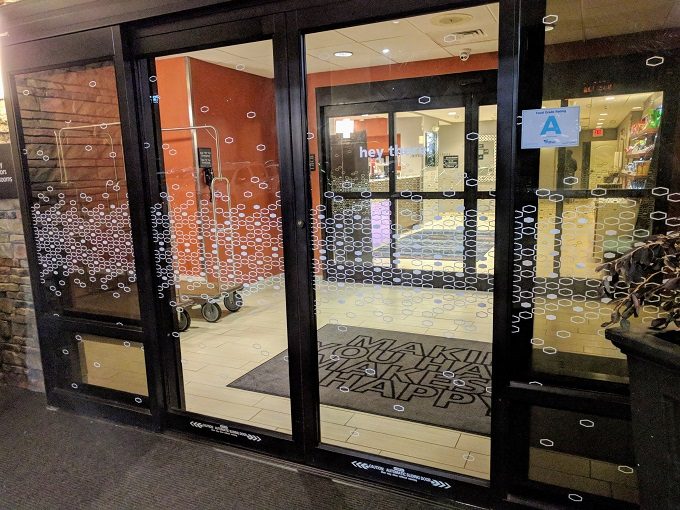 …a decoration on the elevator doors…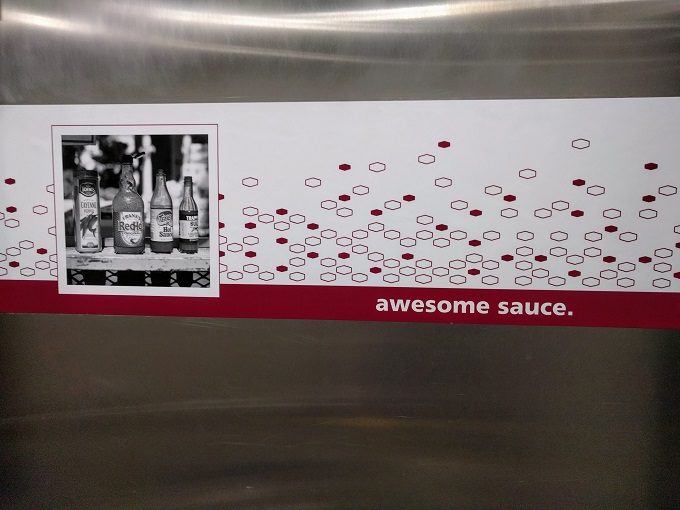 …a vinyl decoration on our bathroom door…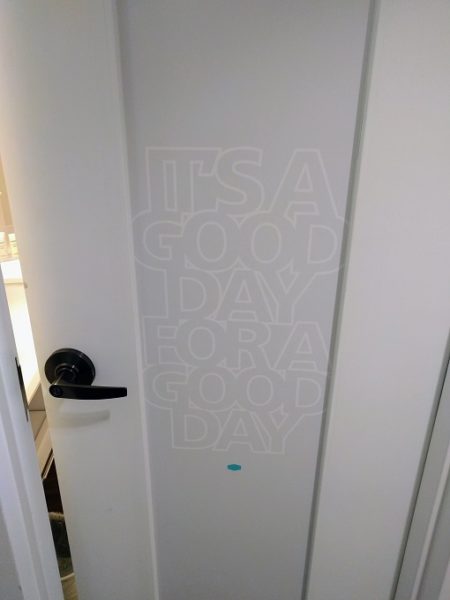 …a red British telephone box out front and much more besides.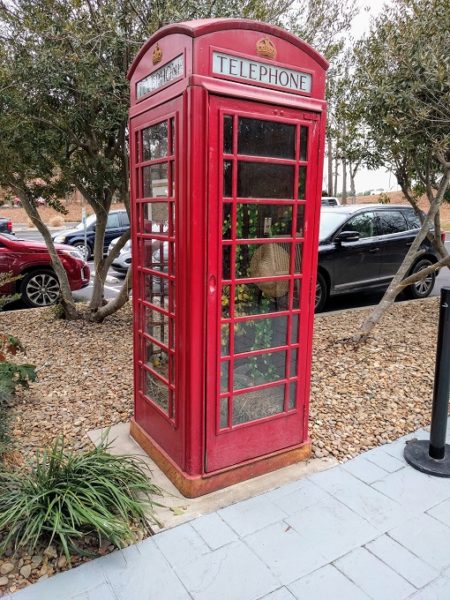 In isolation these touches don't amount to much, but put together it gave the impression of a hotel that cares about its appearance.
Service
All of the staff members at the hotel were welcoming and friendly, from the front desk to breakfast to housekeeping. Whenever we left the hotel we were wished a great day and whenever we got back they welcomed us back.
Again, little touches like this aren't massive in and of themselves, but they helped contribute to a very nice stay.
Location
The Hampton Inn Columbia I-26/Harbison Blvd was in a good location for us. It's right off I-26 and was only a 10 minute drive to Riverbanks Zoo and a 15 minute drive into downtown Columbia.
It's right next to Harbison Lake, is close to shopping and is also only a few minutes from the nearby Harbison State Forest.
Cost
We stayed at this Hampton Inn for five nights and paid using points. Our room was 20,000 Hilton Honors points per night and, as I have status, the fifth night of our award stay was free. That means the stay cost us a total of 80,000 points.
When we were booking, only the 2 queen bed room was bookable for 20,000 points. Despite costing the same price as the 2 queen room in cash, their 1 king room would've been 66,000 points per night.
If we'd paid cash for our stay, the rate when I originally made the reservations was $143.68 which includes taxes. That means we got 0.9cpp (cents per point) of value for our stay which is approximately double the value you'd normally expect to get from Hilton Honors points.
When taking into account the points I unexpectedly earned from the stay (see below), our net cost in points was 66,750. That actually gives a 1.08cpp redemption which is excellent value.
Something else we appreciated about the Hampton Inn Columbia I-26/Harbison Blvd is that it's not only pet-friendly, but it charges no pet fee. That seems to be rare with Hilton brands, so it helped make our stay even better value.
Points Earned
As this was an award stay, I hadn't expected to earn any points other than 250 points as my welcome amenity for being a Diamond member.
After checking my Honors account though, I was pleasantly surprised to find I'd earned 13,250 points:
10,000 points – CRM Winback 10,000 Bonus Points Offer – I don't remember being targeted for this promotion last year, but I guess I must've registered even though I don't have any kind of confirmation email. Apparently the promotion ended on January 11 which was the date we checked out, so we booked this stay just in time. I'm also surprised it was awarded on a non-paid stay, but I'm obviously not complaining 😉
2,000 points – 2018 HH1 Points Unlimited Bonus Offer – I'd definitely registered for this promotion. However, I wasn't sure if I'd earn the points without charging anything to our room –  turns out I did. n.b. there's a great post on Frequent Miler about how to take this promotion to the extreme.
500 points x 2 – Amex Co Brand Online Booking Bonus – You get this bonus when booking a stay online and using a Hilton co-branded American Express card. I wasn't expecting the bonus on an award stay and certainly didn't expect to get two sets of 500 points. Again though, no complaints!
250 points – MyWay Preferences Bonus Option – As a Diamond member, this is a welcome amenity I've selected as one of my MyWay benefits.
Final Thoughts
Shae, Truffles and I greatly enjoyed our stay at the Hampton Inn Columbia I-26/Harbison Blvd. Our room was comfortable and spacious enough, the breakfast options each day were great and it had some good amenities.
We loved being next to the lake, having no pet fee, the friendly staff and the fact that it was quite stylish given that it's "just" a Hampton Inn.
If we were to visit Columbia again in the future, I'd happily stay at this hotel again.
Truffles Approval Rating

Truffles gives this Hampton Inn four paws out of four – pawfect! You can read her full review over on Truffles Travels.
Our Rating
Room = 4.5 / 5 (it would've been higher if there was a better shower)
Hotel Amenities = 4.8 / 5
Food = 4.8 / 5
Location = 4.7 / 5
Service = 4.8 / 5
Overall Value = 4.8 / 5
Total = 4.73 / 5
Address
Hampton Inn, 101 Woodcross Drive, Columbia, South Carolina, 29212