Norfolk VA Mini-Trip Report
Review: Hilton Norfolk The Main
EDIT: Since this post was originally published, we had a problem with the website which meant we lost a lot of photos that originally appeared in this post. Any section that says "Photo Error" is where this was an issue – please accept our apologies for the now-incomplete review.
The Hilton Norfolk The Main is a newly built hotel that opened a couple of months ago in downtown Norfolk VA. It received a lot of buzz locally leading up to its opening, so we were keen on checking it out. Paid rates were about $250 per night (inc. tax), so far more than we'd normally pay for a hotel.
Fortunately, we had a free night certificate as a result of a special offer on one of Shae's Hilton credit cards. It could be used at any Hilton hotel worldwide, so in theory this wasn't a great redemption seeing as it could have been used at a hotel that costs $500+ per night.
However, the certificate was only valid until October and we didn't have any travel plans before then where we'd be able to put it to good use. Using it at the Hilton Norfolk The Main therefore felt like our best option.
Review: Hilton Norfolk The Main
It was a quick walk from the ferry to the hotel, going through the revitalized Waterside district and up Martins Lane. The first four floors have a glass facade, ensuring the inside gets a lot of natural light.
Photo Error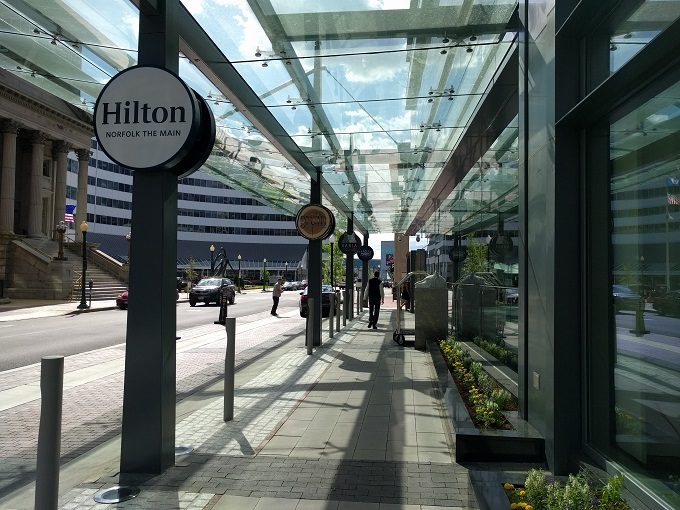 Photo Error
Upon entering, you head up the escalator to the lobby on the second floor. The lobby makes an immediate impression with its high ceiling, stylish decor and plenty of comfortable seating.
Photo Error
When making the reservation, we were booked into a 2 Queen Bed Accessible room as that was apparently the standard reward night room. For the first time in my life, I asked if there was a room upgrade available because of Shae having Diamond status.
The agent checked her system and advised that she could upgrade us to a King room on the 20th floor with a river view. Score! She also advised that we'd have access to the Empyrean Lounge on the 21st floor because of her status.
After getting our room keys, we made our way to the elevators which were close to the front desk. Even that area had some style!
Photo Error
Quick note: be sure to always have your room key with you as you need it in order to use the guest elevators.
King Room
Our room was close to the elevators. That can sometimes be a problem if there are noisy guests on your floor, but we were fortunate enough not to be disturbed by anyone.
Photo Error
When entering, the closet was to our left, the bathroom to our right and the room straight ahead of us.
Photo Error
Photo Error
Photo Error
The closet contained an iron, ironing board and luggage rack, while there was a Keurig coffee maker to the right. There were four coffee K-Cups, along with an English breakfast tea K-Cup.
Photo Error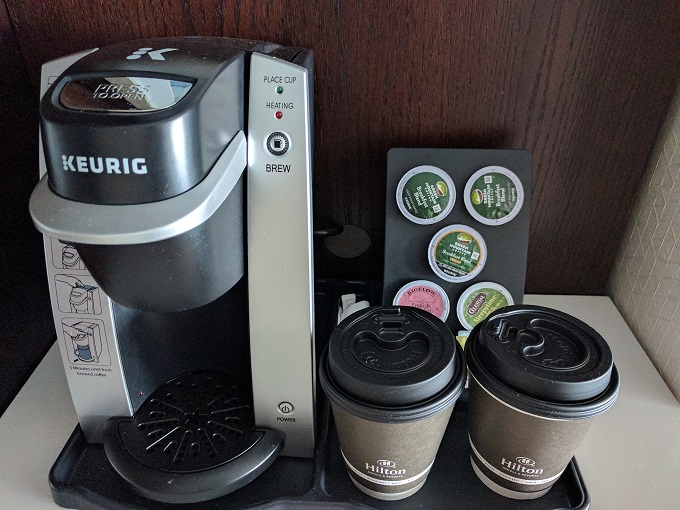 There was a sitting chair, footrest and side table by the window, although it wasn't at all comfortable to sit in.
Photo Error
The room also had a desk and office chair. I loved the artwork above the desk as it's a picture of the Portsmouth and Norfolk area.
Photo Error
As it's a newly built hotel, the Hilton Norfolk The Main has been able to take into consideration some of the small things that can frustrate at older hotels.
For example, there's a power outlet and USB slot on each side of the bed. They've also included a nice touch with the clock radio. It not only had Bluetooth so you can play your own music, but it included several different cables:
3.5mm jack
Micro-USB cable
USB Sync cable for older iPhones
Lightning cable for newer iPhones
Unfortunately it didn't include a USB-C cable, but I had my own charger with me so it wasn't an issue.
Photo Error
The biggest selling point of the room though is the view across the Elizabeth River towards Portsmouth.
Photo Error
The bathroom wasn't huge, but it wasn't too cramped either. There were double sinks, a shower large enough for two people and Peter Thomas Roth toiletries. The wallpaper design was interesting as it looked a little like mermaids swimming.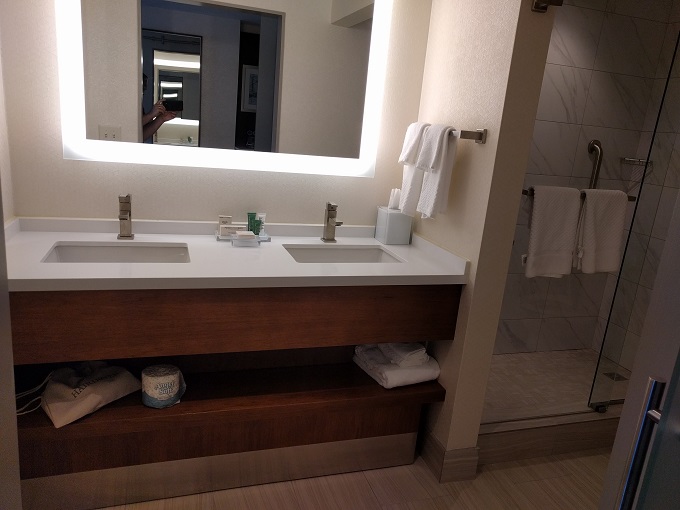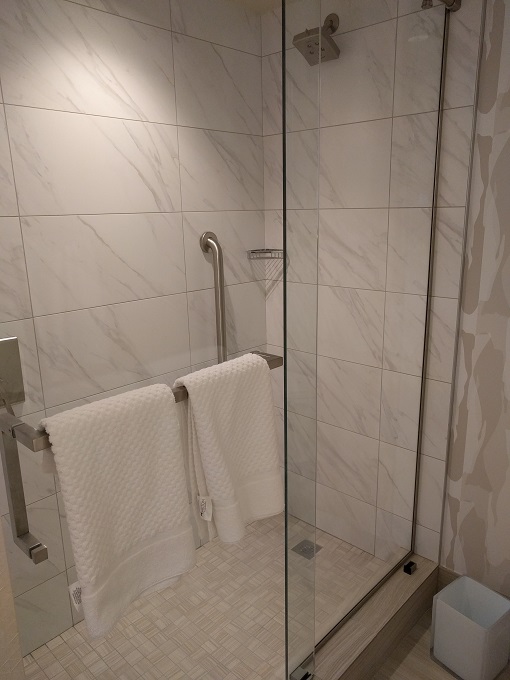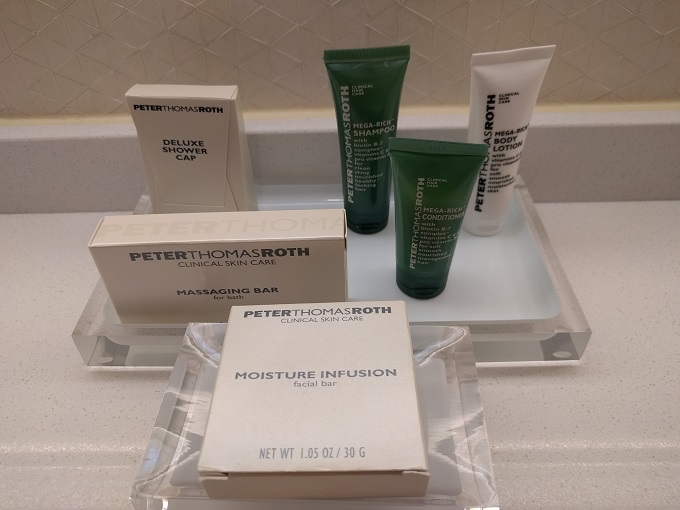 We stopped by our room later that evening to grab a couple of things. A member of the housekeeping team was outside and asked if we'd like turndown service. I initially replied that we didn't, but then Shae made the great point that we should live it up while we were there.
Upon returning later that evening, we were greeted by this, with soft music on the radio and some wrapped chocolate on the folded comforter.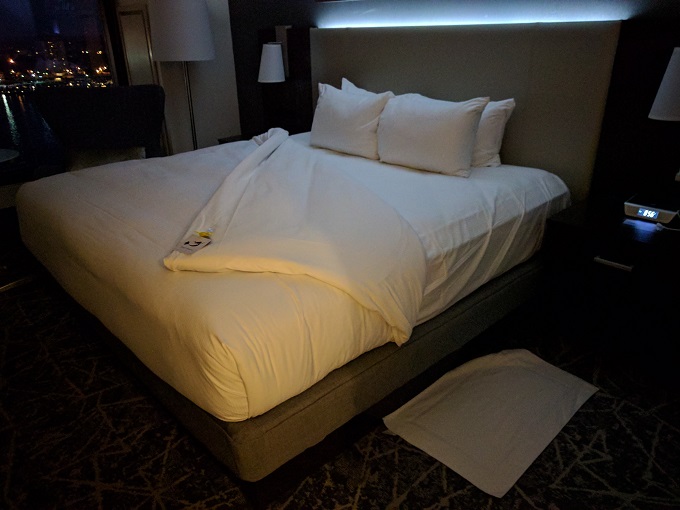 There was a fairly big negative with the bedroom though, something we didn't notice until we went to bed. The bathroom has a long nightlight beneath the mirror that's presumably there so that you don't have to turn on the main bathroom light during the night.
The problem is that the bathroom door is made of frosted glass, so the entire bedroom gets lit by this nightlight during the night, even with the door closed. We searched all round the bathroom and couldn't find a switch to turn off the night light, which seems like a ridiculous feature.
Ultimately, we were so tired that night that we still slept pretty well. If we were staying longer though, it would have been much more frustrating.
Empyrean Lounge
The Executive Lounge at the Hilton Norfolk The Main is called the Empyrean Lounge and can be found on the 21st floor. Due to its location at the front of the building, there are river views all around.
There are extensive seating options, with couches, high-backed chairs (which were much more comfortable than the one in our King room), a high dining table and chairs and smaller tables and chairs by the windows.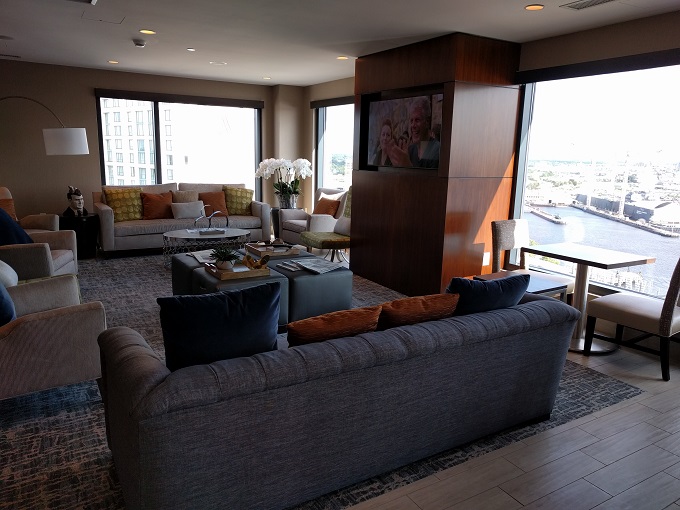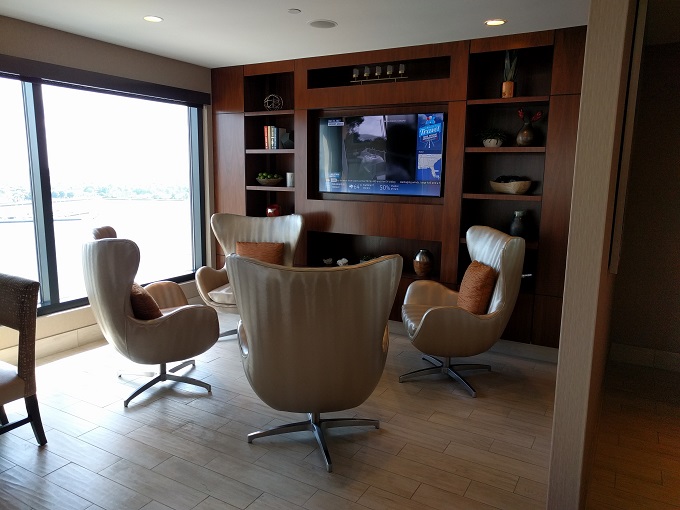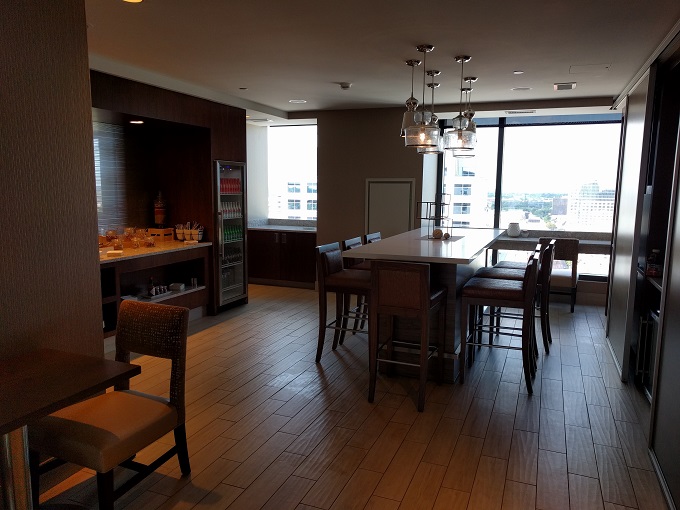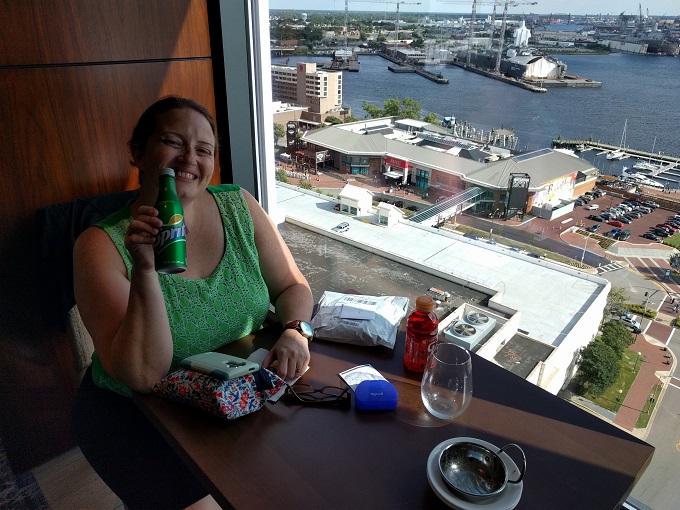 There's even a meeting area with a conference table and chairs. It's located around the corner in the lounge, so it does provide a little privacy.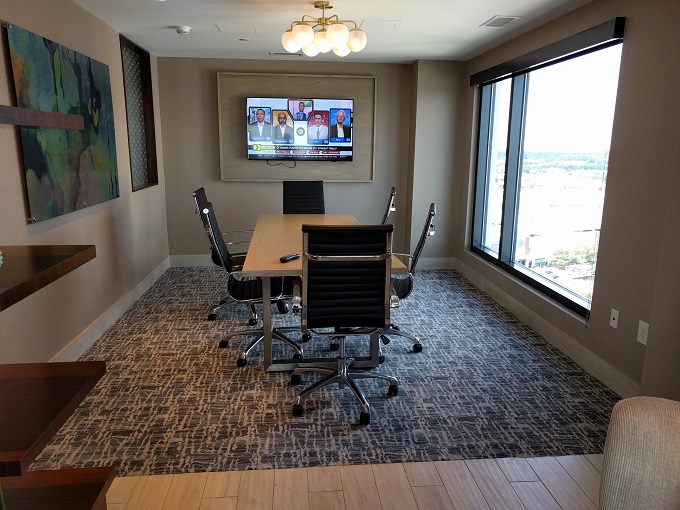 The lounge (and possibly other areas in the hotel) contain a guide to the hotel. This explains everything that's on each level, including restaurants, artwork and more. Given the size of the hotel and everything that's on offer, this is a great idea.
Photo Error
There are several beverage options in the lounge, with two fridges containing soft drinks and a fancy-looking coffee maker. You can't really see it in the second picture below, but the bottom shelf of the large fridge contained bottles of Voss water, both still and sparkling.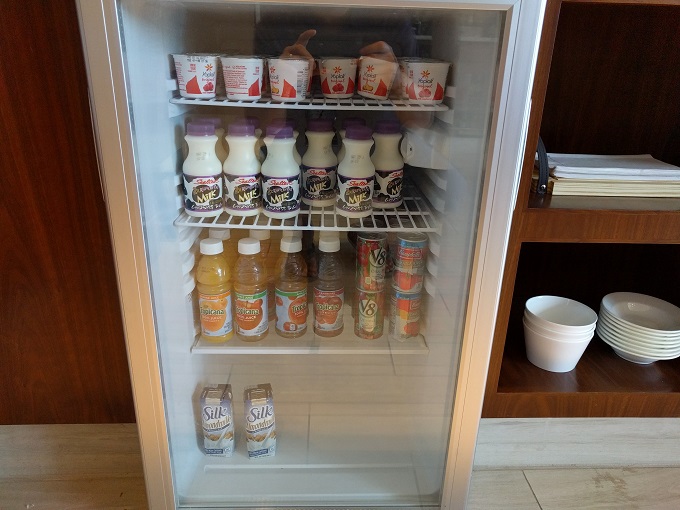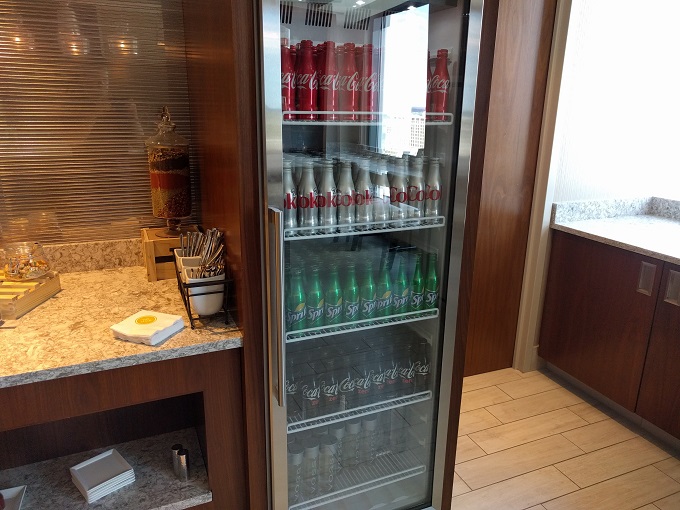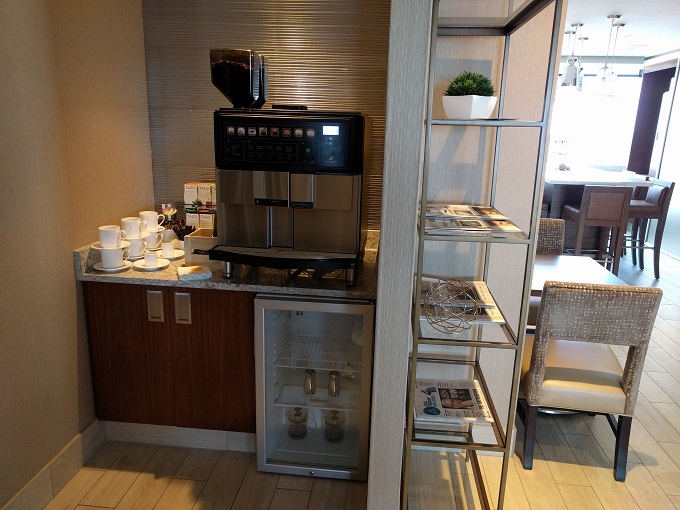 All the food and drink in the lounge is free, with the exception of the alcohol.
We made the most of our lounge access by visiting in the afternoon, evening and morning, so we got to experience the different food options at different times of the day. Those options probably change from day-to-day, but here's what you can expect:
Afternoon Snacks
Although there was a limited selection of food in the afternoon, it did include some variety.
There were small bowls containing penne pasta, asparagus, peppers, zucchini and mushrooms in what seemed to be a mild pesto sauce. There was also yogurt and fresh pineapple, blueberries, raspberries and blackberries.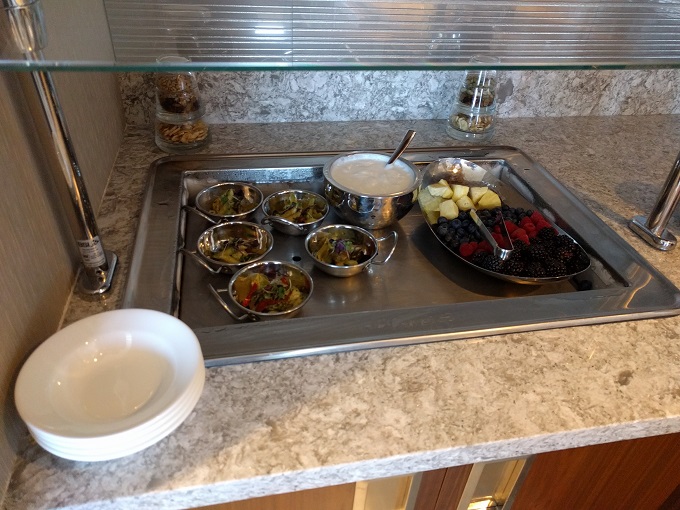 Several different types of granola bars, nuts, seeds, pastries and fresh fruit were also available.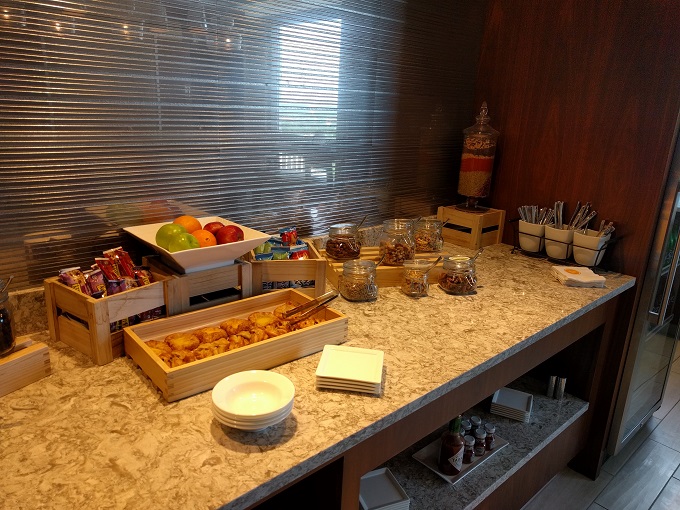 Evening Hors D'Oeuvres
In the evening, many of the same snacks were available, along with a few additional options.
There were the same (tasty) pasta bowls, with the fruit being replaced by various vegetables.
Photo Error
Cheese, crackers, dried fruit, nuts and seeds were added to the mix.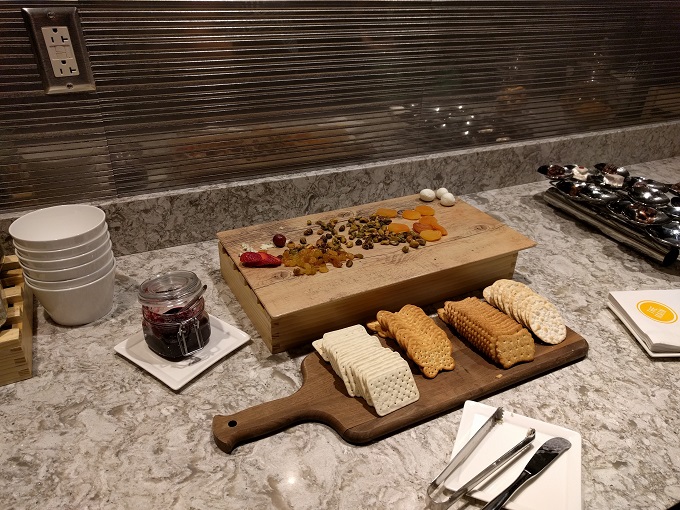 There were also several cookie options and chocolates with various fillings.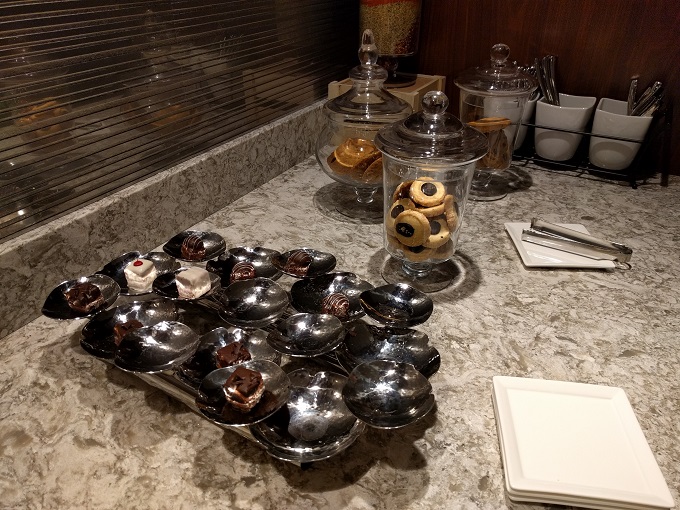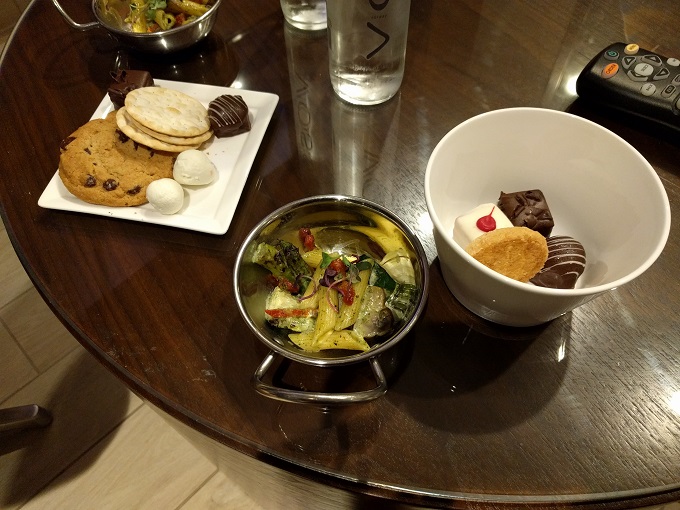 Breakfast
Considering the limited space for food in the lounge, I was pleased with the breakfast options.
The hot food included sausages, mini-quiches(?), scrambled eggs and breakfast potatoes. The sausages were good quality, the scrambled eggs were real (rather than powdered eggs) and the potatoes weren't soggy.
Photo Error
Photo Error
Other options included hard-boiled eggs, pastries, bagels, other breads, oatmeal, cereals and fresh fruit.
Photo Error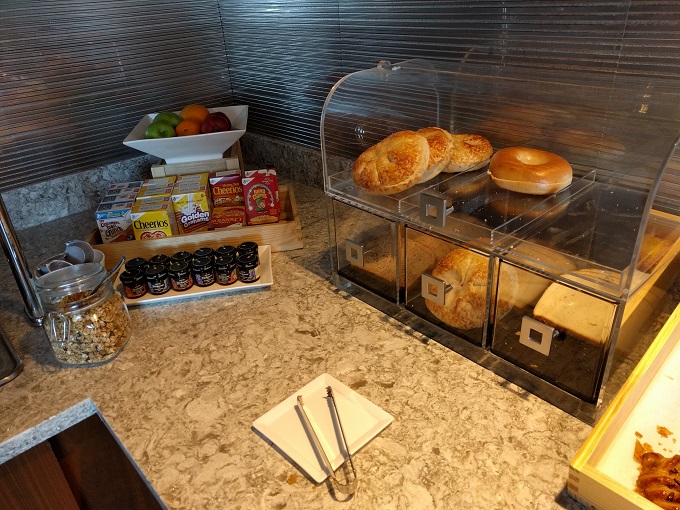 Last but not least, there was yogurt, granola, lots of fresh fruit and Nutri-Grain bars. I made a parfait with the yogurt, berries and granola and it was delicious.
Photo Error
Amenities
Swimming Pool
The Hilton Norfolk The Main has a decent-sized indoor swimming pool which should be long enough to swim lengths if you wanted. A nice feature is that there's a chair that can be lowered in to the pool for any guests who might otherwise have accessibility issues.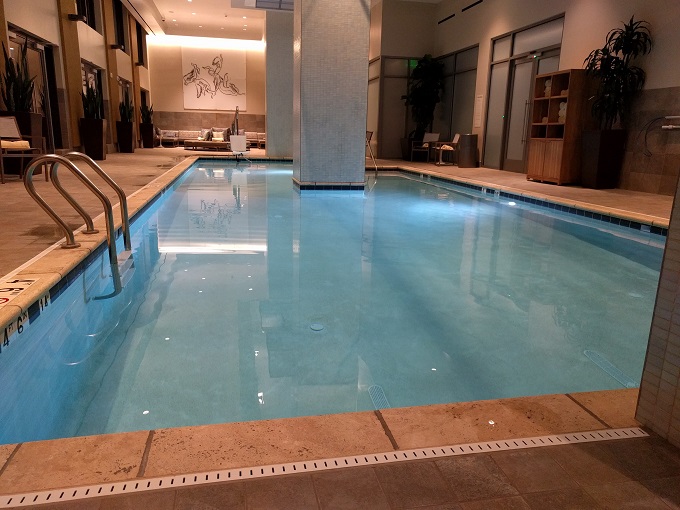 Photo Error
The swimming pool area is beautiful, with plenty of seating where you can hang out.
Photo Error
There are also several loungers on the deck outside where you can relax and sunbathe while looking out over the Elizabeth river.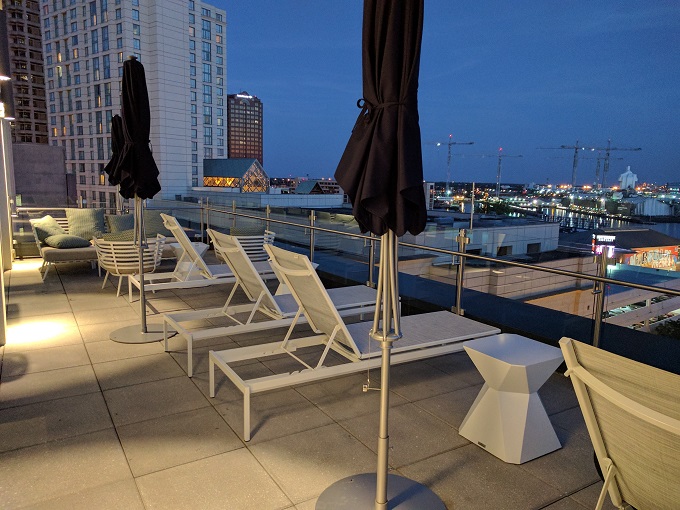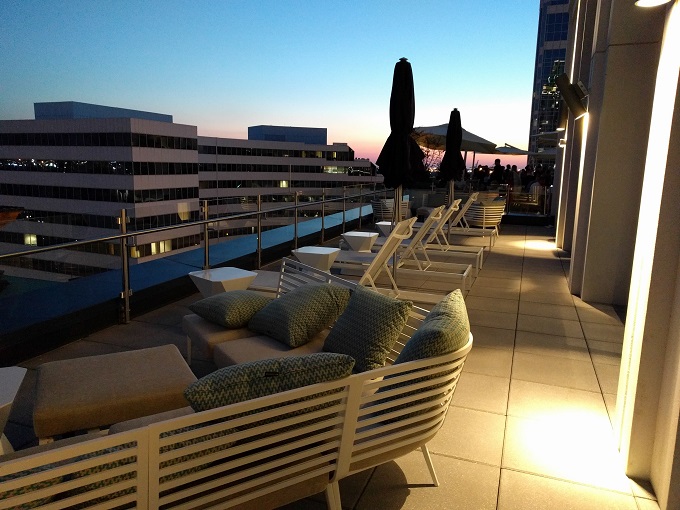 The swimming pool area certainly isn't perfect though. The pool itself was far too cold to swim in, plus for some strange reason they haven't included a whirlpool. Given that many Holiday Inn Express hotels provide a whirlpool, it's strange that this newly built (and otherwise fancy) Hilton didn't choose to add one.
Gym
The hotel has a nice looking gym, although it's a little smaller than I'd expect for a 21 story hotel. It was almost empty the night we visited, but I'd imagine it'd be much busier on weekday evenings when business guests return after work.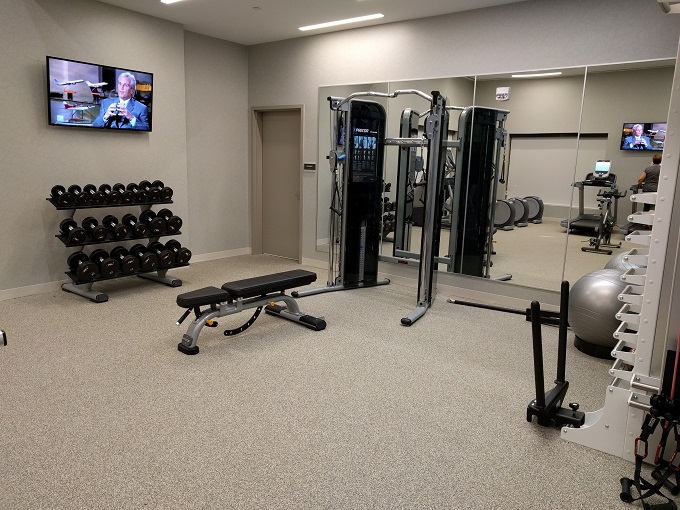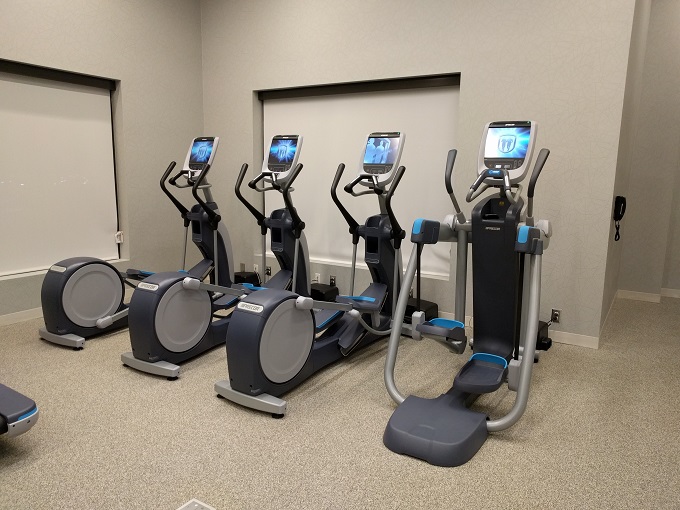 Photo Error
Conference Facilities
One of the selling points of the Hilton Norfolk The Main is that it has the largest ballroom in Virginia. It's large enough to fit 3,000 people, or 1,200 people for dinner.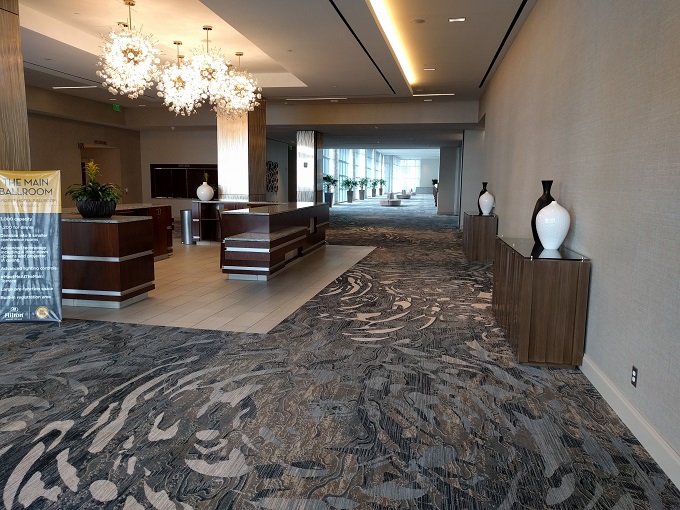 The hotel has The Exchange which apparently has 42,000 square feet of meeting space.
Photo Error
It also hosts the Paul D. Fraim Center For Excellence which looks like it's set up for lectures and presentations.
Photo Error
Restaurants
The Hilton Norfolk The Main contains several different restaurants. In addition to the Empyrean Lounge, there's Saltine (seafood), Varia (Italian) and Fruitive ("organic fast casual").
We didn't eat at any of these, although the prices on the menu at Fruitive looked fairly expensive for what it is.
Photo Error
This Hilton does have one other restaurant. It's called Grain and it's a rooftop beer garden on the fifth floor. We spent several hours there during our stay, so we've written a separate review of Grain.
Service
The service we received throughout our stay was excellent. From the staff at the front desk to the people working in the Empyrean Lounge, everyone was kind, friendly and helpful.
That great service included the housekeeping staff. I'd been looking for an ice machine on our floor and asked one of the housekeepers where I could find it. Rather than just telling me where it was, she stopped what she was doing and walked me there. It's only a small thing, but service like that can really make an impression.
Wi-Fi
We were so busy eating and drinking that I didn't have much time to go on the internet. When I did log on though, it was free, fast and didn't require any kind of password.
Pets
Unfortunately this Hilton isn't pet-friendly. Truffles therefore spent the weekend with her Grammy and Gramps (when they weren't hanging out with us at Grain).
Parking
Parking is $20 for self-parking and $26 for valet parking, hence why we took the ferry from Portsmouth.
If you're driving to Norfolk, you can save money by parking somewhere like the MacArthur Center shopping mall. Parking there costs a maximum of $10 per day during the week and only $3 at weekends. It's then only a ~5 minute walk to the Hilton.
Summary
We loved our stay at the Hilton Norfolk The Main and were disappointed we only got to stay one night.
The hotel is extremely stylish without being at all garish. It's in a great location due to its close proximity to restaurants, the mall and the Waterside district. The service was excellent and it was fun getting to spend time in the Empyrean Lounge.
The stay wasn't perfect, given the bathroom light that wouldn't turn off, lack of a whirlpool and a late checkout not being available. Ultimately though, we'd love to stay here again at some point in the future.
Hotel Rating
Room = 4.25 / 5
Hotel Amenities = 4 / 5
Food = 4.75 / 5
Location = 4.5 / 5
Overall Value = 4.25 / 5
Total = 4.35 / 5
Hotel Address
Hilton Norfolk The Main, 100 East Main Street, Norfolk, VA 23510