I flew up to Chicago a couple of weeks ago for the Chicago Seminars, a conference about points and miles.
The conference was held at the Holiday Inn Chicago-Elk Grove which is on the outskirts of O'Hare airport. Although the Chicago Seminars didn't start until the Friday evening, I flew up on the Thursday afternoon as that was my best flight option. I had to work on the Friday (back when I had a job!), so this meant I could work from my room that day rather than on a plane.
Here's a review of my stay at the Holiday Inn Chicago-Elk Grove.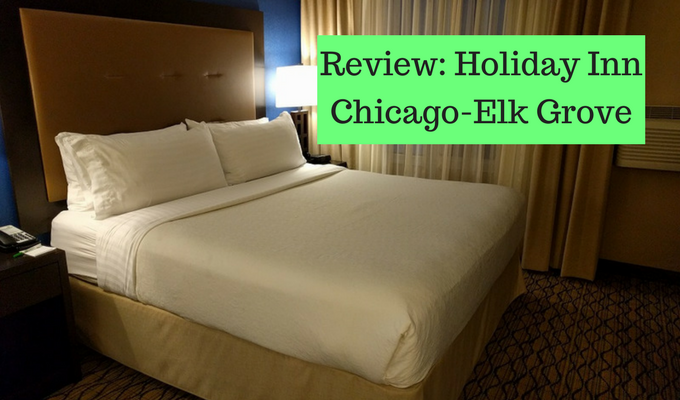 Arrival
My plane landed at O'Hare's Terminal 3. The hotel has its own shuttle bus that picks up domestic passengers from Terminal 2 and international passengers from Terminal 5, so I headed to Terminal 2.
The shuttle is meant to pick up on the half-hour and I got to Door 2 about 20 minutes after that, so I figured I'd be in for a wait. Thankfully it arrived within about five minutes, so I was soon heading to the hotel.
The lobby was quiet when I arrived and my key was already prepared, so my check-in with Olga took less than two minutes. Armed with my key and free breakfast vouchers, I headed up to my room on the fourth floor.
Room
As I entered the room, the bathroom was to the left, the closet to the right and the bedroom straight ahead.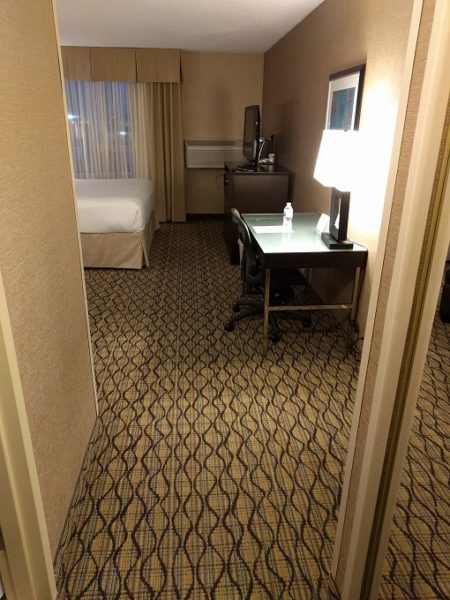 I'd booked a room with a King bed which was fairly spacious. The bed itself was comfortable, as were the pillows. Having said that, I like cold pillows and these ones didn't seem to stay particularly cool.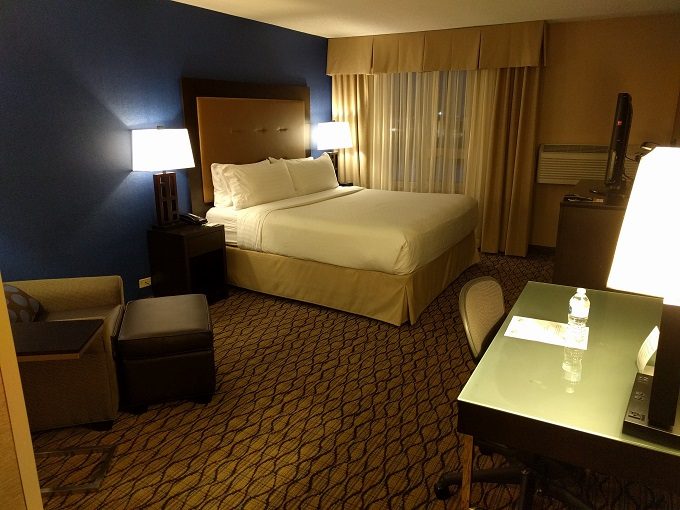 Both bedside tables had lamps which also had an outlet to make it easy to charge your phone overnight.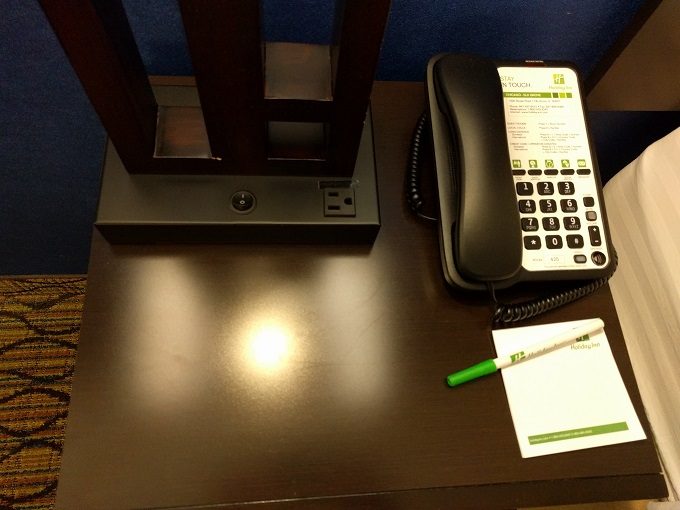 In one corner was an armchair, footrest and slide-away desk. It was nice having the desk there as it meant I could use my laptop sitting in that chair while also facing the TV in the evening as there was college football that weekend.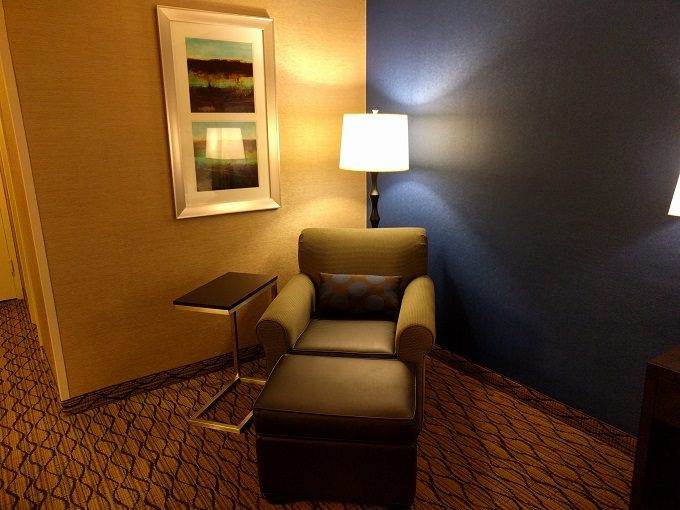 There was also a separate desk that I used for actual work on the Friday. The office chair was comfortable to sit in all morning and afternoon.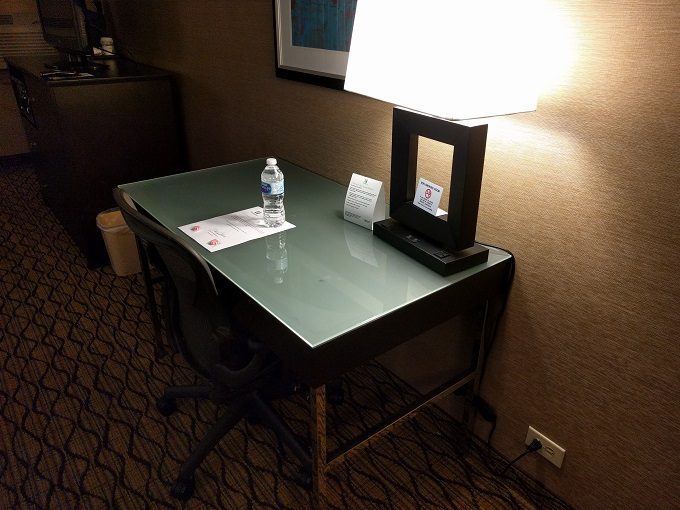 The TV was on a cabinet that also contained a microwave and mini-fridge.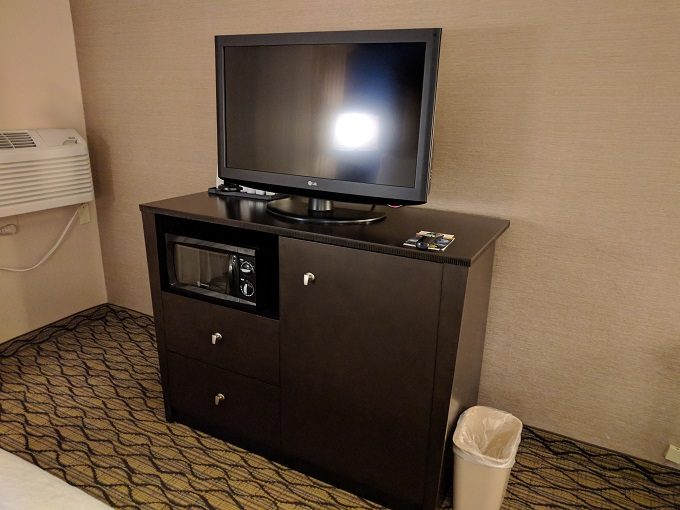 Next to the TV was a Keurig coffee maker which I'm sure would be appreciated by people that actually drink coffee.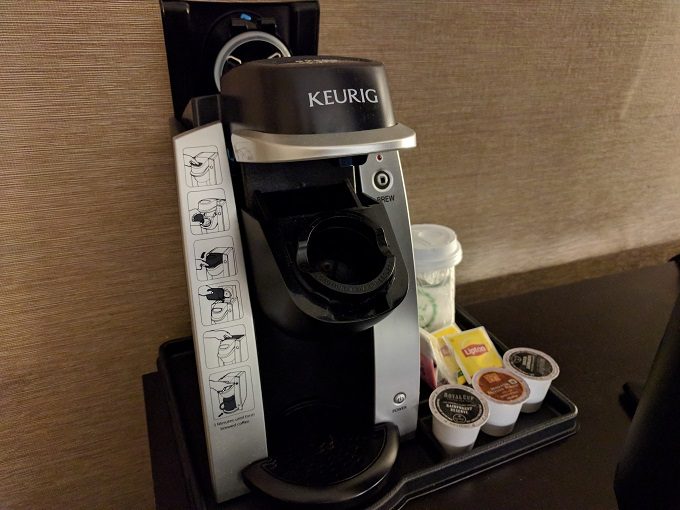 There was no safe in the closet, although there was a luggage rack, ironing board and iron.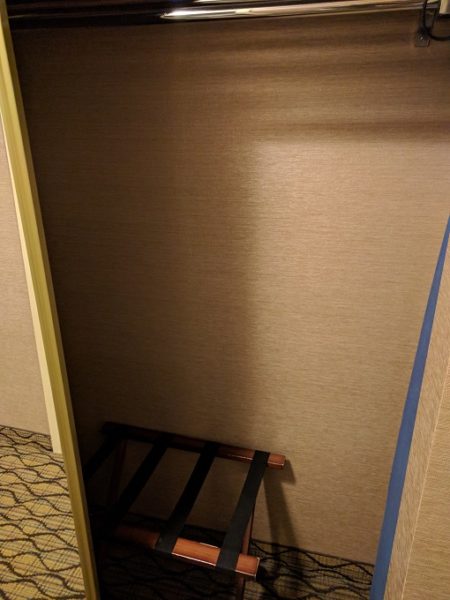 The view from my room wasn't amazing, but if you're staying in Elk Grove I don't think you're going for the views 😉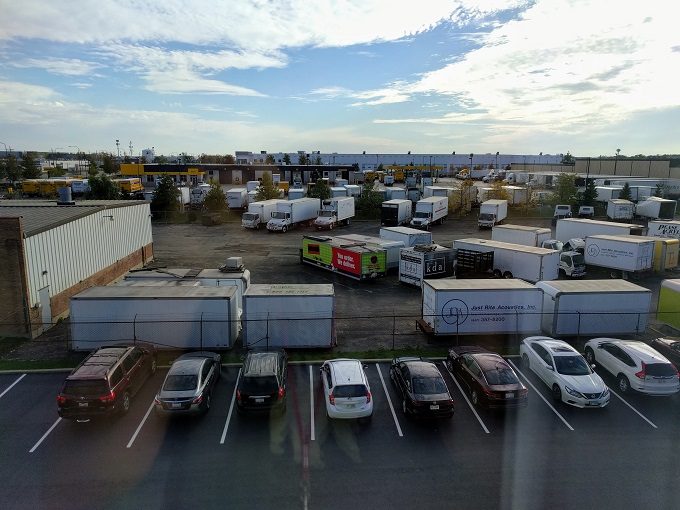 Bathroom
The bathroom was pretty small but had everything you needed. The toiletries included two bars of soap, shampoo, conditioner and lotion.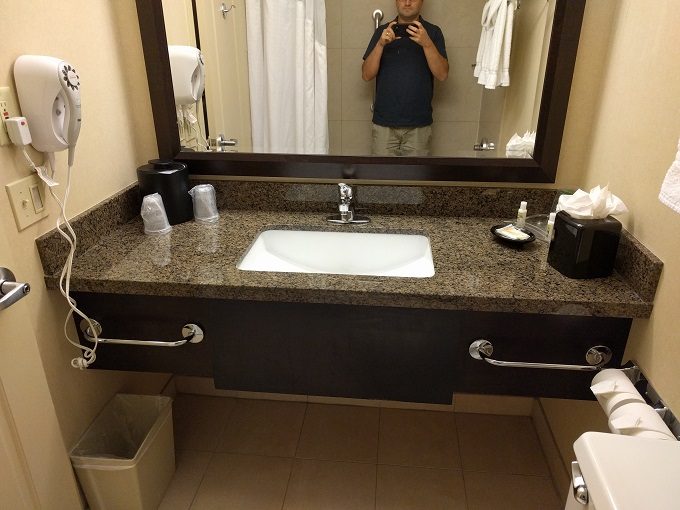 The shower control was a little weird as I think it had to be turned more than 360° in order to get a reasonable water temperature. The shower had good water pressure though and Holiday Inns have decent shower curtains which ensures the bathroom floor doesn't end up soaked.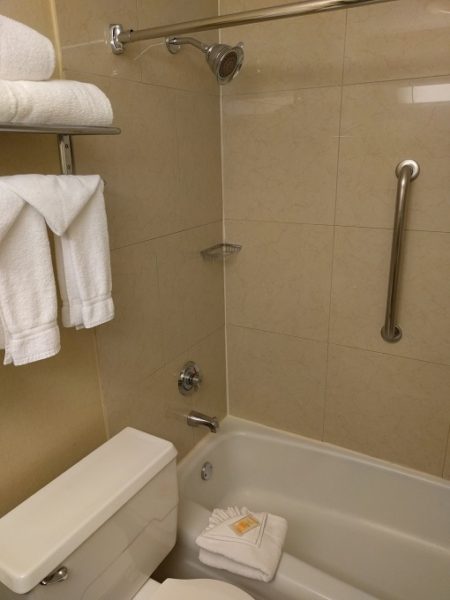 Amenities
The Holiday Inn Chicago-Elk Grove had some good amenities, especially if you were going to be staying for several days.
There's a fairly good-sized swimming pool which is just about large enough to do some lengths. The pool area's like a fishbowl though as the lobby and atrium have floor-to-ceiling windows looking at the pool.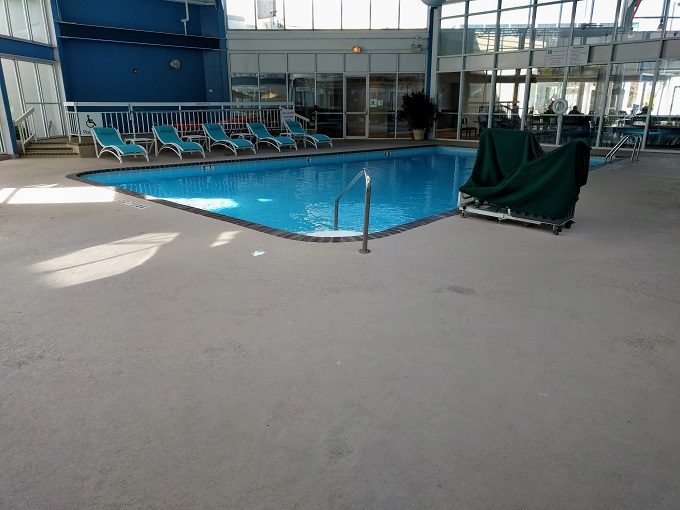 Next to the swimming pool is a small gym. And by small, I mean only big enough for 4-5 people. The two photos below show everything in the room, with one of the treadmills appearing in both pictures.
I had grand intentions of using the gym during my stay. I even brought my exercise clothes and running shoes with me, but only ended up in there to take these photos.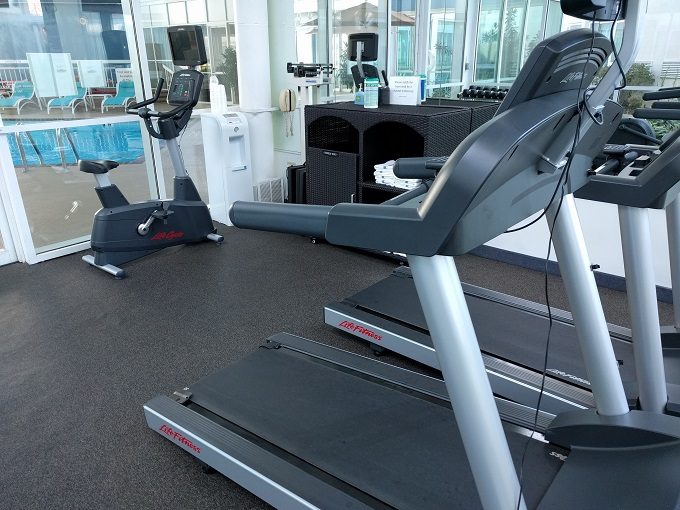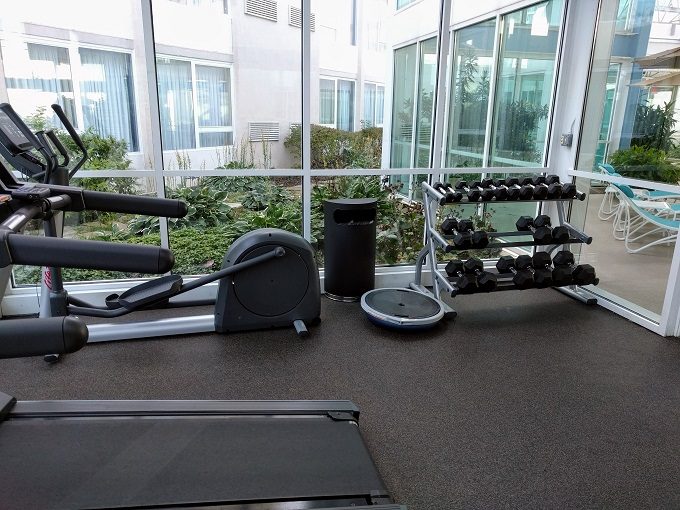 Both the swimming pool and gym were open from 6am to 11pm each day which is longer than many hotels.
This Holiday Inn also had a laundry room. From what I could tell, the washer and dryer were free, with the only cost being if you needed to purchase laundry detergent, bleach or softener.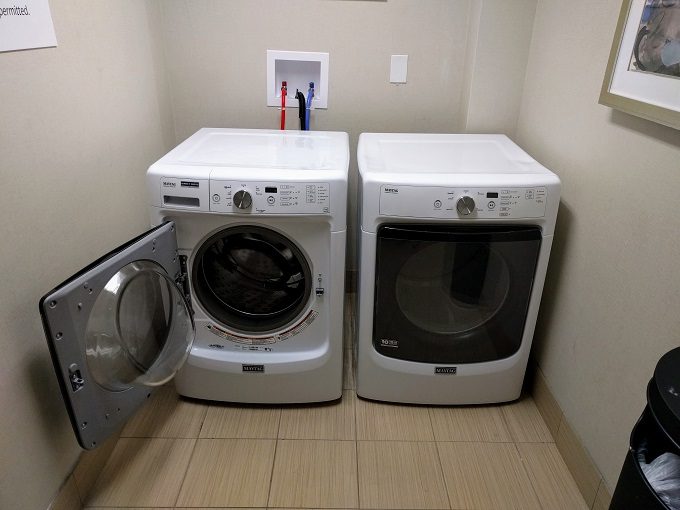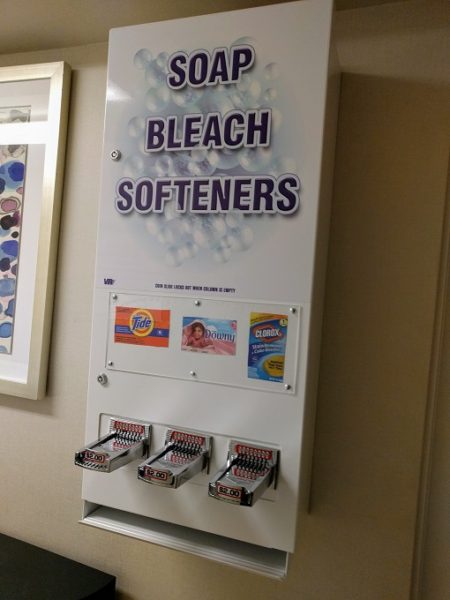 Food & Drink
All floors of the hotel seemed to have both an ice machine and drinks vending machine. The first floor also had a snack vending machine, while the lobby had other snacks and drinks for purchase.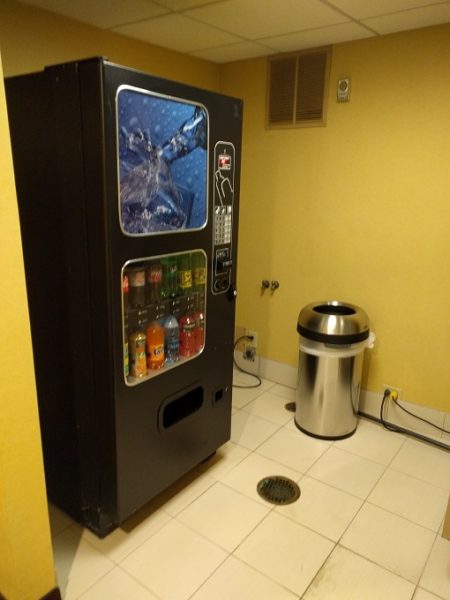 The event rate for my stay included breakfast each day. For the two days of the conference, breakfast was served for the attendees in one of the meeting rooms and included sausage, eggs, pancakes one day and French toast the other, fresh fruit and pastries.
As I'd arrived a day early, I was given a breakfast coupon for their on-site restaurant – Shelby Campbell's. They didn't have a breakfast buffet setup, but rather had a ~10 dish menu you could choose from. That day I went for skillet potatoes with scrambled eggs and ham which also came with toast. It was OK, but nothing to write home about.
I ate a couple of other meals in Shelby Campbell's and ordered their Southern Fried Chicken Tender Salad both times. This was described on the menu as:
Fresh seasonal mixed greens topped with our buttermilk brined, hand breaded and fried crisp chicken tenderloins, shredded cheddar and jack cheeses, sliced cucumber, diced tomato, spiced pecans, served with our bourbon-honey mustard dressing.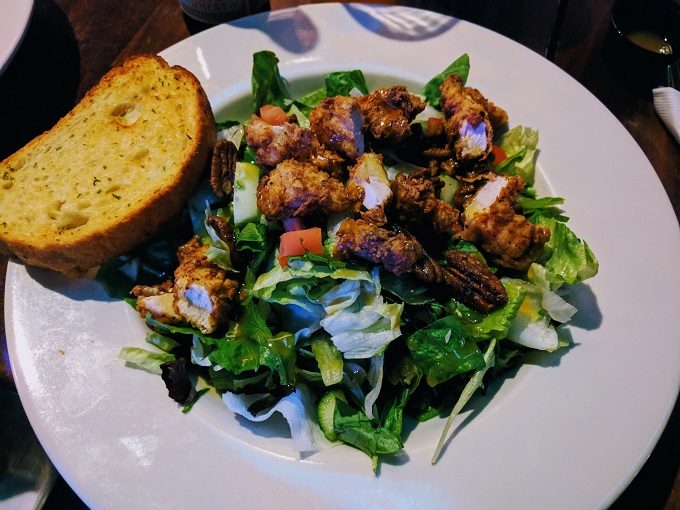 As you can see from the picture, it also came with a slice of garlic bread. The salad was delicious, especially with the dressing and pecans, which is why I ordered it again on a second occasion.
The first time I ordered it they went easy on the tomato and cucumber (which is when I took the above photo), but the second time there was a lot more. The service was friendly and quick on all three times I ate in Shelby Campbell's.
Lunch was also provided during the conference. The first day that consisted of several types of pizza and salad, while the second day had multiple sandwich options. Both days there were also chips, cookies and fruit available, as well as tea, coffee, sodas, water, etc.
The conference had 400-500 people there and they never seemed to run short of food or drinks, so their catering facilities seemed to be very well planned and executed.
Conference Facilities
The Holiday Inn Chicago-Elk Grove has a number of different conference rooms. There's a large room (Woodfield) that can hold hundreds of people which is where the main sessions were held. For breakout sessions, room dividers could be moved in a matter of minutes to split that larger room into two rooms (Woodfield A and Woodfield B).
There were several other meeting rooms that were used for breakout sessions, lunches, serving meals, etc. From what I could tell, everything appeared to run smoothly, so this hotel seems to be a solid choice if you need somewhere to hold meetings or conferences in the Chicago area.
Nearby Restaurants
There were several fast food outlets nearby – Wendy's, Taco Bell, McDonald's and more – if you didn't want to eat at Shelby Campbell's.
The night I arrived I took a ten minute walk down the road to Portillo's Hot Dogs as they had good reviews online.
Those reviews weren't wrong. I ordered the combo beef and Italian sausage sandwich which came topped with hot and sweet peppers and a side of crinkle-cut fries. The sandwich was phenomenal.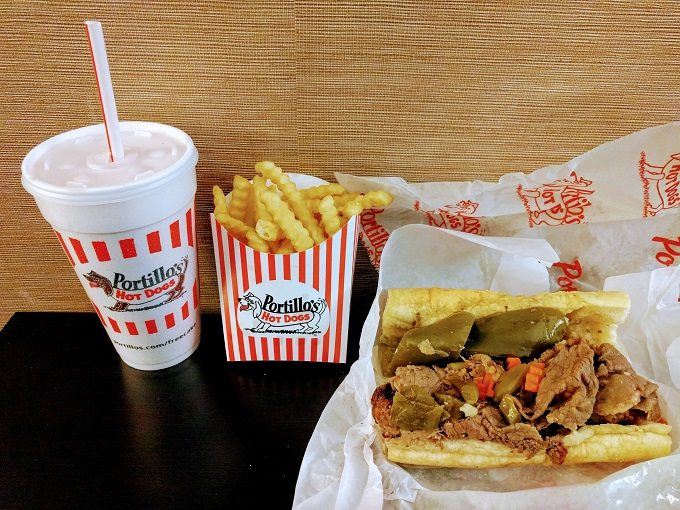 I also ordered a strawberry milkshake which I think was the best milkshake I've ever had. Shae needs their sandwiches and shakes in her life, so I've added Portillo's to our list of places to visit when we return to Illinois on our 50 state road trip.
Cost Of Hotel & Points Earned
There was a special event rate for the conference, so it cost $106.22 per night which included breakfast for one person. Shae didn't come along, so that wasn't a problem. If you wanted to stay here using points, it currently costs 15,000 points per night.
When booking the hotel, I clicked through from Top Cashback when there was an 8% cashback rate on IHG bookings. I was therefore expecting to get back $22.56 (8% of the pre-tax cost) but it tracked at $23.07.
I ended up earning 9,884 IHG Rewards Club points for the three night stay which is a pretty good return. That's more than enough points for two nights in one of their PointBreaks hotels. Here's a breakdown:
1,000: 500 welcome bonus points x2 (I'm not sure why I got two sets of points – maybe because I stayed the extra night before the conference)
3,338: base points for the room rate and restaurant charges to my room
1,669: 50% bonus on base points for having Platinum status (I have that for simply owning their credit card)
2,000: bonus for staying once during the Accelerate promotion period
1,877: 5x points earned on my hotel bill as it was paid using my IHG credit card
Final Thoughts
I enjoyed my stay at this Holiday Inn. The room was clean, comfortable and a nice size (other than having a fairly small bathroom).
All of the staff were very friendly and efficient, the food was tasty and it had some good amenities like a gym, swimming pool and laundry room.
I can understand why they hold the Chicago Seminars here as everything seemed to run smoothly when it came to the hotel's involvement with proceedings.
Our Rating
Room = 4.25 / 5
Hotel Amenities = 4.5 / 5
Food = 4.25 / 5
Location = 4 / 5
Service = 4.5 / 5
Overall Value = 4.25 / 5
Total = 4.29 / 5
Address
Holiday Inn Chicago-Elk Grove, 1000 Busse Road, Elk Grove Village, IL 60007