Virginia Beach Mini-Trip Report
Review: Hyatt House Virginia Beach Oceanfront
Before leaving on our 5 year, 50 state road trip, Shae's been working as a middle school science teacher. To celebrate the end of the school year, we booked a two night stay at the Hyatt House Virginia Beach Oceanfront.
This is a brand new hotel that opened in April 2017. We booked our stay the weekend of June 9-11, so it was barely two months old when we visited.
The best thing of all is that despite being in a prime resort location, this Hyatt House is a category 4 property. That meant Shae and I were able to use our anniversary free night certificates as each of us have the Hyatt credit card. The credit card comes with a $75 annual fee but our room would have cost over $500 per night if we'd paid in cash, so it proved to be a great value redemption. You can read more about that process here.
So, the free night certificates saved us a load of money, but what was the hotel like? Here's our review of the Hyatt House Virginia Beach Oceanfront.
As you arrive at the hotel, you're greeted by a tall water feature which is in front of a relatively small drop-off and valet area.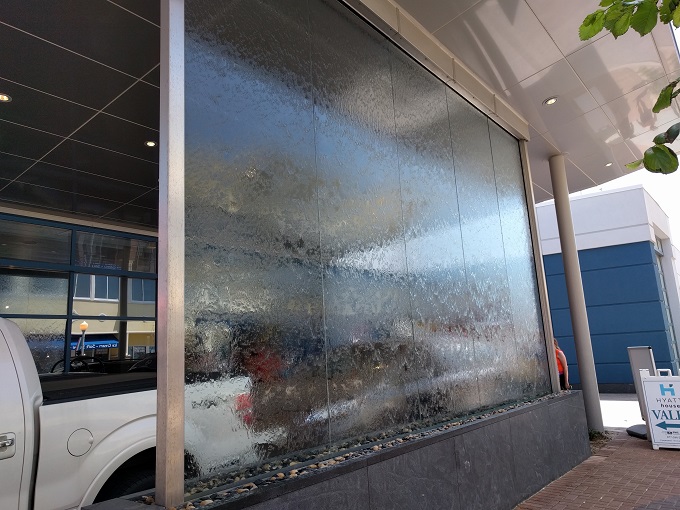 I quickly loaded our bags on to a luggage cart and Shae went off to park the car. As it would take her a few minutes to park and walk back, I headed inside to get us checked in.
The lobby was bright and clean, with seating areas to the left and right. There was no line, so we got checked in nice and quickly by Cameron who was very friendly and professional.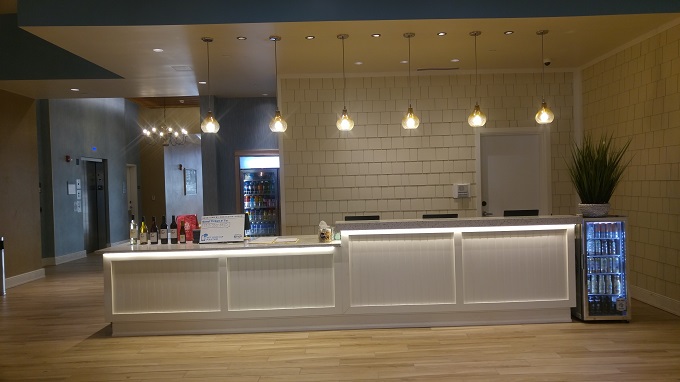 They also appeared to sell bottles of wine at the front desk, so this was already shaping up to be a great stay 😉
Shae and Truffles had arrived back at the hotel by this point, so we headed to the elevators to go up to our room on the 8th floor (there are 20 floors altogether).
One Bedroom Kitchen Suite
When making the reservation over the phone, the agent booked us into a one bedroom kitchen suite. This appears to be their largest suite and – at 742 sq ft – it's even larger than our current apartment!
The first thing we noticed when we entered was the smell – it smelled like new hotel, presumably because of the carpets.
As you enter the suite, the bedroom and bathroom are off to your left, the living room is straight ahead and the kitchen is back round to the right.
There were floor-to-ceiling windows straight ahead that gave a good view down Atlantic Avenue. When closer to the windows, you could see the Atlantic Ocean off to the left. The views would only get better from there.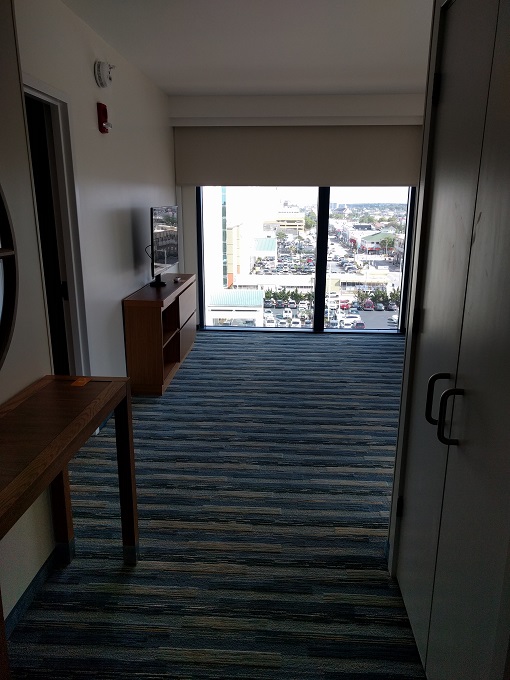 Bedroom
The bedroom had two queen beds (I'm not sure if there's a King bed option in the one bedroom kitchen suites). The beds were a little firm, but we slept incredibly well both nights.
The double lamp on the bedside table was a nice touch as it had power outlets on both sides.
The TV was on top of a dresser, there was a tall work desk and comfortable office chair, as well as an armchair by the balcony door beneath a funky looking double-lamp.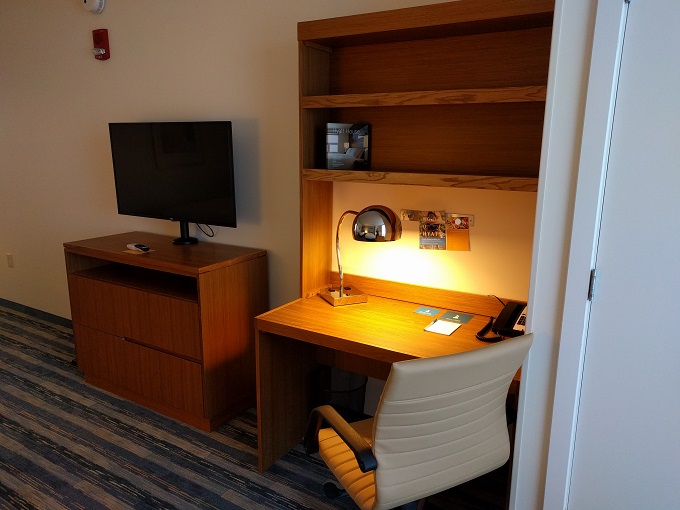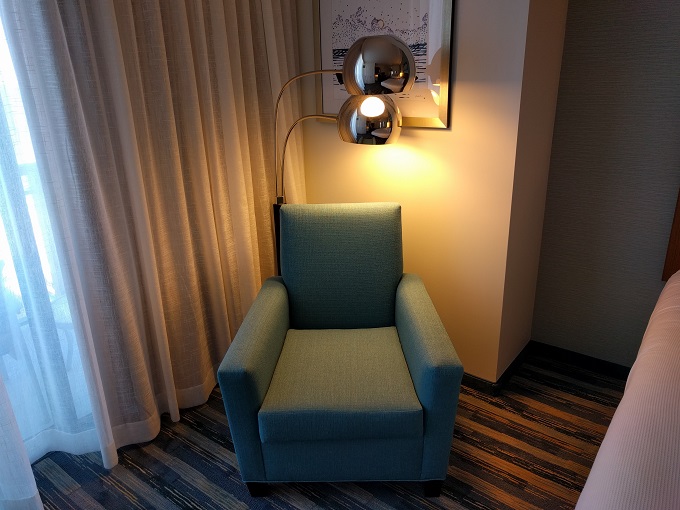 Seeing as it's by the beach, the whole suite had some nice beachy artwork.
The closet contained a safe, luggage rack, ironing board and iron.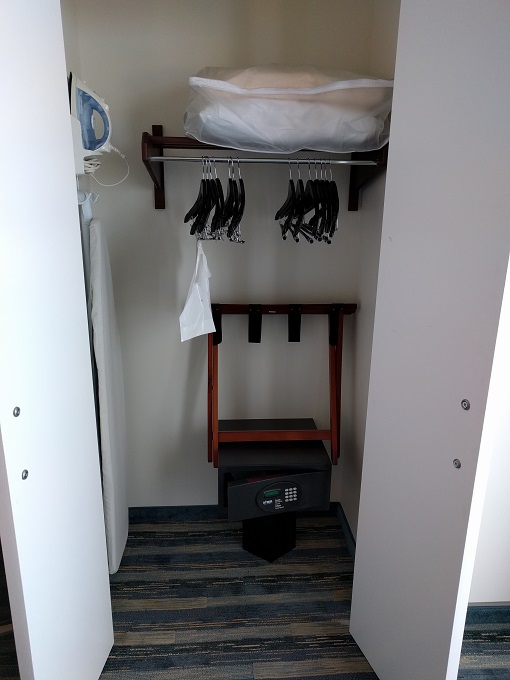 One of the biggest selling points of the Hyatt House Virginia Beach Oceanfront is that every bedroom in the hotel has ocean views. Not only that, but we had a balcony with outdoor seating and a table. There's nothing better than sitting outside in the evening with a drink and listening to the waves.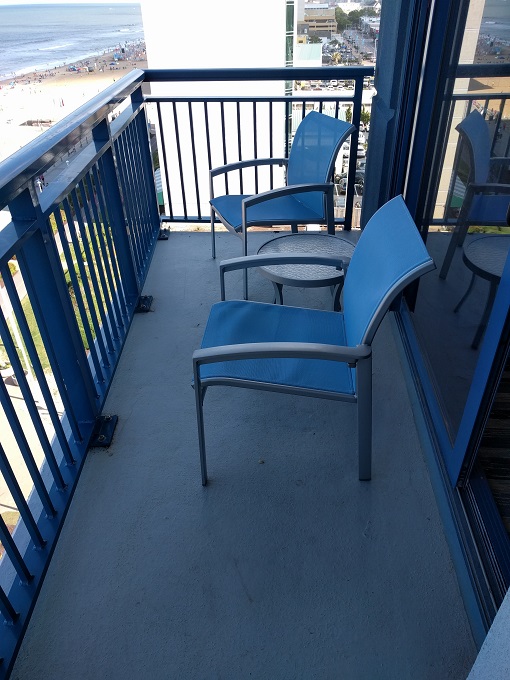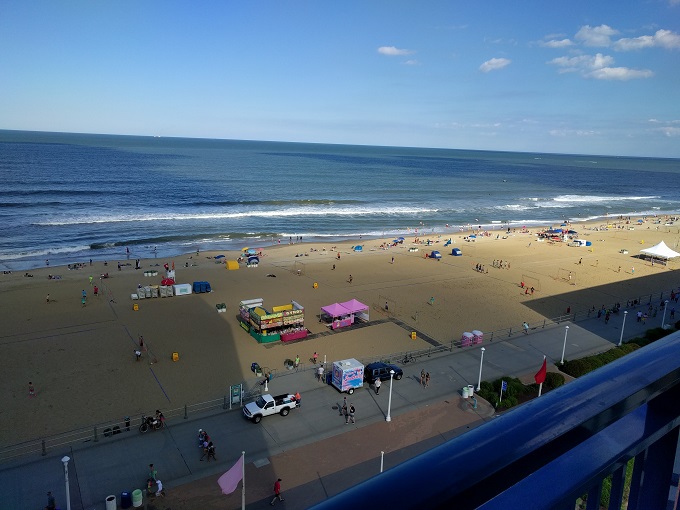 There was a huge beach soccer tournament during our stay (more than 10,000 players), so those are the grids you can see in the photo.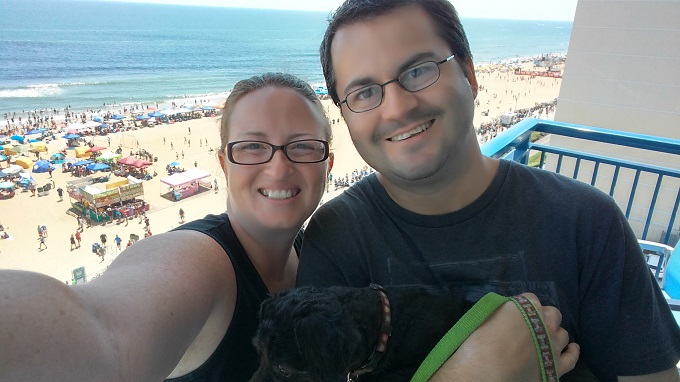 Bathroom
The bathroom was off the hallway between the bedroom and living room. Considering the room can sleep six people (2x queen beds and 1x sofabed), the bathroom was a little smaller than expected. The shower was a good size, but there was only one sink.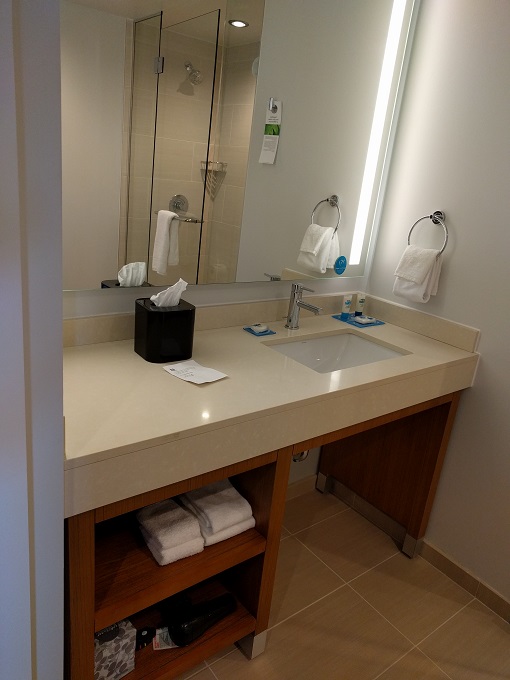 The toiletries were a little sparse as there were only two small bars of soap, shampoo and conditioner. That was fine for the two of us, but probably not enough for a larger family. Having said that, you could call the front desk and ask them to bring more. It's therefore not a huge issue, especially because it presumably cuts down on wastage.
Living Room
The living room was very spacious, so it's perfect if you're traveling as a large family. There's a TV on top of a cabinet, with plenty of space either side to leave suitcases, beach stuff, etc.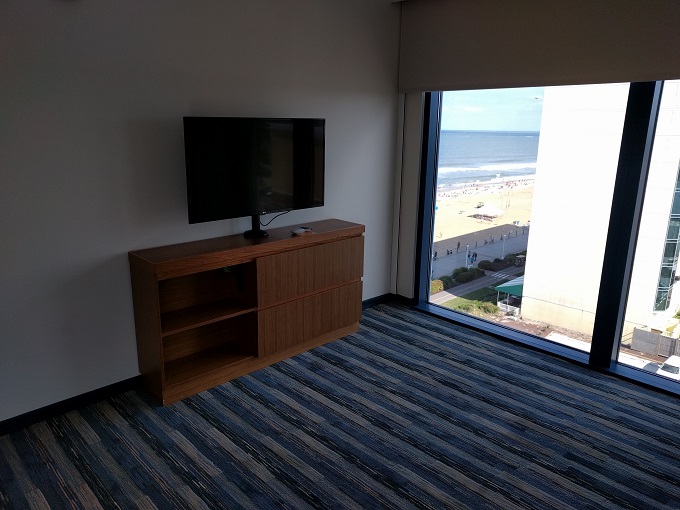 There's a good-sized corner sofabed and two footrests. The sofa is actually very comfortable and was large enough for both Shae and I to take a nap, with Truffles snuggled by our heads.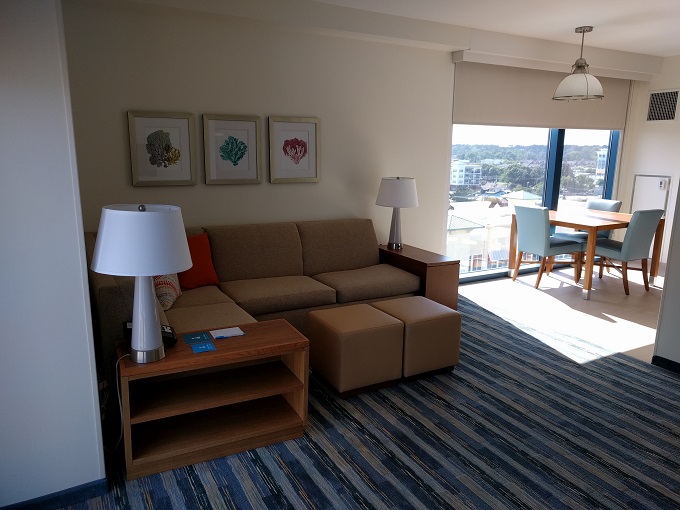 Kitchen & Dining Area
One of the other things that sets this hotel apart from many others on the oceanfront at Virginia Beach is that every room has a kitchenette.
As this is a one bedroom kitchen suite though, I think the kitchen is much larger than in other rooms. In fact, it's so large that it has a dining area with a table and chairs.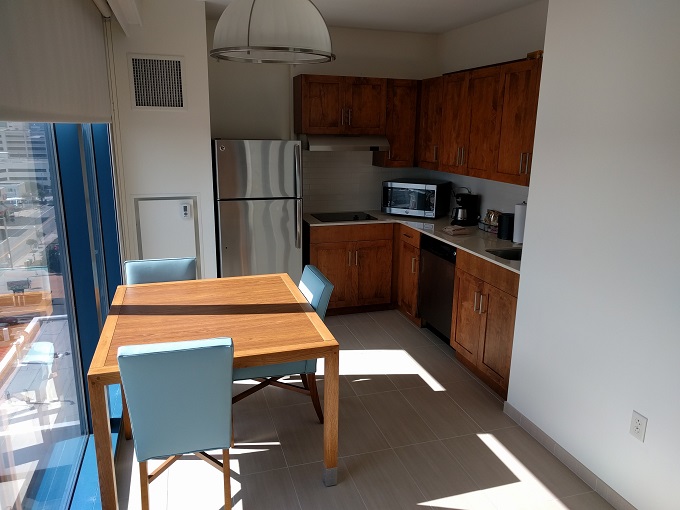 The kitchen had everything you could need for your stay – a fridge-freezer, stove top, microwave, dishwasher, coffee maker and more.
The cupboards and drawers contained cookware, plates, glasses, silverware, etc. There was also both dishwashing soap and a couple of packets of dishwasher detergent. You therefore shouldn't need to buy anything other than food during your stay.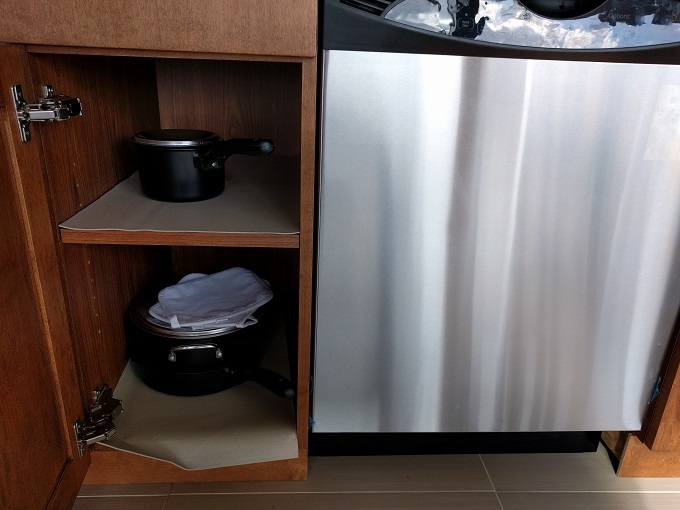 I also recorded a video walkthrough of the suite, so you can watch that below.
Amenities
As this is a Hyatt House, it's set up more as a home than as a hotel. There are therefore laundry facilities on site for you to use.
The hotel also has an indoor swimming pool which was kept at a reasonable temperature. It was very popular during our stay, but thankfully Shae got a photo early one morning. It's an accessible swimming pool thanks to the seat that can lower a guest into the pool.
Slightly disappointingly, there's no whirlpool.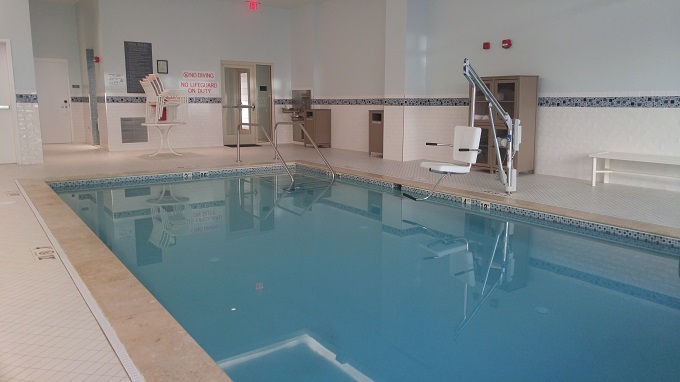 There's also a gym with a fair amount of equipment and weights.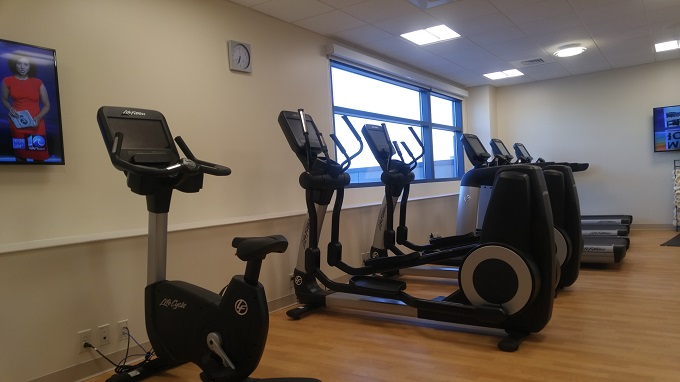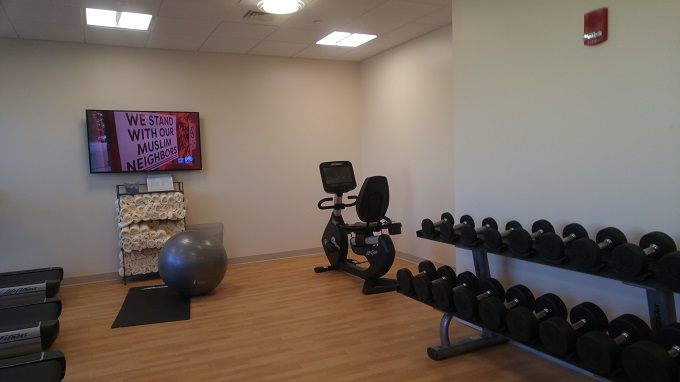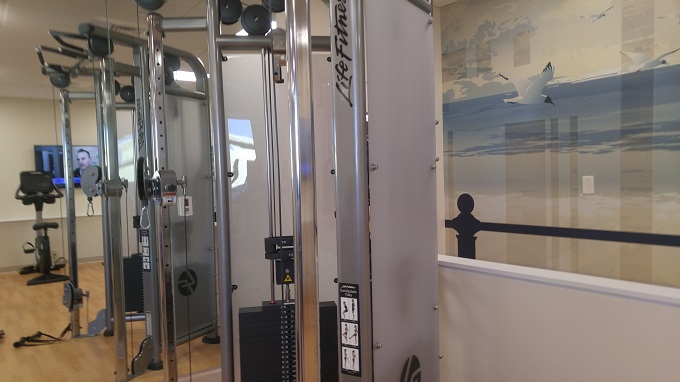 The hotel has an H Market behind the front desk which contains various meal, snack and beverage options in case you don't feel like going out to the store or a restaurant.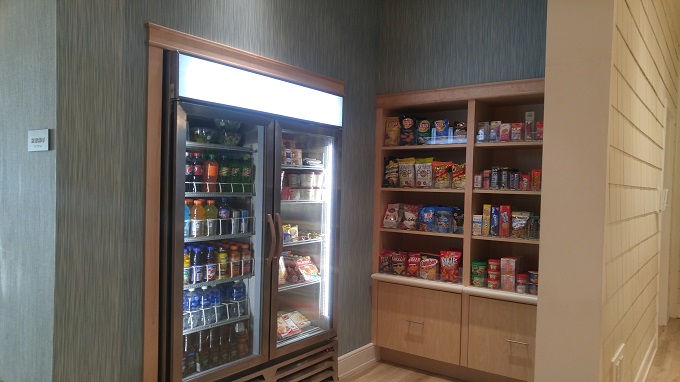 One other thing I want to point out is that this hotel has loads of luggage carts. I complained about the lack of them during our recent stay at the Sheraton Roanoke, but this Hyatt House seemed to have eight.
There weren't any available when we were checking out, but that's understandable as we left during prime check-out time on Sunday when everyone else was leaving at the same time.
Breakfast
As it's a Hyatt House, breakfast is included as part of your room rate. Even though the hotel was packed throughout our stay due to the sand soccer tournament, the breakfast experience was actually quite pleasant.
There were some short lines for food but they moved quickly. The breakfast area is also spacious, so you're not being herded like cattle.
It starts off with an omelet bar on the left. The line for that was a little longer, so neither of us got an omelet during our stay.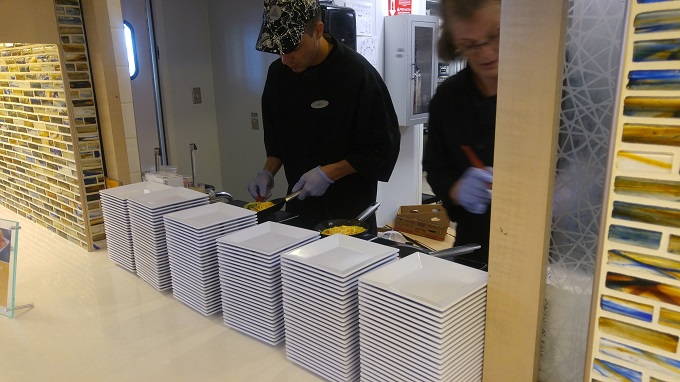 n.b. Shae took all these photos early one morning, which is why there are so few people around.
There were several other hot options, with scrambled eggs, sausages, hash browns and waffle quarters.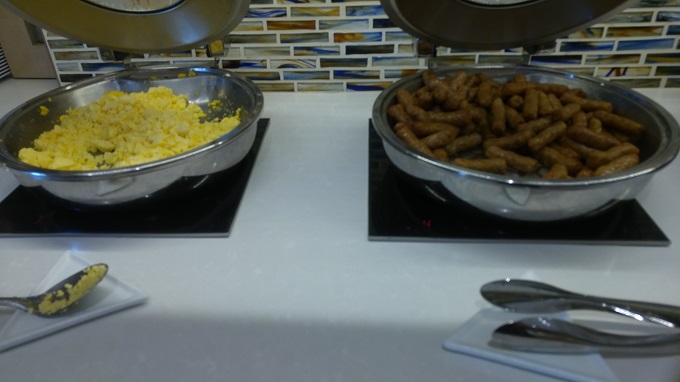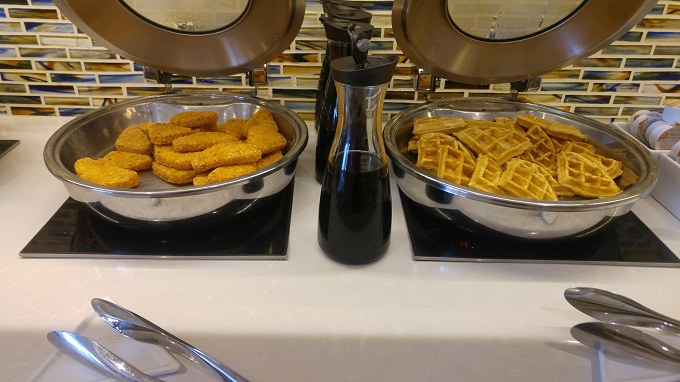 I didn't try the waffles, but the other hot options were good. The scrambled eggs tasted like they were made from fresh eggs rather than powdered. The sausages had good flavor and weren't too greasy and the hash browns were crispy without being dried out.
There was a section with fresh fruit salad, hard boiled eggs and yogurts.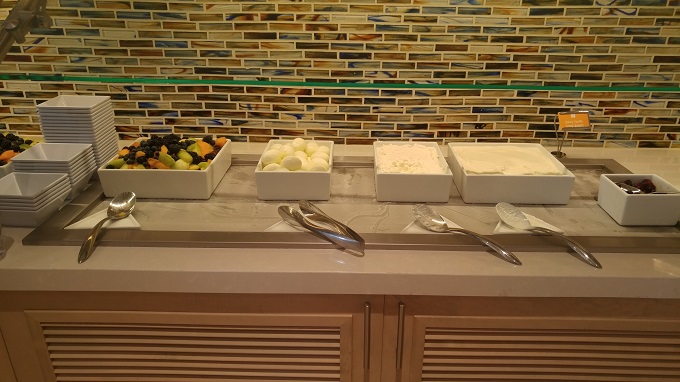 There were also cereals, donuts, breads, English muffins, oatmeal and whole fresh fruit.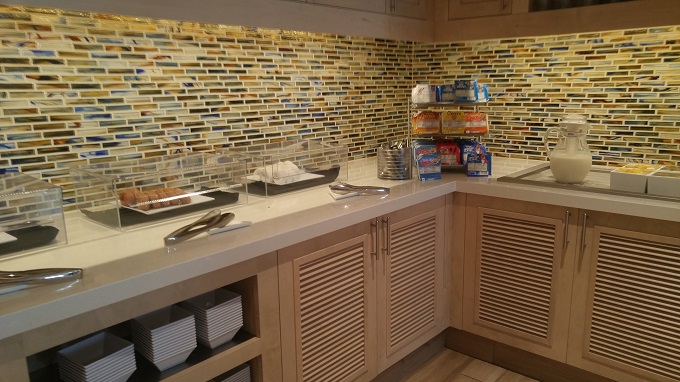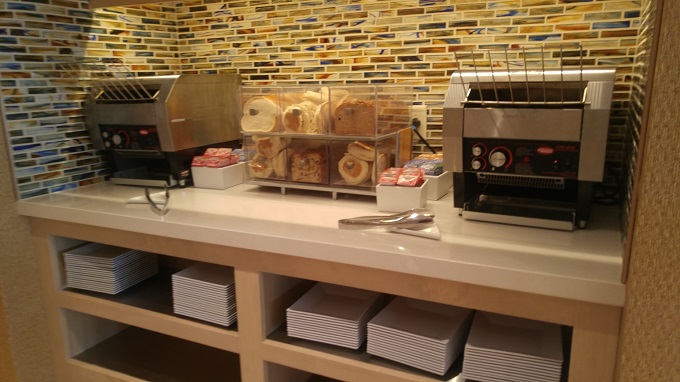 And next there's the pièce de résistance. I like ketchup with my hot breakfast items and at some hotels that's not always available. Alternatively, they look like they have ketchup but they taunt you with empty bottles that squirt red air on your plate.
But the Hyatt House Virginia Beach Oceanfront? Well, it's simply a thing of glory and wonder:
As you can see in that picture, there's also plenty of water, orange juice, apple juice and cow juice to go around. There's also another section with those options.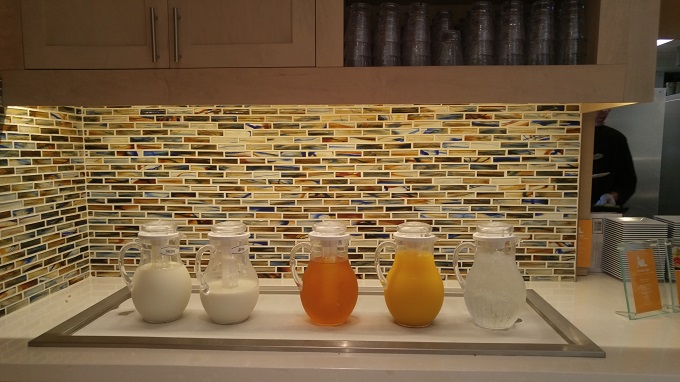 They're also well-stocked with silverware, plates and drinking glasses.
For all you caffeine fiends, there's a coffee station.
The restaurant staff did a great job with keeping all the food well stocked, especially the hot items. On both mornings we were there, they brought out more hot food before the existing containers were empty so that no one would miss out or have to wait.
The only section that was empty both mornings when we went down for breakfast was the donuts. I didn't plan on having any so it didn't bother me, but you might want to head down for breakfast early if you did want a donut.
Restaurant
Another great thing about the breakfast experience was that there was enough seating both mornings, despite how busy it was.
That's because the hotel has a spacious restaurant with plenty of seating. There are loads of tables inside, as well as a bar area you can sit at. There's also outside seating available if you want.
These areas double up as a bar and restaurant in the afternoons and evenings. Again, Shae grabbed these early morning photos while it was still quiet.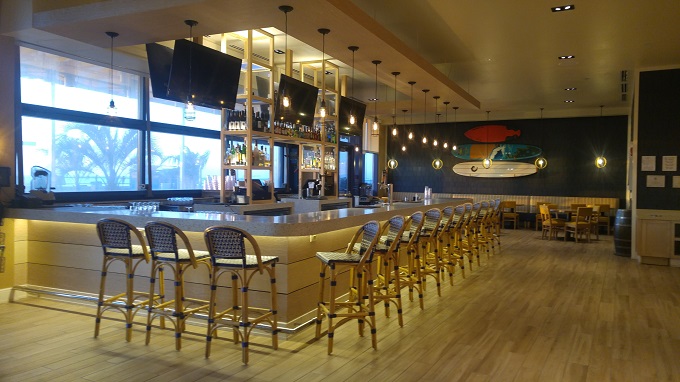 In the evenings, the outdoor area is more like a tiki bar with torches around the perimeter. We had a drink down there on the Friday night – it's lovely sitting there in the evening with the tiki torches and waves crashing.
Pets
The Hyatt House Virginia Beach is pet-friendly, so we were able to bring Truffles. There's a $75 fee when staying 1-6 nights and a $150 fee for 7+ nights.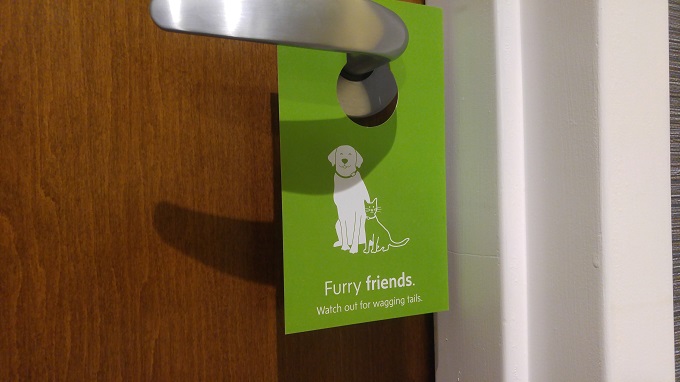 There's also a grassy area at the back of the hotel by the outdoor restaurant where you can walk your dog.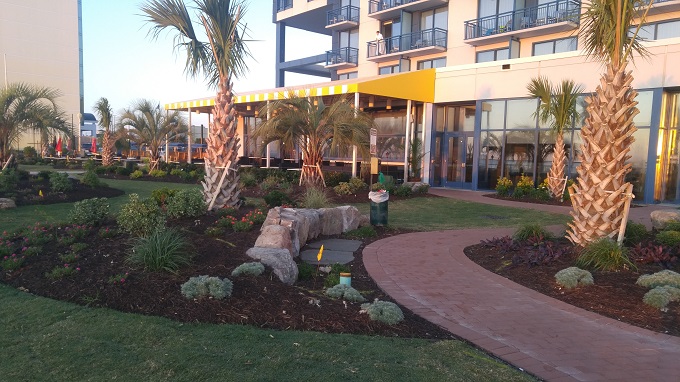 Something to be aware of if you bring your dogs is that Virginia Beach itself isn't particularly pet-friendly during the summer. Between Memorial Day and Labor Day, dogs are only allowed on the beach before 10am and after 6pm, other than in some select areas.
Parking
Parking's off-site, so as you leave the drop-off area, you drive straight across the road and through an archway.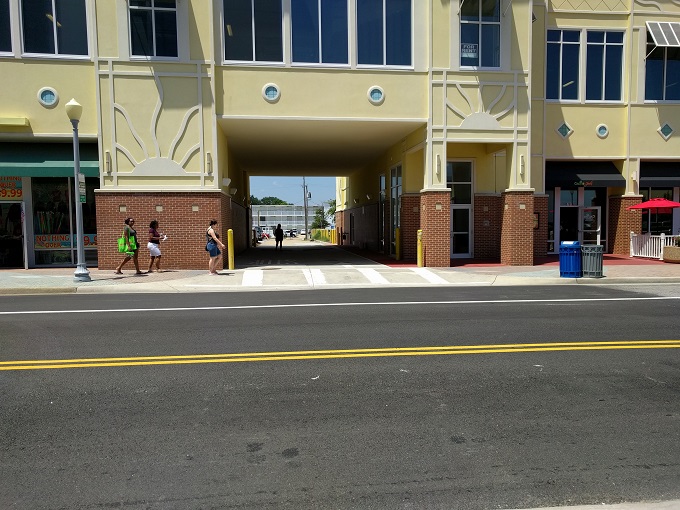 After about 50 yards, there's parking to the right…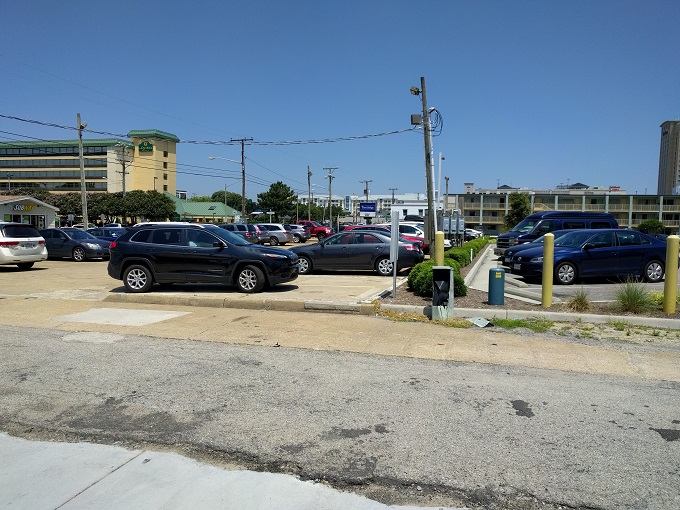 …and to the left.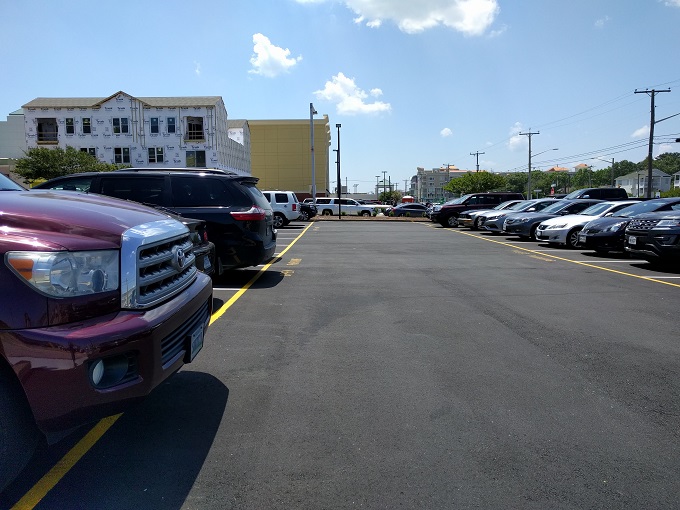 Self-parking is $9 a day and valet parking is $14 per day. We're not ballers, so we went for self-parking. When checking in, you'll be given a tag to hang in the front of your car to ensure you don't get towed.
Elevators
Word of warning about the elevators – the doors close incredibly quickly. There were a couple of times during our stay where we waited for other guests to get out of the elevator, only for the doors to close before we could get in.
This was a little frustrating, but we soon learned that we had to hold open the doors while people got out if we wanted to get on. The bigger concern would be if you're staying at the hotel with small children. It would be easy for a child to run in to the elevator and the door close before their parent(s) have a chance to get on as well.
The elevators are also key-operated, so you'll want to make sure you always have one with you, even if there's someone still in your room.
Service
We had good service throughout our stay, with all the staff being friendly when we interacted with them.
There was a slightly weird experience with one of the restaurant workers both mornings though. She was rushing around keeping everything topped up and constantly apologizing for the (short) lines, even though no one was complaining and no one seemed to be bothered by it.
Ultimately, she was simply trying to ensure we had a great breakfast experience, so I can't fault her for that. It was just a little strange though, as she almost made the non-stressful breakfast experience stressful.
Summary
We loved our stay at the Hyatt House Virginia Beach Oceanfront. Our suite was beautiful and spacious, the hotel's in a perfect location, the breakfast was great and the service was friendly.
The fact that every room has a kitchenette and oceanfront view means you can't really go wrong with any of the rooms at this hotel.
There isn't really anything bad about the hotel, although there are a few minor things. They should fix how quickly the elevator doors close, double sinks in the bathroom would be good and it was a shame there was no whirlpool, but none of these were major issues.
In terms of value, it's a little hard to assess. It was amazing value for us as we booked the weekend by using our anniversary free night certificates from our Hyatt credit cards. That effectively meant it cost us $150 (plus the pet fee), which is excellent a weekend on Virginia Beach Oceanfront in the summer when all the hotels in the area are packed.
I think the cash rate for our particular room was high at ~$500 per night. Having said that, if you're a family of six who'd make full use of the kitchen, it's probably cheaper than having to pay for two rooms elsewhere and eating out.
Truffles Approval Rating

Truffles gives this Hyatt House four paws out of four – absolutely pawfect! Although the $75 pet fee was a little high given that we were only staying two nights, she loved how much space she had to run around in the suite.
She also appreciated having the grassy walking area out back and the fact that I sneaked up some breakfast sausage for her.
Our Own Hotel Rating
Room = 4.75 / 5
Hotel Amenities = 4.25 / 5
Food = 4.0 / 5
Location = 4.5 / 5
Service = 4.0 / 5
Overall Value = 4.0 / 5
Total = 4.25 / 5
Hotel Address
Hyatt House Virginia Beach Oceanfront, 2705 Atlantic Avenue, Virginia Beach, VA 23451