After leaving Columbia SC, we made our way down to Charleston.
We originally had a reservation at the Aloft Charleston Airport, but cancelled that as they'd recently had several bad reviews.
Thankfully at that same time, Hyatt had a short-lived sale on Points + Cash rates at a dozen or so hotels. One of those was the Hyatt Place Charleston Airport/Convention Center, so we booked a five night stay using that rate (more on that below).
Here's our review of this hotel that's in North Charleston, South Carolina.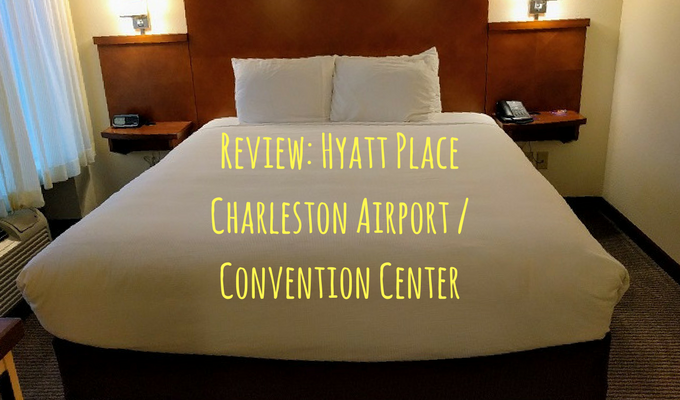 We arrived at the hotel at about 5pm and were greeted more warmly than we had been at the Hyatt Place Columbia/Harbison.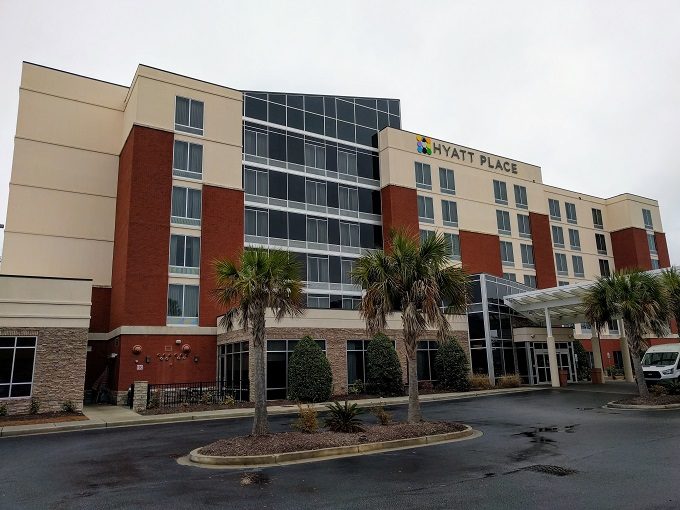 Our check-in was processed quickly and we were advised of the $75 pet fee as Truffles was with us. It's $75 for stays of 1-6 nights and $175 for 7-29 nights; you have to contact the hotel for stays of 30+ days.
We were assigned room 127 which worked out well for us for a couple of reasons. First, it was at the far end (of a not very large hotel), so we didn't have loads of people coming past our room. Second, it's right next to an exit door which made it much easier to take Truffles outside when needed.
Bedroom
As our room was at the end of the hotel, it seemed to have a different layout to most of the other rooms in this – and other – Hyatt Places.
As we entered the room, the couch was ahead and on the left, the bathroom to the right and the bed further round to the right.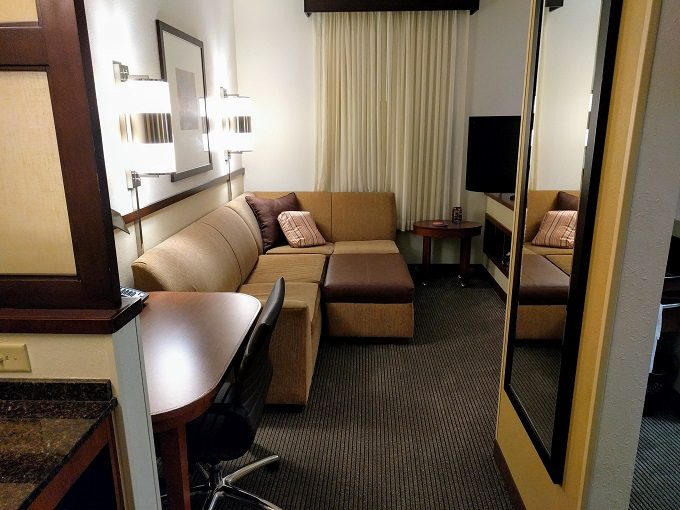 In fact, immediately on the left was a small fridge, drawers and a countertop with the coffee maker.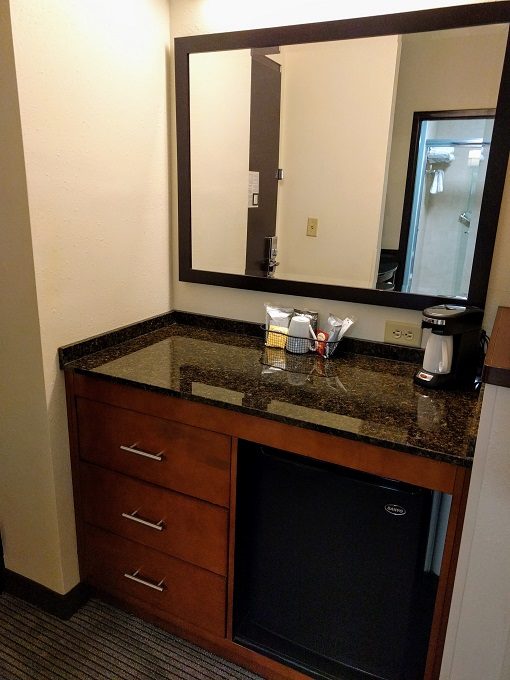 To the right of the fridge area was a work desk and comfortable office chair. The Wi-Fi was free and always had a fast connection.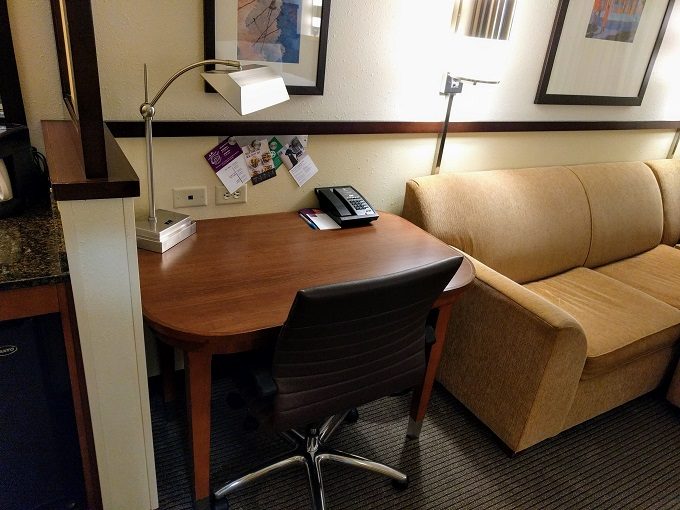 Next to the desk was the corner sofa that can also double up as a sofa bed if needed. Although it wasn't in bad condition, the sofa felt like it had seen better days.
The ottoman also wasn't as comfortable as it could've been; the photo doesn't really show its height, but when you're sitting on the couch with your feet on it, your feet end up being raised higher than your body.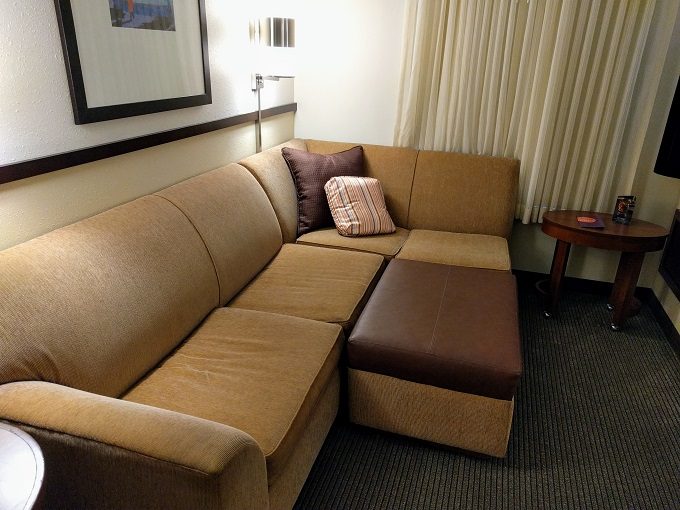 Opposite the couch is a short room divider holding the TV, with our king bed beyond that. As always, the Hyatt Place bed was extremely comfortable and the room stayed nice and dark at night.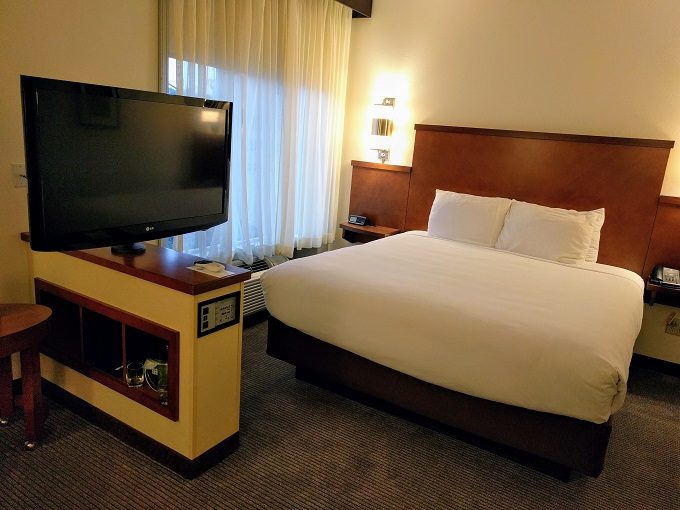 There are a couple of downsides to the layout of this room. First, the TV either points at the bed or the couch – you can't have people sitting in both locations watching a show. Second, it felt smaller than other Hyatt Places we've stayed at before, although it might actually have been smaller rather than this being a result of the layout.
To the right of the entrance was a closet containing a luggage rack, iron and ironing board. On its top shelf was some additional bedding in case you need to make use of the sofa bed.
The closet had a folding door which was extremely squeaky when opening.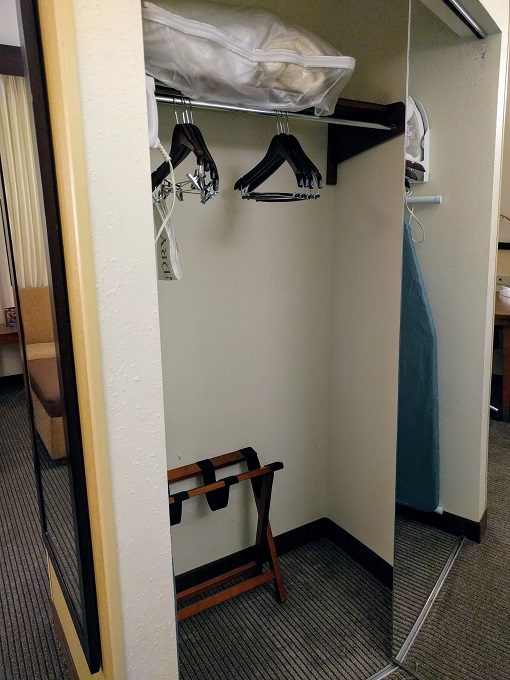 Bathroom
Opposite the closet was the sink and vanity which was just outside of the bathroom. Beneath the sink was both a regular trash can and a recycling can which we appreciated.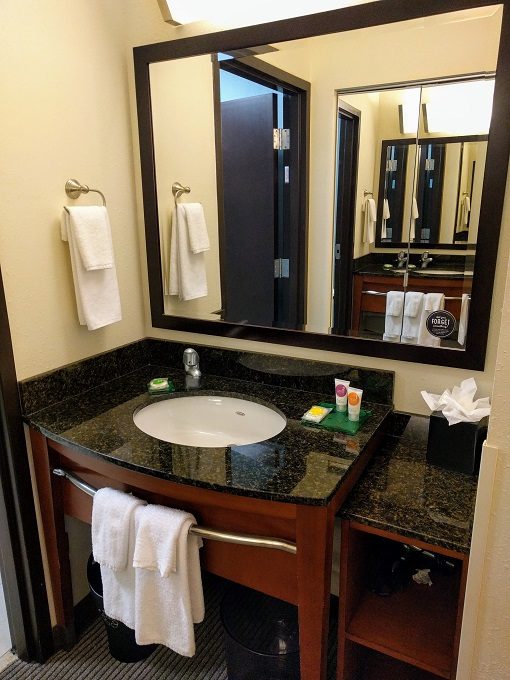 The bathroom had a large shower stall rather than a bathtub with shower; the shower had decent water pressure. Despite the glass doors sliding all the way across, some water still managed to leak out each day when showering.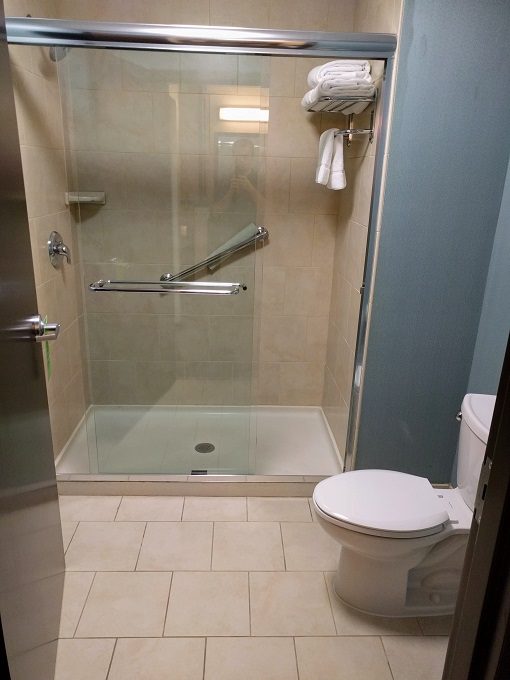 Breakfast
One of the things I like about the Hyatt Place brand is its breakfast which is included as part of your rate. Although the choices tend to be the same at each Hyatt Place, they're always tasty and the hot options are changed most days.
Here are the breakfast options from one of our mornings at the Hyatt Place Charleston Airport/Convention Center. Other days there were breakfast potatoes, sausage gravy with biscuits and more.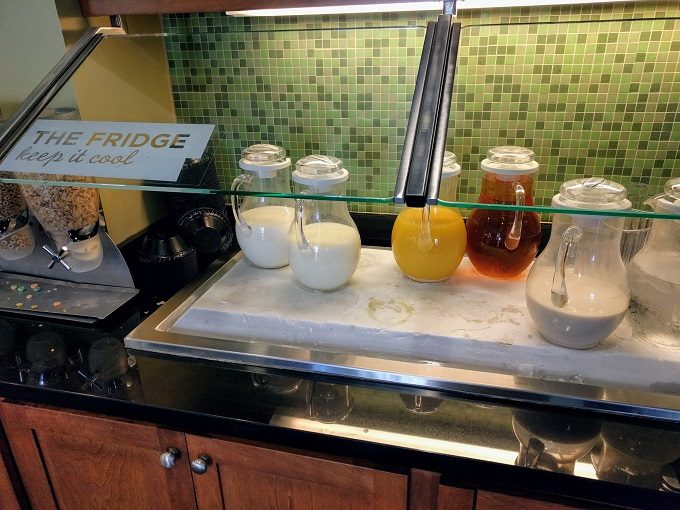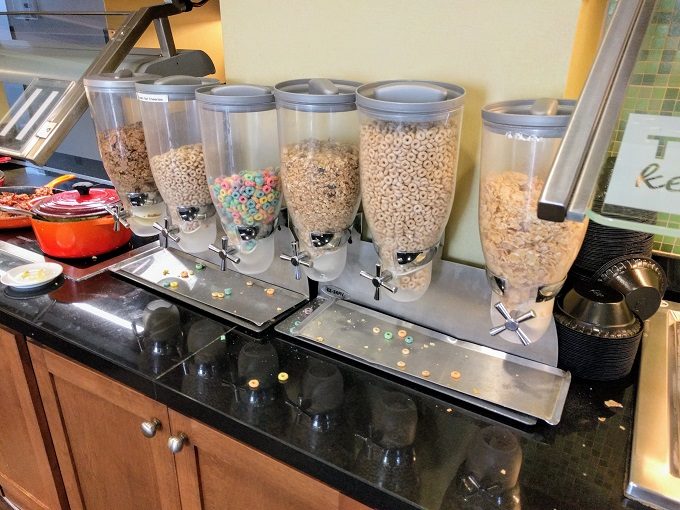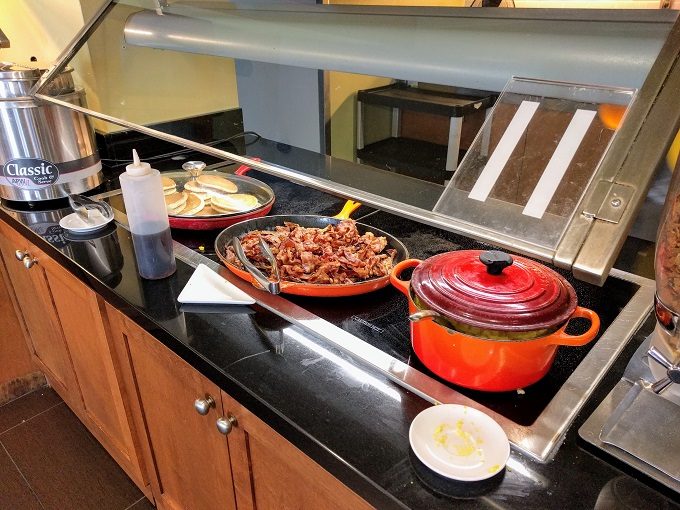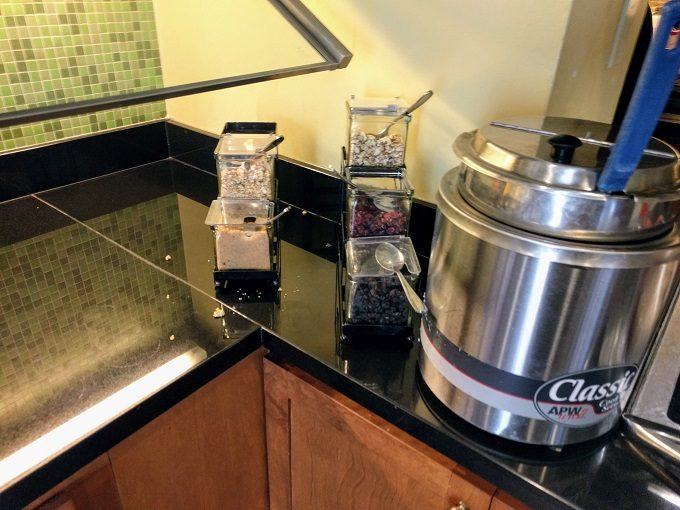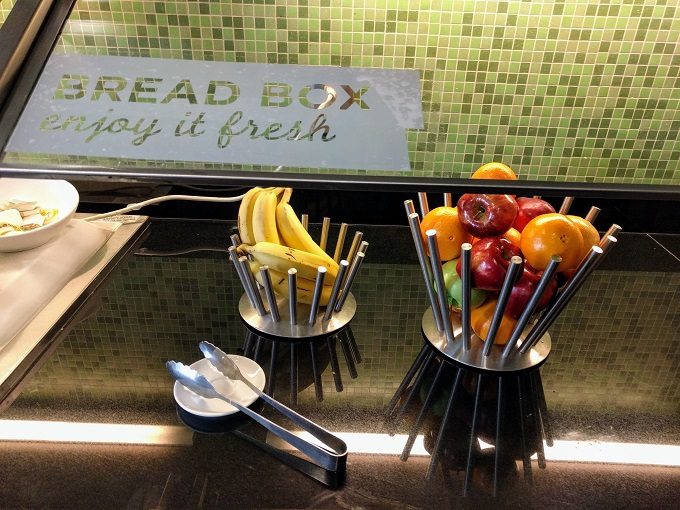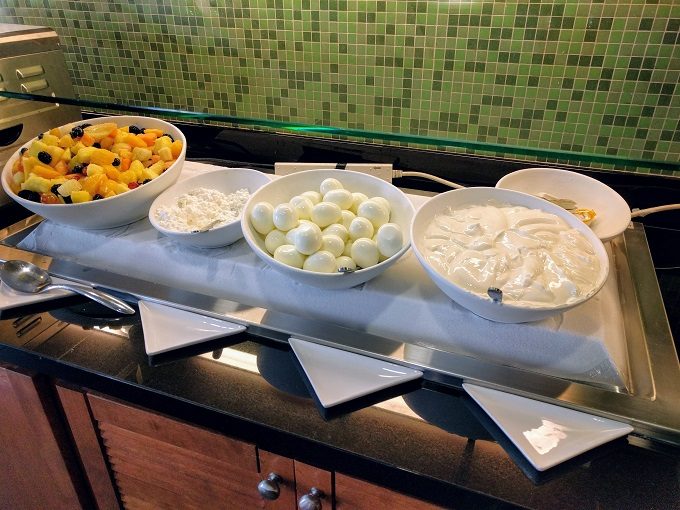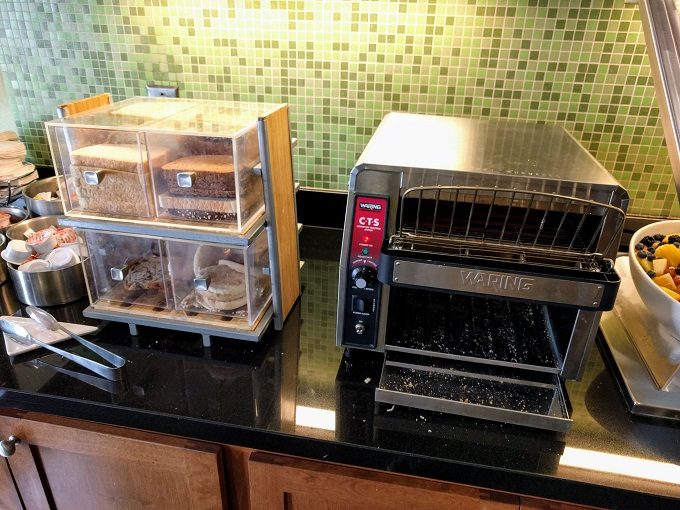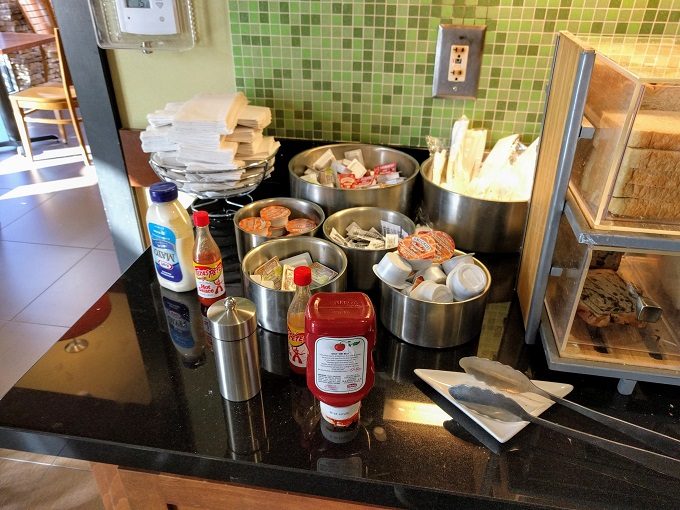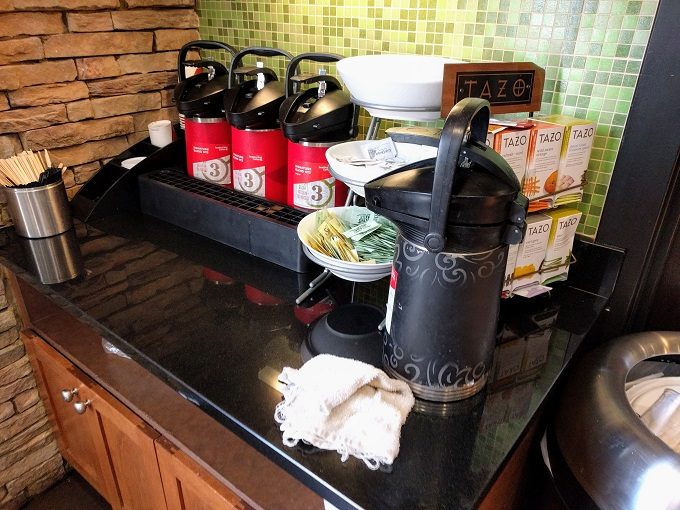 There was plenty of available seating for breakfast; there was seating in the lobby, a couple of tables where breakfast was served as well as a separate room adjacent to the breakfast area.
Although the breakfast was great, they didn't seem to do a great job about bringing out clean cups, plates and silverware. On three of our five mornings, they were no spoons and / or knives when we went for breakfast. No spoons made eating cereal and yogurt much trickier, while the lack of knives on another day meant Shae had to use a spoon to spread jam on her toast.
Amenities
Next to the lobby area was a business center with a couple of computers for guests to use.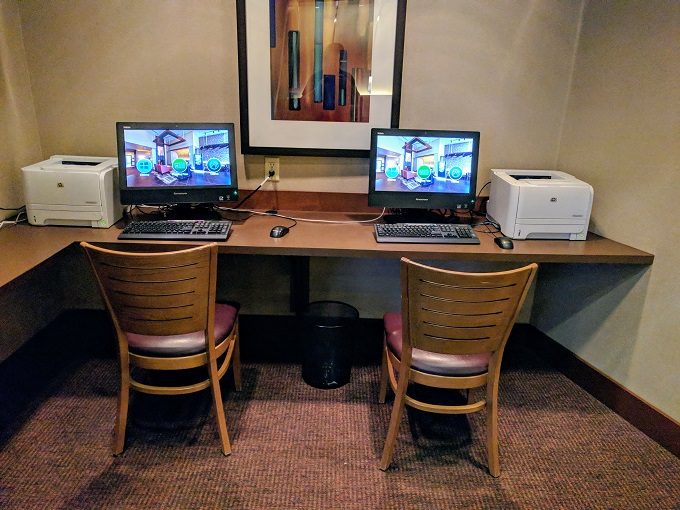 The Hyatt Place Charleston Airport/Convention Center has an indoor swimming pool, but we unfortunately didn't get around to using it.
There was also a small fitness center that's open 24 hours a day.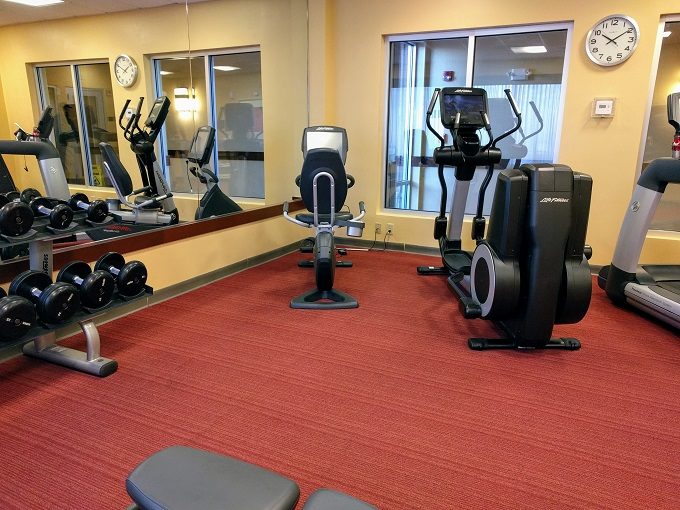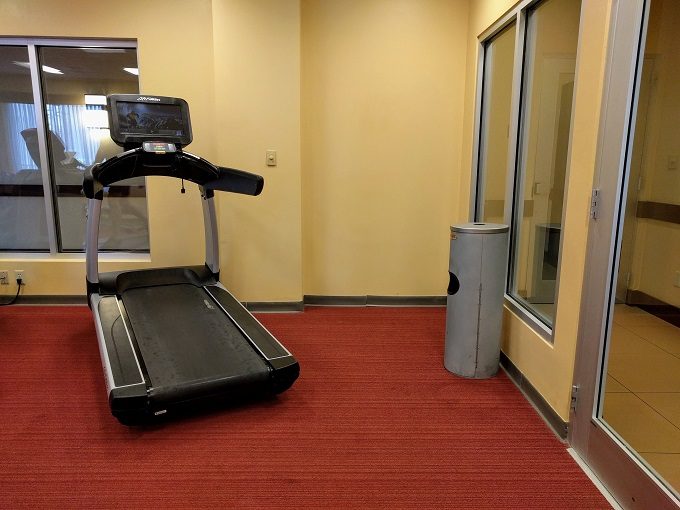 Service
The service at this Hyatt Place was friendly enough. There's not really much to say here though as we had very few interactions with the staff.
Location
This hotel is in a pretty good location. It's right next to Tanger Outlets, grocery stores, restaurants and more.
It's also fairly close to the highway and only a 15 minute drive from downtown Charleston.
Cost
I mentioned earlier that we booked our stay during a short-lived Hyatt sale on Points + Cash awards. This therefore cost us 4,000 World of Hyatt Points + $29 per night. With taxes and fees, the cash portion rose to $35 per night.
Including the $75 pet fee, that meant our five night stay cost 20,000 World of Hyatt points (transferred from our Chase Ultimate Rewards balance) + $250.
For comparison, the usual Points + Cash rate is 4,000 points + $55 per night. With taxes, fees and the pet fee, our stay would've cost 20,000 points + ~$380, so we saved about $130 thanks to the sale.
If we'd paid cash, the nightly rate would've been $133.59 per night including tax. If paying using only points, it would've cost 8,000 points per night.
Points Earned
We earned 2,146 World of Hyatt points for our stay. This is more than I was expecting which was a pleasant surprise.
Checking my account, it lists our qualifying spend as $373.26 even though we only spent $250. I think Hyatt's system calculated our points based on the normal Points + Cash rate rather than the rate we actually paid.
Final Thoughts
Overall, we enjoyed our stay at the Hyatt Place Charleston Airport/Convention Center. Our room was comfortable, breakfast was tasty (as always) and it was in a good location for where we wanted to visit.
Having said that, there was some room for improvement. The shower leaked a little on the floor, the closet's extremely squeaky, the ottoman in the room is too high and there needs to be more plates, bowls, cups and silverware available at breakfast.
On balance though, we'd happily stay here again in the future.
Truffles Approval Rating

Truffles gives this Hyatt Place four paws out of four – pawfect! Here's her full review.
Our Rating
Room = 4.3 / 5
Hotel Amenities = 4.2 / 5
Food = 4.5 / 5
Location = 4.4 / 5
Service = 4.2 / 5
Overall Value = 4.2 / 5
Total = 4.3 / 5
Address
Hyatt Place Charleston Airport/Convention Center, 3234 West Montague Avenue, North Charleston, South Carolina, 29418