The first stop on our 5 year, 50 state road trip was Columbia SC. We're on a tight $100 a day budget, so we figured we'd start off the trip below budget by booking a stay at the Hyatt Place Columbia/Harbison using points (more on that later).
Hyatt Places are one of my favorite brands to stay at which don't have a kitchenette. They're more spacious than your average hotel room, provide a varied and tasty breakfast and have other good amenities.
Here's a review of our stay at the Hyatt Place Columbia/Harbison in Irmo.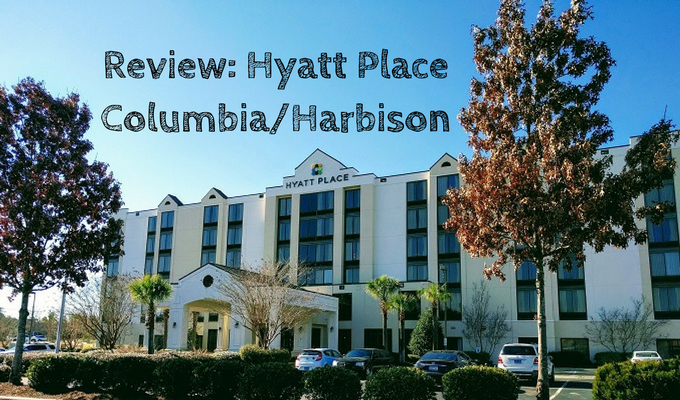 We arrived at about 5pm and received probably the most lackluster welcome we've ever experienced. Neither of the front desk agents acknowledged us when we arrived. Even when they started checking us in, there was no eye contact from the front desk agent working on our reservation and the whole interaction was just kind of weird.
Still, within about 5-10 minutes we had our keys (one of which wasn't activated so we had to go back down later on) and headed up to the fifth floor. I mentioned earlier that Hyatt Places tend to feel spacious and this was no exception.
Bedroom
As you enter the room, the living room is on the left, a work desk and wet bar are on the right and the bedroom and bathroom are straight ahead. A short room divider separates the living room and bedroom.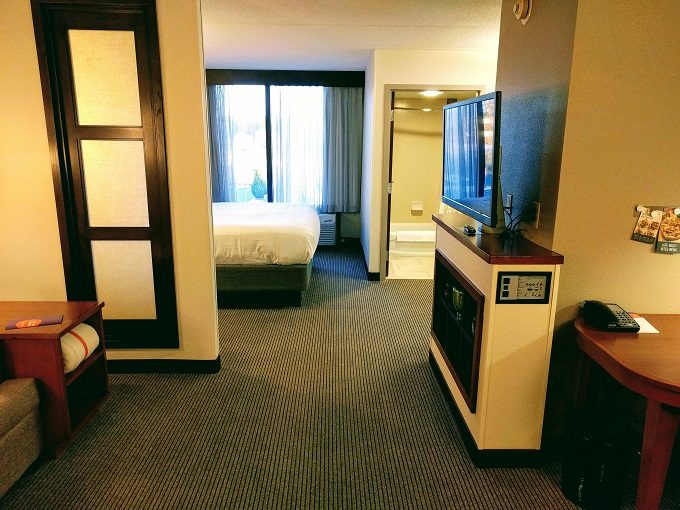 The living room section has a large and comfortable corner couch which also contains a sofa bed.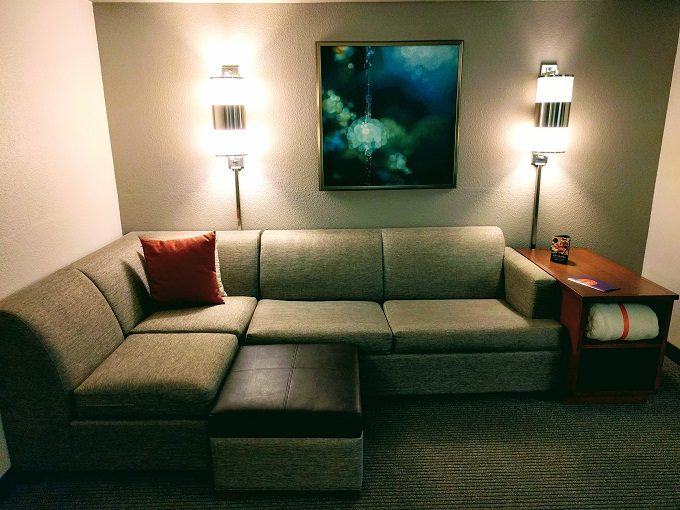 Opposite that was the work desk and wet bar that held a coffee maker. Beneath the counter was a mini-fridge, although there was sadly no microwave.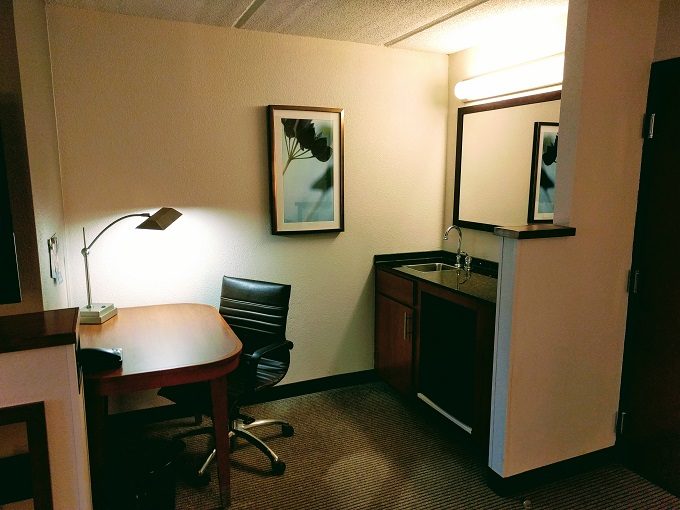 Between the living room area and the bedroom section was a TV that could be turned to face either the bedroom or living room.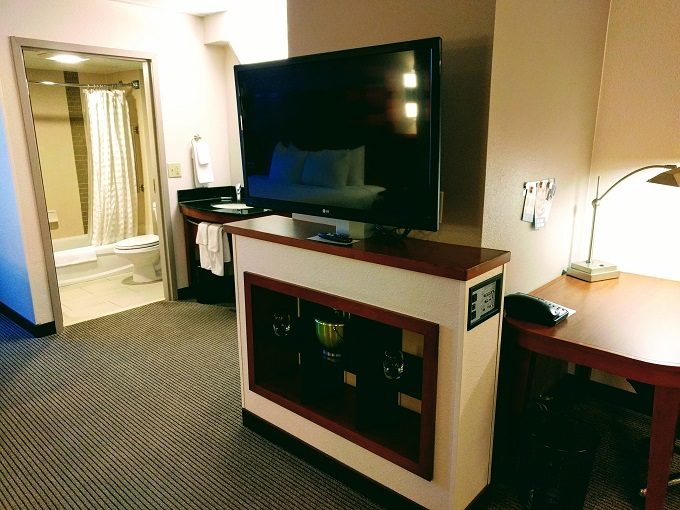 The bedroom contained a king bed which was amazingly comfortable. I slept incredibly soundly on it all five nights that we were there.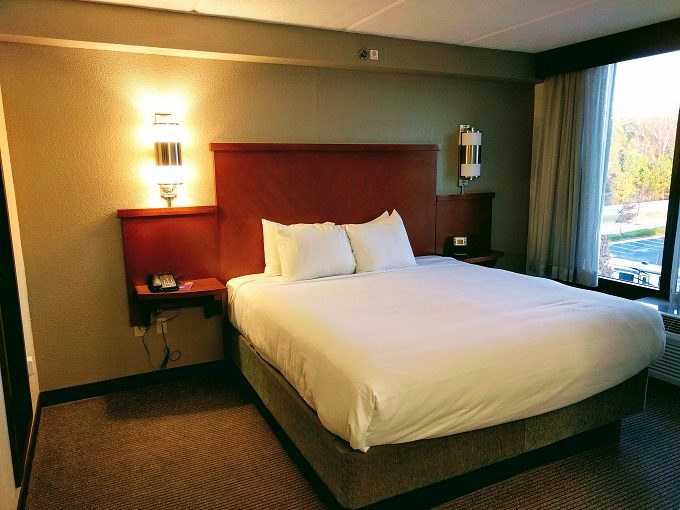 Our room (511) was at the front of the building, so it looked out over the Cracker Barrel opposite the hotel.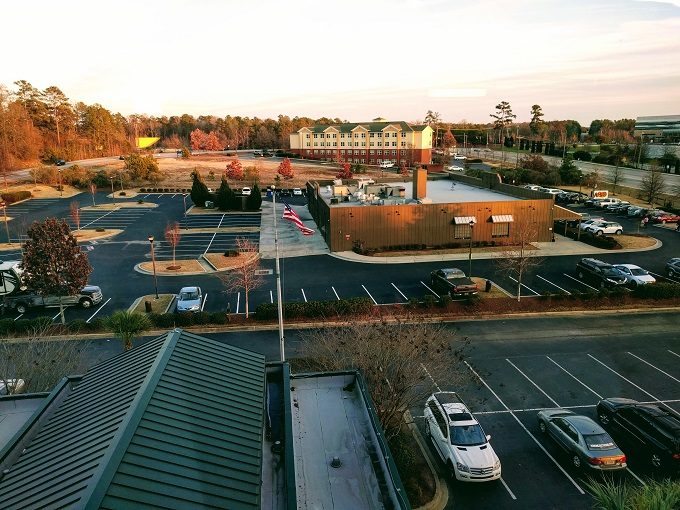 Opposite the bed was a sink area with a chest of drawers.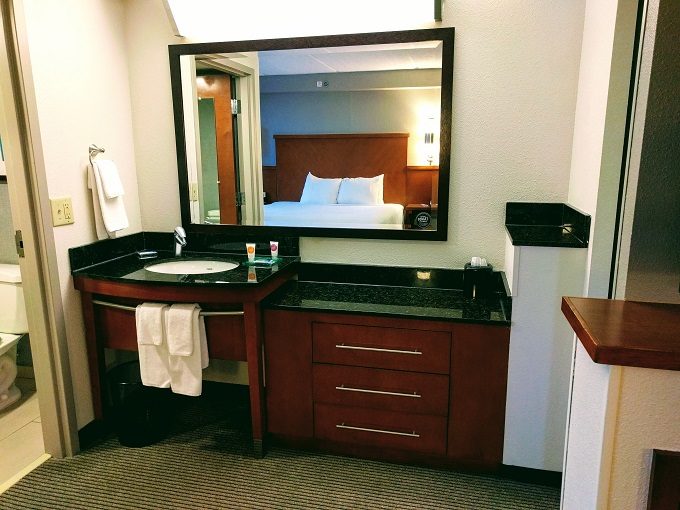 To the right of the sink was a closet containing a luggage rack, ironing board and iron.
The toiletries were OK, although I wasn't a huge fan of the shampoo as it didn't lather up very well.
To the left of the sink area was the bathroom itself containing a bathtub with shower and toilet. The shower was nice and powerful, so it was a refreshing way to start the day.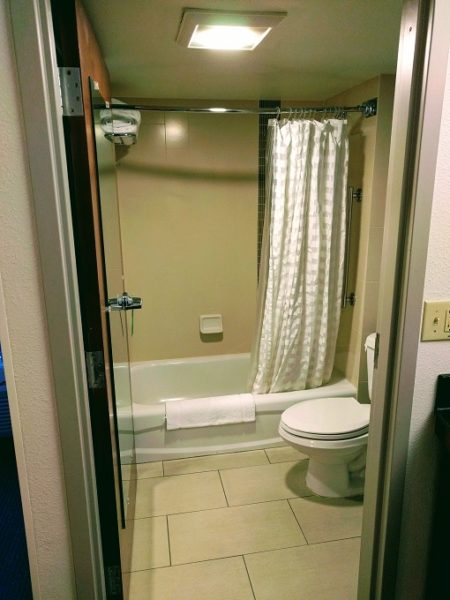 Breakfast
One of the best aspects of the Hyatt Place brand is their a.m. Kitchen Skillet breakfast. They offer different hot foods each day, with a southern breakfast option on our first morning there. That consisted of sausage and gravy, biscuits, eggs, skillet potatoes and French toast.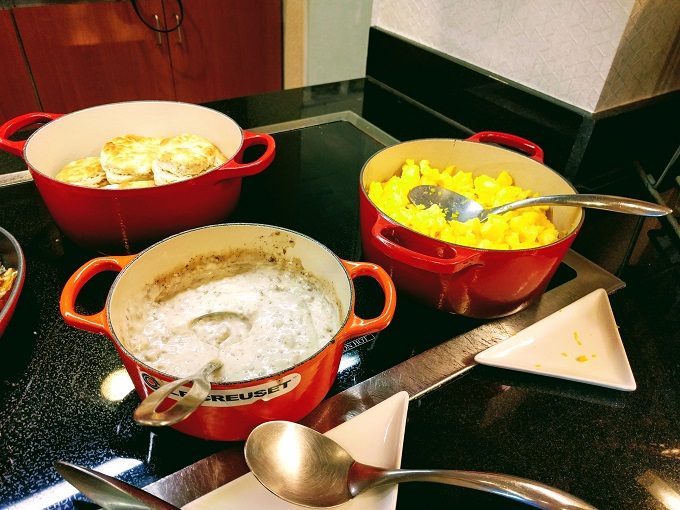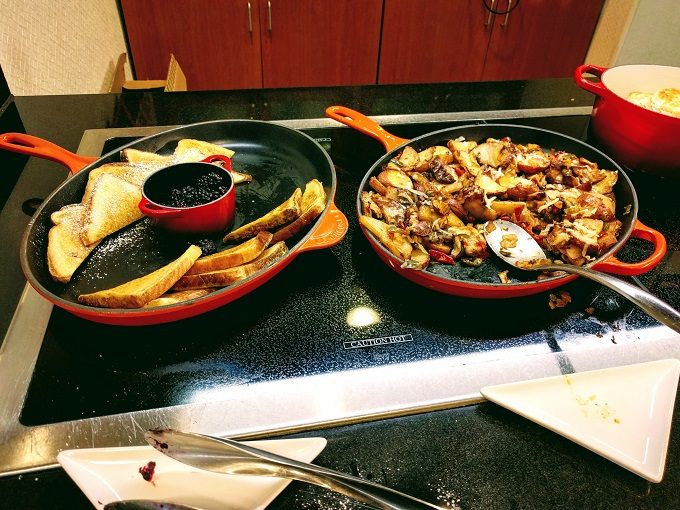 Another day there was what they classed as an Italian option, with egg, sausage, potatoes with spinach and waffles.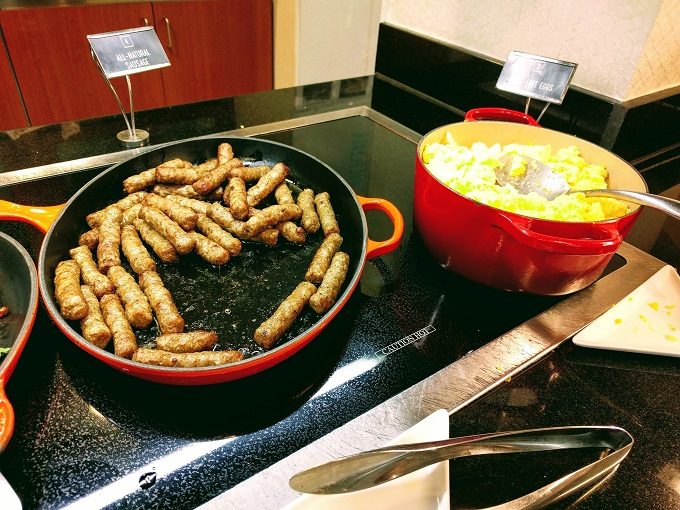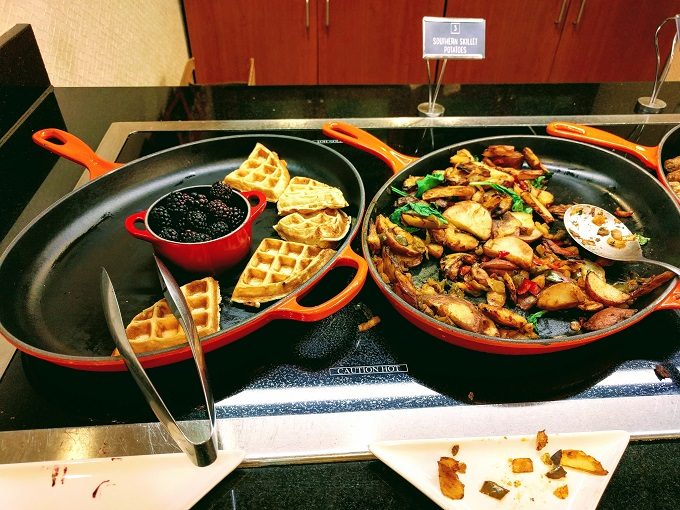 There was also tomato bruschetta that day to go along with it.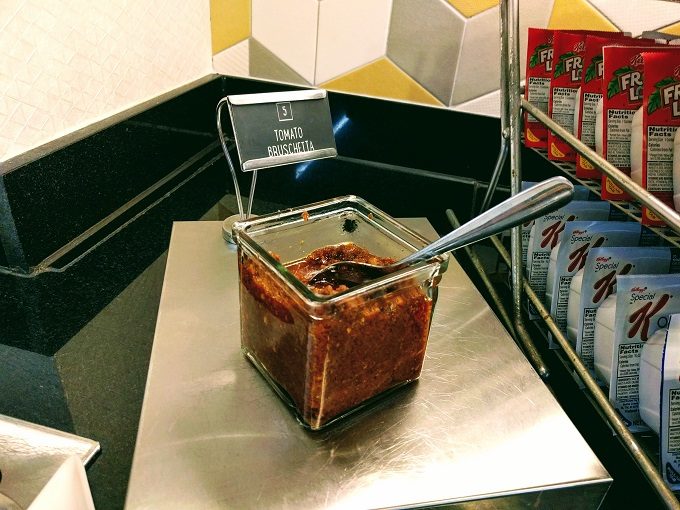 On days when waffles were offered, there was a pot containing bananas foster compote and a jug of caramel to go with it.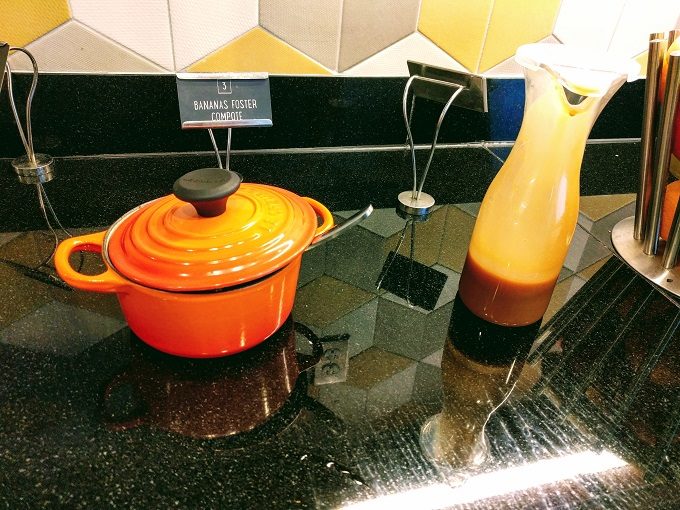 The other breakfast options tended to be the same each day. There were breakfast cereals…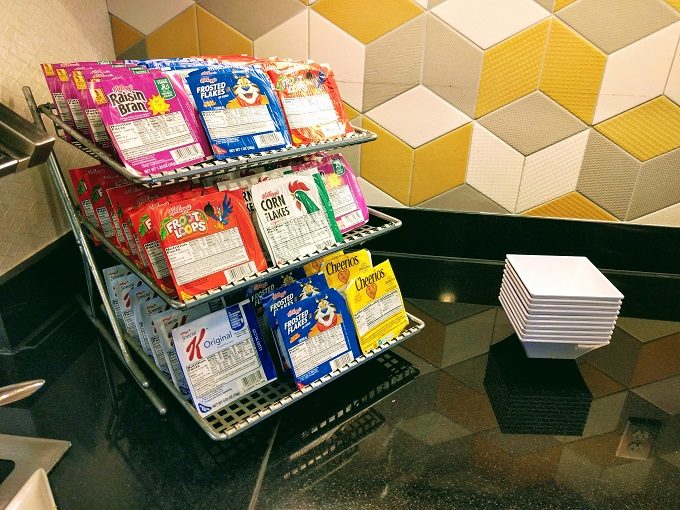 …oatmeal with various toppings…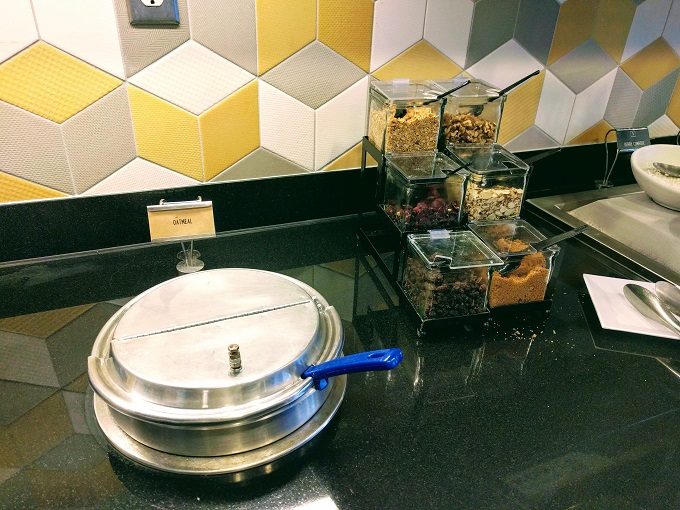 …hard-boiled eggs, cottage cheese, fresh fruit and Greek yogurt…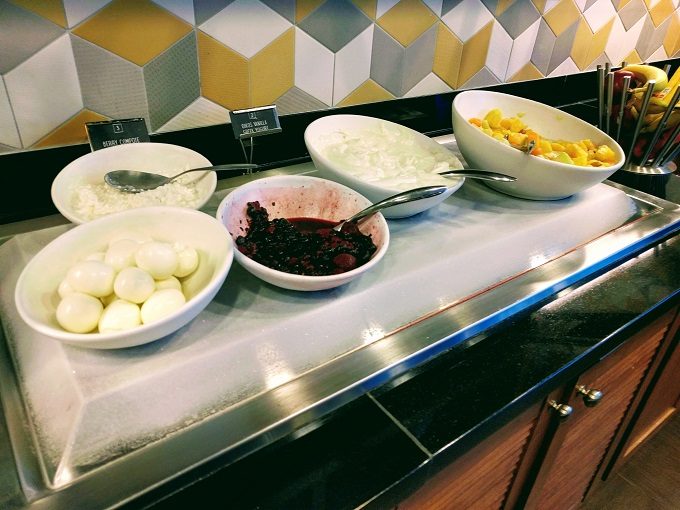 …and a selection of different breads and preserves.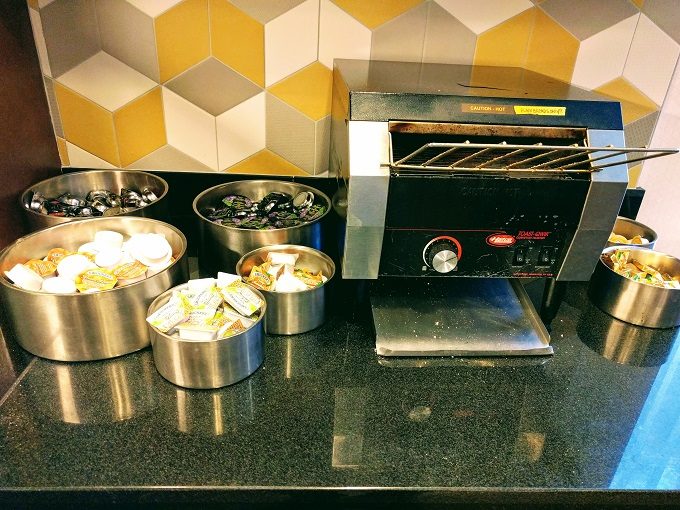 As for drinks, there was a cold bar containing different types of milk, apple juice and orange juice.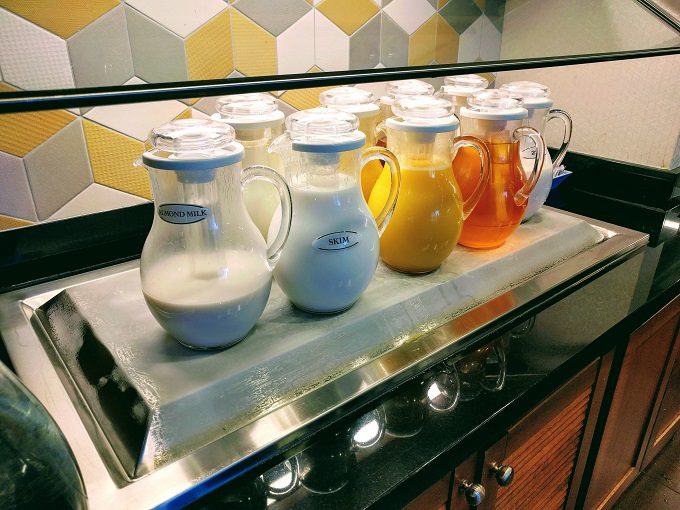 There was also free Seattle's Best coffee and Tazo tea served each morning.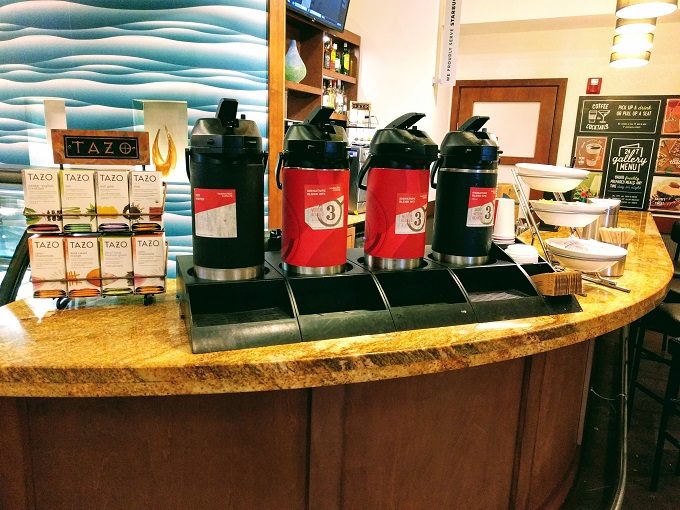 Amenities
The hotel has a limited number of amenities. They have an outdoor pool, but that was closed during our stay as we visited in January during below-freezing temperatures.
Indoors, there's a small 24 hour fitness center. And by small, I mean two treadmills, an elliptical and what appeared to be a cycling machine.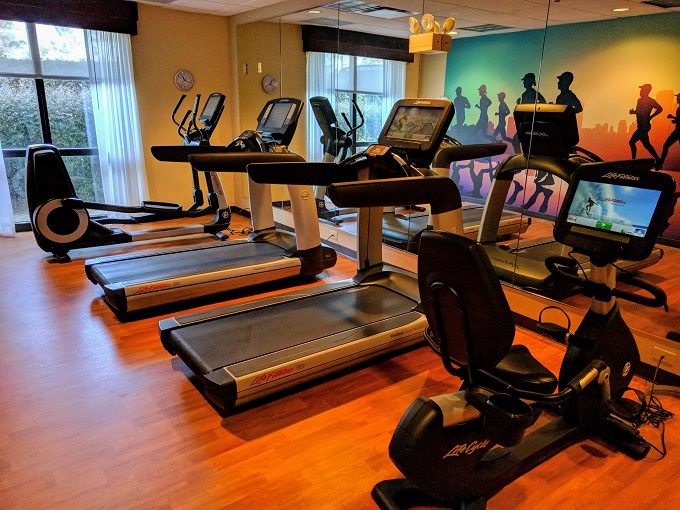 If you get hungry during your stay, there are some snacks available from the front desk, including cookies, muffins, cinnamon rolls and more nutritious packaged options in the fridge.
You can also order alcoholic beverages and hot food from their small bar area.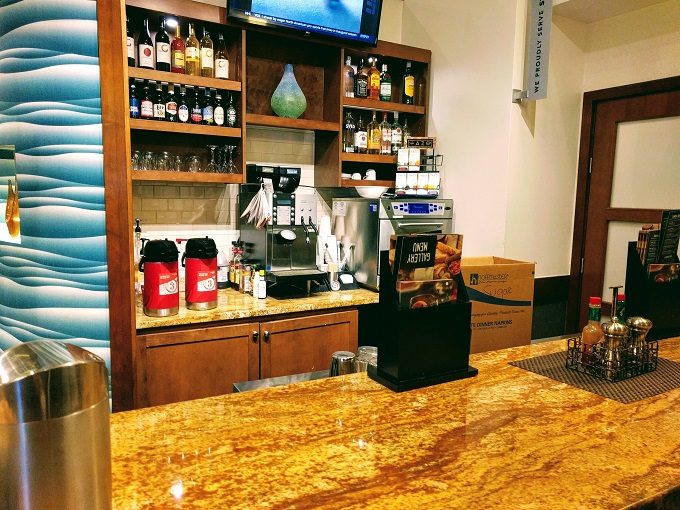 If you're planning on visiting Riverbanks Zoo during a stay in Columbia SC, the Hyatt Place Columbia/Harbison offers discounted tickets. Adult tickets are usually $15.95 or $13.75 when purchased online.
We bought our tickets from the Hyatt Place though as they sell them for just $12.50. That meant we saved a total of $2.50 compared to how much we would've paid when purchasing them online. Not a huge saving, but every dollar counts.
Service
I mentioned at the beginning of the review that our check-in experience wasn't great. That wasn't the case for the rest of the stay though as the rest of the staff were always extremely friendly, especially seeing as Truffles always wanted to say hi to each of them.
In particular, Emily and Lauren were extremely nice and helpful, and Mary Ann who prepared the hot food for breakfast every morning was always friendly.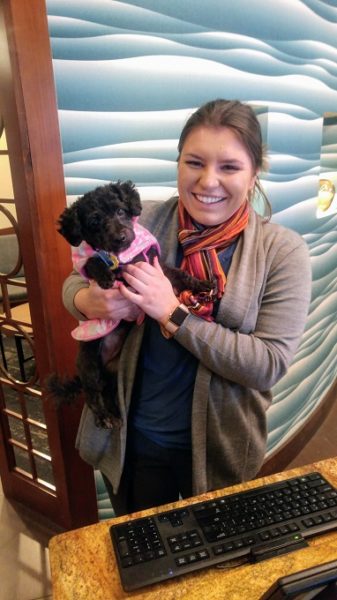 Wi-Fi
The worst aspect of our stay was the Wi-Fi. The speed itself was fine; the problem was that the internet connection continually cut out.
The internet only seemed to work about half the time, working for 15 minutes before cutting out for 15 minutes, then working again, then not working.
This might not be a huge issue for a lot of guests, but I rely on a reliable internet connection for this website, all my other websites and my new part-time role with Frequent Miler. I ended up having to use my phone as a hotspot for the last few days of our stay due to how unreliable the Wi-Fi was.
Location
The Hyatt Place Columbia/Harbison is in Irmo, about a 15 minute drive from downtown Columbia. It's also about 15 minutes from Lake Murray, and only a five minute drive from the very nice Irmo Community Park.
It's therefore a good location if you want to be near downtown Columbia but don't want to pay the higher prices. of being downtown.
Cost
This Hyatt Place is a category 1 hotel which means that it only costs 5,000 points per night. The World of Hyatt loyalty scheme is a transfer partner of Chase Ultimate Rewards, so I transferred 25,000 Ultimate Rewards to make this booking.
When I originally made the reservation, the nightly cash rate would've been $111.78 which included taxes. We're AAA members though, so we could've booked at a slightly lower $106.02 rate using the AAA rate.
As we had Truffles with us, there was also meant to be a $75 pet fee. Truffles must be too cute to be charged though, as the pet fee didn't end up being included on our final bill.
Points Earned
Seeing as we booked our stay using points, we didn't earn many points. We did end up getting 159 points for our stay though as we charged our zoo tickets and a bottle of soda to our room.
Final Thoughts
The Hyatt Place Columbia/Harbison was a nice way to begin our road trip. The spacious room, tasty daily breakfast and comfortable bed were all greatly appreciated. The service also vastly improved after our initial welcome.
I don't know if I'd choose to stay here again though, although it's purely due to the Wi-Fi issues. It was incredibly frustrating, as I'd frequently be working on something when the internet connection would die. I'd therefore have to either wait until it randomly connected again or switch over to my phone's hotspot. We don't have unlimited data, so it wasn't ideal having to constantly use my phone's data allowance.
If they were to fix the Wi-Fi issue, I'd happily stay here again.
Truffles Approval Rating

Truffles gives the Hyatt Place Columbia/Harbison four paws out of four – pawfect!
The spacious bedroom meant she had all kinds of space to run around chasing her ball. She got lots of pets from their staff and there were a decent number of grassy areas outside for her to do her stuff.
The fact that the $75 pet fee wasn't charged for whatever reason was a bonus too.
Our Rating
Room = 4.5 / 5
Hotel Amenities = 4.0 / 5
Food = 4.6 / 5
Location = 4.25 / 5
Service = 4.25 / 5
Overall Value = 4.5 / 5
Total = 4.35 / 5
Address
Hyatt Place Columbia/Harbison, 1130 Kinley Rd, Irmo, SC 29063