My in-laws were away for my birthday the other week, so they wanted to take me out to lunch for a belated celebration.
One of their employees suggested they should take me to Jack Brown's Beer & Burger Joint in Norfolk VA. After trying to complete an escape room on the Battleship Wisconsin (we failed 🙁 ), we walked the couple of blocks to Jack Brown's for lunch.
I'd never heard of them before, but they've apparently expanded to ten different locations – six in Virginia, three in Tennessee and one in Alabama.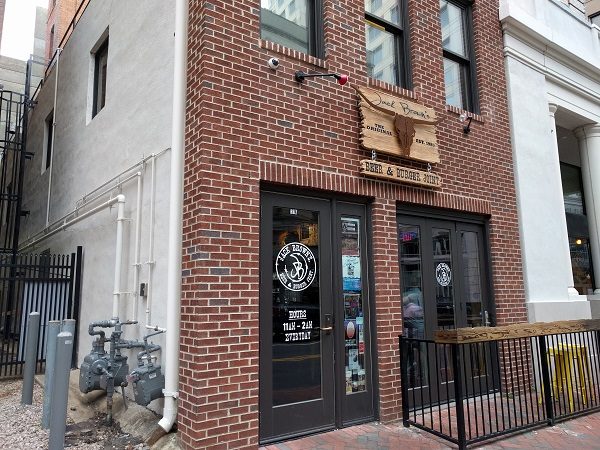 The restaurant is fairly narrow inside, with bar seating on the right and tall table seating on the left. The wall behind the bar is covered in signed and personalized dollar bills.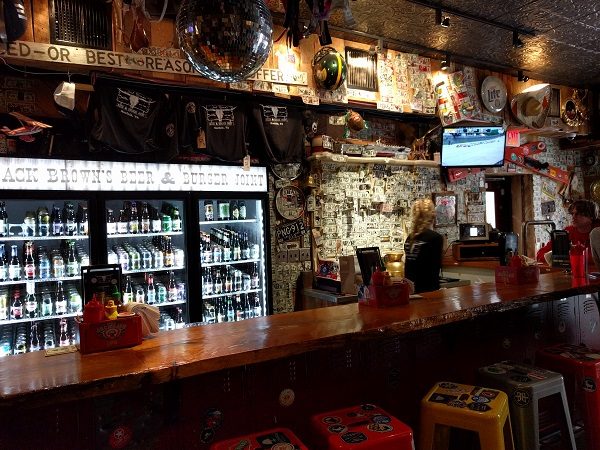 Further along the bar, there's a repurposed front end of a car that's used for the draft beer section.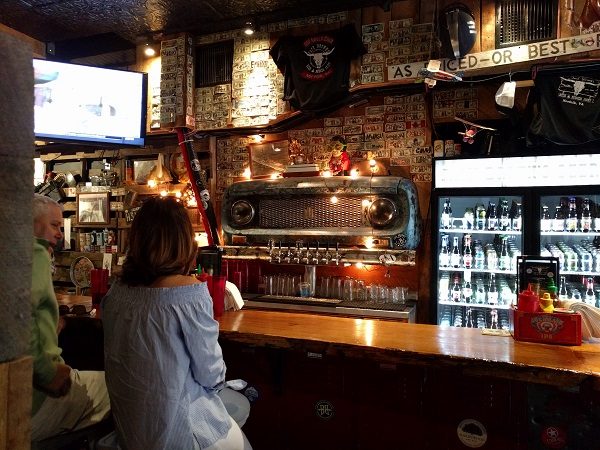 There were several TVs on the walls playing different ESPN channels. They were only showing bowling and Nascar at the time, so there wasn't any danger of me being distracted 😉
The whole restaurant had an interesting feel, with unique decor and craft brewery stickers all over the walls.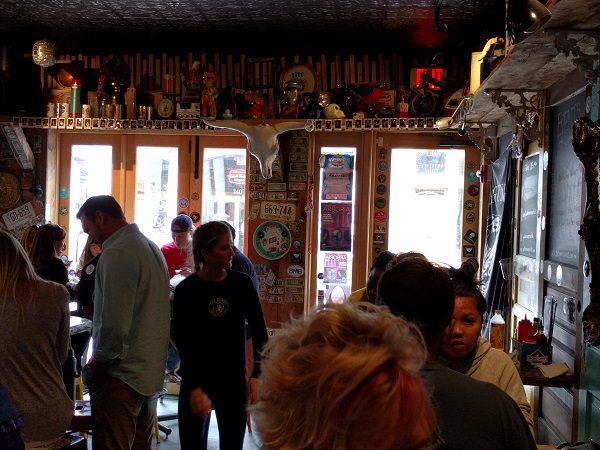 Above the bar, there was a glitter ball with bras draped over it. Maybe it's like a penny tray where if you need one you take one?!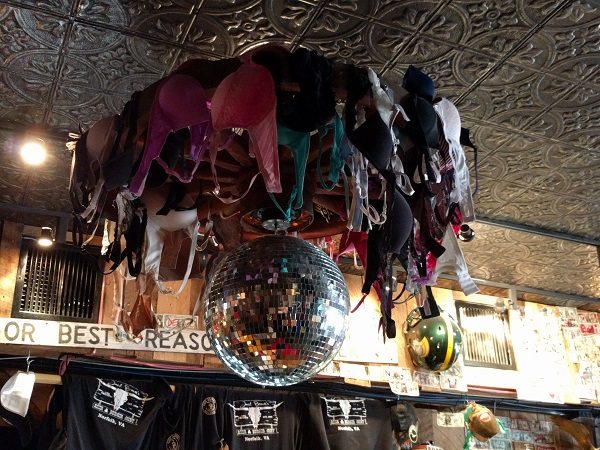 Even though it was busy the entire time we were at Jack Brown's in Norfolk VA, we were lucky enough to get the only spare table when we arrived.
The first step was trying to decide what to drink. They have a double-sided craft beer menu listing about 75 different beers. Considering how much craft beers can cost when you go to a bar, these were all reasonably priced.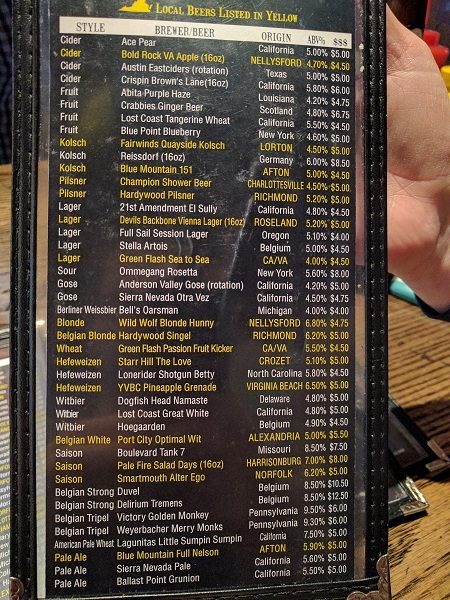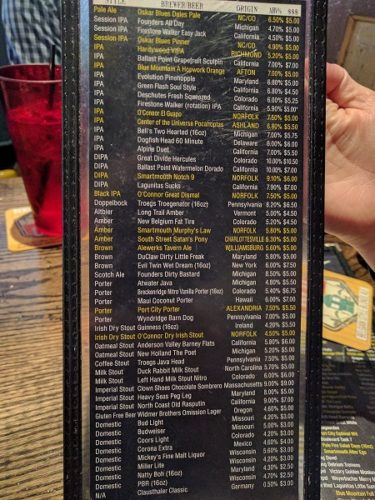 There were also some specials on draft, so I decided to try the Lost Coast Apricot Wheat lager, Shae went for a pear cider and her Mom chose a draft Sweetwater Cool Breeze Cucumber Saison.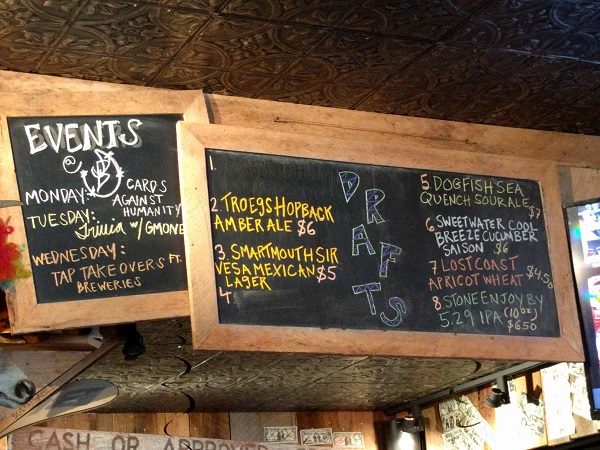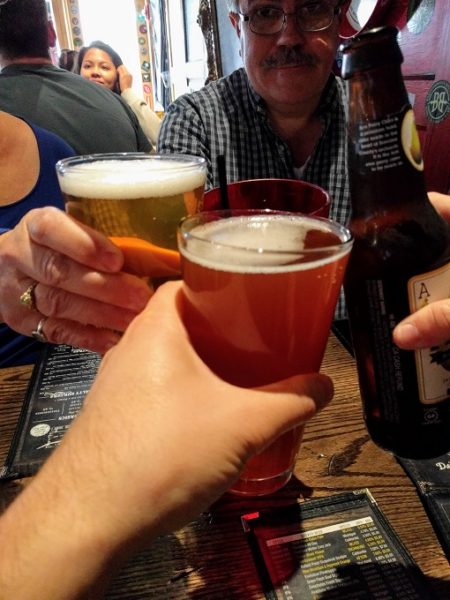 The apricot lager was surprisingly good – it had a definite apricot flavor without being overwhelming. I tried a little of the cucumber lager and it wasn't too bad. I'm not a huge fan of cucumber and so wouldn't want to drink an entire glass, but I imagine it'd be refreshing in the summer.
Even though Jack Brown's only has a limited food menu, it was hard trying to decide what to eat. All their specialty burgers were enticing, especially the Jack On Piggy Back which is topped with a hot dog and jalapenos.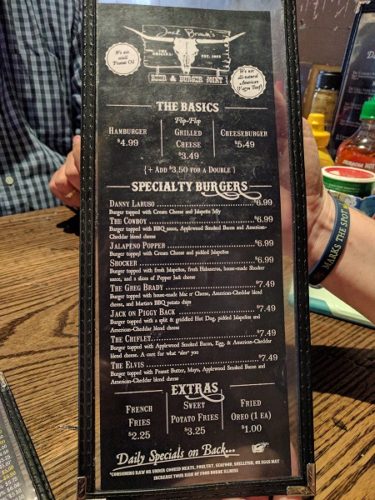 There's a separate burger menu on the reverse listing their Daily Specials.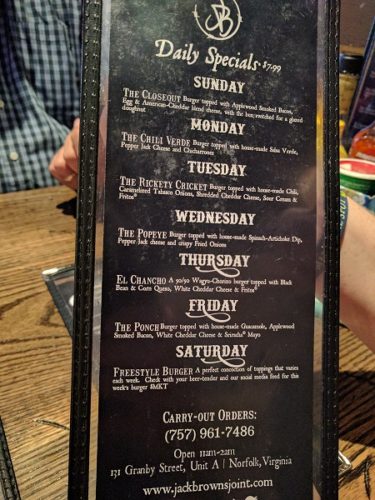 We visited on a Sunday, so in the end there could be no other choice. I had to go for their Sunday special – The Closeout. It's a burger with bacon and egg, but the bun is replaced by a glazed donut.
Yep, a glazed donut.
The service at Jack Brown's is incredibly quick, so it wasn't long before our burgers arrived. They don't automatically come with sides, so Shae and I ordered a side of crinkle-cut fries to share.
All the burgers come with a small tub of what tastes just like McDonald's Big Mac Special Sauce.
The Cowboy burger comes with BBQ sauce, bacon and cheese.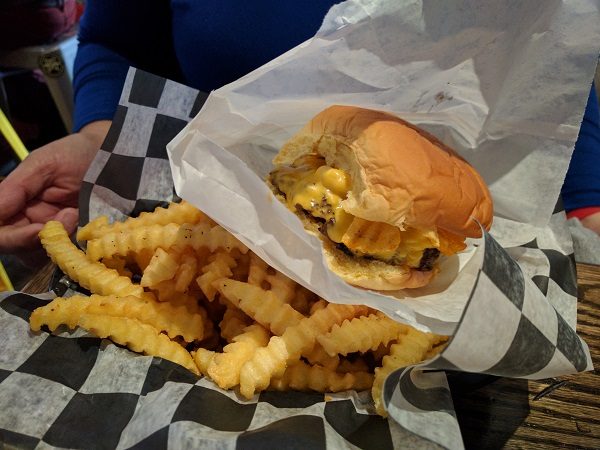 The Greg Brady burger comes topped with homemade mac n' cheese, extra cheese and BBQ potato chips.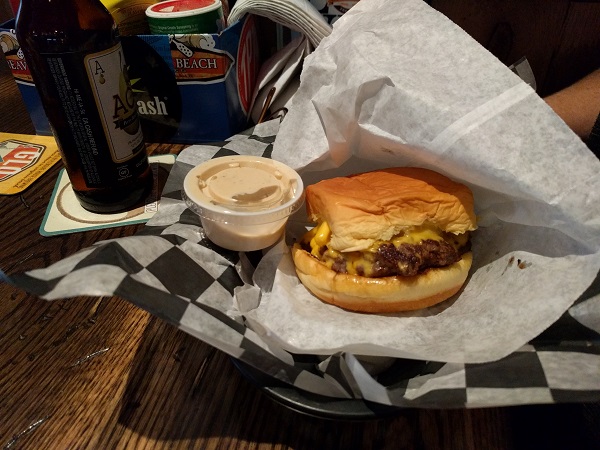 The cheeseburger comes with….cheese.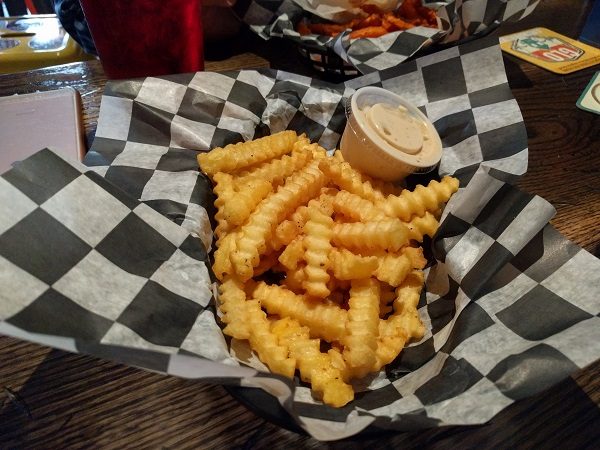 And now here comes the thing of beauty: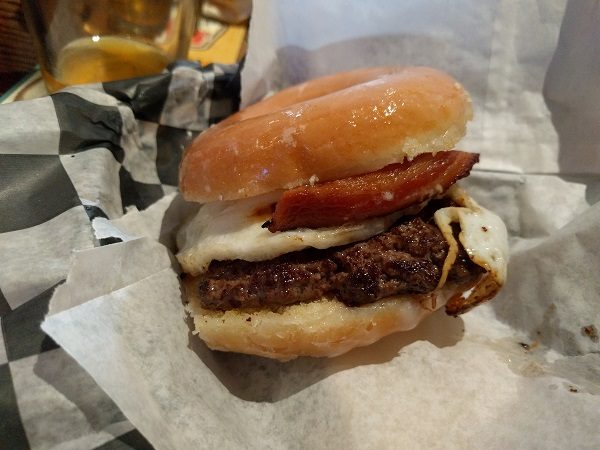 The first thing you notice when picking up The Closeout burger is how cold the donut is. That's presumably so the glaze doesn't immediately melt everywhere due to the heat from the burger.
I'll admit, I was a little apprehensive taking my first bite as I don't usually like combining sweet and savory. Shae on the other hand will happily dip her Wendy's fries in a chocolate Frosty.
That first bite though was AMAZING. Somehow, the glazed donut, burger, bacon and egg combined to create a delicious taste sensation. The egg was still yolky, but cooked enough that it didn't drip everywhere.
To the dismay of everyone else, I dipped it in ketchup for my second bite.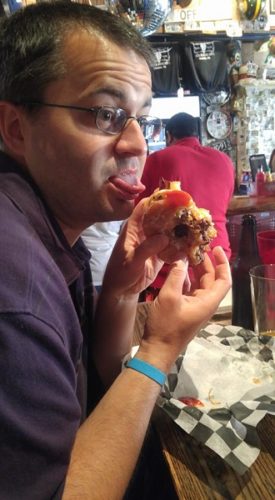 All the burgers at Jack Brown's are made from 100% Wagyu beef. I'd heard of Wagyu beef before but never tried it. The burger meat was noticeably more flavorful than burgers elsewhere, so I'm keen on trying Wagyu beef again in the future.
Something to be aware of is that their burgers aren't particularly huge, so you might want two if you're really hungry.
Once we were done, I ordered a second beer. Staying on the fruity theme, I went for an Evolution Pinehopple – a pineapple flavored IPA. The service was super-quick once again as our server brought the drink over almost immediately.
It was a nice enough IPA, although a little disappointing as it didn't have much of a pineapple flavor.
Your dessert options at Jack Brown's are limited as they consist of fried Oreos and….well, that's it. We each ordered one and they arrived quickly as well, topped with powdered sugar.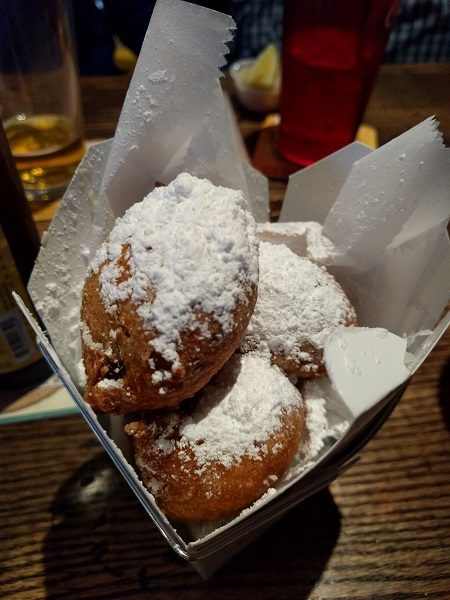 They were still hot when they came out, so we had to give it a minute before biting into them.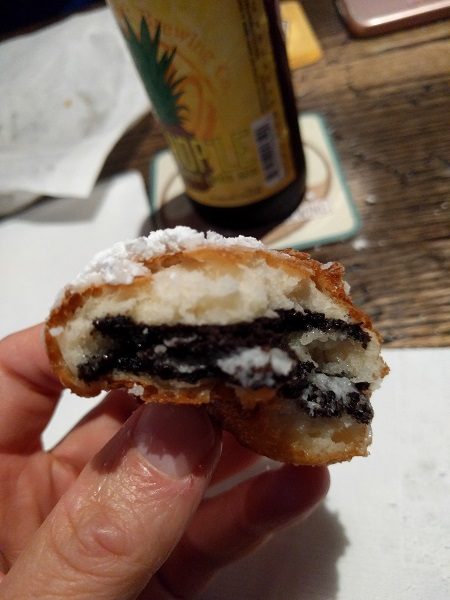 The fried Oreo wasn't something I'd hunt out in the future, but it was well worth trying for a buck.
There was a chalkboard on the wall next to us with an eating challenge leaderboard.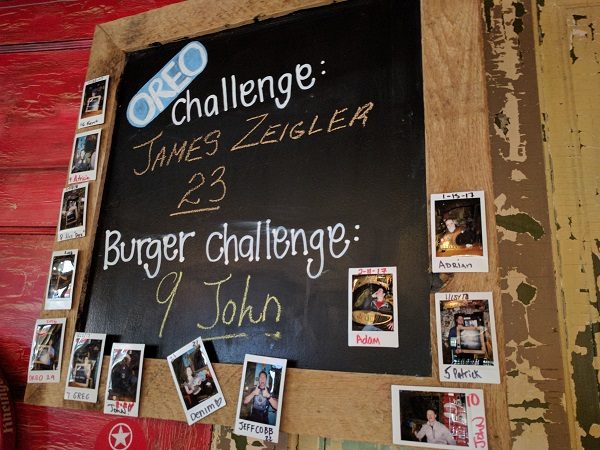 Congratulations to James Zeigler for eating 23 of those things!
Summary
Jack Brown's Beer & Burger Joint in Norfolk VA is definitely worth a visit. The food is delicious, there's a great selection of beers and some of the quickest service I've ever experienced.
Be sure to visit on a Sunday so you can try the donut burger – you won't regret it!
The only downside is that it's not very big, so it could be hard to get a table if the place is slammed. Hopefully Jack Brown's will be so successful in Norfolk that they'll need to move to a larger restaurant, although they may not want to do that as it might affect the vibe of the place.
Rating
Food = 4.75 / 5
Price = 4.5 / 5
Atmosphere = 4.25 / 5
Decor = 4.25 / 5
Service = 4.75 / 5
Total = 4.5 / 5
Address
Jack Brown's Beer & Burger Joint, 131 Granby St, Norfolk, VA 23510