While visiting Charleston, we stopped in at The Black Dog General Store seeing as we have a black dog and had been to their store in Savannah a couple of months beforehand.
I was chatting to Lewis (one of their staff members) and he recommended a few places to visit in and around Charleston.
One of those places was Lost Dog Cafe in Folly Beach, South Carolina. We'd already planned to visit Folly Beach as it was only 20 minutes away from where we were staying, so we added this to our list of places to go.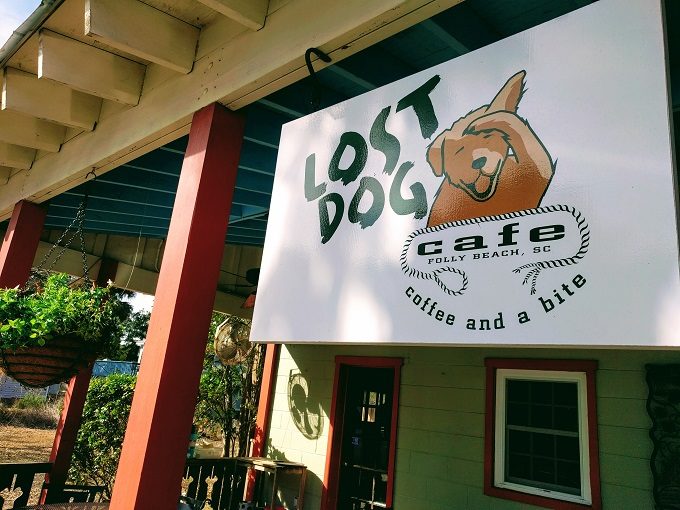 We hadn't eaten breakfast, so we were pretty hungry by the time we arrived at 12:30. Seeing as we had Truffles with us, we took a seat out on the patio area. Thankfully it wasn't as cold that day as it had been, so we were warm enough sitting outside.
I didn't notice until Shae pointed them out, but the holes in the railings are bone-shaped which we thought was cute.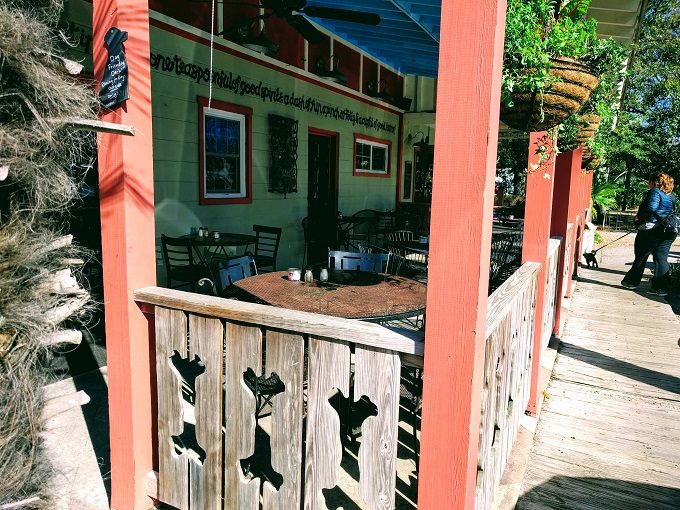 Our server Vanessa came over with the menus and gave us a couple of minutes to look at our drink options.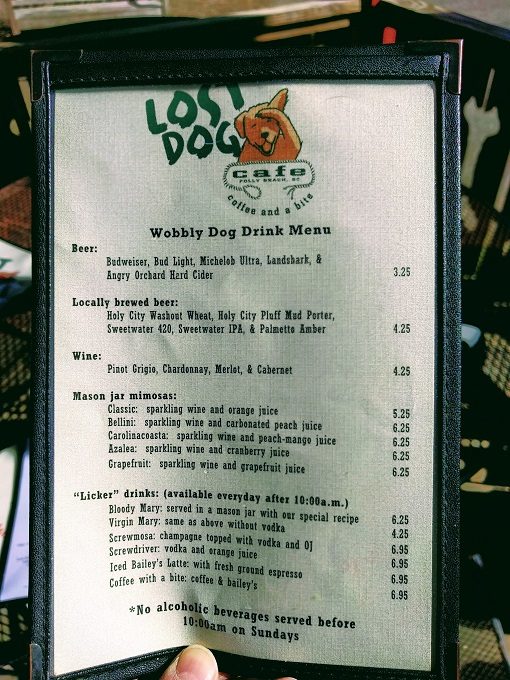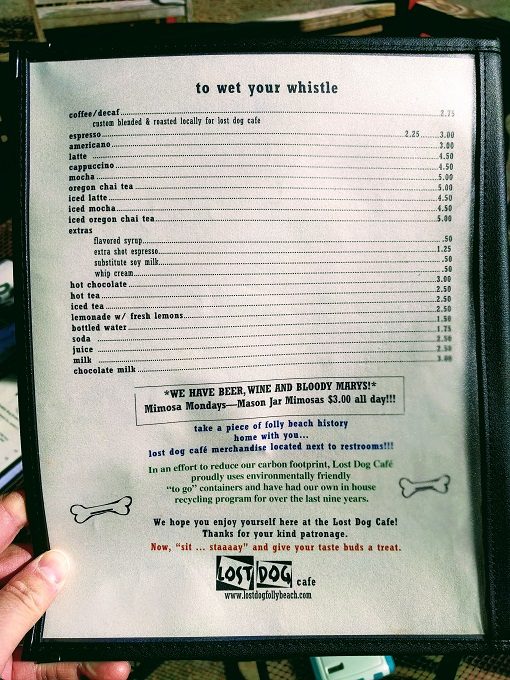 I ordered a water and Shae went for a mimosa, both of which were served in mason jars. Unfortunately we visited on a Tuesday as on Mondays they have $3 mimosas all day.
While we waited for our drinks, we had a look at our food options.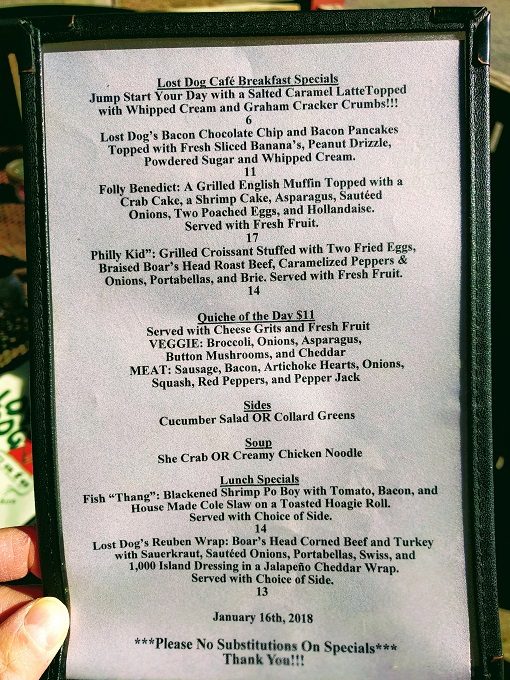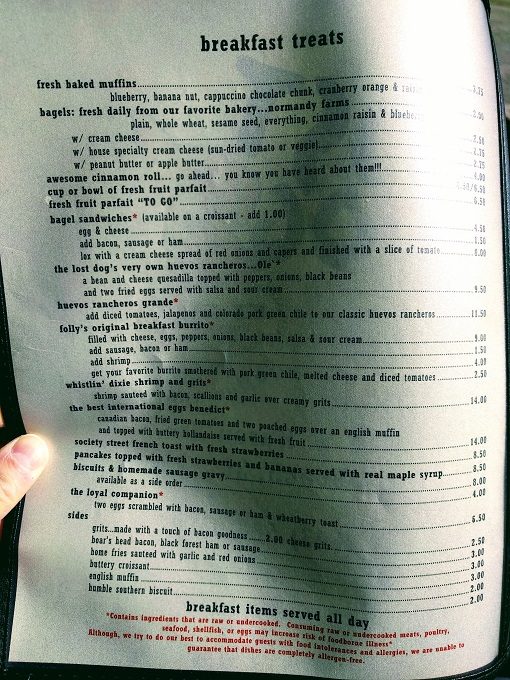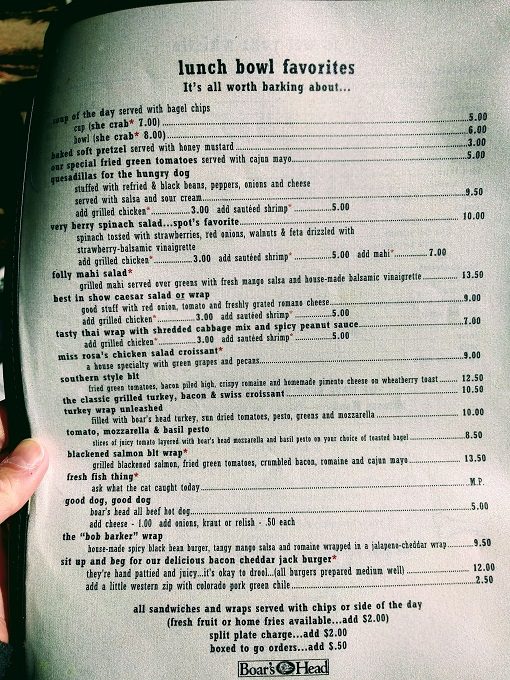 Their breakfast menu said that we'd heard about their cinnamon rolls. We hadn't, but decided to order one to share anyway.
I can see why we should've heard of them. It was incredible. Soft, squooshy, flavorful and covered in glaze – it may well be the best cinnamon roll I've ever had.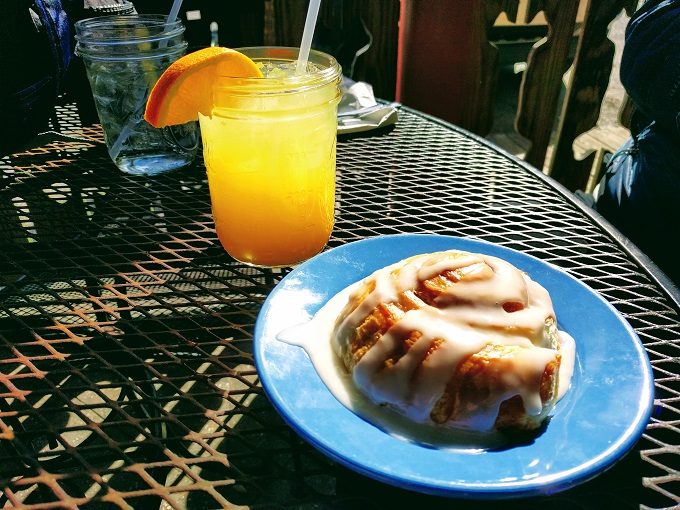 We also both ordered dishes from the lunch menu. Shae ordered the bacon cheddar jack burger minus the bacon and got a side of home fries.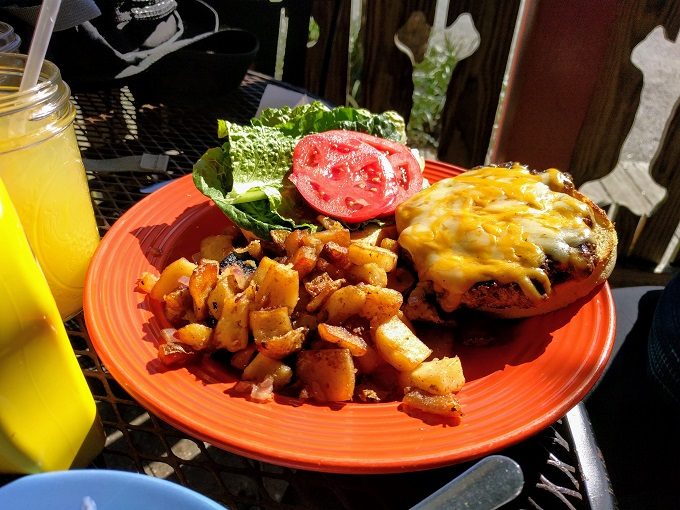 She was incredibly happy with her choice. I got to try a bite of her burger and there was an incredible amount of flavor.
I'd ordered the Thai wrap, added grilled chicken and asked for a side of home fries.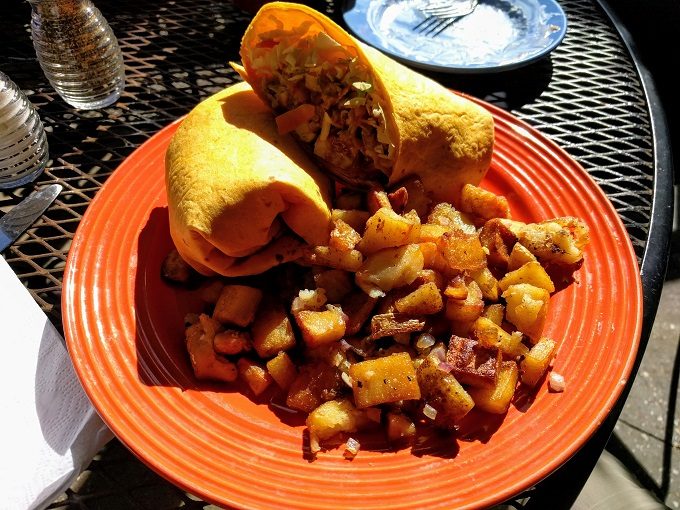 My wrap was excellent, as were the home fries. I'm a little confused by what the wrap would've been like if I hadn't added the chicken though. It looks like it would've only contained shredded cabbage and peanut sauce which doesn't sound like a particularly interesting wrap.
Despite sitting outside for our meal, I checked out the inside as Lewis had mentioned that it's decorated interestingly. The walls are covered in photos of dogs from people who've eaten there, although apparently there's a moratorium on new photos as there's no more space on the walls.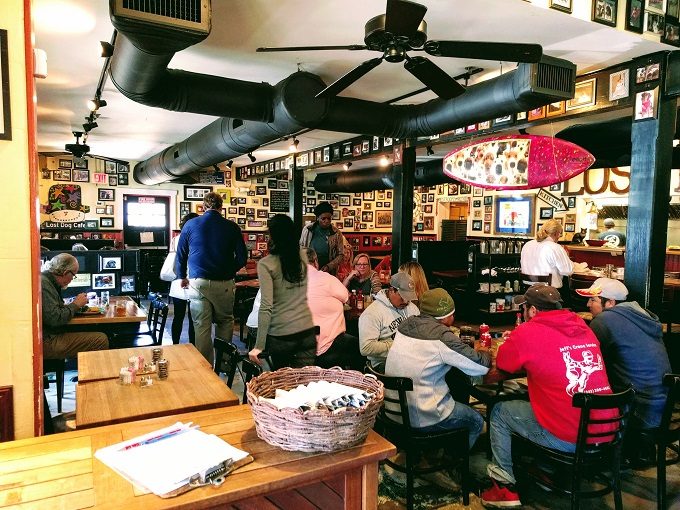 There are also all kinds of other signs on the wall, as well as a container full of dog biscuits.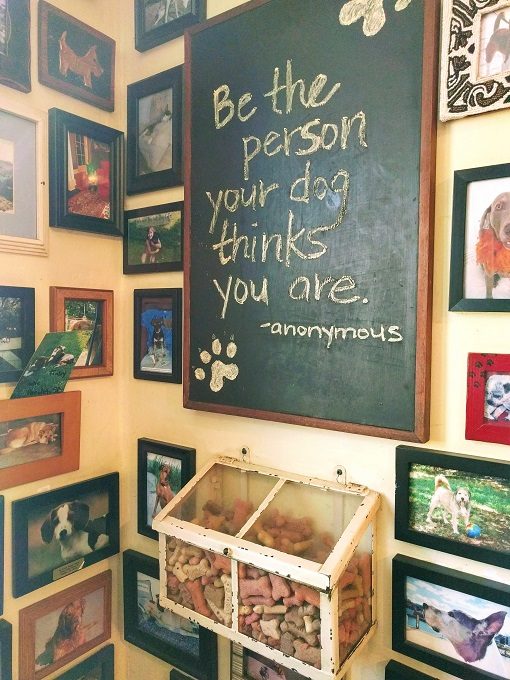 Final Thoughts
Lost Dog Cafe in Folly Beach is well worth a visit. Our server was very friendly, the food was great and they're extremely pet-friendly.
And be sure to get their cinnamon roll seeing as you've now heard about them 😉
Truffles Approval Rating

Truffles gave Lost Dog Cafe four paws out of four – pawfect! You can read her full review here.
Our Rating
Food = 4.5 / 5
Price = 4.2 / 5
Atmosphere = 4.6 / 5
Decor = 4.8 / 5
Service = 4.7 / 5
Total = 4.56 / 5
Address
Lost Dog Cafe, 106 West Huron Ave, Folly Beach, South Carolina 29439