Virginia Beach Mini-Trip Report
Review: LunaSea, Virginia Beach
It was about 85° by the time we finished the first round of our mini golf tournament. As a result, we were both hot and thirsty and so Shae and I wanted to stop somewhere for a drink.
Thankfully, right next door to Pirate's Paradise Mini Golf is a bar and restaurant called LunaSea so we popped inside to cool down and have a drink.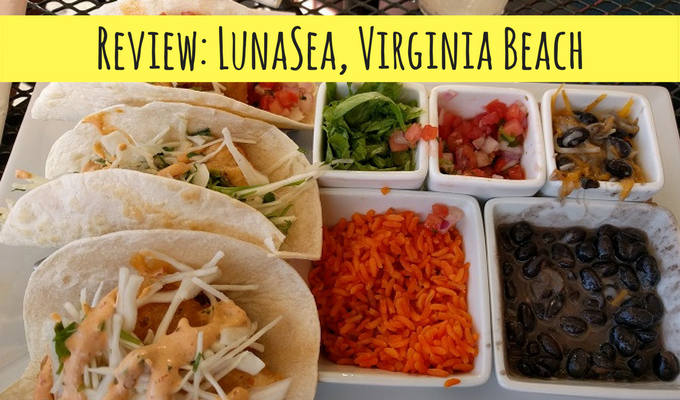 Having enjoyed the El Guapo IPA at Dough Boys the previous night, I was pleased to see they had it on draft at LunaSea.
Shae wanted something fruity and refreshing, so she ordered the Orange Dreamsicle Lush. The bartender made it using oranges that were freshly squeezed in front of us and it came served in a Mason jar.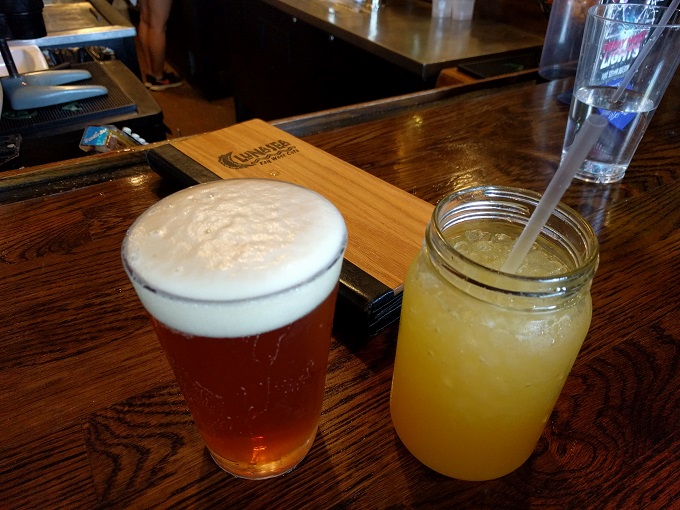 These were both great choices. The IPA hit the spot and Shae loved her lush. I tried her drink and thought it tasted really good too – the freshly squeezed orange juice definitely helped it have great flavor. I have no clue what a Dreamsicle is supposed to taste like as I don't think we had them in the UK growing up, but according to Shae it tasted just like one!
While we had our drinks, we got chatting to our server who was incredibly friendly. I wish I'd made a note of her name as she was excellent. Just on the off-chance that someone from LunaSea reads this review, it was the young blonde woman who was serving the bar at lunchtime on June 10, 2017 (Shae thinks her name might have been Lisa).
Because we received such great service, we decided to return for dinner that evening with Shae's Dad before the third round of our mini golf tournament. As LunaSea is dog-friendly, we were able to sit at a high table on the patio outside and bring Truffles with us too.
We started off looking at their extensive drinks menus: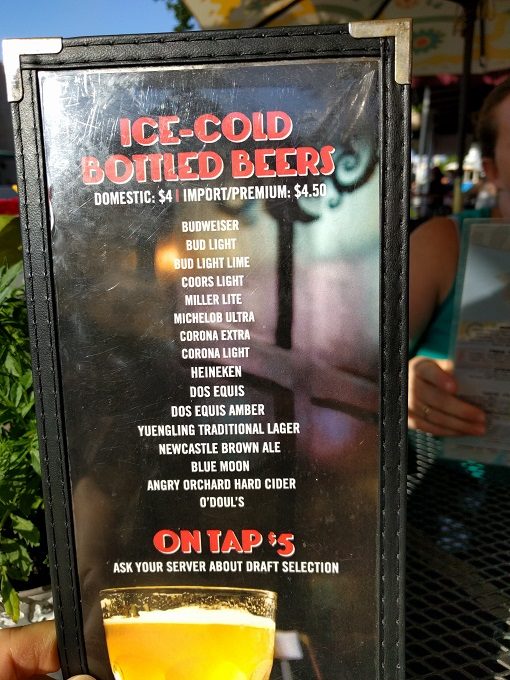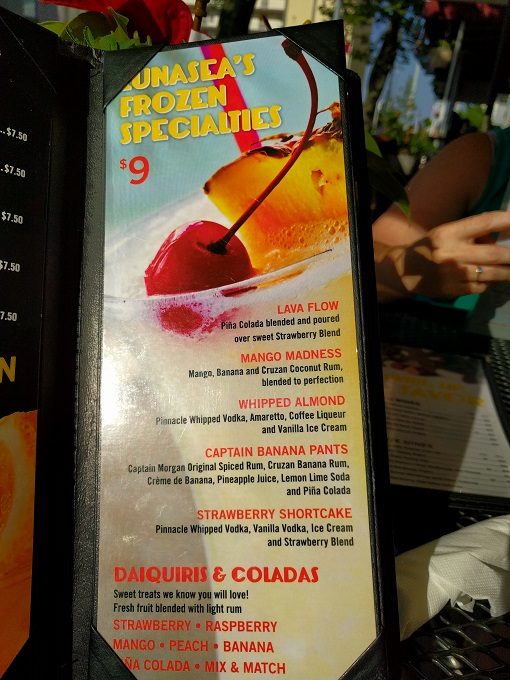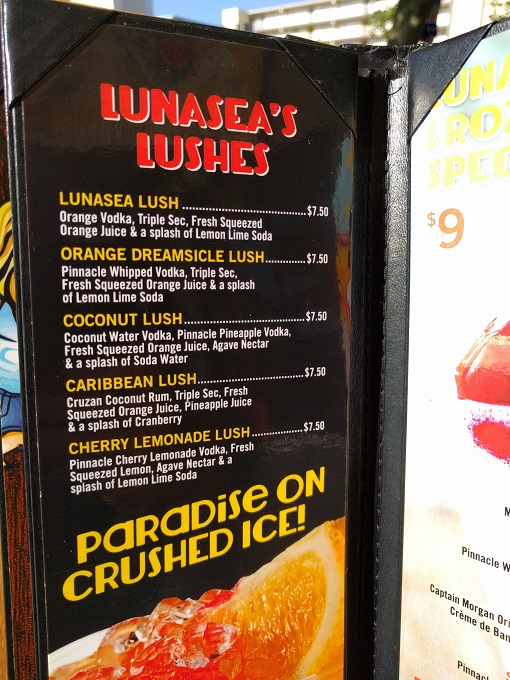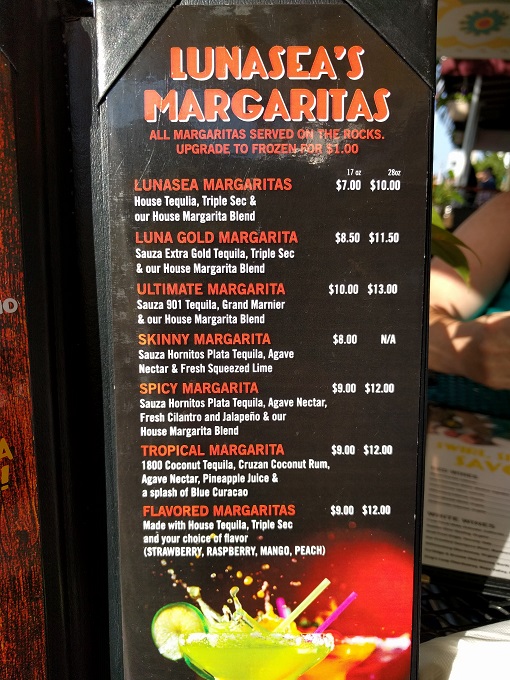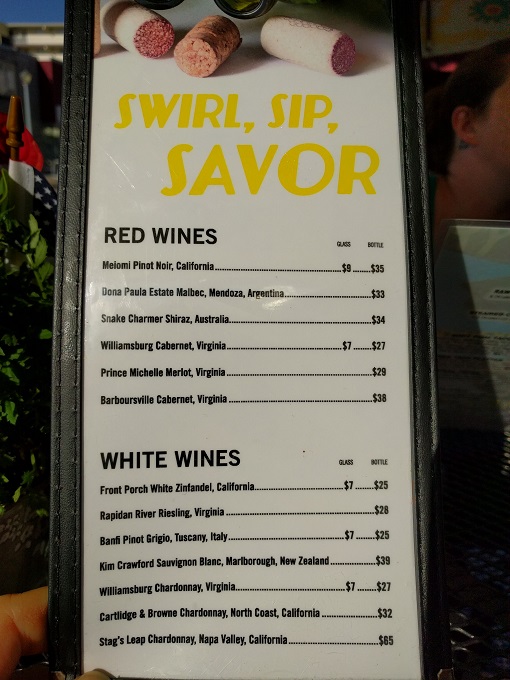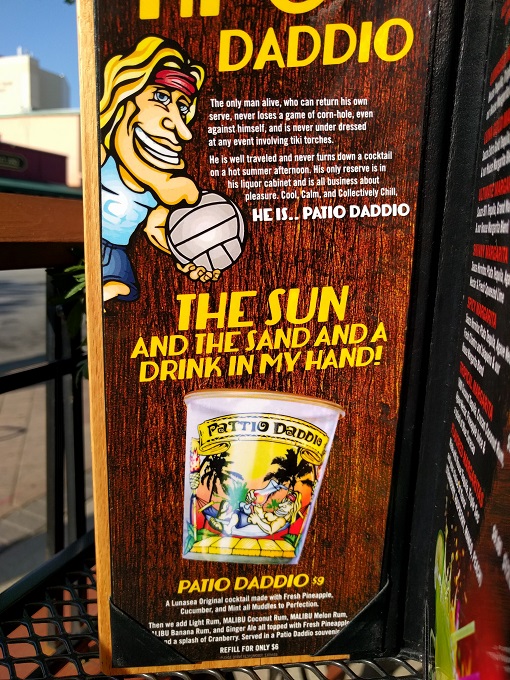 Although we'd both enjoyed our drinks earlier that afternoon, Shae and I both decided to get something different. She ordered a margarita and I figured I'd try out the Patio Daddio (see the photo above for the description).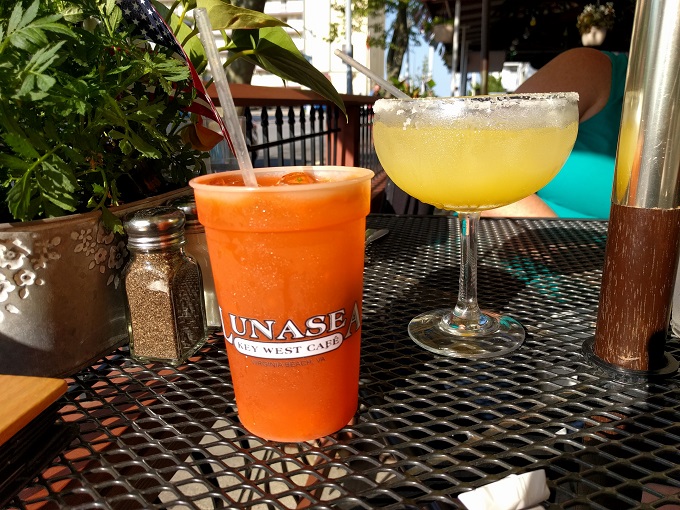 I didn't realize until I'd almost finished the drink, but the Patio Daddio isn't orange. It's served in a heat (or cold?) sensitive cup that's orange when it's icy cold and changes color as you drink.
Despite having a relatively limited dinner menu, there were plenty of tasty-looking options to choose from: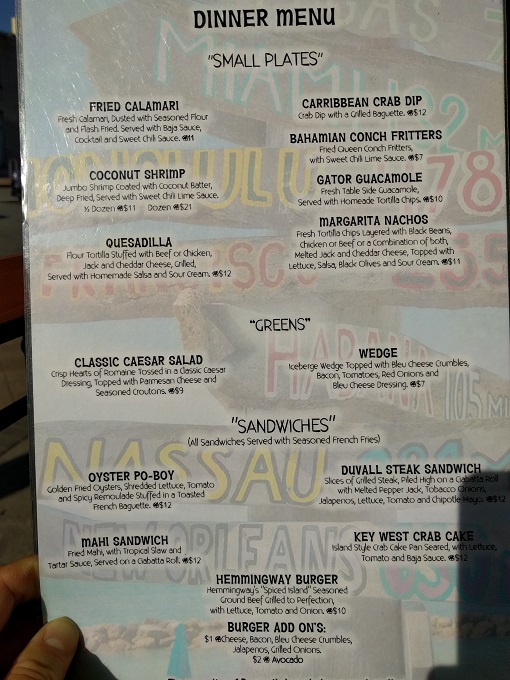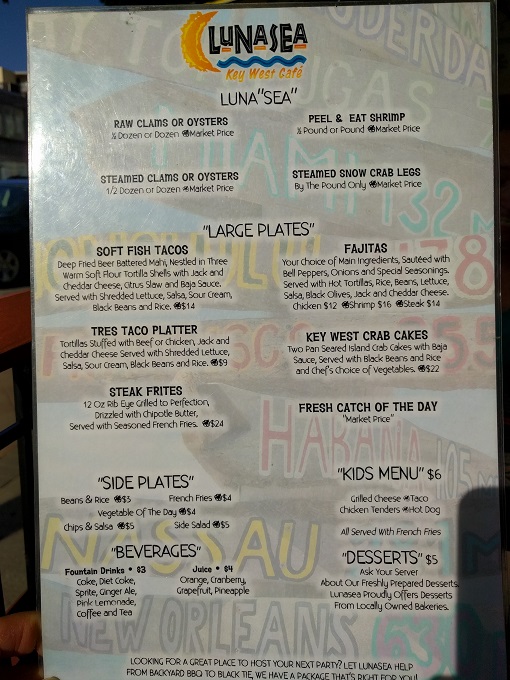 As you may have guessed from some of our previous restaurant reviews, Shae loves her cow so she ordered the Duvall steak sandwich.
The menu says the toppings are piled high and they're not kidding.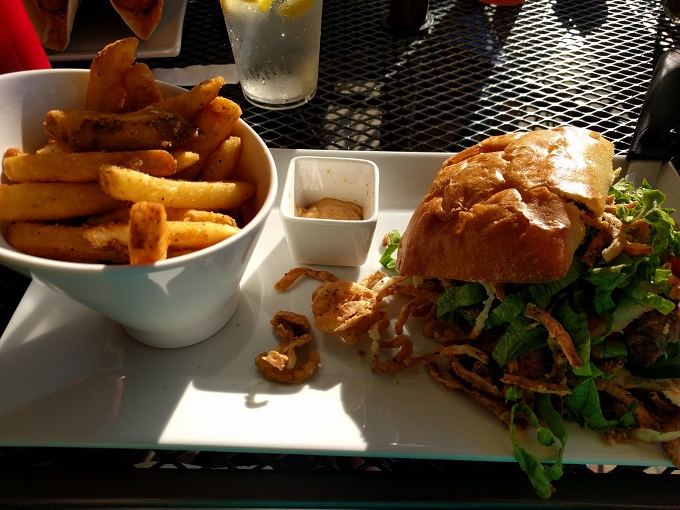 Shae thought both the sandwich and the fries were delicious. I tried one of the fries and they were nice and crispy.
Seeing as we were by the beach, I ordered the fish tacos.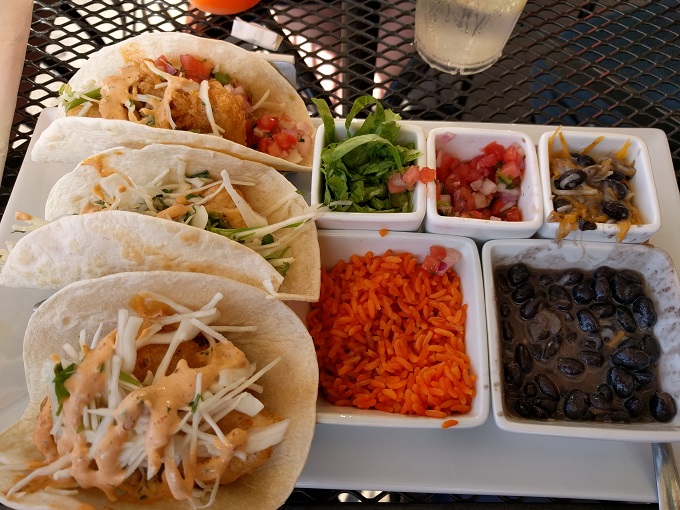 These were the best fish tacos I've ever had. OK, granted, I can probably count on one hand all the times I've had fish tacos so I don't have many points of reference. But seriously – they were amazing! The fish was plump, the baja sauce gave it a good kick and the sides were all a perfect portion size.
It was also beautifully presented on the plate with the sides all served in individual dishes. My photo doesn't do it justice as I'd started playing with my food before remembering to take a photo. I don't care for cheese and there was some sprinkled on the black beans, so I'd picked that off and put it in the small grated cheese dish, hence the photo.
Summary
Shae and I were both glad that we came back to LunaSea to have dinner. Both our meals were excellent, as were our drinks. Our server, while not quite as amazing as the bartender we'd had earlier that day, was very friendly and also provided great service.
There are a ton of restaurants at Virginia Beach oceanfront to choose from, but LunaSea is one that you should definitely check out.
Truffles Approval Rating

Truffles gives LunaSea four paws out of four – pawfect!
She enjoyed being able to sit outside with us in the shade as that was much better than having to wait for us in her crate at the hotel.
She also gives her seal of approval to the fish tacos and steak sandwich as she got to try a little of each.
Our Rating
Food = 4.5 / 5
Price = 4 / 5
Atmosphere = 4.5 / 5
Decor = 4.5 / 5
Service = 4.75 / 5
Total = 4.45 / 5
Address
LunaSea, 206 22nd St, Virginia Beach, VA 23451