Mini-Trip Report
Review: Red Hot & Blue Restaurant
When we entered the Red Hot & Blue restaurant in Herndon VA I was a little worried.
The place was empty.
That's generally not a good sign when you walk into a restaurant in an area you don't know, as it could mean the locals know something you don't. Thankfully that wasn't the case here.
We were staying a few minutes away at the Sheraton Herndon Dulles Airport and had seen Red Hot & Blue while driving by. Having eaten at the hotel restaurant the night before, we figured we'd try something local. Shae & I had never heard of this restaurant before and thought it might be a one-off, but it turns out they have several locations on the east coast, along with a handful in Texas and one in Missouri.
As we parked the car, we saw their sign which I thought was two owls playing guitar. Given that it's a BBQ restaurant, Shae pointed out that they were pigs (it probably helps that she'd already checked out their website before we left 😉 )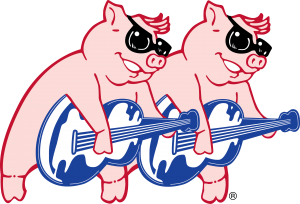 As I mentioned, the place was empty when we arrived at about 6pm, although another family arrived shortly after we got there. To be fair, it was Saturday on Easter weekend after spring break, so their regular customers may have been away on vacation or visiting family.
We were therefore seated promptly in a booth in the corner. As it's a BBQ and Blues-themed restaurant, there are vinyl album covers all over the walls and Blues music playing in the background. The music was also loud enough to hear and enjoy, but not so loud you have to shout over it to have a conversation.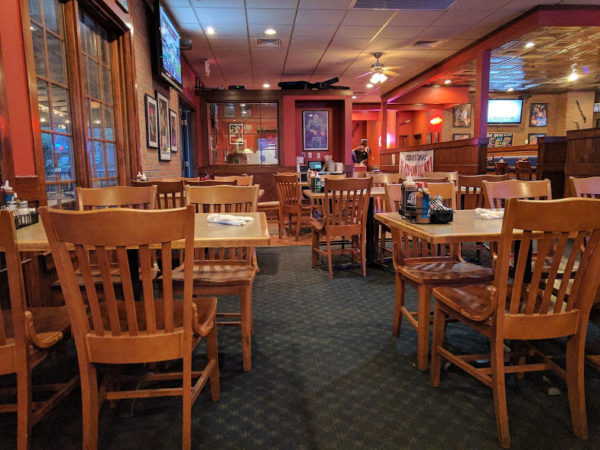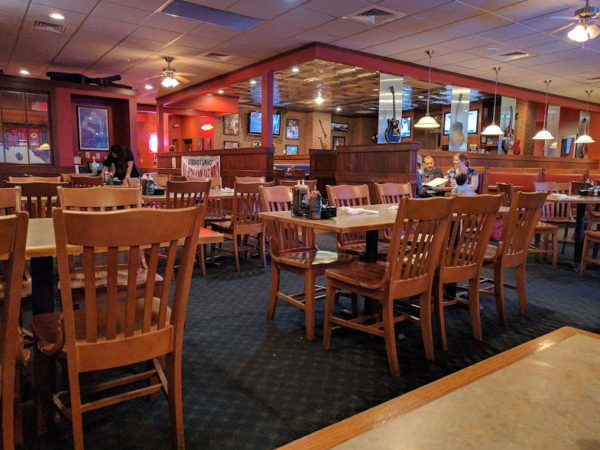 Our drinks order arrived quickly and I loved their water jugs. I drink a gallon of water every day, so these pitchers meant I wouldn't run out anytime soon.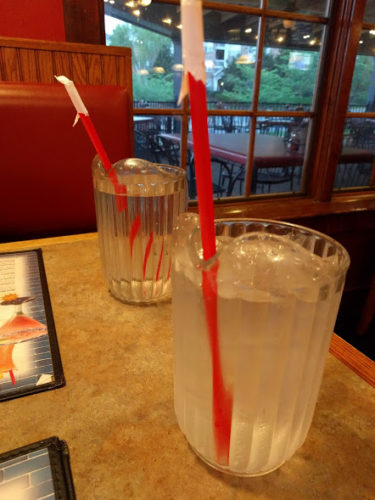 It took me a while to decide what to order as there were so many options that sounded good. In the end, Shae ordered a Sloppy Joe and I got the Ribwich Combo. This combo is a barbeque sandwich and two ribs served with Double Trouble sauce (a mix of their Wet and Sweet sauces).
I took photos of the Red Hot & Blue menu that you can see below. Their menus are inside loose plastic covers, so unfortunately the photo quality isn't great. You can check out the menu for their Herndon restaurant here for a better look though.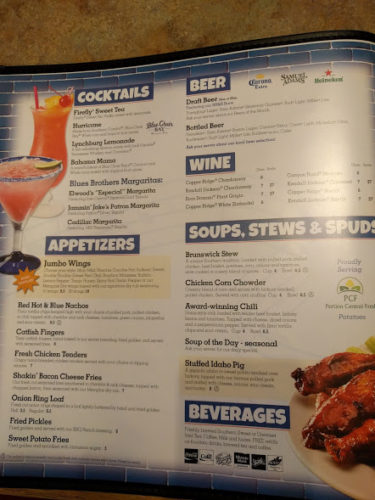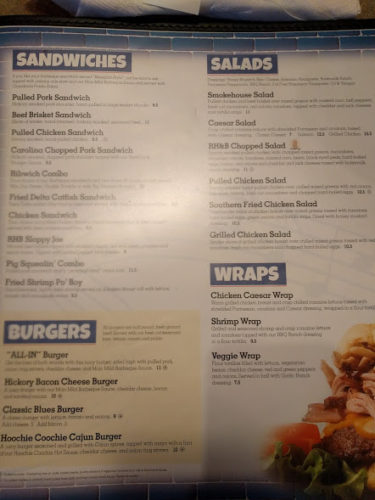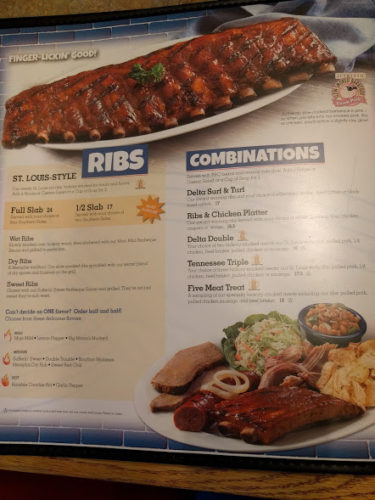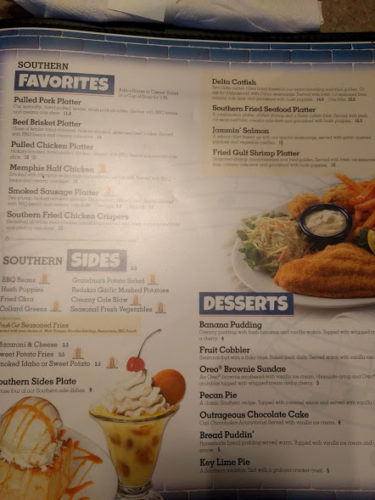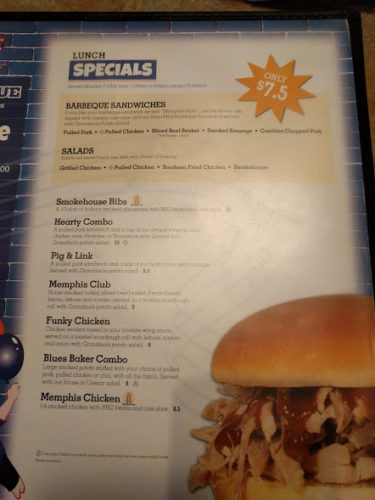 It can't have been much more than 5-10 minutes before our food arrived. Shae's Sloppy Joe came with a scoop of Grandma's Potato Salad and a pickle.
Even though Shae doesn't care much for BBQ food, she liked her Sloppy Joe. The bun also held up well as it didn't get soggy.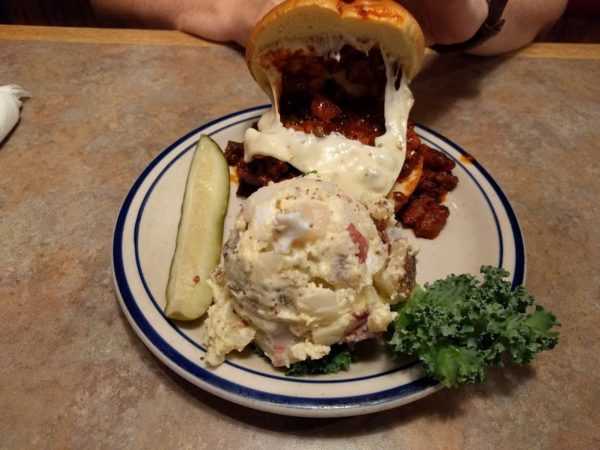 My Ribwich Combo also came with a scoop of potato salad and pickle, as well as a small pot of coleslaw.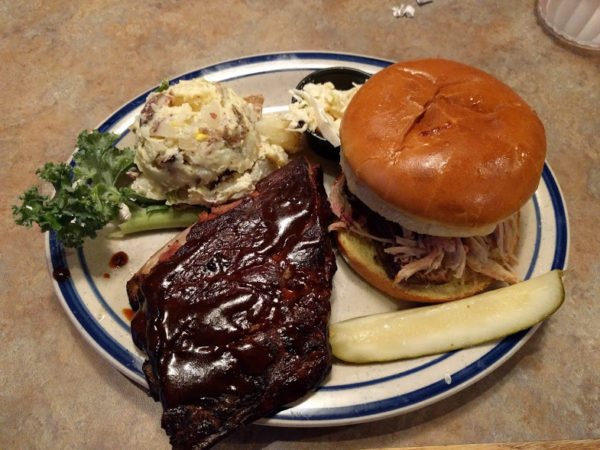 There are all kinds of condiments on the table, including four different types of BBQ sauce. The Hard Luck Vinegar and Hoochie Coochie Hot sauces are a little more watery, while the Sufferin' Sweet and Mojo Mild sauces are a bit thicker.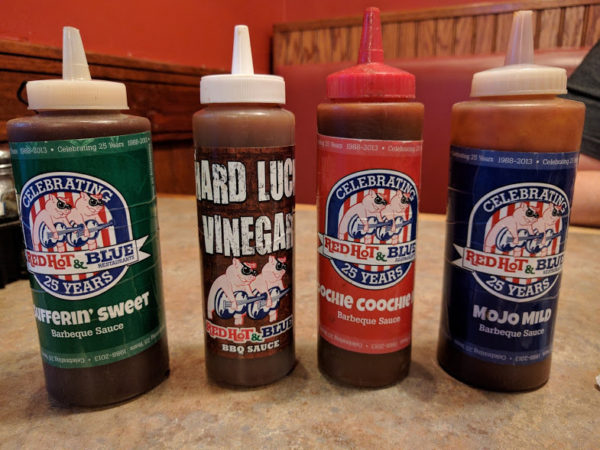 I ended up adding some of the Hoochie Coochie Hot and Sufferin' Sweet to my sandwich. The hot BBQ sauce was fairly hot, but shouldn't leave your eyes watering. The sandwich was loaded with pulled pork that had a good tenderness.
The ribs were a tiny bit more dry than I'd have liked, but had a great smoky taste – I'm no connoisseur of ribs though, so maybe they're supposed to be like that.
The scoop of potato salad didn't look huge initially but the serving size was more than enough, especially with the sandwich and ribs. It's definitely one of the better non-mustardy potato salads I've had.
Summary
Although the food's not blow-you-away amazing, we both enjoyed our meal at Red Hot & Blue in Herndon.
The service was quick which was probably helped by the fact that the restaurant was almost empty. Our server was very friendly and was able to easily answer a couple of questions we had about menu choices.
Shae texted her Mom during the meal to let them know about Red Hot & Blue seeing as they had a trip planned to the D.C. area a couple of weeks after ours. Turns out they already know and love Red Hot & Blue as they've been to their Williamsburg restaurant a few times, so it has their seal of approval too.
Rating
Food = 3.75 / 5
Price = 3.75 / 5
Atmosphere = 4 / 5
Decor = 4 / 5
Service = 4 / 5
Total = 3.9 / 5
Address
Red Hot & Blue, 2403 Centreville Rd, Herndon, VA 20171