After leaving Charleston, South Carolina, we made our way down to Hilton Head Island for three nights.
There weren't any hotel options that were cheap points-wise, while most of the paid rates were more expensive than I expected given that it was off-season.
Our options were also limited because we're traveling with our dog Truffles. Our best option was therefore the Red Roof Inn Hilton Head Island as they're pet-friendly, have no pet fee and were priced lower than most other places.
I was a little wary about staying there as reviews I've seen for different Red Roof Inns hadn't been great. However, the reviews for the one on Hilton Head Island were fairly positive overall, so we decided to give them a try.
We also had a pretty good stay at the Red Roof Inn Hilton Head Island – here's why.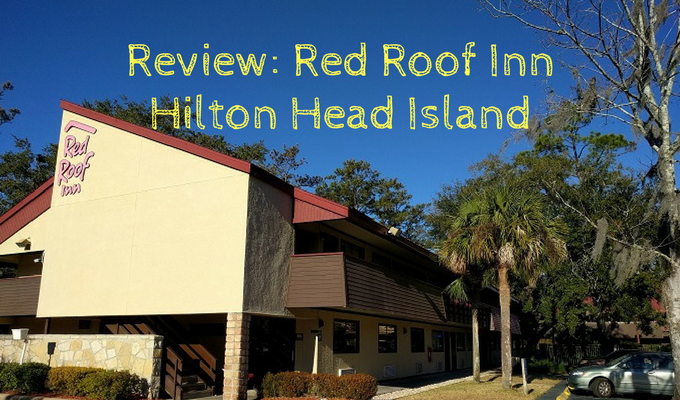 Check-In
We arrived at about 6:30pm; as we stayed there in January, it was already dark outside. There was a small wait to get checked in as there were several other people (seemingly construction workers) who were also checking in.
When it was time to get checked in, the front desk agent was friendly. She offered an upgrade to a room containing a fridge and microwave for $5 per night which I was interested in. However, when processing the change it turned out that the rate would've been closer to $15 per night more as I'd booked a discounted rate, so we stayed with the room we'd booked.
The total still came to more than expected which she explained was due to a $1.50 per night fee for the in-room safe. Bizarrely, Red Roof Inn charge this fee even if you don't want to use the safe. However, if you mention at check-out that you didn't use the safe, they'll deduct it from the bill.
Although it's nice that you can avoid this charge, it seems sleazy to me that they include this fee in the hope that people forget to mention it at check-out.
Anyway, keys in hand we made our way to our room. The front desk agent had mentioned we were round the other side of the hotel, so we drove round there and were able to park immediately outside our door.
We'd been given room 126 which is on the ground floor. As it's motel-style accommodation, the entrance to the room was from the outside rather than via an interior corridor.
Bedroom
As we entered the room, the king bed was off to the left. This was a surprisingly comfortable bed and had clean, fresh sheets. The room also had blackout curtains which helped us get a good night's sleep each night.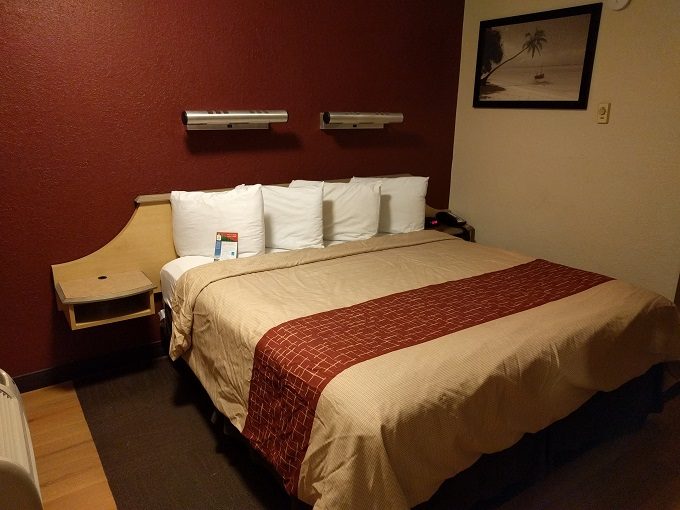 There were bedside shelves on both sides of the bed. On the right side, there was also a set of power outlets attached to the shelf which I appreciated. The left shelf didn't have these same outlets, although there were a couple of other power outlets on that side.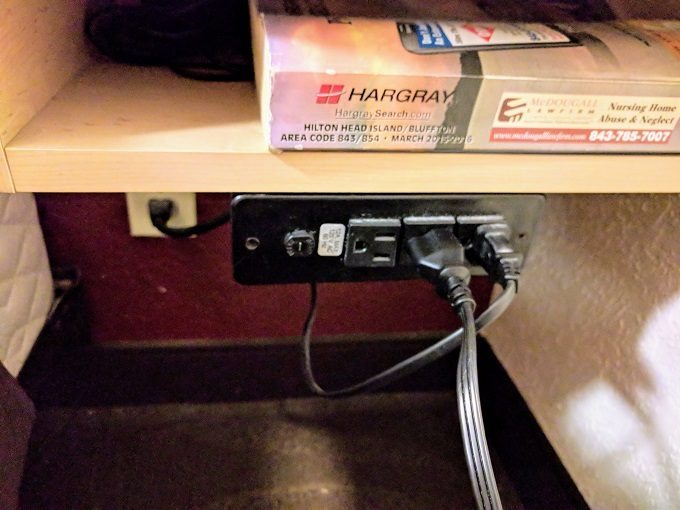 The first thing I noticed when entering the room though was that it was a sauna. I turned on the air conditioning to cool it down, but it didn't seem to do much good.
We eventually realized that in addition to the air conditioning unit, there was a radiator high on the wall.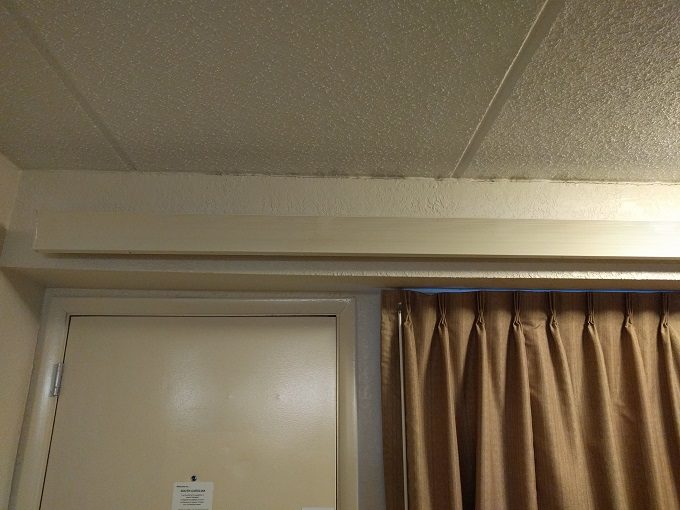 On the opposite wall was its temperature control, so we turned it down to 65°. Even that kept the room too hot, so turning it down to zero did the trick.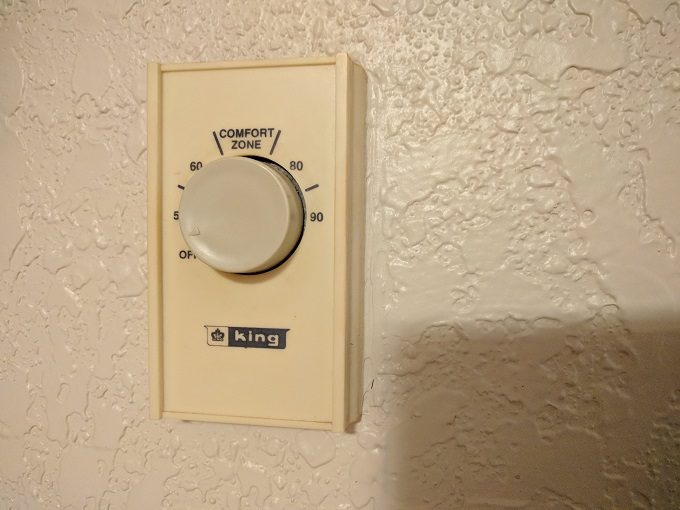 Opposite the bed was a narrow desk, comfortable office chair and a chest of drawers with a TV on top. There was a better-than-expected selection of channels on the TV.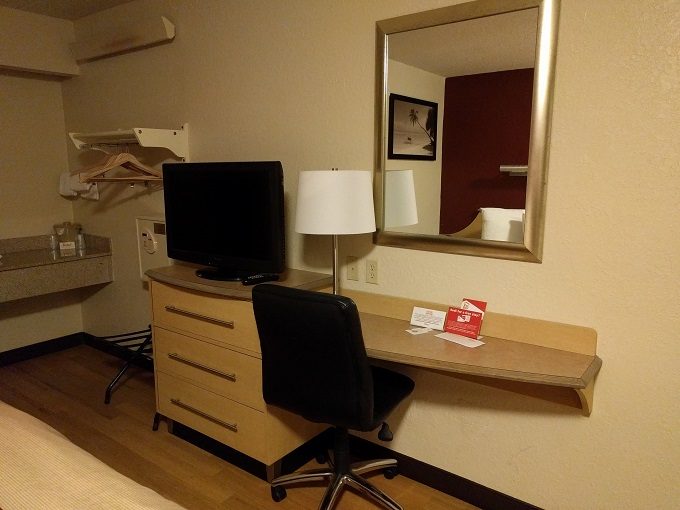 To the left of the TV was a short coat rail. Beneath that was the $1.50 safe and a luggage rack.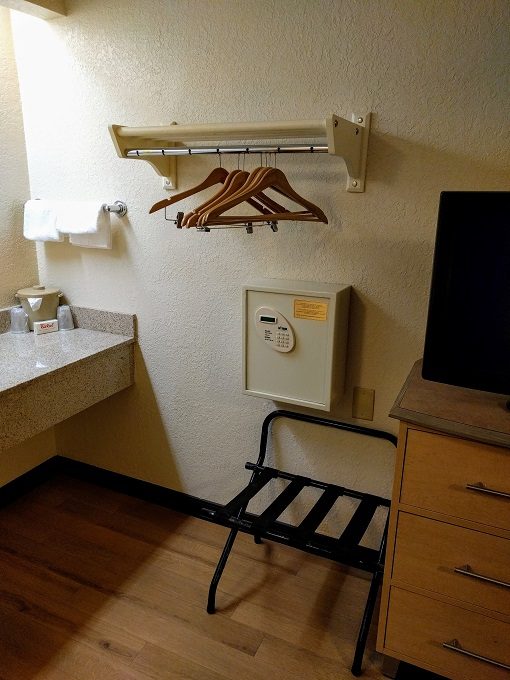 Bathroom
Along the end wall was a vanity and sink. It was nice having such a long vanity as it gave some extra space to place items on top given that the room wasn't very large. It also meant that there was some extra storage space beneath the vanity.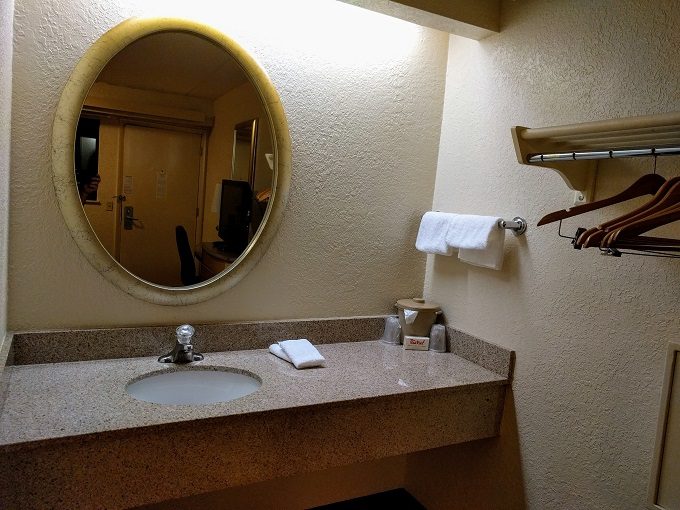 To the left of the vanity was the bathroom containing a bathtub with shower and the toilet.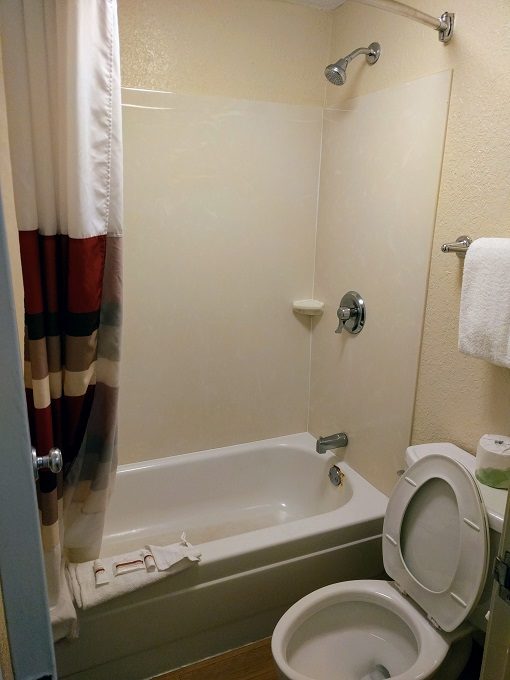 The shower had good water pressure, although the bath had some rust on it. That didn't really bother us though as the bathroom was clean otherwise.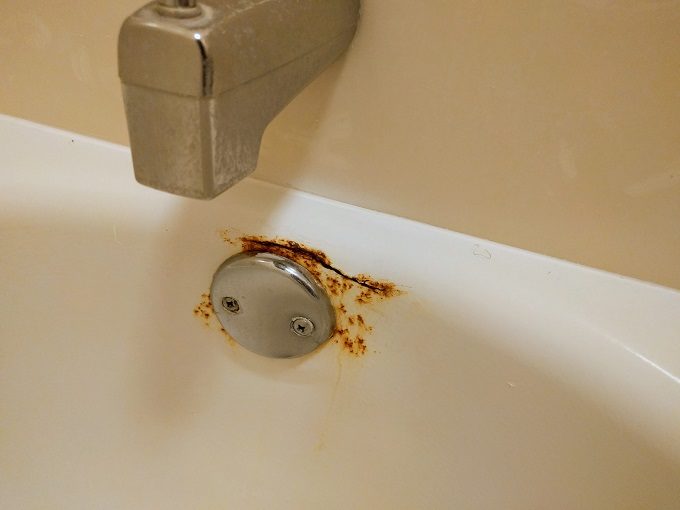 Amenities
Given that it's a Red Roof Inn, we weren't expecting many amenities; there are a few things to note though.
First up, the lobby has a coffee station and microwave you can use 24/7.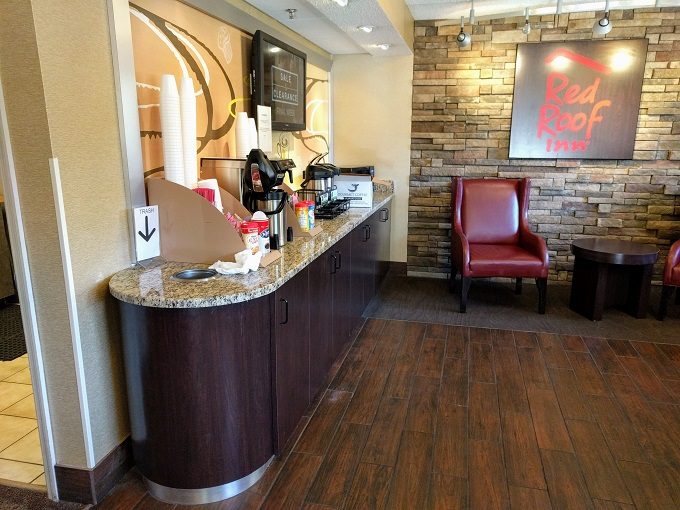 There's an outdoor swimming pool which actually looked pretty nice. I was surprised to see it uncovered though given that it was only about 45° outside while we were there in January. I'd imagine it gets pretty crowded in the summer.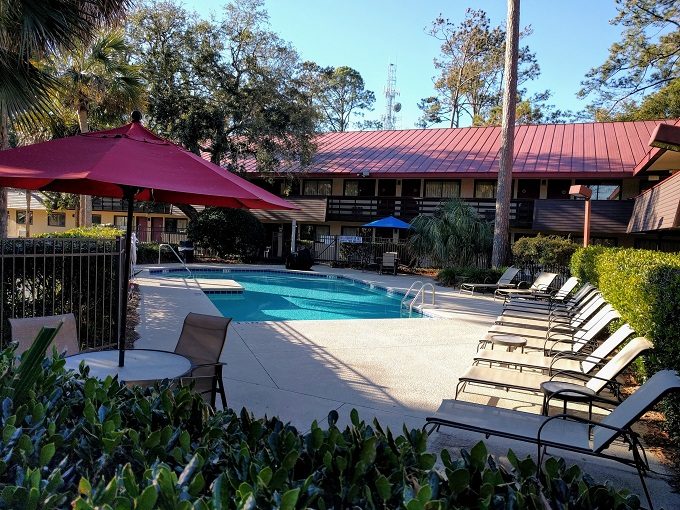 There were also vending machines with drinks and snacks, as well as an ice machine for guests to use.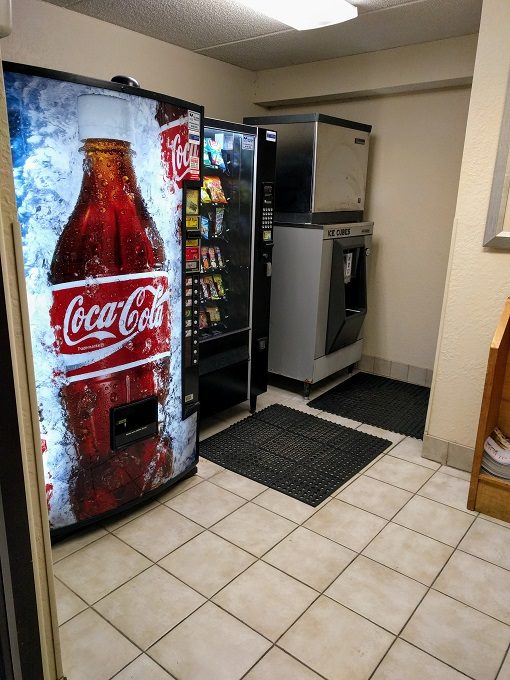 Pets
We have mixed feeling about the pet policy for Red Roof Inn Hilton Head Island. It's nice that they're pet-friendly and don't charge a pet fee.
However, they're not pet-welcoming. When checking in, they make clear that pets are not to be left alone in the room ever.
This is extremely strict, as it means that if you want to leave your room, your pet has to always go with you. Given that their hotel is on Hilton Head Island, their hotel will be full of guests in the summer wanting to go to the beach. That means their dogs have to spend all day out in the sun, plus there only seemed to be one or two beaches on Hilton Head Island where dogs are allowed in the summer.
They're not kidding either about this policy. Due to noise outside, Truffles barked a couple of times and we had a knock on the door by one of the staff members to make sure we were in the room.
I'm sure they've had problem guests in the past who left their dogs in their rooms all day who barked the place down. It's just unrealistic to expect all pet owners to always take their dog with them.
Location
We liked the location of this Red Roof Inn. It's just off William Hilton Parkway and is close to restaurants, grocery stores, beaches and a dog park.
The area's pretty well lit and isn't in a dodgy area, so we felt perfectly safe.
Cost
We booked our stay through Hotels.com. Strangely, they offered a 15% discount if we registered for Red Roof Inn's loyalty scheme, so I set up a Redicard account to take advantage of that.
Our nightly rate was $59.49 pre-tax, $65.43 with taxes included. Given that there was no pet fee, this was a great rate.
Points Earned
We earned three credits with Hotels.com's Welcome Rewards for the stay. Despite getting a discount for registering with Redicard, we didn't earn any Redicard points, although I wasn't expecting to either.
Final Thoughts
Overall, we had a good stay at the Red Roof Inn Hilton Head Island. Our room was clean, it's in a good location, there was no pet fee and we paid a low price for our three nights there.
On the negative side of things, they weren't very dog-welcoming and there wasn't any breakfast provided (it seems like most other Red Roof Inns I've seen provide that.)
If you go in there knowing that you'll be getting basic accommodation for a good rate, you should be happy with your stay.
Truffles Approval Rating

Truffles gives the Red Roof Inn on Hilton Head Island three paws out of four – pawsome!
Although it was free for her to stay, she didn't feel particularly welcomed. She'll be writing her own review soon on Truffles Travels.
Our Rating
Room = 3.9 / 5
Hotel Amenities = 3.2 / 5
Food = N/A
Location = 4.0 / 5
Service = 3.7 / 5
Overall Value = 4.2 / 5
Total = 3.8 / 5
Address
Red Roof Inn, 5 Regency Parkway, Hilton Head Island, South Carolina 29928