Roanoke VA Mini-Trip Report
Review: Roanoke Pinball Museum
Once we'd booked our tickets for the Roanoke Harry Potter Festival, I took a look on Groupon for other things to do in Roanoke VA.
I was mainly looking for a good deal at restaurants, but something different caught my eye – a listing for the Roanoke Pinball Museum. Groupon had two adult tickets for $14 which would normally cost $24.80.
I clicked through to the museum's own website to find out a bit more about it. Figuring it'd just be a small building with some old pinball machines, I got excited when I saw that they have over 50 machines you can play.
After checking with Shae if it was something she'd want to do too (she gave an emphatic yes), I bought our tickets through Groupon. We used some additional methods to save a total of 63% on the regular ticket costs.
Apparently the museum transformed itself into Azkaban for the Harry Potter Festival on the Saturday. We figured it'd be really busy as a result, so decided to visit the following day instead. The Roanoke Pinball Museum doesn't open until 1pm on Sundays, so we arranged a late checkout (4pm) from the Sheraton Roanoke hotel. That way, Truffles could stay in the room at the hotel seeing as the museum's not pet-friendly.
Review: Roanoke Pinball Museum
The Roanoke Pinball Museum is found on the second floor of Center In The Square in downtown Roanoke.
After stocking up on Curly Wurlys at The Candy Store on the first floor, we walked up the stairs to the second floor.
The Pinball Museum is on your left at the top of the stairs.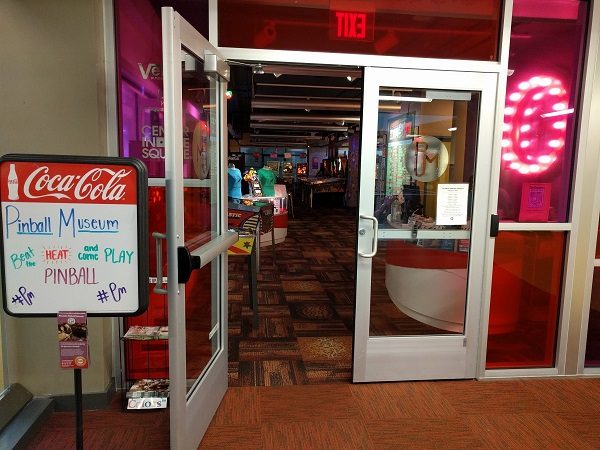 We had the Groupon app open on Shae's phone as we arrived, so the staff member at the front desk marked it as redeemed. He let us know we could play on any of the pinball machines, unless there was a sign that advised otherwise. We were also free to stay and play for as long as we liked.
Seeing as we arrived right when they opened, we were the only people in the museum. That worked out well as it meant we could get a load of photos without looking like creepers.
Evolution Of Pinball
The Roanoke Pinball Museum has machines dating from 1932 up to 2014. It's fascinating to walk round the museum and see the evolution of pinball machines over the years. A nice feature is that they have the machines in chronological order, so you can see the gradual changes.
Here are just some of the pinball machines you can play: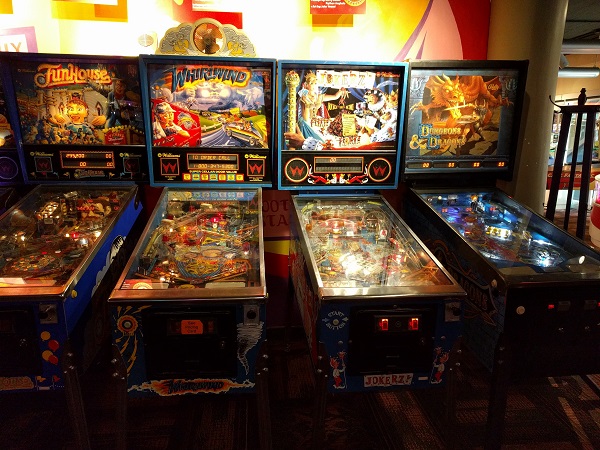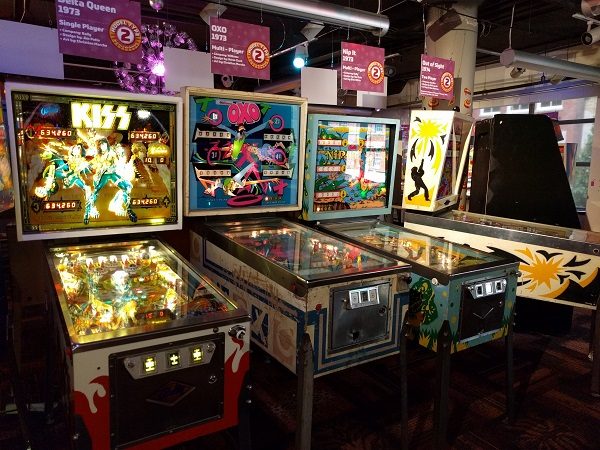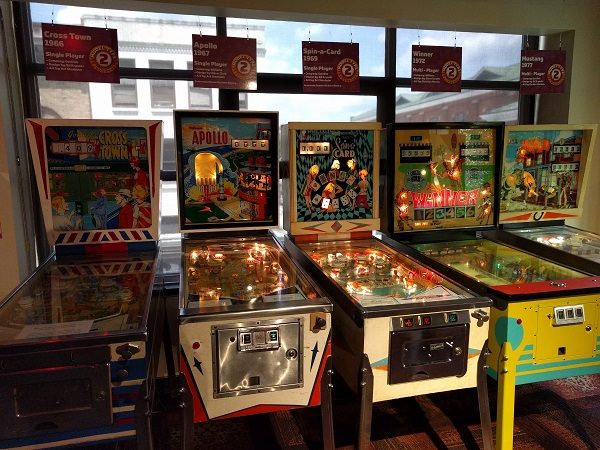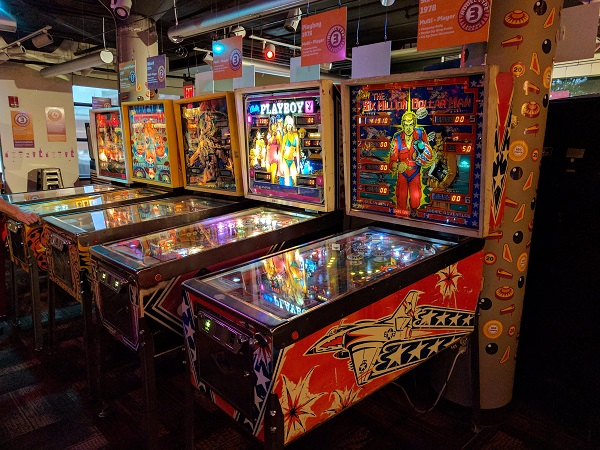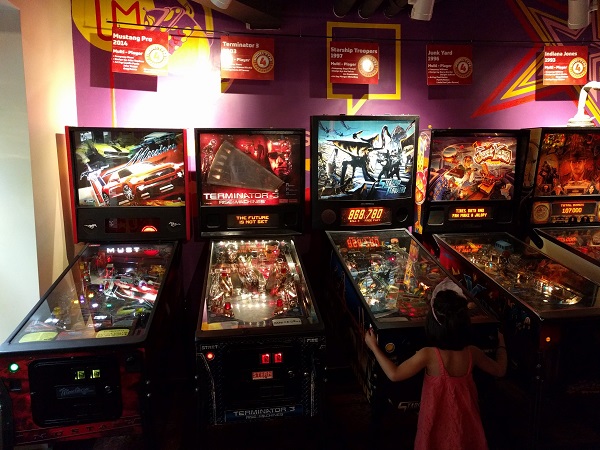 In addition to all these pinball machines, they had a couple of arcade games. In fact, they had both a Street Fighter II arcade game and pinball machine.
I tried playing the Street Fighter II arcade game and sucked as badly as I did back in the early 90s when I used to play it. Apparently playing as Blanka and electrifying your body still doesn't win you any contests 25 years on.
One of my favorite machines there was Indiana Jones, also built in the 90s. Not only was it fun to play, but instead of pulling a lever to launch the ball, you pull a gun trigger.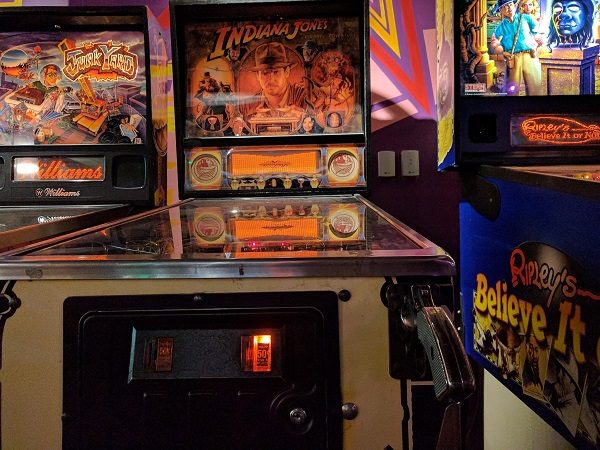 From Old…
One of my other favorites was Roanoke Pinball Museum's earliest pinball machine. It's called Skill Score, it was built in 1932 and uses wooden balls. It's almost more like Plinko than the pinball machines we're used to nowadays.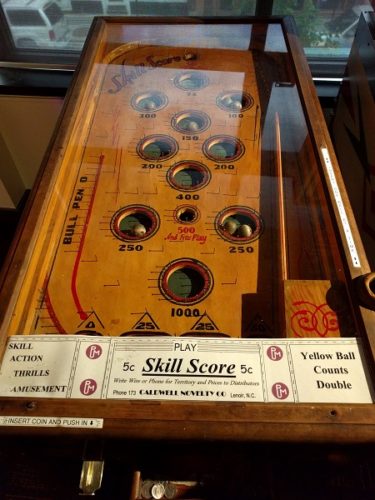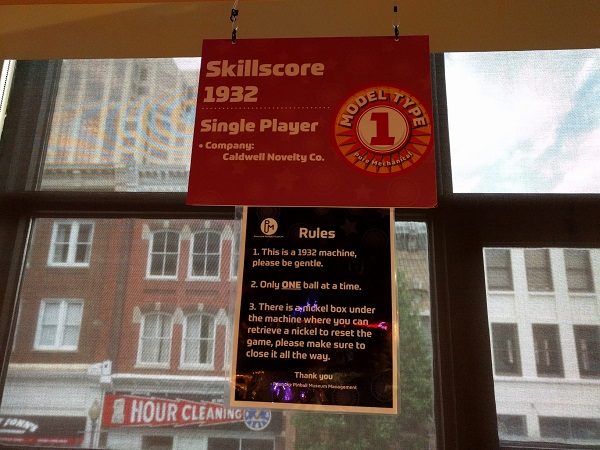 Shae took this video of me playing Skill Score so you can see how it works. Apparently my Street Fighter II "abilities" carried over for this video as I got such a low score. In my defense, I did score 2,725 when I played later on 😉
…To New
You can go from the 1932 version of pinball to Mustang, Roanoke Pinball Museum's newest machine which was built in 2014. Apparently only one company in the US makes pinball machines nowadays and this is one of theirs.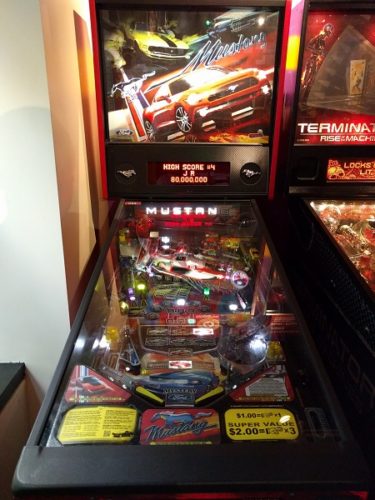 We ended up staying at the pinball museum for about 90 minutes. I could quite happily have played for much longer, but we had to get back to the hotel to finish packing and check out. By that stage, the museum had gone from just Shae and I to having about 20 other visitors.
As we went to leave, I noticed they had a scoreboard with the highest score for each machine: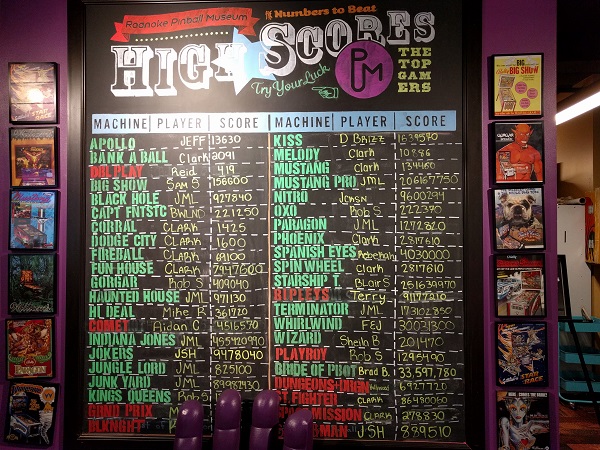 Congrats to JML and Blair S who've both managed to score over 200 million. I think my best on one of the machines was 200 thousand.
The last thing we noticed on the way out were these awesome pinball night lights they had for sale.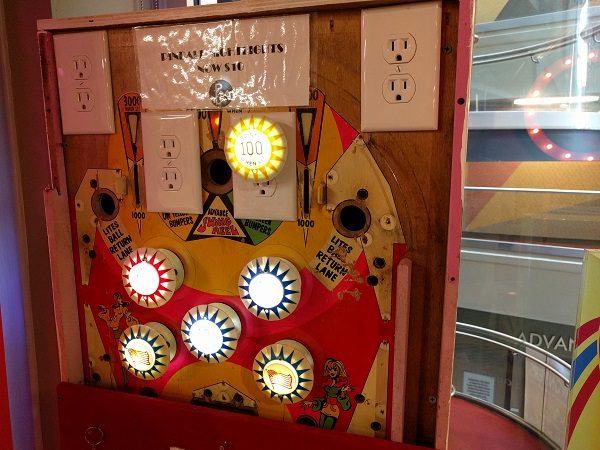 Summary
The Roanoke Pinball Museum is definitely worth going to if you're visiting Roanoke. I feel like the price is fair given that you can stay for as long as you like and you get unlimited plays. It's even better value if you can get discounted tickets like we did through Groupon.
If you live in Roanoke and so could visit frequently, the museum sells memberships for individuals, households and students. Even if you only visit once a month, you'll easily get your money's worth.
You can even rent out the museum for parties, corporate functions, graduations, bachelor or bachelorette parties and more.
Rating
Cost = 4 / 5
Value = 4.5 / 5
Location = 4.5 / 5
Fun = 4.5 / 5
Uniqueness = 4.5 / 5
Total = 4.4 / 5