Mini-Trip Report
Review: Sheraton Herndon Dulles Aiport Hotel
Shae and I took a trip up to Washington D.C. on Easter weekend as we both had interviews at Dulles Airport for Global Entry.
Rather than drive four hours each way for a twenty minute interview, a weekend away seemed like a much better option. There were only a few things we wanted from the hotel – a low price, an airport shuttle and somewhere that allowed dogs as we'd have Truffles with us.
The Sheraton Herndon Dulles Airport hotel ticked all these boxes:
Our rate for a standard King room was $76.33 per night (including taxes)
This Sheraton has a free airport shuttle; it'll also take you anywhere within a three mile radius for free
Pets stay free – sweet!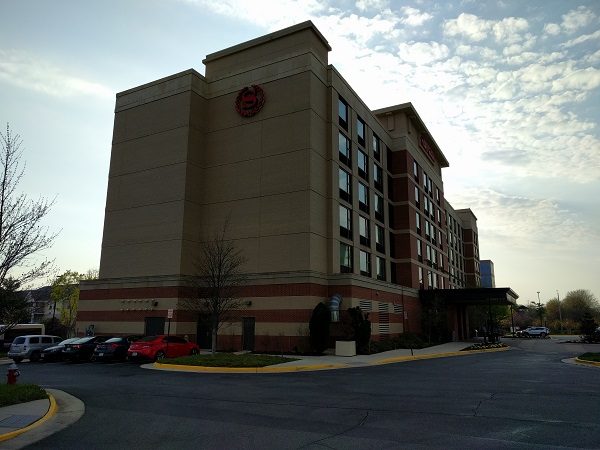 We arrived about 6:30pm and the hotel was much quieter than I expected. The hotel has four luggage carts, so we loaded our stuff on one and headed into the lobby.
There weren't any other guests in the lobby, so check-in only took a few minutes. We had to stop by the front desk later on to complete a pet waiver as they didn't have any forms printed at the time and they didn't want us to have to wait to get to our room.
The lobby layout was a little strange as there were two sofas and a coffee table immediately in front of the check-in counter. That means that when there's a line to check-in, you have to stand off to the side rather than in front of the desk.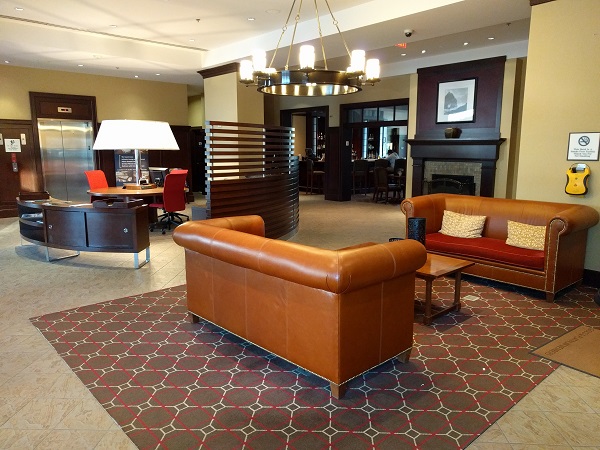 One of the perks of my Starwood Preferred Guest (SPG) Business credit card is that it offers free club lounge access at Sheraton hotels. The club lounge is on the 6th floor at the Sheraton Herndon Dulles and requires a key card in order to access it. Although we'd booked a standard King room, we appeared to be upgraded to a Club King room seeing as we'd need access to the 6th floor. There was a ~$25 a night difference in price between a standard King room and a Club King when I originally booked our stay.
The hotel has two elevators which are the opposite side of the lobby to the front desk, so they're convenient to access once you have your keys. Once on the 6th floor, the elevator opens directly into the club lounge.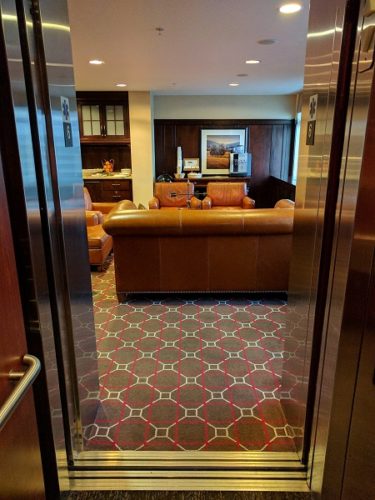 After exiting the elevator to the left to access the hallway, we headed down the hallway to the right to room 628.
Bedroom
For a hotel airport, the room size was decent enough. There's a spacious entrance way, with the bathroom to the left and the bedroom in front.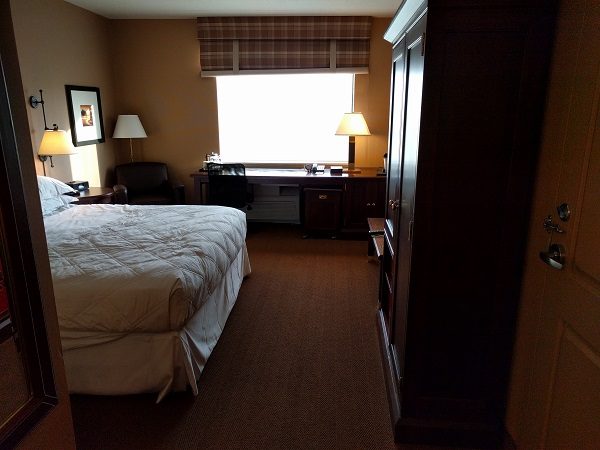 The room had a king bed, an armchair, a lengthy desk with office chair, coffee maker with Starbucks coffee, bottles of water, bench and closet.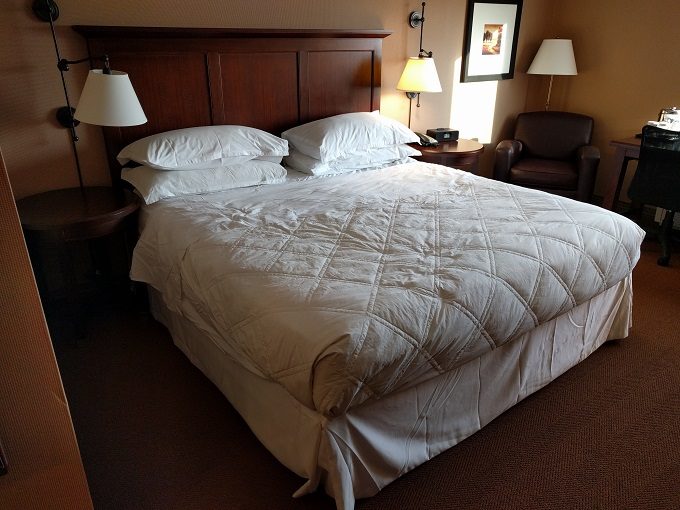 Although the bed was quite firm, we both slept well. You also have a choice between firm and fluffy pillows.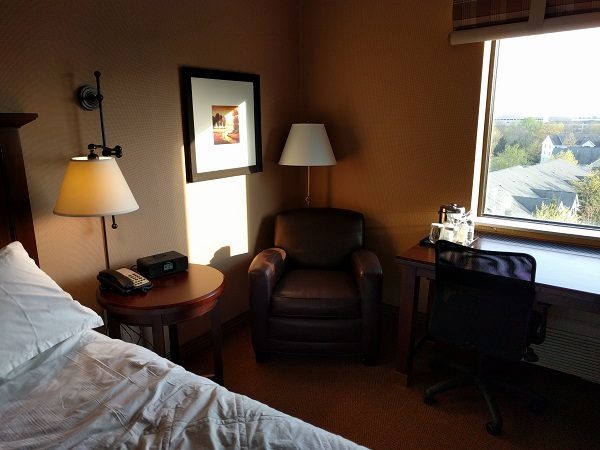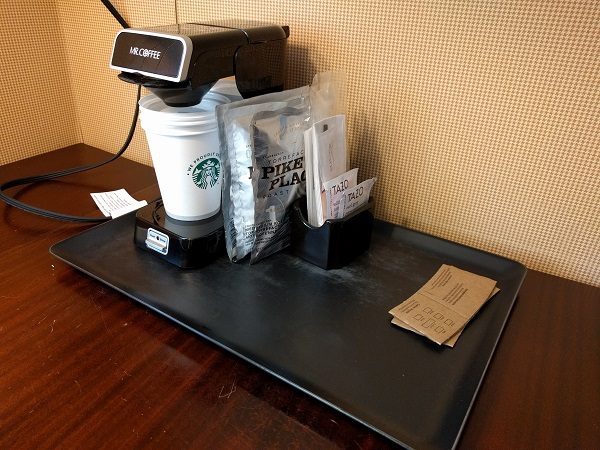 The window had two sets of blinds – a blackout curtain in front and a privacy blind behind. The blackout curtain worked pretty well; although a little light shined in on both sides, the room itself remained fairly dark in the morning so I was woken by my alarm rather than the light.
Once the blinds were pulled up, we had a nice view of the area.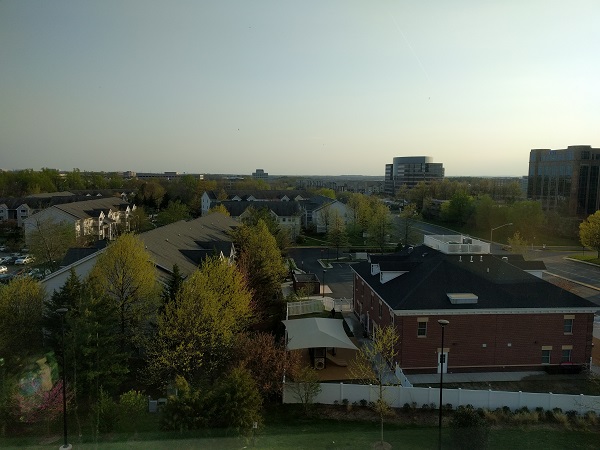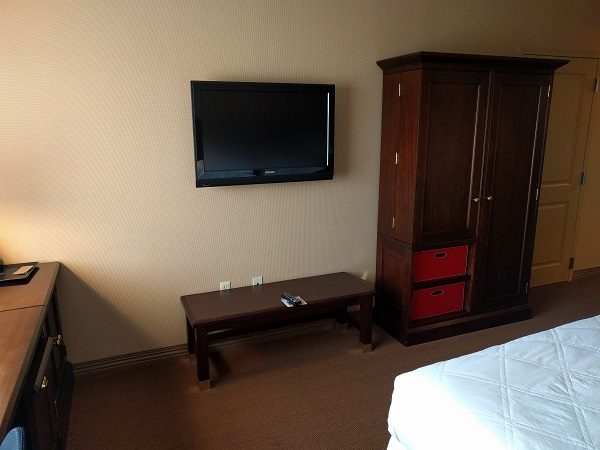 The closet contained an iron, ironing board, one bath robe and one pair of slippers, so you might need to fight over those if you're traveling as a couple.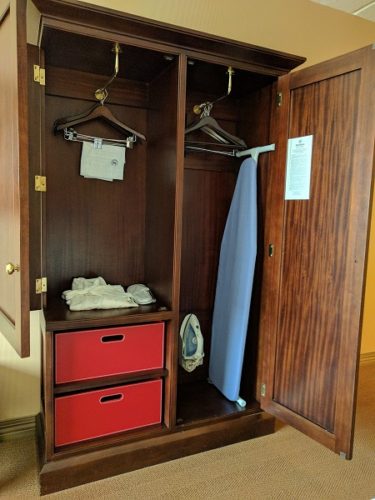 The room didn't contain a safe, fridge or microwave.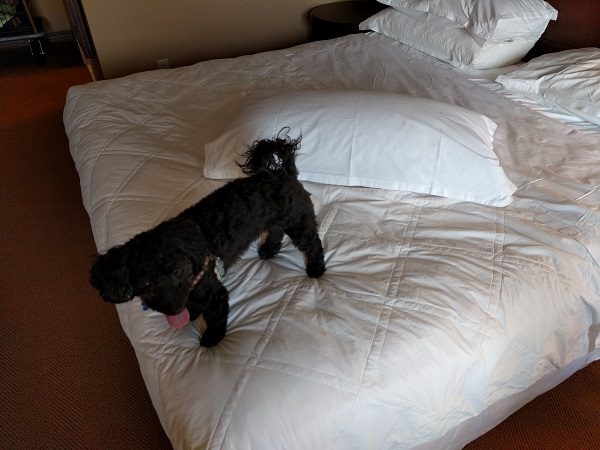 The main downside to our room was that the carpet in the entrance was extremely worn and needed replacing.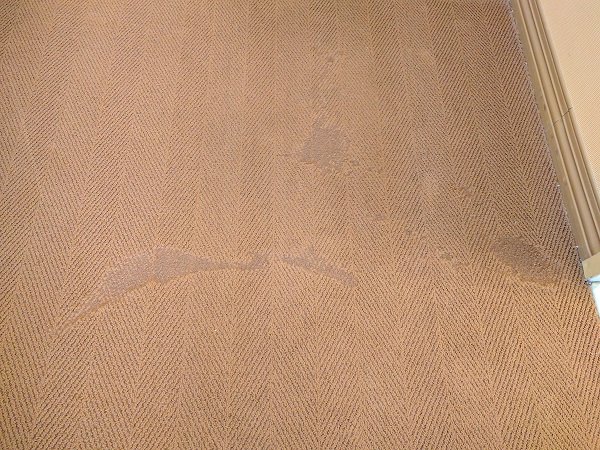 The spacious shower had decent water pressure. The sliding doors stopped water from spraying over the floor which is always a win for a hotel bathroom.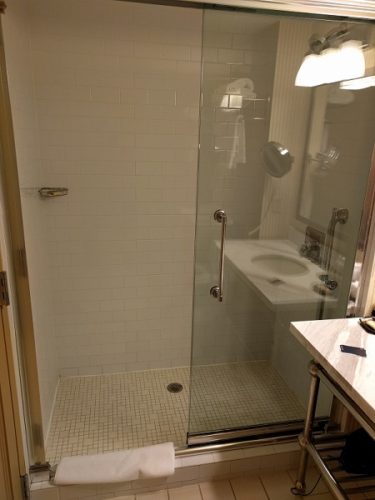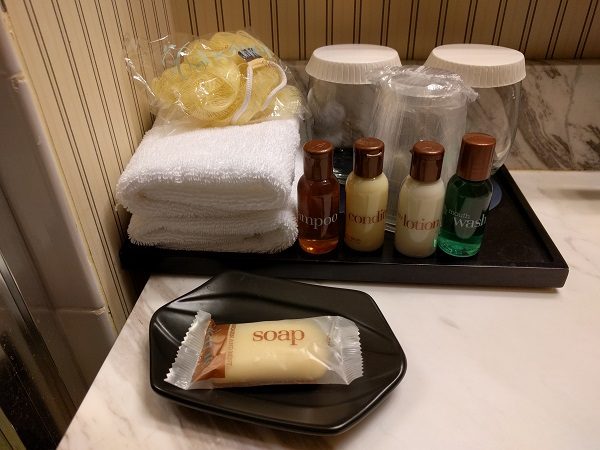 My only quibble with the bathroom is that the toilet is close to the wall and the toilet paper holder is attached low on the wall, so your knee hits against its metal corner when sitting down.
Shae also thought you should know that there's a full-size hairdryer with attachments in a black bag beneath the sink. That's rare for many hotels as they often come with smaller travel-sized hairdryer.
(She also said I can leave out that she has luscious red hair. So I haven't.)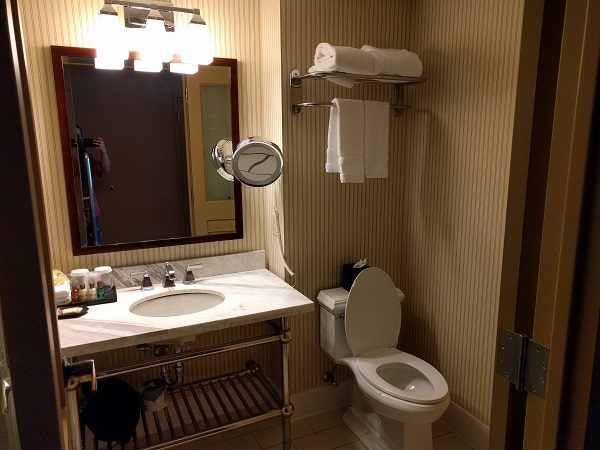 Club Lounge – Evening Snacks
We were feeling peckish by this point, so we headed out to the club lounge to see what we could snack on. The warm option the night we arrived was penne pasta, while there were also celery and carrot sticks, cheese cubes and fruit.
To quench your thirst there's a mini-fridge containing cans of Coca-Cola, Diet Coke, Sprite and small bottles of water, with a coffee maker at the other end of the lounge.
If you have your own food that needs heating, the Sheraton Herndon Dulles club lounge has a microwave available for you to use at any time.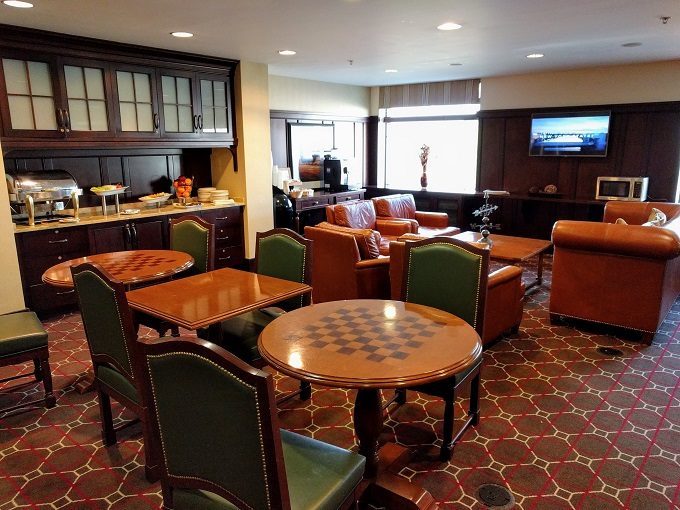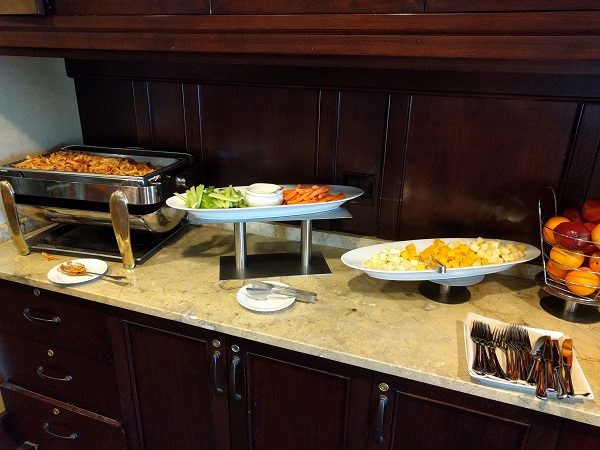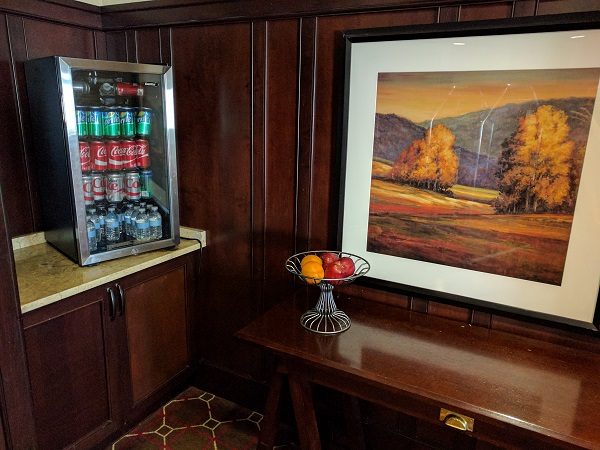 The next evening the warm option was some kind of breaded buffalo chicken and cheese snack, breakfast potatoes, cheese cubes and sugar cookies.
During the day, the mini-fridge remained stocked with beverages and there were small bags of pretzels to snack on. The club lounge also served breakfast in the morning – more details on that are further down.
Restaurant
Although we snacked a little in the club lounge, we were ravenous having had an early lunch. Although there were quite a few restaurants within a five minute drive of the hotel, we figured we'd check out the hotel restaurant. We did go to Red Hot & Blue for dinner the second night though.
The hotel restaurant has a bar area and plenty of tables. As the hotel was fairly quiet at that point, there was only one other person sitting at the bar.
The restaurant has a limited menu, but there should be something for everyone on there.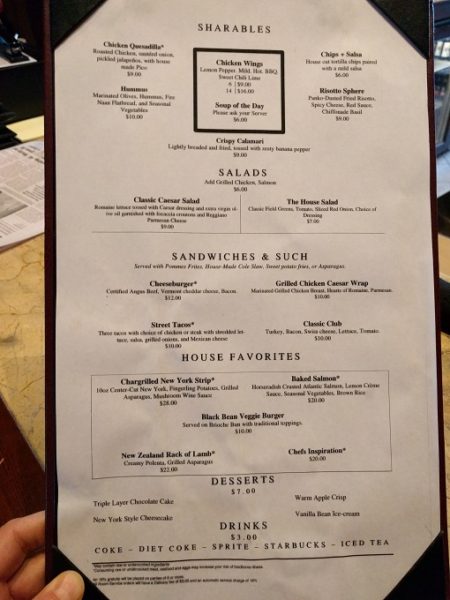 I went for the cheeseburger minus cheese and a house red while Shae ordered the steak tacos and a vodka cranberry.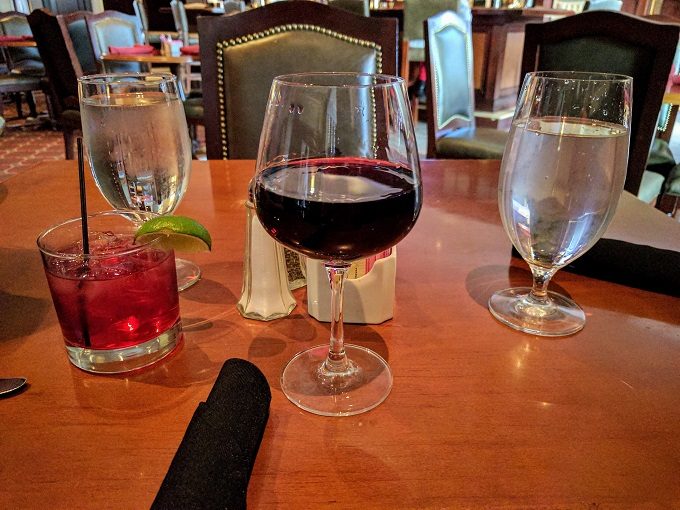 The food arrived quickly and it all tasted great. The burger was cooked medium-well (just how I like it) and came topped with bacon, lettuce, tomato and onion with fries on the side. The fries were tasty and weren't greasy.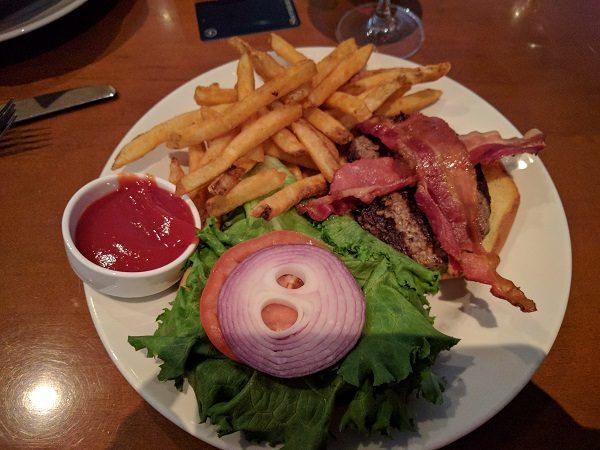 The tacos came with steak, onions and lettuce with side cups of cheese, salsa and sour cream.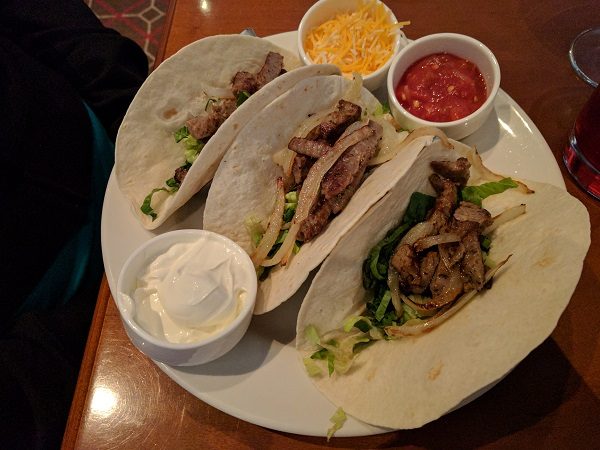 Hotel Amenities
After dinner we took a quick look round the rest of the hotel. There are a couple of meeting rooms – one called Blue Ridge and one called Shenandoah.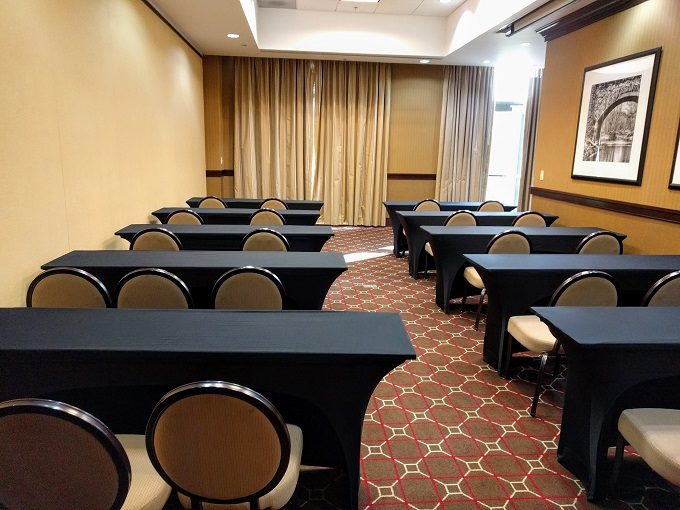 Further down the hall is a well-equipped gym. There's a cycling machine, several ellipticals and treadmills, weights and yoga balls.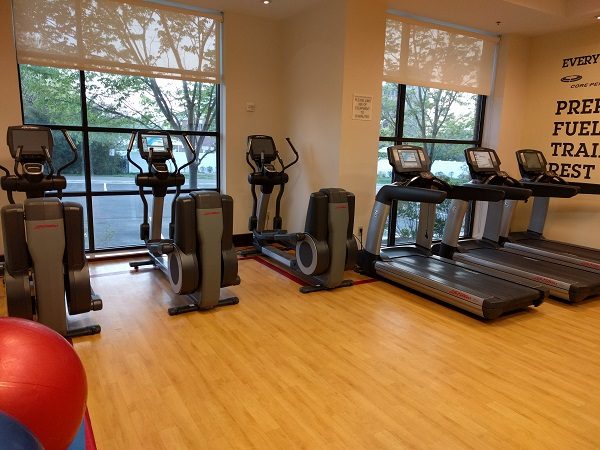 The Sheraton Herndon Dulles Airport hotel also has an indoor pool and whirlpool. They have weird hours as you'll see in the photo below. There's always a lifeguard on duty, so that might have something to do with the reasoning behind why the pool's closed Monday to Wednesday and until the evening on Thursdays and Fridays.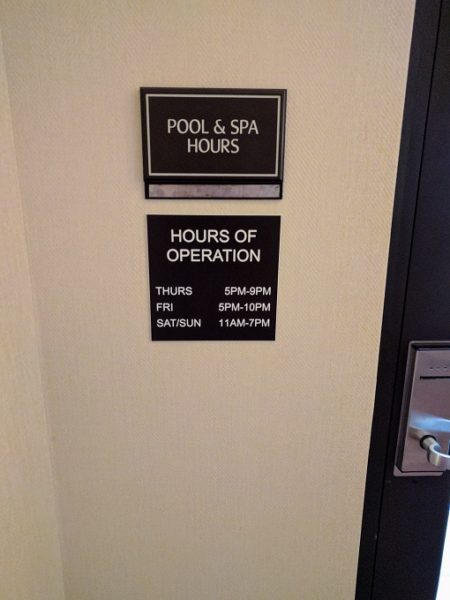 Although there's a keycard slot to enter the pool area, the front desk agent advised that our keycard wouldn't be able to open the door, so we'd have to knock on the door to have the lifeguard open the door.
The pool seemed to be a reasonably warm temperature the first night we were there but cooler the second day. Although the whirlpool was a decent temperature, its jets didn't work so it was more like a hot bath.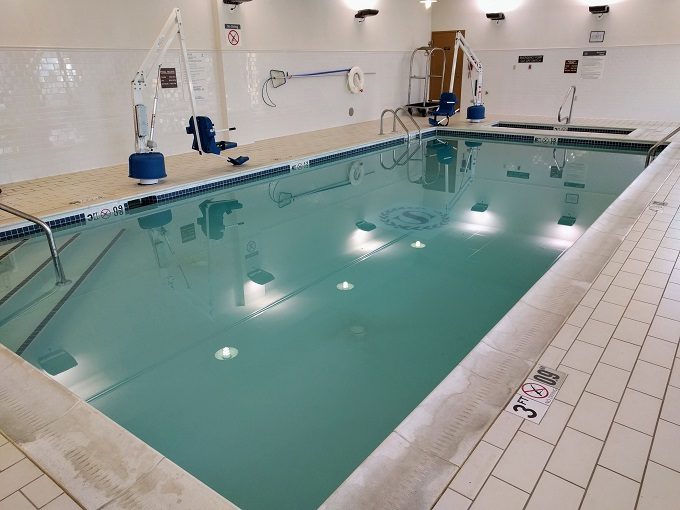 If you get hungry during your stay, there's a snack pantry with items to purchase to the right of the lobby. In addition to potato chips and candy, there were also cups of ramen noodles, tuna pouches and more.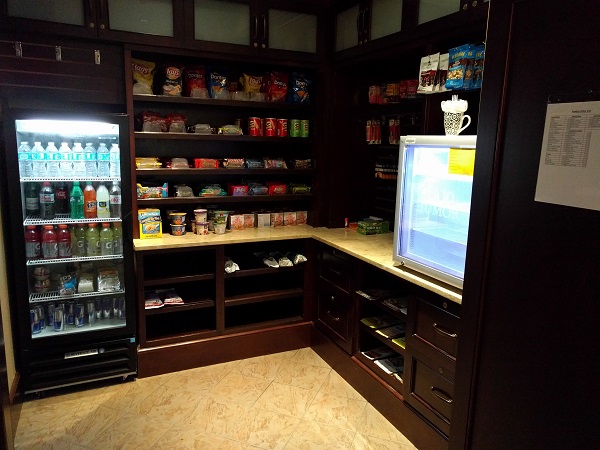 The hotel only has two ice dispensers – one on the second floor and one on the fifth. As you exit the elevator on the second floor, there's a pantry room to the left containing a beverage vending machine and ice dispenser.
Club Lounge – Breakfast
We headed to the club lounge for breakfast at 9am on both Saturday and Sunday morning. The warm options on Saturday were sausage, breakfast potatoes, scrambled eggs (real eggs, not powdered) and french toast. Sunday's options were bacon, sausage, breakfast potatoes, scrambled eggs and pancakes.
On Saturday, all the warm options were extremely dry and as a result weren't enjoyable; Sunday's warm options were much fresher and better quality. There seemed to be more guests in the club lounge on Sunday morning so the food was presumably replenished more frequently, whereas Saturday's had probably been sitting around over the heater all morning.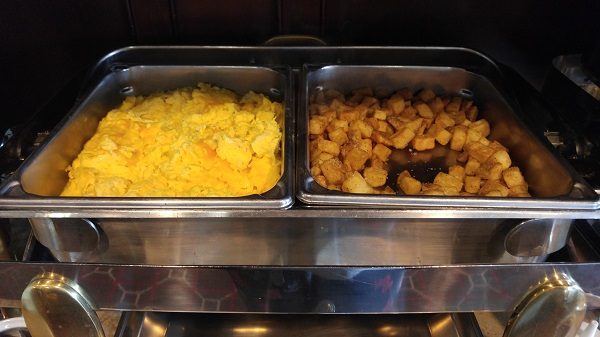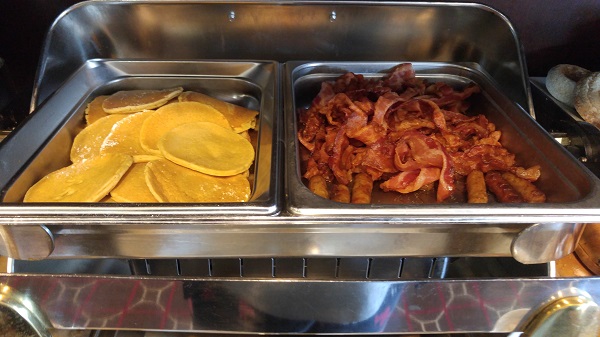 If you prefer breakfast cereal, there were four types of small boxed cereal (Wheaties, Corn Flakes and two different types of raisin bran). There were also yogurts, granola, bread, muffins, bagels, and fresh fruit.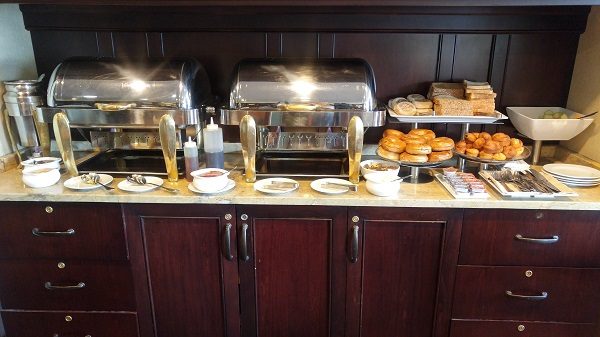 Airport Shuttle
Our Global Entry interviews at Dulles Airport were at 12:15 and 12:30, so we wanted to get there by 11:45 to ensure we had enough time to find our way to their office.
We therefore booked the free shuttle for 11:30 and it arrived right on time. The Sheraton Herndon Dulles has its own shuttle rather than sharing with other hotels, so we headed straight to the airport and arrived in about 10-15 minutes.
The driver knew the location of the Global Entry office, so he dropped us directly outside the entrance we needed. A two minute walk inside and we were at the office.
Once our interviews were over, we called the Sheraton to be picked up. The driver was already heading to the airport, so we only had to wait a few minutes before he arrived.
The driver was very friendly and the shuttle was much more comfortable than other hotel shuttles we've taken in the past. The Sheraton Dulles shuttle is also easy to identify as it has the hotel's branding and signage; we saw the Crowne Plaza's shuttle and the branding on their plain white shuttle consisted of some sheets of printed paper saying 'Crowne Plaza' taped to its windows.
Internet
As we booked directly on the SPG website, we automatically got free internet. I took a look on Hotels.com and that seemed to suggest that internet access would've been $9.95 per day if it hadn't been booked directly.
When I asked the front desk though, it sounded like internet access was free for all guests, no matter how they booked their stay.
When logging on, you only have to provide your last name and room number and no price is listed, so it certainly appears to be free for everyone.
Pets
Dogs up to 80lbs are allowed and stay for free – all you have to do is sign a pet waiver.
Parking
Parking is free at the Sheraton Dulles and there's plenty of it available.
Business Area
The lobby has a computer available for all guests to use. Club lounge guests have access to a second computer.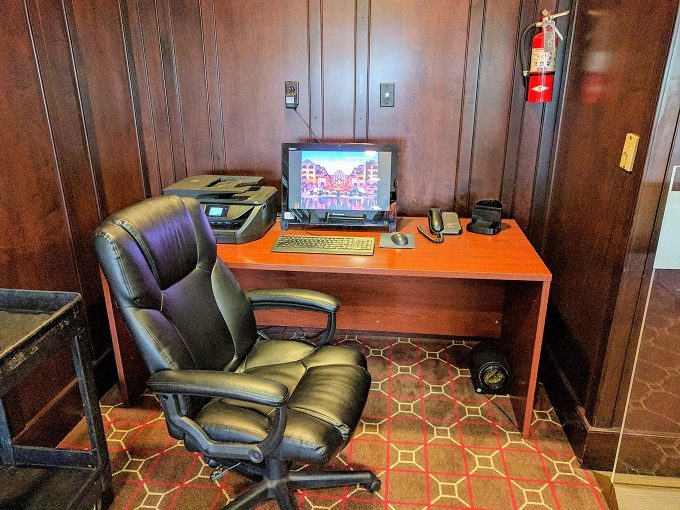 Summary
Overall, we were pleased with our two-night stay at the Sheraton Herndon Dulles Airport hotel. The bed was comfortable, the room was reasonably spacious, they have a free airport shuttle, the front desk staff were friendly and having free club lounge access is always a plus.
This Sheraton is a solid option if you need somewhere to stay near Dulles Airport, especially if you can get a relatively low rate like we paid.
Truffles Approval Rating

Truffles gives this hotel four out of four – pawfect! They're pet-friendly and don't charge a pet fee, so we can buy more treats for her. The bedroom was large enough for her to run back and forth to catch a ball; Truffles is a 10lb dog though, so the rooms won't seem as spacious for larger dogs.
There are plenty of grassy sections for dogs to walk around, while the whole area is well lit if you want to go for a walk in the evening. There are also several dog parks in the area, along with other parks and walking trails that are within a 15 minute drive.
Our Own Hotel Rating
Room = 3.5 / 5
Hotel Amenities = 4 / 5
Location = 4 / 5
Overall Value = 4.5 / 5
Total = 4 / 5
Money-Saving Tips
Here are a couple of ways we maximized our stay to reduce our costs:
Booked our stay by clicking through to the Starwood Hotels website from the BeFrugal cashback portal. They were offering 3% cashback, so we should earn $4.05 (pre-tax rate of $67.55 * 2 nights * 3%).
Received free breakfast, snacks and beverages thanks to the SPG Business credit card offering club lounge access.
Points Earning
One of the ways we're able to afford our 5 year, 50 state road trip is by maximizing hotel reward schemes. Here's a breakdown of how many points we earned from our two night stay at the Sheraton Herndon Dulles Airport:
I have SPG Gold status, so earn 3 points per dollar on our room rate. There was a promo going on during our stay which doubled our base points, so we earned a total of 835 Starpoints for the two nights. This is a little higher than I expected as I thought it'd be calculated on the pre-tax room rate, so I can't complain!
Our stay was paid for using the SPG Business credit card that earns an additional 2 points per dollar on spend at Starwood properties, so we should earn 305 Starpoints.
Our restaurant bill came to $40 and was charged to our room, so that's another 160 Starpoints (80 base + 80 for charging it to an SPG credit card)
By forgoing housekeeping, we earned 250 Starpoints thanks to SPG's Make A Green Choice program.
250 points were earned as our welcome gift for being Gold members.
That means we earned ~1,800 Starpoints during our stay. 3,000 points is enough for a free night at a Category 2 Starwood hotel, so our two night stay got us well over halfway towards a free night which is effectively a 30% return per night.
Other Hotel Information
Price
The price per night was $67.55 pre-tax and $76.33 with tax included.
Points
The Sheraton Herndon Dulles Airport is a category 2 hotel with SPG. If you wanted to book this hotel on points, it would therefore cost 3,000 Starpoints per night on Friday and Saturday nights and 4,000 Starpoints per night on Sunday to Thursday nights.
We therefore chose to pay cash given the low room rate, but points could be a good redemption value if rates were $100+ per night.
Hotel Address
13715 Sayward Boulevard, Herndon, Virginia 20171