Norfolk VA Mini-Trip Report
Review: Sheraton Norfolk VA
Once we'd finished hunting for Norfolk mermaids, we picked up our bags from the Hilton and walked the ~5 minutes to our next hotel – the Sheraton Norfolk.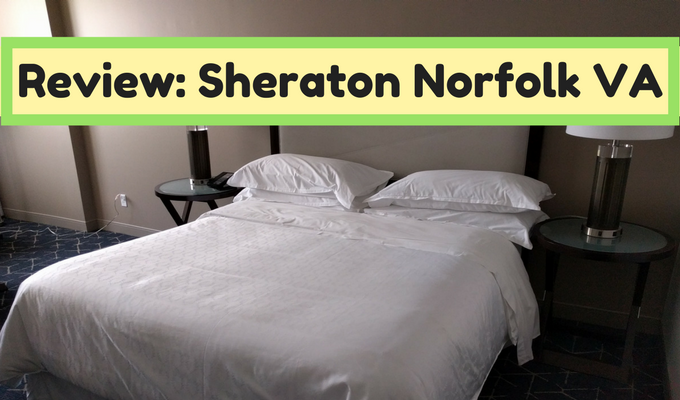 I'd never personally stayed at this hotel before (both Shae and my parents had), so I was interested to see how it'd compare to the fantastic new Hilton we'd just stayed at.
Cash vs Points
The Sheraton Norfolk's pricing is interesting. Rates seem to consistently be over $150 per night, which isn't that much cheaper than the Hilton's. In fact, when booking our one night stay at the Sheraton, the cash rate including tax was $217.52.
Despite the relatively high cash rates, this is a category 2 hotel with SPG which means you only need to redeem 3,000 Starpoints per night at weekends (4,000 per night midweek). That meant we got a redemption rate of 7.25 cents per point which is a great value.
The $217.52 was the rate for a standard king room. As I have the SPG Business American Express credit card, we receive club lounge access for free. If we were to have paid for that access, the nightly rate would have been even higher.
Sheraton Norfolk
As we arrived at the hotel, one of the valets outside advised that there was some construction going on. That meant there was a different entrance we needed to use and the temporary front desk was off to the left rather than to the right.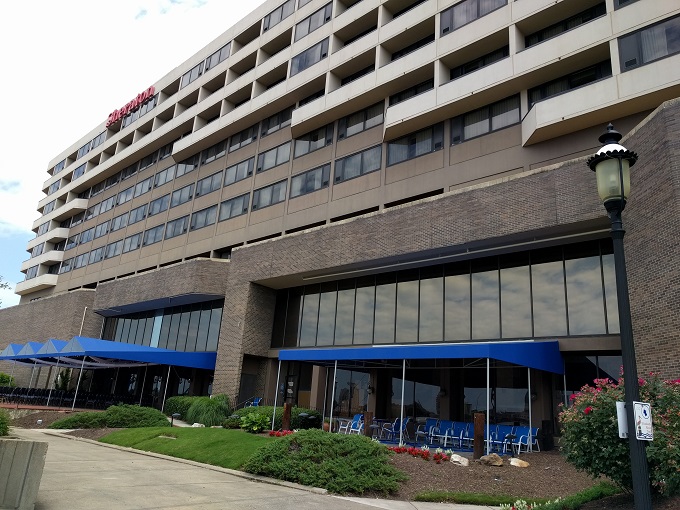 The front desk ended up being located next to their pantry where you can buy snacks. Both check-in and check-out were a little confusing as quite a few guests were standing around on both occasions. Most of them just seemed to be hanging out and weren't waiting to be served, so we had to ask a few people if they were actually waiting in line.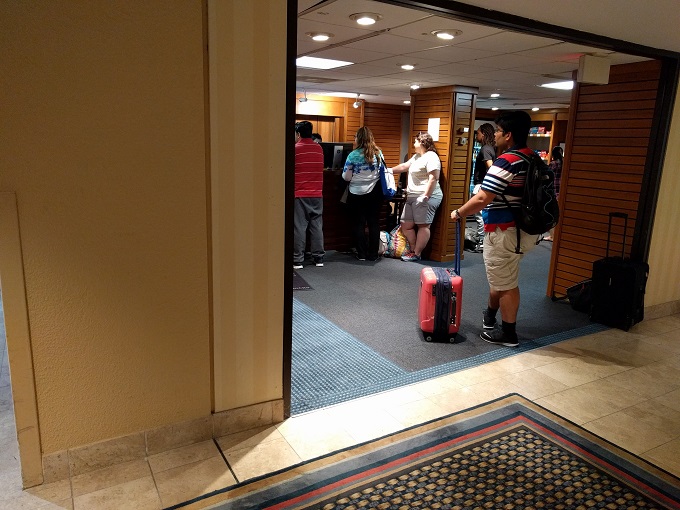 Tatiana checked us in and was very friendly. She explained that due to all the construction, both the club lounge and the restaurant were closed. There was therefore a temporary restaurant in what was presumably a conference room.
Due to my credit card usually providing club lounge access, we were upgraded to a club king room. My SPG Gold status also meant we were granted a late checkout of 4pm.
With our keys in hand, we headed to the elevators and made our way up to the 10th floor.
Club King Room
We were given room 1051 which is on the city side of the hotel. I hadn't thought to ask, so if you're staying here then see if you can get an even-numbered room as that should be a room with a view of the Elizabeth River.
As we entered, there was a closet with sliding doors to the left, bathroom to the right and the main bedroom area straight ahead.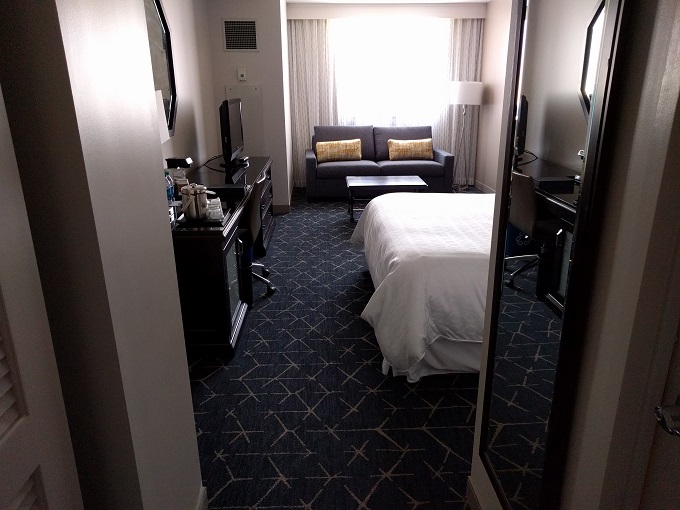 I appreciated the bedside lamps as they had both a power outlet and USB outlet.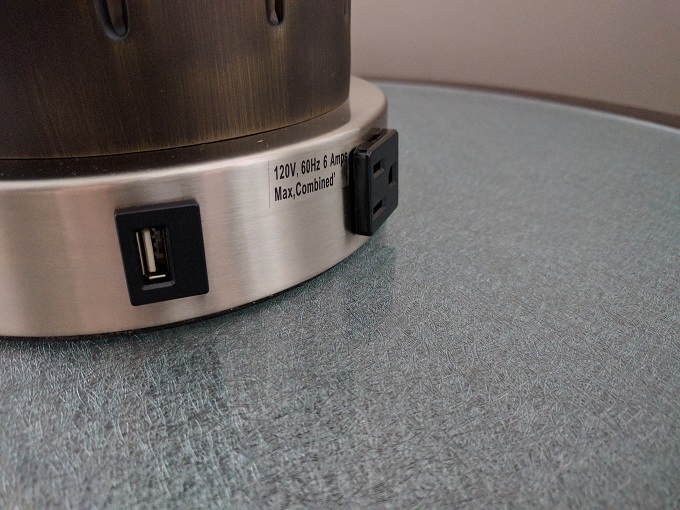 The room had a credenza and office chair. I'd thought the cupboard might contain a mini-fridge, but alas not. There was a coffee maker on top, along with a couple of free bottles of Dasani.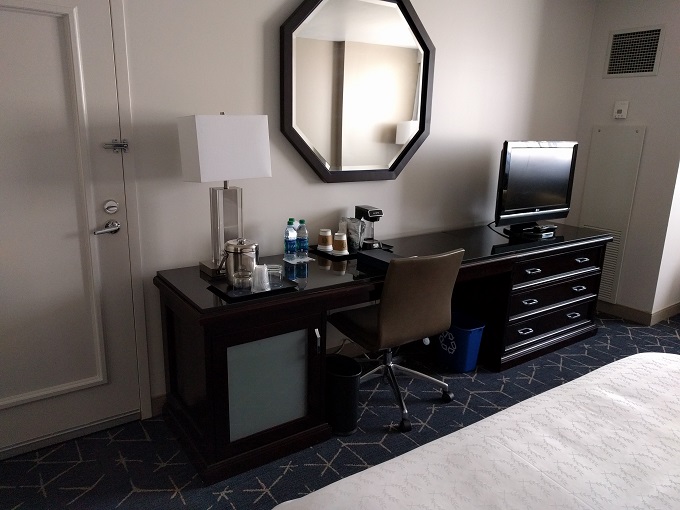 The closet contained a safe, ironing board and iron.
There was a sofa bed and coffee table over by the window which had a Norfolk city view.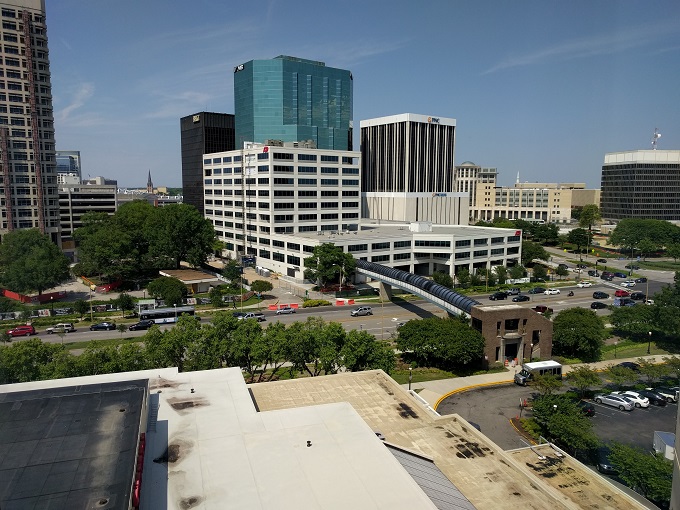 The bathroom was a little cosy, but not tiny. There was a bathtub which had a decent and powerful shower, along with a generous supply of toiletries. Above the tub was shampoo, conditioner, shower gel and soap, while the vanity had other toiletries like a toothbrush and toothpaste, mouthwash, shave cream and more.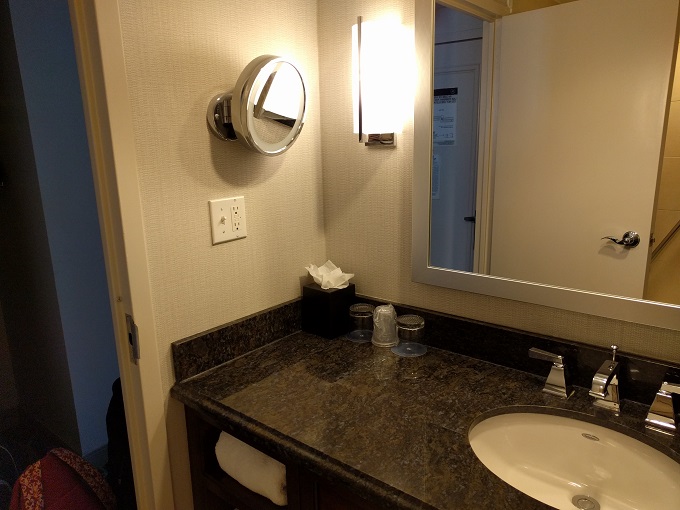 Amenities
Shae and I were still really hot by the time we'd checked in. We'd spent the afternoon walking round Norfolk in almost 90° heat so we were keen on checking out the swimming pool.
This Sheraton has an outdoor pool with a good amount of seating, much of which has shade available. The pool itself is a great size and is large enough to do lengths (so long as it's not too busy in there).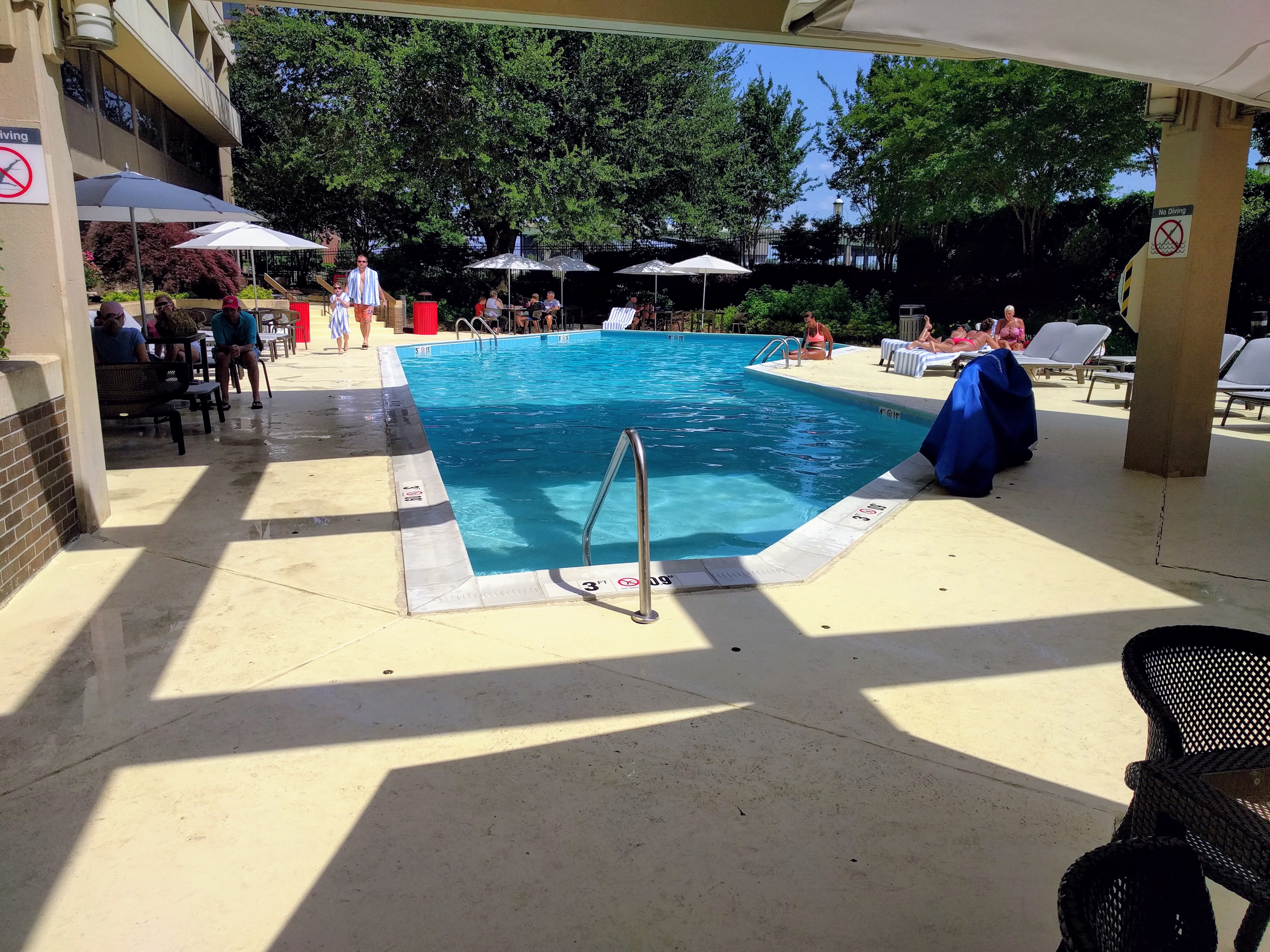 Although it was hot outside that day, the pool itself was extremely cold so we decided not to swim after all. It was Memorial Day weekend when we visited, so it probably warms up from June onwards.
The Sheraton Norfolk also has several conference rooms and meeting spaces. There's a gym which I didn't get pictures of (there were people exercising, so I didn't feel comfortable taking pics), so here's an official picture from their website.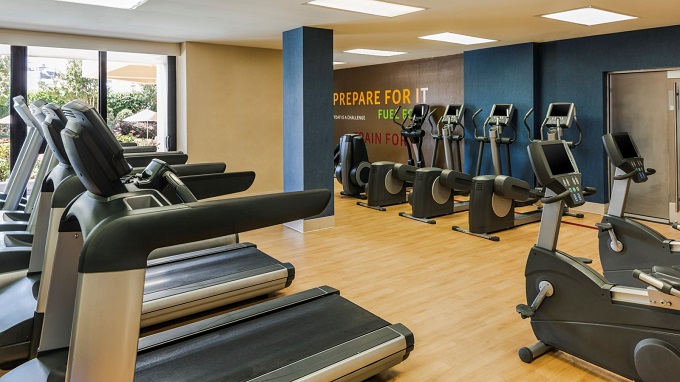 Club Lounge
Due to the club lounge being closed, at check-in we were given coupons for a free buffet breakfast in the morning. They also provided coupons for a free appetizer and 25% off all other food in the temporary restaurant.
While those coupons were appreciated, one of the main perks of a club lounge is that it offers snacks and beverages throughout the day. It therefore would have been nice for them to also provide some coupons for items from their snack pantry.
Breakfast
Breakfast the next morning was a mess.
We arrived at about 9:15 and had to put our name on a list as there were already several other guests waiting to have breakfast. This seems to be because the restaurant is closed for renovations, so they're using a smaller space for the temporary restaurant.
They haven't provided much seating outside that room though, so many of us ended up sitting on the stairs. It seemed like the guests who were already having breakfast were taking their time, as we sat outside for about 45 minutes before getting to be seated.
To be fair to the staff, they seemed to be hustling and doing all they could to turn over the tables as quickly as possible – they were simply constrained by space. They also did a good job of keeping the buffet well-stocked – far better than our recent visit to the Sheraton Roanoke.
Because of how busy it was at breakfast, I didn't take any photos. However, there was a good spread of food including hot options like sausage, bacon, breakfast potatoes and eggs. There were also breads, bagels and pastries, yogurts and more. Our breakfast tasted good, so that made the experience slightly better.
Pets
Dogs up to 40 lbs can stay free of charge. We'd been planning on bringing Truffles for this night seeing as the Hilton the previous night wasn't pet-friendly, but Shae's parents offered to look after her for an extra night so we took them up on that offer.
Parking
Parking is $12-$26 per day and there's not much of it available, so you're definitely better off parking elsewhere if you can. That was another reason we decided to take the Elizabeth River Ferry over from Portsmouth.
Summary
Our stay at the Sheraton Norfolk was a bit of a mixed bag. It's a nice enough hotel and is a good value if you're staying there on points seeing as it only requires 3-4,000 Starpoints per night.
However, the closure of both the restaurant and club lounge at the same time was disappointing, especially seeing as they're still selling the more expensive club rooms at the hotel during the renovations. They also need to do something about the breakfast situation, as waiting 45 minutes to get a seat for a hotel breakfast isn't acceptable.
Ultimately, they're going to have to up their game because other than brand loyalty, there's no reason to choose this hotel over the brand new Hilton Norfolk, especially given their fairly similar price point.
Hotel Rating
A few things to note regarding our ratings. The amenities are based on this particular visit, so I'd imagine that rating will go up if we visit again once the renovations are finished.
The food rating is based on both the quality of the breakfast (which was good) and the actual breakfast experience (which was terrible).
I've also rated the overall value based on us using points. I'd have given a far lower score if we'd paid the $217.52 cash rate as the stay wasn't worth anything close to that amount.
Room = 3.75 / 5
Hotel Amenities = 2.75 / 5
Food = 2.75 / 5
Location = 4.0 / 5
Overall Value = 3.75 / 5
Total = 3.4 / 5
Hotel Address
Sheraton, 777 Waterside Drive Norfolk, Virginia 23510