We'd only booked three nights in Myrtle Beach on our 5 year, 50 state road trip and wanted to find a good restaurant to eat at while we were there.
We'd received a couple of recommendations from friends, but Joe – our Airbnb host – also suggested eating at Socastee Station. We ended up going with his suggestion as it was closer to his home and the restaurants our friends had recommended were about 30 minutes away.
n.b. If you're looking for somewhere to stay in Myrtle Beach, we highly recommend booking a room at Joe's place on Airbnb. He's lovely and has the second cutest dog in the world (after our very own Truffles of course.)
Anyway, we were glad to have taken his recommendation to eat at Socastee Station – here's why.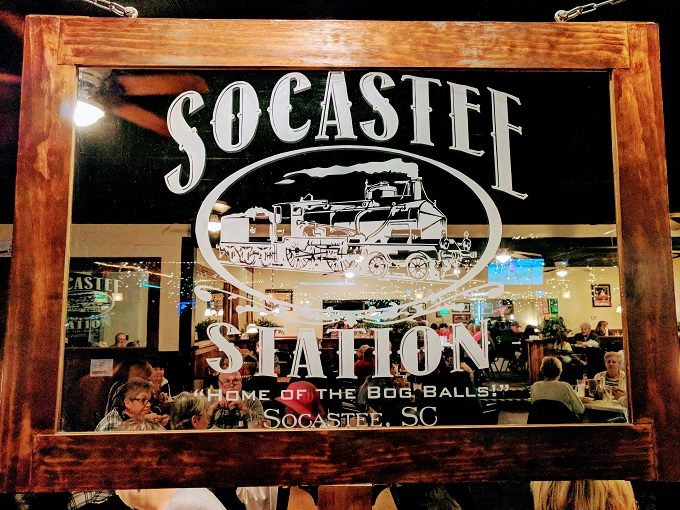 When Shae and I arrived, the place was heaving. We entered through the restaurant door before realizing that the host station was at the other end of the restaurant by the bar.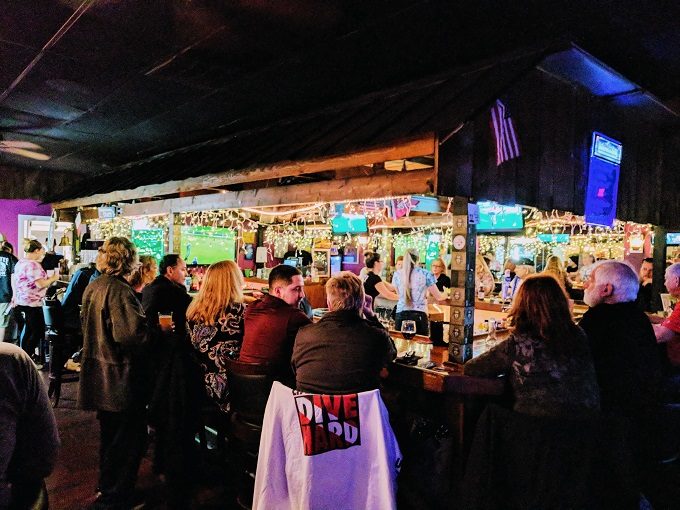 Despite how busy it was, they seated us in the main restaurant seating area as soon as they'd had a chance to wipe down a table. As you can see in the photo below, nearly every other table at Socastee Station was taken and in the corner there was a pool table.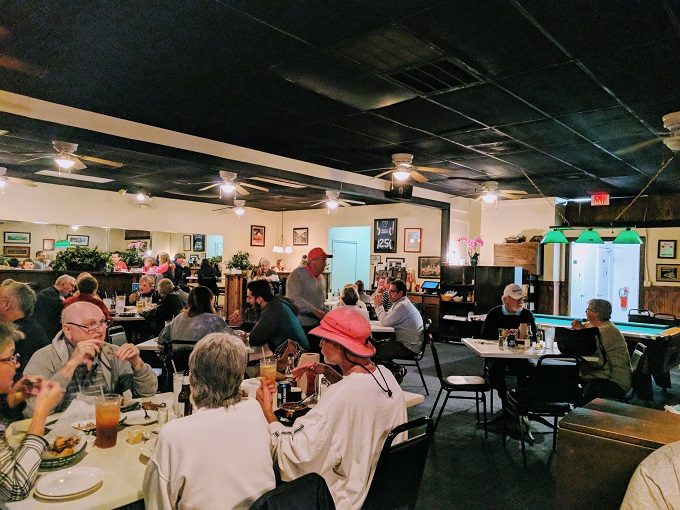 One of the nice things about Socastee Station is that happy hour's available not only from Monday to Friday but on Saturdays too. That meant we got $0.50 off beer and wine, so Shae ordered a glass of house red.
This then brought about the best moment of the evening. Our server took Shae's order, then asked what I wanted. I ordered a SweetWater 420 Extra Pale Ale and she asked me for ID.
Having not asked Shae for her ID.
Even though I'm a year older 😀
Feigning outrage (I think), Shae asked why she wasn't carded. Our server's reply was something along the lines that I looked young enough to be asked for ID.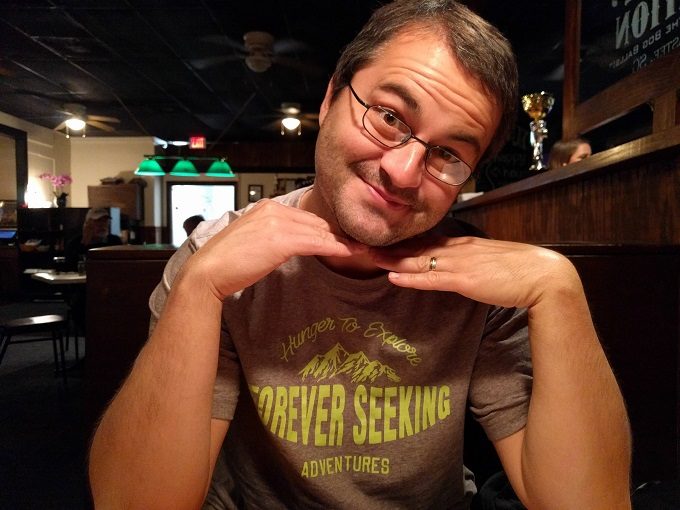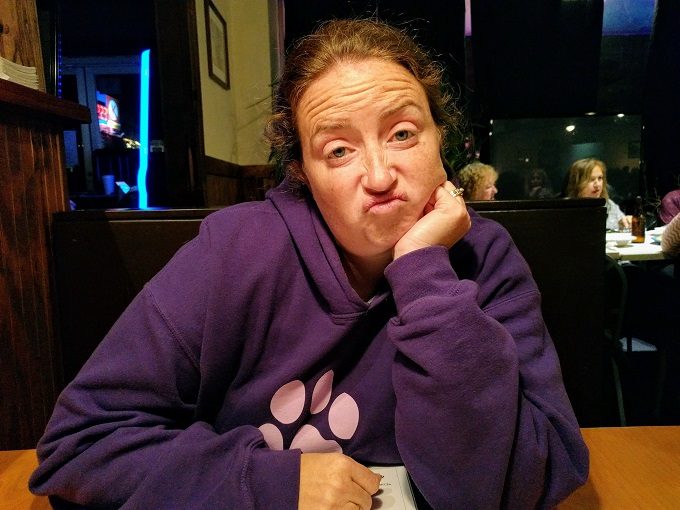 Our drinks arrived soon after. To one of us looking young and beautiful – dilly dilly.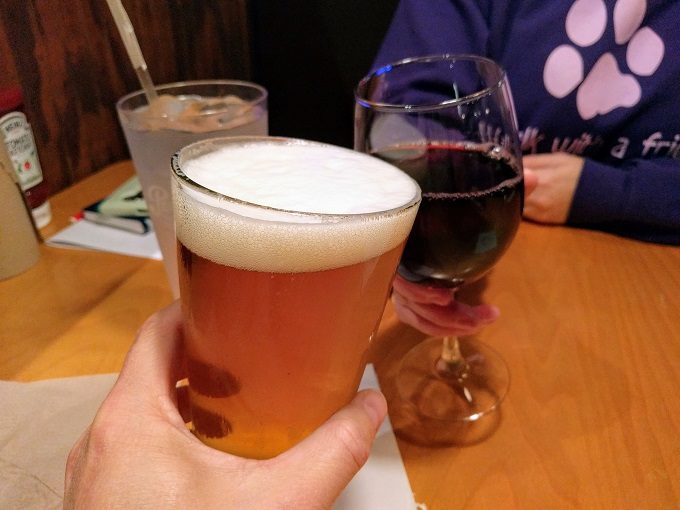 Our Airbnb host had mentioned that Socastee Station serves something called bog balls. Sure enough, there they were at the top of the menu.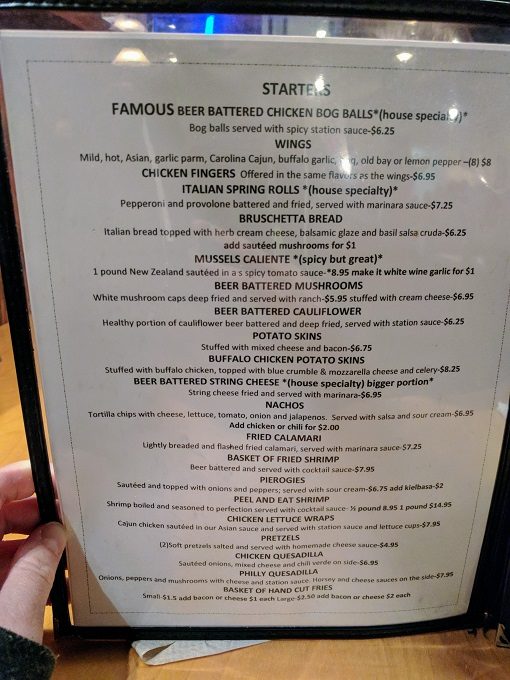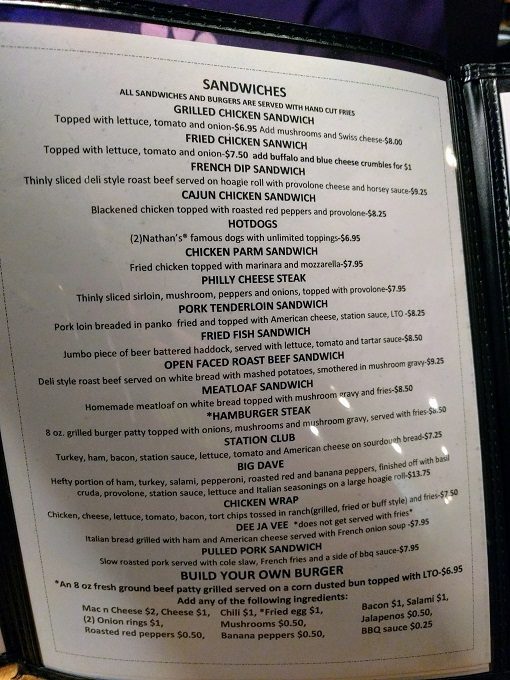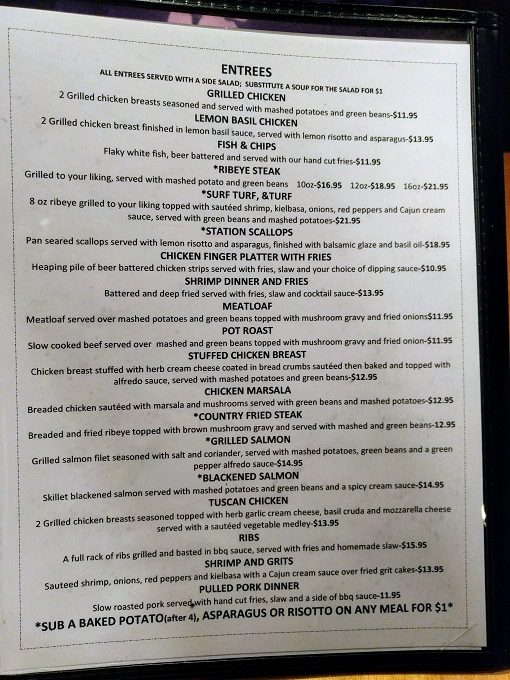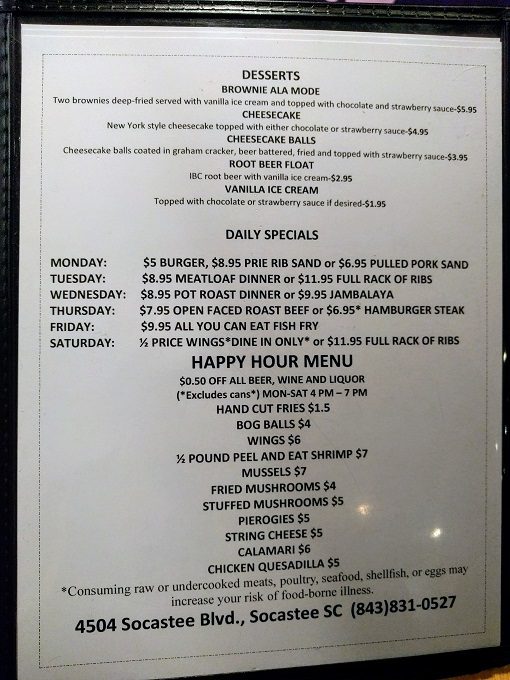 There was no way we could go to Socastee Station and not get what they're known for, so we ordered bog balls as our starter. As it was happy hour, they were only $4 (rather than $6.25.)
It didn't take long for them to arrive at our table. Bog balls are made of chicken, rice and sausage, coated in beer batter and fried. They're then served with spicy station sauce.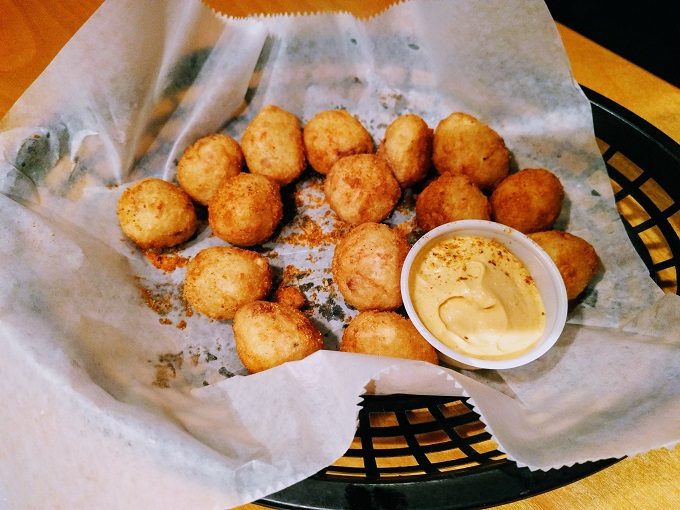 Despite the non-appetizing name, they tasted really good. The spicy sauce complemented them perfectly, so definitely order these if you visit Socastee Station.
As for our main meal, I went for the full rack of ribs which came with sides of fries and coleslaw. It only cost $11.95 as it was on Saturday's daily specials list.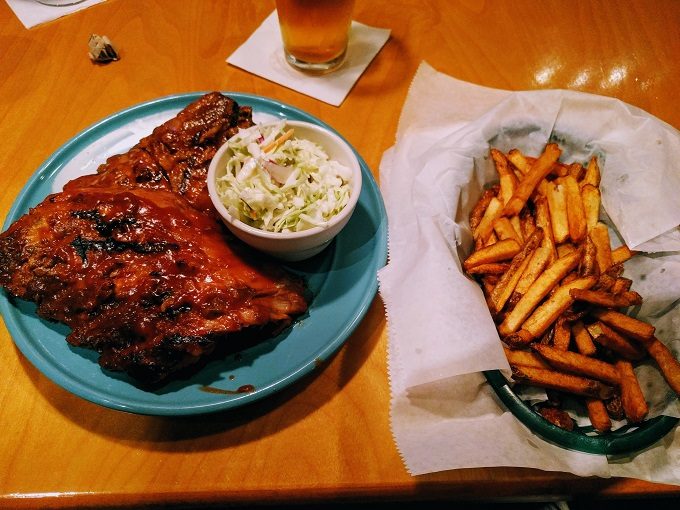 My meal was delicious. The ribs were excellent and and had plenty of meat on them. The fries were flavorful and not greasy and the coleslaw was also good. To be honest, this was way more food than I needed – especially after eating half the bog balls – but I ate it all anyway.
Shae went for a couple of items on the specials and happy hour menu – a serving of wings and a 1/2 pound of peel and eat shrimp.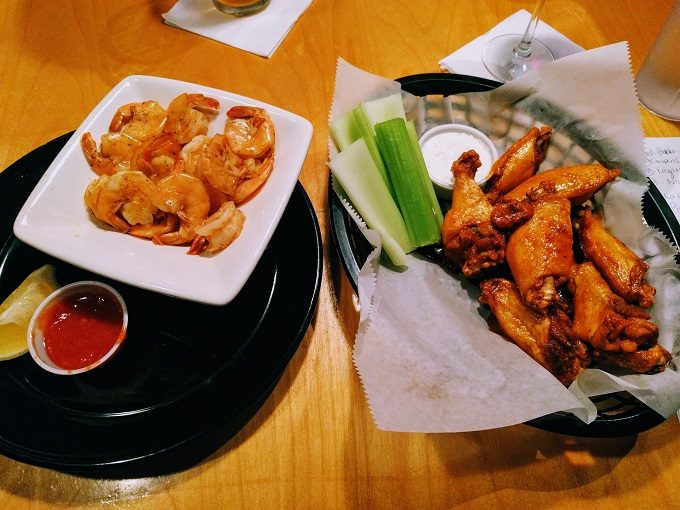 Shae hadn't wanted to eat anything too spicy that night, so she ordered the wings with mild sauce. Apparently that didn't have enough flavor though, so she asked for some buffalo sauce to dip them in which our server brought out.
She still didn't love the chicken wings (they were too crispy for her liking) but did enjoy the shrimp.
Despite both of us being stuffed by the end of our meal, the dessert menu had caught our eye. More specifically, the cheesecake balls.
As per the menu description, their cheesecake balls are coated in graham cracker, beer battered, fried and topped with strawberry sauce.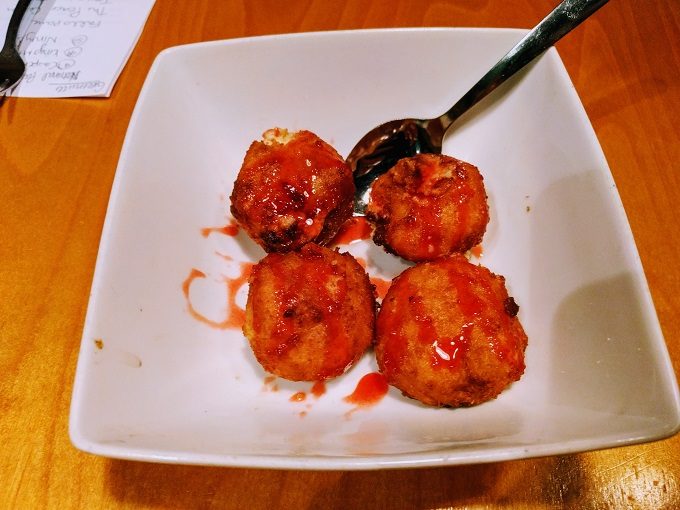 These were also very good. The only slight improvement would've been if they'd had more sauce on top as it didn't have enough strawberry flavor for my liking.
Final Thoughts
Shae and I both had a great time at Socastee Station in Myrtle Beach, South Carolina. Their food was delicious and it was great that they had some unique items on their menu.
It also had a great vibe. The young son of what seemed to be the owner helped seat a couple of groups which was cute. The music in there was also loud enough to hear and enjoy, but not so loud that you have to shout to be able to have a conversation.
And, best of all of course, I was told that I looked like I could be under 21 😉
Our Rating
Food = 4.4 / 5
Price = 4.4 / 5
Atmosphere = 4.6 / 5
Decor = 4.3 / 5
Service = 4.4 / 5
Total = 4.42 / 5
Address
Socastee Station, 4504 Socastee Blvd, Unit A, Myrtle Beach, South Carolina 29588