Washington, D.C. mini-trip for Shae's birthday:
Review: Staybridge Suites Herndon Dulles
We drove through a thunderstorm on our way up to Herndon and it was still raging by the time we arrived at the Staybridge Suites. There wasn't really a designated area to pull up in front of the hotel, so we parked as close as we could and Shae and I ran inside to check in.
Evette was working at the front desk that night and got us checked in quickly, despite having to deal with phone calls and another guest with a key card that didn't work.
We'd booked a two bedroom, two bathroom suite as we were traveling with Shae's mom and stepdad. It was extremely reasonably priced – only $107.68 per night including taxes.
We also had Truffles with us, so had to pay a pet fee. This too is reasonable – $15 for the first night and $10 every night after that, up to a maximum of $150 per stay. Looking at our bill after checking out, it appears they only charged us $25 despite staying three nights, so we saved $10 🙂
This Staybridge Suites is spread out like a large apartment complex, so Evette explained how to get to our room – 1511 – so that we could park closer.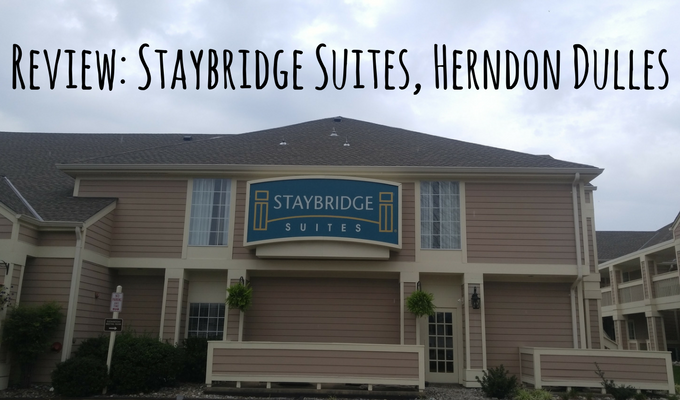 Bedroom 1
Shae and I took the first bedroom that was on the left as you enter. That's because the other bedroom had a bathtub her mom would make use of, whereas we were happy just having a shower.
There was a queen bed with shelves either side. Both sides also had an available outlet for charging your phone, but you had to get on your hands and knees as it was hidden beneath the shelves.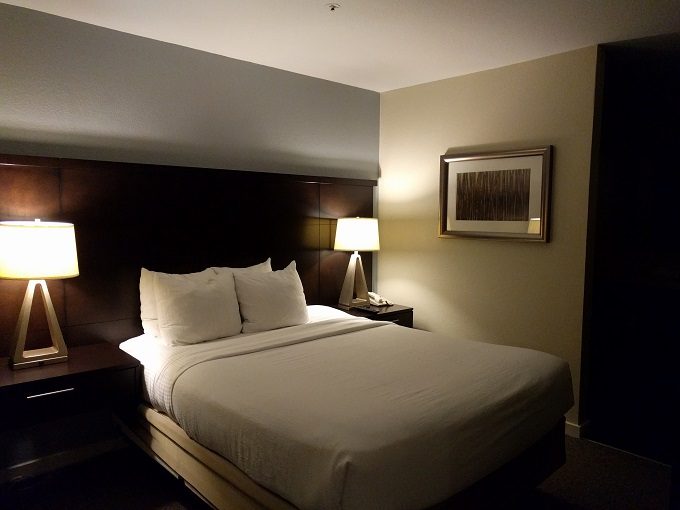 In front of the bed was a dresser with very deep drawers and a TV on top.
Off to the side was a large walk-in closet on the left which contained spare bedding, a laundry basket, an ironing board and iron.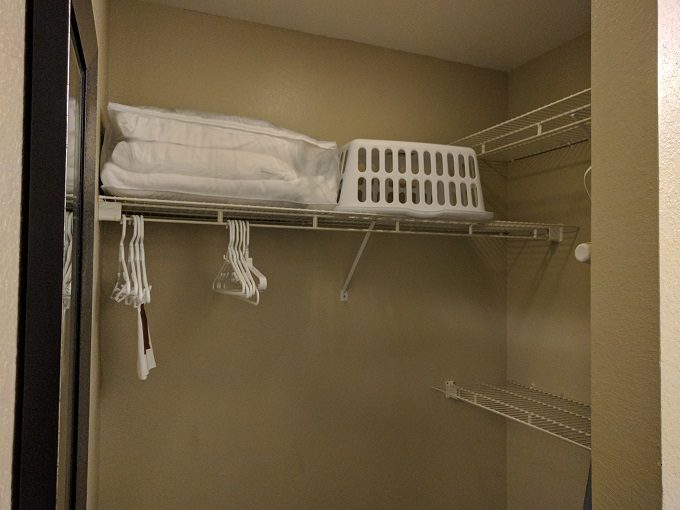 Next to that was the vanity with toiletries.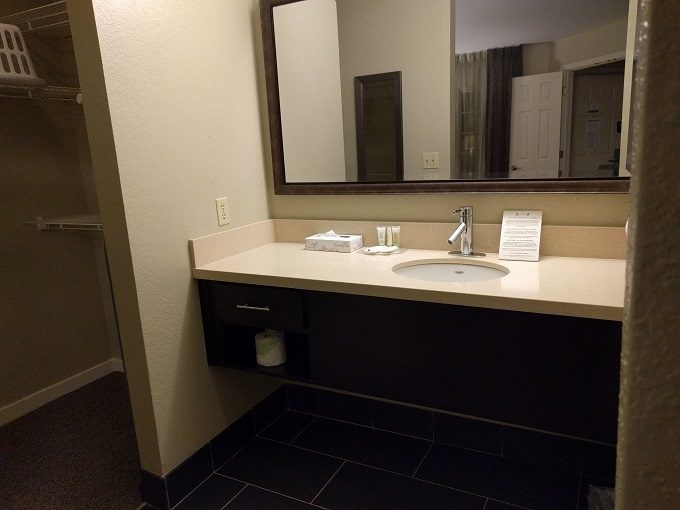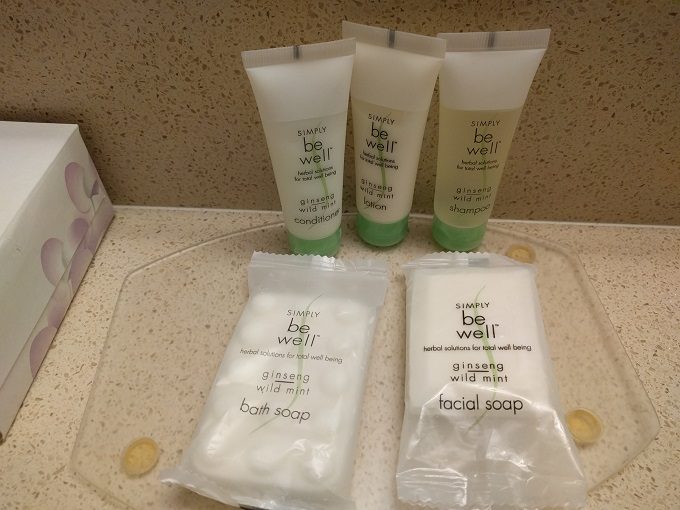 To the right of that was the fairly small bathroom with the toilet and shower. The water pressure of the shower was pretty good and the screen doors closed properly so water didn't end up all over the floor like with some hotel showers.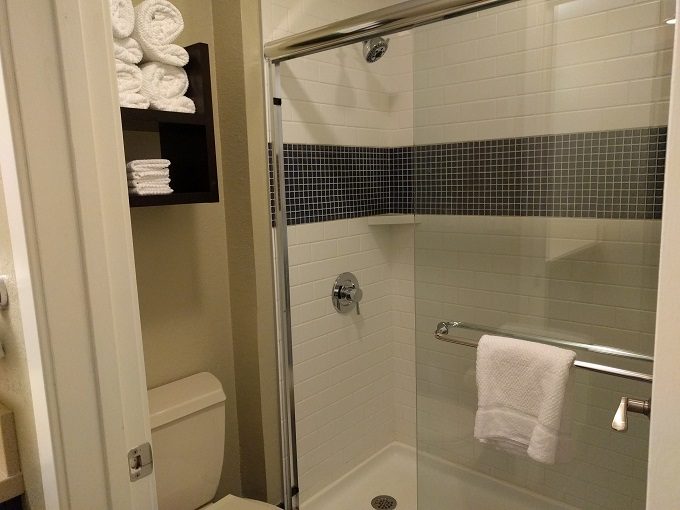 Bedroom 2
The other bedroom had a different layout, although some elements were the same. Like our bedroom, it also had a queen sized bed with shelves either side.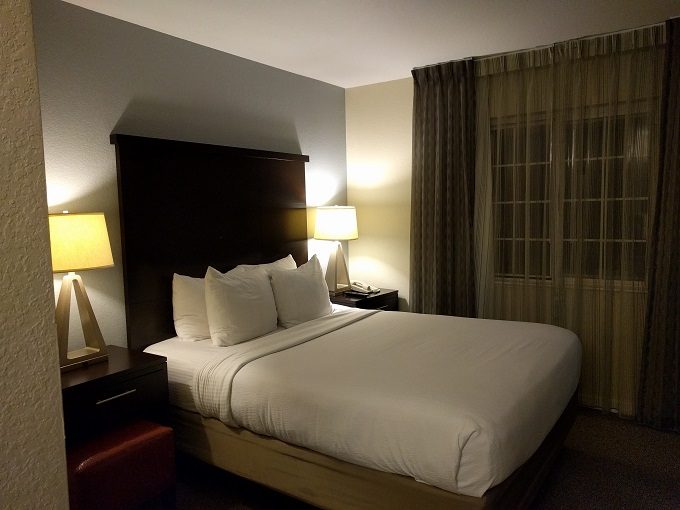 In addition to a dresser and TV, there was a desk and office chair.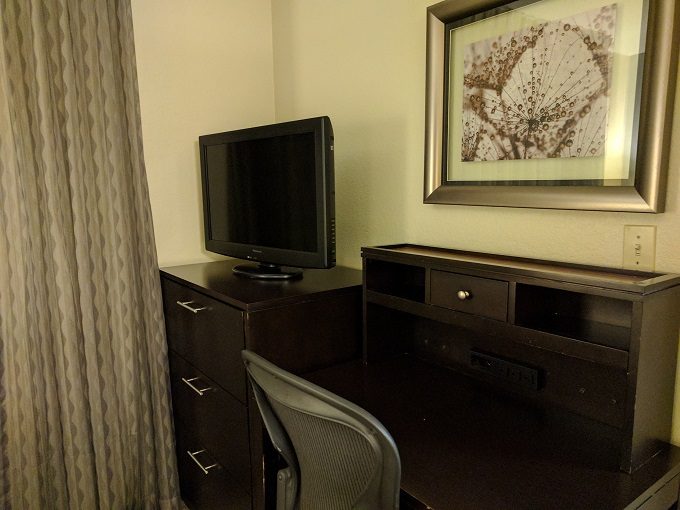 Rather than having a walk-in closet, there was a large built-in closet next to the vanity.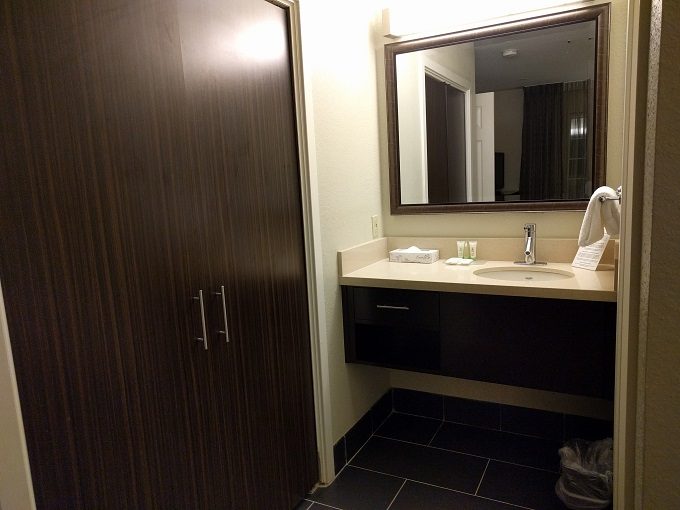 Their bathroom also had a bathtub rather than just a shower.
Kitchen
One of the things that we love about Staybridge Suites is that all the units come with a kitchen – perfect for longer stays like we'll have on our 50 state road trip.
There's a dishwasher, fridge-freezer, toaster, electric burners, microwave, toaster oven and coffee pot.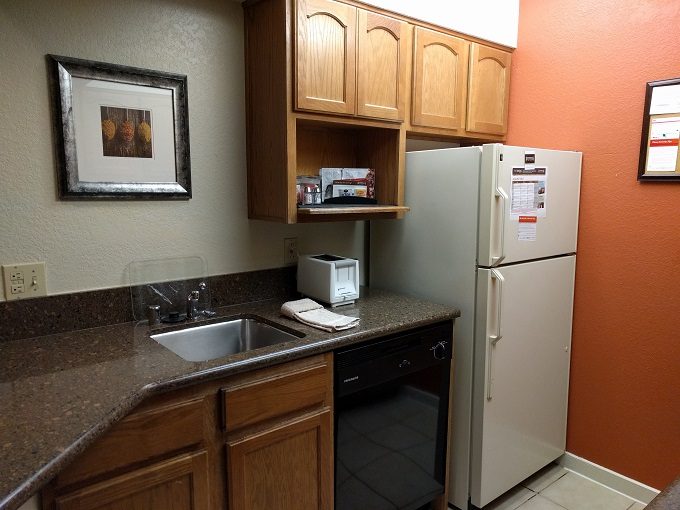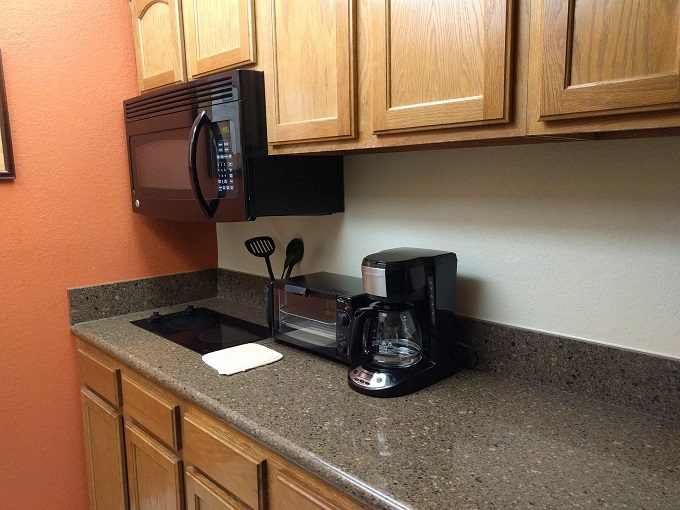 There are plenty of cupboards and drawers for storage, some of which also contain plates, dishes, silverware, pots and pans, etc.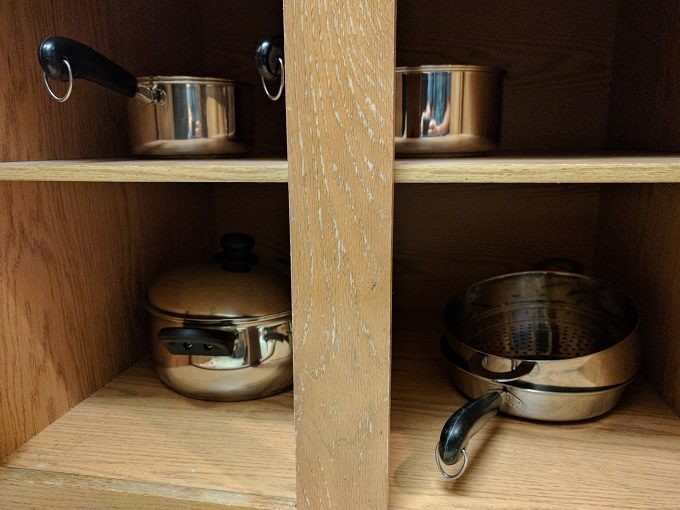 There are several other things for you to use, like a dishwasher tablet, tea, coffee, salt, pepper, etc.
Living Room
The living room had a sectional sofa bed, ottoman and TV and had an open plan layout with the kitchen.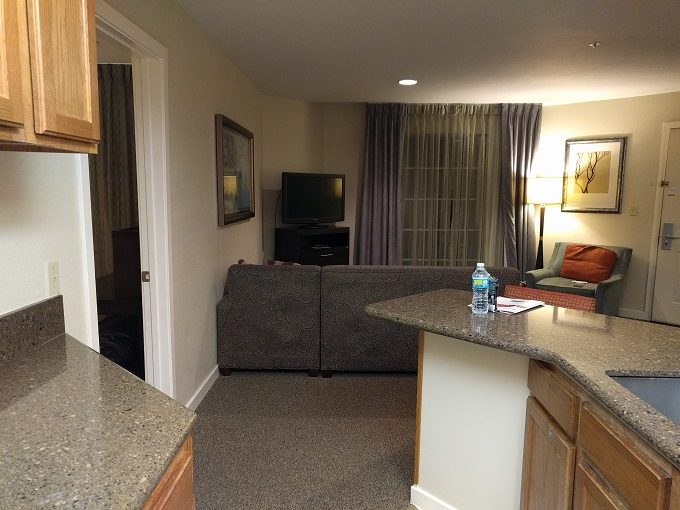 In the corner was another desk and office chair.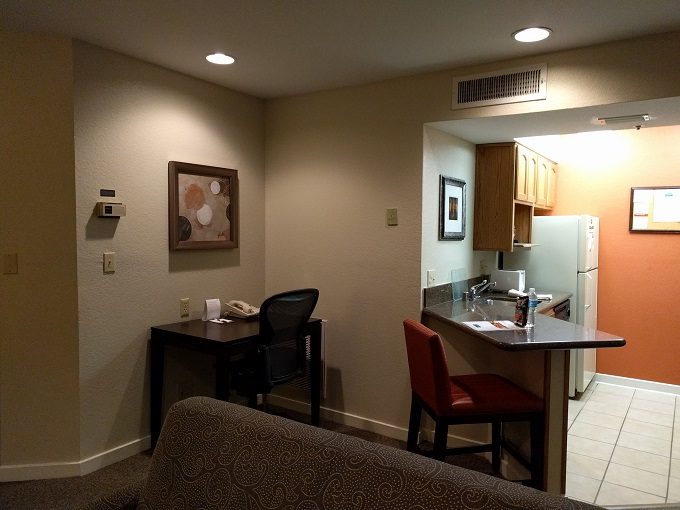 Breakfast
Another thing we love about Staybridge Suites is that a breakfast buffet is included in your room rate. The breakfast includes several hot options; every day there were scrambled eggs (which didn't taste very good), turkey sausage patties and breakfast potatoes.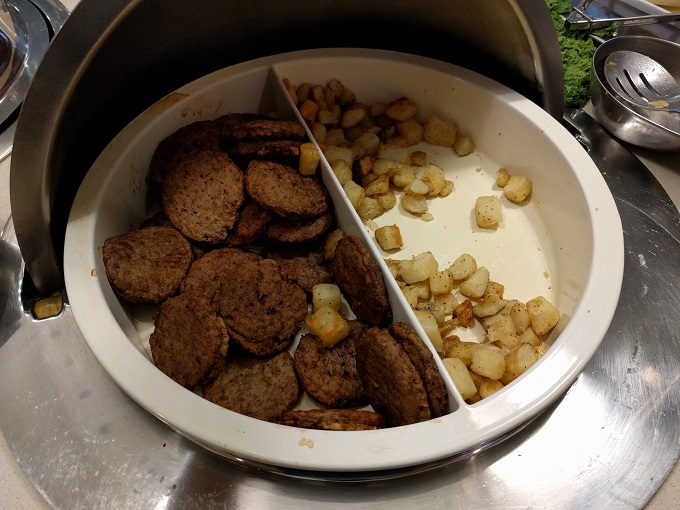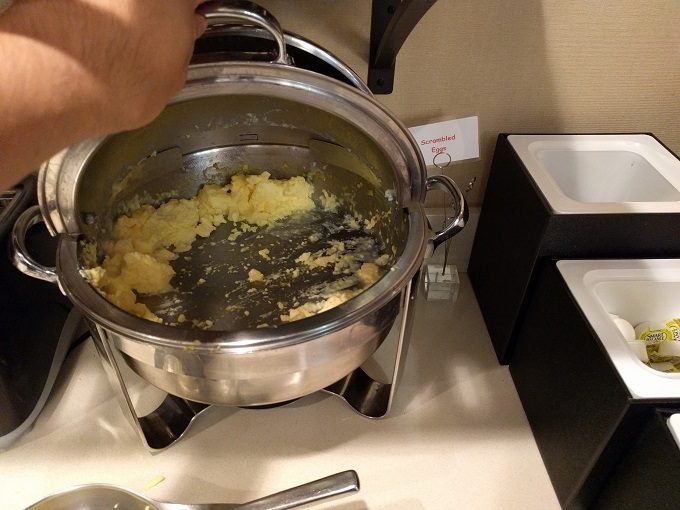 There were other options that seemed to get changed every day – some days there were pork sausage links and omelettes with cheese and on another there were biscuits and sausage gravy.
There were a couple of waffle makers that seemed to make the perfect waffles, as well as some donuts.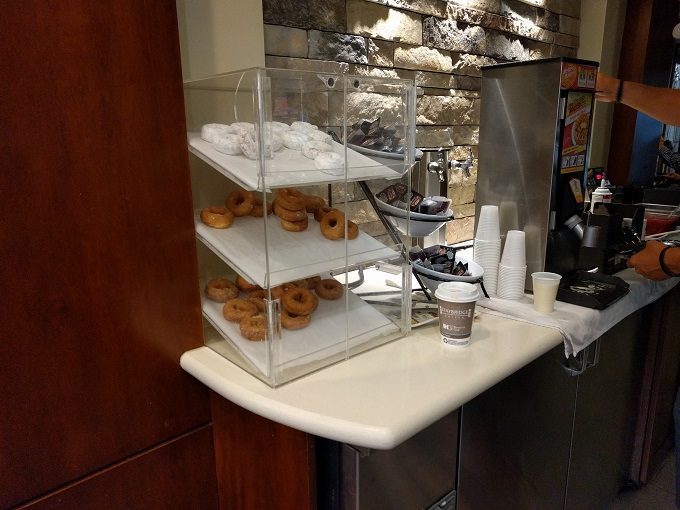 You also had a choice of cereals, bagels, breads, mini muffins and various toppings.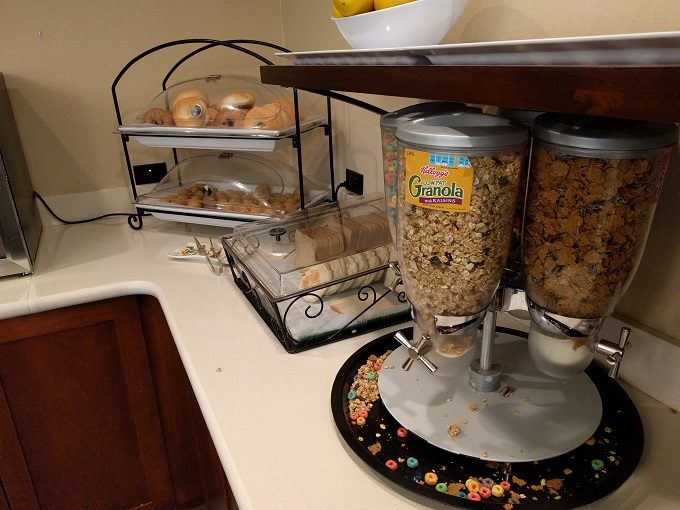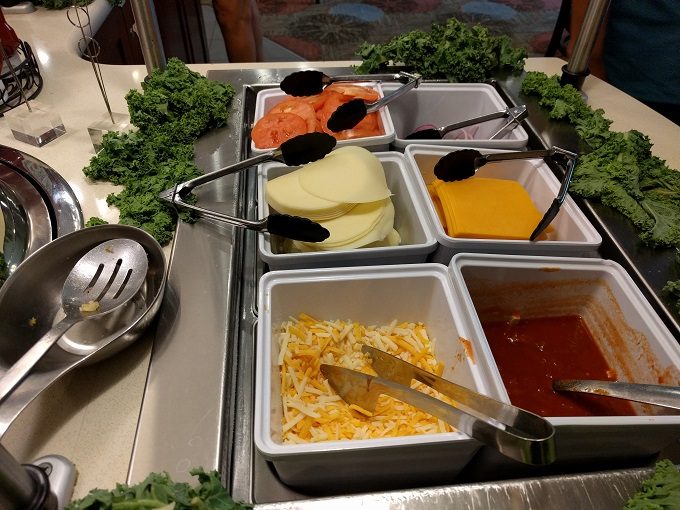 There were also hard-boiled eggs, cottage cheese, fresh fruits and jams.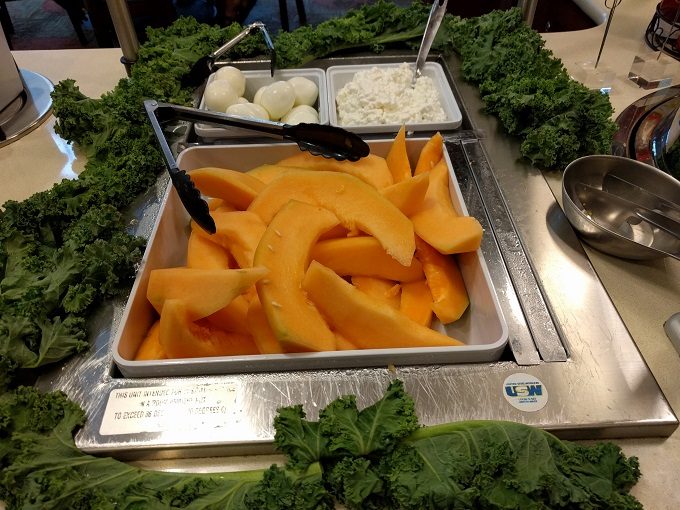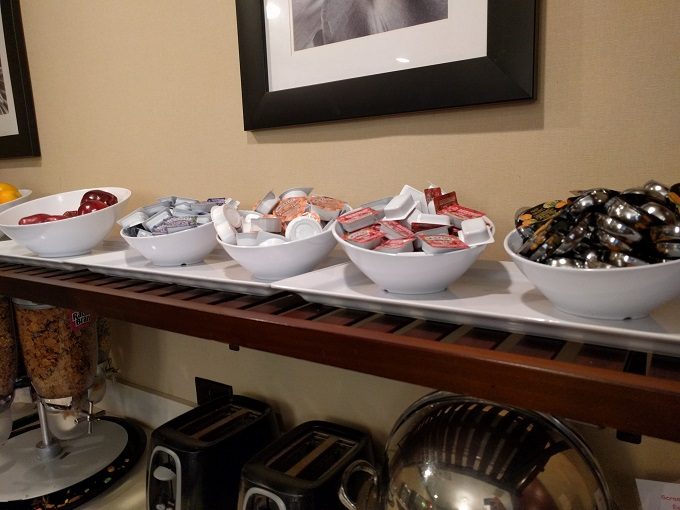 And last but not least, there were juices, sodas, tea and coffee to drink.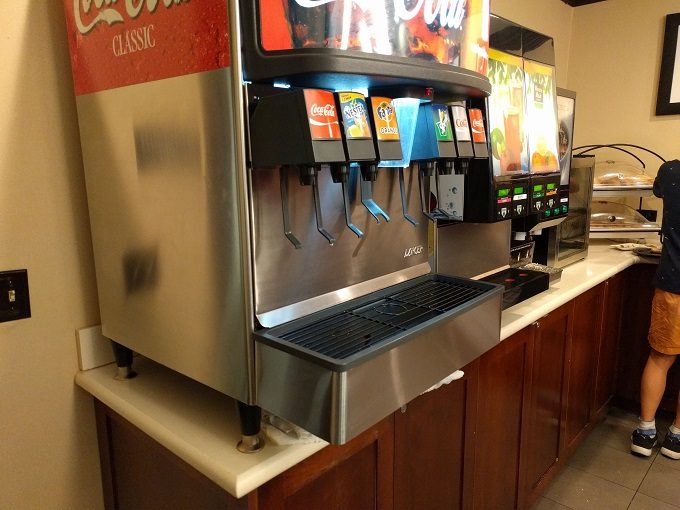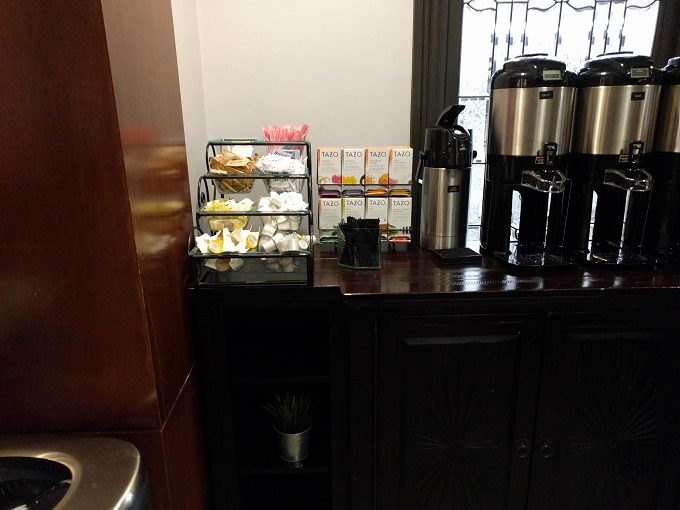 This Staybridge Suites also offers an evening reception in the evening on Monday-Wednesday which includes free beer, wine and dinner. We didn't get to experience this though as we checked out Monday afternoon.
Amenities
I had all these grand plans of using their gym as I started exercising about six months ago. Alas, that wasn't to be. Still, it looked like an OK gym, even though it wasn't massive.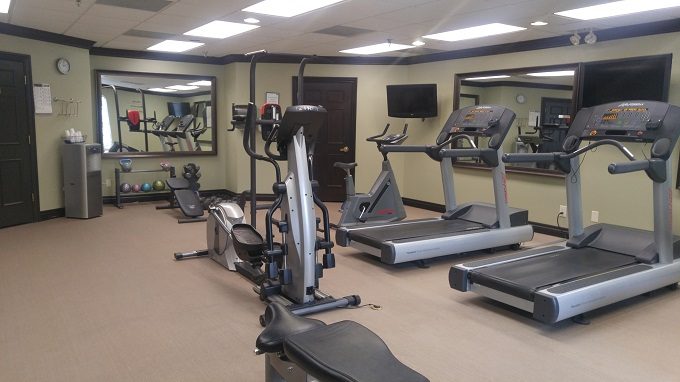 The hotel also had an outdoor pool and whirlpool. Shae and her mom took advantage of these while I was at the concert and they enjoyed themselves – apparently the pool was warm enough for Shae to swim in which isn't always the case with hotel pools.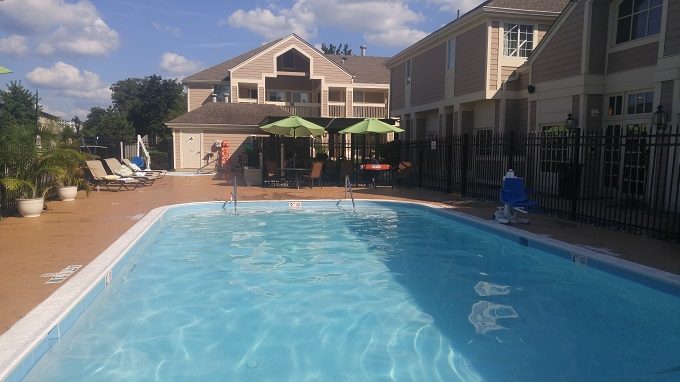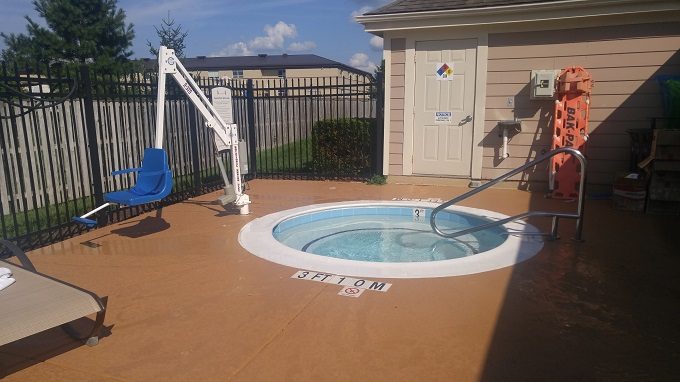 Just off the front desk there was a business area with a couple of computers and a printer for you to use if needed.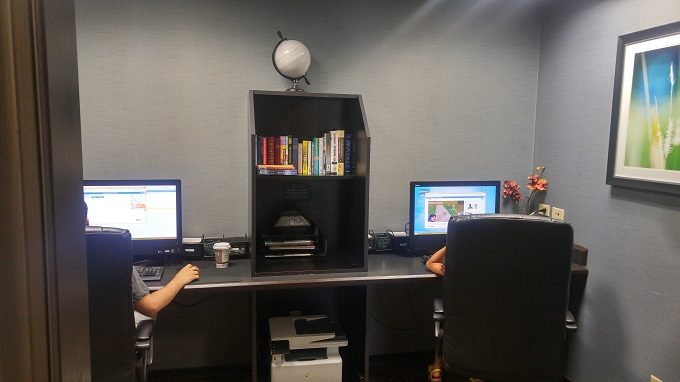 The hotel has complimentary laundry facilities which is perfect if you're planning an extended stay here.
And if you get hungry during your stay, there's a pantry area that sells snacks, beverages and toiletries.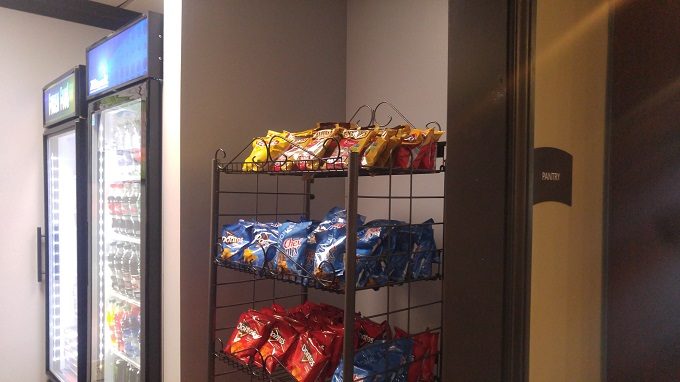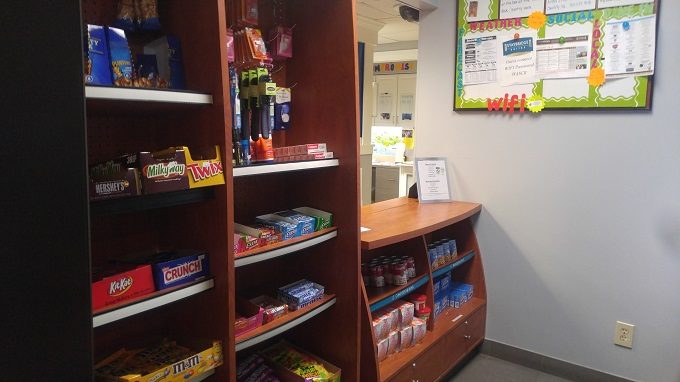 Summary
We really enjoyed our stay at the Staybridge Suites in Herndon. Our two bedroom suite was very spacious, especially given that there were two bathrooms.
The breakfast options were all tasty (other than the scrambled eggs) and there was a good variety of food, so you needn't get bored eating here every day, even if you were staying for several weeks.
At just over $100 a night with breakfast for four people included, this hotel was a bargain.
Truffles Approval Rating

Truffles gives the Staybridge Suites Herndon Dulles four paws out of four – pawfect!
There were plenty of walking areas for her and the suite was large enough to run around chasing her ball and new squeaky donut toy. I know, we minimized her stuff recently, but it was going to be her birthday while we were away in Ireland so she got a few gifts early.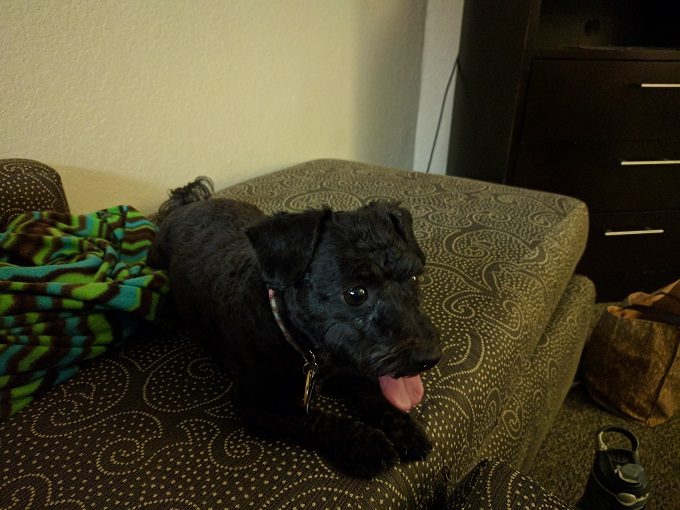 Our Rating
Room = 4.75 / 5
Hotel Amenities = 4.5 / 5
Food = 4.25 / 5
Location = 4.25 / 5
Service = 4.25 / 5
Overall Value = 4.75 / 5
Total = 4.46 / 5
Address
Staybridge Suites, 13700 Coppermine Road Herndon, Virginia 20171