It was my birthday recently, so in the evening we went out for dinner to celebrate. I'd been craving Thai food for ages but changed my mind at the last minute, so we headed to my (and our) favorite restaurant here in Portsmouth VA: Still.
Still describes its offering as 'Worldly Eclectic Tapas'. This description doesn't do themselves justice though, as they're so much more than that.
One of their main features is their extensive whiskey selection – there are more than 100 different whiskeys to choose from. I've started to get into whiskey over the last couple of years, so it's fun to try new flavors there.
Anyway, on to the review…
Still Restaurant Review
Still can be found at 450 Court St, Portsmouth, VA 23704. This is in the Olde Towne area of Portsmouth and is just off High Street.
Still is one of Portsmouth's best-kept secrets as it's hidden away on Court Street. To get there, you need to find the large yellow building opposite Court Street Baptist Church. There's some on-street parking outside, but you might need to park nearby if you're visiting on a weekend evening.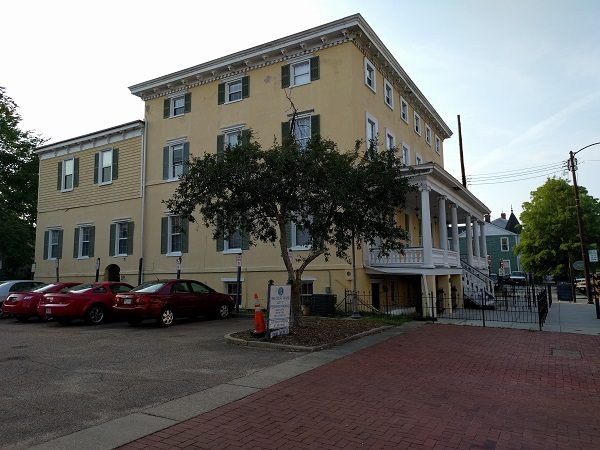 You'll know you're in the right place when you see their sidewalk sign. I walk Truffles past here every day (we're currently living in Portsmouth before heading off on our 50 state road trip) and I love their creative signs.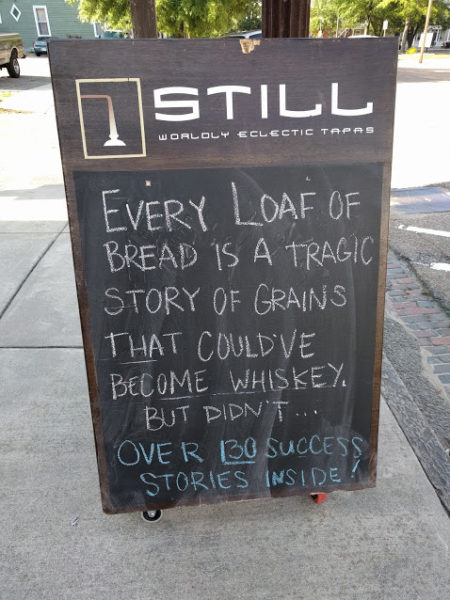 Then head round the other side of the building as the entrance is actually on Queen Street.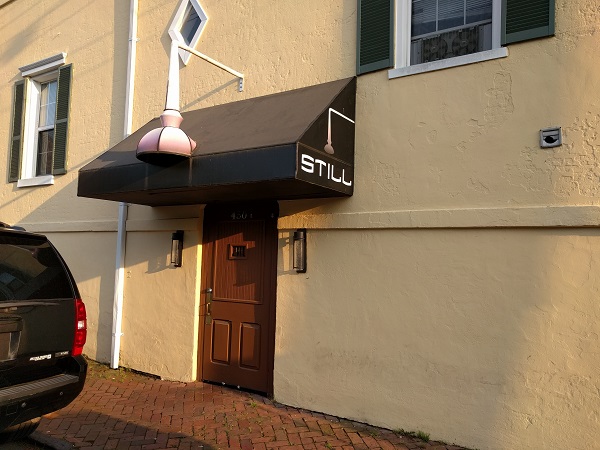 As you enter, there's a narrow hallway that slopes down and to the left to get to the restaurant and bar, with the restrooms off to the right.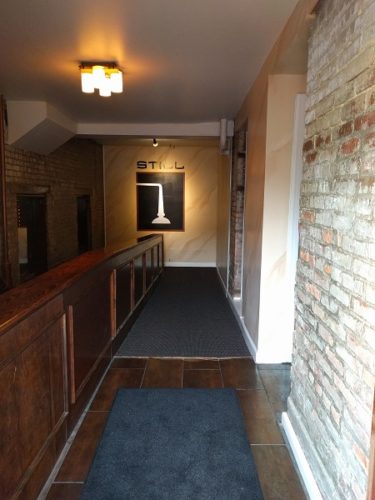 The L-shaped bar is found on your left as you enter and stretches round to the back wall. The restaurant is below street level and has nice mood lighting.
In keeping with the speakeasy theme, there are exposed brick walls, chipped plaster, etc. That's the deliberate design of the restaurant rather than it being a complete hole.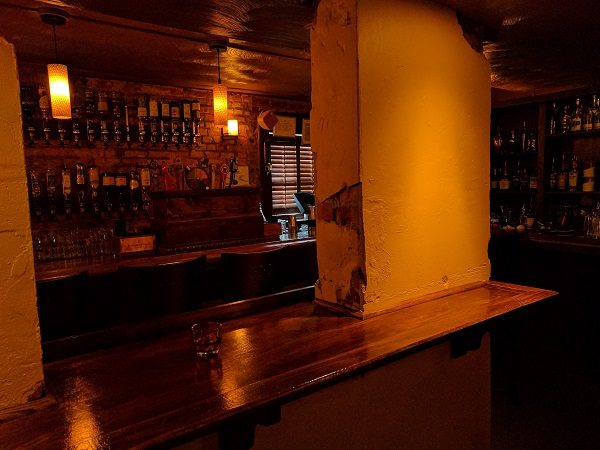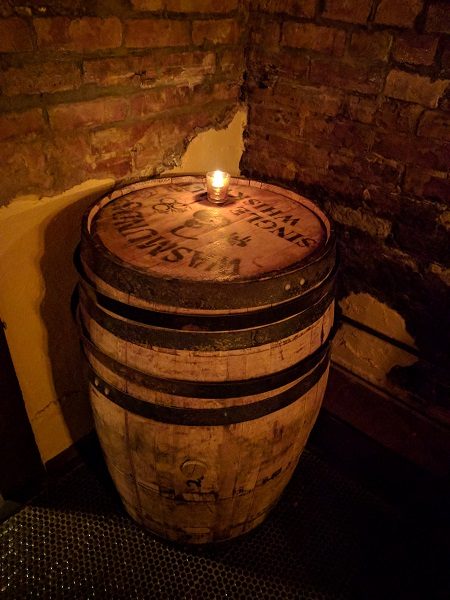 There are different types of seating throughout the restaurant. There's bar seating, lounge seating, 'regular' restaurant tables and high top tables.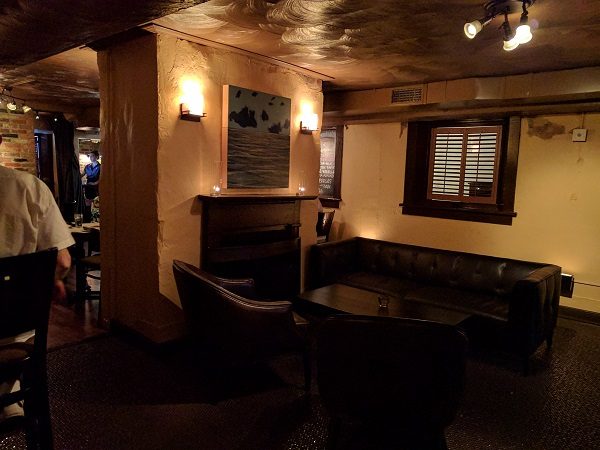 As eating at Still was a last minute decision, we hadn't made reservations. That meant the high top tables and lounge seating were the only options, so we chose the high top tables. They're still a comfortable option, so don't be put off if that's all that's available.
Our server Alex brought over some waters and gave us time to take a look at the menus. Time is what you need when looking at their menus as there's an abundance of choice, especially when it comes to drinks.
I mentioned earlier that they have over 100 different whiskeys, but there's an extensive wine and cocktail selection too.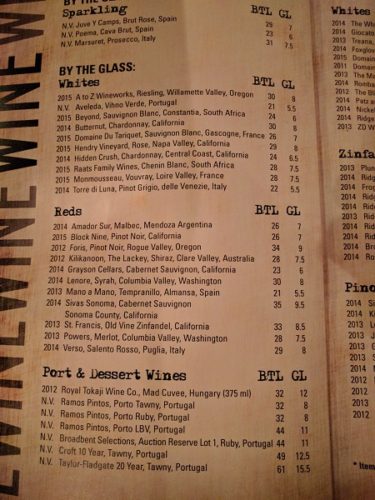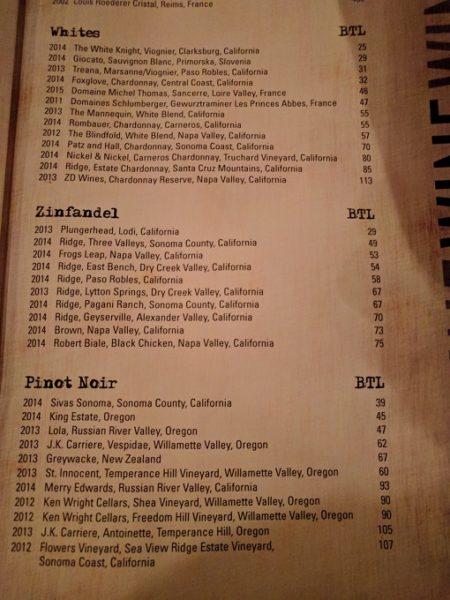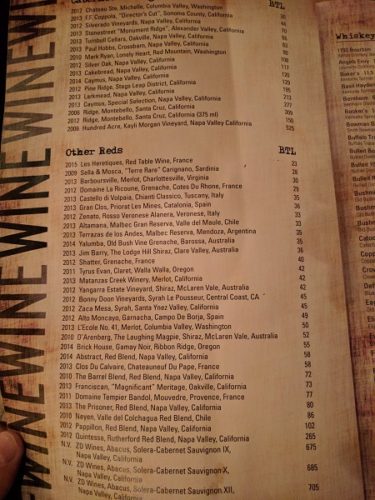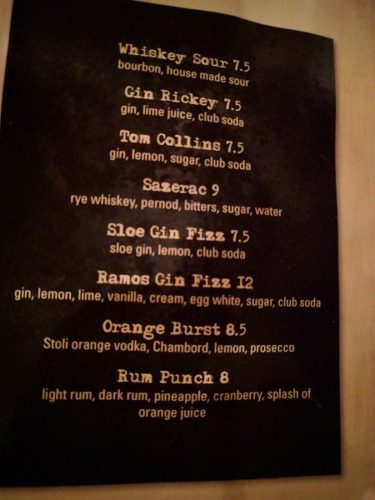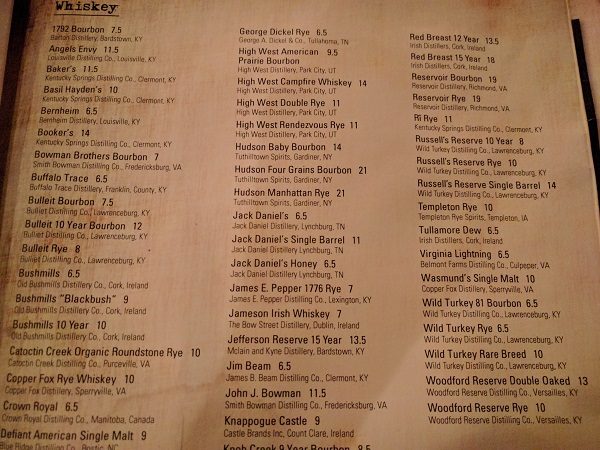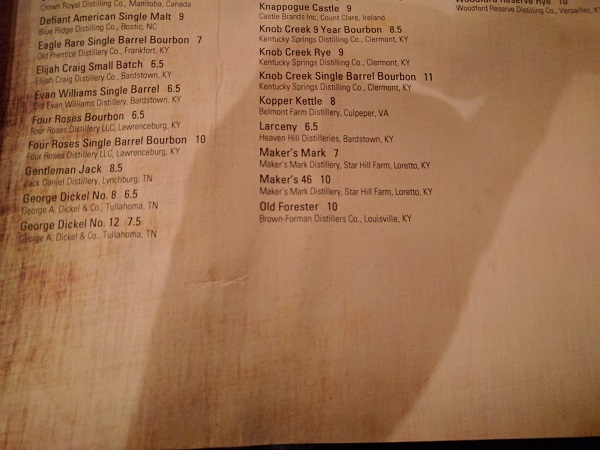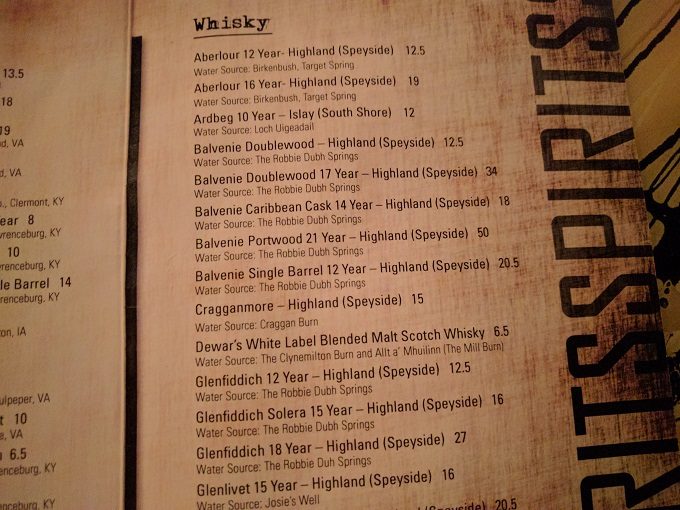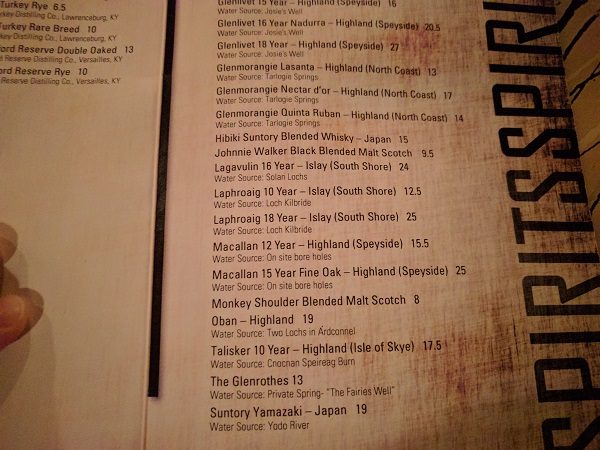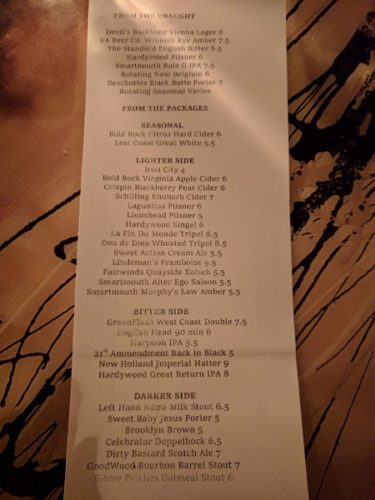 As you can see, there's a ton of choices. Despite that, I didn't even end up getting a drink off the menu as our server mentioned they had a couple of limited time whiskeys. The option I went for was a Jameson Cooper's Croze on the rocks and cost $16.50 per serving. That's far more than I'd normally pay for a drink, but it was my birthday so I figured why not.
It was actually incredibly delicious. I'm still a newbie whiskey drinker, but I think this was the best-tasting whiskey I've tried so far. I enjoyed it so much I ended up getting a second serving during dinner. It sadly looks like it's ~$75 a bottle normally, as I'd love to drink it more often.
Shae went for the Crispin Blackberry Pear cider which she enjoyed as well (she got a second serving of that too).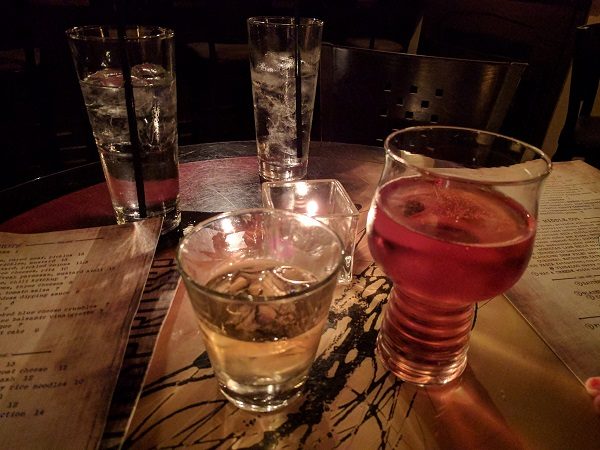 We'd only eaten a late breakfast at The Coffee Shoppe that day, so we were pretty hungry by the time our drinks arrived. Having eaten at Still before, we knew the portion sizes wouldn't be enormous (hence their 'tapas' description) so we each started with an appetizer.
Due to the whiskey theme, their menu has alternative names for their courses:
Appetizers = Foreshots
Entrees = Middle Cut
Sides = Feints
Desserts = Angels Share
Still frequently make changes to their menu, so you can check out their latest menu on their website before you visit.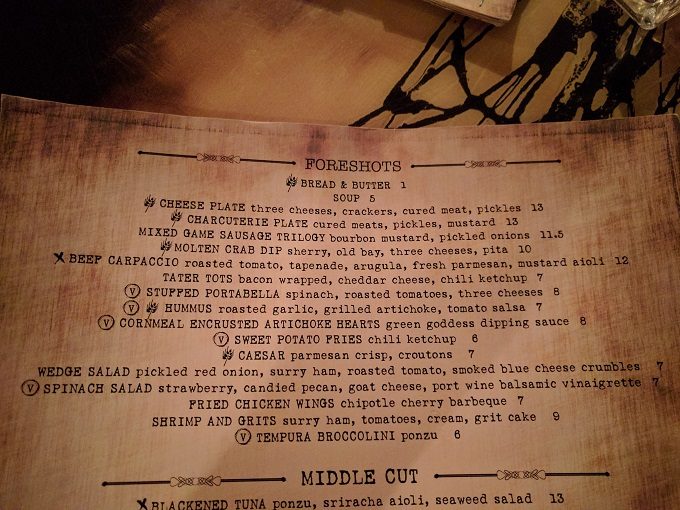 I ordered the sausage trilogy while Shae had the cheese plate. For some reason, the photo of the cheese plate didn't seem to save on my camera, so apologies for that. It came nicely presented on a wood board though.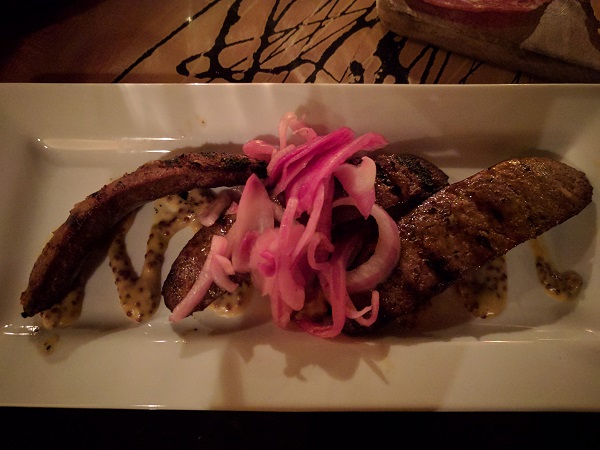 Still change up the meats in the sausage trilogy from time to time. On this occasion, they were made of elk, venison and boar. The boar was my favorite as it had the most flavor, the elk was pretty good and the venison was fair but didn't have as much flavor. The bourbon mustard and pickled onions are a good match with the sausages.
Shae's cheese plate contained blue cheese, elderflower cheddar and farm cheddar. She ended up getting through her crackers quicker than the cheese, so our server brought her some more crackers. I don't care for cheese so I didn't try her appetizer, but she said all the cheeses were absolutely delicious.
Rather than ordering your entree at the same time as an appetizer, Still take your entree order after that. This is actually pretty helpful – particularly if you're visiting for the first time – as it can be hard to decide what to have. They have quite a few options that you don't find at many other restaurants, so you may need to flip a coin (or several coins) to decide what to have.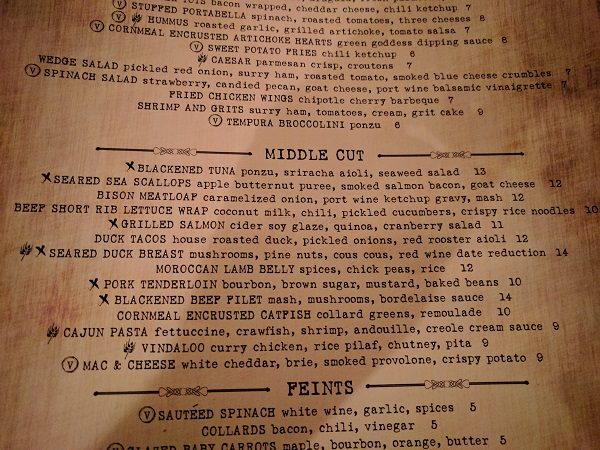 As much as I'd love to try some of their other options, I find it hard to choose anything other than the duck tacos, while Shae went for her tried-and-tested blackened beef filet.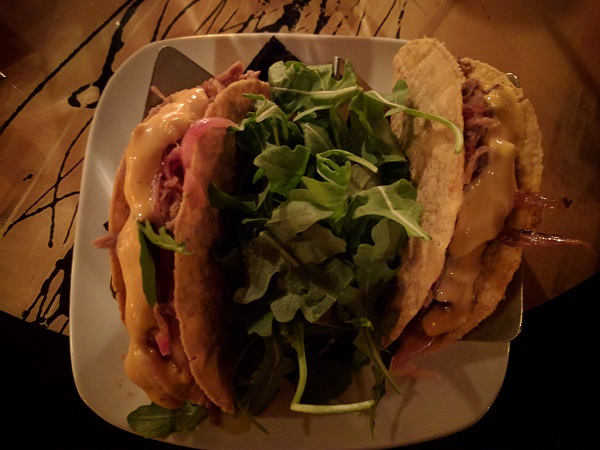 Seriously though – these duck tacos are perfection. Duck can be a fatty meat but whatever cut they use doesn't seem that fatty but is moist and tender.
The tacos are hard shell, but they're not like store-bought hard shell tacos that shatter the moment your teeth dare to come within six inches of them. You can actually bite into these shells and they hold up until the last bite.
I'm not entirely sure what's in the red rooster aioli, but it's creamy and spicy – a little like chipotle, but not as smoky.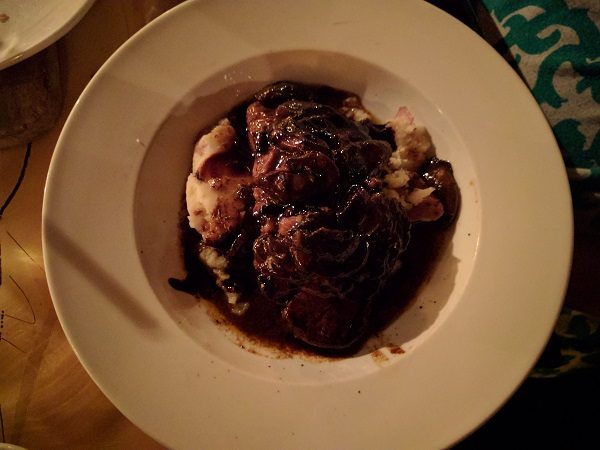 Shae ordered her blackened beef filet medium-rare and it was cooked just how she liked it.
We had just enough room for dessert at the end, so we took another look at the menu.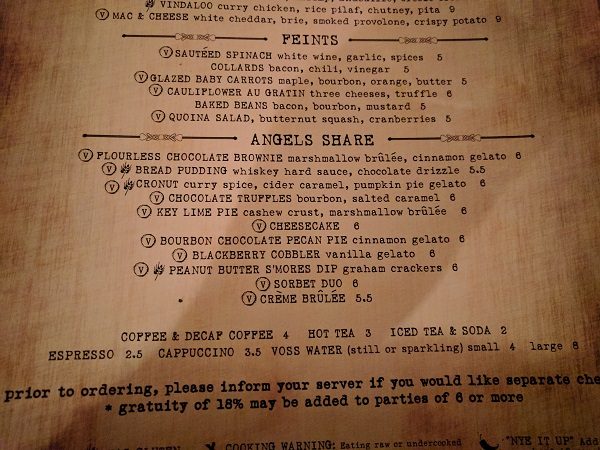 I decided to go for a childhood throwback and went for the blackberry cobbler (blackberry crumble for any fellow Brits reading this). As a kid, I used to love going blackberry picking round the corner from our home; my Mum (Mom for the Americans reading this 😉 ) would then make blackberry and apple cobbler / crumble.
Shae ordered the flourless chocolate brownie with marshmallow brûleé and cinnamon gelato.
We should probably also give the chocolate truffles an honorable mention here. We've had them a few times before and they're delicious, so you can't go wrong by ordering those.
Shae's dessert came out just before mine and for some reason that photo didn't get saved on my phone either. She felt like she'd made a good choice with it though. I tried the marshmallow and ice cream that was left on her plate and both were tasty.
My dessert appeared a minute or two later, complete with a little message: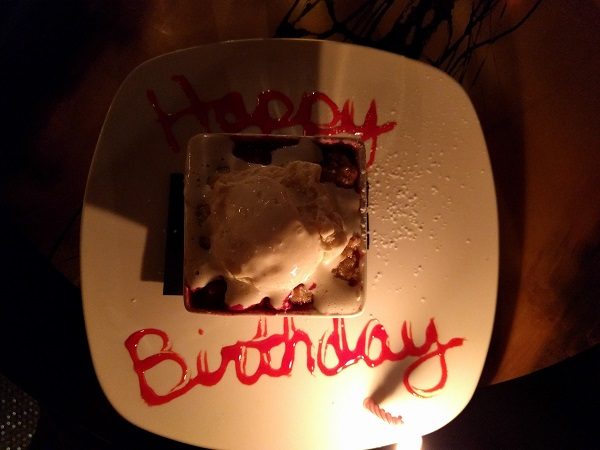 You can't see it very well, but there's also a birthday candle in the bottom right 🙂
After making a wish while blowing out the candle, I dug into the cobbler. It was soooo good. There were loads of blackberries beneath the cobbler and they had a texture like they were fresh rather than out of a can or previously frozen.
Server
I want to take a moment to say how amazing our server Alex was.
She was friendly, extremely knowledgeable about both the drink and food options and gave all-round great service throughout the meal. She didn't check on us too frequently, but still came over often enough to top up our waters, take orders for our next courses, make sure everything was OK, etc.
Although we're Portsmouth locals (for the next few months anyway), we don't know Alex so that's not why we're praising her! The other servers we've had in the past have also been great, but Alex was especially excellent.
Summary
We love eating at Still. Although it's more pricey than I normally like to pay, the quality of the food and service is worth paying for.
It's a fun place to go for a drink (especially if you like whiskey) as well as being a perfect restaurant for a special or romantic meal.
In case anyone's wondering, we paid for this meal ourselves and are writing this review because we loved it so much. We don't write sponsored posts, so it's not like Still have asked us to write a review in return for a comped meal. With all the photo-taking, they probably just figured we're people who Instagram all our meals.
Rating
Food = 4.75 / 5
Price = 4.0 / 5 (this is a tricky one as although it's fairly expensive, it's worth the price)
Atmosphere = 4.5 / 5
Decor = 4.75 / 5
Service = 5 / 5
Total = 4.6 / 5
Address
Still, 450 Court St, Portsmouth, VA 23704