After four weeks in New Zealand and Australia, it was finally time to come home. Our journey wasn't due to be the most direct routing in the world, but it was all in business class and paid for using miles, so no complaints there.
The first leg of our journey was from Melbourne to Bangkok on Thai Airways. I'd heard good things about them and, as it was only our second time flying in business class (which Thai call Royal Silk), Shae and I were excited to experience them.
Here are details of the flight:
Thai Airways 466
Melbourne (MEL) – Bangkok (BKK)
Depart: 15:25 December 26, 2017
Arrive: 20:35 December 26, 2017
Seats: 16F (me) and 16E (Shae)
We were due to start boarding at 14:25, but it didn't get underway until about 14:55. The business class cabin was extremely stylish, with purple shades throughout and some nice artwork at the rear of the cabin.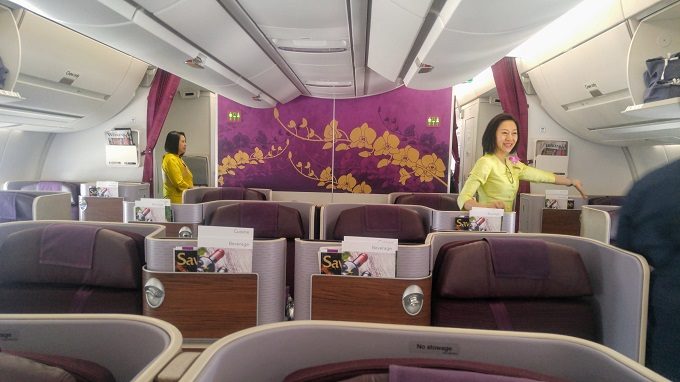 Seats were in a 1-2-1 formation and we'd chosen center seats (16E and 16F) so that we could sit together.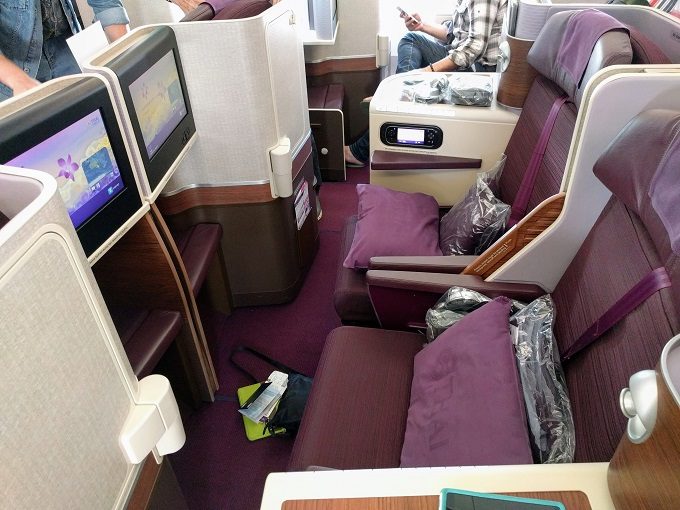 If you're not traveling with a companion, there's a divider that can be pulled up to provide some additional privacy.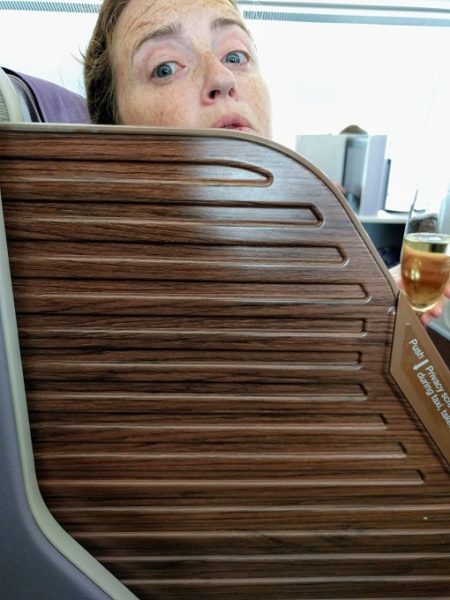 If you'd prefer to see your traveling companion, simply push it down. Well, I say simply, but I had to give it a hard shove as it was pretty stiff.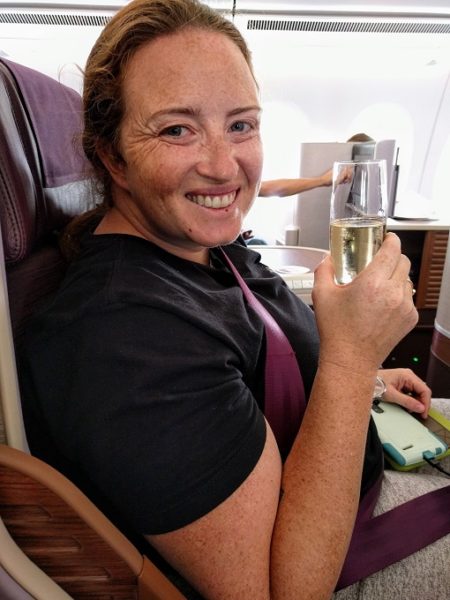 Waiting for us on our seats were a pillow and blanket. The blanket was very soft and comfortable and not too thick (in theory – more on that later.)
Also waiting at our seat was a Furla amenity kit. The bag contained a toothbrush and toothpaste, mouthwash, lotion, lip balm, ear plugs, eye mask, hair brush and slippers.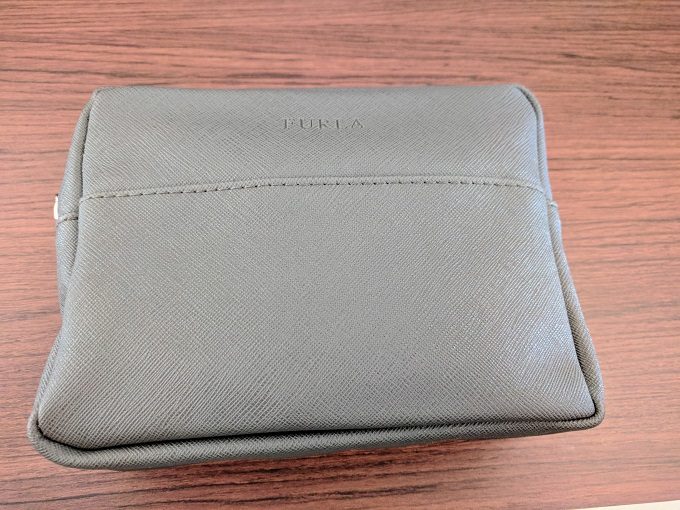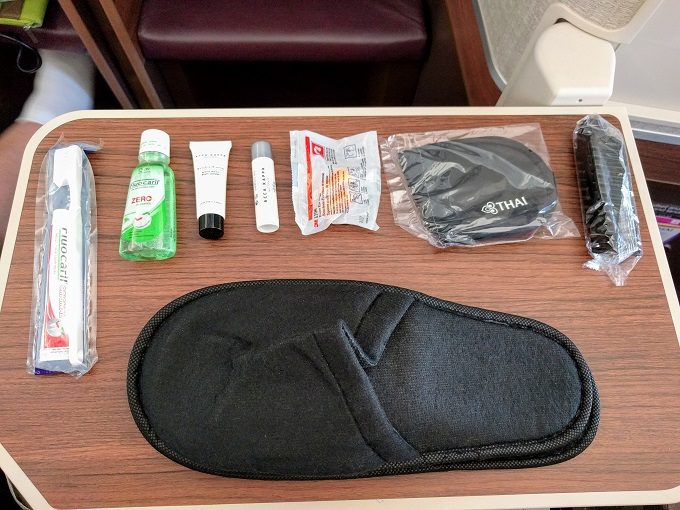 Next to the amenity kit were a pair of noise-cancelling headphones. These were pretty good and quite comfortable.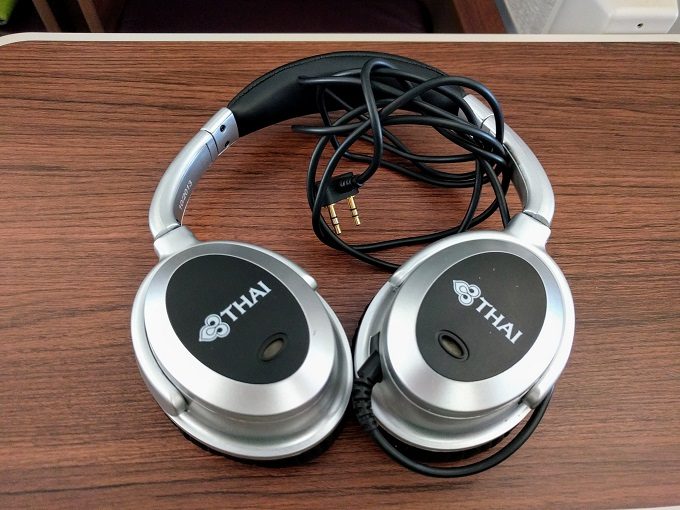 Almost as soon as we'd taken our seats, the flight attendants came round with a hot towel.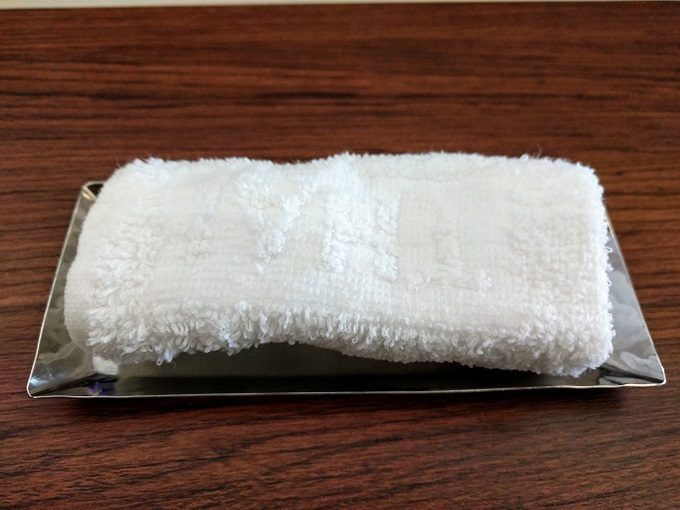 The tray table is stowed behind the seat of the passenger sitting in front of you. When folded down, it can also be pushed away from you in order for you to get out of your seat.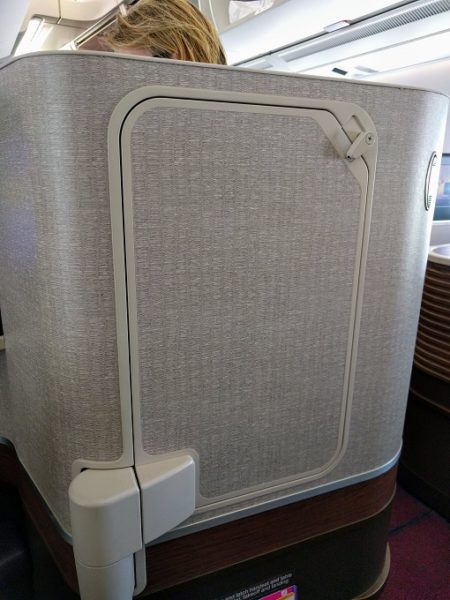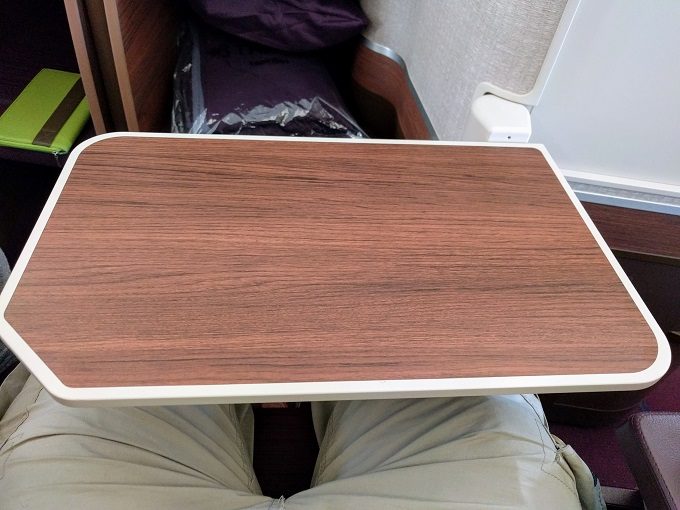 In front of the seat was the foot cubby hole and a small storage space for shoes beneath.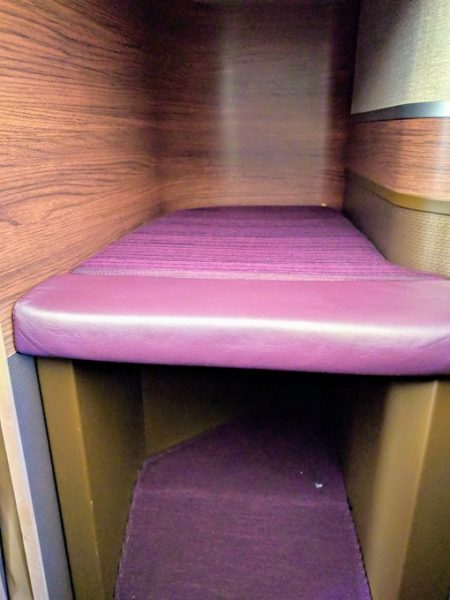 Other than the shoe storage space, the only other storage I could see around the seat (other than the overhead locker obviously) was a small storage area to the right of the seat. It was fairly small, so not much stuff could even fit in there.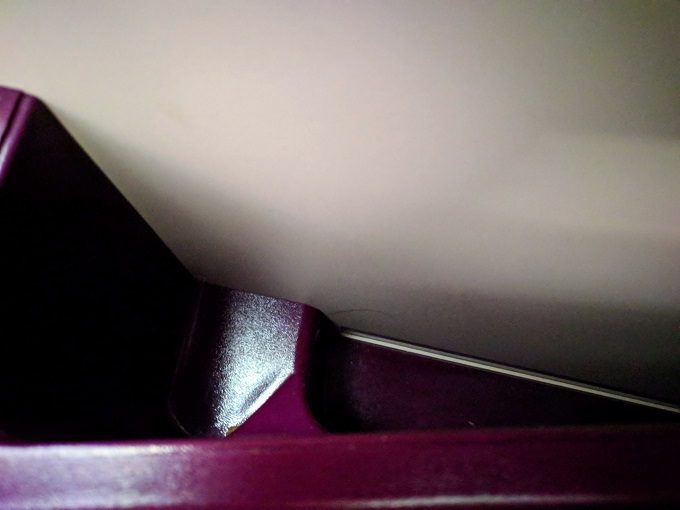 Just above that storage area were the seat controls and entertainment handset.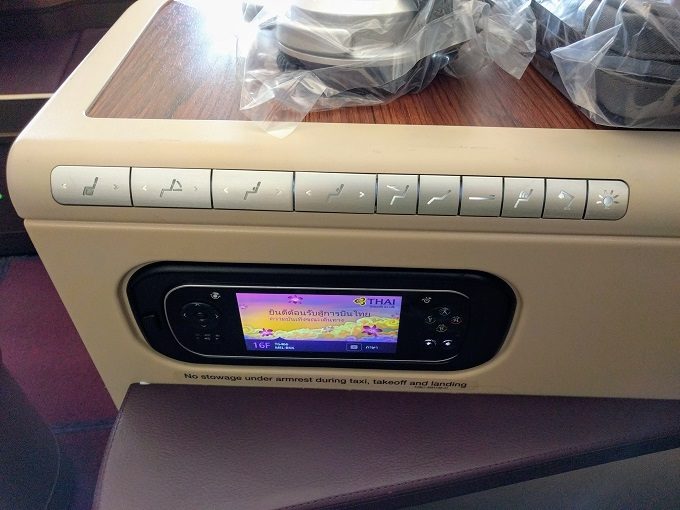 The seat had both an overhead light and a smaller light to the right which could be maneuvered to point in different directions.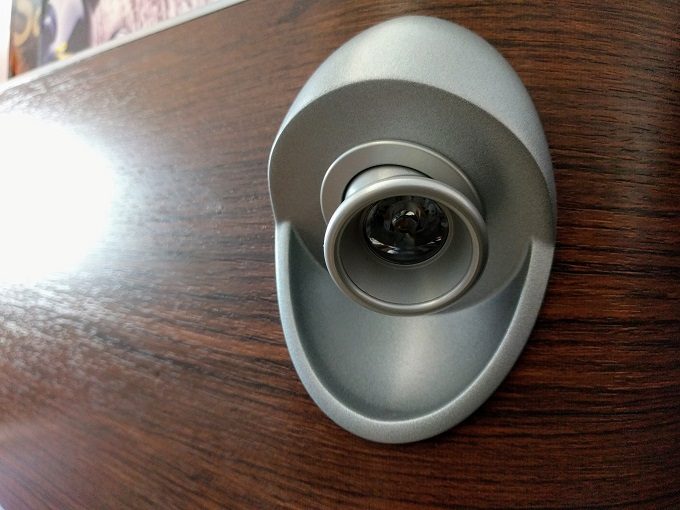 As for power outlets, there was one to the right of the seat with the headphone jack above it.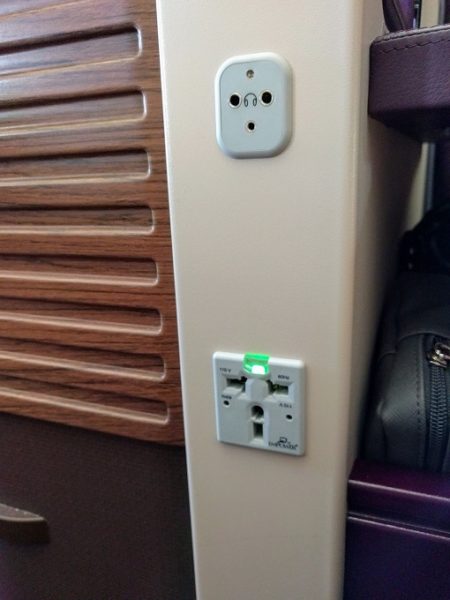 There were also a couple of USB ports below the In Flight Entertainment screen. While appreciated, these ports aren't in the most convenient of locations for charging your phone. Unless you have the tray table folded down, there's nowhere to place your phone while it's charging. Later on while sleeping, the cable therefore had to dangle down, with the phone in the cubby along with my feet.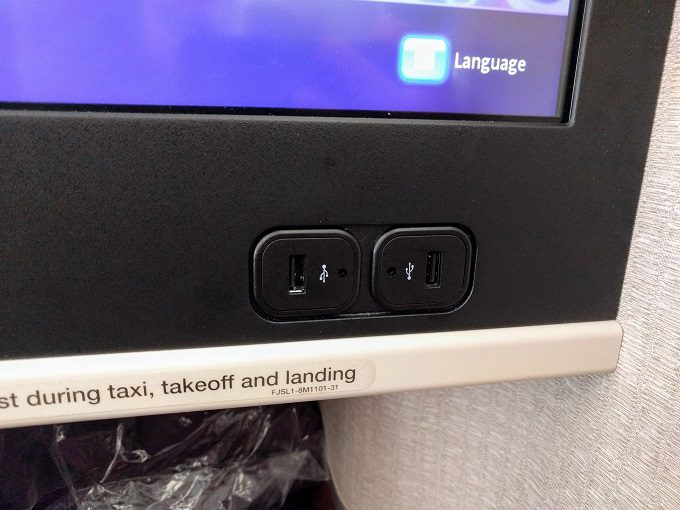 As for the entertainment options, there were ~100 movies (several of which were Thai), as well as a number of TV shows, games and music choices. The plane usually has Wi-Fi access in the sky, but we were informed that it wasn't working on our flight that day.
Once settled in, I started looking at the menu so that I'd know what to order when they came to ask. There were two different food style options – one Thai and one Western.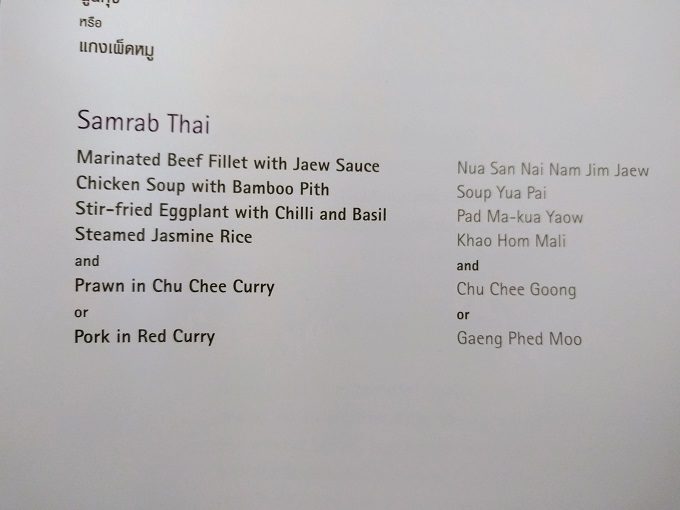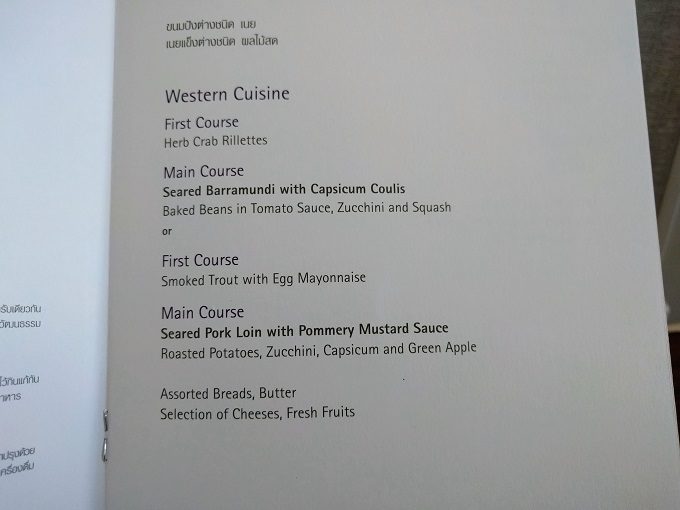 Despite being in the front few rows (we were in row 16 and the rows started at 11), they advised that the Thai option was gone by the time they took my order. I therefore ordered the second of the Western options – a starter of smoked trout with egg mayonnaise and seared pork loin for the main course.
They must've taken orders on the left side of the cabin before the right as Shae was able to get in on the Thai meal action, choosing the prawn curry rather than the pork curry.
There were a couple of dessert options, as well as a few snack options you could request at any time.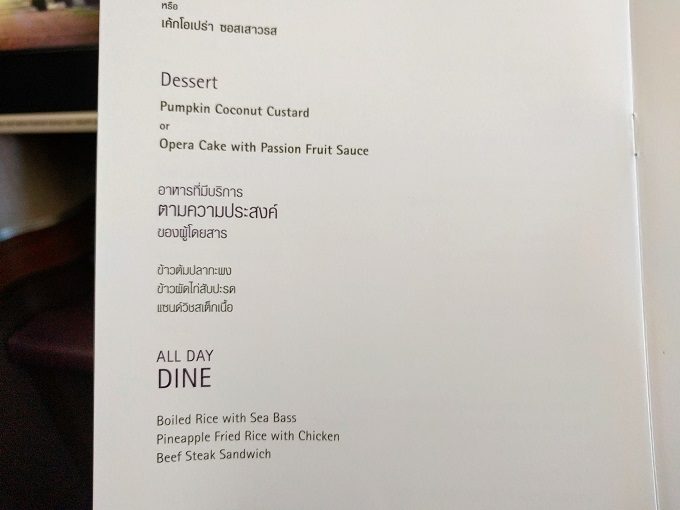 There were also some red wines…
…white wines and a Rosé…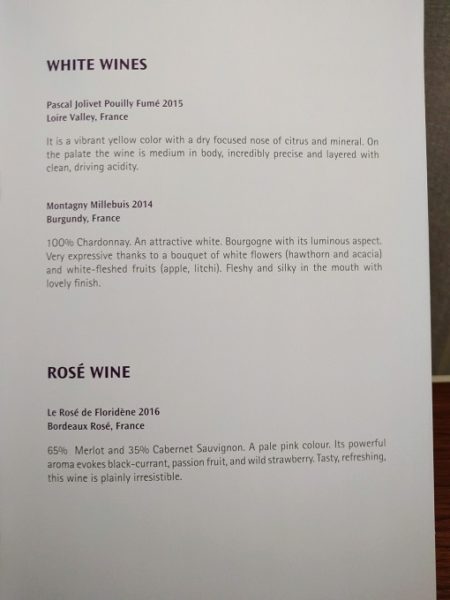 …as well as spirits, soft drinks, coffee and multiple tea options.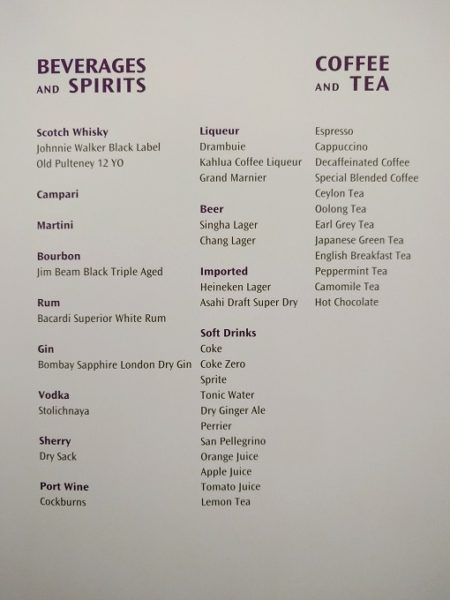 While all this was going on, I ordered some champagne and water, both of which came served in glassware.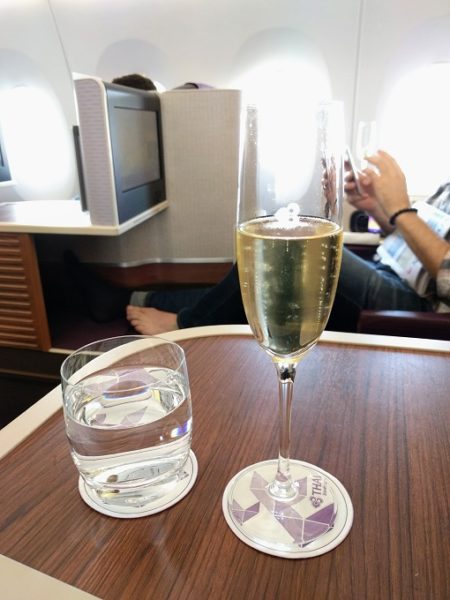 Despite boarding starting 30 minutes late, it was quick and efficient and so we pushed back from the gate by 15:35, only ten minutes behind schedule. After taxiing for a while, we finally took off at 15:55.
After about 30 minutes of being in the air, the flight attendants came round with a drinks cart. I asked for a Johnny Walker Black Label whiskey on the rocks which was served with some nuts and dried fruit.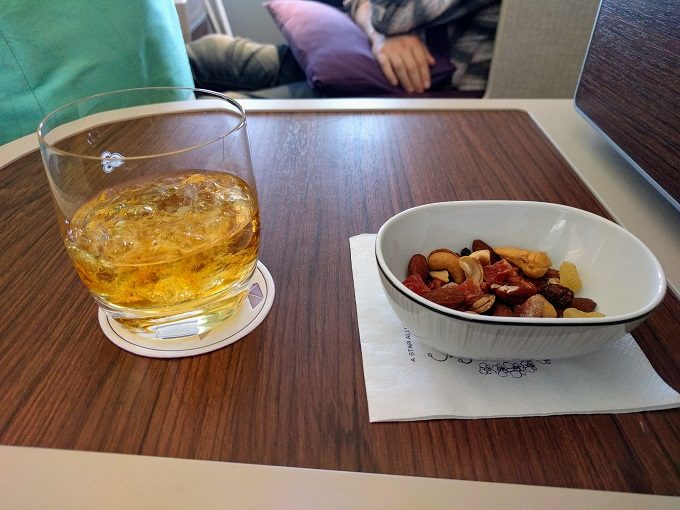 About half an hour later, the food service began. A tablecloth was placed on the tray table and a tray containing my starter was placed on top. The starter came with a couple of bread rolls and what looked like some kind of crispy sesame seed sticks (although they didn't taste of sesame seeds.)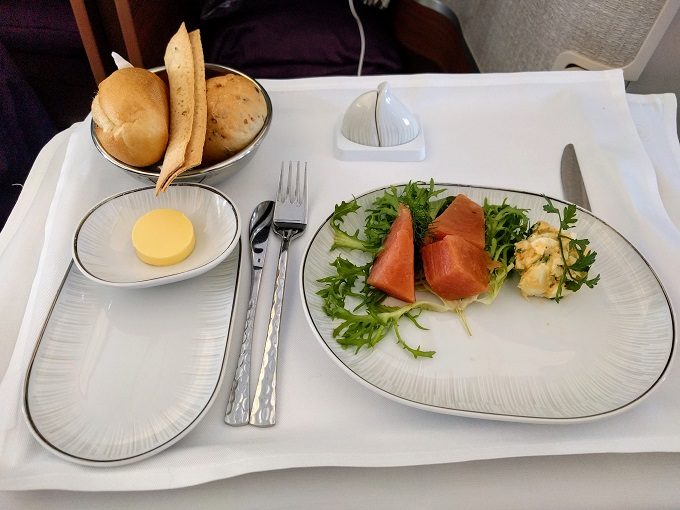 The egg mayonnaise was far more flavorful (in a good way) than I was expecting and the smoked trout was excellent.
Next up was the pork loin with roasted vegetables and apple. This course was disappointing as the pork was very dry and not particularly flavorful – I now wish I'd chosen the barramundi (sea bass) option.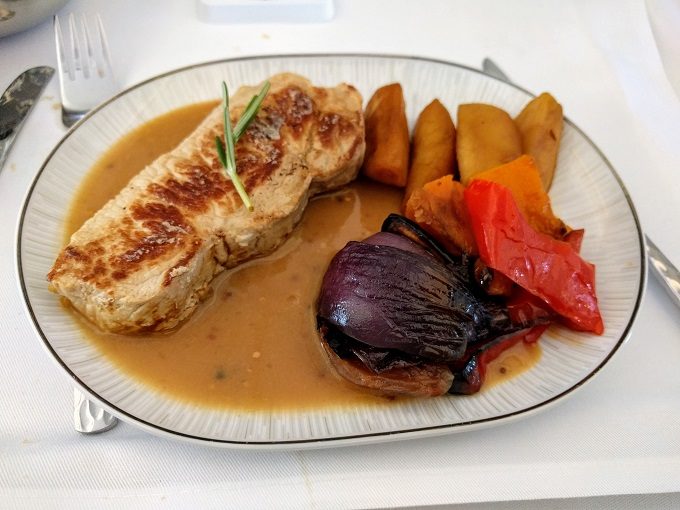 That was followed up by a cheese plate and fresh fruit. I'm not a fan of cheese, so I passed that across to Shae. The fruit plate was very good as the melon and pineapple were perfectly ripe.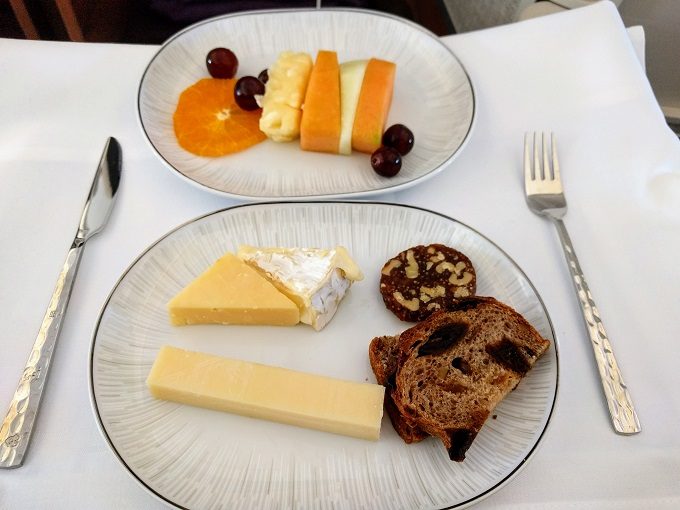 As I mentioned earlier, Shae ordered the Thai option. The prawn curry was apparently very good, the soup was good and the rest was only OK.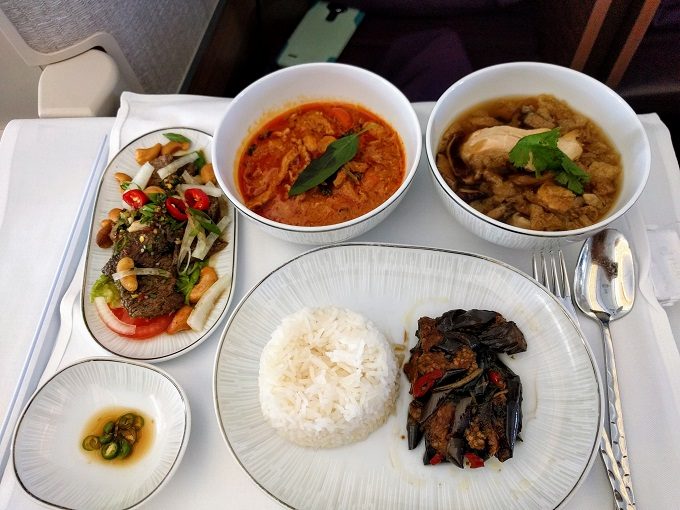 Shae was also served a dessert which, based on the two listed on the menu, I'm assuming was pumpkin coconut custard.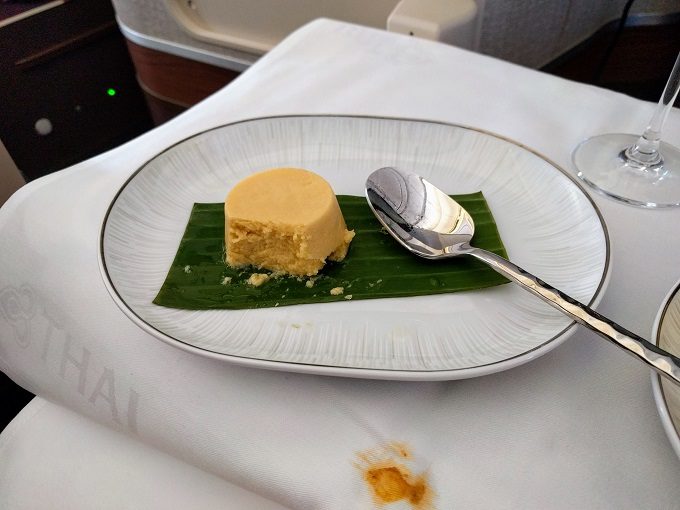 I'm a little confused with the whole dessert situation. I wasn't offered any kind of dessert, so I'd assumed that it was only served with a Thai meal. Looking back at the menu though, the dessert was listed separately to both the Thai and Western options, so it looks like I missed out.
From starter to (non) dessert, the food service was finished after about 30 minutes. Despite having just eaten and it being late afternoon, we decided to try taking a nap seeing as we'd be landing at night and the plane had lie-flat beds.
The seat was more narrow than expected, as it wasn't possible to lie on my back without having to have my arms at a weird angle.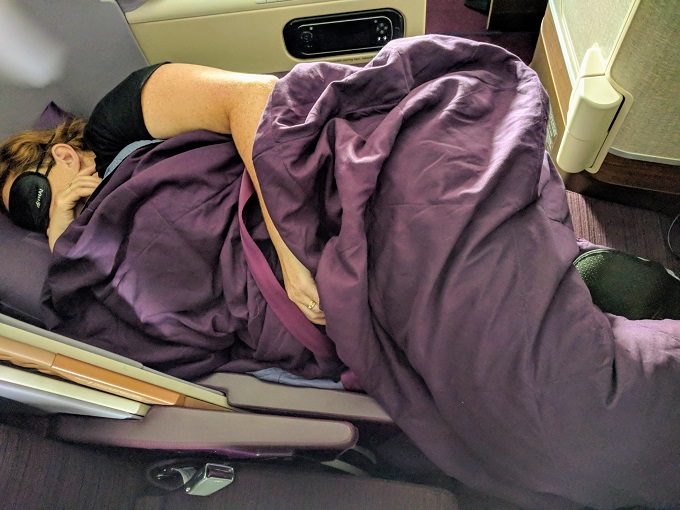 I managed to get about an hour's sleep, but some mild turbulence woke me up. Although the cabin temperature had been reasonable when we took off, it was now uncomfortably warm and the seats in business class have no air nozzles, so I gave up on sleeping. Shae managed to sleep for a little longer, but she also woke up extremely hot which wasn't helped by the fact that she'd slept with the blanket on.
A few hours after our meal, I was feeling a bit peckish. I therefore ordered the pineapple fried rice with chicken which was one of the 'All Day Dine' options and arrived a few minutes later once it'd been heated.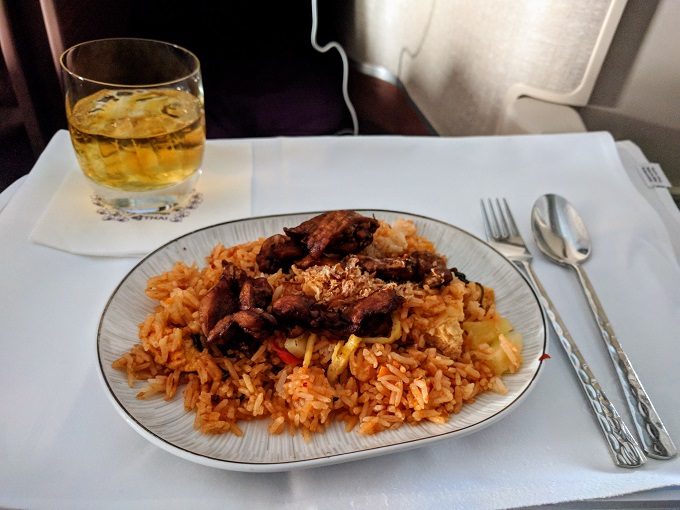 This dish wasn't very good either. The rice was extremely bland and the chicken was as dry as the pork from my main course. I was surprised by the poor quality of the food on this flight; we lived in Bangkok for about six months and the food there was delicious no matter where we ate. Meals that used to cost us 30 Thai Baht (~$1 USD) in Bangkok were far better than anything I ate on this Thai Airways business class flight, which is why it was so surprising that even this somewhat Thai-style dish didn't taste good.
After finishing the dish, I went to the bathroom and returned a couple of minutes later, only to find that they'd also taken my drink even though it was still half-full.
Two or three hours after that, a flight attendant walked down our aisle asking passengers if they wanted anything to eat from the 'All Day Dine' menu, but she completely bypassed me. I'm not sure if it's because I'd ordered something a few hours earlier, but it would've been nice to have been asked if I wanted anything else.
I wasn't concerned at the time as I'd assumed there'd be another meal service before we landed seeing as it was an 8 hour, 25 minute flight. My assumption was wrong though, as no other food was served.
This was surprising too, as we've flown to and from Europe at least a dozen times. Even though those flights are usually 6-7 hours, there's always a main meal service, as well as breakfast (or something else) served before landing.
Shortly before landing, the flight attendant on our aisle came down and personally thanked each passenger for flying with them.
Final Thoughts
I'd heard good things about Thai Airways business class, but it sadly didn't live up to my expectations.
On the positive side, the seat was comfortable, the flight attendants were friendly and attentive and the cabin is beautiful.
There were several negatives about our experience though, albeit some of them being minor. The cabin was uncomfortably warm for about half the flight, there's very little at-seat storage, the food overall wasn't very good, the Wi-Fi didn't work, the flight doesn't include an arrival meal, I was seemingly ignored when it came to ordering a snack later on, my drink was taken even though there was plenty left and the USB ports are in an inconvenient location for charging.
Despite the list of negatives being much longer than the list of positives, I wouldn't recommend avoiding Thai Airways. Many of those negatives may well be one-offs, so I'd be willing to fly with them again, although I wouldn't go out of my way to book with them.
Follow Our Entire Trip Down Under
Be sure to also check out all our other posts from our trip to New Zealand and Australia:
Review: Thai Airways Business Class Melbourne to Bangkok