While Shae and her mom went off to get tattoos, I was tasked with finding somewhere for us to have dinner that evening.
My instructions: somewhere local and a non-chain.
Doing some Googling, there appeared to be a couple of farm-to-table options, but their entrées were ~$30 which is more than we wanted to spend.
I eventually came across The Village Grill and, after looking at the menu online, knew it was the perfect place for us to have dinner.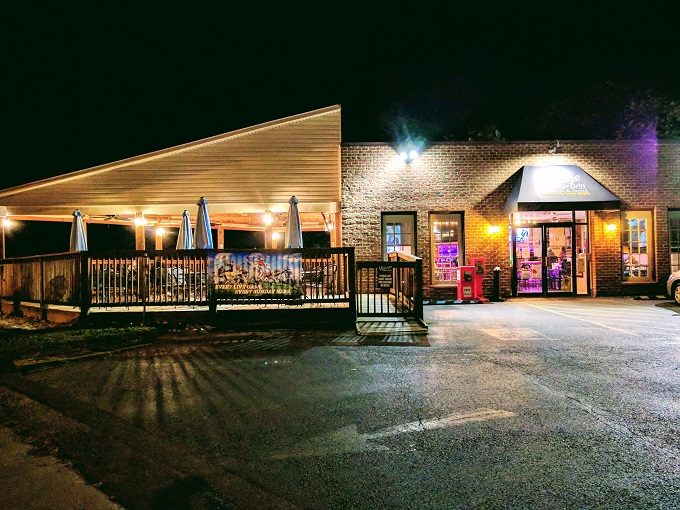 We were with Shae's mom and stepdad and were also meeting up with one of her friends, so we got a table for five inside as it was due to get chilly that night. Pets are welcome out on the deck though, so we'd have been able to bring Truffles if we'd wanted.
There were some big screens set up to broadcast the Clemson vs Virginia Tech game later that evening (Roanoke is fairly near Virginia Tech.) When we arrived though, some kind of TV show about overseas surgeons was being shown on the screen next to our table. Thankfully they changed the channel to the game before our food arrived as watching people being operated on wouldn't have been particularly appetizing.
When our server came over to take our drinks order, I asked for a Hefewowser from The Damascus Brewery. Its description made it sound similar to an Aventinus which is one of my favorite beers. Sure enough, it tasted very similar – not quite as nice as an Aventinus, but pretty close which was impressive given that The Damascus Brewery is a small local brewery.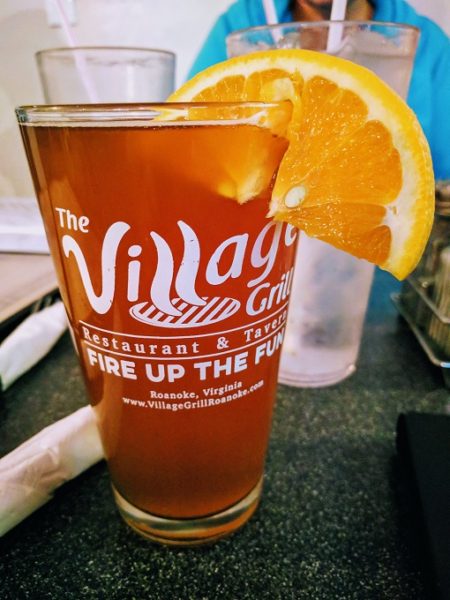 Here's a list of their beer specials: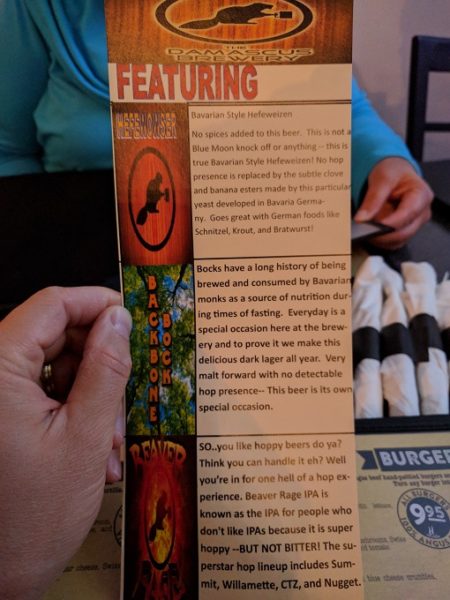 Shae's mom ordered the Backbone Bock which was also tasty (I tried a little of hers). I've therefore added The Damascus Brewery to our list of places to visit on our 5 year, 50 state road trip.
Choosing what to have for dinner was a little harder as there were so many options that looked good. Here's their menu – the menu in the restaurant was in plastic sleeves and so was hard to photograph. These images are therefore pulled from The Village Grill's online menu.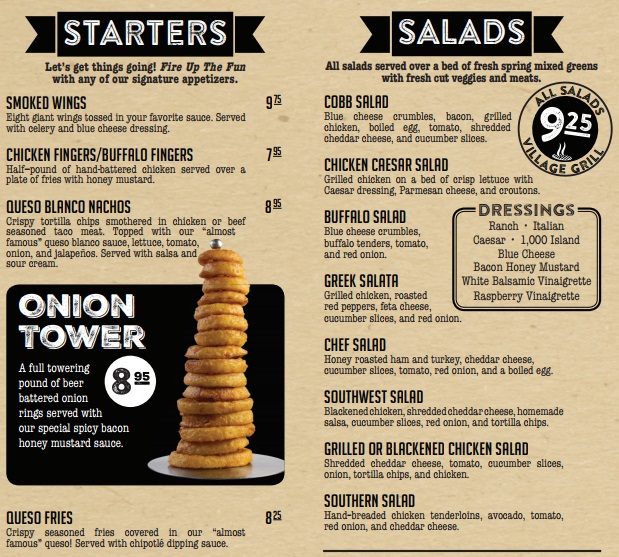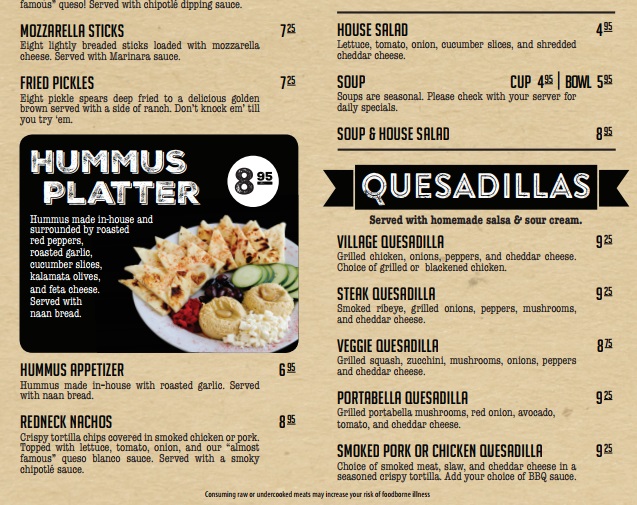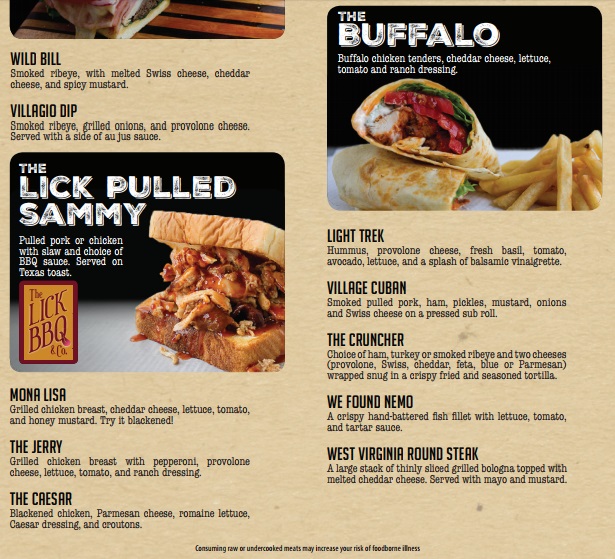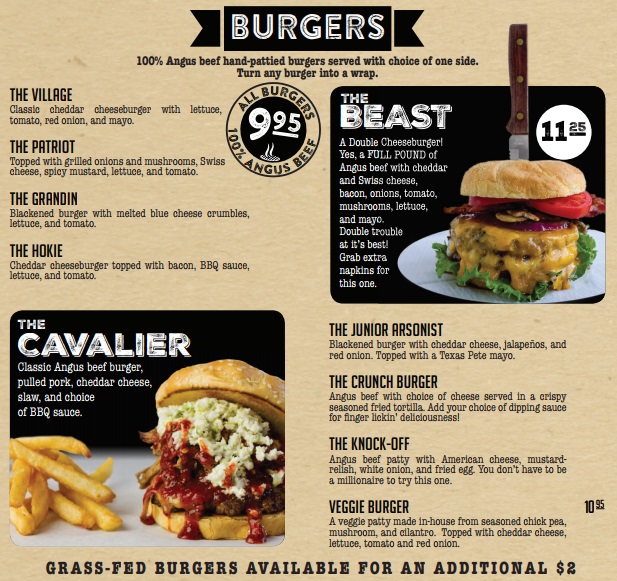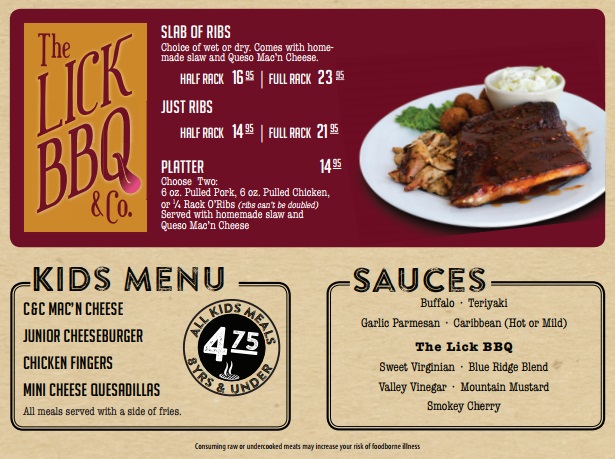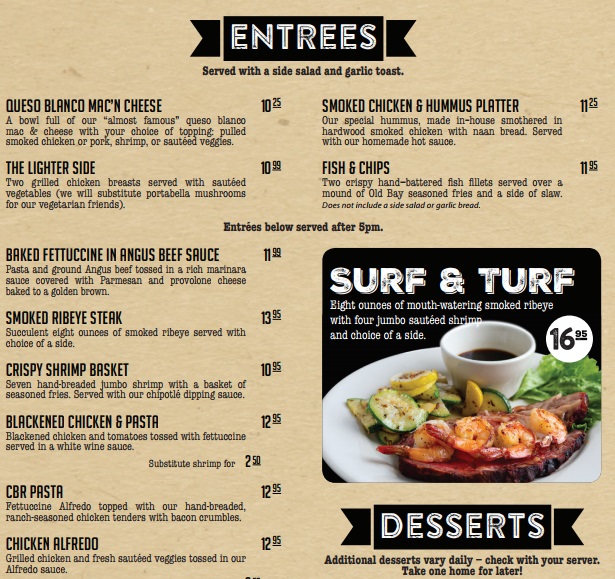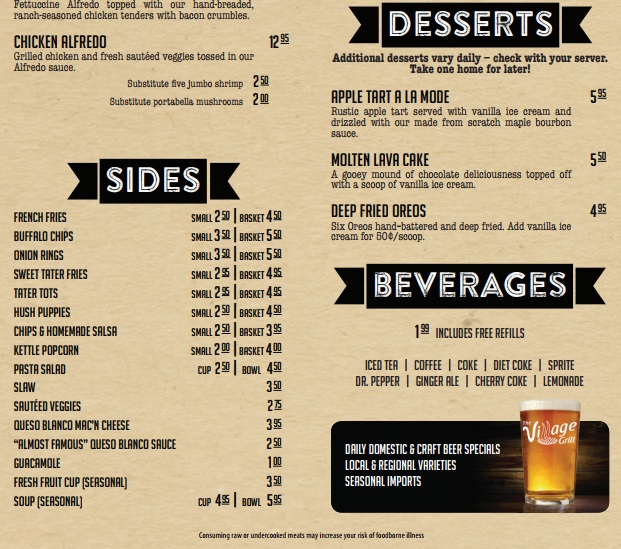 I knew what I wanted for an appetizer – there was no way that I was passing up the tower of onion rings.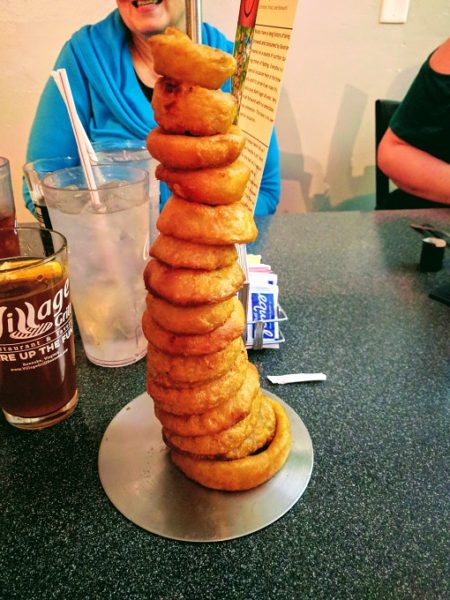 Although it wasn't presented quite as impressively as pictured on the menu, I didn't care as it was ultimately going to end up in my belly pretty soon. The spicy bacon honey mustard sauce was a great accompaniment with the onion rings.
Shae and her mom shared the hummus platter which they both enjoyed.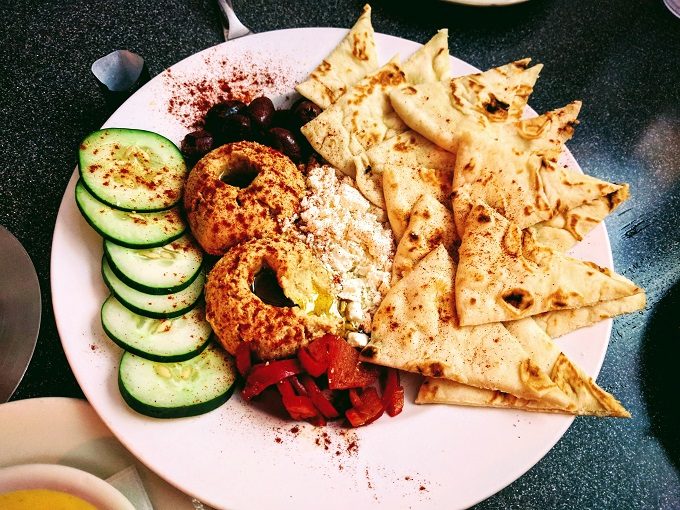 When it came to ordering my entree, I was caught in two minds. Should I go for the Finish The Mission sandwich or The Cavalier burger?
After consulting our server, I decided to go all in and ordered the Finish The Mission sandwich on a kaiser roll with tater tots on the side.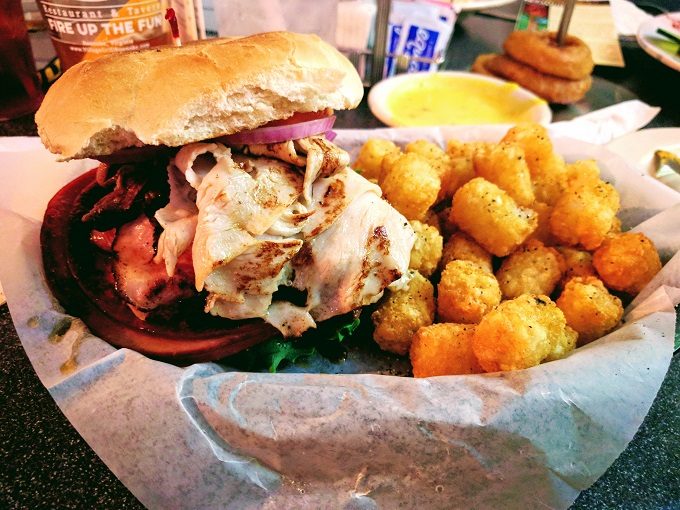 This was one of my best life choices. Arby's needs to hand over its crown because it's The Village Grill in Roanoke which has the meats.
Their Finish The Mission sandwich was enormous and completely loaded with meat – slices of smoked ribeye, turkey, salami, pepperoni, bologna and ham. The sandwich was so fat, I had to eat it as an open faced sandwich as it was otherwise impossible to fit in my mouth.
There was no way I was going to be able to finish all the sandwich, tater tots and onion rings, so I ended up taking about half of it to go. Thankfully our hotel room had a fridge, so I was able to store it there ready for the next day.
Shae went for the queso blanco mac 'n cheese with pulled smoked chicken and a house salad on the side.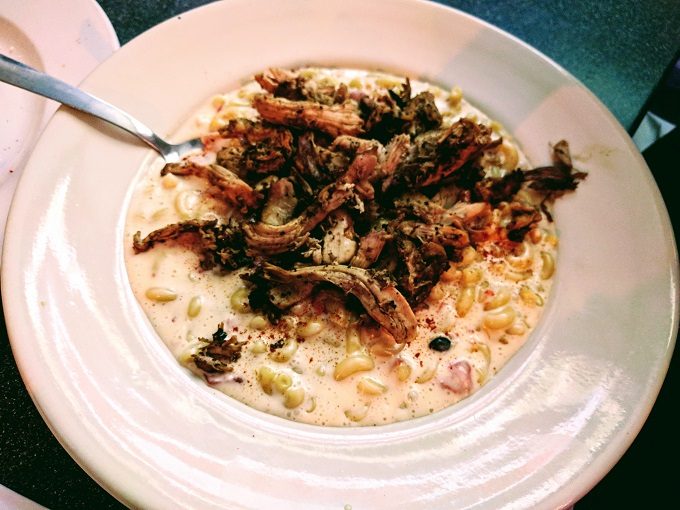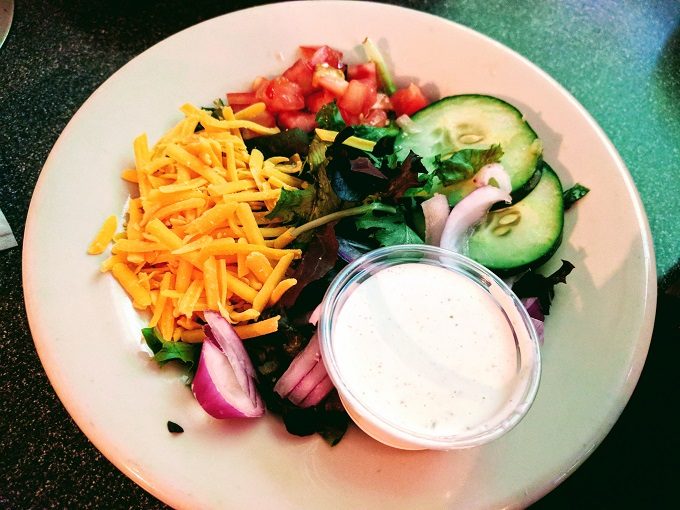 The photo of her entree doesn't give a sense of scale, but it was a very good-sized serving. Shae therefore took about half of it to go as well. She enjoyed it, although it was a little sweeter than she was expecting.
I was stuffed by the time I'd been working on my meal, so had to pass on dessert. If there's something chocolate-y on the menu though, Shae will get it. The Village Grill had molten lava cake so that's what she ordered, while her mom got the apple tart.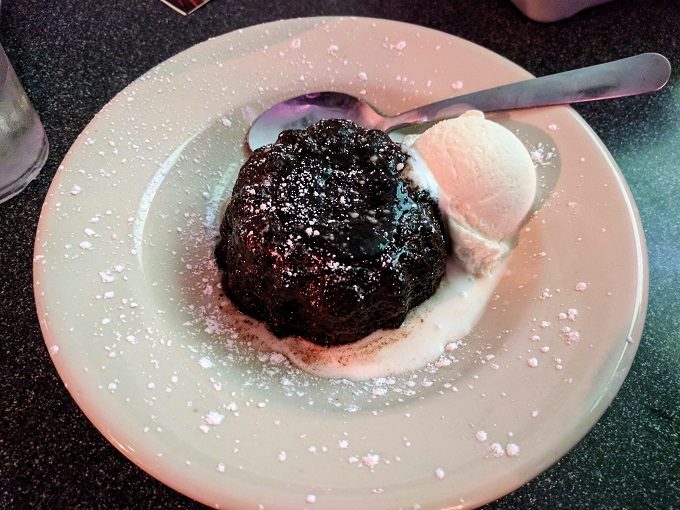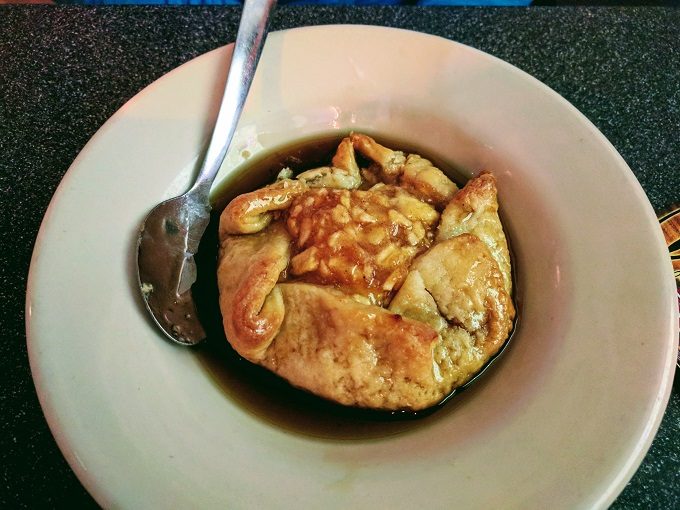 Despite being full, I tried a little of both and they were both tasty.
Final Thoughts
After seeing that we'd eaten at The Village Grill, one of Shae's friends mentioned that it's one of her favorite places to eat in Roanoke and I can understand why.
The dishes are all reasonably priced and my crazy-large sandwich was delicious. Next time we're in Roanoke, I'd love to go back and try out their Cavalier burger to see if it's just as good.
Our Rating
Food = 4.5 / 5
Price = 4.25 / 5
Atmosphere = 4 / 5
Decor = 4 / 5
Service = 4.5 / 5
Total = 4.25 / 5
Address
The Village Grill, 1802 Memorial Ave SW, Roanoke VA 24015