As I've mentioned before I'm a member of the Hogwarts Running Club (HRC).
There are a lot of great things about being a member of this virtual running club. I get to chat about my love of Harry Potter with people who actually want to hear about (sorry hubs!), I work towards my health and fitness goals in a fun way and I get to help do #somuchgood in the world through our charity partners and the Charity Miles app we use to track our mileage.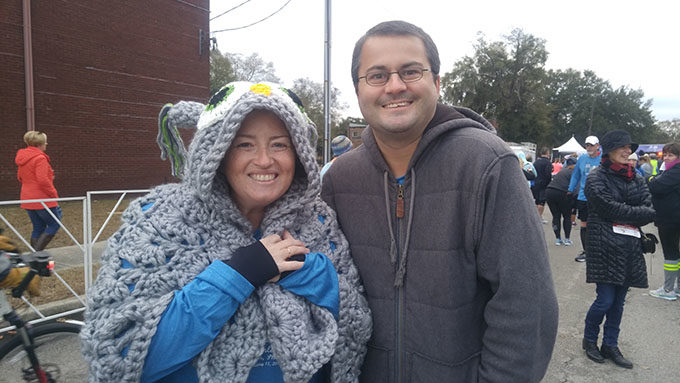 More than all of this amazingness though, is the friends I've made. I met one friend as we traveled to the UK together (we literally met in real life for the first time in the airport!) to see Harry Potter and the Cursed Child.
With a different HRC member, I traveled up to DC where we met another HRC member as she was in from Denver for a run and – let's be honest – a 3 hour drive is better than a 5 hour flight!
I've had quiz night meet ups and beach walks with local HRC members. When we were in Roanoke I met up with several other HRC members, some of whom I chat with weekly if not more! It's through HRC that I got to meet Kristie and, subsequently, her husband Darryl.
I reached out within the HRC to find those that might want to meet up as we travel around. Kristie came back immediately and asked if I wanted to walk the Shrimp and Grits 5K with her as it was happening on our first weekend in Charleston, SC.
Hubs and I agreed that we should definitely do this (despite the fact that the price was higher than we'd prefer since the race was so close) as we'd never done a race together yet. So we were set to get some exercise together and *hopefully* meet another amazing member of the HRC.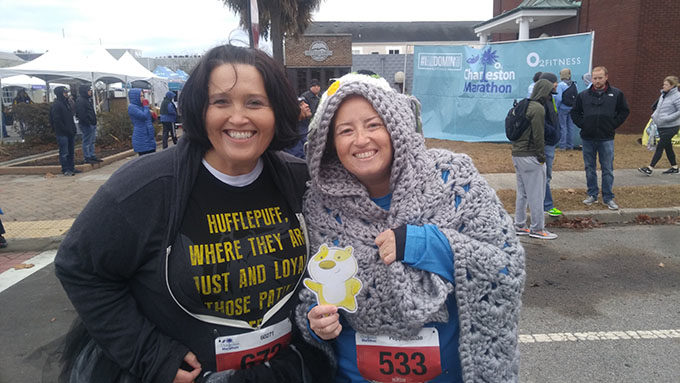 Now, being a member of the HRC includes more than just what I've put above. We also have a fair amount of silliness and fun, especially in the Hufflepuff Common Room (#PuffPride #YearOfTheBadger, just saying!)
We have two traveling items. One is a ribbon that goes from person to person and is worn during races for extra fun and encouragement. The other is our 'flat' Cookie. So, if you know anything about the Harry Potter fandom and particularly Hufflepuff, we're known to have a common room near the kitchens and to have a love for cookies. We also have a badger as a mascot.
So the incomparable Deborah Winslow created a series of characters for the HRC including Cookie, the Hufflepuff Badger (she's also incredibly talented outside of our HRC stuff too – I recommend checking out her work!). We have a group to track 'Cookies Travels,' and because I'm now traveling full time (and went to the UK with the coordinator of both the ribbon and the 'flat' Cookie – oh yeah, I know people!) I have my very own of each.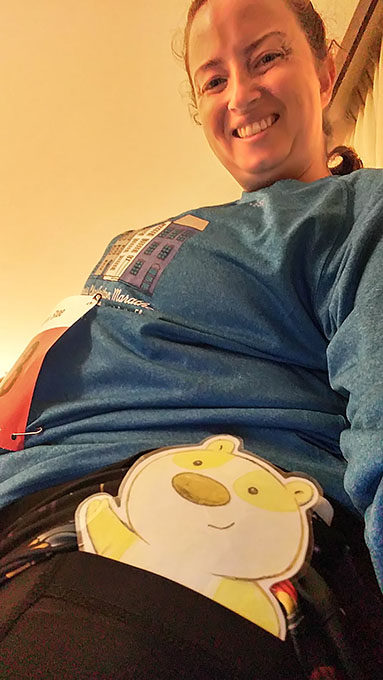 All that to say that Cookie, the ribbon, me and hubs were ready to rock the Shrimp and Grits 5K on Saturday, January 13, 2018. I also had one other fun item with me from my friend Stef in the UK. She HANDKNITTED a blanket for me with owl hood (another fun Harry Potter thing!). It was freezing that morning so it was decided that Owl-ivia should come along for the 5K as well.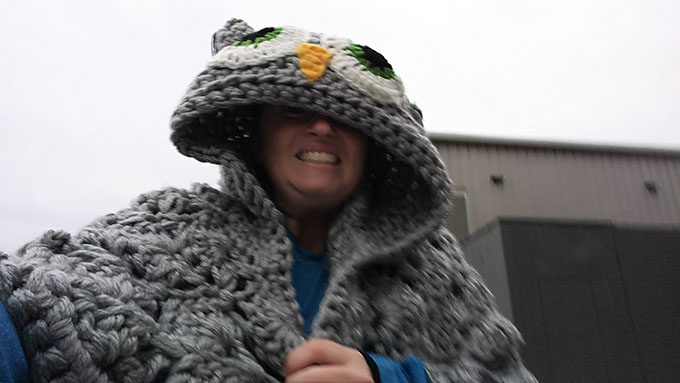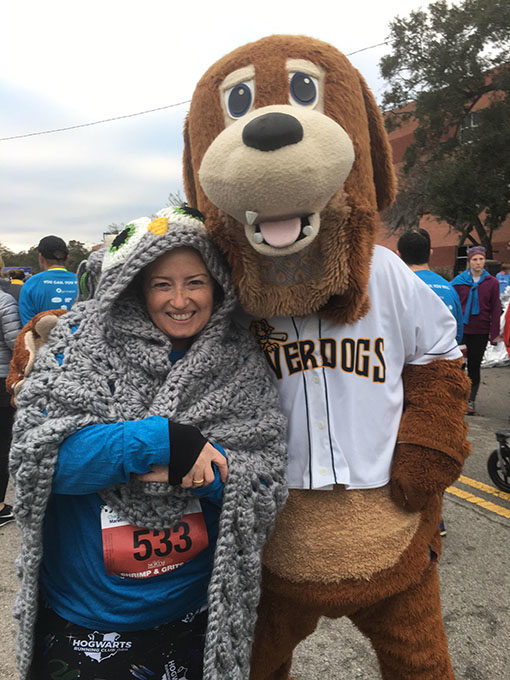 Kristie met us at the start line and we all took off together. She in her super fun tutu and me in my owl blanket, with hubs just along for the walk and to shake his head at our chatter and shenanigans.
You know when you meet someone and you're just like, "yup, this is my people?" That's how it felt meeting Kristie.  We chatted the entire walk. We clicked on so many things, beyond Harry Potter and walking and became fast friends.
We also found some fun along the way when a young lady whoooo was cheering us on had an owl sign. She didn't realize my blanket was an owl at first, but when she did she was so excited. I took my picture with her and here's my shout-out to her and her classmates at Angel Oak Elementary – Home of the Owls for their super cool poster and for cheering us on in the cold that morning!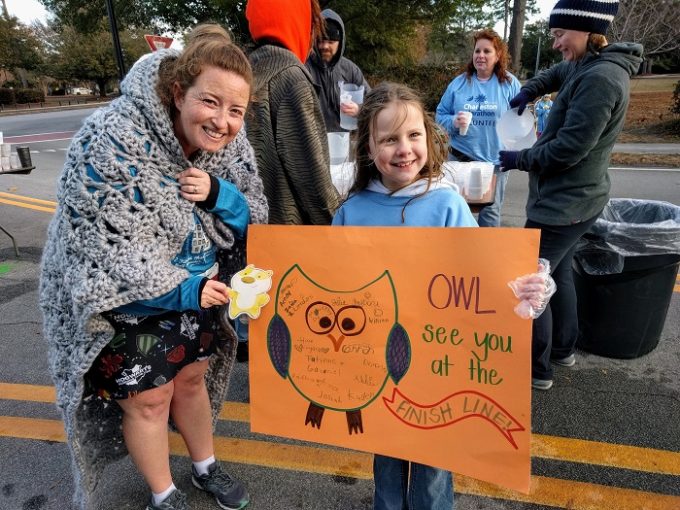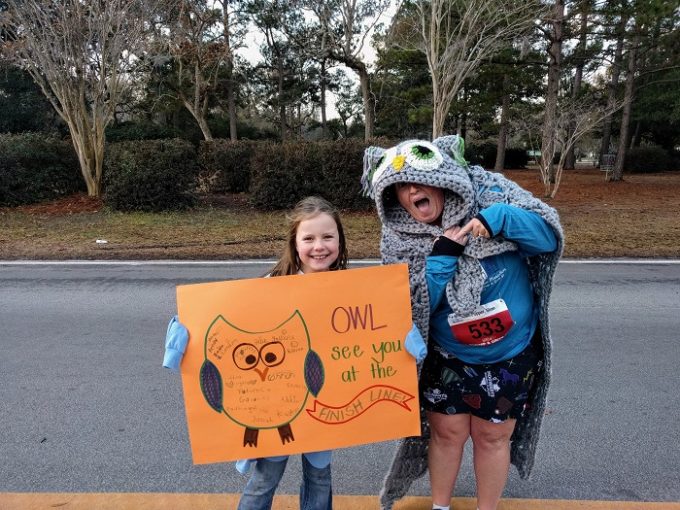 The 5K was fun but the real joy can be found at the finish line where there are shrimp and grits and mimosas waiting for you! There were also bagels and boiled peanuts available.
We sat and ate our breakfast, carrying on all the chatter from the 5K and cheering on the half-marathon winners. Come to find out the male winner is the godson of someone I know from home in Hampton Roads – the world is such a small place!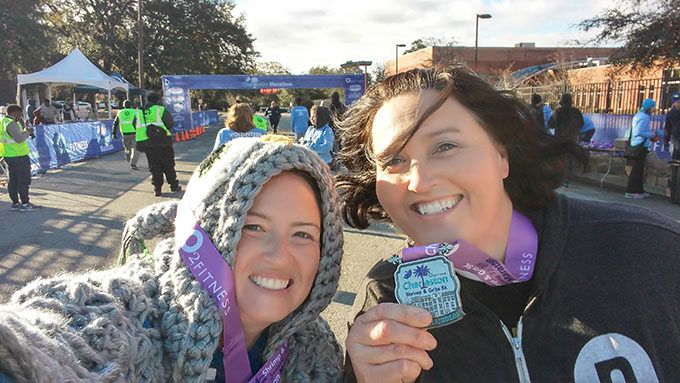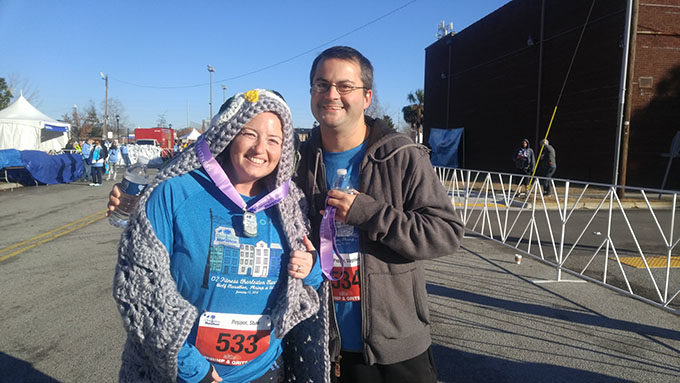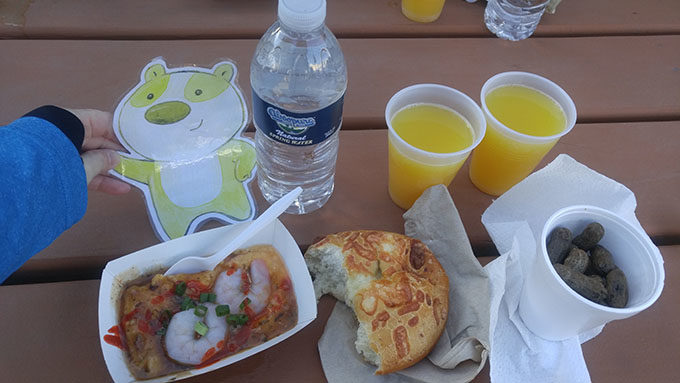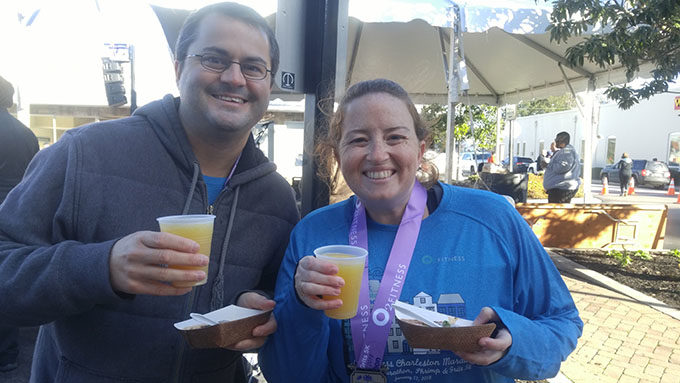 We made plans again to hang out with Kristie and her husband to go to dinner and a ghost walk – and that was a hit too so we met them for one last dinner before we left Charleston.
I'm so grateful for this road trip as the extrovert in me needs and wants to make new friends all the time. But I'm especially fortunate to have found a worldwide organization like the Hogwarts Running Club to access like-minded, fun, future-friends across the country. Big love to Kristie for inviting us to the 5K and for making time for us during our time in Charleston.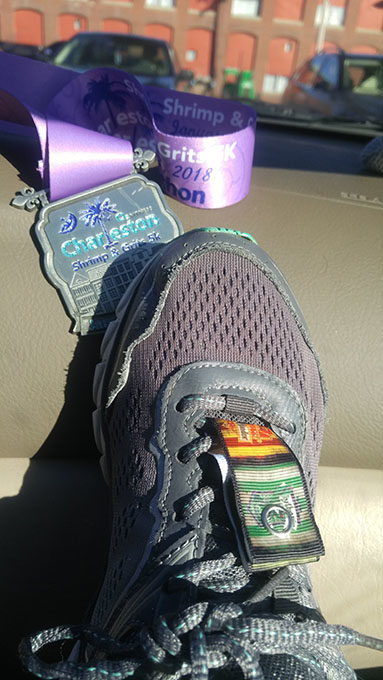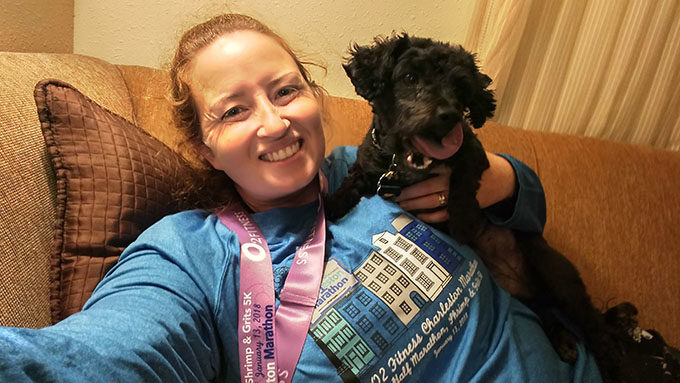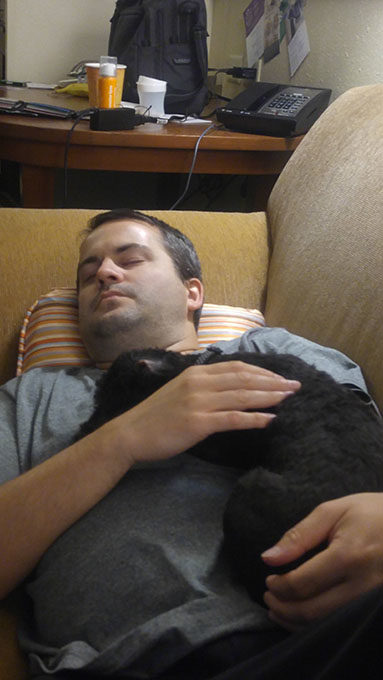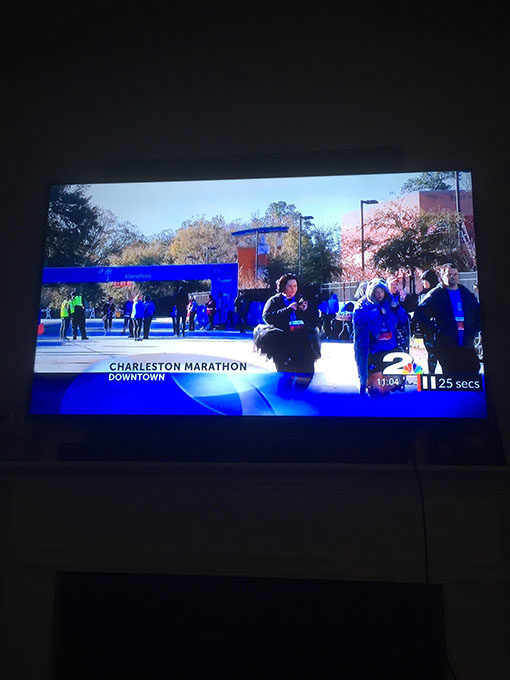 Not into Harry Potter?  The Hogwarts Running Club also has the Whovian Running Club and Chilton Running Club for Dr. Who and Gilmore Girls fans respectively.