After stopping off at Glendalough, we made our way on to Dublin for the final leg of our Ireland road trip.
Once we'd checked in at our Airbnb, Shae and Megan went off to Skin City Tattoo to get inked (check out the pics here), so Mark and I went off to to find our own fun.
We wanted to do some kind of brewery or distillery tour and as it's Ireland's capital we were spoiled for choice. The biggest two options are the Guinness Storehouse and Jameson Distillery, but we decided to go for an unaffiliated experience instead, so here's my review of the Irish Whiskey Museum in Dublin.
The museum is just outside Trinity College on Grafton Street and was only a ten minute walk from our Airbnb in Temple Bar.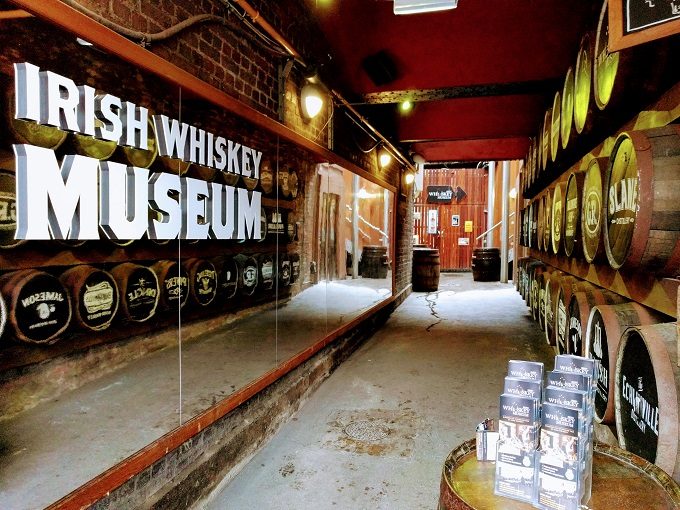 The museum has three types of tours:
Classic tour which includes three whiskey tastings for €17
Premium tour which includes four whiskey tastings and a souvenir for €20
Blending Experience which includes an extended tour, four whiskey tastings and an opportunity to blend your own whiskey that you get to take home with you for €28
We'd wanted to go for the second option, but unfortunately we'd missed the last Premium tour of the day. The only option left that day was the Blending Experience tour which was a little more than we wanted to pay. We decided to go ahead with it though and I'm glad we did.
The museum worker was very generous though and offered us an additional four free tickets to a separate tasting later that evening which included snacks and live music. We didn't have time to go to that as well, but it was kind of them to offer.
Our tour wasn't due to start for about 10 minutes, so we wandered around the gift shop.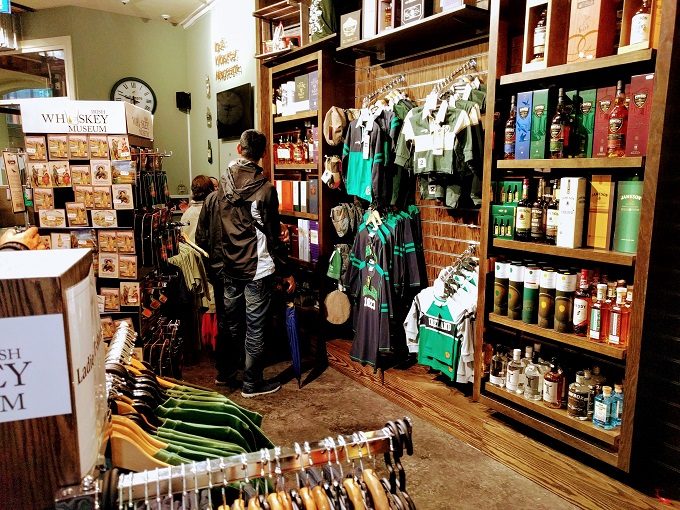 There was also a bar area where it looked like you could sit and have a drink even if you weren't going on a tour.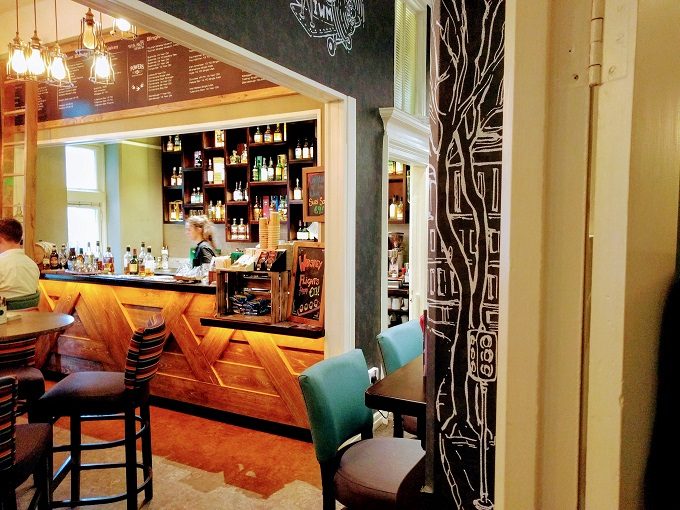 Soon enough the tour started and our guide Kate led us into the first room. This was the apothecary where she told us about the history and origins of how whiskey came about. Apparently the word 'whiskey' comes from the term 'uisce beatha' which means 'water (or elixir) of life.'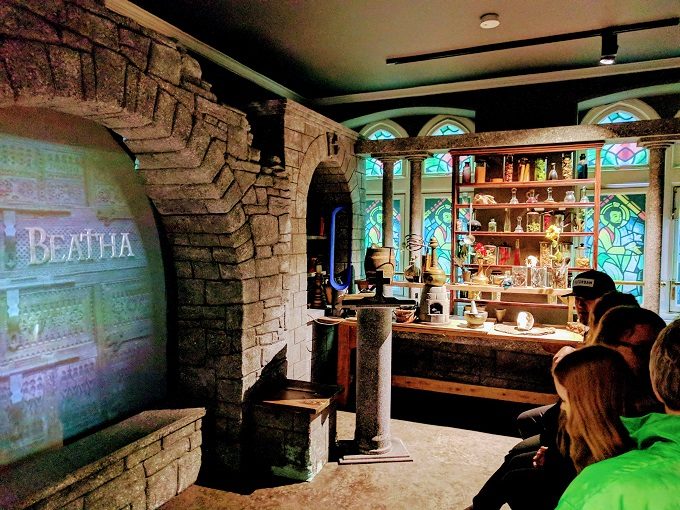 Next up was the shebeen, a replica of an early kind of speakeasy bar. Shebeen means 'illicit whiskey' in Irish; underground bars serving whiskey, moonshine and/or poteen were set up in Ireland back in the day to avoid the taxman.
The third room was a replica bar where Kate explained the different processes that are needed to make whiskey.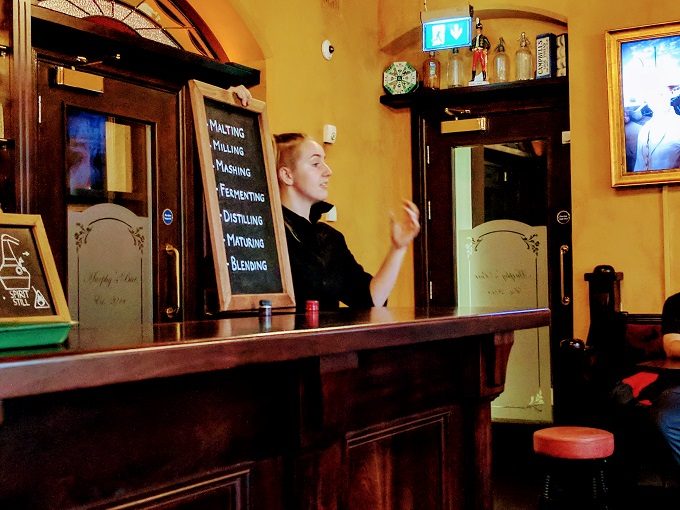 With our heads full of knowledge, it was time to fill our stomachs with the water of life.
The fourth and final room had a whiskey flight for each person. There were five glasses in total – the first four held different whiskeys, while the fifth only contained a pipette.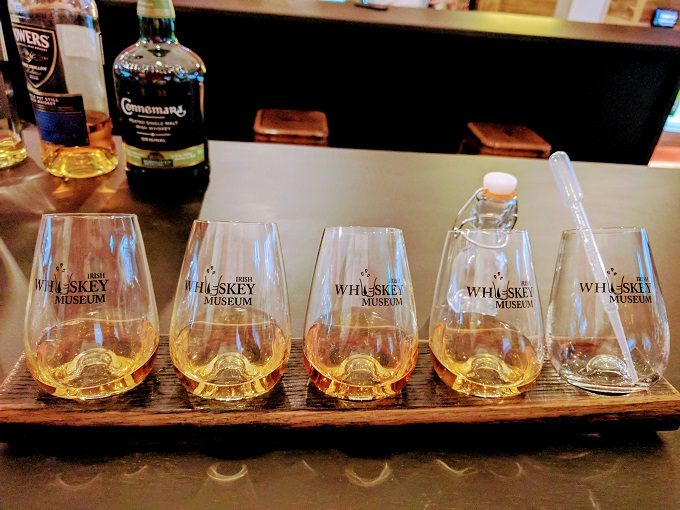 Kate took us through the whiskeys one by one, first by smelling it and then by tasting it. When tasting, we had to pay attention to whether it was spicy or sweet, where it hit us in the mouth (I'm sure there's some kind of more technical term for that!), what the flavor reminded us of, etc.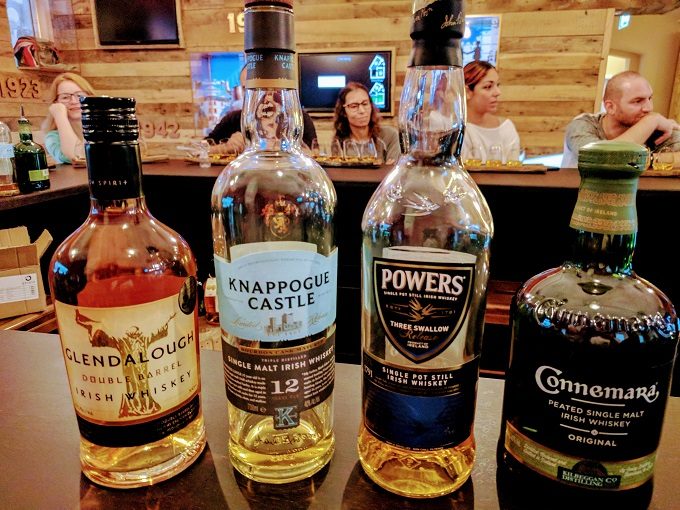 The first one we tried was the Glendalough double barrel Irish whiskey. It was nice enough, but – like the monastic site of the same name – was a little underwhelming compared to other options.
The second option was the Knappogue Castle single malt Irish whiskey. I've tried this before at Still in Portsmouth VA and really enjoyed it, so it was nice getting to have it again here.
Third up was the Powers Three Swallow Release, a single pot still Irish whiskey. This was equally nice, although had a bit of a different flavor to the Knappogue Castle.
Last – and most certainly least – was the Connemara peated single malt Irish whiskey. In case you're not sure what peat is, it's a type of boggy soil. To be fair, you can't accuse them of false advertising as it tasted like mud that had had whiskey poured through it. As you might've guessed, I wasn't a fan of this one.
Having tasted three whiskeys and a glass of soil, it was time to create our own whiskey blend. We used the pipette to create different mixes in the empty glass to see which combination we liked best.
As you might've guessed, I didn't use any of the Connemara peated whiskey. I tried several different combinations and ended up settling on a fairly even mix of the other three whiskeys.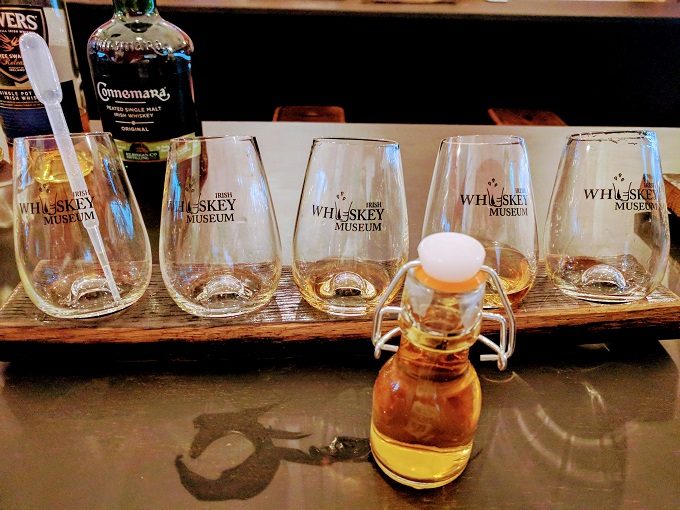 We were then set a final challenge – we each had to come up with a name for our special blend. Kate would pick her two favorites and then everyone else on the tour would pick the best, with the winner getting a special prize.
I was having a hard time coming up with a name, but had a flash of inspiration at the last moment. When it came time to name my blend, I called it 'Shot Through The Heart', explaining that I'm a fan of old-school Bon Jovi.
It turns out that Kate likes puns and music references, so mine was named as one of the two finalists. Apparently everyone else liked my name the best as it got the most applause when it came time to vote.
So… I won a special whiskey glass to go with my special blend 😀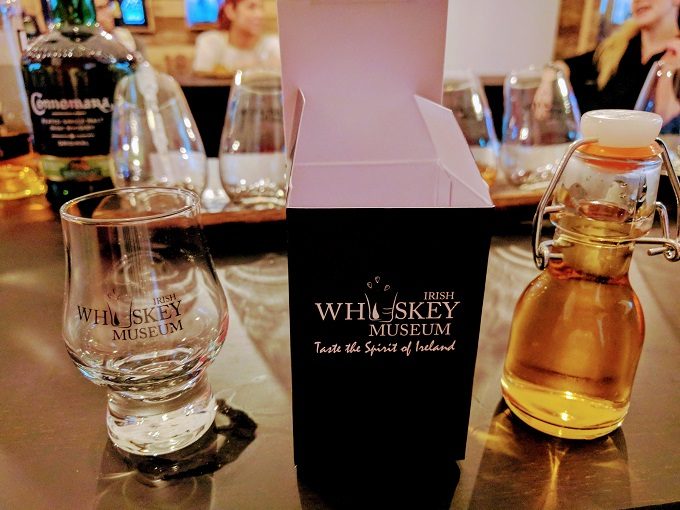 Our Tour Guide
I wanted to make a special note of how awesome our tour guide was. Kate was absolutely fantastic and made the tour well worth the €28.
She was incredibly entertaining and injected a lot of her personality into the presentation, so made the tour even more enjoyable than it could have been. And I'm not just saying this because she picked my whiskey blend name as one of the two best 😉
If you go to the Irish Whiskey Museum, you should definitely see if you can get yourself booked on to a tour that she's leading as she'll make your day.
Final Thoughts
The Irish Whiskey Museum in Dublin is well worth a visit. Although I was initially apprehensive about going for the most expensive tour option, I'd now recommend that to anyone visiting as creating my own blend that I got to bring home was a lot of fun.
Ireland Road Trip
Here's everything else that we got up to in Ireland:
Shot Through The Heart At The Irish Whiskey Museum