This is the third post in a series about the different status levels in the Starwood Preferred Guest (SPG) loyalty scheme:
The third tier of Starwood's loyalty scheme is SPG Gold status, although it's usually thought of as the second tier as Preferred Plus isn't a standard status level.
Here's a list of the additional benefits you'll receive with Gold status along with all the different ways that you can earn it. A few of these benefits overlap with Preferred Plus status – again because that's not a standard status tier.
Important Note: You'll only receive these benefits when you book a hotel stay directly with SPG, either on their website, mobile app or by phone. If you book a stay using an OTA (Online Travel Agency) like Expedia, you're not eligible to receive any of these benefits.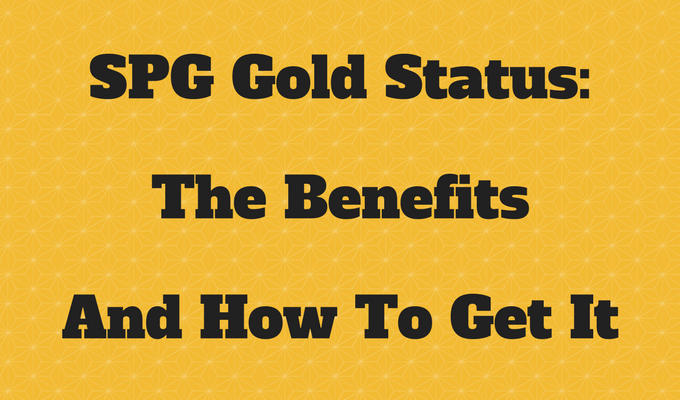 SPG Gold Status Benefits
1) 50% Bonus Points
The standard earning rate when staying at Starwood hotels is 2 Starpoints per dollar spent. With Gold status, you earn an additional point per dollar spent (i.e. 3 points per dollar.)
2) Enhanced Room At Check-In
Gold status makes you eligible for an "enhanced" room. This is a little different to an upgrade, as upgrades can sometimes be to different (and better) room types.
Enhanced rooms on the other hand are defined by SPG as:
Rooms on higher floors, corner rooms, newly renovated rooms and rooms with preferred views. Enhanced rooms do not include suites. Not offered at Aloft and Element hotels.
3) 4pm Late Checkout
This benefit provides a guarantee that you'll be able to leave your room later than the standard checkout time at the hotel.
There are exceptions though, as the benefit's subject to availability at conference center, convention and resort hotels.
4) Welcome Gift
When checking in, you'll be given the choice of a welcome gift. You can choose between bonus Starpoints, a free drink at the hotel's bar or restaurant or complimentary premium internet access.
The number of bonus Starpoints you'll receive varies by hotel, so it's worth asking at check-in as you might get more value by accepting the free drink.
5) Complimentary Premium Internet Access
I mentioned above that this is available as a welcome gift. However, if you book on one of SPG's digital channels (i.e. one of their websites or apps), you'll get premium internet for free. That means you can then choose Starpoints or a beverage as your welcome gift.
6) Earn Points When Booking Groups
With Preferred status, you earn 1 point for every $3 spent when booking meetings, weddings, etc at Starwood hotels. With Gold status you earn 1 point for every $2 spent, up to a maximum of 30,000 points per contract.
7) Earn Points On Delta Flights
With this benefit, you'll earn 1 Starpoint for every dollar spent on Delta flights. This setup is reciprocal, as if you have status with Delta's SkyMiles loyalty scheme you'll earn 1 mile per dollar spent at Starwood hotels.
8) Earn Points On Emirates Flights
Similar to the Delta partnership, you'll earn 1 Starpoint per dollar spent on Emirates flights. Members with Emirates status will also earn 1 mile per dollar spent at Starwood hotels.
9) Earn Points On China Eastern Airlines Flights
And similar to the Delta and Emirates partnerships, you can earn 1 Starpoint for every 4 Eastern Miles Points you earn on flights with China Eastern Airlines.
10) Earn Gold Status For Life
If you stay 250 eligible nights and earn Gold status for five years, you'll earn lifetime Gold status.
These benefits are in addition to the benefits you receive with Preferred Plus status:
Collect points or miles
Reward nights count towards elite status
No blackout dates
Complimentary internet (superseded by premium internet)
Free bottled water
Earn points when booking groups
Enhanced room at check-in
4pm late checkout
How To Get SPG Gold Status
There are many different ways that you can earn Gold Status with SPG:
1) 10 Stays In A Calendar Year
A stay is classed as a stay of one or more consecutive nights. That means it's possible to earn Gold status after 10 separate one-night stays.
2) 25 Nights In A Calendar Year
These don't have to be consecutive nights, just so long as you stay a total of 25 nights in a year.
3) American Express Platinum Credit Card
Both the Personal and Business Platinum credit cards by American Express offer SPG Gold status as one of their benefits.
4) Marriott Or Ritz-Carlton Gold Status
Marriott and Starwood hotels are in the process of merging. As part of the process, you can link your Marriott Rewards account to your SPG account. If you have Gold status with Marriott, you'll match to Gold status with SPG.
Ritz-Carlton is also part of Marriott and offers the same status match option.
5) Spend On SPG American Express Credit Card
Spending $20,000 in a calendar year on either the Personal or Business SPG credit card by American Express will earn you this status.
6) Status Challenge
SPG offer a status challenge where you can earn a shortcut to Gold status. The challenge currently requires you to stay a total of nine nights within a three month period.
7) Booking Meetings Or Rooms
If you're someone that books meetings or are a professional travel arranger, SPG offer you an opportunity to earn status with them. You'll earn one eligible night for every 20 room nights you book for others. That means you'll achieve Gold status after booking 500 room nights.
Summary
SPG Gold status is nice to have, although in my opinion it's not as beneficial as Hilton Gold status or Marriott Gold status as both those offer free breakfast in most of their hotels.
Still – the enhanced rooms, bonus points, late checkout, welcome gift and innovative partnerships with Uber and several airlines can make it a worthwhile status if you'll be staying regularly at Starwood hotels.
Next up, we'll be exploring all the benefits in SPG's top tier – Platinum.
Questions
If you have SPG Gold status, what's been your experience – do you get a lot of value from it? Also, are you aware of any other ways to earn Gold status?
Let us know in the comments below.