This is the fourth post in a series about the different status levels in the Starwood Preferred Guest (SPG) loyalty scheme:
The top tier of the Starwood Hotels loyalty scheme is Platinum. Here's a list of the extra benefits you receive with SPG Platinum status and how to get it.
Important Note: You'll only receive these benefits when you book a hotel stay directly with SPG, either on their website, mobile app or by phone. If you book a stay using an OTA (Online Travel Agency) like Expedia, you're not eligible to receive any of these benefits.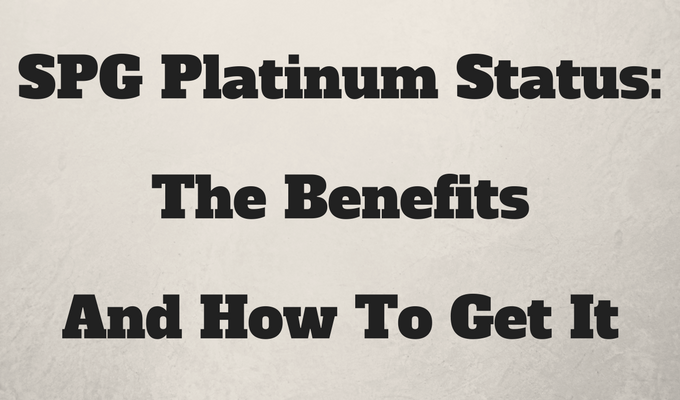 SPG Platinum Status Benefits
1) Welcome Gift
Although Gold status also offers a welcome gift, your choices are different – and better – with Platinum status. As a Platinum member, you get the choice of bonus Starpoints, continental breakfast or a local amenity.
2) Room Upgrade
Gold status offers an enhanced room while Platinum offers an upgraded room which includes standard suites.
3) Health Club, Club Lounge And Executive Level Access
Even if you don't book a room with access to facilities like a club lounge, SPG Platinum status will provide you with that access for free.
4) Guaranteed Room Availability
Provided you book 72 hours in advance and by 3pm, you'll be guaranteed a room at any Starwood hotel.
5) Delta Elite Benefits
In addition to the Starpoints you'll earn when flying with Delta that both Gold and Platinum members receive, Platinum members also receive elite benefits such as complimentary upgrades, a free checked bag and priority boarding.
6) Emirates In-Airport Benefits
When flying with Emirates, at the airport you'll receive priority check-in, priority boarding and complimentary e-gate access.
7) China Eastern In-Airport Benefits
When flying with China Eastern, members with Platinum status receive elite benefits at the airport. These benefits include access to the China Eastern business-class lounge, priority boarding, excess baggage allowance and more.
8) Additional Benefits After 50 Nights
Once you've stayed 50 eligible nights in a calendar year, you can choose to receive one of the following benefits:
Gift Gold status to a family member or friend
10 suite night awards (i.e. you can upgrade from a regular room to a suite)
One free night award
Five elite-qualifying nights (to help you requalify for status)
Donation to UNICEF
40% off your favorite hotel bed
9) Additional Benefits After 75 Nights
If you stay 75+ eligible nights in a calendar year, you'll receive all of the following benefits:
Earn 4 Starpoints per dollar spent
Choose your check-in time and get to check out at that same time on your day of departure with the Your24 benefit. For example, if you ask to check in at 7:30pm, you'd then be able to check out at 7:30pm on your final day. This is subject to availability though.
2 points per dollar spent during a stay
10) Additional Benefit After 100 Nights
If you stay 100+ eligible nights in a calendar year, you'll receive SPG Ambassador service. An Ambassador is someone who can arrange a special touch during your stay, make restaurant reservations, etc.
11) Lifetime Platinum Status
If you stay 500 eligible nights and achieve Platinum status for 10 years, you'll receive lifetime Platinum status.
These benefits are in addition to the benefits you receive with Gold status:
Collect points or miles
Reward nights count towards elite status
No blackout dates
Complimentary internet
Free bottled water
Earn points when booking groups
Enhanced room at check-in (superseded by room upgrades)
4pm late checkout
50% bonus points
Welcome gift
Earn points on Delta flights
Earn points on Emirates flights
Earn points on China Eastern Airlines flights
Earn Gold status for life (superseded by earn Platinum status for life)
How To Get SPG Platinum Status
There are a few ways that you can become a Platinum member with SPG:
1) 25 Stays In A Calendar Year
These stays can be of any length, so it's possible to earn Platinum through 25 one-night stays.
2) 50 Nights In A Calendar Year
These can be both paid and award nights.
3) Marriott Platinum Status
Now that Marriott and Starwood Hotels are merging, you can link your Marriott Rewards and SPG accounts. Your highest status from one scheme is carried over to the other, so if you have Platinum status with Marriott already, you'll also get it with SPG.
4) Status Challenge
If you've never had Platinum status before and have never completed an SPG status challenge, you're eligible to apply to become Platinum through a status challenge.
At the time of writing this post, that's achieved by staying 18 nights within a three month period, so less than half the number of nights you'd normally need.
Summary
SPG Platinum status is a great status to have if you're able to earn it. Bonus Starpoints, suite upgrades, complimentary breakfast, club lounge access and more mean you can receive a tremendous amount of value from it.
The night and stay requirements are made even easier if you have both the personal and business SPG American Express credit cards. That's because both cards come with credits for two stays and five nights, so if you have both cards then you'll receive four stay and ten night credits, putting you well on your way to Platinum status.
Question
Do you have Platinum status with SPG? If so, what's been your best experience or upgrade? We'd love to hear from you in the comments below.