Norfolk VA Mini-Trip Report
Straight Off The Vin: Our Visit To Vin Wine Bar, Norfolk
On our trip to Norfolk we stopped in to the newly renovated Waterside District to enjoy a glass of wine. The Vin (pronounced Vine) Wine Bar is in the Marketplace area between the Rocky Mountain Grill and Cogan's Pizza.
Vin Wine Bar has seating for approximately 20 people. Stephen and I found an open space and a couple of stools and sat down to give it a try.
They had a fairly good selection of wines considering it's a small location – there were 11 reds, 12 whites and two sparkling wines.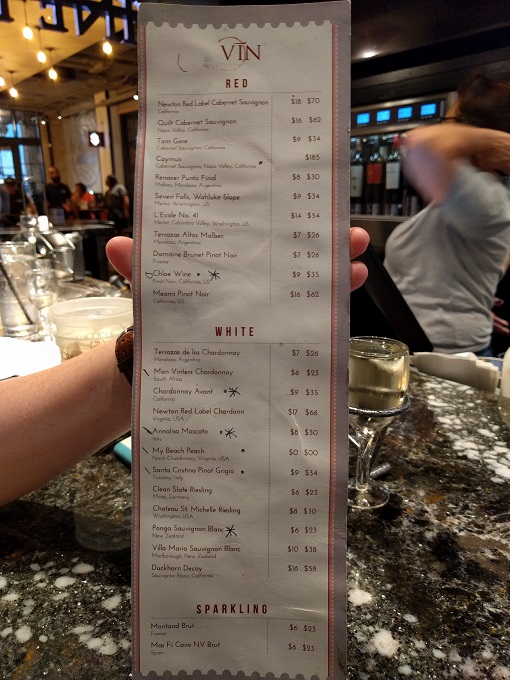 As with most places, you could buy by the glass or bottle, but they also offered a wine flight option where you get to choose any four wines. We both opted for wine flights which are a great deal at $7 each.
Stephen ordered:
Quilt Cabernet Sauvignon
Renacer Punta Final Malbec
L'Ecole No. 41 Merlot
Meomi Pinot Noir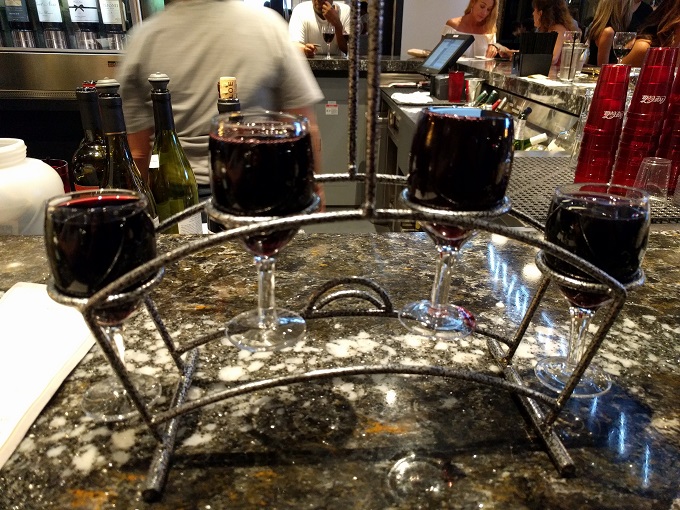 I tried these:
Meomi Pinot Noir
Renacer Punta Final Malbec
Clean Slate Reisling
Duckhorn Decoy Sauvignon Blanc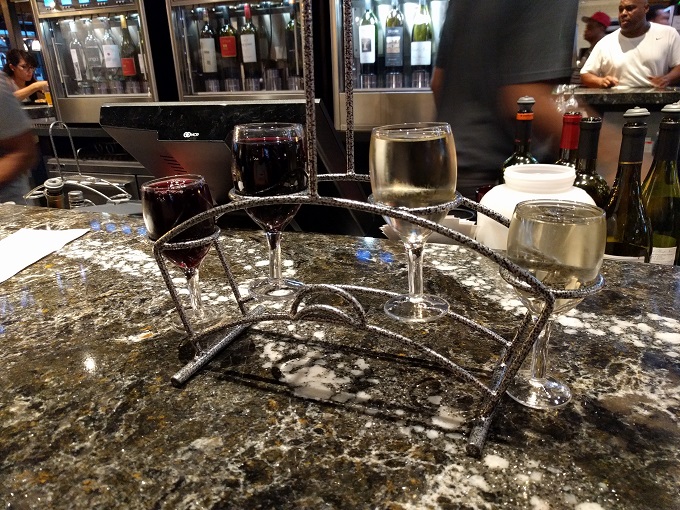 One thing I noticed right away was how hard the staff were working. There were two people serving and one bar back supplying them with clean glasses, ice, and clearing trash and dirty glasses. All three were working incredibly hard. They had orders being called out all over and did a great job being polite and timely.
Hubsey meanwhile was entertained by the fact that they had draft wine.
I wasn't in love with most of the wines and the atmosphere wasn't that of your typical wine bar since it's in the center of a loud open area. But I did find a wine I liked and would enjoy again and had a nice date with the hubs – which is always the real goal!