One of our friends who lives in Columbia SC suggested that we should check out The Whig while we visited the city.
She also mentioned that they have 50c tacos on Tuesday nights. That's all we needed to know to convince us to head there for dinner.
The Whig is on Main St, opposite the South Carolina State House. It's hidden away though – the only indication that it's there is its sign on some railing outside.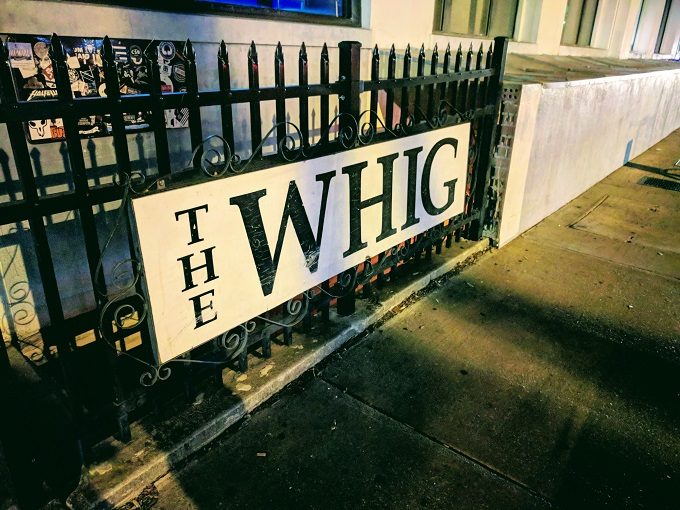 Behind the sign is a staircase leading down to a sketchy-looking alley below – that's where you need to go.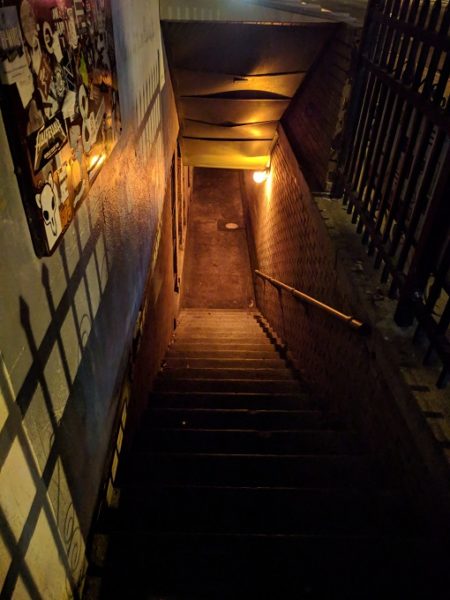 At the bottom of the stairs is a nondescript door on the left. There's nothing suggesting that this is The Whig's entrance, but that's what it is.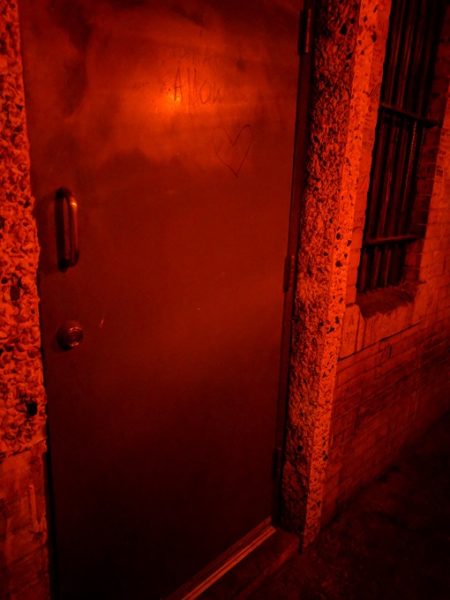 Taco Tuesday at The Whig appeared to be popular as all the tables were taken. A couple of seats opened up at the bar just after we arrived though, so we quickly snatched those.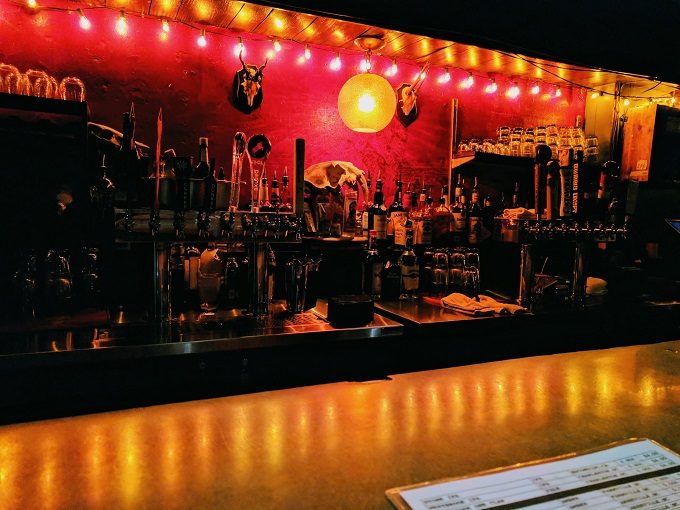 The Whig has an excellent beer selection. There's a two-page beer menu listing all their bottled beer: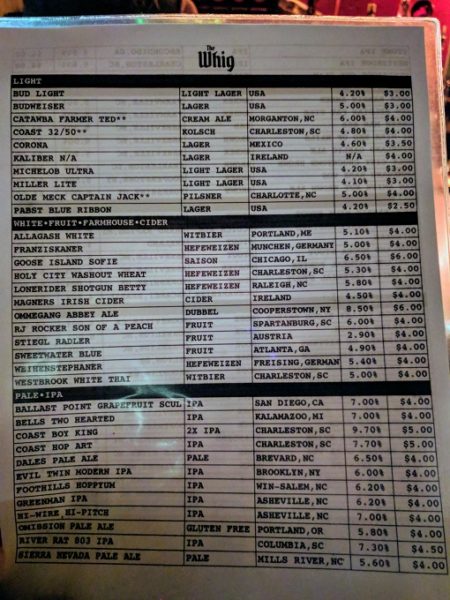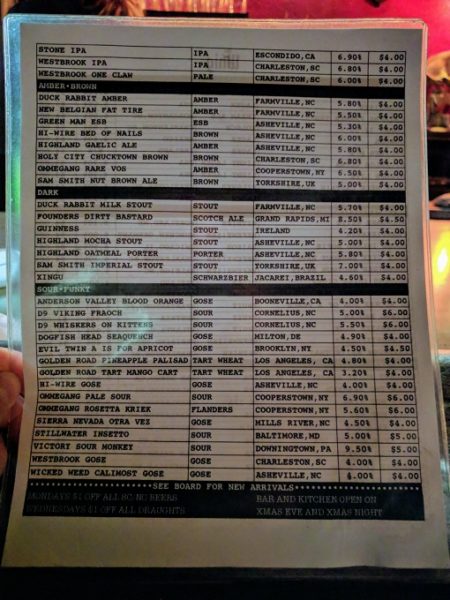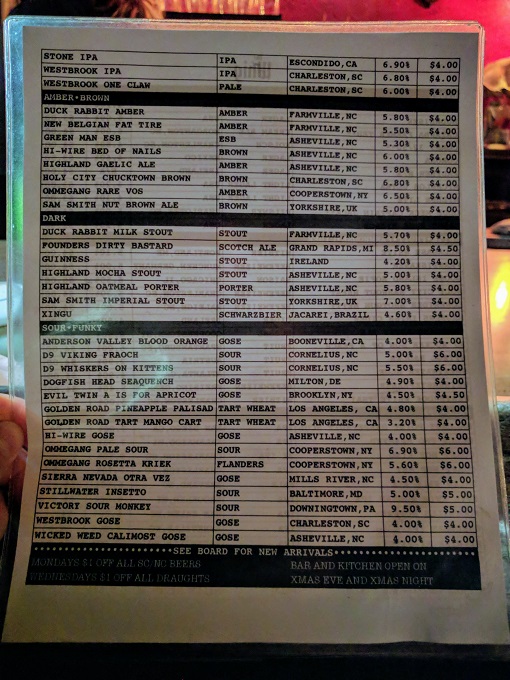 I was impressed by the prices as all the beers were between $2.50 and $6.00 which was pretty good considering most of them were craft beers.
In addition to the bottled beer, they had a good selection of craft beer on draft. I ordered off that menu and got a Catawba White Zombie (very good), while Shae ordered a Magners Irish Cider.
Inflation's caught up with The Whig since our friend last visited as their tacos have gone up from 50c to 75c. There are three types of tacos you can pick from on Taco Tuesdays – beef, bean or a mix of beef and bean. I ordered three beef, while Shae got two beef and one beef and bean.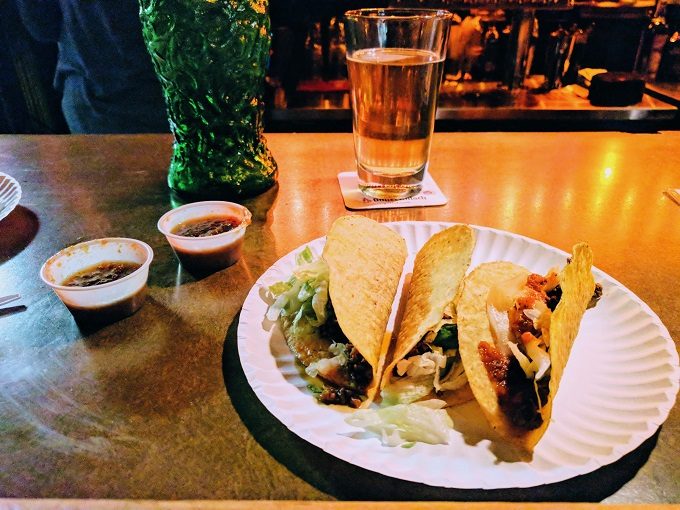 The tacos were great – well-worth the increased 75c price! There was a decent amount of meat inside each one, they were all nicely seasoned and both mild and spicy salsa were available.
After finishing these tacos, I ordered another beer off the draft menu, this time getting a Lo-Fi Chocolate Deluxe. This was an excellent dark beer and the best one I had that night.
We'd both enjoyed our tacos so much that we got another couple each. One other thing to mention is that after ordering your tacos at the bar, you head to the kitchen window to pick up your tacos. That's also where you stock up on salsa.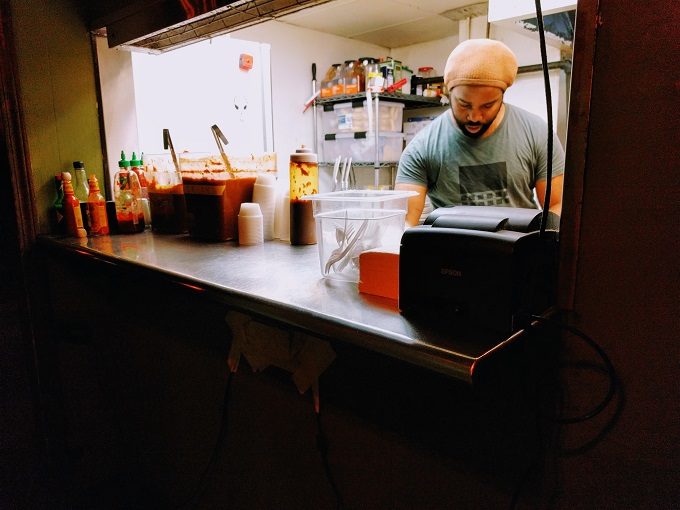 Service was extremely quick and our second helping of tacos was ready within a couple of minutes. After polishing those off, I got my final beer of the night – a Frothy Beard Peppermint Porter. I love my porters and was curious about what a peppermint version would be like.
It was…interesting. The porter tasted nice, but it was an odd flavor sensation having a peppermint-flavored beer. It was worth trying, but it's not one I'd get frequently.
Final Thoughts
The Whig was an excellent recommendation by our friend (thanks Sandra!) They have a great selection of beers, the two servers working that night were both very friendly (as was the chef) and the tacos were definitely worth 75c each.
Our total bill came to $31.50 – that included three craft beers, a Magners, ten tacos and the tip, so very good value in my opinion.
If we were to live in Columbia SC, I could see us making The Whig our regular. They class themselves as the greatest dive bar and I might have to agree.
Our Rating
Food = 4.25 / 5
Price = 4.75 / 5
Atmosphere = 4.25 / 5
Decor = 4.25 / 5
Service = 4.5 / 5
Total = 4.40 / 5
Address
The Whig, 1200 Main St, Columbia, South Carolina 29201