Shae and I are now living in hotels ahead of our 5 year, 50 state road trip.
There are some great benefits to not owning or renting your home and we shared the 10 best things about living in hotels last week.
We're not naive though and know that there are plenty of downsides to this lifestyle. I therefore figured that I'd make a list of the 10 worst things about living in hotels.
I'm sure we'll discover all kinds of other issues as time goes on, so I'll publish an updated post in the future if and when that happens.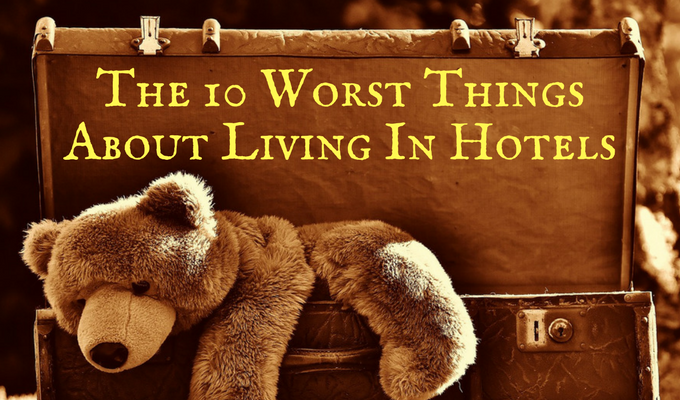 1) Moving All The Time
OK, you don't necessarily have to move all the time. You might choose to live in hotels when you're based in the same place for a long period of time, especially seeing as living in hotels can be cheaper than renting or owning.
Shae and I will usually be moving every 5-7 days though, so that'll be a lot of moving, packing and unpacking, etc.
2) You Have To Keep Booking Hotels
As we're moving all the time, we need to keep booking the next hotel. This takes a lot of organization, so I have an extensive spreadsheet to keep track of all our reservations, hotel addresses, cards used, etc.
It still takes a lot of time and research though finding the best location and value.
3) Not Having A Kitchen
If you're staying in an extended stay hotel then you'll have the benefit of a kitchenette. We'll be focusing on price for our paid stays and low category options for reward nights, so we might not always be fortunate enough to have a kitchen.
That means we'll often have no dishwasher, microwave, fridge, etc. We're bringing a portable kitchen with us though which'll help when it comes to home-cooked meals (more on that in the future).
4) It's Tempting To Watch Crappy TV
We've relied on Netflix, Amazon Prime and Hulu for the last seven years. That means we've managed to avoid being sucked into watching crappy TV for the sake of it, but we're now tempted again by all the TV channels in our hotel rooms.
I'm therefore hoping we can be disciplined enough to turn off the TV so that we can focus on traveling, writing blog posts, etc.
5) Lack Of Outlets
One of my pet peeves about hotel rooms is when there are no available outlets to plug in our laptops or charge our phones.
A lack of outlets is less of an issue at newer hotels as they tend to be designed with this in mind. For example, I'm writing this post from the Aloft in downtown Raleigh NC. It's a fairly new hotel and has outlets all over the place. Even by each bed there are two plug outlets and two USB outlets for phone charging.
6) Receiving Mail & Packages
When you're living in hotels full-time, you don't have a regular home address with a mailbox. To get around this issue, we've set up a mail forwarding service with St Brendan's Isle.
That service costs $12 a month, plus some hotels charge a fee in order to receive mail on our behalf.
7) Having Toilet Paper You Don't Like
I know, this is a bit of a weird thing to think about. I'm sure we all have our favorite toilet paper though – mine's Charmin Ultra Strong.
However, when you're living in hotels, you're at their mercy when it comes to what kind of toilet paper you use. OK, so you could bring your own toilet paper, but even I'm not that weird 😉
8) Lights On Early Or Late
Shae's a morning person and I'm a night owl. That means she's usually up a couple of hours before me and I'm up several hours later than her.
This wasn't an issue when we owned our own home or rented apartments. Whichever one of us was sleeping was in the bedroom, so the awake person could be up and around in the rest of the place with the lights on.
That's not as easy in hotels as you often only have one room. That means some kind of lights are on early or late, potentially disturbing the sleep of the other person.
9) Not Being Able To Do Laundry
Some hotels – especially extended stay brands – have washing machines and dryers for guests to use. Many hotels don't have these facilities though which can make laundry more of a hassle.
To try to mitigate this issue, I've added a column to our hotel tracking spreadsheet to keep track of whether or not a hotel has laundry facilities. That way we can try and ensure we don't book stays for several consecutive weeks without a washing machine.
10) Having To Pay A Pet Fee
We're traveling with our dog Truffles which means we need to stay at pet-friendly hotels. There are some chains that don't charge a pet fee – e.g. La Quinta, Red Roof Inn, most Starwood hotels – but many do charge a pet fee.
The thing is, there's no consistency with pet fees, even within the same brand. For example, many Staybridge Suites charge $75 for a stay of 1-6 days and $150 for 7+ days. That's not always the case though – the Staybridge Suites Herndon Dulles charges $15 for the first day and $10 for each additional day, up to a maximum of $150.
The other issue is when you're only staying one or two nights. At the Staybridge Suites Herndon Dulles, we were due to pay a $25 fee for our two night stay (although for whatever reason they didn't charge it). Many Marriott brands charge $100 per stay though, even for a one night stay. That could therefore more than double your rate, making it far too expensive.
And A Bonus Worst Thing… Bedbugs
We'll be sleeping in 60+ different beds every year which makes us more susceptible to staying somewhere with bedbugs. I'm reaaaaaaaaally hoping this won't be a problem on the road trip, but it's certainly a risk.
Your Thoughts?
That's my list of the 10 (or 11) worst things about living in hotels, but how about you? What do you think would be the worst thing about living in hotels? Let us know in the comments below. (I hope I don't come to regret reading your horror stories below!)