One of the hardest parts of our 5 year, 50 state road trip will be eating healthily.
Seeing as we'll be living in hotels, it'll be all too easy to eat out all the time. That won't be good for our health or for our wealth.
That's why the Instant Pot will be our savior.
Bringing an Instant Pot with us on the road trip means we'll be able to make home-cooked meals in our hotel room, even if it doesn't have any kind of kitchen facilities. It'll therefore save both our waistlines and our wallets.
If you're wondering what it is and how it works, here's our Instant Pot review.
(n.b. We've included Amazon affiliate links in this review. If you use one of our links and buy something on Amazon, it doesn't cost you anything extra but it means we earn a small commission which helps support our travels.)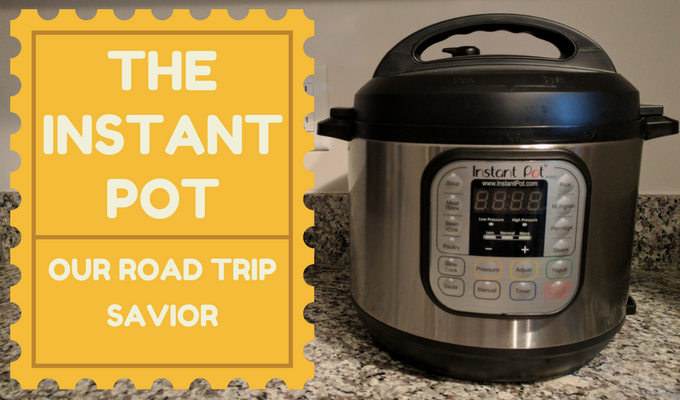 What Is An Instant Pot?
An Instant Pot is the Swiss army knife of the kitchen. That's because it's a multi-cooker that performs the tasks of many different kitchen appliances in one not-so-little-but-not-too-big-either package.
We have the Instant Pot DUO60 7-in-1 which means it can perform the task of seven appliances:
Slow cooker
Pressure cooker
Rice cooker
Sauté
Steamer
Warmer
Yogurt maker
It also comes with more than a dozen preset buttons to make it even easier to make dishes and meals.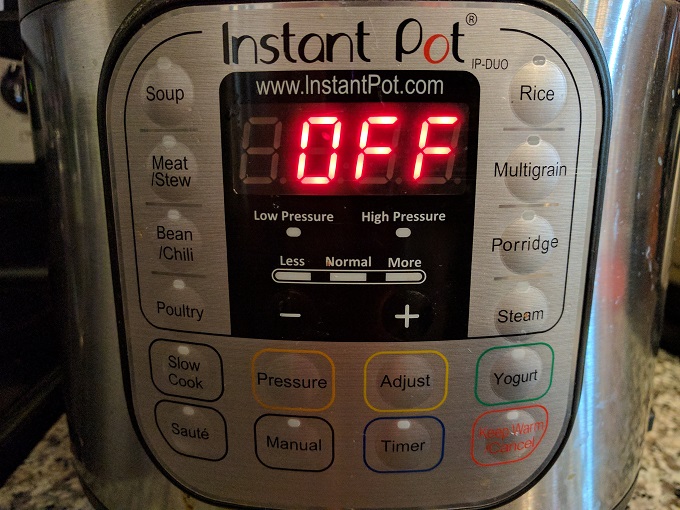 It really is that simple. For example, if you add rice and water and press the rice button, it'll set the timer itself and make you perfect rice.
How Does An Instant Pot Work?
It comes with a removable stainless steel cooking pot – our model is the 6 quart size – which is placed inside the outer pot.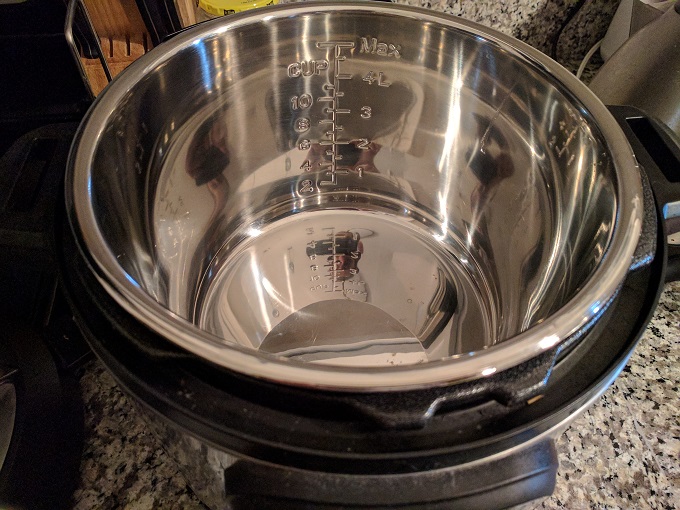 The next steps will vary depending on what kind of dish or meal you want to cook. If you're using it as a slow cooker, you just need to add all the ingredients, close the lid, press the 'Slow Cook' button and adjust the cooking time.
It'll then cook for however long you've set it for. Once it's finished, it'll beep several times to let you know your dinner's ready the same way a microwave does.
The great thing about an Instant Pot is that your food won't then go cold. Instead, it automatically switches to its 'Keep Warm' setting, keeping your food at the right temperature without it burning, drying out or overcooking.
Pressure Cooking
There are a couple of additional steps if you're using the pressure cooker setting. With this option, you can use the 'Adjust' button to change whether it should be cooked at high or low pressure.
The valve on the lid then needs to be turned to the 'Sealing' position to ensure pressure builds inside. Once the time's up, you can allow it to vent naturally by leaving it in the 'Keep Warm' setting.
Alternatively, you can manually turn the valve to 'Venting'. This will give a long burst of steam which releases the pressure more quickly – this takes about 30 seconds or so.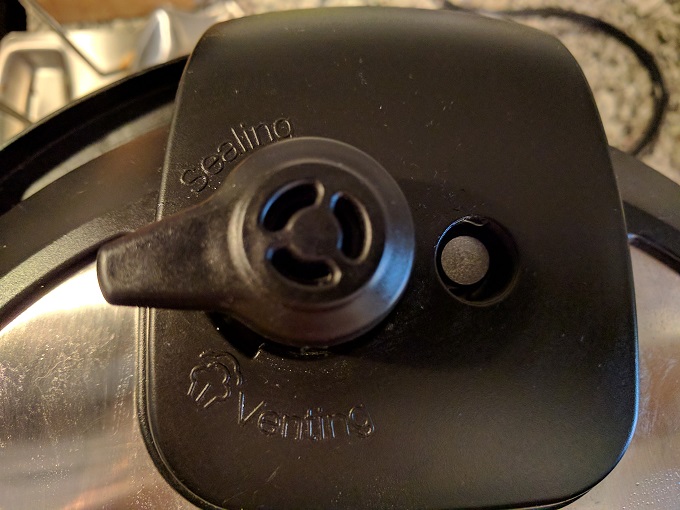 Is The Instant Pot Safe?
One of the concerns you may have is about safety. Traditional pressure cookers had a reputation for being dangerous if not used properly as the pressure could cause an explosion.
That's not the case for the Instant Pot and other new and similar cookers. You're not able to open the Instant Pot without releasing the pressure first.
The pressure release valve is also located at the back of the lid. That ensures that when you use the quick release pressure option, the steam won't shoot up into your face.
What Accessories Are Included?
The Instant Pot comes with several accessories, some of which are more useful than the others. The accessories included might change in the future, but mine came with the following: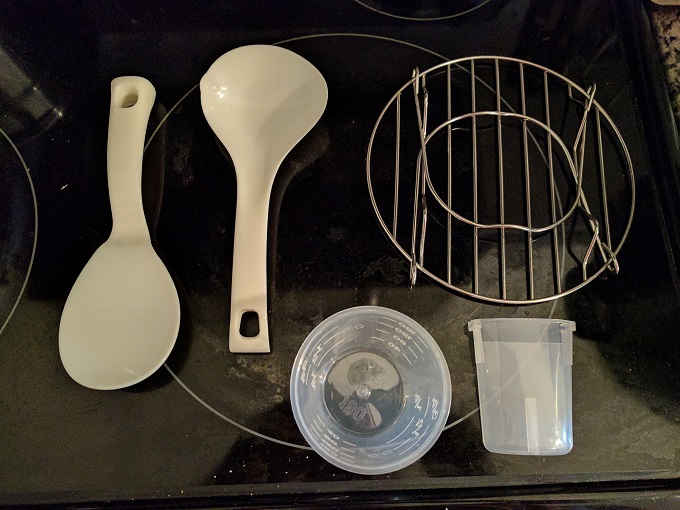 Clockwise from top-left there's:
Rice paddle
Soup spoon
Steam rack with handles
Condensation collector
Measuring cup
To be honest, I've only ever used the steam rack. It's really helpful to have though as it means you can place things like rice in the bottom of the pot, then place the rack over it and put your meat or fish on the rack. The handles make it easier to remove the items once they've been cooked.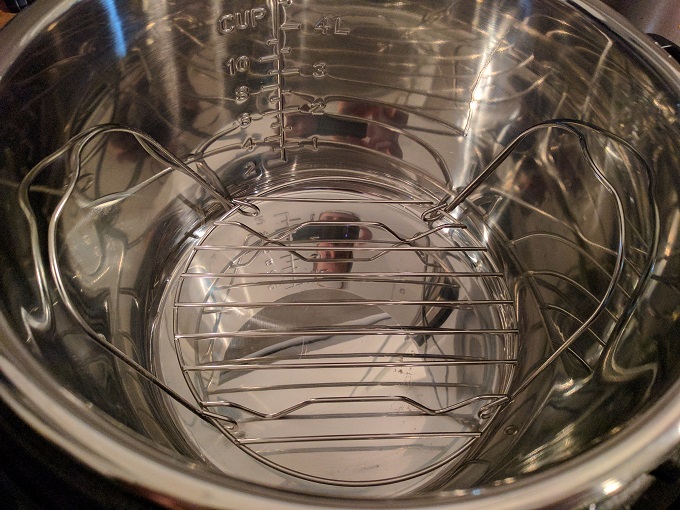 Why I Love The Instant Pot
When we first decided to go on our five year road trip, I started researching slow cookers on Amazon as I wanted to get one smaller than our current slow cooker.
Reading some of the reviews, I saw a number of references to the Instant Pot. Curious why there were so many people raving about it, I took a look at its Amazon listing and could see why it was so popular.
The biggest game changer for me is the fact that it has a sauté function. One of the biggest downsides to our regular slow cooker is that many meals I like to make require meat to be browned first. Unlike standard slow cookers, the Instant Pot allows you to sauté meat before you use one of its other settings to cook the rest of the meal.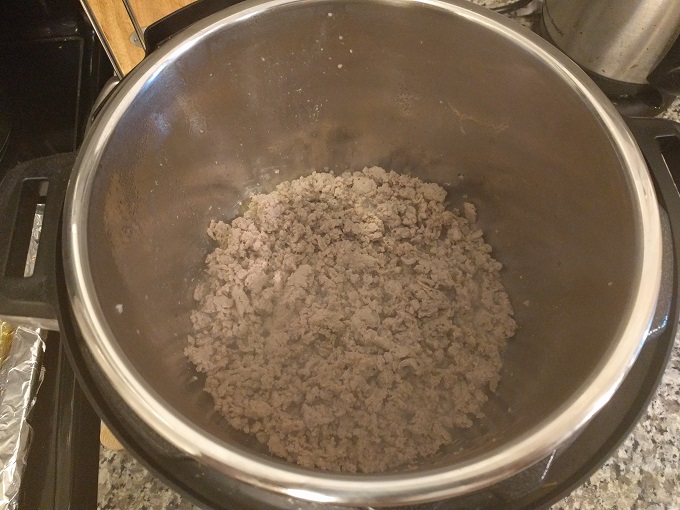 That means you can do true one-pot cooking. For example, we love making burrito bowls. With the Instant Pot, I can use the sauté function to brown the ground meat and then add the beans. Leaving those ingredients in the bottom of the pot, I can add a Pyrex bowl containing rice and water on top of a trivet. Using the pressure cooker setting, the rice is cooked to perfection while simultaneously cooking the beans and keeping the meat hot.
This also means all the food is ready to serve at exactly the same time, ensuring none of it cools down in the process.
Instant Pot Tips & Tricks
1) It holds its own lid
One of the Instant Pot's well thought-out features is its lid holder. When you remove the lid, you obviously need somewhere to put it.
It's about 12″ diameter, so it'd take up a fair bit of countertop space, plus it'd leave condensation marks wherever you place it.
To solve this problem, the Instant Pot has slots on both sides where you can stand the lid vertically. This makes it perfect for both right-handed and left-handed users.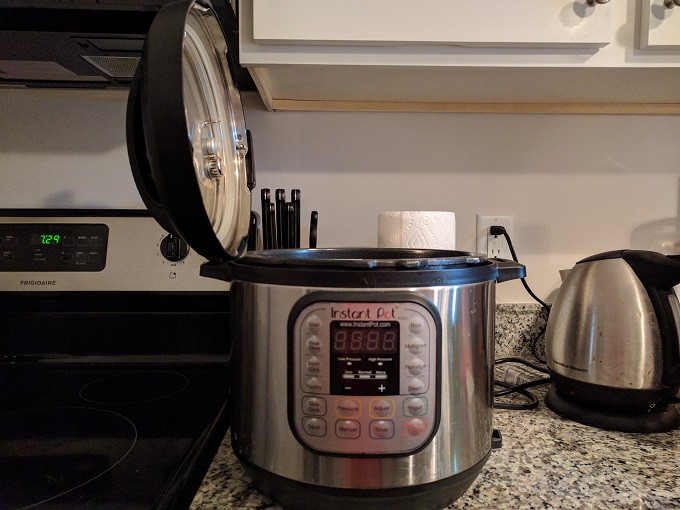 2) Always check the valve
It can be easy to forget to turn the valve to 'Sealing' before using, so get into the habit of ensuring the valve's in the correct position so it can actually build up pressure.
3) Allow for extra cooking time
When you're using one of the pressure cooking functions, it can take 5-10 minutes for enough pressure to build before it starts cooking.
That means that if you set something to cook for six minutes, it can take up to 15 minutes for that process to be complete. Just something to bear in mind if you're trying to serve several things at the same time.
4) Use slow cooker liners
When you use your Instant Pot as a slow cooker, you can use slow cooker liners to minimize the cleaning up. You'll still need to give the stainless steel pot a quick wash, but it's a much simpler process.
Summary
The Instant Pot will be a lifesaver for us on our road trip. We'll frequently be without kitchen facilities as we'll be living in hotels, so it'll mean we can still make healthy meals and save money instead of eating out.
It's definitely worth buying even if you're not living in hotels though! We'll have owned ours for a year by the time we set off on our five year trip and I use it all the time at home.
Stay tuned over the coming weeks and months as we'll also be publishing some Instant Pot recipes that can easily be made in hotel rooms (or your own kitchen!) with minimal preparation.
Questions
Do you have an Instant Pot? If so, what's your favorite meal / recipe? And do you have any tips or tricks to share?
We'd love to hear your thoughts in the comments below.