We're the Peppers.
That means that if we see something pepper-related on the road trip, we're going to check it out. And if it involves eating, we're definitely there 😉
Shae and I were walking up N Market St in Charleston, South Carolina when we saw Pepper Palace. We realized later on why it's called that (you'll have to read to the end of the post to find out why!)
We popped inside to take a photo and started checking out their huge selection of hot sauces.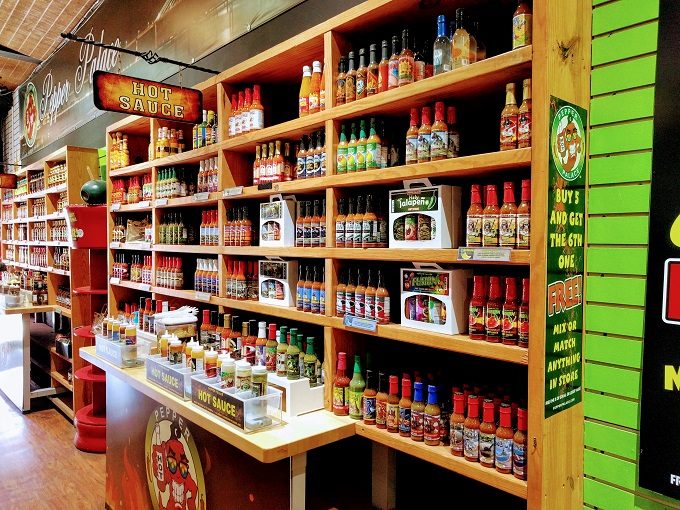 There were all kinds of fun and interesting flavors, with sample bottles for many of them. Next to the samples were tubs of tortilla chips, so I tried a couple including chocolate habanero hot sauce (which was actually very good.)
As we made our way through the store, we saw a sign at the other end.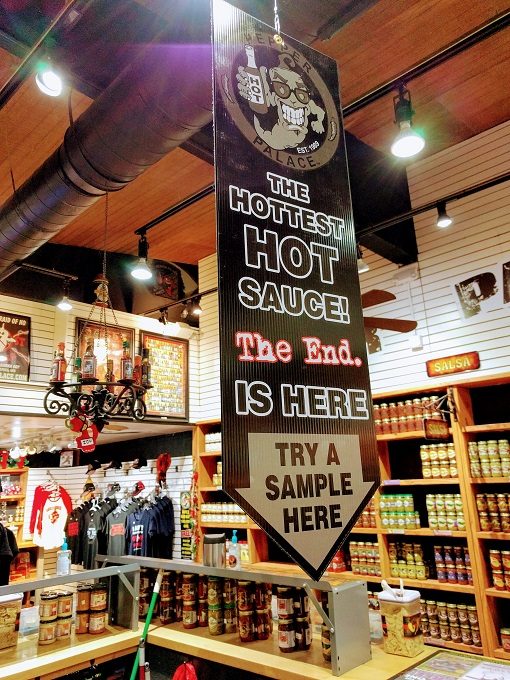 A sample of the hottest hot sauce? Intriguing!
When we got to the counter, we spotted another sign – Pepper Palace had a Wall Of Flame Challenge.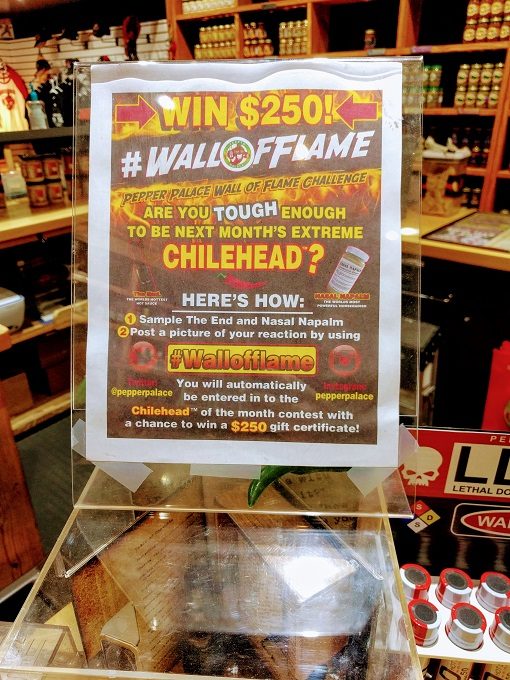 I needed more convincing than Shae, but both of us ended up deciding to take the Wall Of Flame Challenge.
Jeff (the Pepper Palace employee) prepared a small scoop of Nasal Napalm for each of us and carefully counted out six drops of The End.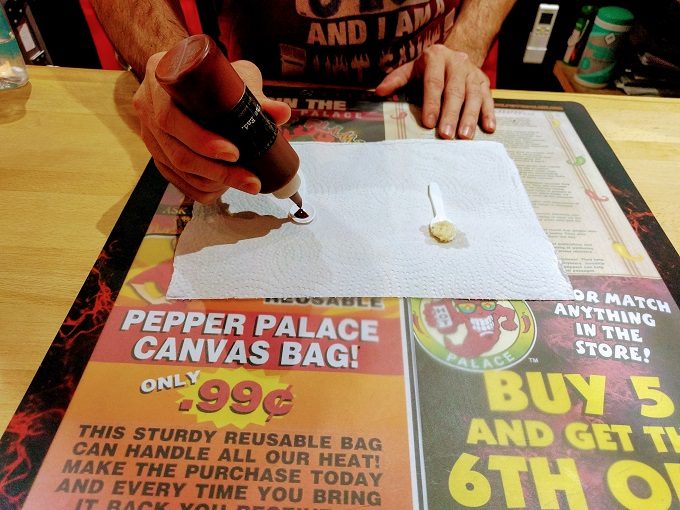 He mentioned that Nasal Napalm was given that name because we'd feel a blast in our nose. It sounded strange that hot sauce would affect our nose more than our tongue, but he was right.
After spooning the Nasal Napalm into our mouths, within a second or two there was an explosive sensation up our noses – it was the weirdest thing.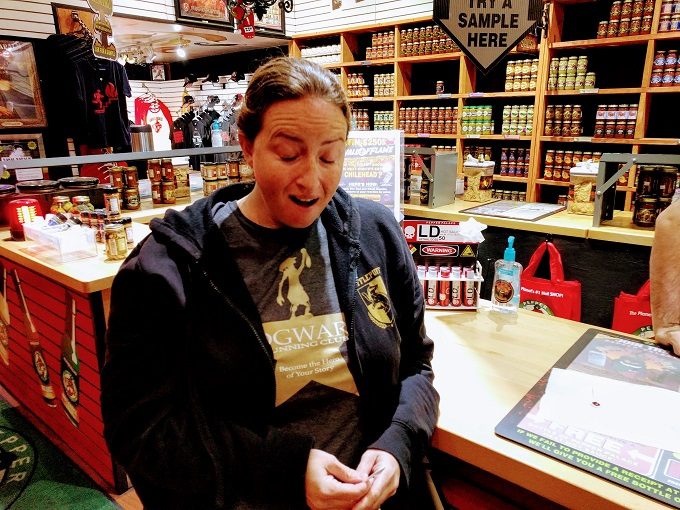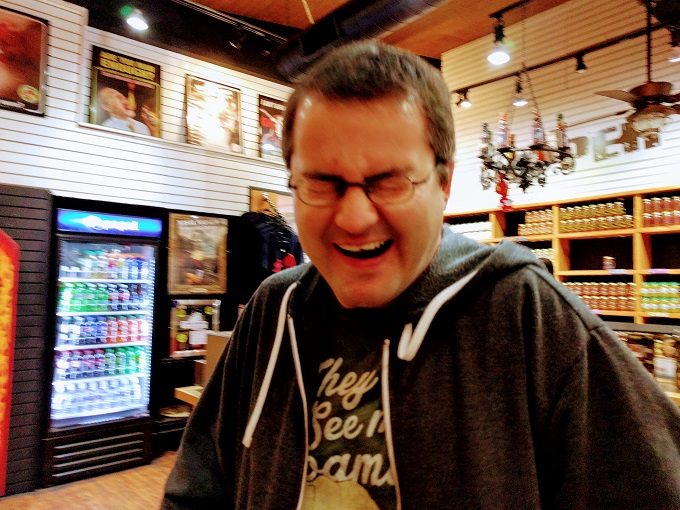 What was even weirder is that the explosion disappeared within a couple more seconds. All that remained was a delicious horseradish flavor on our taste buds that wasn't burning our tongue.
Nasal Napalm lived up to its name, but it was also a surprisingly delicious hot sauce.
Next up was The End – the supposedly "hottest hot sauce". We braced ourselves and licked the sauce off the spoon.
Shae went first and seemed pretty chilled about it. After expressing her surprise to Jeff about the lack of heat, he warned her that The End is a slow burner.
He was right.
Over the course of the next few minutes, it kicked in on her tongue. A bit hotter and a bit hotter and a bit hotter until it was super-hot.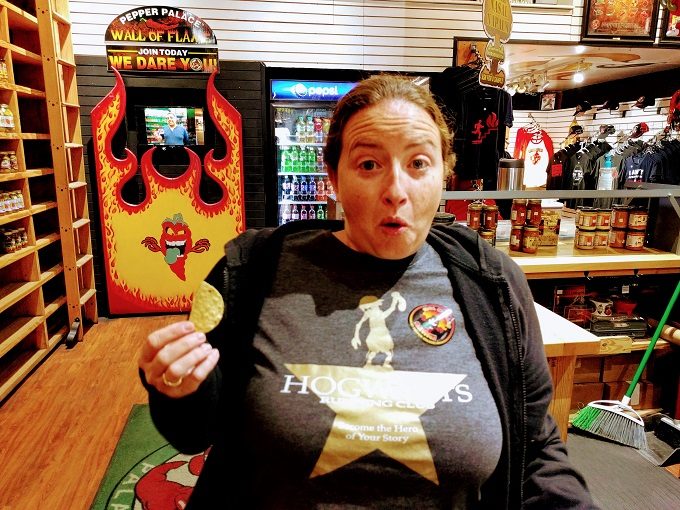 About a minute after I had my dose of The End, this was me.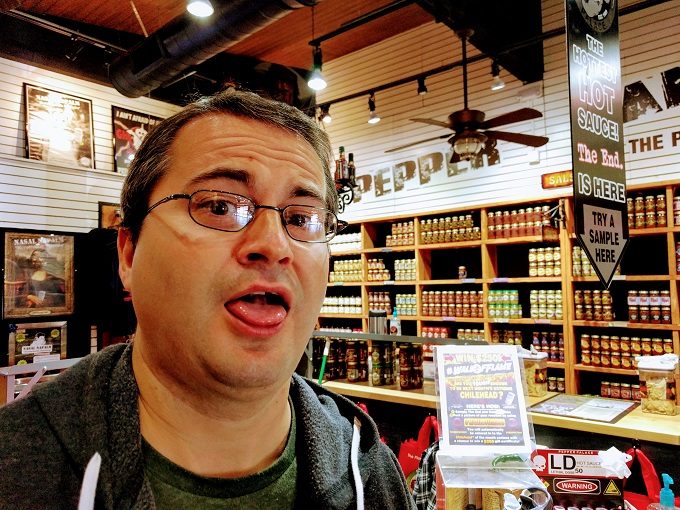 I drank some water after about a minute which I'd thought had counteracted some of the heat.
Apparently not.
Within a few more minutes, the heat on my tongue sent a tear down my cheek.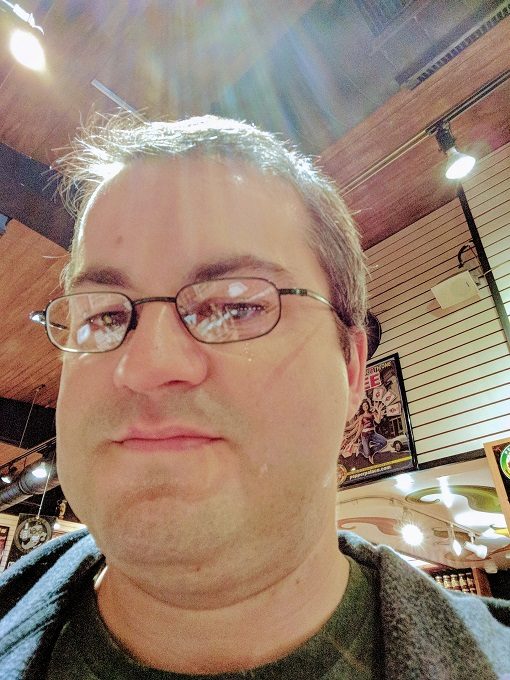 Compared to the Nasal Napalm, The End didn't have any flavor – it was just pure heat.
With the Pepper Palace Wall Of Flame Challenge complete, Jeff gave both of us stickers, because who doesn't love stickers.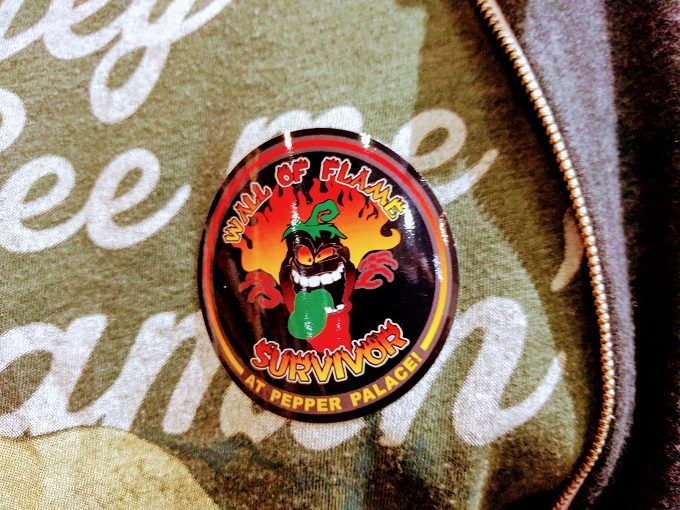 With our tongues still feeling fiery, we said farewell to Pepper Palace – the scene of our triumph.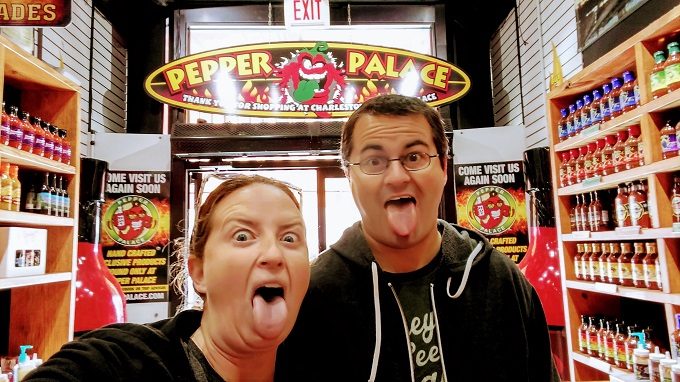 Why It's Called Pepper Palace
I mentioned earlier that there's a reason it's called Pepper Palace. We don't think this is the official reason, but it's the conclusion we came to later that afternoon and evening.
It's called Pepper Palace because you'll be on the throne the rest of the day 😉