Shae and I don't have many traditions, but the Olde Towne Ghost Walk in Portsmouth VA is one of them.
Since moving back to Portsmouth in 2011, I think we've been on the ghost walk every year. This Halloween period was our final opportunity to go on the walk as we'll be off on our 50 state road trip for the next five years.
The ghost walk starts at Trinity Episcopal Church, located on the corner of Court St and High St. You can buy tickets on the night, but I'd already bought our tickets online and so we got in line. Tickets were $12 per person and cost the same whether you pay in advance or on the night.
Shae's mom and stepdad joined us, along with a couple of their employees and children. Although there was a fairly long line when we arrived, it moved pretty quickly as you set off in groups of 30-40 people a time.
There's entertainment while you're waiting though, from organ music across the road to pirates to fire jugglers.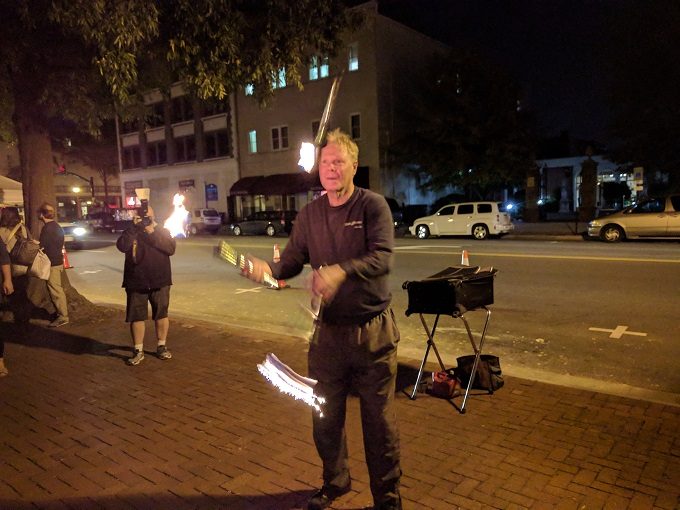 The walk begins with a ghostly story in the graveyard of Trinity Episcopal Church before crossing the road to the Portsmouth Art & Cultural Center for the next one. Unfortunately I didn't get any photos of either of those.
From there, our guide led us down Court St towards London St where the next storyteller awaited.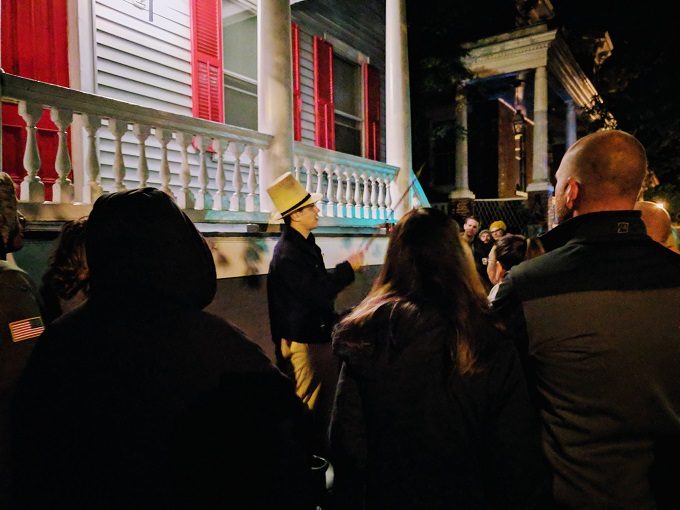 After this story, the walk continued to the corner of Court St and London St where the group split into two. One group headed west for one set of stories and the other headed east for a completely different set.
One of the kids with us was a little nervous about scary stories, so we took the east route. To be honest, none of the stories are particularly scary, but the west route had a storyteller who let out a bloodcurdling scream as part of her performance, so we thought that would've freaked out our little companion.
One of the best parts of the Olde Towne Ghost Walk is that you get to see a lot of historical buildings. Olde Towne Portsmouth is full of homes built in the 1700s and 1800s, which is also why there are so many ghost stories.
For example, the next stop on the walk was at the Ball House which was built circa 1784.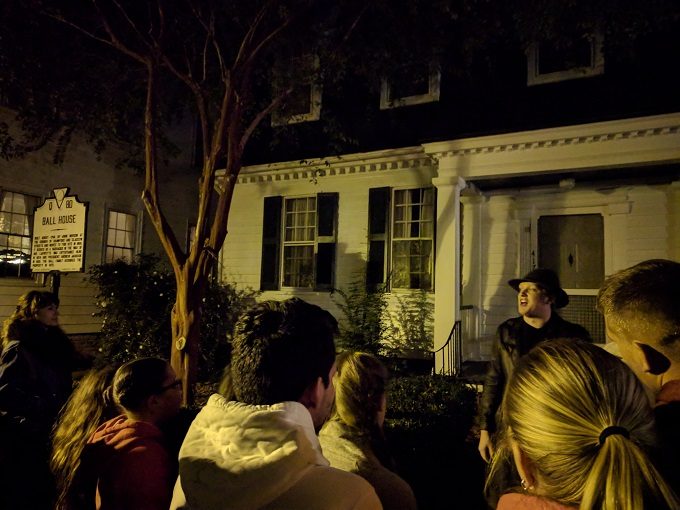 Most of the ghost stories are only performed by one actor or actress. However, as we walked along Middle St we were confronted by some Confederate soldiers.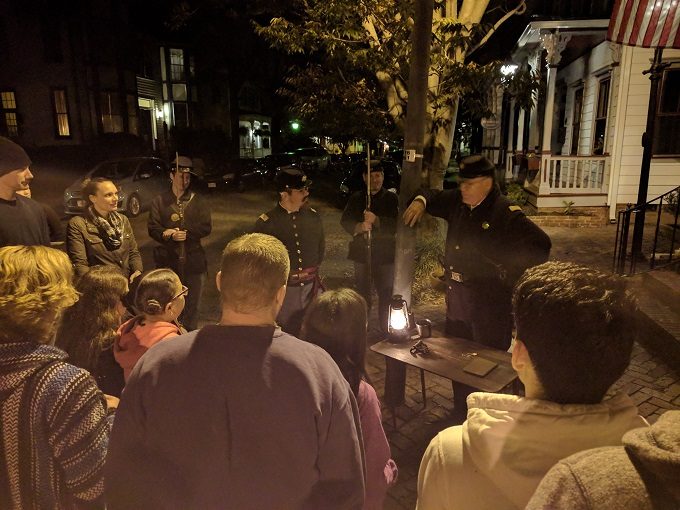 They temporarily detained a few members of our group who were guarded by this soldier. I'm pretty sure they could've taken him while his back was turned 😉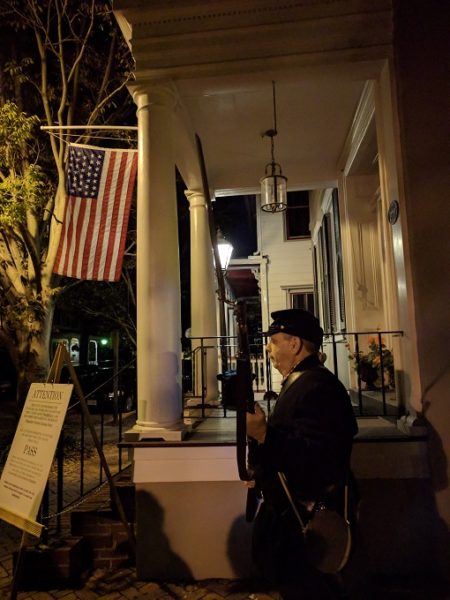 Thankfully we were all able to escape when a ghost attacked the soldier who'd murdered him. Turning on Glasgow St, we came across another apparition with a story to tell.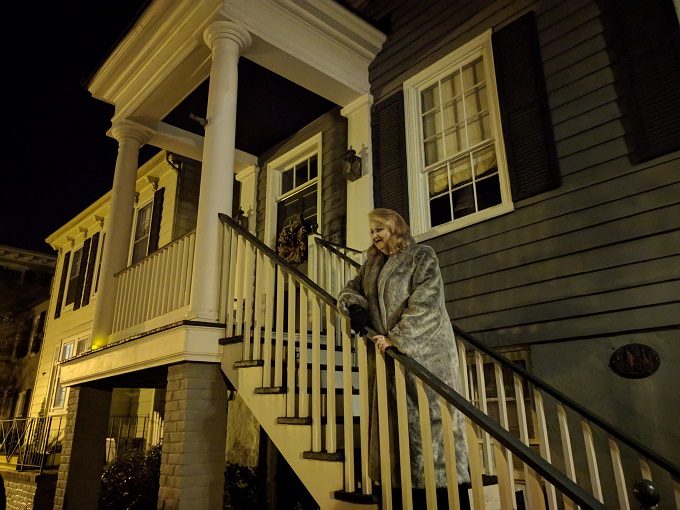 That was followed by a stop on Crawford St for another spooky story.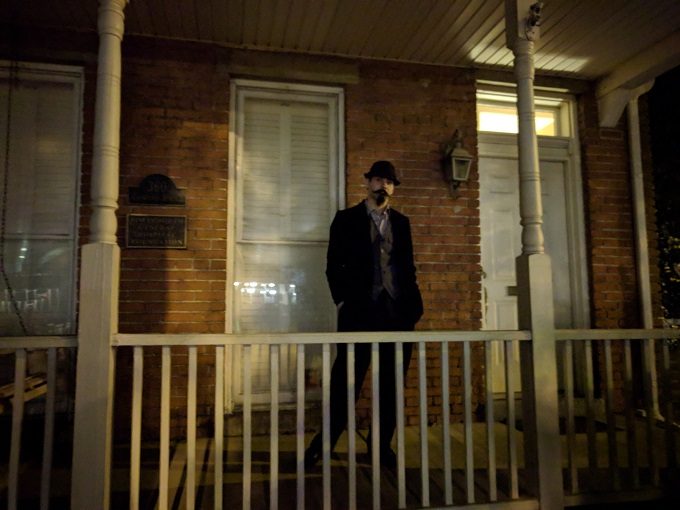 Next up was my second-favorite story of the night, a lady searching for her husband Isaiah who died after falling in the Elizabeth River during a storm. It doesn't matter that I've heard the story several times – this actress puts so much into her performance each year that I love it every time.
Turning up North St, our guide led us to another story on the porch of another old house.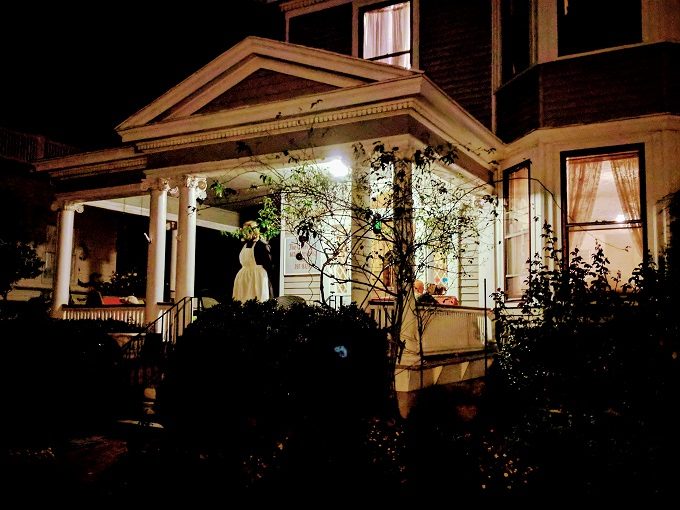 The penultimate stop on the Olde Towne Ghost Walk was at the far end of Middle St and was my favorite of all. I've a feeling this guy acts in his spare time as he always puts in an excellent performance.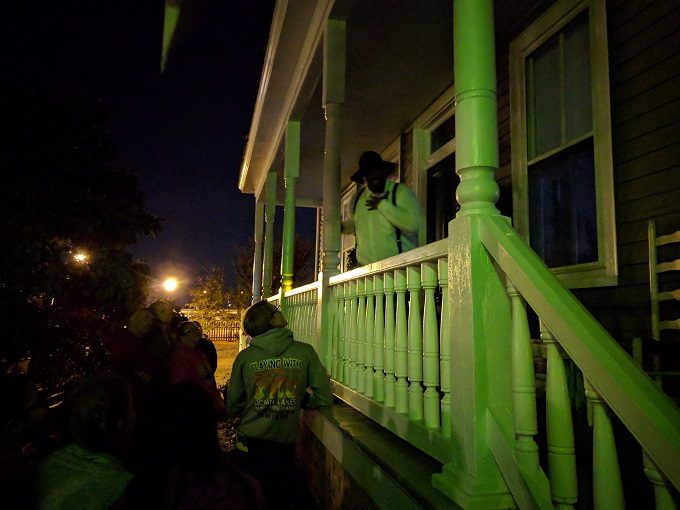 He tells the story of an escaping slave on the Underground Railroad. I thought he deserved a wider audience, so after our tour was over I headed back to film him performing for another group.
The last story was a ghost telling us about his pain and suffering and that of some of his fellow soldiers.
The night ended at Red Lion Square where there was free hot apple cider to sip on before heading home.
The night needn't end there though. Instead, you could head to one of the bars or restaurants on High St for something to eat or drink. The ghost walk was the night after my final day at work, so we went off to Longboards to celebrate.
Final Thoughts
If you find yourself in Portsmouth VA at Halloween time, be sure to go on the Olde Towne Ghost Walk.
It's a fun way to spend the evening that's made even better by the tour outside some historical homes. It's just a shame that we won't be around the next few years to join you.