After a couple of days in Brisbane, we flew up to Cairns to do something on many people's bucket lists (including Shae's mom) – snorkeling at the Great Barrier Reef.
It was a shame we only got to spend two days in Cairns as it was our kind of vibe. Beautiful weather, outdoor-focused, night markets with delicious food stalls and a huge (and free) outdoor pool called The Lagoon.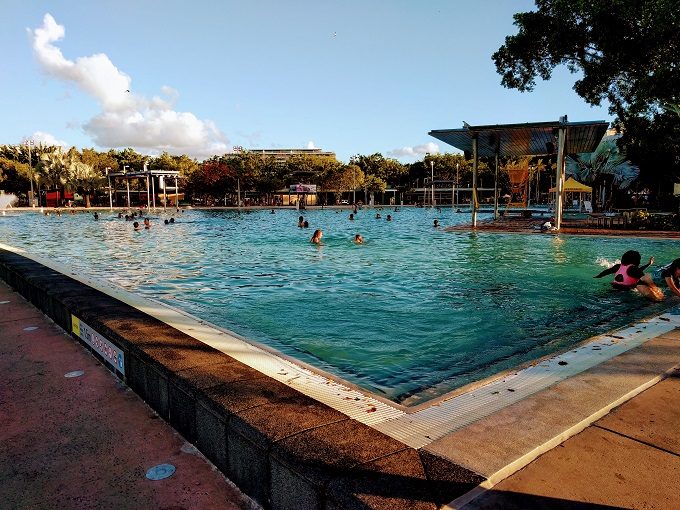 Not to mention that Cairns airport has a flip-flop vending machine. Can life get any better than this?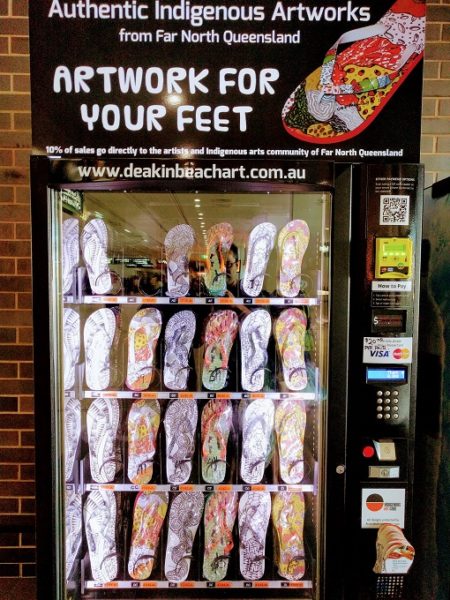 Anyway, back to the real reason for our visit to Cairns – the Great Barrier Reef. We'd done some research before our trip and there were maaaaany companies that offered snorkeling trips.
After comparing trip itineraries, prices and reviews, we decided to book a tour with Reef Experience. Tickets were $195 AUD per person (~$150 USD) which, although not overly cheap, were excellent value given everything that's included.
The tour included scuba diving, snorkeling, stinger suits, a glass bottom boat tour, breakfast and lunch with drinks and a shuttle bus pick-up and drop-off.
(Just FYI, this isn't a sponsored post – we paid for our tickets and Reef Experience had no clue we'd be writing a review about our experience)
The day started at 7:25am when we were picked up by the shuttle bus around the corner from our Airbnb. After picking up a few more guests, we arrived at the marina and were boarding the Reef Experience catamaran before 8:00am.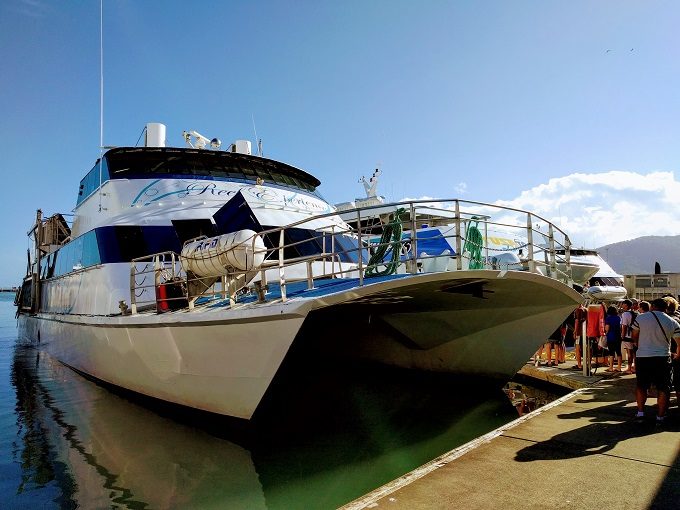 After everyone had boarded, they served breakfast which consisted of bacon & egg rolls, fresh fruit and tea and coffee. They'd asked if we had any dietary requirements as we boarded, so I'm assuming there were alternatives for people who needed options that were gluten-free, vegetarian, kosher, etc.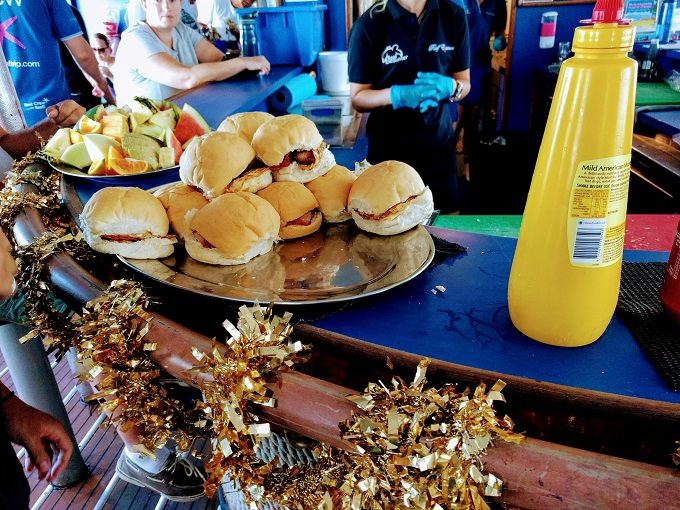 Before setting off, they also offered everyone the chance to buy two seasickness tablets for $3 (they're not allowed to provide free OTC medication, which is why it was for sale).
WE HIGHLY RECOMMEND TAKING THEM UP ON THIS OPTION!
As the Reef Experience team explained, it's better to spend $3 on something you don't need than discover too late that it would've helped. The catamaran moves at a pretty fast speed out to the Great Barrier Reef, so it bounces over the waves a lot.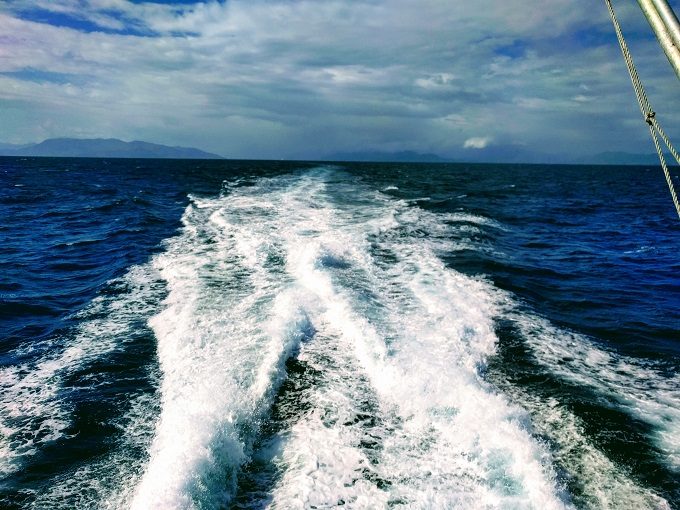 There were several adults and children who needed paper bags on the way out. Shae and I aren't susceptible to seasickness nowadays (as far as we're aware), but we took the tablets anyway and were fine.
After about 90 minutes of boating, we arrived at our first reef – Breaking Patches. Just before we arrived, we changed into our stinger suits.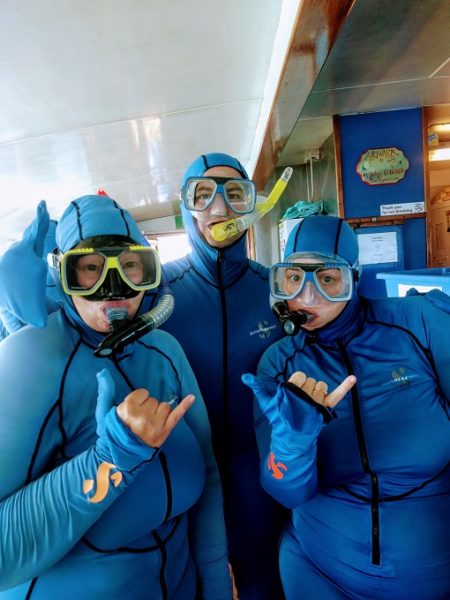 These aren't wetsuits, but instead cover your entire body (other than part of your face) to protect you from stinging jellyfish.
Once the boat was anchored, it was time to snorkel! We made our way down the steps to the side of the boat, spat in our face masks and rinsed them (this prevents fogging) and popped on our flippers.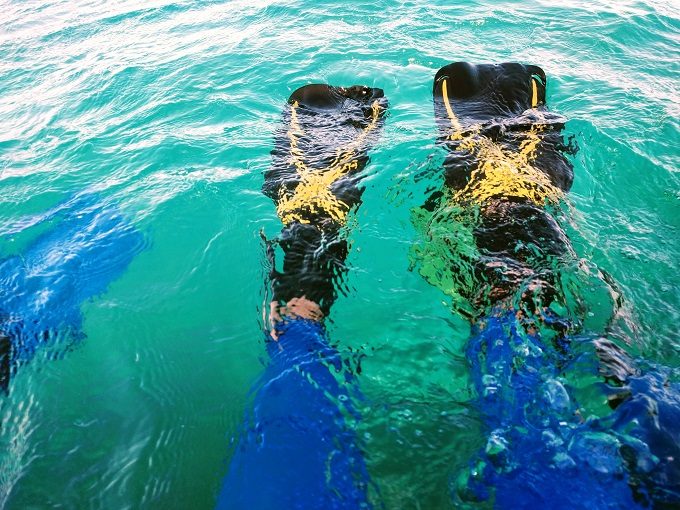 And in we went. This was only my second time snorkeling, so it took me a little while to get used to solely breathing through my mouth.
One nice additional feature of the Reef Experience tour is that they had pool noodles available for people to use. I decided to give it a go and am glad I did. Holding one in front of me with both arms outstretched made it easier to focus on breathing and enjoying the view below.
Shae and I had bought waterproof cases for our phones before the trip, so we set out with them hooked around our necks. That's because we wanted to take photos and videos while we snorkeled at the Great Barrier Reef. Shae got this video with some cameos by jellyfish floating around.
I'd been paranoid about my face getting stung by jellyfish, so I kept lifting my face out of the water whenever I swam through a bloom of them. We found out a little later on though that they were the non-stinging variety!
The Reef Experience tour includes a scuba dive for anyone that wants to do it. Due to a medical disclosure on her form, Shae sadly wasn't allowed to participate. Her mom and I got suited up with a tank and made our way to the back of the boat.
I mentioned earlier that I'd only snorkeled once prior to this trip, but I'd never scuba dived. I'd figured that scuba diving would be simple compared to snorkeling as there was no danger of water getting in your oxygen tank versus the top of your snorkel.
In theory that's the case. In reality, it's not so simple. Not the way that my brain decided to work anyway.
After making my way about three feet down, my thoughts turned to "What if you mess up your breathing? Will you be able to get to the surface in time? What about the pressure if you do it too quickly?"
Seeing as I was only a few feet down, I made my way to the surface and tried to get used to breathing through the mouthpiece. In the end, I couldn't bring myself to doing it, so I missed out on scuba diving at the Great Barrier Reef 🙁 It had been on mom's bucket list though – she went and loved every second of it.
Shae and I therefore headed back out for another snorkeling session.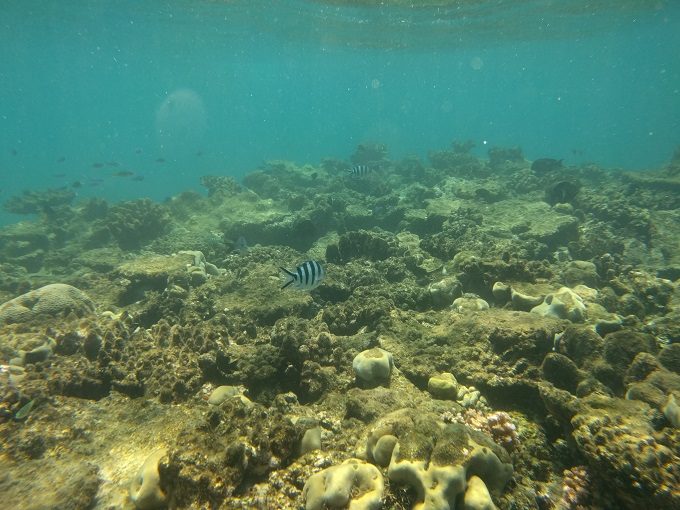 For anyone that wasn't comfortable snorkeling or scuba diving, there was a glass-bottomed boat that took them out so they'd be able to get a better look at the reef.
After an hour or two of snorkeling and scuba diving, lunch was served. This included chicken or beef, a sausage and a wide variety of salad options with more than enough food for everyone to have completely full plates.
We then made our way to the second snorkeling location – Hastings Reef – where we were all given a few options. We could:
Snorkel (free)
Do a second scuba dive (this additional dive was $65 AUD (~$50 USD))
Go on a marine biology informative snorkel tour ($25 AUD ($19 USD))
Shae, her mom and I decided to do the marine biology tour. We figured that it would be pretty short, but nope. It lasted at least an hour, so it was well worth the $25 AUD.
Our tour guide Cam was awesome – very personable and informative. He took us on a tour extremely close to the coral reef which meant we could get some closer photos and videos.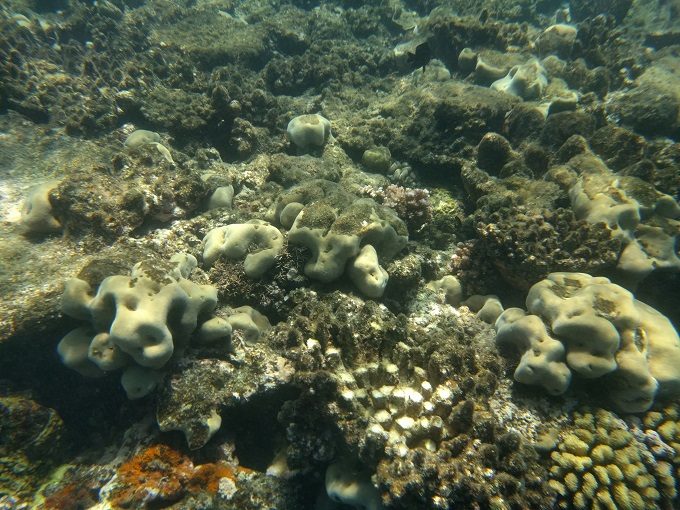 Part of the tour involved getting to touch mushroom coral, a leopard sea slug and a black sea slug. Cam also dived down to wave his hand in front of a giant clam shell (it must've been a good 4-5 feet long) so that we could watch it close up.
We also got to see the drop off, found Nemo and viewed all kinds of coral and other fish.
Once the marine biology tour was over, we had a few minutes left to snorkel before it was time to reboard the boat and head back to the marina. That wasn't the end of the great service though, as the journey back included a free glass of wine along with cheese and biscuits.
We arrived back at the marina at about 4pm where the boat's crew high-fived everyone as we left.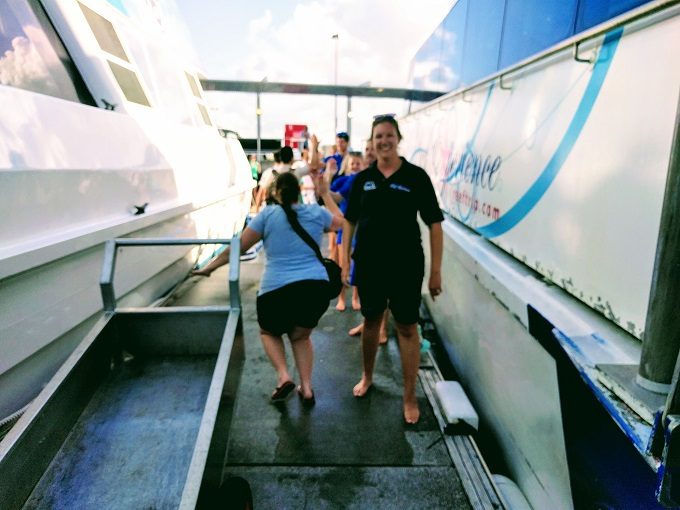 Final Thoughts
If you want to go snorkeling at the Great Barrier Reef, we highly recommend using Reef Experience. The tour was worth every penny (and more.)
The snorkeling locations were great, their staff were all extremely friendly and safety-focused, the food was delicious and it was a wonderful experience from beginning to end.
Like I mentioned earlier, this isn't a sponsored post. We paid full price for our tickets and Reef Experience didn't know we'd be reviewing them. We simply loved our tour with them and wanted to share how fantastic it was.
Follow Our Entire Trip Down Under
Be sure to also check out all our other posts from our trip to New Zealand and Australia:
The Ultimate Reef Experience At The Great Barrier Reef