Before we start, there's something important to know – AARP isn't just for people over the age of 50.
You can join at any age – Shae and I are both members and we're only in our 30s. All that's required is payment of the annual membership fee.
Membership is excellent value, only costing $16 per year. If you pay for several years upfront, the fee goes as low as $63 for five years (i.e. $12.60 per year). We renewed our membership a couple of weeks ago for five years and have almost recouped that $63 fee already.
Here are two ways we're taking advantage of our AARP membership to save money on our 50 state road trip and how you can do the same thing.
1) Get Cheaper Hotel Stays
Several hotel chains offer discounts to AARP members when booking directly with them. That includes Hilton, La Quinta, Choice, Starwood and others.
We recently booked a couple of one night stays using an AARP discount. The first stay would've cost $146.64 but with the discount was only $117.13 – a saving of $29.51. The second stay would've been $131.78 but with the discount only cost $117.71 – a saving of $14.07.
That means in just two nights we saved $43.58 – more than 2/3 of the cost of our five year membership.
A couple of things to bear in mind when booking an AARP hotel rate:
i) The discount is sometimes listed as 'Senior.' Most of the time this includes AARP members, even if you aren't over 50 or 60 years of age. Always check the wording of the rate though to see what the specific requirements are.
For example, the wording of one such 'senior' discount at a Sheraton we booked was:
AARP members and individuals 60 years or older are eligible for this rate. Proof of AARP membership or year of birth must be shown at check in. Identification Required.
We're AARP members, so we booked this rate. There was an alternative 'senior' discount which had this different wording:
The Senior Rate is offered to guests who are 62 years of age or older. Proof of age must be presented at time of check-in. Identification Required.
We weren't eligible for that particular rate as it was only for true seniors.
ii) 'Senior' rates aren't always the cheapest. It's best to also check other rates as the AARP discount doesn't always provide the best value. If you're booking far in advance, a prepaid advance purchase rate might be cheaper, as might their AAA rate (if you're a AAA member).
2) Get Activity And Meal Discounts
AARP offers a free rewards program called Rewards For Good. You earn points in various ways – joining AARP, answering quizzes, signing up for AARP email newsletters, etc.
The points mount up quickly, so I've earned 50,000+ points in less than two years. These points can then be used for Local Offers.
The thing I love about their Local Offers is that it's run by Entertainment.com, the company behind Entertainment books. We've bought the Hampton Roads Entertainment book for the past few years and our savings have always outweighed the cost.
AARP Local Offers seem to have exactly the same deals as Entertainment books, but the Local Offers are better than the books for short visits to other cities.
That's because Entertainment books cost anything between $20-$35. If you're only visiting somewhere for a few days, you might only take advantage of a couple of deals and so not get enough value from the book.
With AARP's Local Offers though, you can pick and choose which deals you want. If there's only one that interests you, you're not stuck paying for other offers.
The first place we're visiting on our road trip is Columbia, SC and doing a search there brings up almost 200 results.
One option is a buy one menu item, get one free at The Deli "Say No More":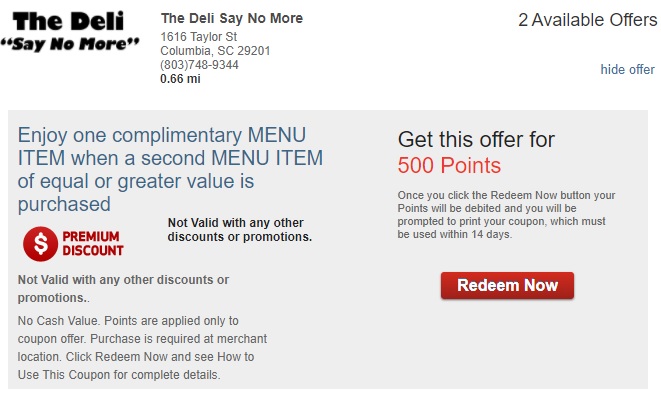 It looks like many of their menu items are $5-$6 which seems to be a good redemption for 500 points.
The second city we're visiting is Charleston SC. One of the Local Offers there is for a free attraction when paying for a second attraction at Charleston Fun Park.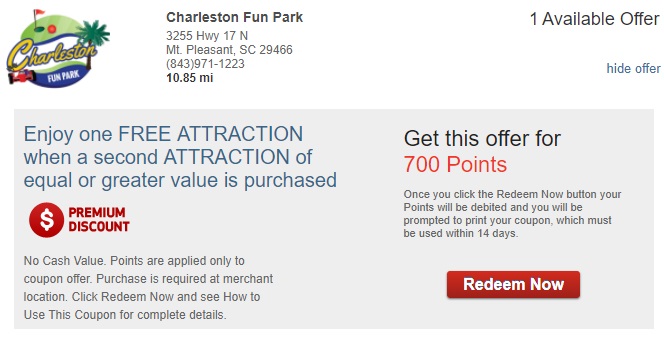 Charleston Fun Park has both Go Karts and Mini Golf for $8 which is a good redemption option for 700 points.
Other Savings
AARP membership provides all kinds of other savings, including 10% off at Outback Steakhouse, 15% off at Denny's and more.
Paying $16 a year or less can therefore provide you with all kinds of value.
Your Experiences
Are you an AARP member? If so, what kind of discounts have you gained in the past from your membership? Let us know in the comments below.