If you pay for your hotel stays, using a credit card that offers bonus points is a great way to increase how many points you earn during your stay.
The best card to use differs based on which hotel chain you're staying at. We're therefore publishing this series to explain the best card to use with each chain. (n.b. we don't have credit card affiliate links – here's why – so these recommendations are unbiased and based solely on my own opinions.)
Today, we'll look at the best credit card to use for Hyatt hotel stays.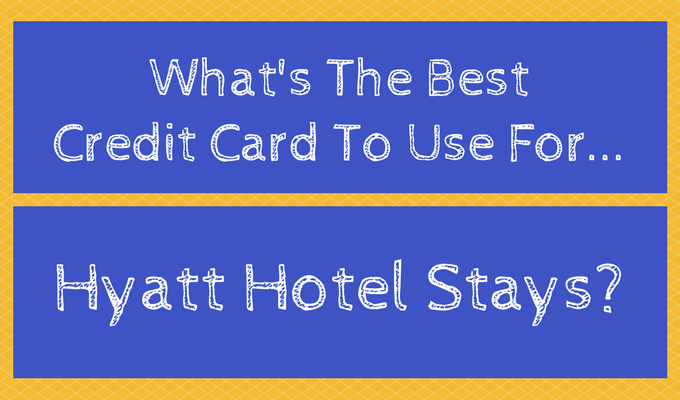 The Best Card
With Hyatt, the best card to use is tough to decide on because of various factors. In my opinion though, the best option isn't to use a specific credit card but to use Hyatt gift cards instead.
There are a few ways you can obtain these for the best return on your spend:
Grocery stores – Many grocery stores offer 2x or 4x fuel points when buying gift cards. Using a credit card that earns a category bonus at grocery stores can therefore give you a 10%+ return when taking into account both the credit card rewards and fuel points.
Office supply stores – Stores such as Staples and Office Depot also sometimes sell Hyatt gift cards. Cards like the Chase Ink Plus or American Express SimplyCash Plus earn 5x at office supply stores, making these a good option.
Gift card resellers – It's often possible to purchase Hyatt gift cards at a 15%+ discount from gift card reselling sites like CardCash.
IMPORTANT CAVEAT
There have been many reports of people purchasing Hyatt gift cards, especially from sites like CardCash, only to find that the card balances are zeroed out by the time they come to use them.
You should therefore only buy the gift cards when you need to use them. If buying from resellers, this should ensure you're covered by any guarantees they have. If buying them first-hand from grocery stores or office supply stores, keep your receipts to help provide evidence of your purchase in case you need it.
It sounds like many of the security issues surrounding the cards have been resolved recently. Apparently Hyatt's gift cards didn't have a PIN in the past which is why they were so easily compromised. Their new cards come with a PIN, so they're now much more secure.
Other Card Options
There are several other credit cards that can be worth using for Hyatt stays:
1) Hyatt Credit Card
The Hyatt credit card offers 3x World of Hyatt points when for stays at their brands. The card is worth holding anyway due to the annual free night certificate which can prove to be very valuable.
Hyatt occasionally sends special offers to their cardholders as well. For example, at the time of writing this there's an offer for $50 back when spending $300+ on stays at Hyatt Place and Hyatt House hotels in the US.
2) Chase Sapphire Reserve
Another option would be to use the Chase Sapphire Reserve credit card. This card earns 3 Ultimate Rewards (UR) points per dollar spent on all travel.
URs can be transferred to Hyatt on a 1:1 basis, so the Sapphire Reserve earns at the same 3x rate as the Hyatt credit card. The benefit of URs is that they're more flexible as they can be transferred to many other transfer partners.
The Chase Sapphire Reserve has a $450 annual fee, so you'd need to value the other benefits highly enough to make it worthwhile. One of those benefits is a $300 annual travel credit, so the fee isn't as extortionate as it might first appear.
3) Citi Prestige
The Citi Prestige card offers the fourth night free when booking your stay either through their portal or via the concierge.
If you're booking a two week trip, this won't save you much money as a percentage of your stay. You'll save ~20% for a four night stay though (taxes and fees aren't included in the discount, so it's not a true 25% discount). That might make this card worth using, but its $450 annual fee might not outweigh how much you'd save if you're not frequently making use of the card's benefits.
The Thank You points that you earn with the Prestige card can be transferred to several different airline loyalty schemes which is the best way to maximize your points. It therefore won't help you with free hotel stays, unless you transfer to Hilton which is another of their transfer partners.
Other Posts In This Series
Check out the other posts in this series to find out the best credit cards to use for stays at:
Your Thoughts
Do you agree or disagree? Is there a better card to use when paying for Hyatt stays? Let us know your thoughts in the comments below.