Using a credit card that offers bonus points is a great way to increase how many points you earn for your hotel stays.
The best card to use differs based on which hotel chain you're staying at. We're therefore publishing this series to explain the best card to use with each chain. (n.b. we don't have credit card affiliate links – here's why – so these recommendations are unbiased and based solely on my own opinions.)
Today, we'll look at the best credit card to use for Marriott hotel stays.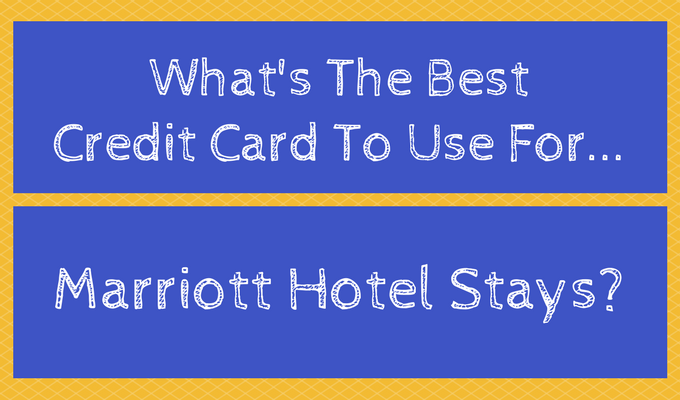 The Best Card
Marriott have two credit cards – one personal and one business. However, the best card to use for stays at their brands isn't their own.
Instead, you'd be better off using one of the two SPG credit cards. The reason for this is because you'll earn more points using an SPG card than you will using a Marriott card.
The Marriott cards earn 5 points per dollar spent at both Marriott and SPG brands which isn't a bad return. However, the SPG cards earn 2 points per dollar.
I know that usually 5 > 2, but in this case it isn't. That's because Starpoints (the points you earn with SPG) can be transferred to Marriott at a 1:3 ratio. That means the 2 Starpoints you earn can be converted to 6 Marriott Rewards points – 20% more than the 5 points you earn with Marriott's credit cards.
Other Card Options
If you don't have an SPG credit card, there are several other cards that are worth considering.
1) Marriott Credit Cards
I mentioned their cards above and they're not a bad choice for paying for your Marriott stays. 5 points per dollar is still a pretty good return and will help you rack up your free stays much more quickly.
2) Some American Express Credit Cards
This one's a bit YMMV. My favorite feature of American Express cards is Amex Offers. These are offers you can load to your American Express card(s) that can save you money or earn you bonus points.
They frequently offer statement credits when staying at Marriott brands. The offers are usually something like 'Spend $200, get a $40 statement credit' which works out as a 20% discount if you spend exactly $200.
The offers are usually brand-specific though, so it can only be used at a Marriott or a Renaissance or a JW Marriott, etc.
If you have more than one Amex card, you can load the offer multiple times using multiple browsers. If you were staying six nights at a hotel that's $100 per night, you could book it two nights at a time and pay using different cards.
3) Chase Sapphire Reserve
A third option would be to use the Chase Sapphire Reserve credit card. That card earns 3 Ultimate Rewards points per dollar spent on all travel.
Some people value 3 Ultimate Rewards points more highly than 2 Starpoints / 6 Marriott Rewards points, although it depends on your travel plans, your personal valuations of the points and what you're collecting towards. Seeing as we'll be living in hotels for the next five years, we'll be able to redeem our Marriott points more strategically than most people are able to. That means we can stretch the value of 6 Marriott points per dollar further than 3 Ultimate Rewards.
The Chase Sapphire Reserve has a $450 annual fee, so you'd need to value the other benefits highly enough to make it worthwhile. One of those benefits is a $300 annual travel credit, so the fee isn't as extortionate as it might first appear.
4) Chase Ink Plus
The Chase Ink Plus credit card isn't available for new applicants, so this won't help if you don't own the card already.
If you do have the card though (as I do), you earn 5 Ultimate Rewards points per dollar spent at office supply stores.
Some stores carry Marriott gift cards, so you could purchase those at Staples or Office Depot / Office Max for 5 UR per dollar.
5) Credit Card With A Grocery Store Category Bonus
This suggestion is a similar concept to the Chase Ink Plus, but with a double-dip opportunity.
Some credit cards offer a category bonus for grocery store spending which can be worth ~5%. Some grocery stores also offer 4x fuel points on gift card purchases.
Those fuel points and credit card points therefore have the potential to provide a decent return on Marriott gift card purchases at grocery stores.
6) Citi Prestige
The Citi Prestige card offers the fourth night free when booking your stay either through their portal or via the concierge.
If you're booking a two week trip, this won't save you much money as a percentage of your stay. You'll save ~20% for a four night stay though (taxes and fees aren't included in the discount, so it's not a true 25% discount). That might make this card worth using, but its $450 annual fee might not outweigh how much you'd save if you're not frequently making use of the card's benefits.
The Thank You points that you earn with the Prestige card can be transferred to several different airline loyalty schemes which is the best way to maximize your points. It therefore won't help you with free hotel stays, unless you transfer to Hilton which is another of their transfer partners.
Other Posts In This Series
Check out the other posts in this series to find out the best credit cards to use for stays at:
Your Thoughts
Do you agree or disagree? Is there a better card to use when paying for Marriott stays? Let us know your thoughts in the comments below.