One of the things that feels most weird about our 50 state road trip is that it means we won't have a home for the next five years. We'll usually be moving every 5-6 days and so just as we'll get settled, it'll be time to move.
It's also why we're getting rid of nearly all our possessions. After all, if we won't need the items for the next five years, there's a good chance we don't need them at all.
We've known ever since we started planning our road trip that it'll mean we're homeless, albeit with a roof over our heads each night. What's changed in the last few days though is that we'll be homeless sooner than expected.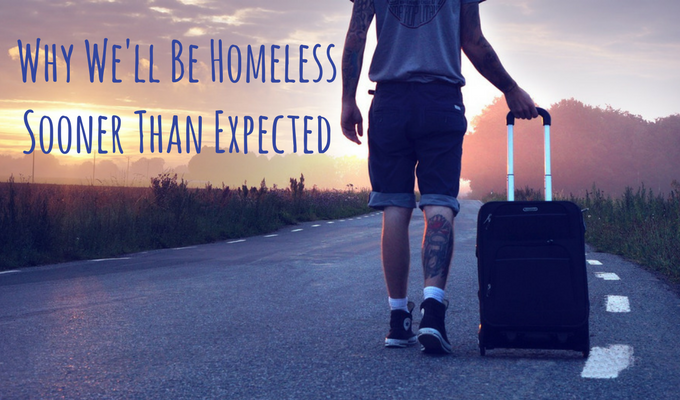 The Original Plan
Our original plan had been to move out of our apartment towards the end of November. That's because we leave for New Zealand and Australia on November 29 and only return a few days before we set off on the road trip on January 1.
The Revised Plan
We then decided to head south over the Thanksgiving period as we'll be changing our state of domicile to Florida. We'll be hitting up a DMV near Jacksonville for our driver's licenses and license plates on the Monday after Thanksgiving, then driving back up to catch our flights the next day. As we'll be leaving for Florida the day before Thanksgiving, that made our official homeless date November 22.
The Revised Revised Plan
Our apartment complex has some fairly demanding cleaning requirements. This includes cleaning the tops of the kitchen cupboards (which are 10 feet off the ground and can be barely reached, let alone seen) and shampooing the carpet. Doing all this cleaning is much harder when we still have our bed, sofa, tables, etc. in the apartment.
We're planning on doing the cleaning the weekend of November 18-19. Well, I say "we" but I mean "Shae" as I'm away in Chicago again that weekend. That means she'll have to do the cleaning all by her lonesome. To make it easier, we're going to make sure everything's out of our apartment by the end of that weekend. As a result, our official homeless date will be November 19.
The Revised Revised Revised Plan (For Me)
Except it'll be even earlier than November 19 for me because of my trip to Chicago. I leave on Thursday afternoon, so my own official homeless date will be November 16.
That's exactly one week from today.
One week until I have no permanent home.
One week until I'm living in hotels for at least 5 years.
Eeeeeek.
I'm more excited than scared about this. It's just a strange sensation knowing that we're not going to have a home to come back to because we'll be traveling permanently.
Benefits
The good thing about these revised plans is that it means we'll be staying in hotels for a few days after I get back from Chicago. The reason that's good is that these additional nights will mean Shae should be able to earn SPG Platinum status by the end of the year.
SPG Platinum status can also be matched to Marriott Platinum status. One of the benefits of Marriott Platinum status is Silver status with United. Silver status provides upgrades for her and a traveling companion (i.e. me). We're flying with United from Washington D.C. to San Francisco before our flight to Auckland in a few weeks. The Silver status with United will hopefully mean we're upgraded from Economy to Economy Plus on that leg (the San Francisco to Auckland leg is in Business class).
It also means that our Extreme Minimalism will be becoming even more extreme over the next week. As a result, we'll probably have a bumper edition next Wednesday.
So, it's only one week until we're finally living up to the "No Home" name 🙂