On our way from Hilton Head Island to Myrtle Beach, we stopped for the day in Beaufort, South Carolina.
Beaufort is the second oldest city in South Carolina after Charleston, so it's full of historic homes. We'd already toured four historic homes in Columbia and wandered the downtown historic district in Charleston, so we decided to see what else they had to offer.
We began our morning at the Beaufort Visitor Center where Jennifer provided several suggestions of things to do and gave Truffles the attention she craves.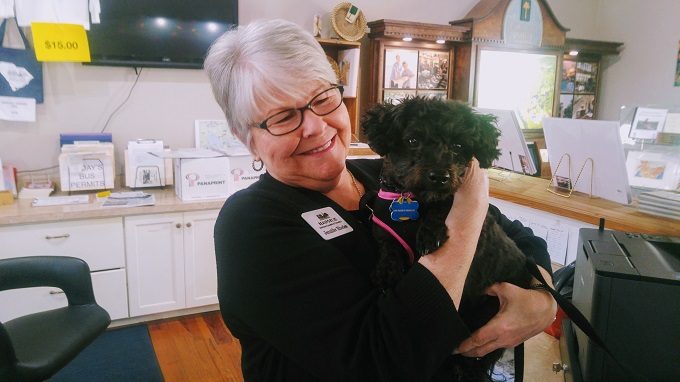 With some ideas of what to do, we headed back out to our car, stopping to admire the old automobile parked in front of us.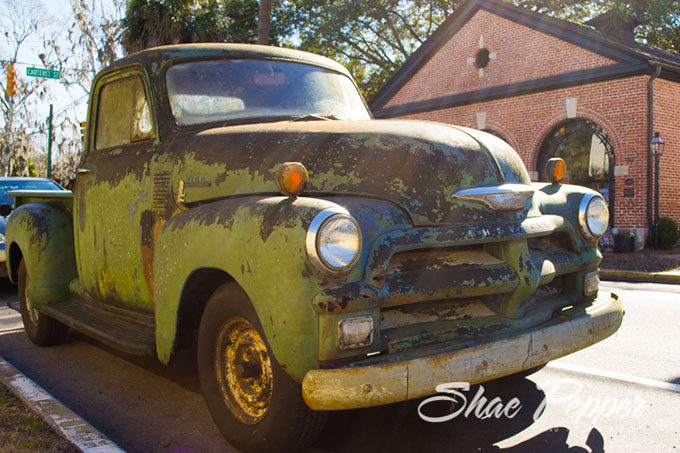 1) Henry C. Chambers Waterfront Park
Our first stop was Henry C. Chambers Waterfront Park, a cute park that runs alongside Beaufort River.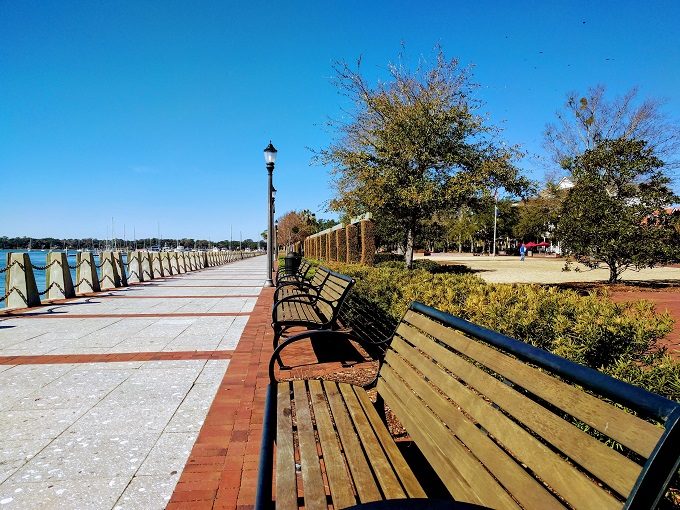 In addition to all the benches, there were several swings where you could sit and watch the day go by.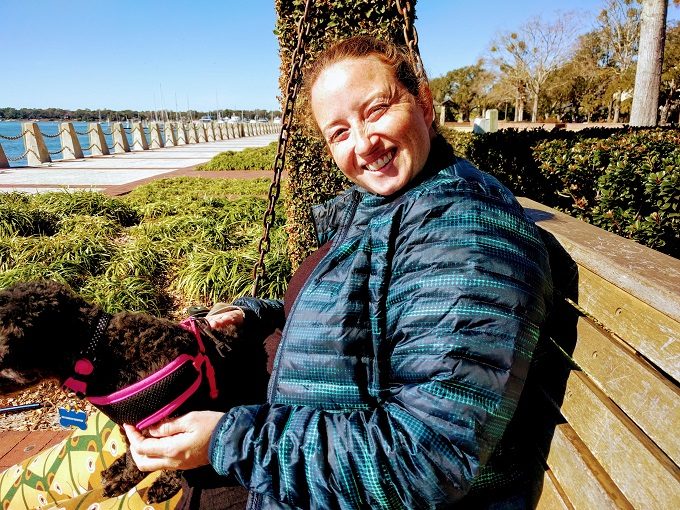 Another nice feature of the park was right beneath our feet. That's because shells are embedded in its walkway.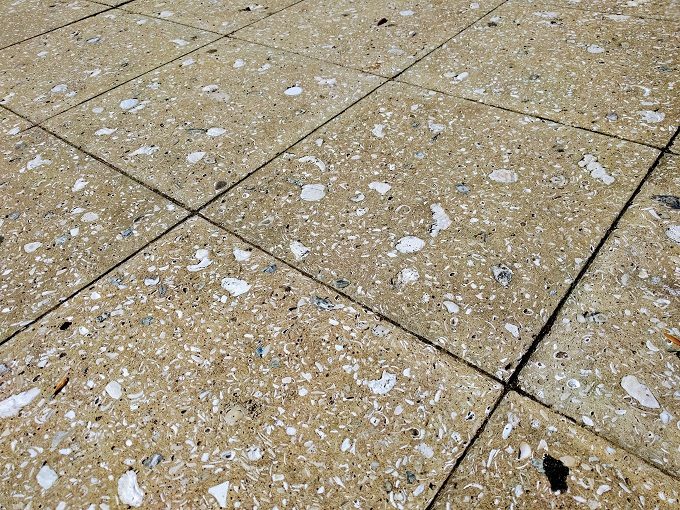 2) Penn Center
Our second stop was a 10-15 minute drive away on St Helena Island. Penn School was established in 1862 to teach slaves who'd been freed earlier that year. The site is now home to Penn Center, a collection of 16 historic buildings which includes Penn School.
There's a Welcome Center at Penn Center where you can get sheets containing a map of the grounds and more information about each building.
Unfortunately the only staff member was out to lunch when we arrived, so the Welcome Center was closed. We therefore wandered around for about 30-45 minutes, albeit being unsure what we were looking at in most cases as there were very few signs (the photo below was one of the only signs.)
The Welcome Center reopened while we had our lunch at one of their picnic tables, so Shae popped inside to get some more information. Unfortunately we didn't have time to walk back around, so we missed out on some of the experience.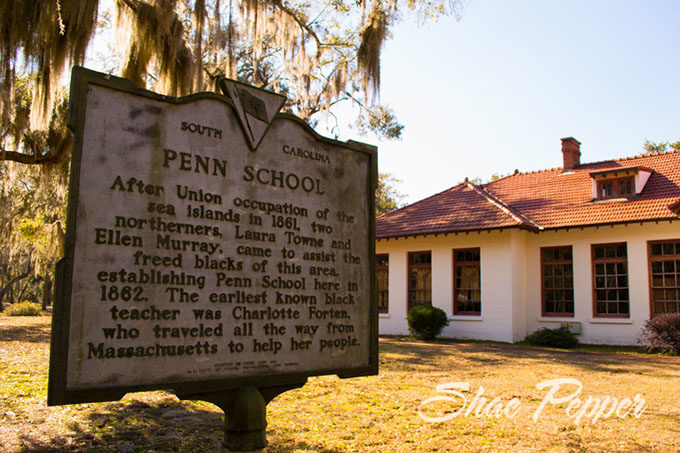 3) St. Helena Church
After leaving Penn Center, I needed internet access to do some work. I therefore headed to Starbucks and dropped Shae off to explore downtown Beaufort. She made her way to St. Helena Church, a church which was established more than 300 years ago. Here's Shae:
I met with the docent, Ms. Kennedy who spoke to me about the history of the church. She's a member and volunteers her time once a month to share the church's history. The parish has been around since 1711 when Beaufort was founded but the first building was built in 1724. One small section of the original wall is still a part of the building. It's from the original structure from 1724 when the church was originally 30 x 40 feet. 
The alter was carved in the mid-late 1800's (I believe she said 1840 but I can't remember) by the sailors on the USS New Hampshire. The alter was moved to the parish hall during renovations from 1998-2000 and then moved back into the main church to keep it safe and used. It's still in use today. 
The Sanctuary is beautiful. It's bright and open and has an upper mezzanine level. This was boarded across during the Revolutionary War and the War Between the States (US Civil War) so that the entire area could be used for a hospital in both wars. 
If you go into the Sanctuary you'll see staircases inside. This is unusual and yet they were added very sympathetically. When asked what was there that 'shouldn't be' I thought it was the staircases but they were so well done I didn't know for sure. They were added to keep up with modern day fire codes. 
The cemetery had several gravestones of note including Revolutionary and Civil War soldiers. This grave is the oldest in the church yard, dating back to 1724 and was the first grave after the church was built. It also included a mausoleum for Dr. Brick, who knew someone who had been buried alive and therefore insisted on being buried with food, water and a pick ax. 
 I highly recommend stopping in to hear more about the history of Beaufort and the St. Helena Episcopal Church if you're in the area.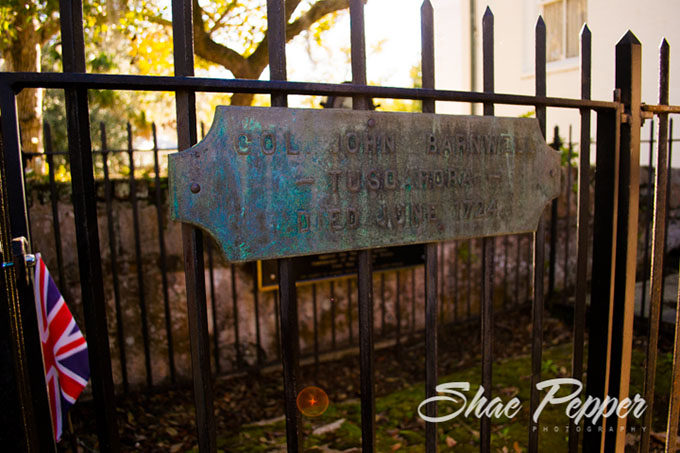 4) Kazoobie Kazoo Factory
By the time I was done working and Shae had had a chance to explore, it was time to leave downtown Beaufort so that we could make it to a couple of other locations before it got too late.
The next place we visited was the Kazoobie Kazoo Factory. We got a guided tour, checked out their museum and even got to make our own kazoos.
It was actually a whole lot of fun, so check out this post where we shared more about our experience.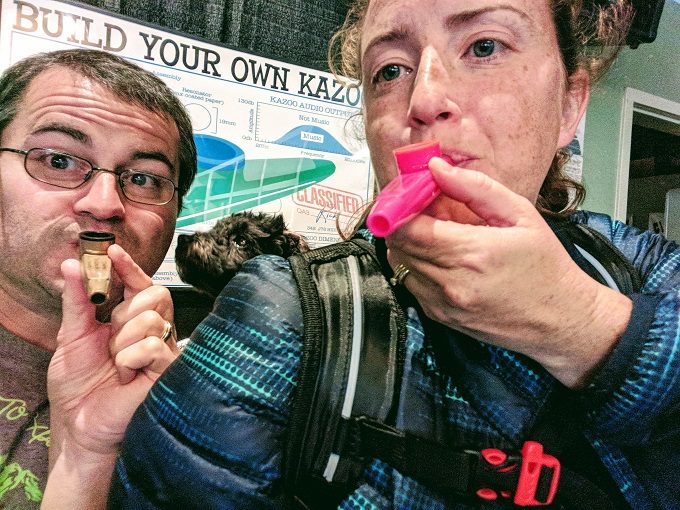 5) Old Sheldon Church Ruins
Our final stop that day was the Old Sheldon Church Ruins. Originally founded in the 1750s, its walls were remarkably resilient and exploring the site made for a peaceful end to the day.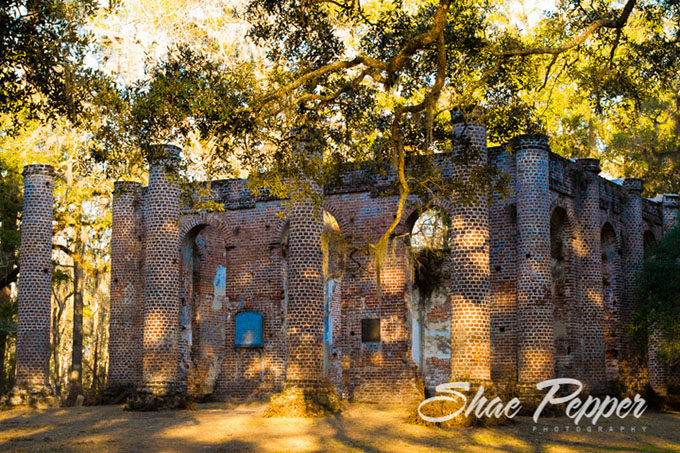 Question
Shae and I enjoyed our time in Beaufort, South Carolina but it feels like we barely scratched the surface of what it had to offer.
Have you visited this historic city before? If so, what would you recommend for people looking for things to do in Beaufort? Any specific activities, restaurants, or stores they should check out? Let us know in the comments below.