"I might have found a place for us to live in five years."
This was a text I sent to Stephen after 24 hours in the Glen South neighborhood of Raleigh, NC. I'd spent a short weekend in Raleigh before, but this time I stayed downtown and really loved the food, people and vibe of the area.
My mom owns her own Real Estate brokerage and needed a working weekend retreat to produce some training materials. We planned to head to Richmond VA but there wasn't anything reasonably priced as it was the July 4th holiday weekend. Instead, we were able to use a discount for the Hampton Inn Raleigh Downtown.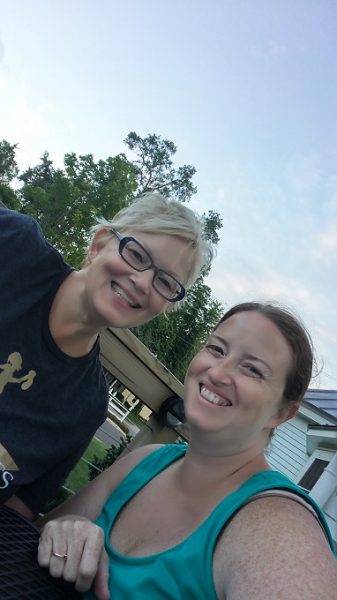 The Hotel
We stayed at the Hampton Inn for three nights. It was a great hotel in the center of a fantastic neighborhood. We wanted somewhere we could walk to lots of places to eat and were spoiled for choice.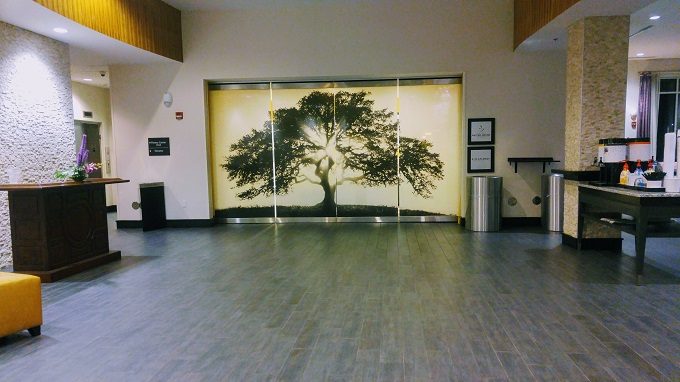 The hotel was located on a hill with parking across the street which cost $7 per day. The most complicated part of our whole weekend was figuring out the parking. You need to use the drop-off area to check in – that way you have your room key to let you into the parking garage.
Not realizing this, we parked down the hill in a public lot. Once checked in, we drove into the garage and had to follow the signs. All this was done while carrying our bags back across the street and down the hill to the entrance. It was quite a walk in the hot evening after a long drive.
Otherwise, everything about this Hampton Inn was great! We received an upgrade thanks to our Hilton Honors Diamond status. Our room had a sofa, comfy chairs, a large bed and a good-sized bathroom.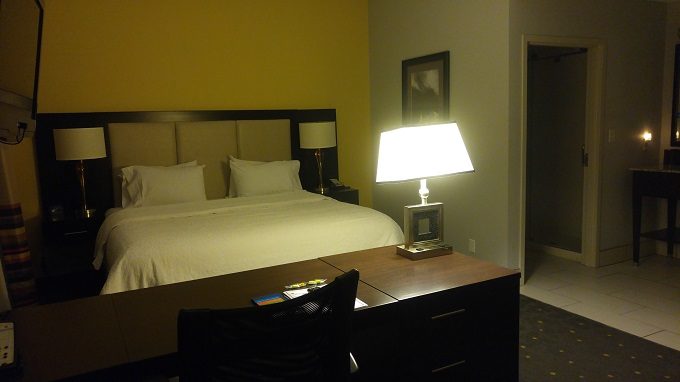 It also had a kitchenette area which included a microwave, fridge, sink and coffee maker. We were able to work at the large desk which had seating space on both sides which was perfect for the work we needed to get done.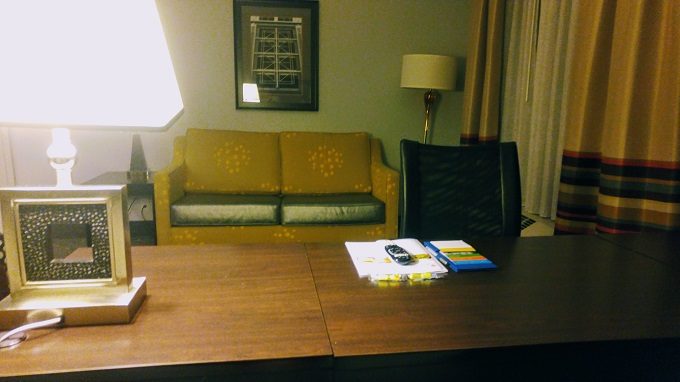 The hotel also had a pool, fitness area, a large breakfast space and an outside patio. We ate breakfast on the patio two of the three days and it was heavenly with the lush greenery and comfortable seating.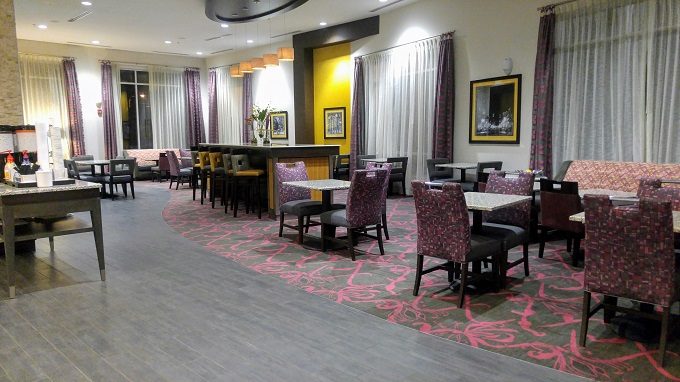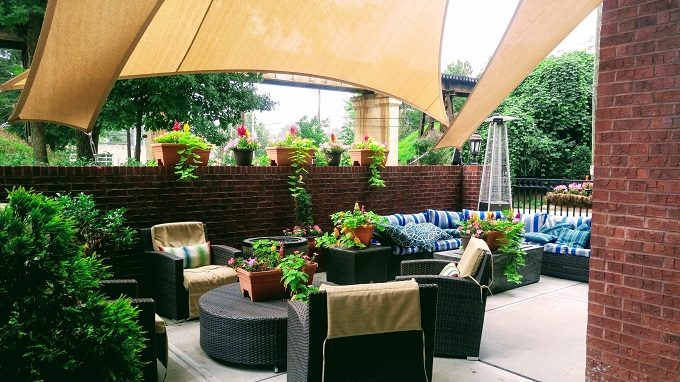 The Location
Mom and I love to take walks together. We're both part of Hogwarts Running Club and were working on finishing our half-marathon mileage, so we had ten miles to cover over the weekend.
On our first walk, we headed out to the right of the hotel into the surrounding neighborhoods. We ended up in a park that used to be the site of a 21 acre Methodist Orphanage.
The park is beautifully maintained and provided a great space for walking, playing with kids and gatherings. It included the Borden Building on its grounds which hosts functions and events.
Our next walk took us downtown to the State Capitol building which was only a mile away. We found great architecture (Mom loves looking at all kinds of properties), churches and other religious spaces, neighborhoods and finally government buildings in the center of the downtown area.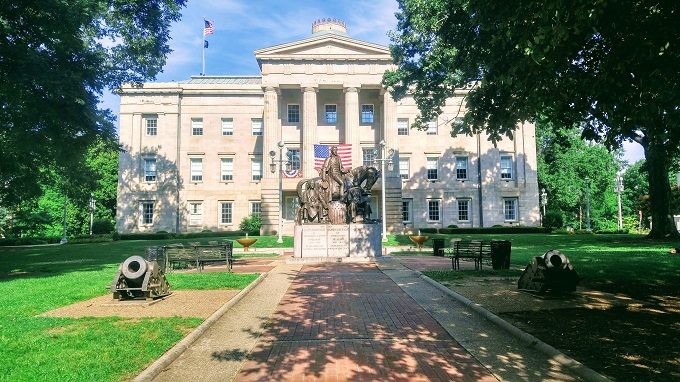 We took another walk in the evening through the Glen South neighborhood, down Peace Street and into the downtown area again which was beautiful at night. However, based on everyone else out for a walk, all paths led back to Glen South where these awesome bars, restaurants and even a speak-easy style jazz club were located.
In addition to walking, Mom and I share a love of good food and great drinks. We were overwhelmed by the number of choices during the day and in the evening. There were a few we didn't even get to try which we plan to go back for another time.
The Hibernian Irish Pub and Restaurant
We stopped mid-morning to have a 'wee little tipple' at the Hibernian. Our server, Caoimhe, was Irish and recently arrived to spend 10 weeks working and seeing the US. This just added to the fun but even without an authentic Irish server, the place itself was authentically Irish with all of the decor coming from Ireland, just like Grace O'Malley's in Norfolk, VA.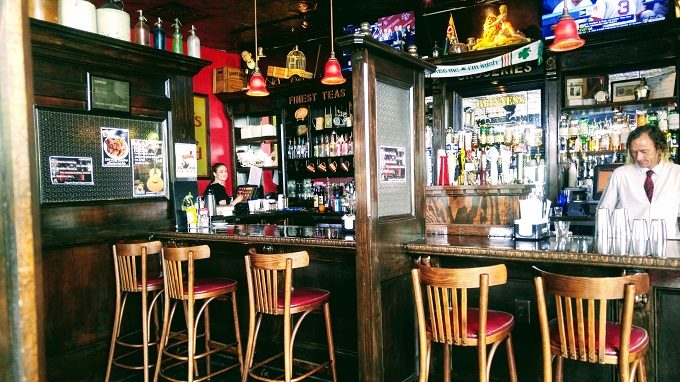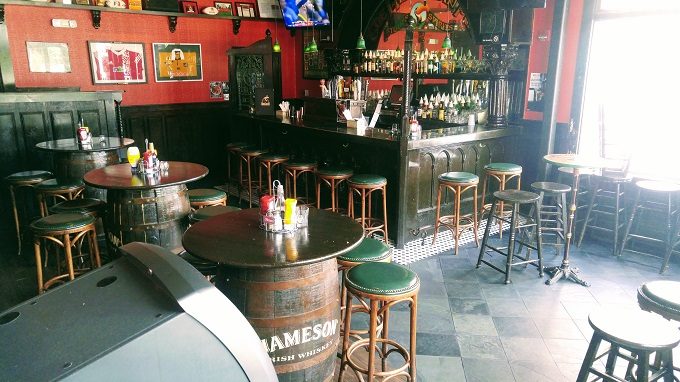 I enjoyed a Redd's Apple Ale as I'm not a beer drinker but like to drink ciders. My mom had a Guinness which Caoimhe touted was just like Guinness from Ireland (it has something to do with how often you change the kegs). Mom said it may have been the best beer she'd ever had and enjoyed the thick foam all the way to the end.
We also shared a snack of cheese stuffed mushrooms which were INCREDIBLE.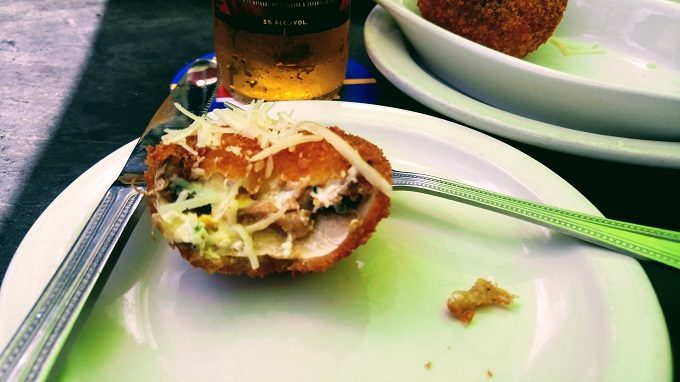 The Raleigh Beer Garden
We felt bad leaving the Hibernian to have lunch at the Raleigh Beer Garden. That's until we found out they're owned by the same person! The attention to detail at the Raleigh Beer Garden was just as good as that at the Hibernian.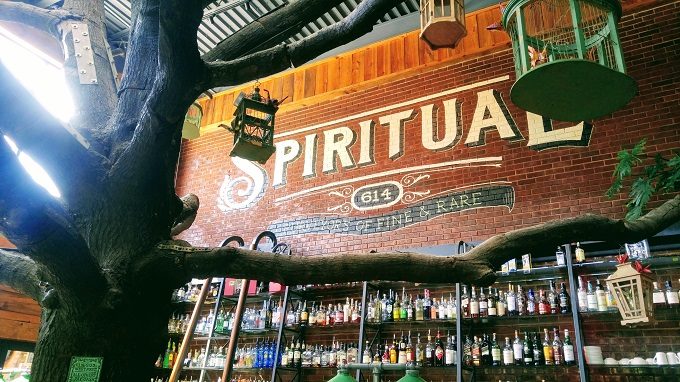 We both had another drink and salad for lunch. Mom pushed the boat out with a grapefruit and avocado salad while I had a traditional garden salad and we shared some marinated olives.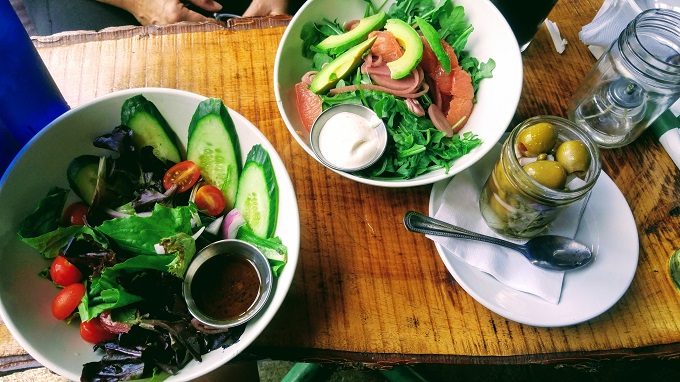 The Raleigh Beer Garden was, simply put, enormous. There was plenty of hosted seating (three or four levels of it), outdoor seating and self-service seating. There was then a sprawling open area in the back which was filled with game areas for corn hole, ping pong and more. It's also used as an artisans market on the first Saturday of the month when we happened to be there.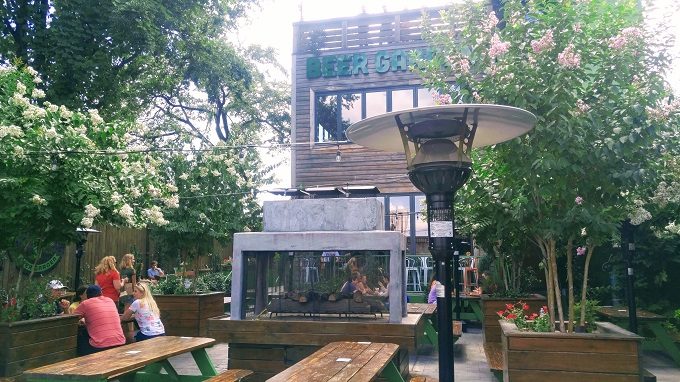 One really fun fact about the Raleigh Beer Garden is that the tables and bars were sourced using wood from the trees on site. That makes this place about as local as you can get.
Tosca Brava
We went to dinner in Spain. The gentleman that owns the Tosca Brava is the host, server and chef. He touts the slow food movement and is very personal with his recommendations. He has excellent knowledge of the recipes' origins and about each item he serves.
Our meal was delicious, albeit a bit pricey. However, it was worth the price for the incredible food and experience. The food is served tapas style – small plates for sharing – with a story and "advice" from our host/server/chef.
Mom ordered the gazpacho (which is "nothing like gazpacho you've ever had"), I ordered ceviche ("which is a recipe with lemons instead of limes, and like nothing you've ever had"), we shared garlic shrimp ("which you should eat with the shells left on and is like nothing you've ever had") and rolls ("like you've never had").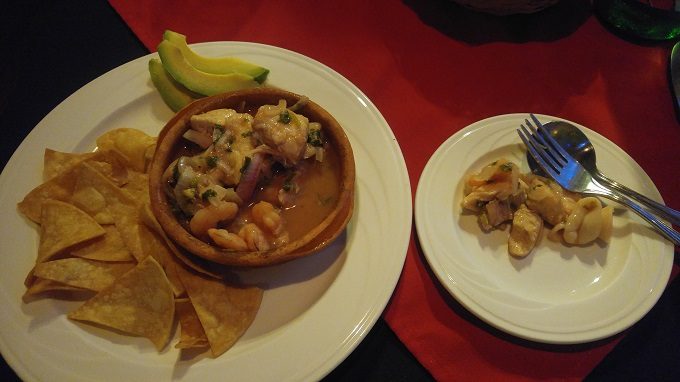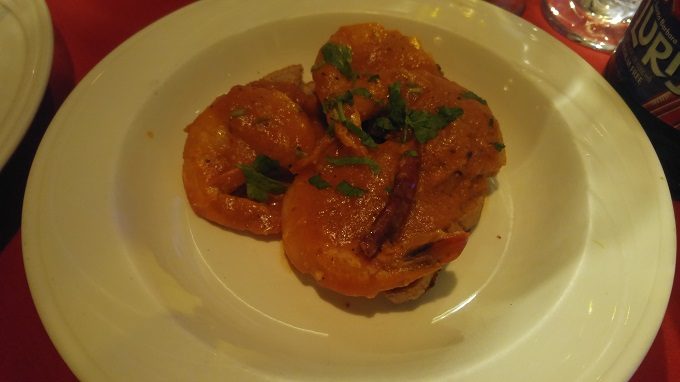 For our main we shared vegetables, chicken skewers and cous cous which – you guessed it – "were like nothing we'd ever had."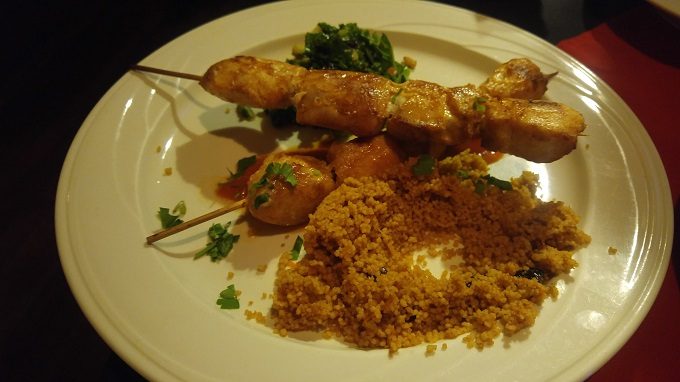 We ended our meal with his homemade chocolates with almond in the middle and chili because he "couldn't find chocolate that [he] liked." Mom ended up going home with a bag of his own coffee that he roasts on site because he "couldn't find coffee that was good enough to go with his menu."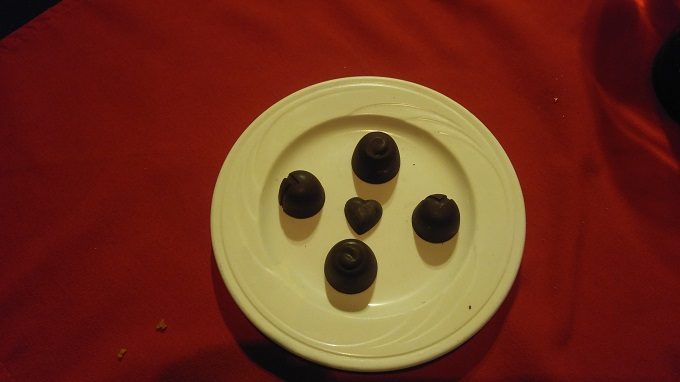 One small issue was that I wanted some wine. I knew I was ordering a meal that went better with white, but I was looking forward to trying the Spanish reds he had available. He basically refused. I was ordering fish and chicken and therefore should have white. We went back and forth for five minutes before I gave in and ordered the glass of white, which was actually really amazing.
I will say this about Tosca Brava. Our food and wine was incredible. The service was thorough and personal. And the experience was like nothing we'd ever had.
C. Grace
We'd seen C. Grace the night before but were unsure what it was. After seeing it listed as one of the top things to do in Raleigh, we were psyched to realize it was right down the street from where we were staying.
C. Grace is a speak-easy style jazz club.  No food is served, just drinks from one of the three bars. There's a $5 cover charge per person on the weekends. When we arrived the band was playing and it was standing room only.
We each had a glass of RED wine and stood listening to the singer. She made her way around the room crooning out beautiful notes and taking selfies with guests. Eventually we found some seats in the back. Even though we'd finished our drinks we sat and enjoyed the atmosphere for a little while longer.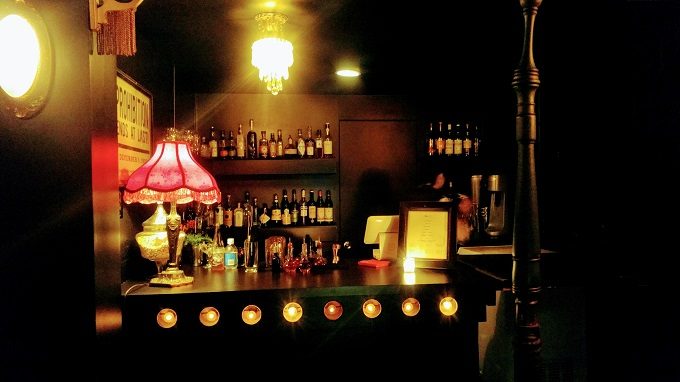 Clockwork
We ended up in Clockwork because of its decor. Mid-Century Modern as mom described it, although I'd just call it retro chic.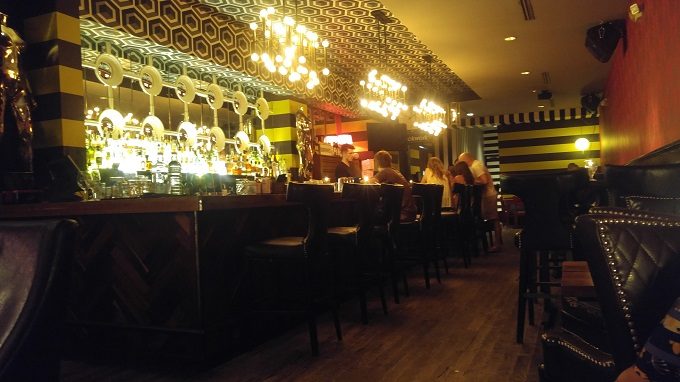 Clockwork had some really creative cocktails. Mom had a classic mojito at first, followed by a cocktail called "Things could be better, Lloyd" which contained hibiscus. I pushed the boat out and had a Fire & Dandy which was Ketel One Oranje, cilantro, jalapenos and fresh citrus juice. It was really good and I'm so glad I tried something new. The atmosphere was fantastic and we had really attentive service.
MoJoe's
After a recommendation from a local describing it as a 'hidden gem,' we hit up MoJoe's as one of our last stops of the weekend.
Late after a day of working, walking and now drinking, it was time for some dinner. Despite being told they're known for their burgers, mom and I each had a grilled cheese – mine with tomatoes, hers without. The sandwich was perfection alongside the creamsicle cocktail I rounded out the night with.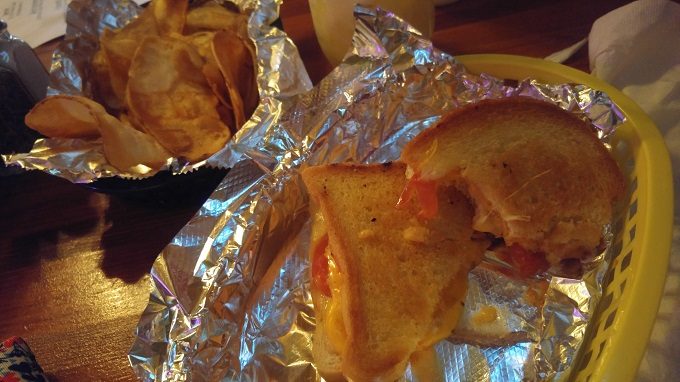 The service was great in spite of the late hour. It was also great to have something to eat at all, as most of the bars along the street seem to stop serving food earlyish or, like C. Grace and Clockwork, only serve drinks. MoJoe's and the Raleigh Beer Garden both serve food until within 15-30 minutes of closing at 2am.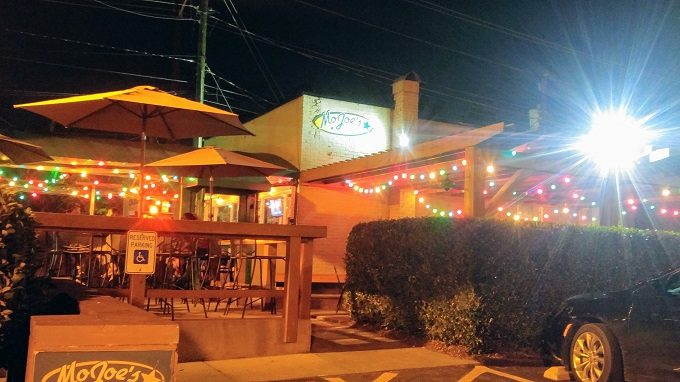 Nearby Fun
We spent one afternoon at Beaver Dam Lake. It's part of the larger Falls Lake area which is about 30 minutes outside of Raleigh. It had a safe swimming beach and boating activities.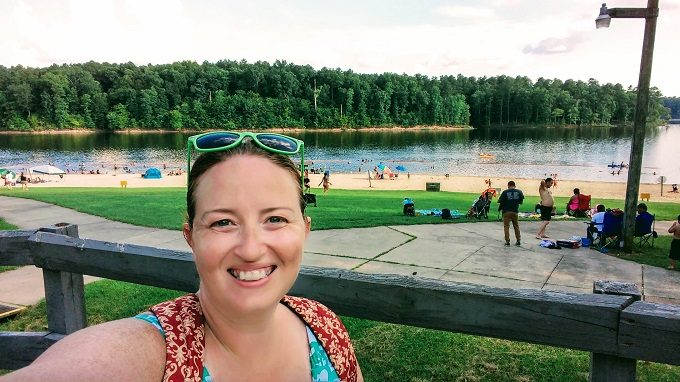 We got a deluxe pedicure from Diva Nails at the Crabtree Valley Mall which was only a 15 minute drive from our hotel. While there we had a really great lunch at Hwy 55 with our excellent server Brittany.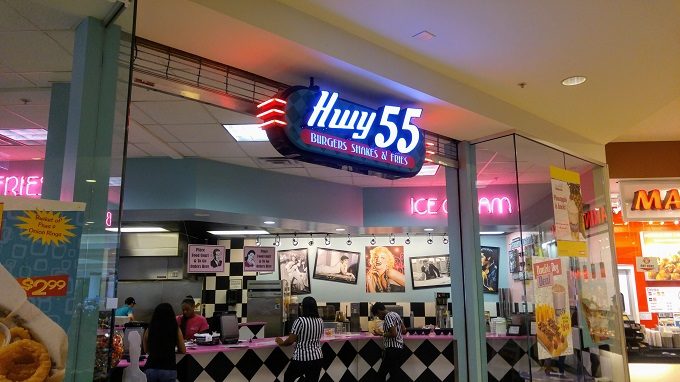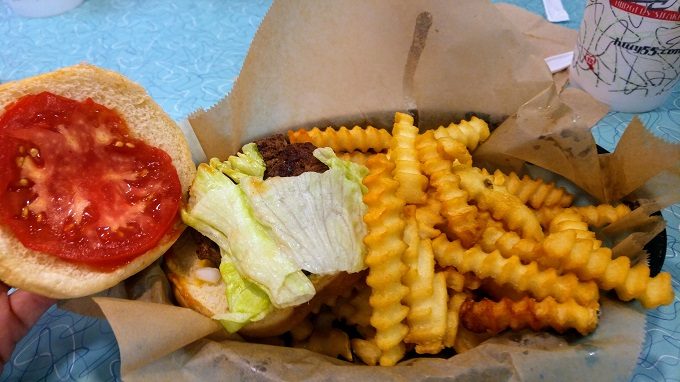 An hour outside of Raleigh we stopped at Tarboro Brewing Company West that serves beer and tacos. Mom had a cauliflower taco and I had a smoked chicken chipotle taco, both of which were to die for. It had a lot of outdoor seating and appears to be a part of a larger brewpub complex including other breweries and wineries.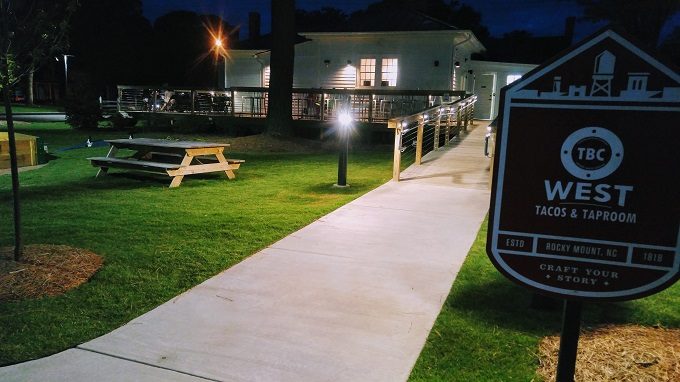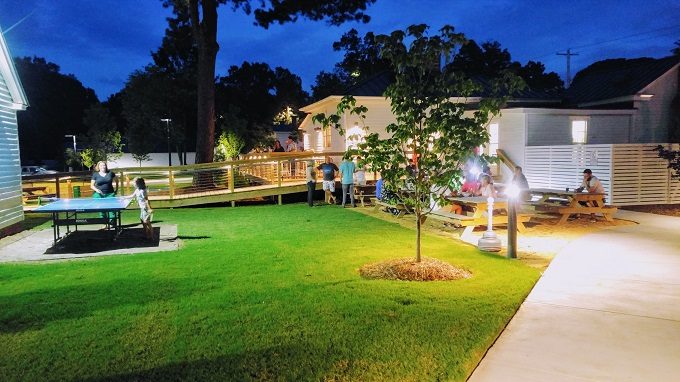 While we didn't do it that weekend, I'd also recommend a Crazy Dash in Raleigh. I did this with my best friend last year and it was tremendous fun!
We Raleigh loved our weekend
For a weekend away we couldn't have asked for more. A great hotel, a superb location and so many awesome food and drink options we didn't even get to go to all of them.
I highly recommend Raleigh for shenanigans like birthdays, anniversaries, bachelor/ette parties and more. I'm really looking forward to going back to the Glen South neighborhood and bringing Stephen (sans Truffles as the Hampton Inn wasn't dog friendly) to relive all that Raleigh has to offer.