When we were looking into things to do in Charleston SC, the most common recommendation we received was to visit Fort Sumter National Monument.
When the weather was finally a little warmer (we were visiting in January during a cold snap), we decided that was a good day to visit Fort Sumter. We therefore made our packed lunches and headed to downtown Charleston.
Fort Sumter National Monument is, in theory, free to visit. However, as it's on an island you have to take a boat to get there. The most convenient option is a boat run by Fort Sumter Tours and costs $22 for adults and $14 for children. If you happen to have your own boat, kayak or paddleboard, you're allowed to use those too.
You can catch a Fort Sumter Tours boat from two locations – Patriots Point in Mount Pleasant and Liberty Square in downtown Charleston. We left from Liberty Square which is also home to the Fort Sumter Visitor Center.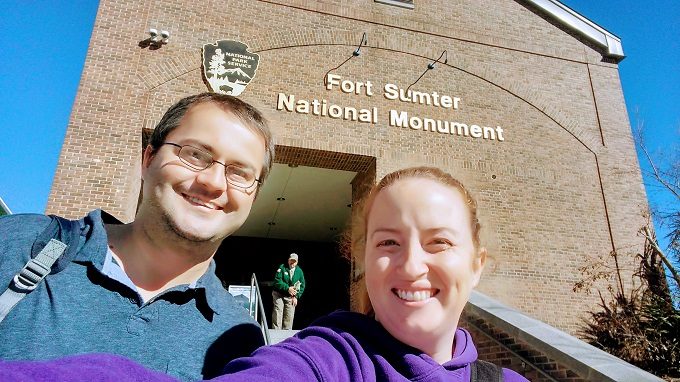 We arrived a couple of hours early by accident as I'd mixed up the Liberty Square departure times with the Patriots Point times. That didn't end up being a bad thing though as it gave us time to look around the Visitor Center.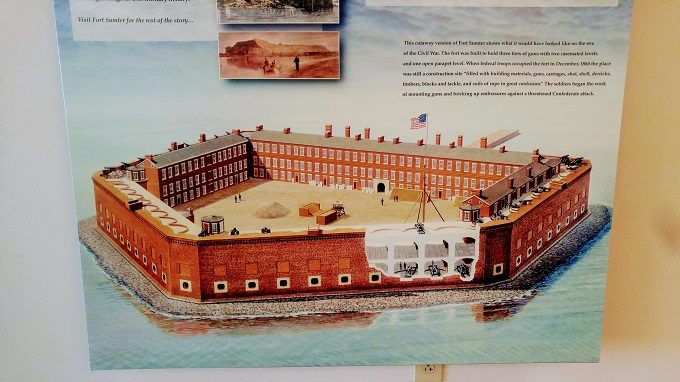 There's a lot of information to read through, so it's worth getting there at least an hour early in order to read it all.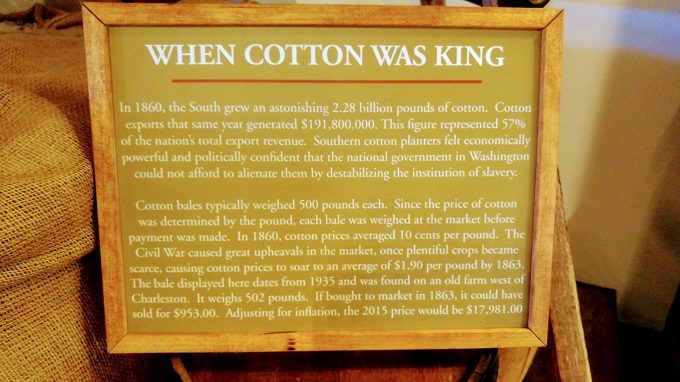 Although all the history was fascinating, I was a little put off by the outlook of the displays at the Visitor Center. I thought it was good that it gave all perspectives, including the importance of slavery to the financial well-being of South Carolina.
However, it felt to me like there was too much emphasis placed on why slavery was a "good thing", to the point where it almost seemed like the display creators were disappointed that it was no longer allowed. That was just my interpretation of the display though – Shae didn't think they intended it in that way.
After eating our lunch, it was time to board the boat. Soon after 2:30pm, we set out towards Fort Sumter. If you go on this tour, keep an eye out for dolphins as we saw several along the way.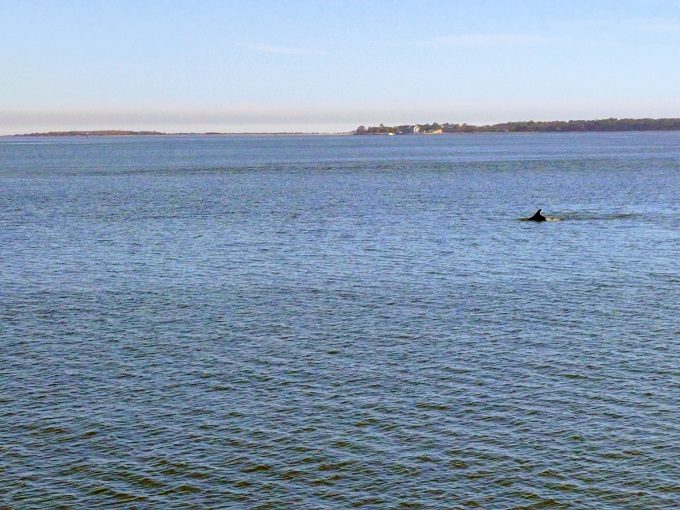 We were heading in the general direction of an island which we initially thought was Fort Sumter. After checking Google Maps, we realized it was Shutes Folly which is home to Castle Pinckney.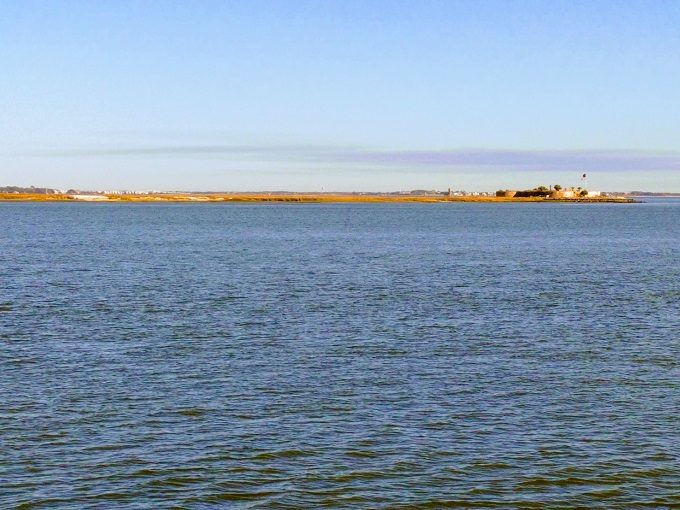 After about 30 minutes, our boat reached Fort Sumter's dock.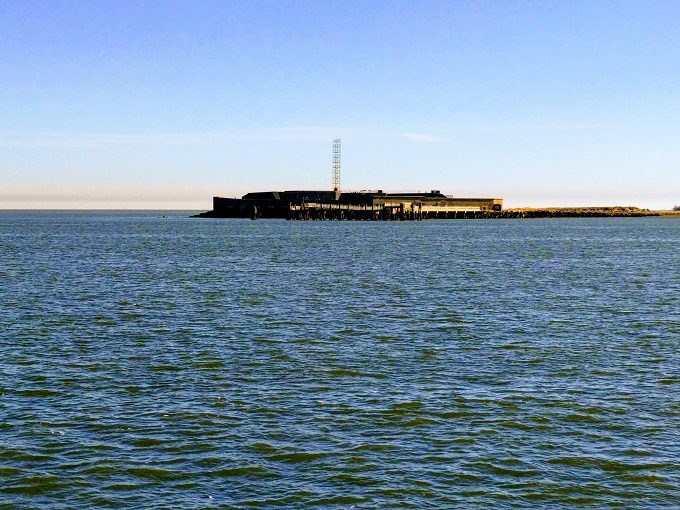 The boat's captain announced that we'd have just over an hour to look around Fort Sumter National Monument. We were the last tour of the day, so we needed to make sure we were on the boat by the time it left!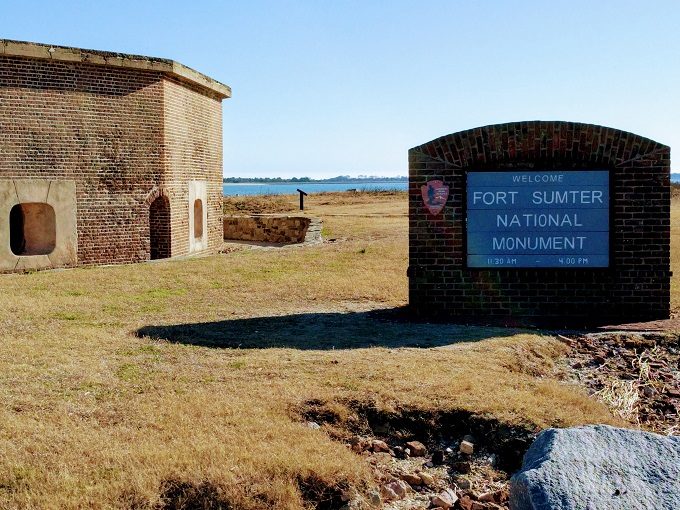 The tour began with an optional 10 minute talk by one of the rangers. He was actually very entertaining and gave a brief history of the site. It was home to two notable battles in the American Civil War, with the Battle of Fort Sumter being responsible for the start of the Civil War.
Once the talk was over, Shae and I started exploring the site. There are original weapons throughout the fort, such as this 42-pounder iron cannon which had a range of almost 4,000 yards (about 2.25 miles.)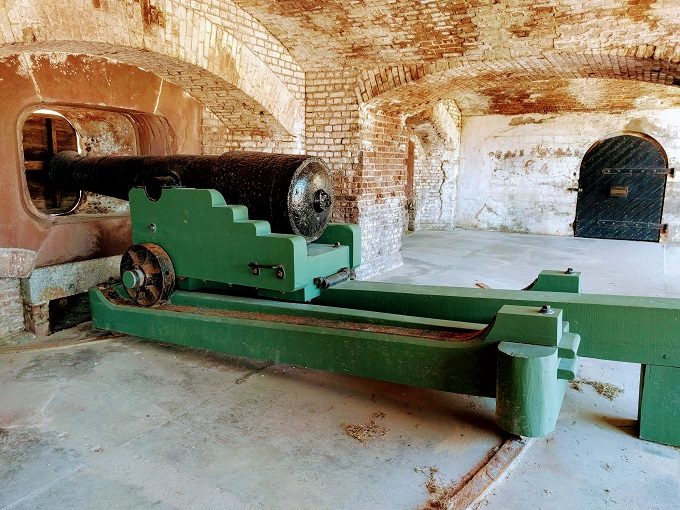 There was also this 15-inch Rodman cannon, named after its designer Thomas Rodman. With a tube weighing 50,000 pounds, it was capable of firing cannonballs up to 5,579 yards (more than 3 miles.)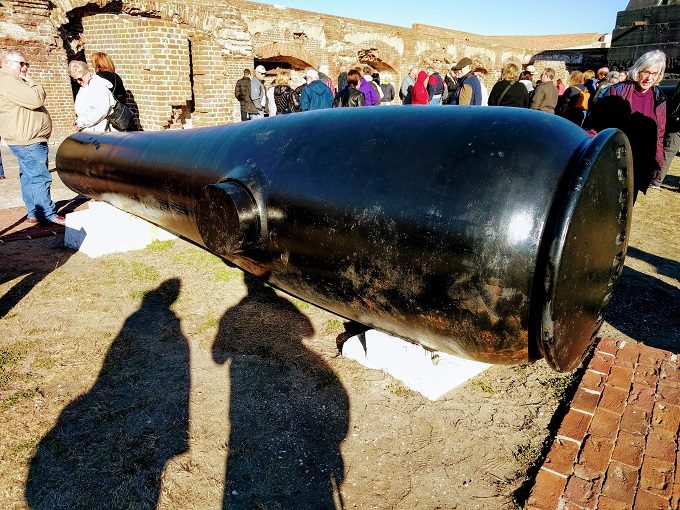 There are several information boards around the site where you can learn more about the fort's weaponry and its defenses.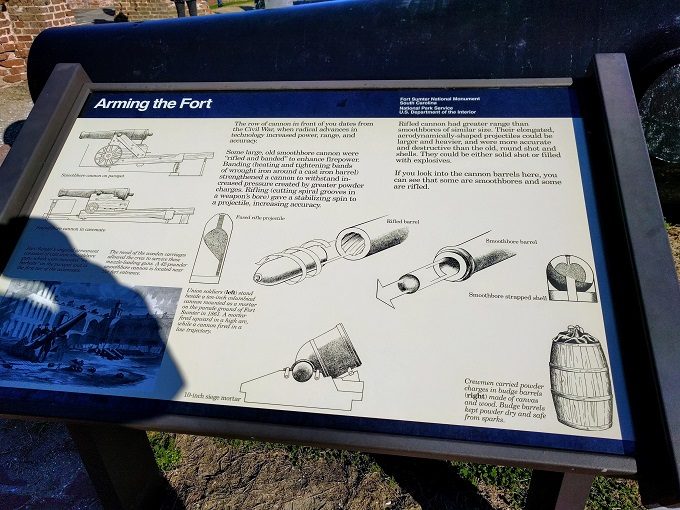 As Fort Sumter is on a small island, it needed outlooks over all sides. Some cannons were pointed towards the water between the fort and Charleston…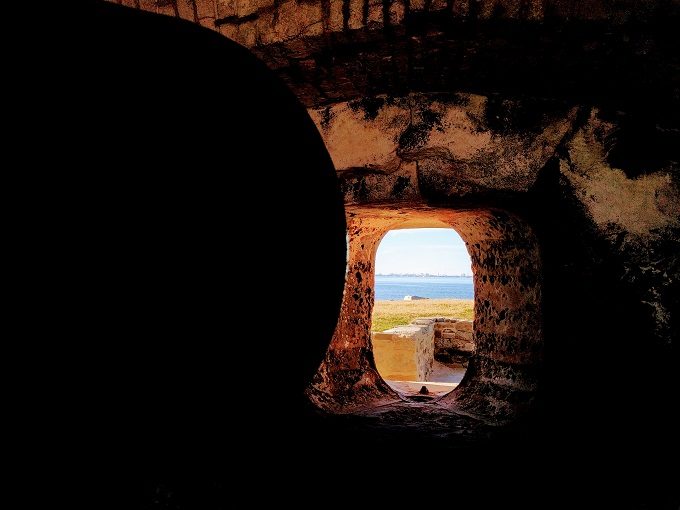 …while others faced the opposite direction and looked out towards the Atlantic Ocean.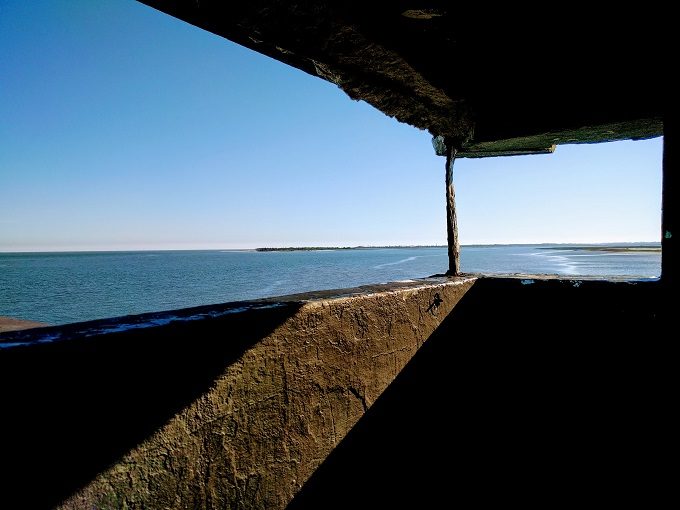 Fort Sumter didn't rely solely on large cannons though – smaller weapons such as this 12-pounder mountain howitzer were also used.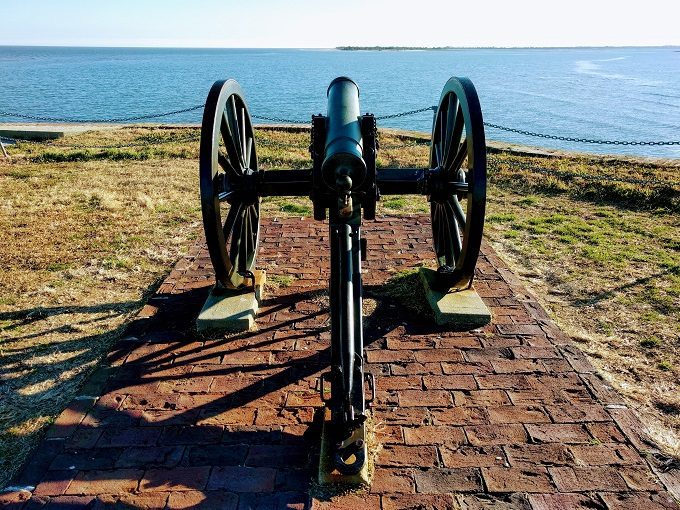 All these cannons required a lot of gunpowder. The fort therefore had powder magazines, rooms that were specially constructed in order to safely store the potentially volatile substance.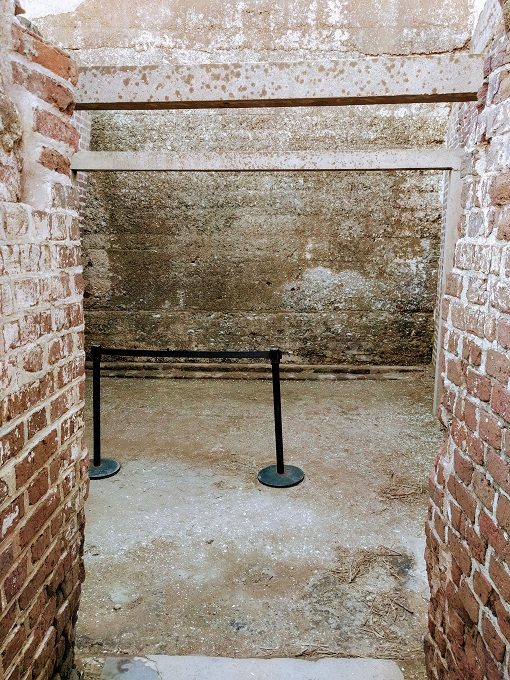 Time goes incredibly quickly at Fort Sumter, so there was only about five minutes left by the time we'd read everything outside.
Shae and I therefore made our way into the museum which is home to several other artifacts. This includes Fort Sumter's Battle Flag containing 33 stars…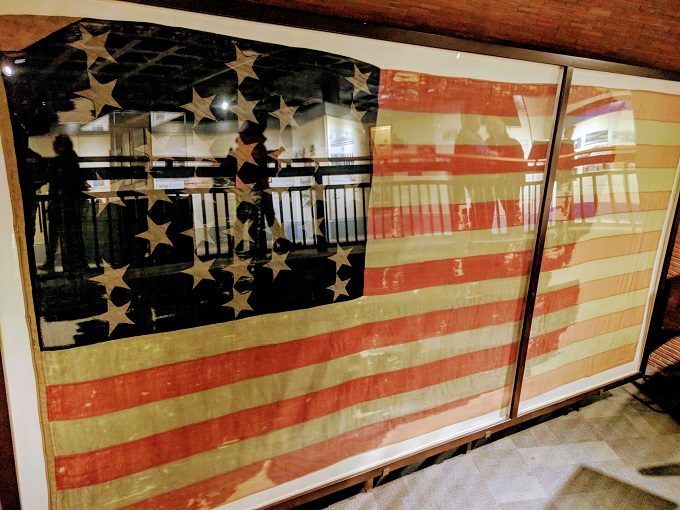 …the Palmetto Guard Flag which was the first banner displayed by Confederate troops at Fort Sumter…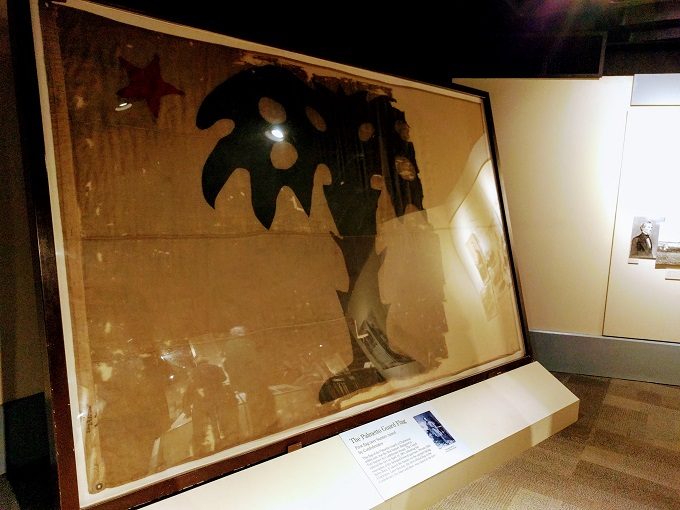 …and many shells, cannonballs and more.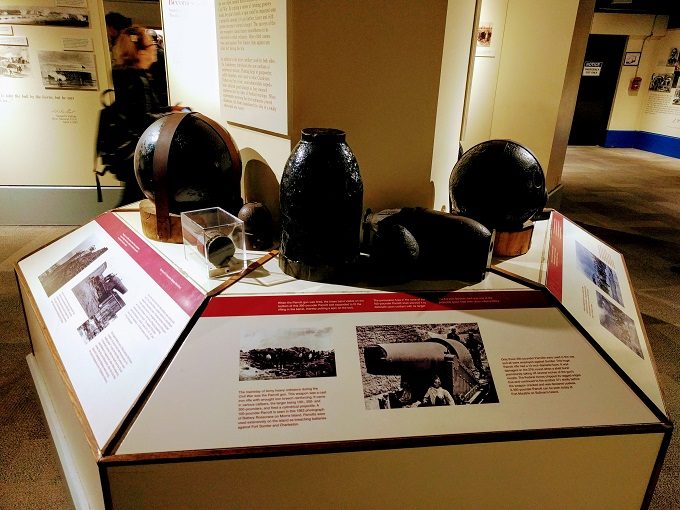 After a quick walk through the museum, it was time to board the boat and head back to downtown Charleston.
Final Thoughts
We were glad that we followed the recommendations to visit Fort Sumter. The site is full of history and, with such an important role in the American Civil War, is definitely worth visiting.
Be sure to set aside at least three hours when visiting – at least an hour for the visitor center, an hour on the island and 30 minutes for the boat journey in each direction.