22 boxes, about half of which were books.
When we moved from the UK to the US in 2009, those boxes and a couple of suitcases of clothes were all we owned. We'd sold or given away most of our stuff, even though we've never really been "stuff" people.
As always seems to happen though, in the years since then we've tended to gain possessions faster than we've gotten rid of them. Shae and I still don't have that much stuff though in the grand scheme of things – everything we own is currently in our 680 sq ft apartment.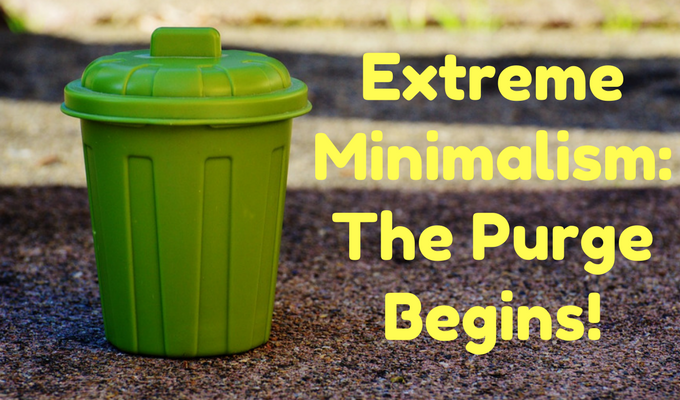 Extreme Minimalism
That's all about to change, because on January 1, 2018 we're heading off on a 5 year, 50 state road trip. We're therefore paring down our possessions so that pretty much all we have left can be carried in our car, other than a couple of boxes of personal items we'll be storing with Shae's parents.
It doesn't seem worth storing anything more than that – if we won't need the items in the next five years, we probably don't need them at all.
That means we'll have to be pretty ruthless when it comes to letting go of what we own. We'll only have space in the car for a few carry-on suitcases, a portable kitchen (more about that in the future) and a crate for Truffles (our dog).
Battling Against "Just In Case"
Part of me wants to keep a bunch of random stuff "just in case". That's why I have a box full of phone chargers and USB cables I've not used in years – just in case.
We have baskets full of pens and pencils – just in case.
I own about eight pairs of shorts even though I only ever wear three or four of them – just in case.
I have small amounts of foreign currency from countries we've not visited in ten years – just in case.
The thing is, I don't need – or use – any of these items. I'm therefore going to try hard to let go of as many of these things as possible.
The Minimalists have a great post about getting rid of "just in case" items. They make the point that if an item can be replaced for less than $20 in less than 20 minutes, you can let go of it, safe in the knowledge that it's easily replaceable if absolutely necessary.
Our 22 Week Minimalism Challenge
We'll be moving out of our apartment in about 22 weeks time. Rather than leaving The Purge until the last minute, I wanted to make a start now. That'll make things far less hectic in November, plus I'm hoping it'll help provide some momentum leading into the trip.
So starting this week, we're beginning to go through everything we own and putting it in one of five categories:
Take
Store
Sell
Donate
Junk
The donate and junk items will probably be the largest piles. The sell pile will likely be the smallest as neither of us are keen on doing a yard sale. We also don't own anything particularly valuable, so selling off stuff wouldn't earn us much anyway.
Minimizing In Stages
To make this process less overwhelming, we'll gradually increase how many items we let go of each week. In week 1, we'll put three items in the sell, donate or junk piles. We'll then increase that number by three every week, so week 2 we'll let go of an extra six items, week 3 we'll let go of an extra nine items, etc.
That means by the end of the 22 weeks, we'll have let go of 759 items. I'll be honest – I don't really know how realistic that number is. We might have far more stuff than that, or maybe we don't actually have that much stuff after all. You'll just have to follow our updates to see how it turns out!
Minimalism Week 1
This is week 1 which means we're letting go of three items, so here they are:
There's a non-stick lasagna pan, casserole dish and kitchen utensil holder. Even though I've not used it in a while, I'll miss the lasagna pan a lot as it was such a genius design.
All these are going in the donate pile as they're still in good condition, so hopefully Goodwill can find a deserving home for them.
Want To Minimize Your Own Stuff?
Do you want to minimize your own possessions and declutter your life? If so, why not copy our challenge. There's also the 40 bags in 40 days challenge which runs over Lent, but there's no reason why it can't be done any other time of year.
Alternatively, there's the 30 Day Minimalism Game which is similar to what we're doing, except with that game you let go of one item on day one, two items on day two, etc.
Shae's done both of these games / challenges over the last few years. They've definitely helped with reducing how much we own and have made us more mindful in deciding what we keep.
We can also recommend The Minimalists blog if you need some inspiration or some help with mindset change. They also have a documentary on Netflix which is worth watching if you want less clutter in your house – and mind.
Question
Have you ever done some kind of minimalism challenge? What tips do you have for us and other readers?
Or maybe this is something you struggle with and don't know where to start. We'd love to hear from all of you in the comments below, no matter where you are on your decluttering journey.
You can follow our entire Extreme Minimalism process with all the posts below:
Week 1: The Purge Begins – 3 items