It's week 15 of our Extreme Minimalism challenge and it's definitely getting harder by the week.
We're now just over 2/3 of the way through the challenge. However, we're not even halfway through based on the number of items. That's because we have to let go of an increasing amount of stuff week-by-week.
If you're new to our challenge, check out the first post in the series to find out why we're getting rid of nearly all our stuff before the end of the year.
As it's week 15, we had to find a total of 45 things to let go of. This actually ended up happening in stages over the last few weeks. For previous installments of the Extreme Minimalism challenge, a couple of times we ended up having some stuff left over. Those things were put to one side… until today.
We had to rustle several more items to get to our target of 45, but eventually we got there. So here's what's leaving our apartment this week.
Or – more truthfully – what's staying in our apartment this week but is being put in a giant donate box that'll leave once it's full.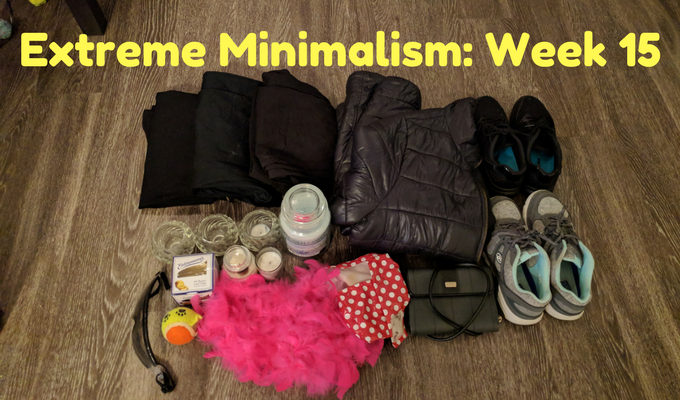 Going clockwise from top-left there's:
3 pairs of pants
1 puffer jacket
2 pairs of shoes
1 purse
1 dog raincoat
1 feather boa
1 dog ball
1 pair of eye shields
4 candles
3 candle holders
That's only 18 items, so here's some of the other stuff:
Going clockwise from top-left there's:
9 light bulbs
1 comforter
1 blanket
1 set of robes
That was only a further 12 items though, so we needed 15 more: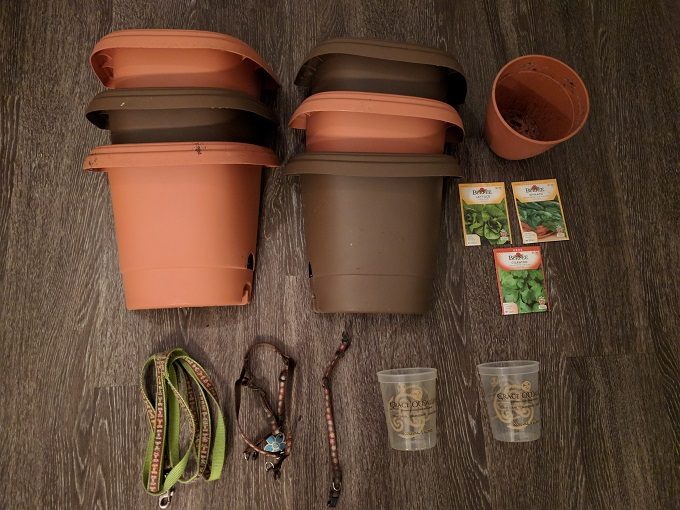 Again, clockwise from top-left there's:
6 hanging planters
1 plant pot
3 packs of seeds
2 take-home cups from Grace O'Malley's
1 dog collar
1 dog harness
1 dog leash
n.b. In case you're wondering why this is the 'hot stuff' edition, I didn't want it to be another 'random crap' edition seeing as we've already had one of those and we'll likely have more in the future.
I was trying to find some kind of common thread and figured that the closest I could get was 'hot stuff' seeing as there's a puffer jacket, several candles, a comforter, blanket, etc. (Tenuous, I know!) Besides, I look like hot stuff when wearing the feather boa 😉
You can follow our entire Extreme Minimalism process with all the posts below:
Week 15: Hot Stuff Edition – 45 items