Our kitchen was the target in the first two weeks of our Extreme Minimalism challenge. It was time to return there to find what we needed for this week's installment.
It's week 8 of the challenge and so that meant getting rid of 24 items. It was actually pretty easy this week as we had exactly 24 items all sitting together in a cupboard being unused.
Here's what we're saying goodbye to this week.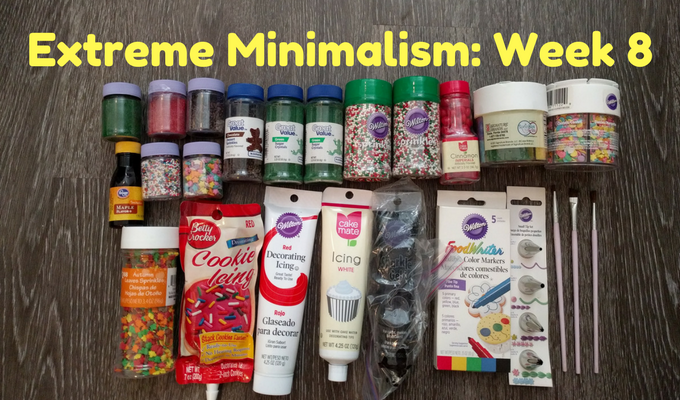 As you can see, everything we're letting go of this week are things to do with cake, cookie and cupcake decorating. Shae's done several food projects with young people over the last few years, so we've ended up with all kinds of sprinkles, icings, flavorings and more.
It seemed a shame to get rid of some of these as they're new and unused. I just had to remind myself that they've been sitting there unused for months or years, so it's time for them to go.
Having said that, I did try keeping one of the tubs of sprinkles as it was full of fall leaves. I figured Shae might be able to use them in the next few months before we leave on our 50 state road trip. When counting everything up though, there would've only been 23 items – we needed the leaves to reach the target of 24 items, so out they go.
You can follow our entire Extreme Minimalism process with all the posts below:
Week 8: Cupcake Edition – 24 items