By the time you read this, we should have landed in Dublin, Ireland for Shae's non-surprise birthday trip.
That's after spending a long weekend up in Washington D.C., so it's been a busy week leading up to this.
That meant when I was picking out the items for this week's Extreme Minimalism challenge before our trips, I was looking for a quick win.
Soooo….I cheated. Sort of.
When I initially decided to create this challenge, I'd told myself that if we had a large batch of something, I wouldn't count them as separate items – they'd be classed as one item.
I specifically had in mind all the pens and pencils we had sitting around in a couple of tubs. Even though I was the one making the rules of the challenge, I'd thought it'd be cheating to count all of them separately.
Fast forward eight weeks and it's possible I might've had a slight change of mind.
And by slight, I mean definite. And by change of mind, I mean shameless reimagining of the rules.
Here's why: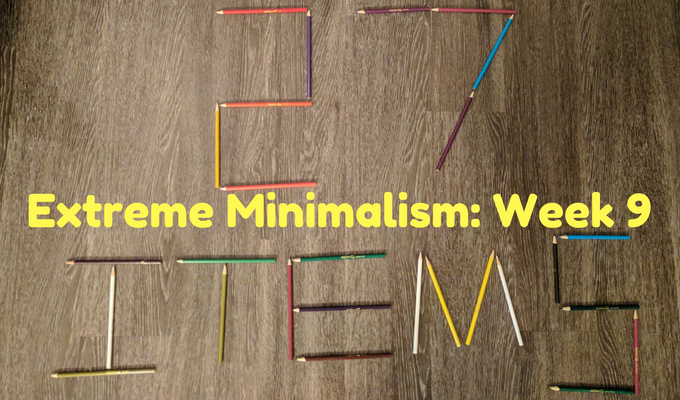 Yep, that's been spelled out with 27 coloring pencils.
But you know what? I don't care! I'm in Ireland right now (it's a little weird typing that from my couch before the trip), safe in the knowledge that I haven't broken my new – and obviously far superior – rules 😉
Will this not-cheating-anymore concept continue next week? You'll have to stay tuned to find out.
You can follow our entire Extreme Minimalism process with all the posts below:
Week 9: Sort Of Cheating Edition – 27 items