On our weekend away in Roanoke VA, we wanted to go on a hike to a nearby waterfall.
There were plenty of waterfalls within driving distance due to its proximity to the Blue Ridge Mountains, but we settled on Stiles Falls as it was one of our closest options. It's a three mile easy/moderate round trip that culminates in a 40 foot waterfall.
Stiles Falls is located on the property of Alta Mons – a retreat center and that provides camps in the summer and winter. Due to the camps, Stiles Falls isn't accessible for a few weeks in the summer and a few days in the winter. It's therefore best to check their website before visiting to ensure you're not disappointed.
n.b. About half the photos below were taken with my phone and half by Shae with her camera. All the really beautiful photos were taken by Shae.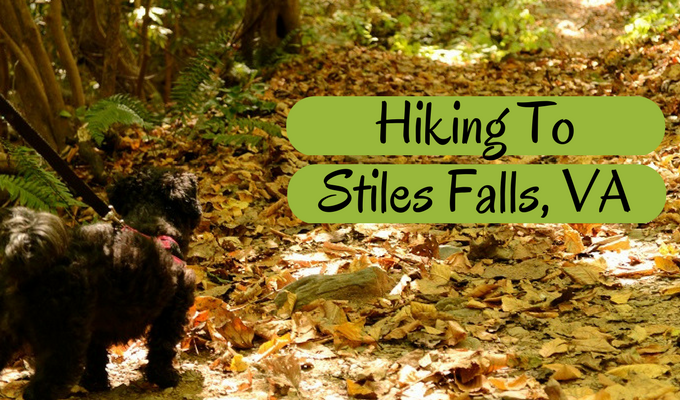 After a 45 minute drive from the Sheraton Roanoke, we arrived at the Alta Mons parking lot. There's a playground on the site with a pirate ship, so Truffles wanted to quickly sail the high seas before we went hiking.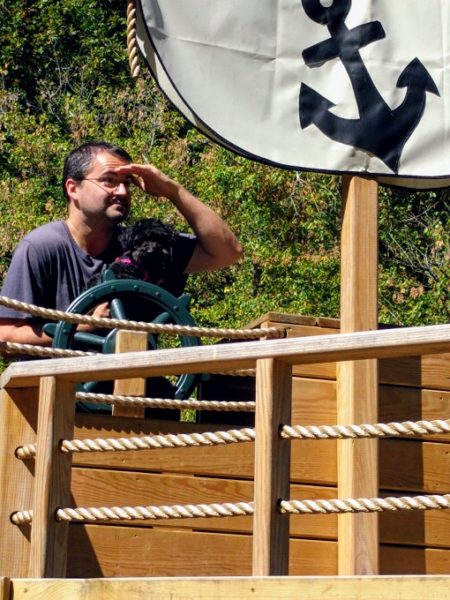 There's a large noticeboard as you leave the parking lot to set off on the hike. Pinned on there is a sign-in / sign-out sheet for hikers, a map of the Alta Mons site and important phone numbers.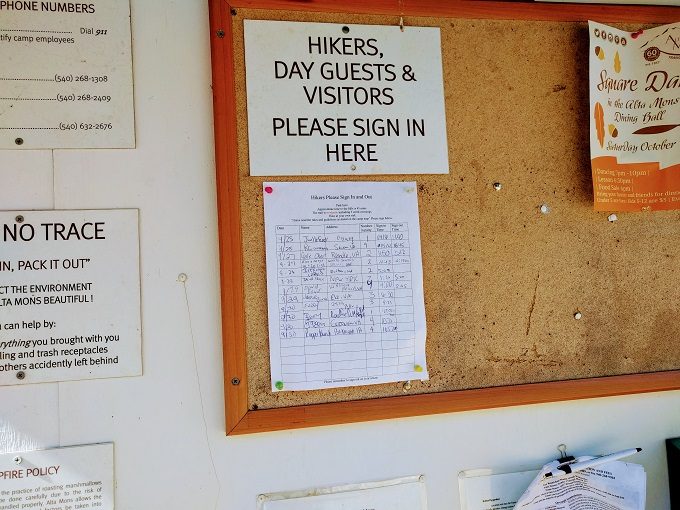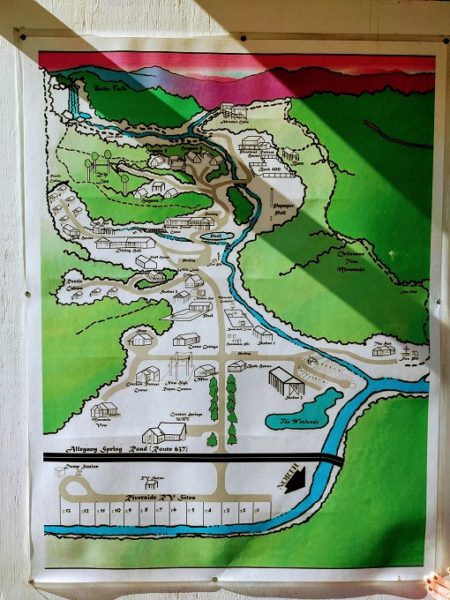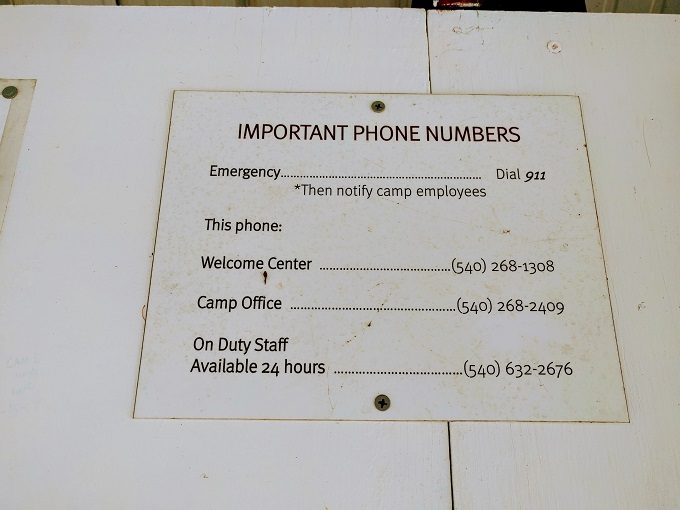 Once you've signed in, it's hiking time! Leave through the gate and head up the gravel track; Truffles loves hiking, so she led the way.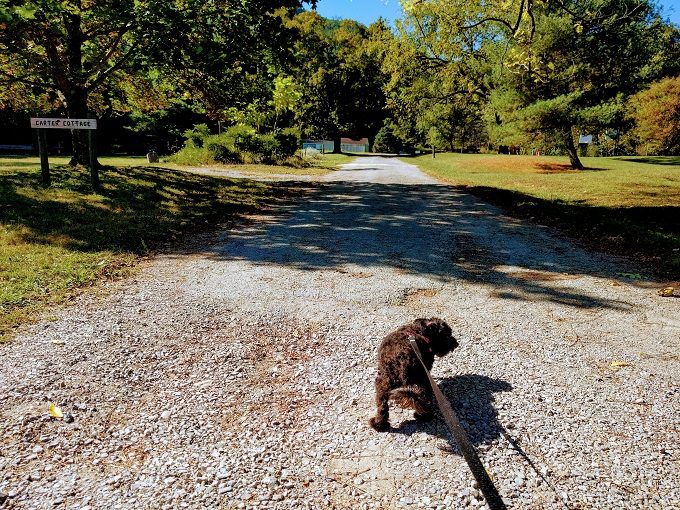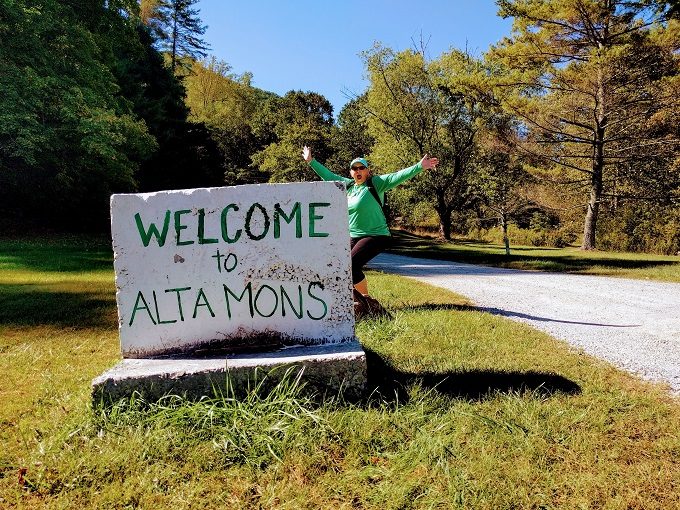 Keep following the signs for Stiles Falls and you'll pass a pond on your right which is set beneath a tree-covered hill. We visited at the end of September, so I imagine it'd look even more beautiful a few weeks later once fall's really kicked in.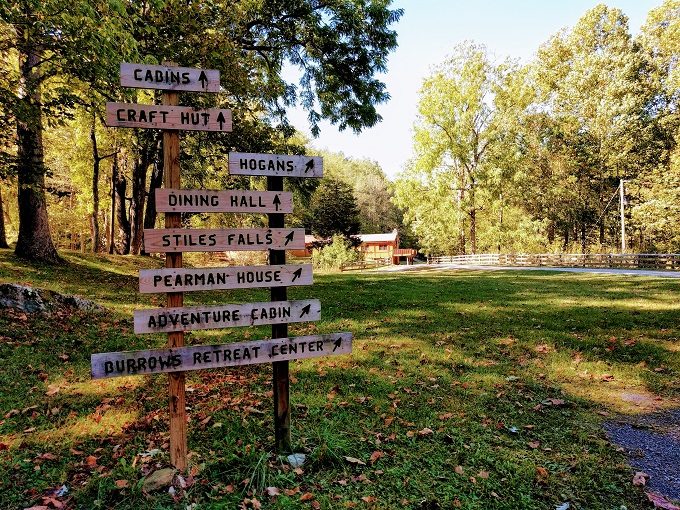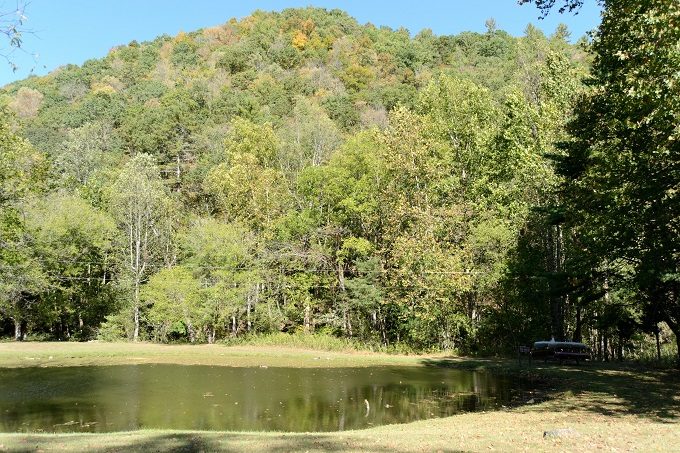 Keep following the gravel track and you'll come to this barrier. It's fine to walk past this as it's on the route to Stiles Falls – I think the barrier's simply there to stop vehicles from going any further.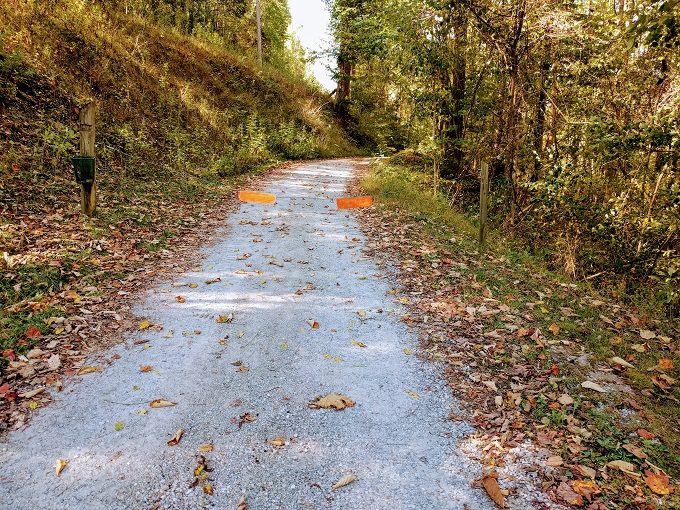 One of the best things about this hike is that the majority of it was in the shade. Hiking to Stiles Falls would therefore likely be a great hiking location in the height of summer.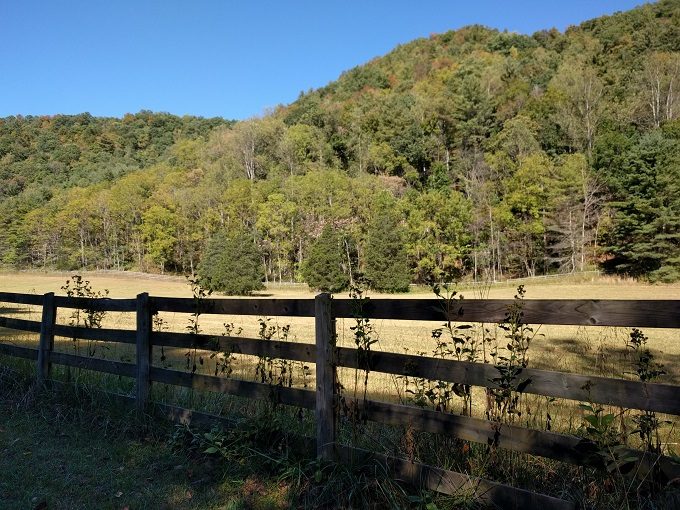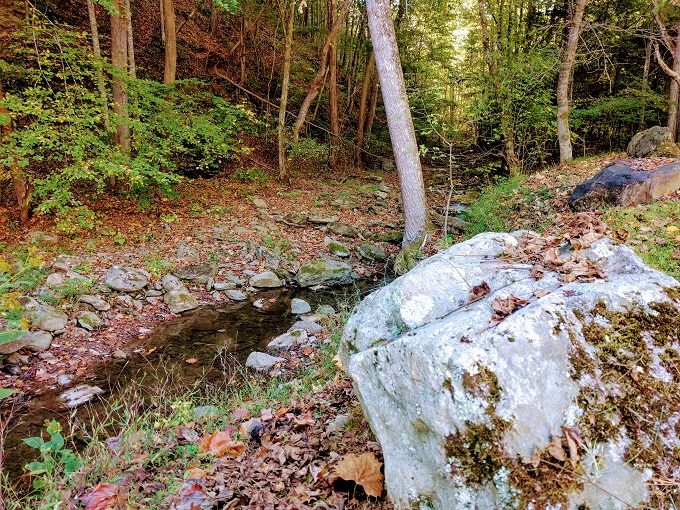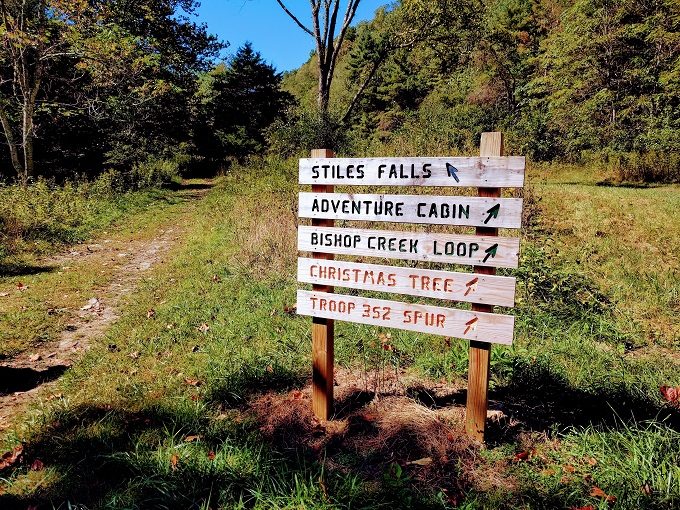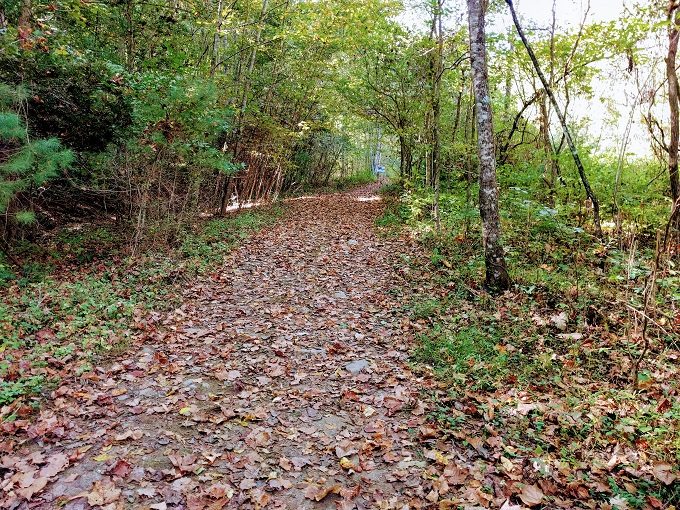 This first part of the hike is extremely easy – it's less of a hike and more of a walk. After about 0.75 miles (approximately halfway to the falls), you'll come to this sign which is also where the terrain changes.
It contains the somewhat morbid history of how Stiles Falls came to be named. In case you can't read the text in the photo, it says:
Randy (Randolph) Stiles was a sailor for the Confederacy during the Civil War. At a Sunday School picnic at Crockett Springs at the falls, he was showing off his skill gained from swinging from ship riggings by swinging on tree limbs and vines when he fell to his death. This is the derivation of the name "Stiles Falls" on the property.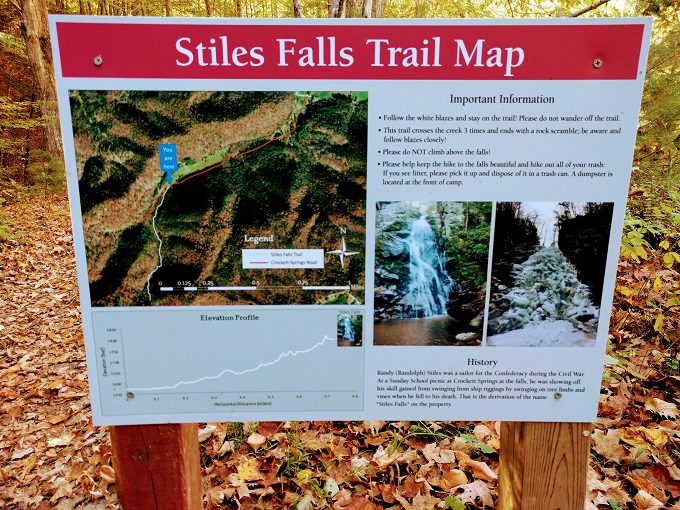 The route continues taking you alongside and across the creek and through the woods. It's a beautiful setting, so be sure to stop and enjoy the views. And if you're a dog, rehydrate yourself.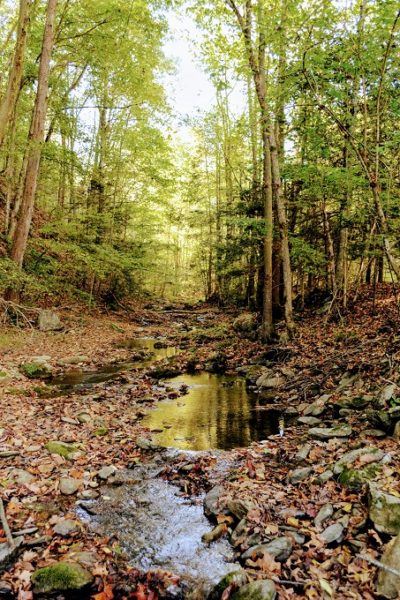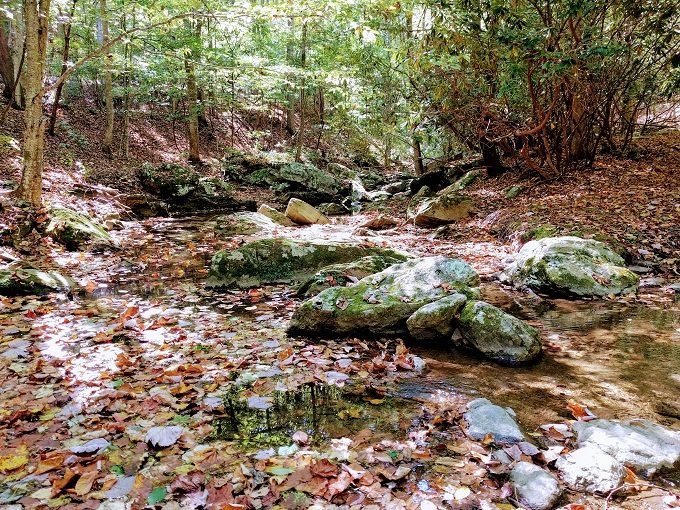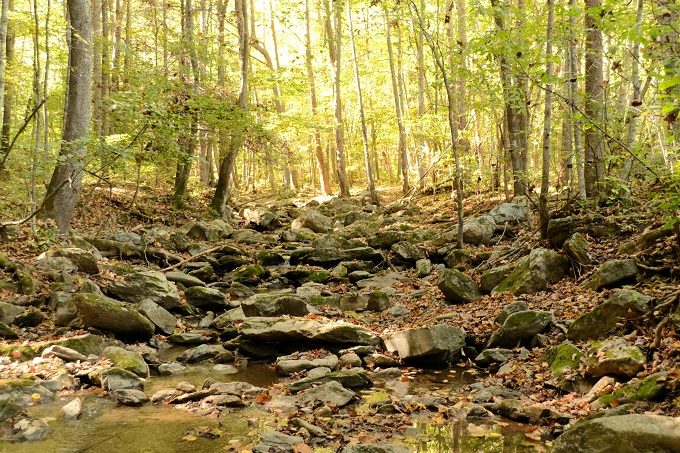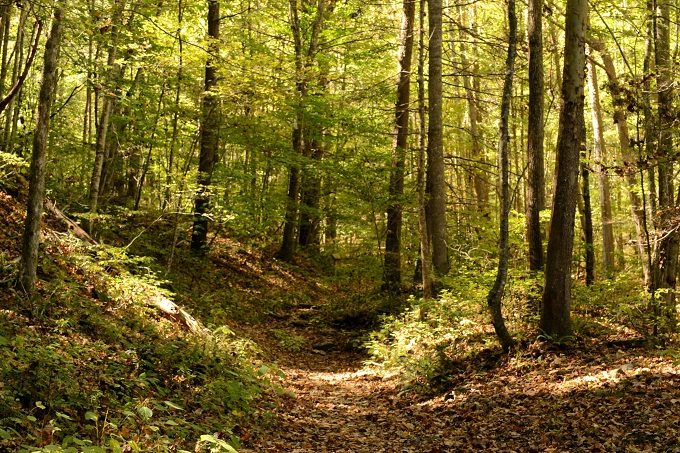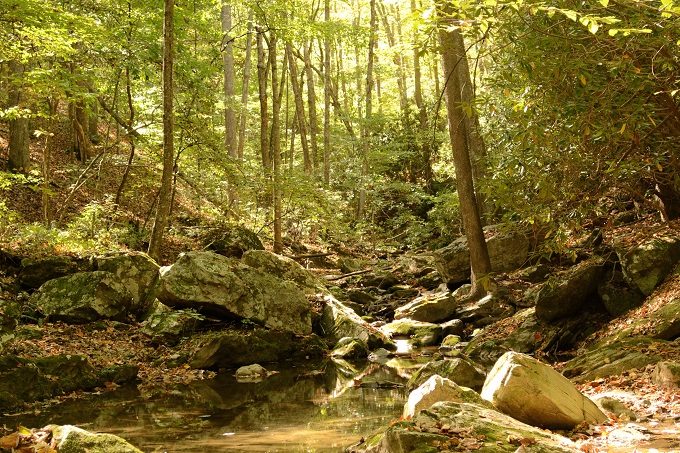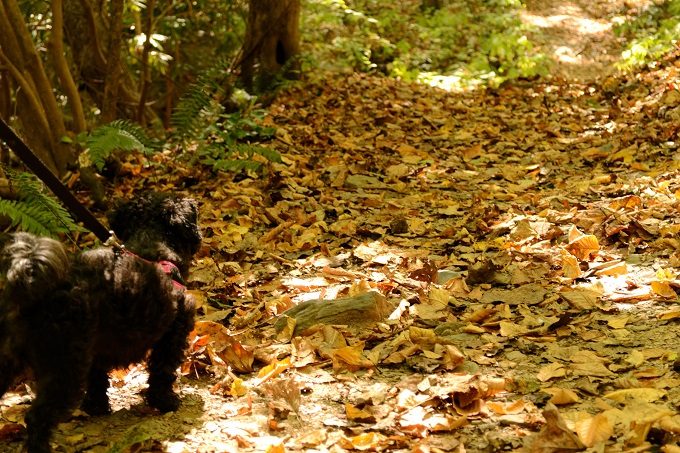 We then found a great spot for a group photo.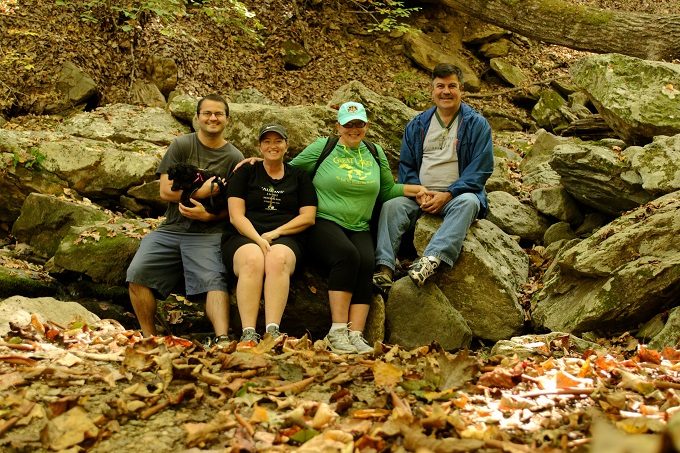 The hiking path gradually became more rocky and lined with tree roots, so watch your step.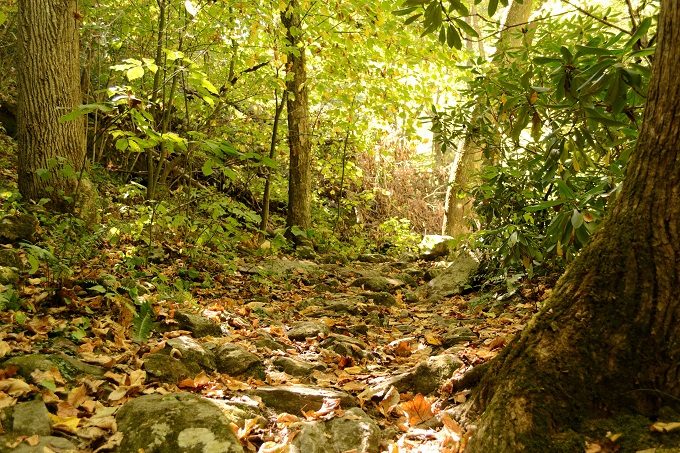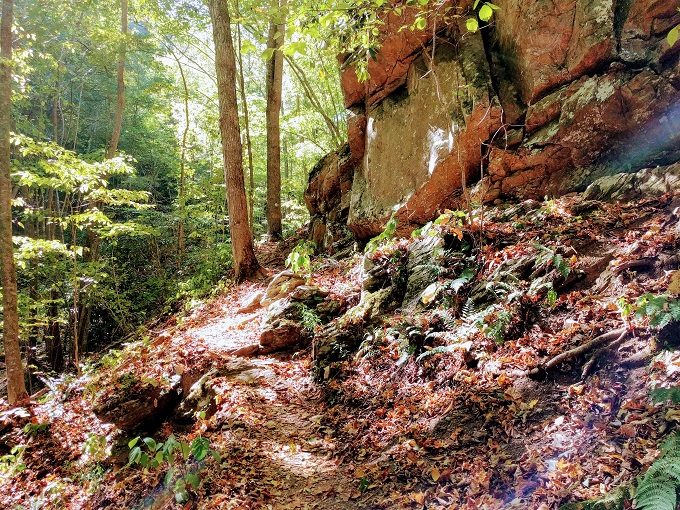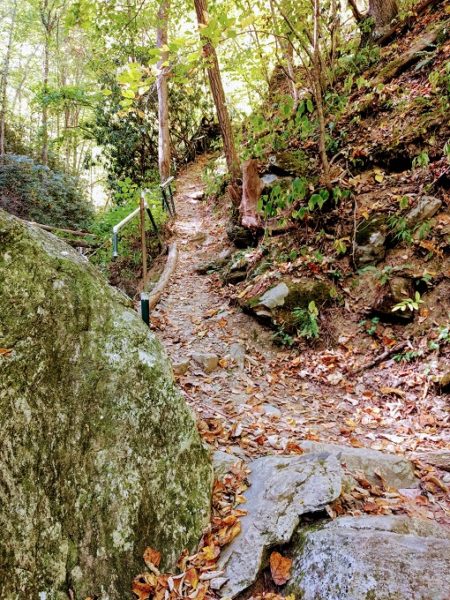 Along the route you'll see several of these wooden posts.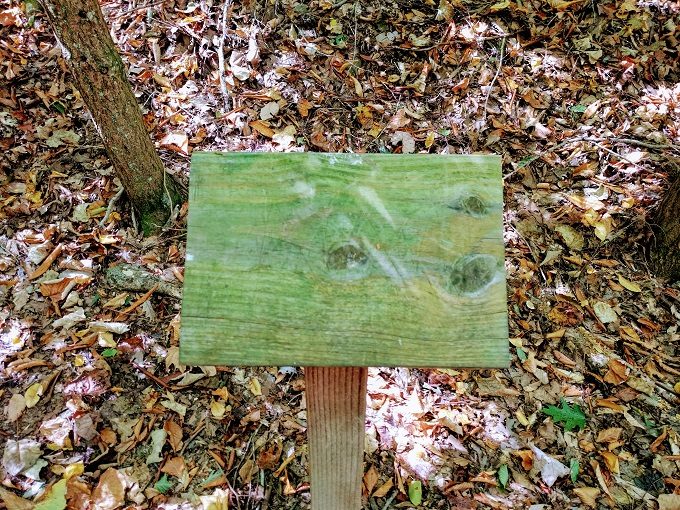 I'd assumed they were only there to mark the route you need to take, but it turns out they have another purpose.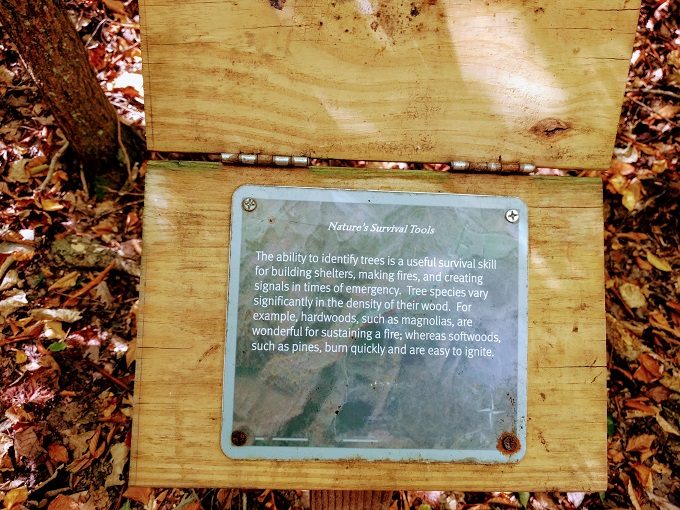 A little further on you'll come to a bit of a clearing where you get your first sight of Stiles Falls.
This is where things get more tricky. One option for reaching the falls is to clamber over these rocks.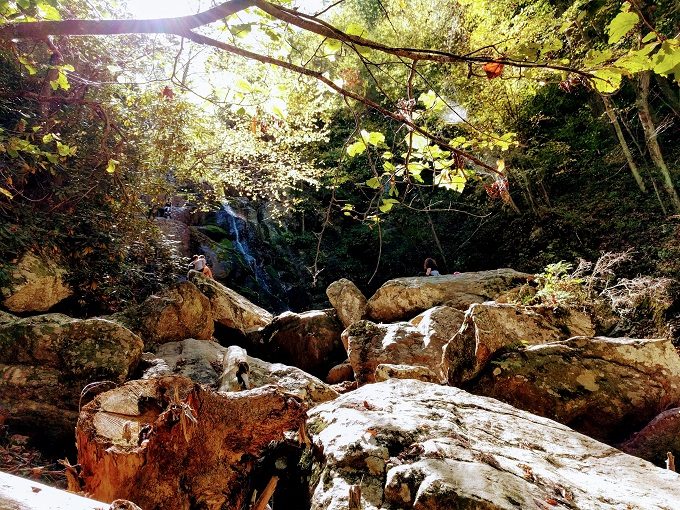 Another option is to keep going along the path, although that has its own set of challenges. You'll have to head uphill a little further, then carefully maneuver your way down, making use of tree branches and roots along the way to steady yourself.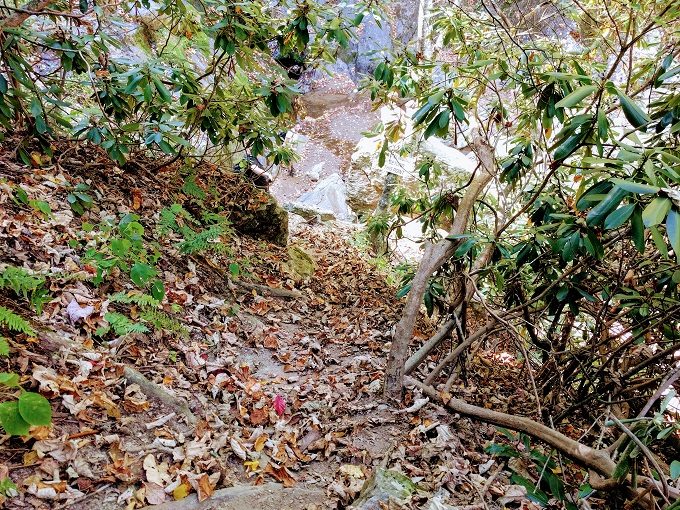 You also have the option to go higher in order to reach a rocky ledge. You'll need some seriously good footwear to get there though. The next photo isn't me looking down at the floor – it's a photo straight in front of me.
Yep, the path goes up at an almost 45 degree angle. It was also fairly dusty and covered with loose leaves, hence why you need good footwear. I managed to make it a few feet but gave up as I couldn't get enough traction. It also would've been pretty dodgy trying to make my way back down from any higher up.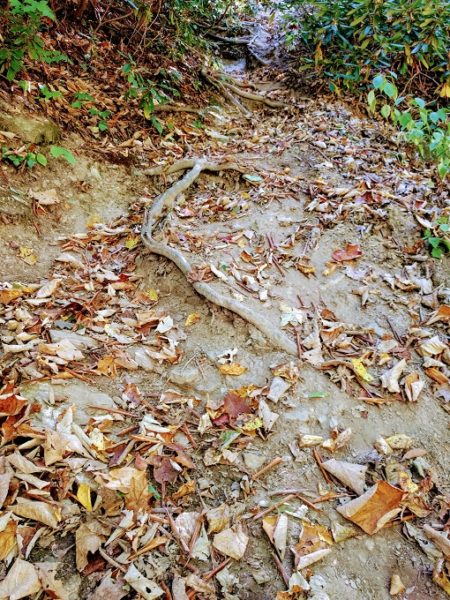 The rocky ledge where the girls are sitting is where you'll reach if you can make it up the steep incline.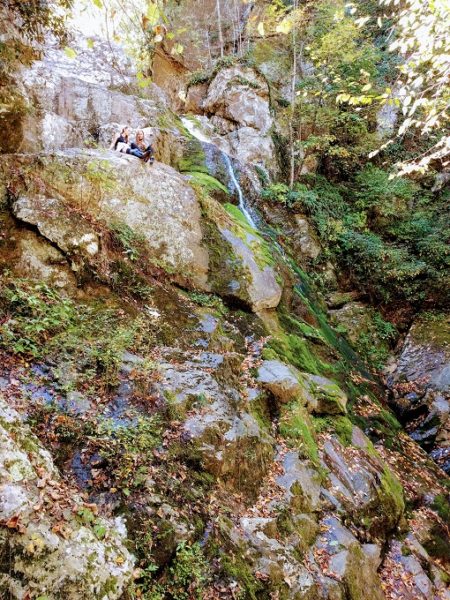 We all eventually made it to the base of the falls. As you can see, it wasn't a particularly thunderous waterfall when we visited. I'm guessing the best time to visit would be in the spring once the winter snow has thawed.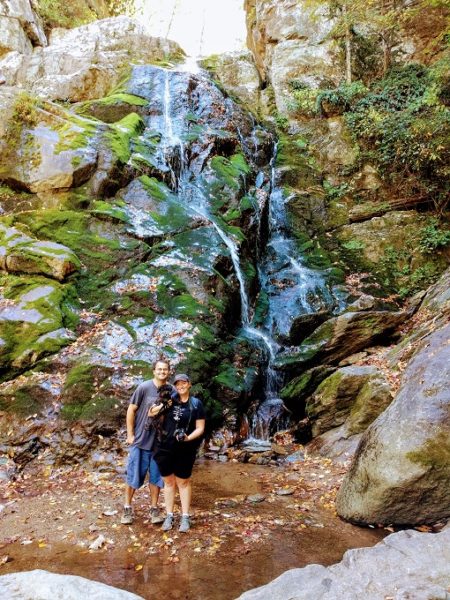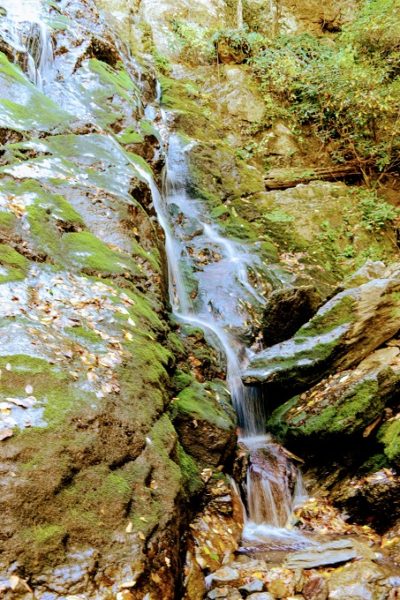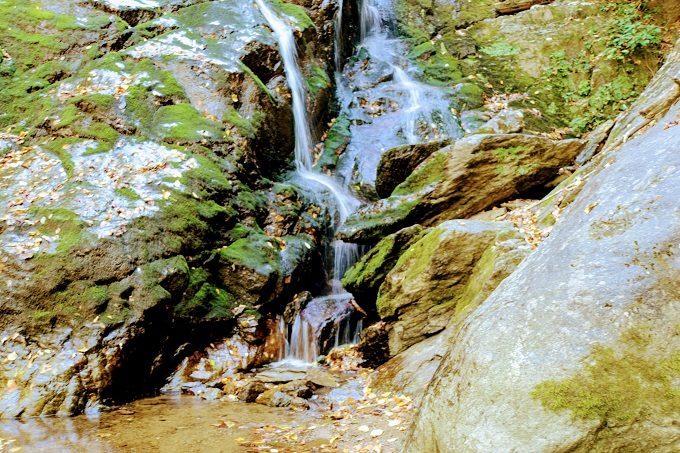 Final Thoughts
If you'll be visiting the Roanoke / Blacksburg area and want to go on a fairly easy hike, we can highly recommend visiting Stiles Falls, VA.
The hike is in a beautiful setting and, as it's a three mile round trip, doesn't take too long to complete.